A high chair normally isn't the first thing to come to mind when you think painted furniture. But there is no reason why it shouldn't be. People have their furniture painted for multiple different reasons:
painting furniture often has to do with updating an outdated piece
keeping a family heirloom in the family
passing down a piece of furniture to loved ones
In this case, my customer intends to pass her vintage high chair down to her grandson. With that, I was so happy when my she contacted me and put her trust in me to paint her grandson's high chair. Since a child will be eating here make sure to safely paint your old wooden high chair.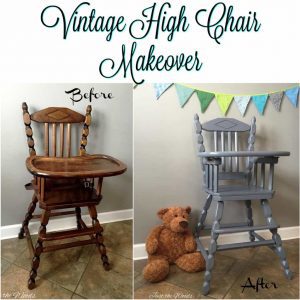 It's a good thing I only use non-toxic, VOC free, 100% safe products which are so important especially when it comes to our little ones. I sure wouldn't want to eat off of something filled with toxic chemicals if I can help it and I'm guessing you wouldn't either. It may not even be something we put much thought into in our day to day, but still important none the less. Another example of a piece of furniture being passed down to a child in the family is this Childs Vintage Rocking Chair Makeover.
Disclosure: This post contains affiliate links for your convenience. Click here for my full disclosure policy.
The Project – Unfinished Vintage High Chair
The vintage wooden high chair has great characteristics with chunky and unique spindles. We all know how much I hate spindles, but you can't help but like these. The chair is sturdy and strong and clearly well made with much more life left in it.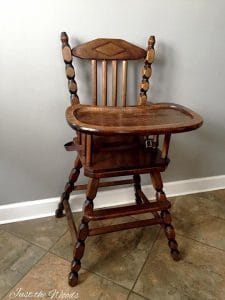 Choosing a Paint Color for the High Chair
She brought in her vintage high chair and a creamy neutral gray with blue undertones.  You can find great quality furniture paint online HERE. An added bonus, when painting furniture, especially when it comes to painting children's furniture, you want to make sure to use a quality non-toxic furniture paint.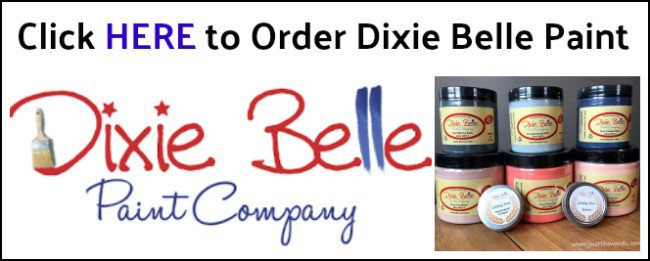 Preparing the High Chair for a Makeover
The first thing to do is remove the old straps that are attached to the seat since they are no longer functioning. Also, remove the hardware for the tray. I make sure to take photos of the hardware on the tray so that when it's time to put it back on I have a little help. A little visual reminder is always a good thing.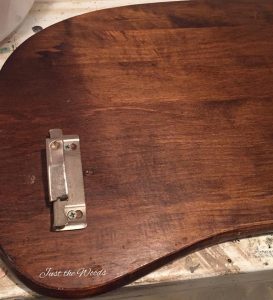 As usual, the entire high chair was sanded and cleaned before getting started. This is my entire process for How to Prep Painted Furniture. New to painting furniture and not sure where to start?
New to painted furniture? Not sure where to start? You can start at the beginning with How to Paint Furniture – a Beginners Guide.

Starting the Painted High Chair Project
The first step in painting a wooden high chair is to flip it over. When you flip the high chair over it makes it easier to work on the underside, making sure to get in all the nooks and crannies.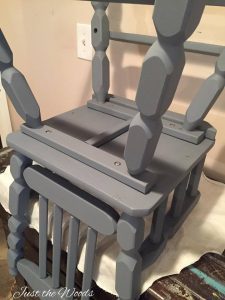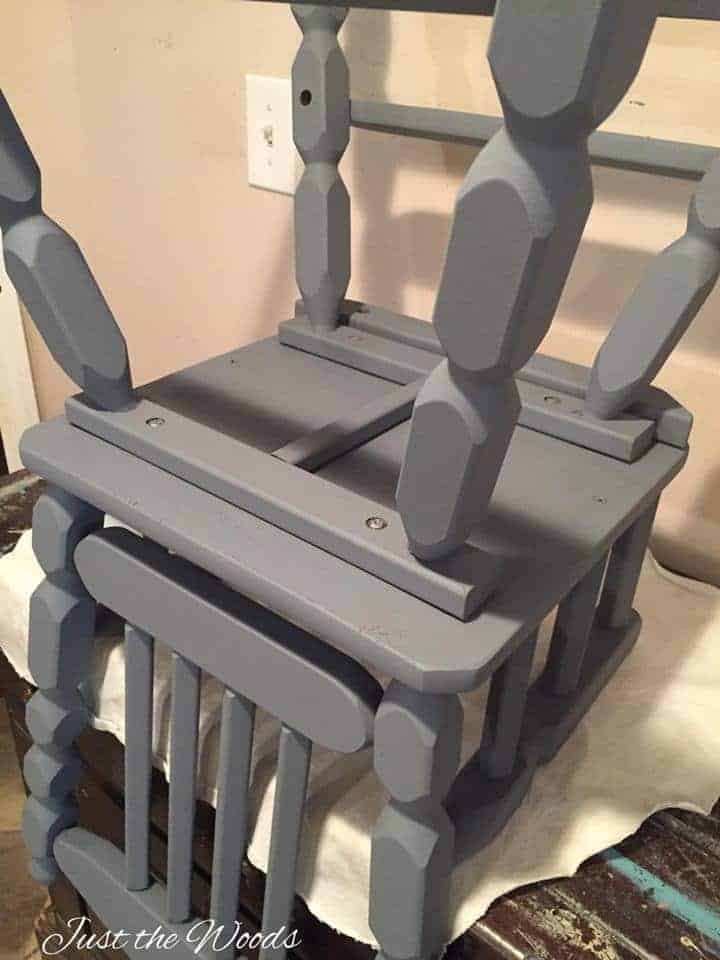 I also paint the tray in shifts so to speak, letting each side dry before flipping it back over to do the opposite side. Spindles are often a huge nightmare to paint. Often I will use a paint sprayer to paint spindles. But since these are chunky with so much detail they aren't at all as bad as I had thought they would be. The high chair and the spindles are all hand painted. They also have the perfect shape for distressing.  I use my favorite flexible sandpaper to distress the entire high chair.  The flexible sandpaper comes in handy since there are so many curves and small areas to sand.  I also lightly sanded the rest of the piece to give a super smooth finish to the touch. If you haven't tried the flexible sandpaper you can get some HERE.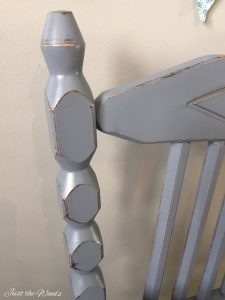 Make sure to seal your painted high chair with a non-toxic sealer. This high chair is sealed using a clear satin sealer. An extra coat was added to the tray since it will be getting the most traffic. Once sealed, the tray hardware is reinstalled. It's a good thing I took those photos before removing them so I knew which way to put them back on properly.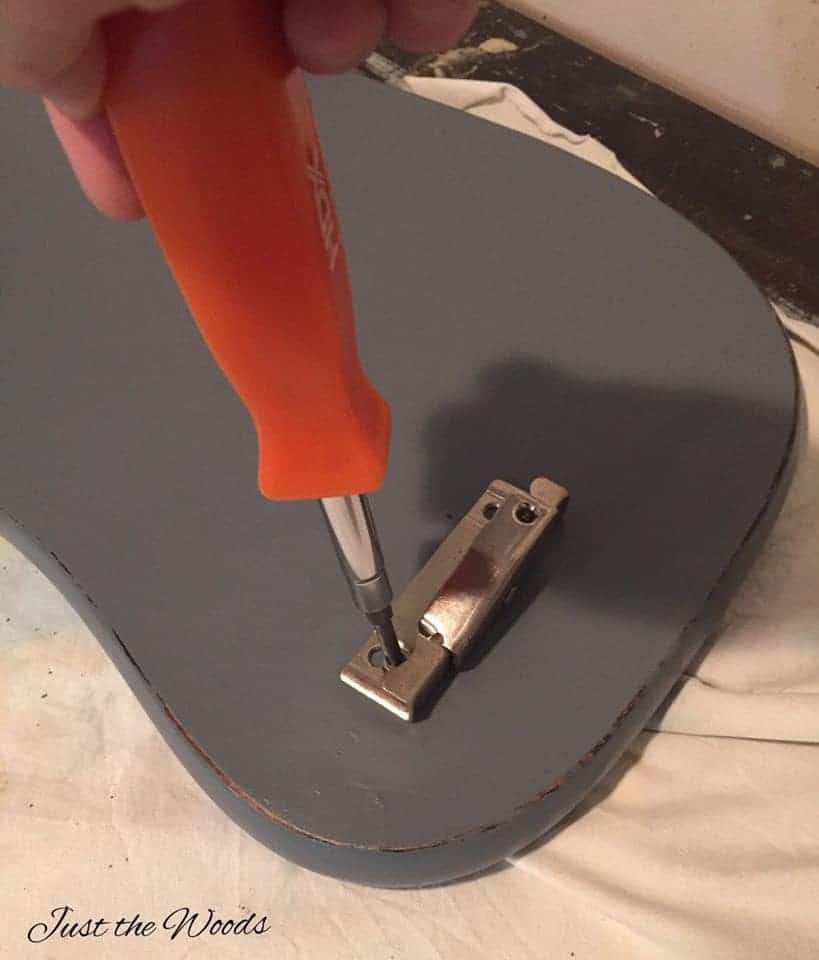 Here is a full tutorial with VIDEO showing how I seal my painted furniture projects: Sealing Painted Furniture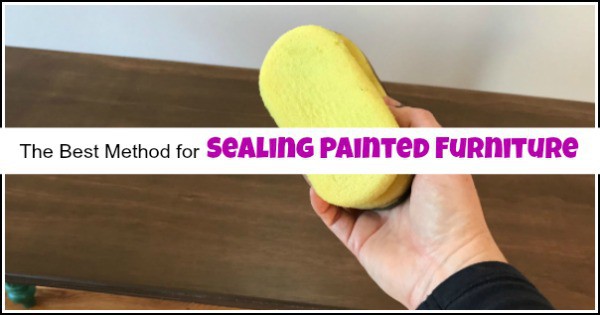 The Result – Painted Vintage High Chair
This painted high chair brought back memories to my customer of her own baby shower, and now she can continue to cherish and make new memories with her grandson.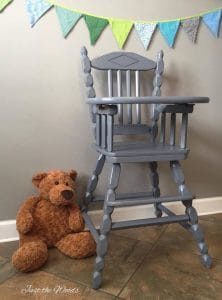 Such a darling transformation for a grandmother's little guy.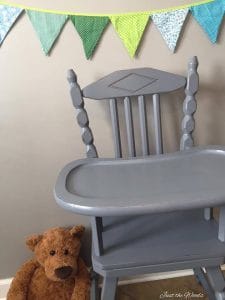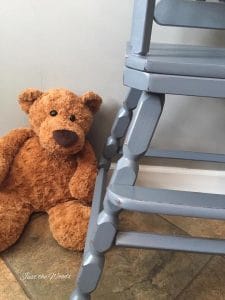 My little ones just started summer camp. I admit that I can't remember the last time it's ever been so quiet around here.  It's allowing me to be extremely productive but I also miss those loud crazy kids of mine!  I hope everyone is having a happy and safe start to the summer.  I only mention this because with them being out all day, I was able to borrow my daughter's teddy bear to take photos.  All without worrying about her trying to steal it back mid shot. hehe In addition to my daughter's teddy bear I found this adorable flag pennant banner here.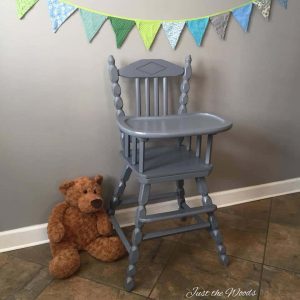 Also, since we removed the original straps, a replacement high chair seatbelt/safety harness was ordered.  This will be going home with my customer as well to make sure her grandson is safe and belted in when using the hand painted high chair.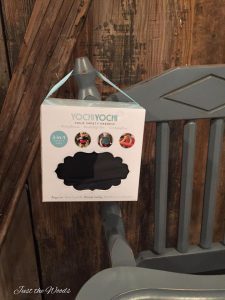 You May Also Like
Check out the Childs Vintage Rocking Chair painted to be passed down to another customers granddaughter on her first birthday.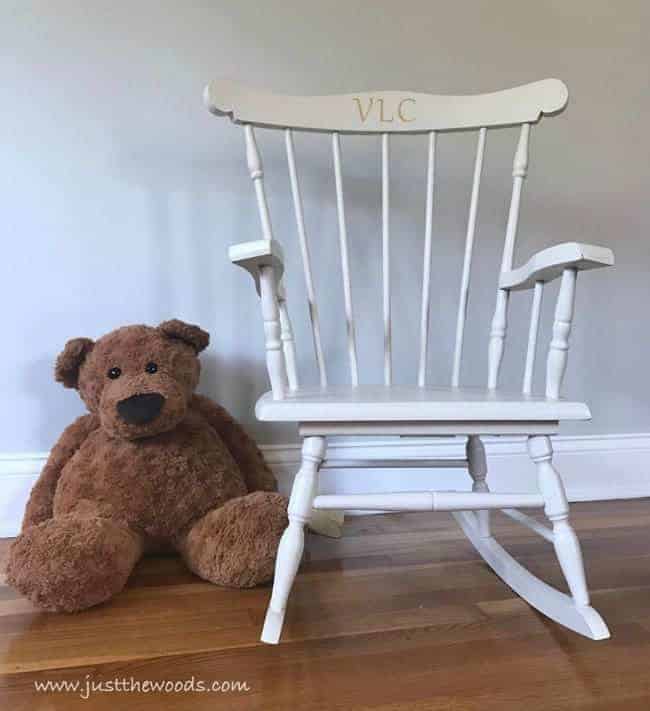 If you like this gray paint color and would love to see more gray make sure to check out: Gray Painted Furniture Projects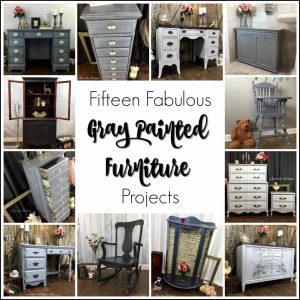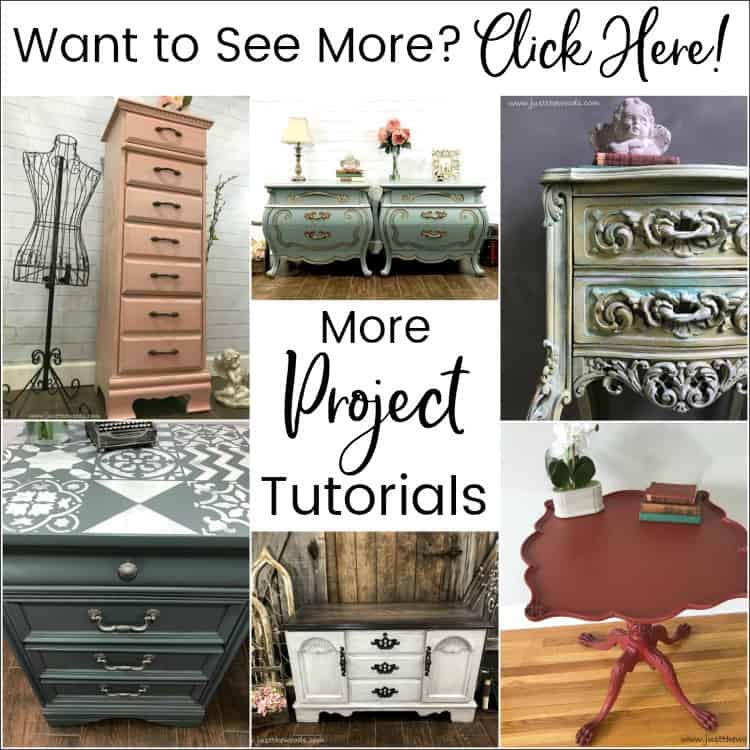 Don't Forget – Follow Just the Woods and Share this post to Inspire others:
FACEBOOK  *  INSTAGRAM  *  PINTEREST
Subscribe to our mailing list here:
PINTEREST PIN READY TO SHARE