Disclosure: This barn door red and metallic bronze dresser post contains affiliate links.  Links to certain decor items found in post can be found at the bottom of the post. Links to order products used in makeover are also found within post.
Barn Door Red Meets Metallic Bronze
When I bought this dresser I was ecstatic to find the Drexel name in the top drawer.  Drexel has been around since 1903 and has always stood for quality furniture.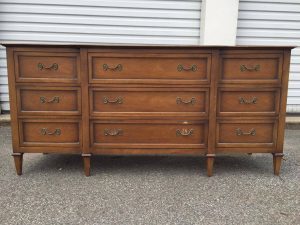 My customer decided to have this beauty customized with a metallic bronze body and custom red drawers.  She even sent me a photo of the bedroom where the dresser will go so I could do my best to color match the walls.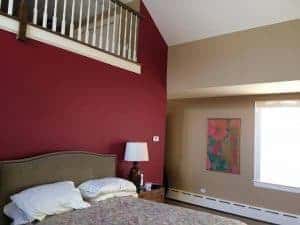 Since the walls aren't quite red, and they aren't quite cranberry, we decided that Kristi Kuehl Pure Home Paints Barn Door was the perfect match! I admit that I struggled with taking photos and the color is not as pink as the photos appear.  Here is a glimpse of a photo without any staging and lights next to the room and wall paint color.   Lighting and photography is an art that I'm still working on. (And I welcome/beg for any tips you may have)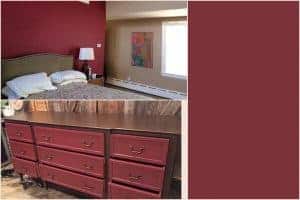 Prep Work with my Helper
Before getting started I recruited my little helper to get out the dust bunnies from inside, since old furniture is almost always dusty!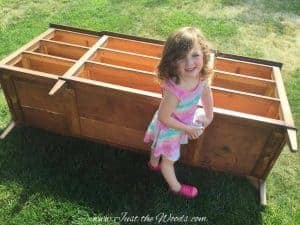 Next step was to bring the dresser into my shop for a thorough cleaning and prep.  The dresser has 9 drawers which all were in nice, clean condition..   except for ONE!  For whatever reason, one drawer was a bit of a mess.  I removed the spilled nail polish stain, and glued down pennies, then i sanded the wood inside the drawer and scrubbed it clean.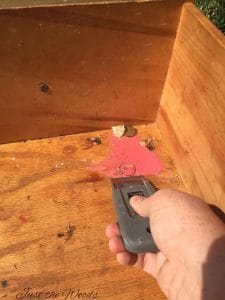 It looked pretty good once I finished, especially considering the before.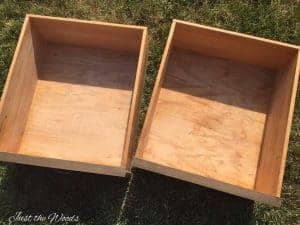 The dresser was hand painted on the outside in tanner brown and then glazed with bronze hardware opulence. Yes, you read correctly..  hardware opulence is not just for hardware!!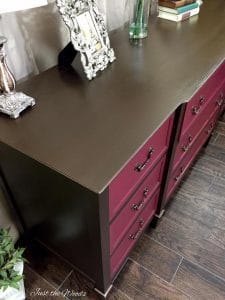 Hardware
Speaking of hardware, the original pulls were replaced with new pulls by none other than D. Lawless Hardware. We found these pretty ornate pulls but they only came in pewter, and we need bronze.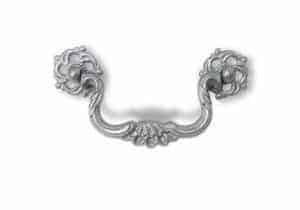 Can you guess what we did?  Yes, we painted the hardware with bronze opulence to match the dresser!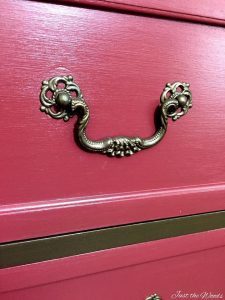 I also decided to line the drawers with a beige and bronze removable print, since the bronze in the print seemed perfect to compliment the dresser so nicely. 
Since the print comes in a roll I made sure to measure, cut with an Exacto and then iron them each out flat  so they wouldn't curl up in the drawers.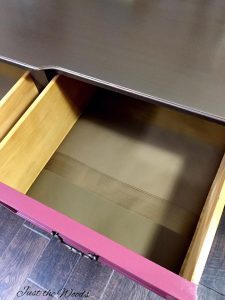 Our clear Satin Protective Finish was used to seal the entire piece for protection.  This dresser now has quite a regal appearance to it.
The Result
Also, since the drawers push in flush with the dresser, rather than fall in front of the dresser, as a precaution where the wood rubs against the wood I rubbed a little Daddy vans all natural beeswax to prevent any sticking.  This is always my 'go to' to prevent sticking drawers, and its non toxic, VOC free  just like all of our Kristi Kuehl Pure Home Paint Products we use.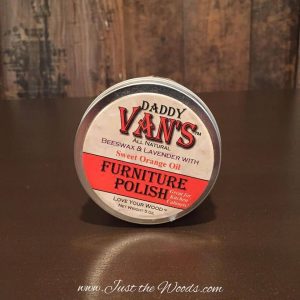 I normally try to avoid sharing unstaged photos in my shop like this but how insane is it that the photos of the dresser with no fancy lighting in my shop is more true to color than my fully staged photos!  It's a mystery  😛  I'm happy to say that my customer stopped by to see the dresser in person since the photos couldn't truly capture the accurate color..  and she loves it!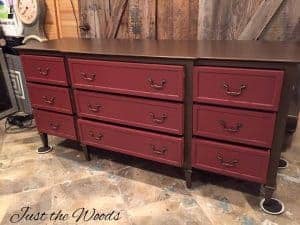 Thanks for following along with me.  xoxo
I've been adding links to some of the items that I use in staging my photos since I'm often asked where I find them.
Distressed lamp can be found here.

Floral arrangement can be found

here

.

Candelabra can be found here.
I'll be sharing this post at these fabulous link parties.
If this is your first time visiting and would like to be added to the mailing list for new posts you can subscribe here: