Behind the Scenes and Why I Hate Pressed Wood
I'd like to invite you behind the scenes on an older project that I worked on.  This is not at all about complaining but merely explaining that in this business there is rarely an easy piece.  There are unforeseen issues, mishaps, surprises and things that are out of our control.  Surprises have become not much of a surprise but they are also lessons and as long as you learn something I suppose they are ok. This behind the scenes is a spin-off from the makeover which can be found here: Pink Pony Vanity.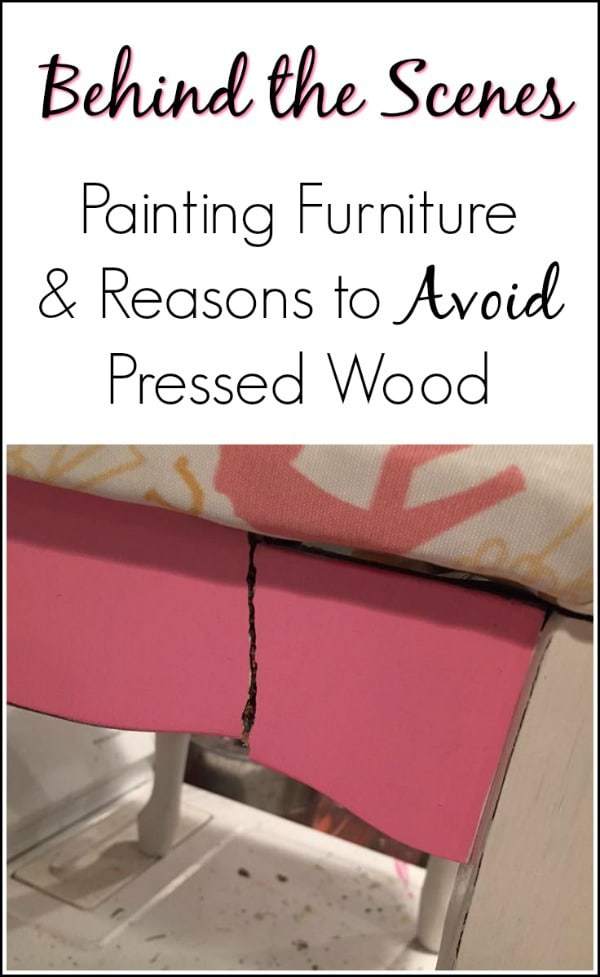 Materials Needed / Source List:
Disclosure: This post contains affiliate links. Click here for my full disclosure policy.
For starters, I'll mention that I always try to select quality, solid wood and vintage pieces but in this particular case when I went to buy this vanity I was told that it was wood.  When I arrived I noticed that it was, in fact, pressed wood.  Like a fool, I felt bad and bought it anyway. It is cute but I don't feel bad anymore. I say no thank you and leave.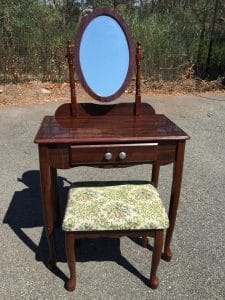 I considered reselling it 'as is' for what I had paid and just move on, but a friend suggested posting it because people love vanities and it's cute.  So I posted and right away someone was interested.  I told my customer from the start that the piece is not solid wood and therefore not the same higher end quality as the pieces that I usually provide.  As it turned out, that was fine for her because it was for her young daughter and worked perfectly.  Win win..  so I thought.
We decided on colors, design plan, etc.  I had cute crystal knobs in my shop that we decided to use and adorable pink pony fabric so we were all set.  I disassembled the mirror, the frame, and drawer.  She was painted up all pretty and the vanity was ready to be put back together.
The Start of Complications
As I put the cute knobs on the drawer one broke! Since I only had 2 in my stash I had to go online and order more. Not too bad, since these things happen.. Then on to the stool.  As I put the cushion back onto the frame – the frame split!  Oh no! I could cry!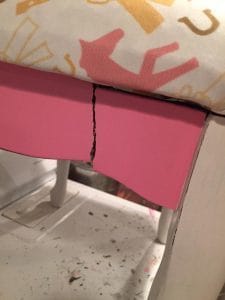 There was no way to "quick fix" this.  I need to make sure that its a safe place for a little girl to sit.  So the next step was to take the stool frame apart and trace the frame pieces onto a piece of wood.  Once they were all traced out new pieces were cut with a jigsaw.  But if anyone has used a jig saw you know that it doesn't give a smooth, clean cut.  I have a lot of tools in my shop and every time I think I have all the tools I could possibly need something happens to prove me wrong.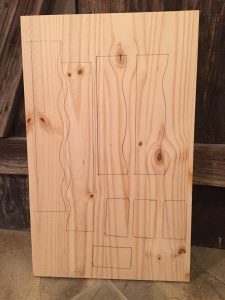 Now I need a spindle sander to get nice smooth edges on the wavy design.  Off to order.  Woah  $139.99? Ordered.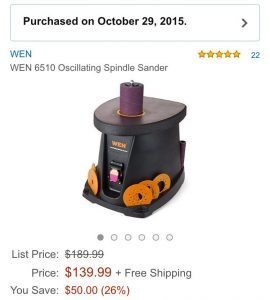 The spindle sander worked great and the edges were smoothed out just right.  Once all the pieces were smooth it was time to put the frame together.  It was rebuilt to mimic the original frame.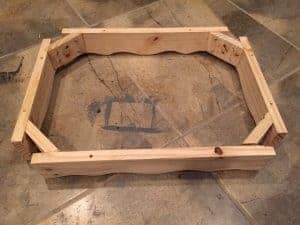 Next, I needed to drill holes to secure the seat cushion to the frame.  Uh oh, another surprise.  The holes are small and the wood is narrow, I do not want the hole to go on an angle at all.  The slightest angle could really make things go bad again. So it seems a drill press is required – which I don't have.   Time to go order.  Again.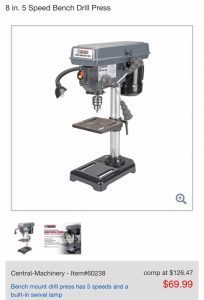 The drill press worked as needed and the holes went in perfectly straight.  *Note – I don't have man hands, I admit I had a little help with this part.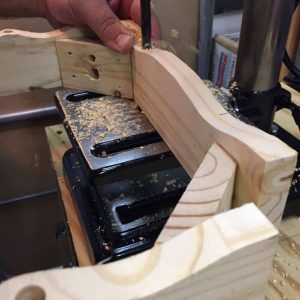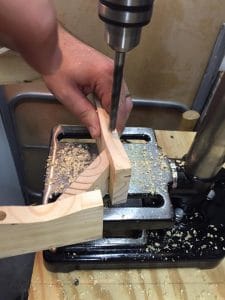 Now you See Why I Hate Pressed Wood
So at the end of it all the stool went back together, and the end result was adorable.  It was ready to go home to its new owner.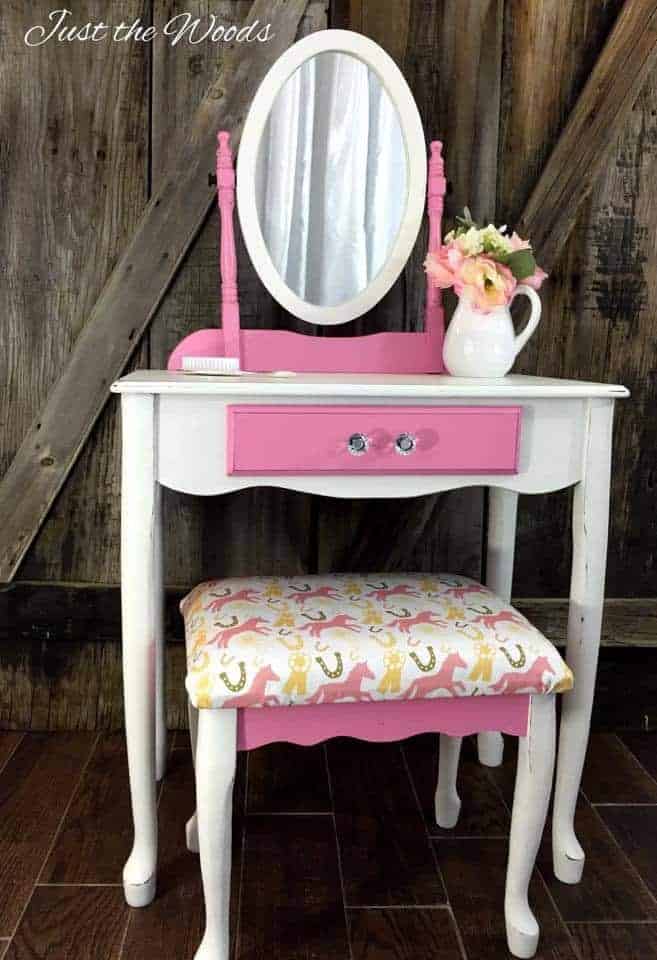 Once the piece was posted and my customer saw the photos she loved it.  Her response was heartwarming..  and THAT is what makes all the surprises, issues, problems, and mishaps worth it!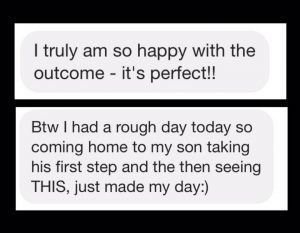 Thankfully all pieces don't have so many issues, but there are almost always a little something, here or there.  For a piece to go smoothly and perfectly from start to finish is actually extremely rare.  So I'd like to end with the fact that I am eternally grateful for each and every one of my customers, first-timers, repeat customers and referrals.  I truly do my best to provide the best quality that I possibly can <3 
To see a well made, solid wood vanity seat then please come see this beauty here:
Painted & Reupholstered Vanity Seat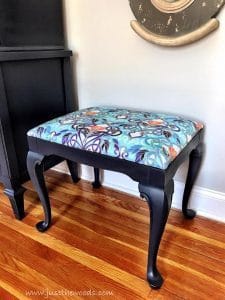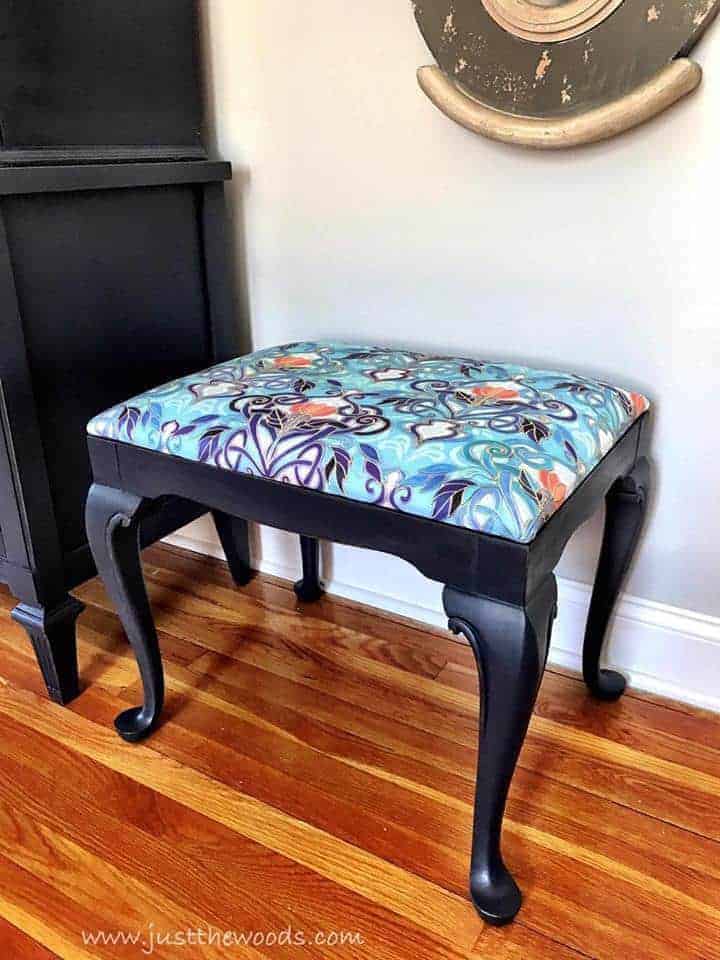 Don't Forget to Follow Just the Woods and Share this post to Inspire others:
FACEBOOK  *  INSTAGRAM  *  PINTEREST
Subscribe to our mailing list here:
PINTEREST PIN READY TO SHARE