Coffee Grind Compost for the Garden
Can we talk about coffee and compost? One smells amazing, and one not so much, but they both serve a function. Adding coffee grind compost to our small yard garden is great for the garden while also leaving a positive carbon footprint by reusing food scraps instead of throwing them in the trash. To paint a clearer picture: in my home, we paint furniture, well, I do that part. But we also compost, garden, DIY, brew beer, make our own sauce and I'm sure there are other random things. If we could only perfect making our own wine, then my life would be complete! For now, I'd like to focus on the morning drinking routine and how it impacts our later flourishing garden.
Materials Needed / Source List:
Disclosure: This coffee grind compost post contains affiliate links for your convenience.
Families who Garden Together …
We have been composting and gardening for a few years now. My hubby has the green thumb and has been teaching the kids when its ok and not ok to pick from the garden. They know that you don't pick the strawberries or tomatoes until they are red. They like to pick and eat the fresh food, but don't quite get the compost part just yet. And that's ok.
Our Yard Compost Bin
We invested in a Compost bin for the yard to collect the scraps and do its thing. I opted for the one that was more visually appealing or perhaps less visually unappealing and that wouldn't attract rodents. I've heard horror stories, and since we have a rather small yard, I don't want to take any chances. At first glance, the price may seem a bit high for a rotating bin that will collect rotting food scraps, but over the years I think it pays for itself in a way and I have no regrets.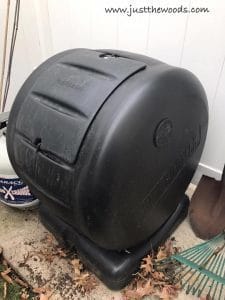 You simply dump your scraps in and rotate every now and then. The area at the bottom collects the liquid (which when you think about it is rather disgusting) But that liquid is like liquid gold to the garden, it's called compost tea. On occasion, we add in some dried leaves to balance out all of the food scraps and prevent the compost from becoming too wet.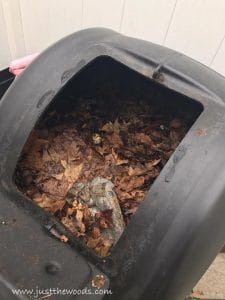 Coffee Grinds Compost
This is the portion that I prefer – coffee! Like many others, I am an avid coffee drinker, but I try not to go overboard. I have used a Keurig for years and years, until now, and I never really thought about how wasteful the K-cups were until I stopped using them. I simply enjoyed the convenience of them. We just replaced our Keurig with a Ninja coffee bar, as recommended by my friend and blog pal, Thea over at that Sweet Tea Life. She would send me photos of her coffee until I broke down and ordered my own.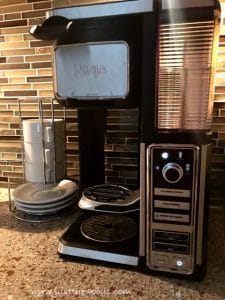 As someone who used a Keurig for years, I was immediately intimidated by the Ninja. I can tackle a painted furniture project but get me a new coffee maker and I get scared. So, like the Type A personality person that I am, I read the directions and followed the setup steps and low and behold, it's actually rather simple. It's time to get my brew on.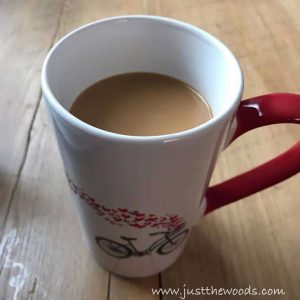 Coffee Grinds are Great for Compost
Now that I have a new coffee maker I can add my coffee grinds to the compost pail. We keep a small pail on the counter that gets emptied (and cleaned) to the larger bin in the yard regularly. After each brew, I pop open the filter section and remove the permanent filter – yay no paper filters either.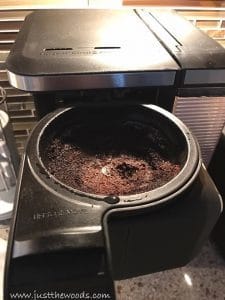 Dump the coffee grinds into the compost pail on the counter. Then remind hubby to take the pail out to the bin in the yard. 🙂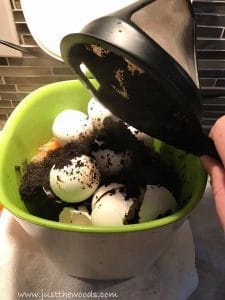 Preparing for another Gardening Season
We are already getting ready for the next season of what the garden will bring. The stakes are in and ready for tomatoes and my hubby plans to grow hops this year. Since he brews his own beer, he plans to grow his own hops for his beer making. He's already asked me to paint the garden barrels and he wants them stenciled. It looks like I will finally be able to break out my Cricut and give it a go.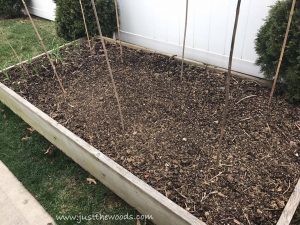 Previous Garden Harvests
Last year we grew tomatoes, potatoes, peppers, garlic, strawberries and numerous herbs.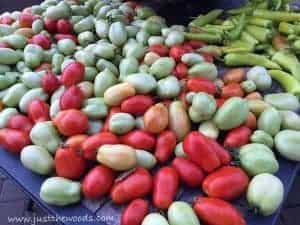 We jarred the peppers, though I can't think of a reason when we would ever open those jars. What makes someone say "hey I have a jar of peppers, let's open that up".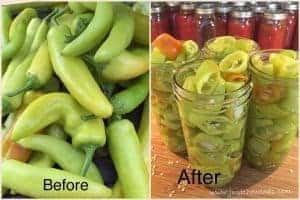 On the other hand, we do make our own sauce and those jars are always opened up and enjoyed.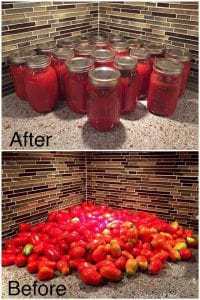 Conclusion – Coffee is Great for Compost
With this cycle of coffee – compost – garden – sauce – can I conclude that coffee makes great tomato sauce? hmmm
If you are a fellow gardener check out how we spruced up the garden and built our own raised garden beds last spring.
I'll be sharing this post at these fabulous link parties.
Don't Forget – Follow Just the Woods :
FACEBOOK  *  INSTAGRAM  *  PINTEREST
Subscribe to our mailing list here:
PINTEREST PIN READY TO BE SHARED