Coffee table makeover from orange pine to black chalk paint with a rich stain top gives this coffee table redo a thumbs up.
Black, Stain & Wood Grain Coffee Table Makeover
*If you are looking for black wood stain tutorial please refer to this newer project: Black Wood Stain & Black Furniture Paint.
The funny thing about this coffee table makeover is that I decided on its color based on a new backdrop that I recently bought. I've been dying to use it and wanted to use a paint color that would work with the backdrop. Who does such crazy things? So I pulled this coffee table from inventory thinking that the ugly honey color would look so much better in black!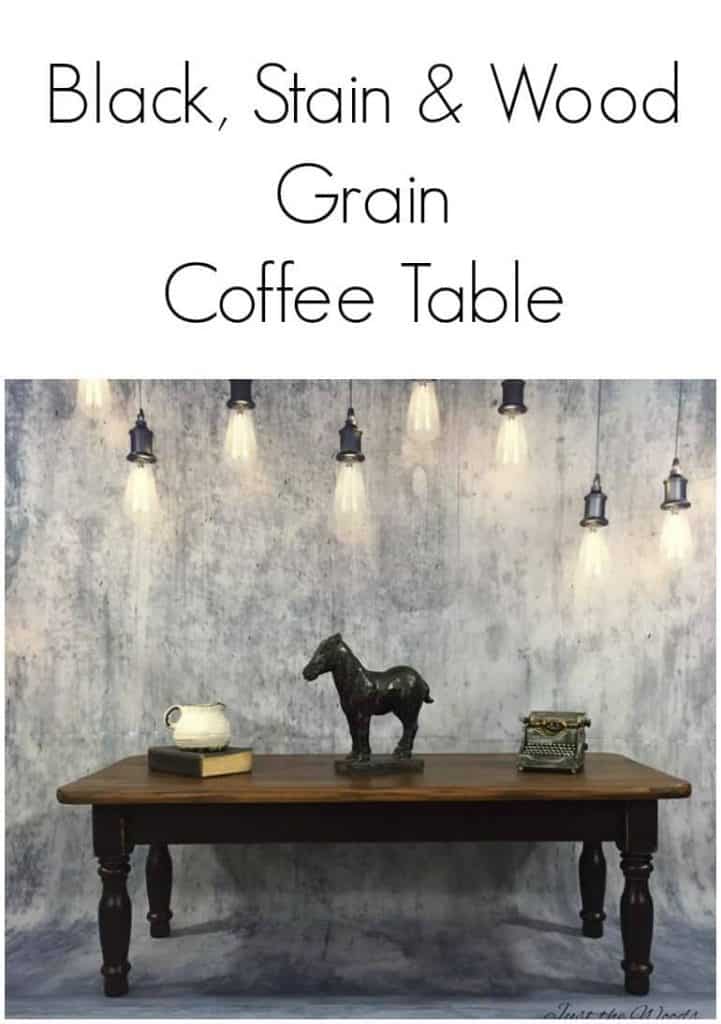 Materials Needed:
Disclosure: This coffee table makeover post contains affiliate links for your convenience.
Staging / Home Decor:
For a more recent and more detailed on using black furniture paint and black stain, click here– Black Furniture Paint and Black Stain Table Makeover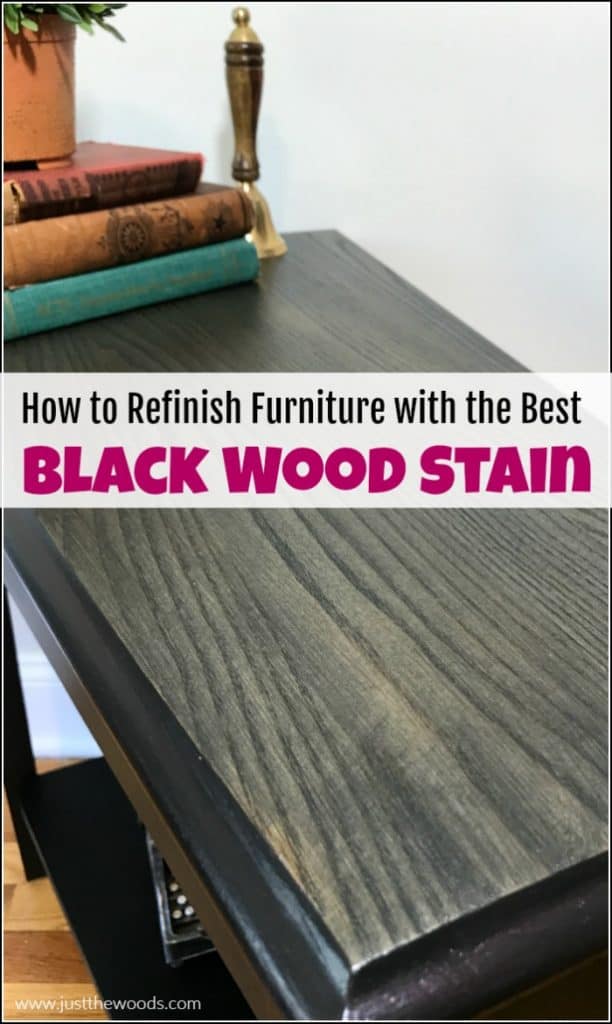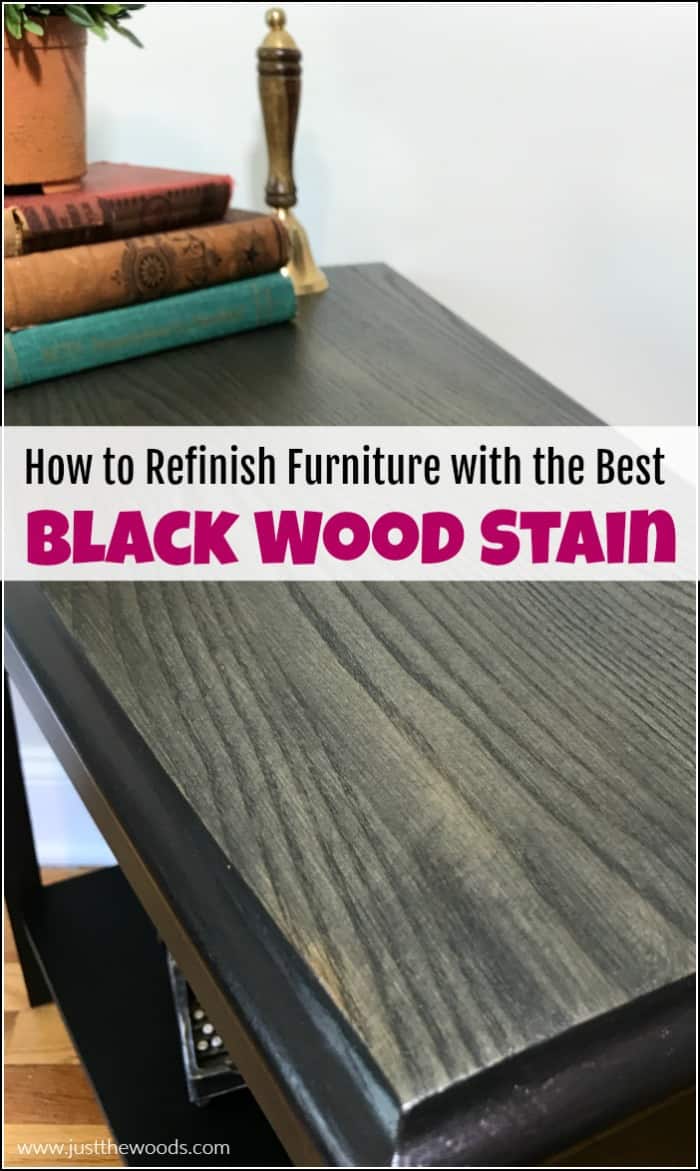 The Unfinished Coffee Table
This coffee table was bright orange, it's almost blinding, and there is nothing striking about it.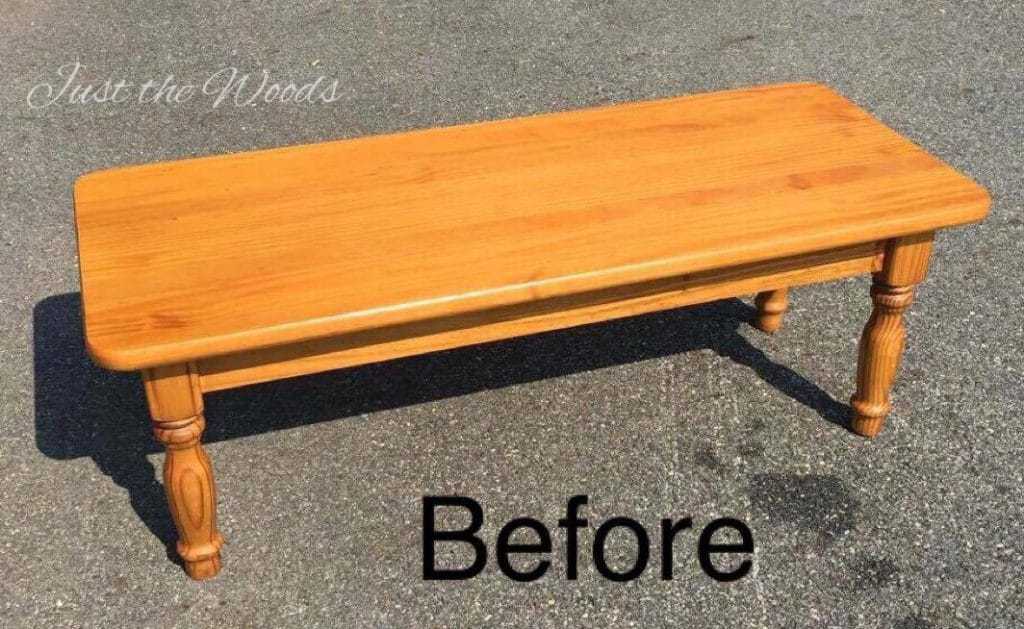 Initially, I was going to paint the whole table. The coffee table makeover was supposed to be a painted table top as well as the bottom. I considered a black bottom with layers of leftover paint colors from previous pieces on the top. Waste not, want not.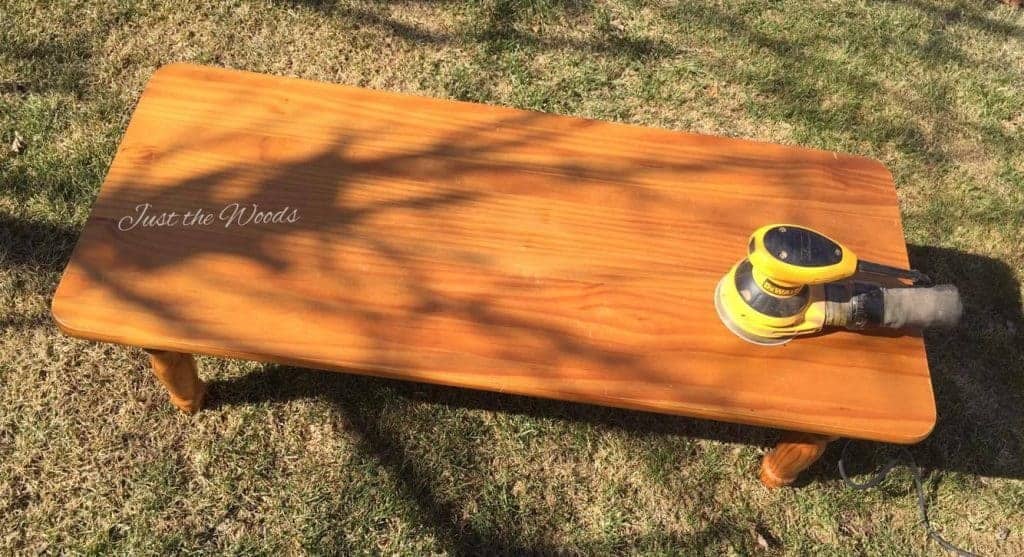 Sanding the Pine Coffee Table
But once I got it out of the truck I decided I would sand the top and see how it looks under that orange glow of the original honey finish. It was a gorgeous sunny day so why not spend it outside for a bit. I made the decision a while ago that I will no longer use the electric sander in my shop, I hate to admit that I used to but it's just too dusty and messy. Oh my! Look at that gorgeous wood grain.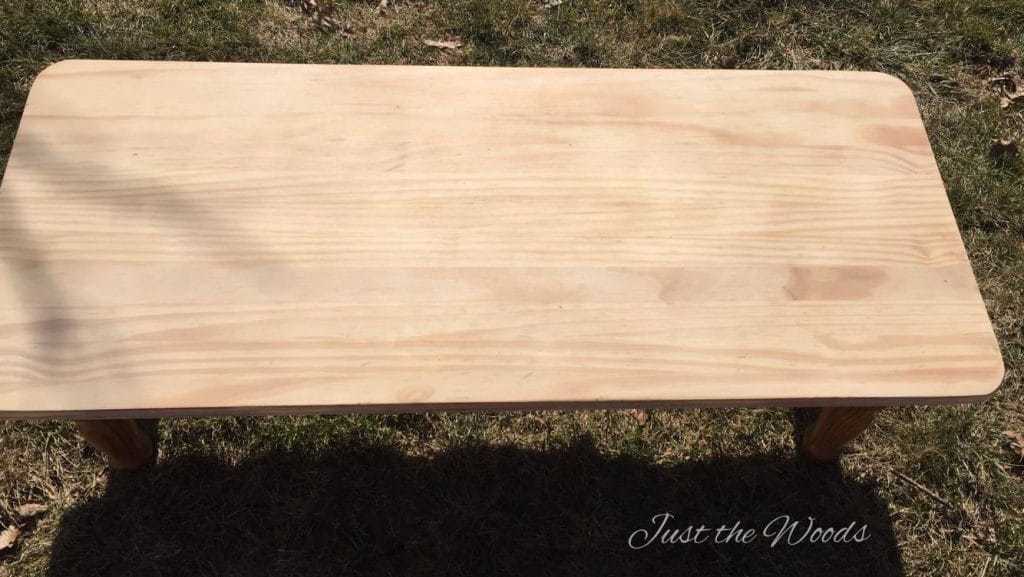 For some reason, I had thought that the table top was a thin veneer, but much to my surprise it is in fact completely solid wood. Insert happy dance here. It had some serious gouges and dents in it but look at that grain! Even with the slight remnants of gouges that are now merely dings it has serious potential.
Fancy Vintage Dripping Lights Backdrop
Yep, that the backdrop. It's super unique with the dripping vintage lights. Can you believe it's made of paper?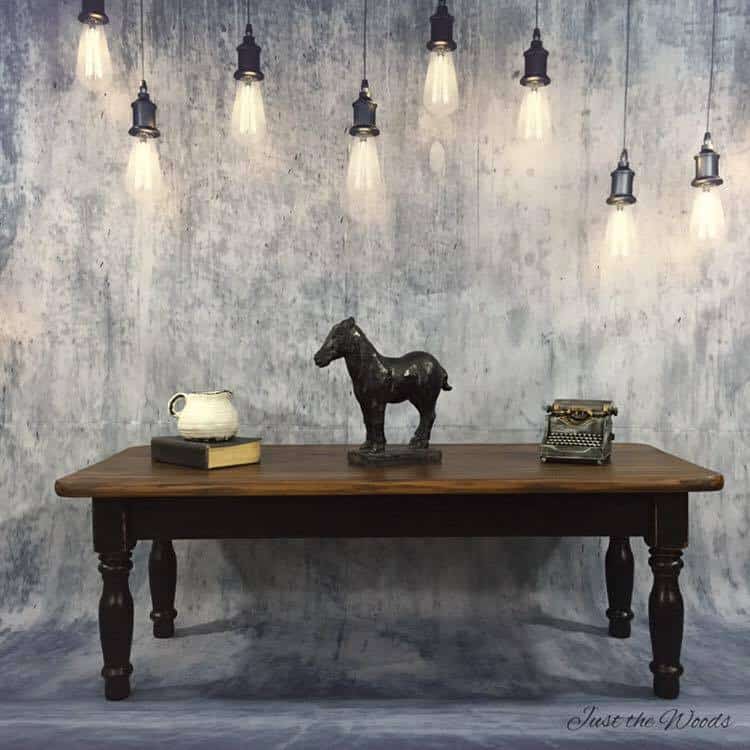 The coffee table is first flipped over and the base and legs are painted pure black and distressed to reveal bits of the light colored wood. Then I flipped it back over again and applied a very pretty chocolate stain to the top. You can find great quality furniture paint and stain online HERE. An added bonus, when painting furniture, you want to make sure to use a quality non-toxic furniture paint.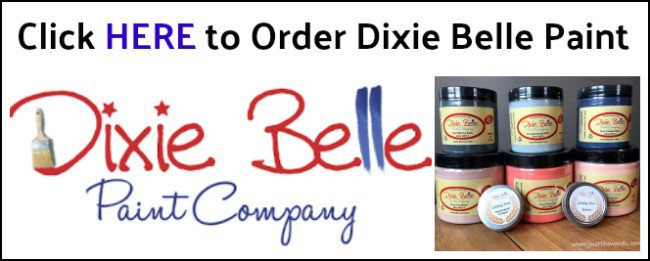 Painted Coffee Table in Black, Stain & Wood Grain
Woah, that wood grain is amazing. I can't believe it had been hiding under that orange glow of the previous finish. Plus the distressed black is always a personal favorite of mine.
The wood grain really pops now, where before it was overlooked.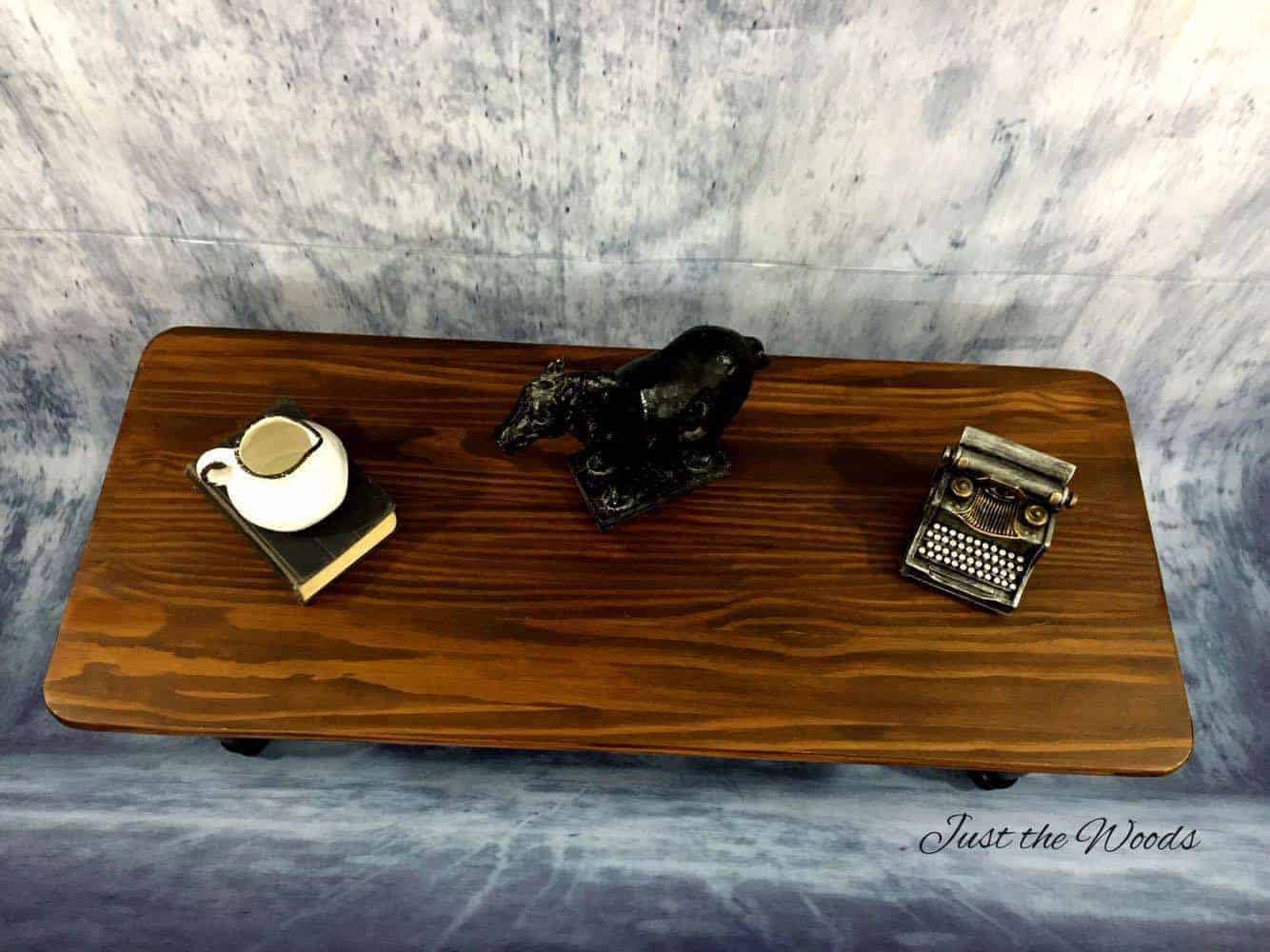 You can never go wrong with classic black, stain and wood grain.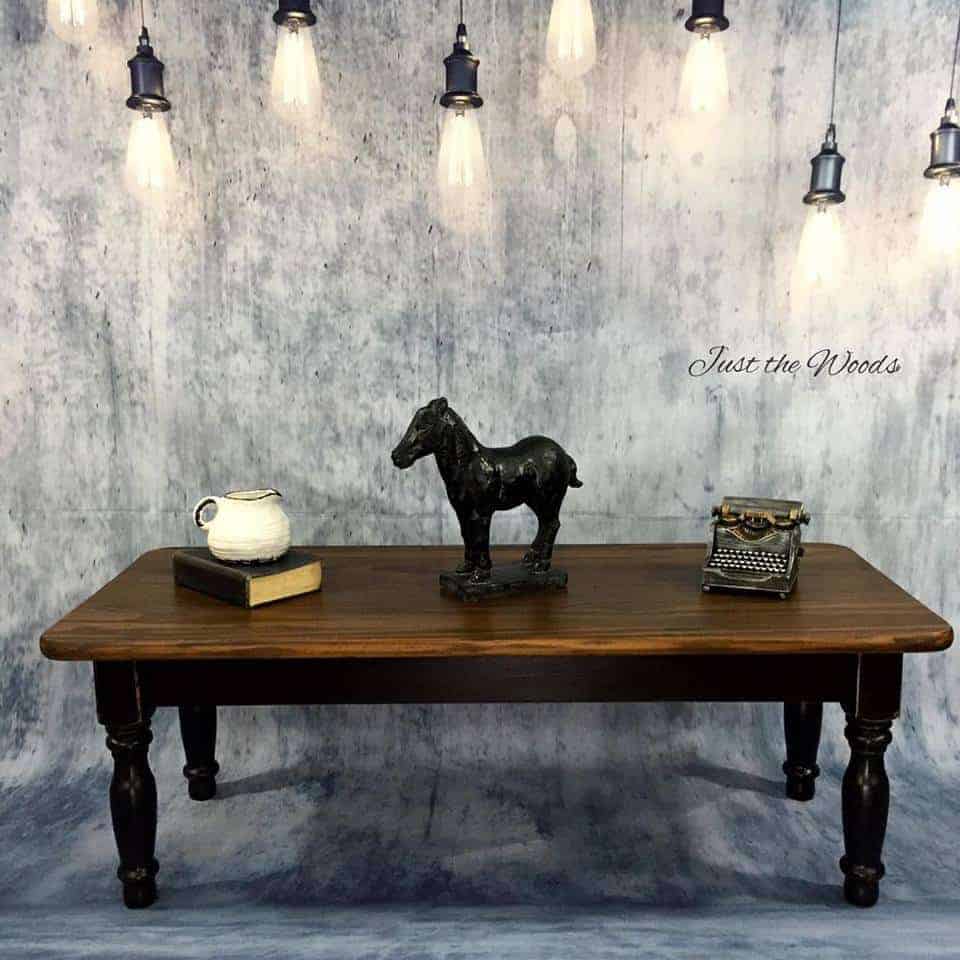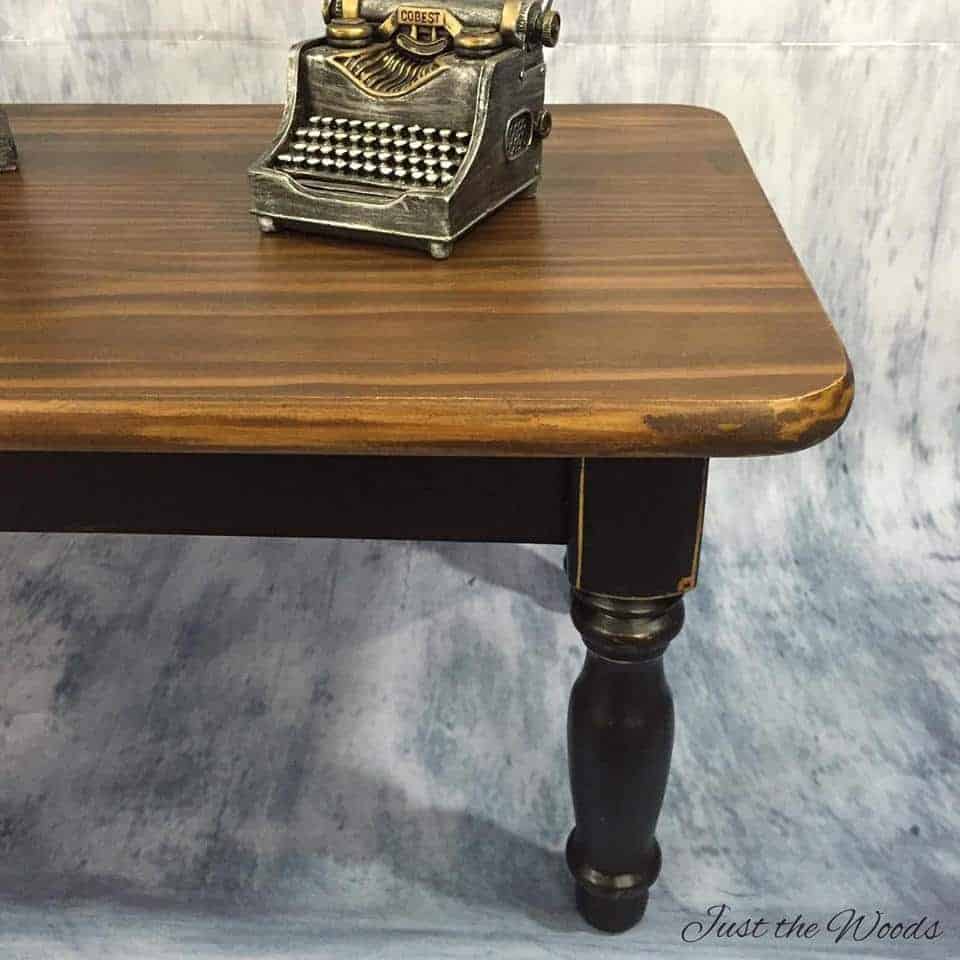 I am in love with my new backdrop too!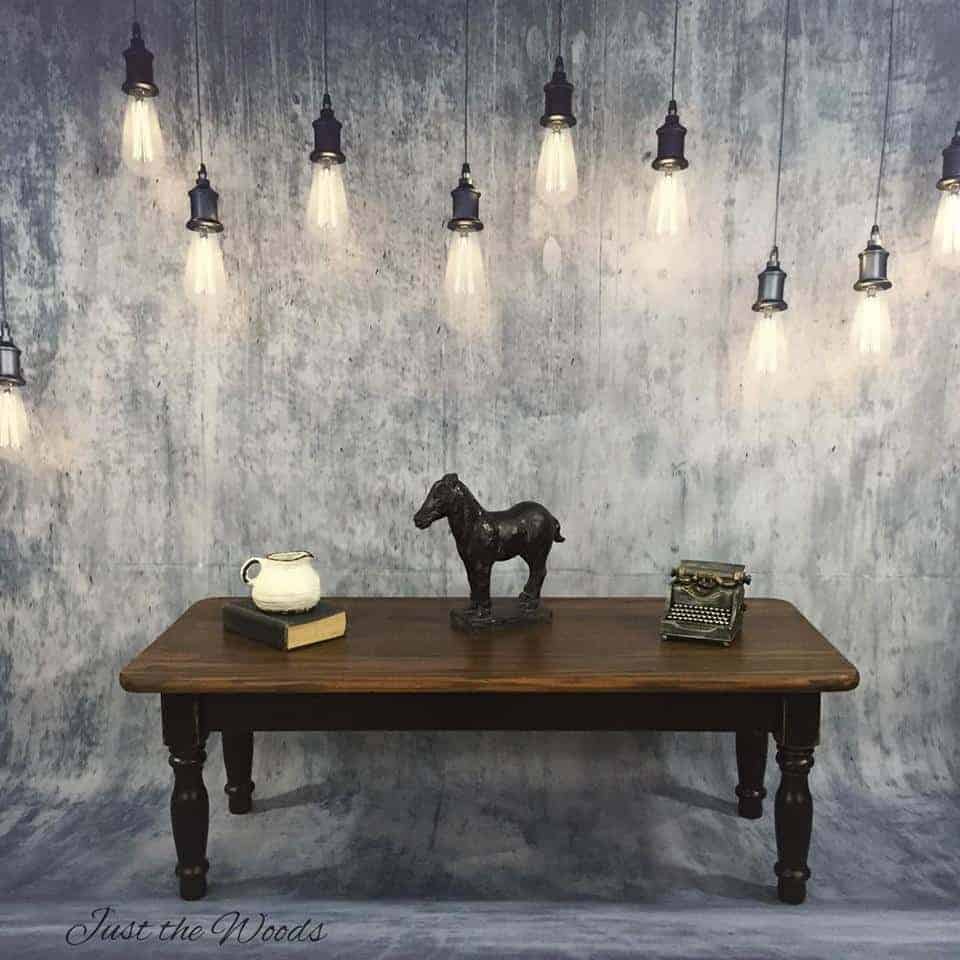 *Update* As it turned out I have a feeling that the backdrop was a little distracting so I later took a few simpler photos of the coffee table makeover with my rustic candlestick holders and a few boxwood greenery.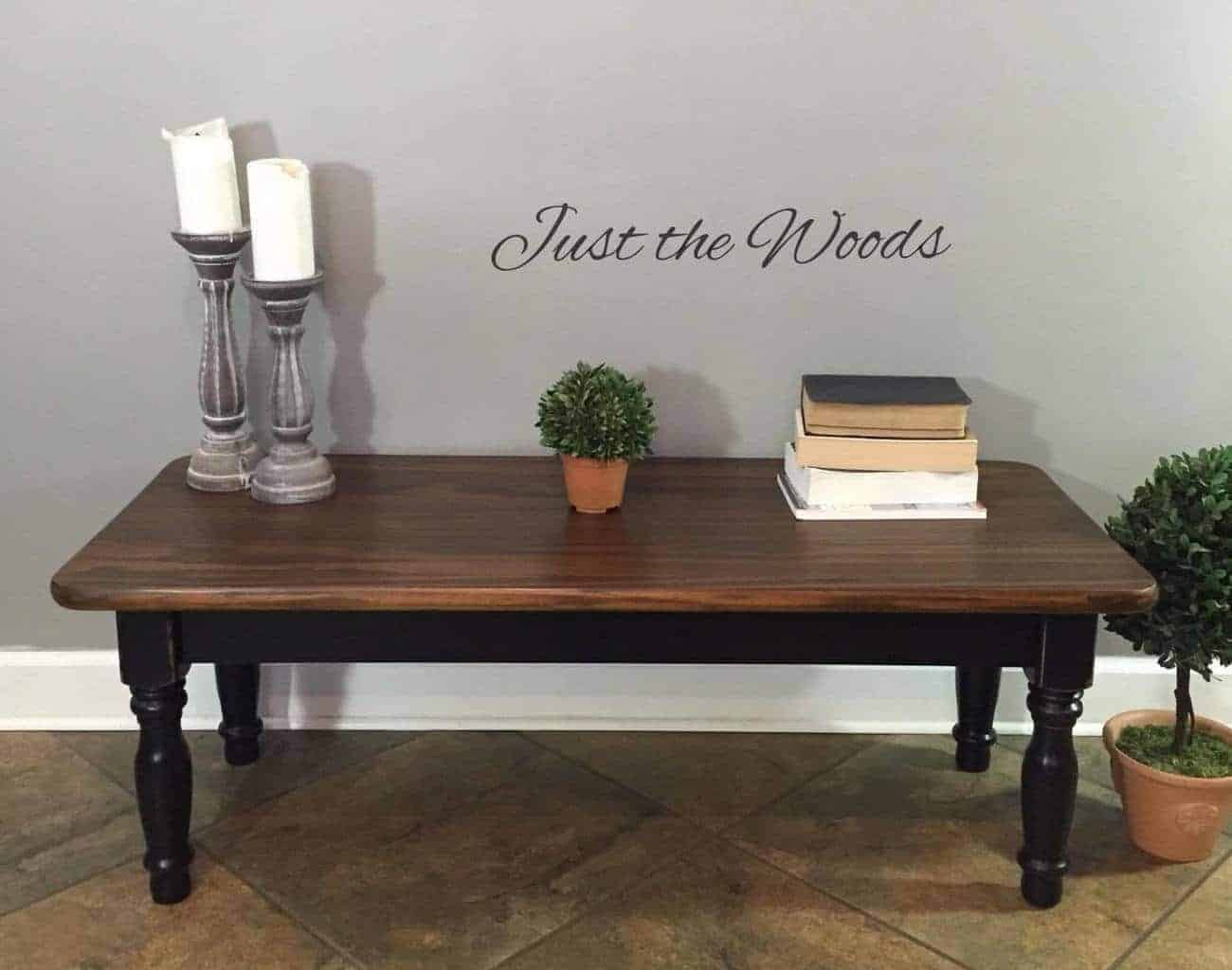 For a more detailed tutorial and recent coffee table makeover, you need to see How to Refinish a Rustic Wood Coffee Table.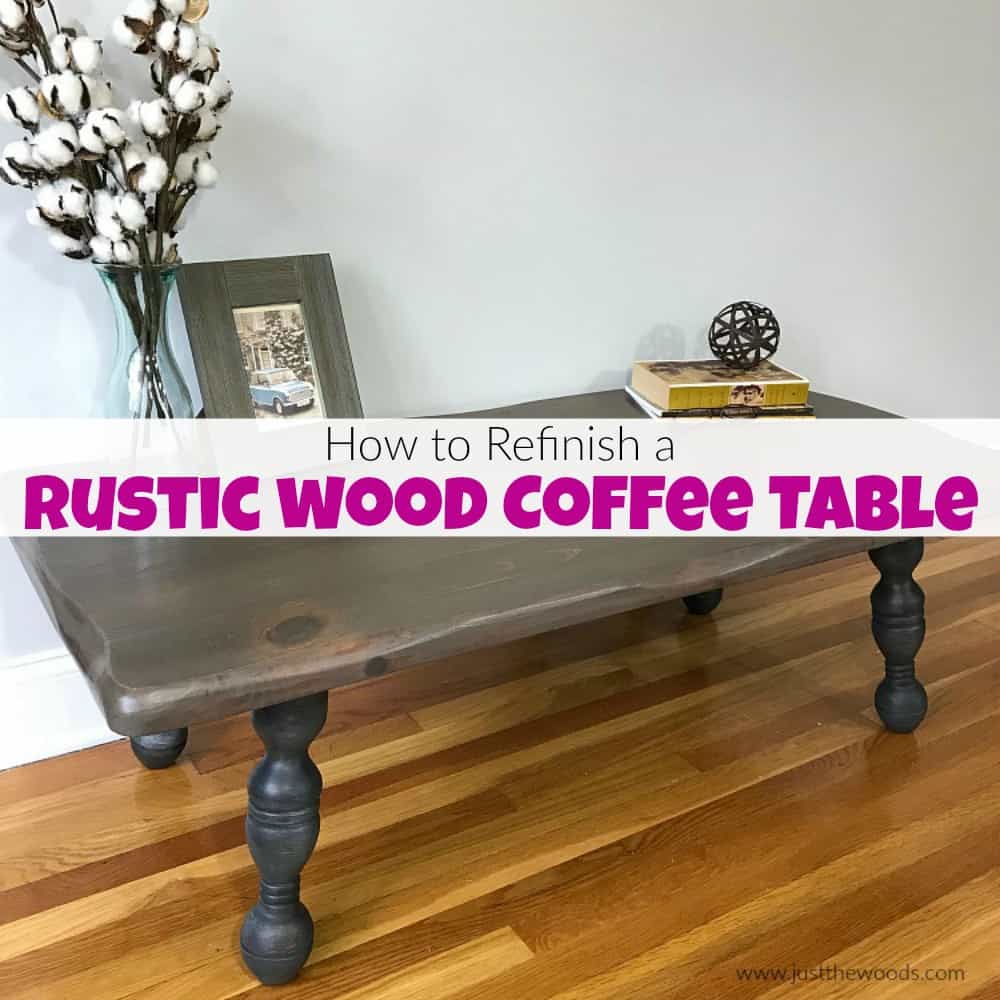 If you liked this makeover then you will love: The Best Black Distressed Painted Furniture Makeovers
The Best Black Distressed Painted Furniture Makeovers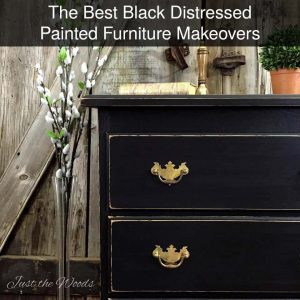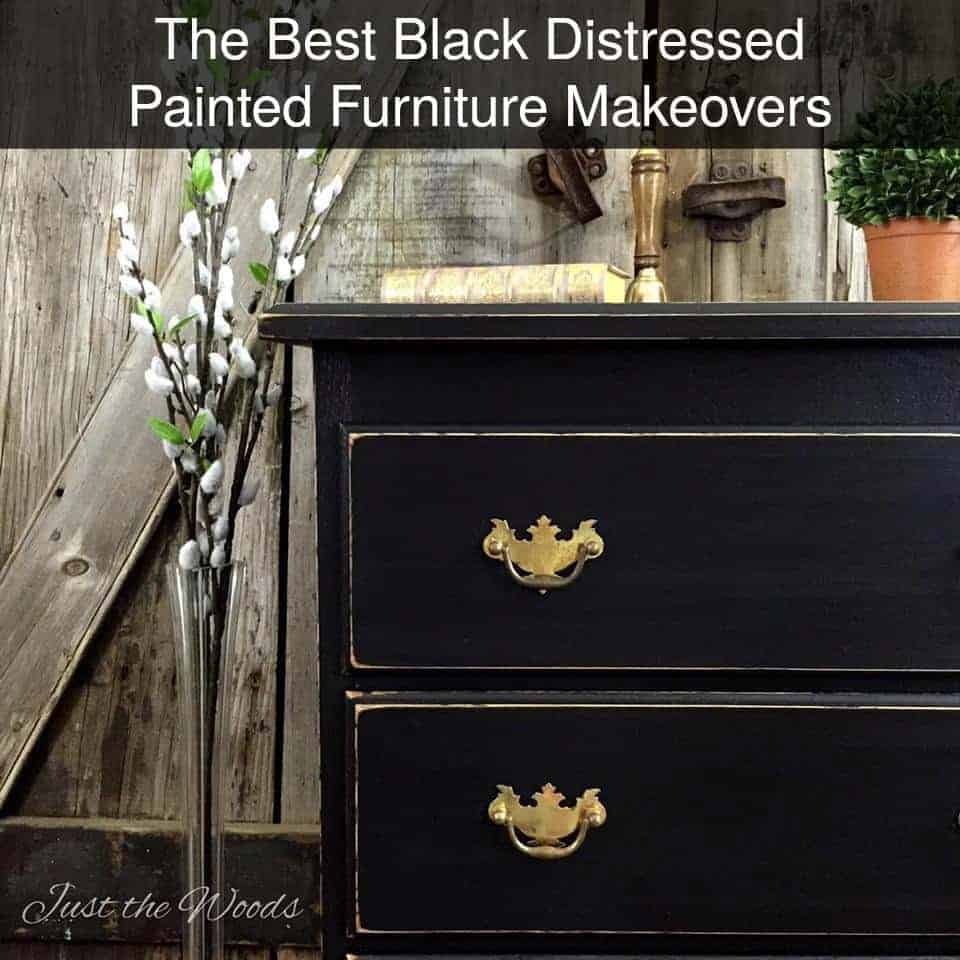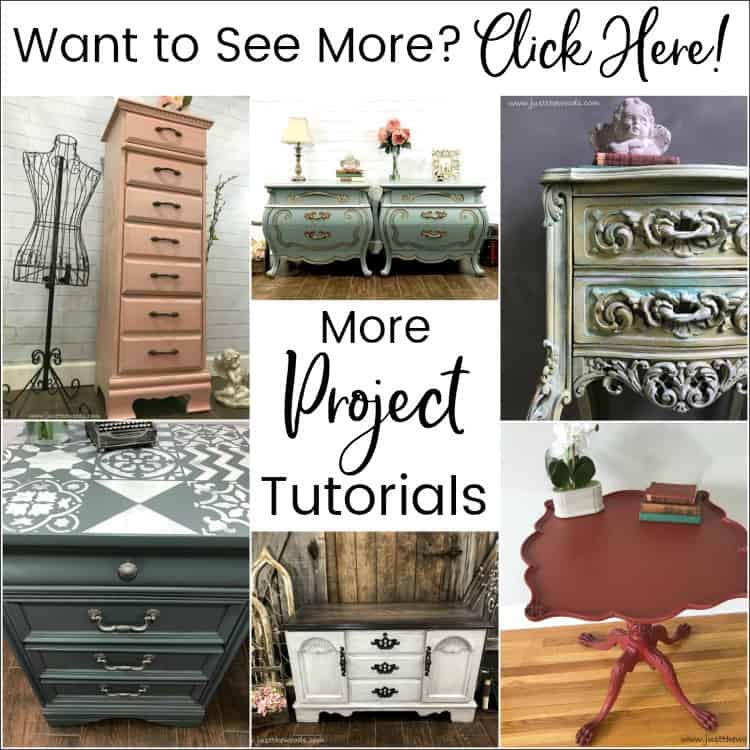 Don't Forget – Follow Just the Woods and Share this post to Inspire Others :
FACEBOOK * INSTAGRAM * PINTEREST
Subscribe to our mailing list here: