The great thing about hand painted furniture is that the possibilities are endless. Whether a beginner or novice, painted furniture brings a whole new look to old furniture. You may already have a favorite brand furniture paint that you love or you may just be finding your passion and learning how to paint furniture. If you are just getting started with chalk painted furniture then you will love this painted nightstands project. Not only will we go through how to paint wood furniture but we will also see how to decoupage on wood to give it that extra flair.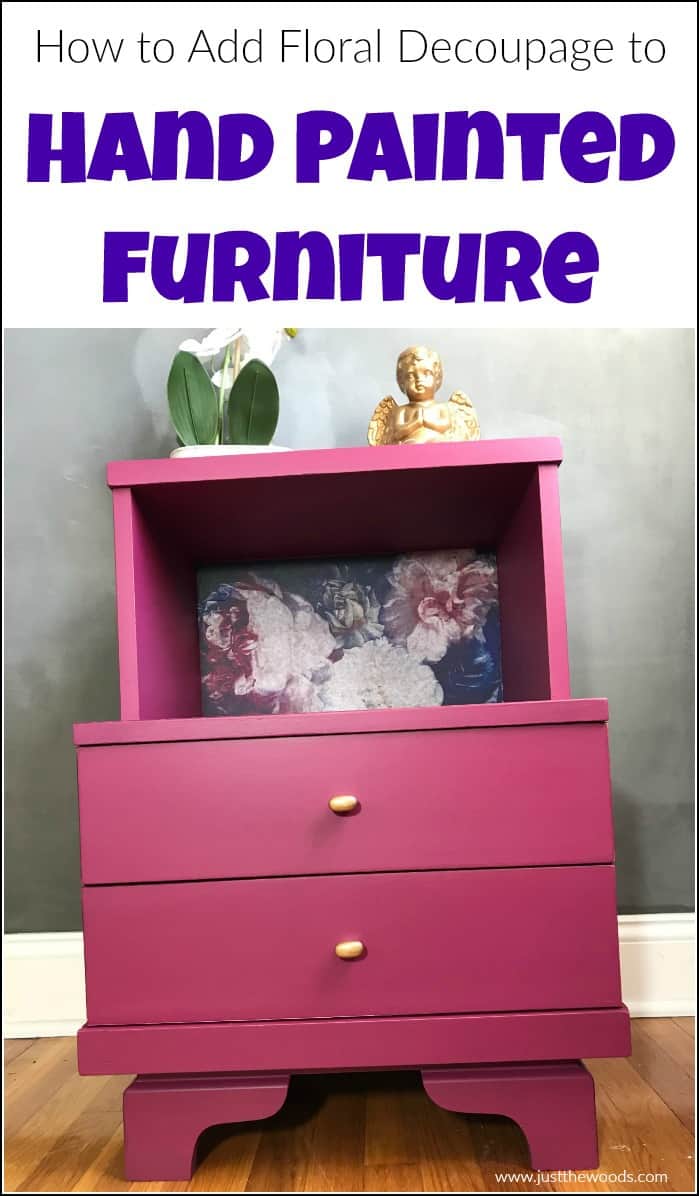 Disclosure: This decoupage on hand-painted furniture makeover post contains affiliate links for your convenience. Click here for my full disclosure policy.

Supplies & Tools Needed to Decoupage on Wood Hand Painted Furniture
Materials Needed / Source List:
Tools
Bondo
Sandpaper
Measuring Tape
Paint Brush

Find all of my favorite tools and products on my

Amazon Page here
Paint
How to Paint & Decoupage on Wood Furniture
Before we start this painted table makeover I want to show you the 'before'. This vintage nightstand was given to me by a local woman. She knows that I donate most of my projects to charity and loves the idea of seeing it fixed up and passed on to help others. It is solid wood and in need of some repair work. These furniture wheelies are great for propping your furniture on when painting. They make it easy to move your piece around, you can get them online HERE.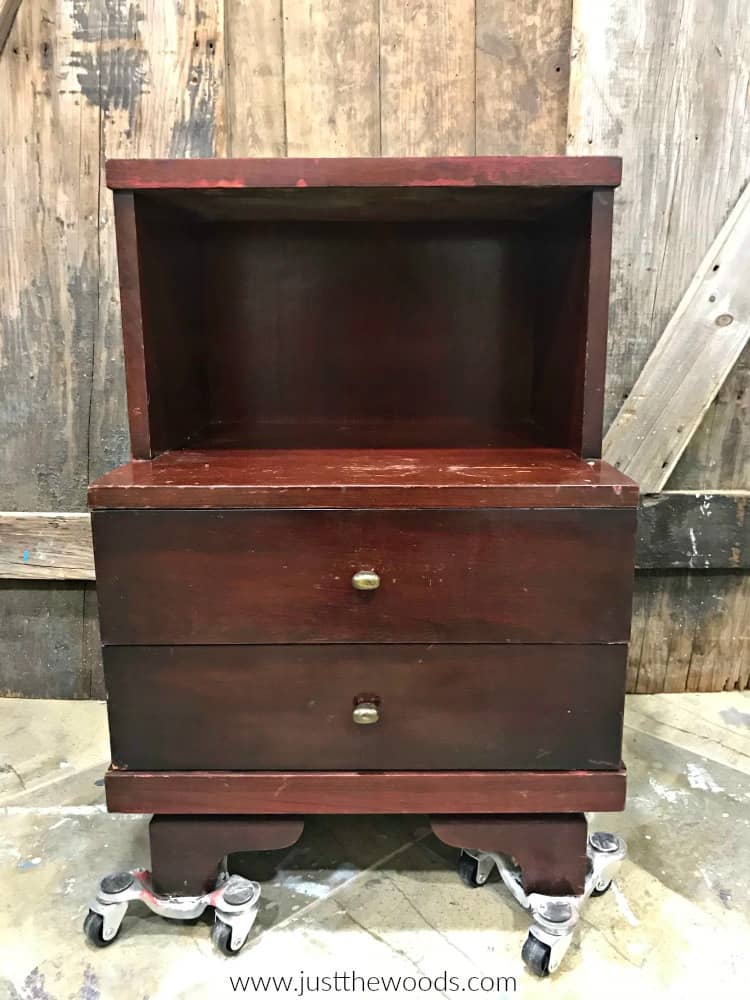 The table has some damage that you may not notice initially, but aside from being mahogany (yuck – that means bleed through) it also has chipped veneer and water rings. But it is solid, the hardware is perfect (shape, not condition) and the insides of the drawers are actually rather clean. Let's address these issues before we can make this pretty.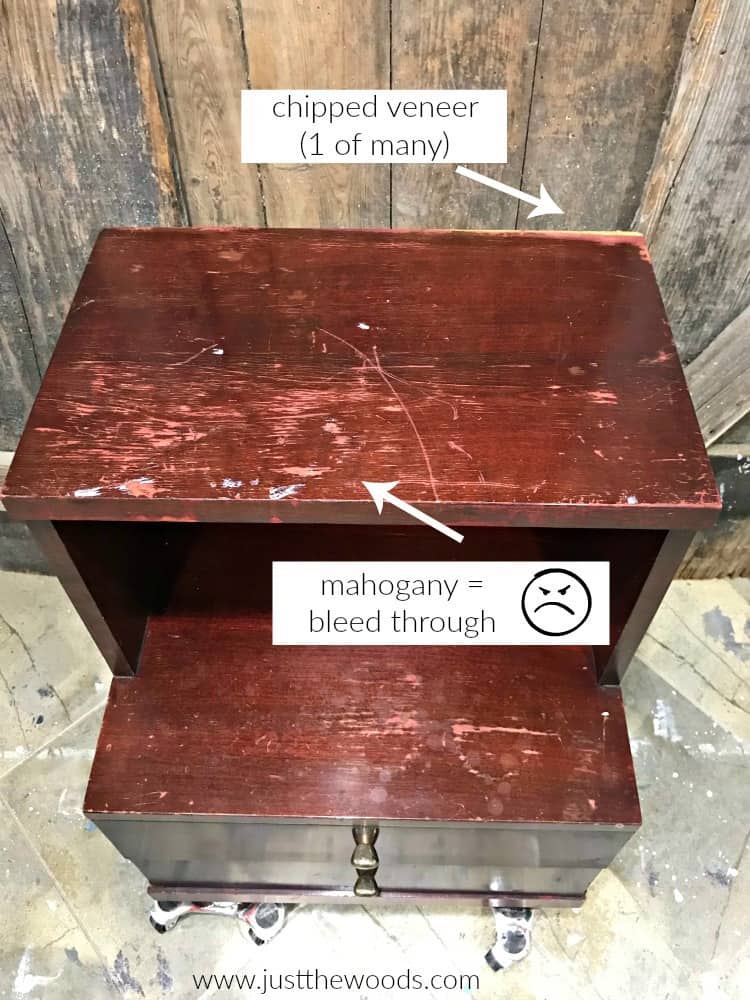 Click HERE to PIN this post for later.
Repairing a Vintage Table
The more I look at this vintage nightstand the more I notice chipping pieces of veneer. Here is a closer image of one of the areas where the veneer is coming off.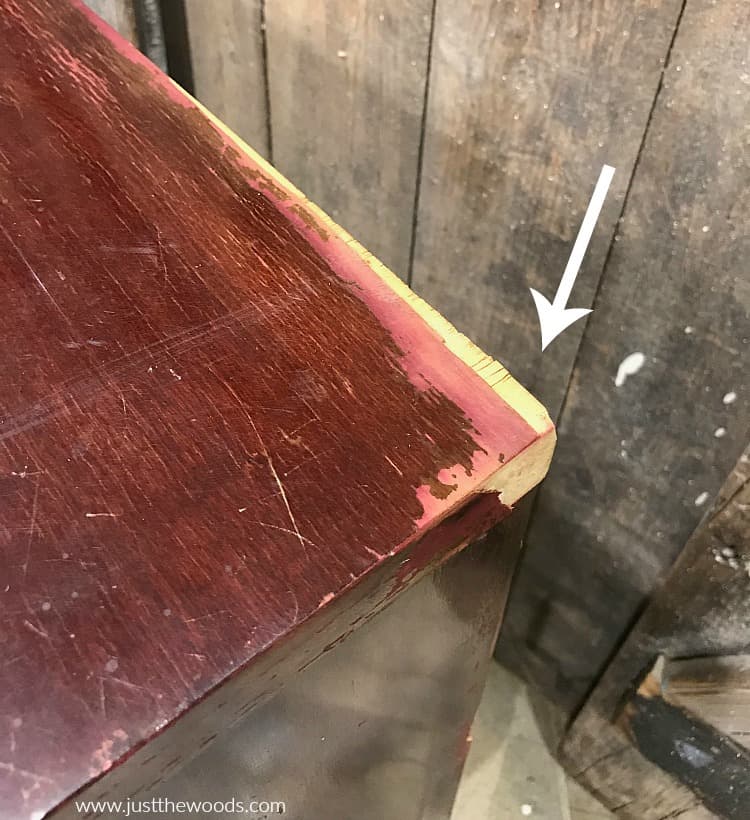 If you have areas on your table where the veneer is lifted you can attempt to get a little wood glue in there, or as I do here, you can peel that sucker right off and we can patch the area. As crazy as it may sound I like to use Bondo to repair larger areas of damaged wood. It worked wonders on a repair job for a painted lingerie chest I did. One thing to keep in mind when working with Bondo is to make sure that you are working in a well-ventilated area. The odor could become rather strong and you want to make sure that you can breathe. 😉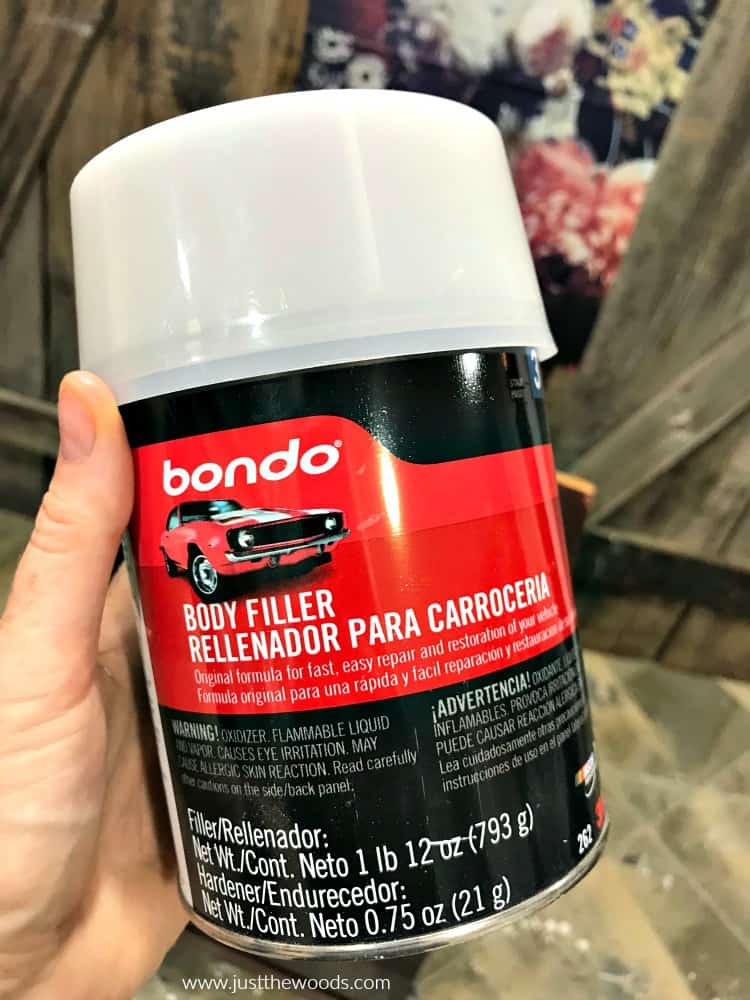 Grab your Bondo, scoop some onto a plate and mix it up. You have to work quickly because it will begin to dry and set.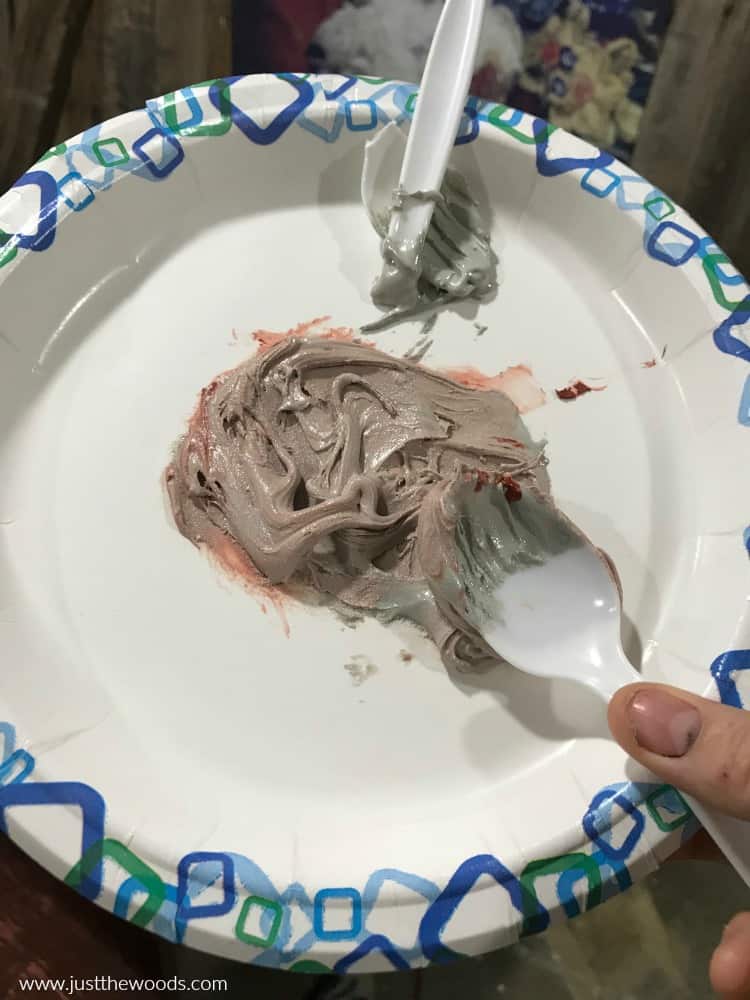 Once mixed, spread the bondo onto your areas requiring repair. Try to get it as smooth as you can because it will dry HARD, and you will need to sand it.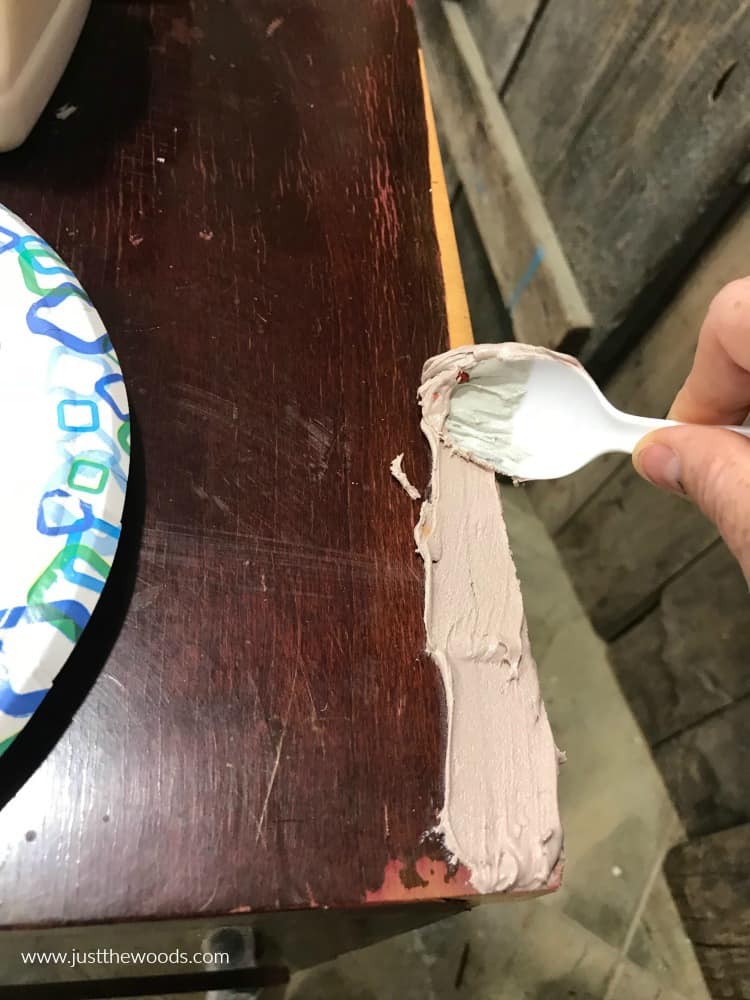 Another spot.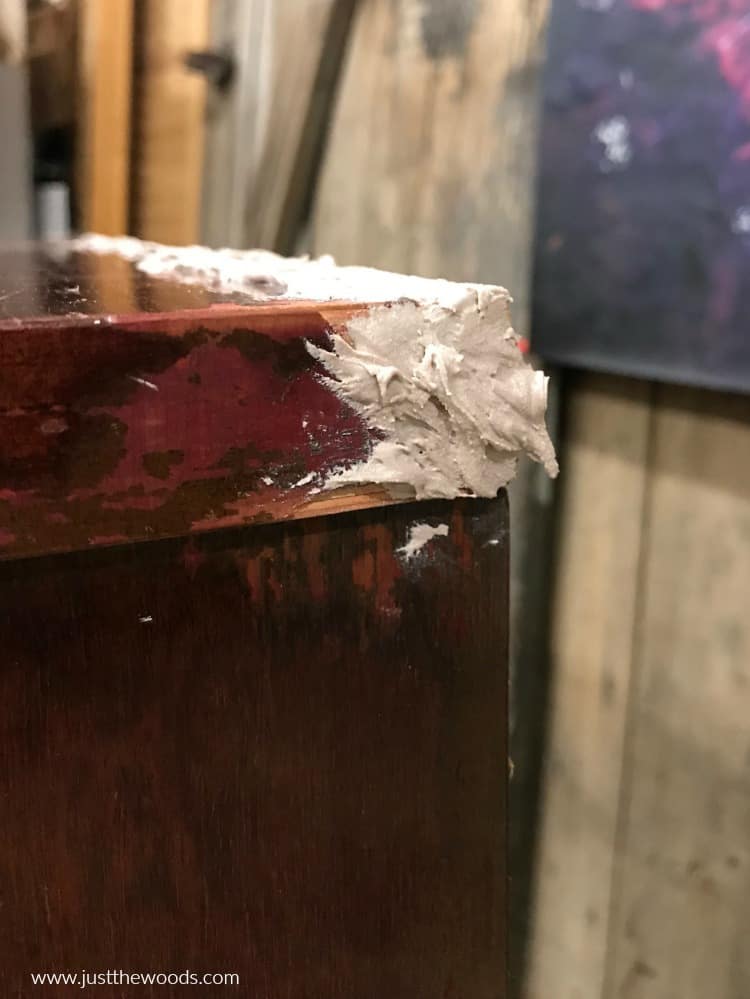 And another, you get the idea.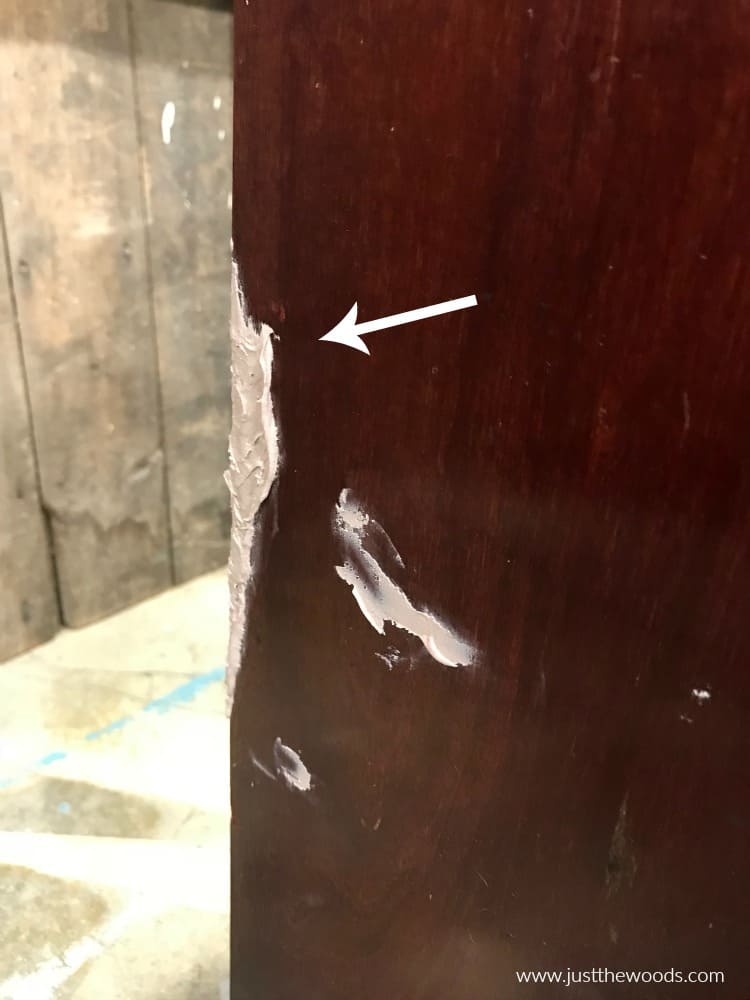 Click HERE to PIN this post for later.
Sanding Down Your Bondo Repair
Once the bondo is completely dry you can go ahead and sand the bumps smoothe. If you have an electric sander it will be much easier and quicker to sand with that over a sanding block. You can get an orbital sander online HERE. You may as well give the entire tabletop a quick sanding while you're at it too!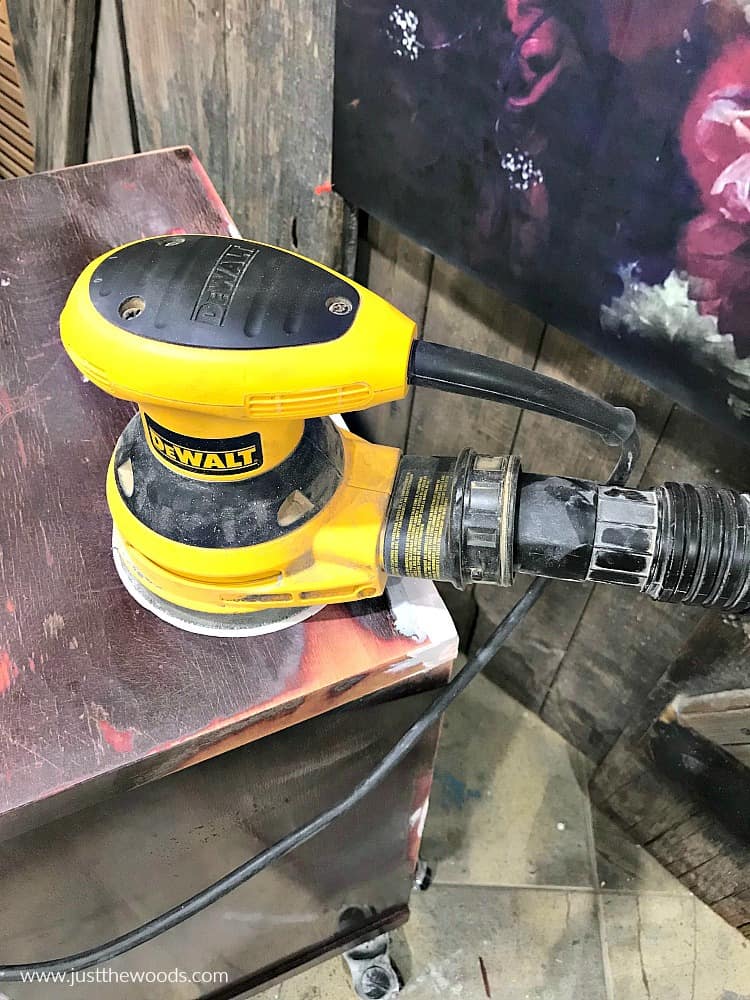 More Bondo Touch Up
At this point, you will most likely need to apply another coat just to fill in any small spots that were missed the first time around. With this table, each time I thought I repaired everything I would notice another area needing repairs. For the second go around I decided to use the smaller glazing and spot putty bondo. These are the Bondo products that I am using: Glazing and Spot Putty and Filler and Repair.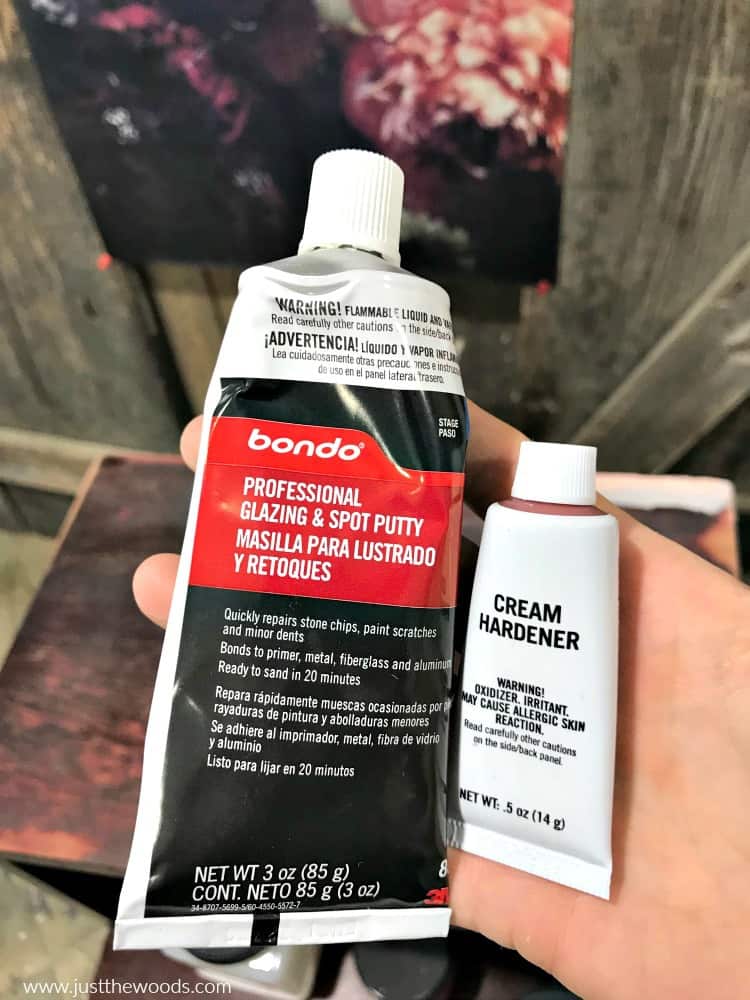 Use the same method as before. Mix, spread and wait. Once dry go ahead and sand smooth again. When the area is relatively smooth you can sand with a sanding block.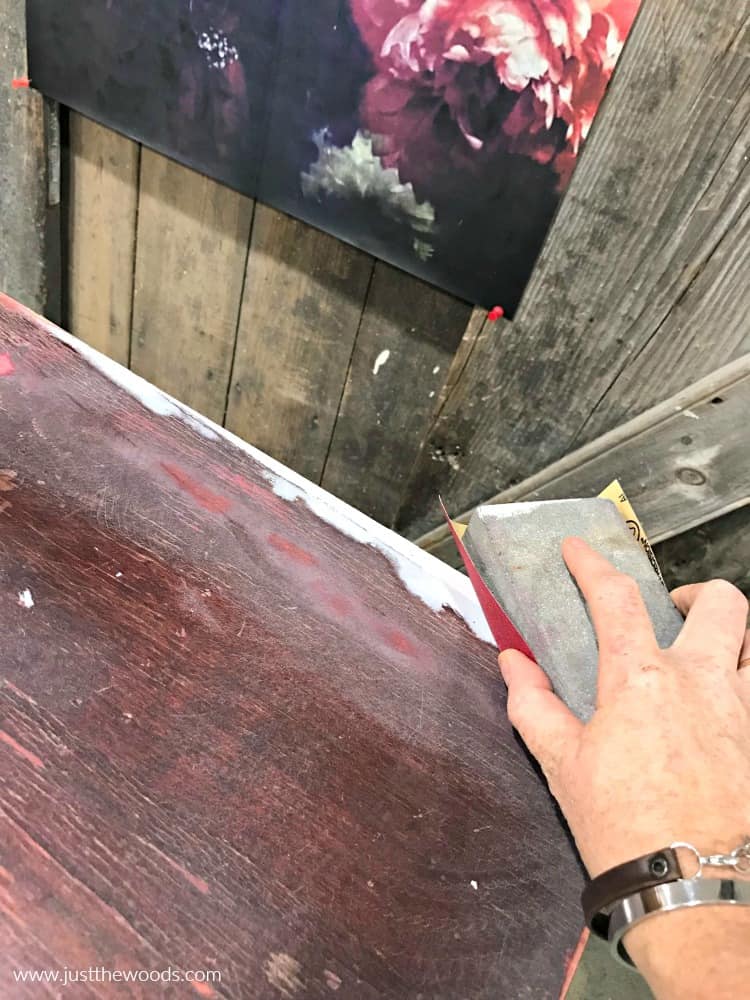 For more projects and ways to use Bondo to repair furniture, make sure to check out How to Repair Furniture with Bondo Wood Filler.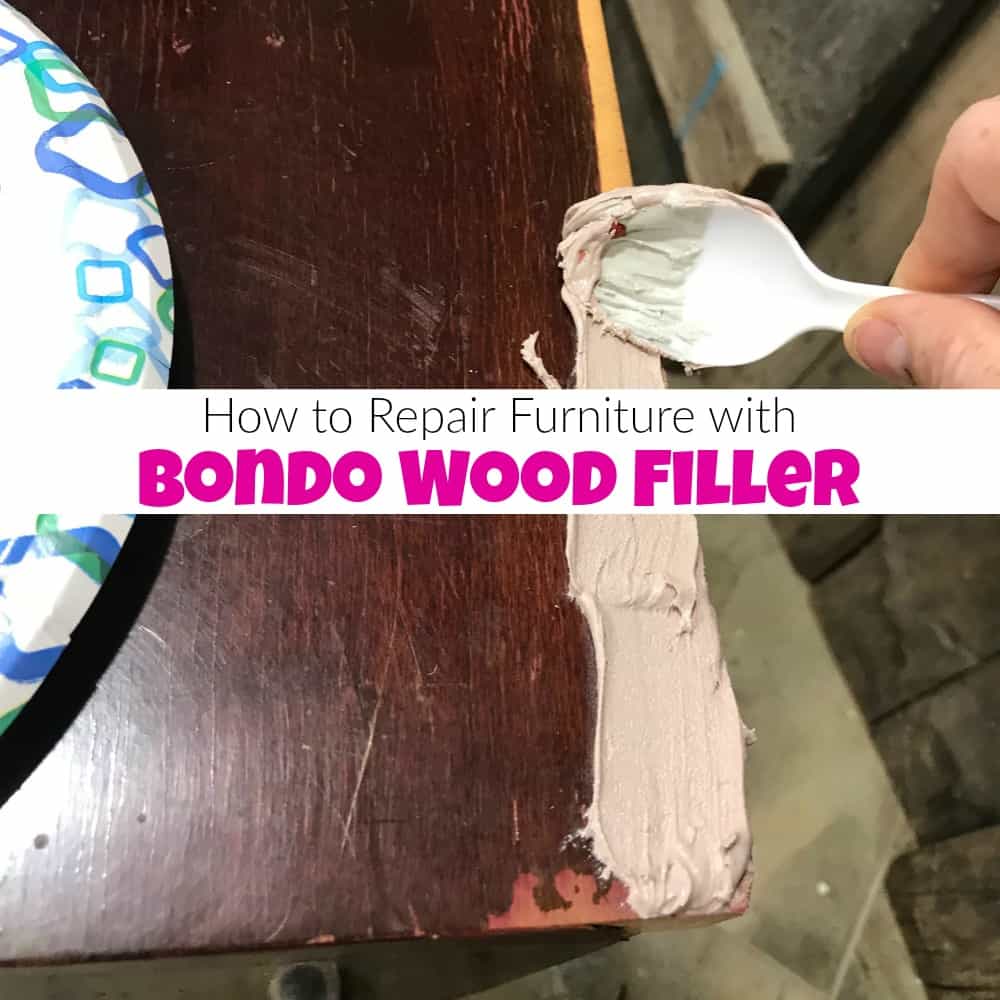 If you are new to furniture painting and want to learn how to update old furniture with paint you can always start at the beginning with How to Paint Furniture – a Beginners Guide.

Prepping Furniture for Paint
Now that your repairs are made you will want to thoroughly clean and prep your table for paint. This is my standard process for how to prep painted furniture. The first thing you will need to do is remove any drawers and hardware from your furniture. This is a little trick I like to do with drawers to make sure they always go back in the right place. Label the drawers underneath with plain chalk. Easy peasy! I mention this along with many other tips in my Tips and Secrets to Painting Furniture.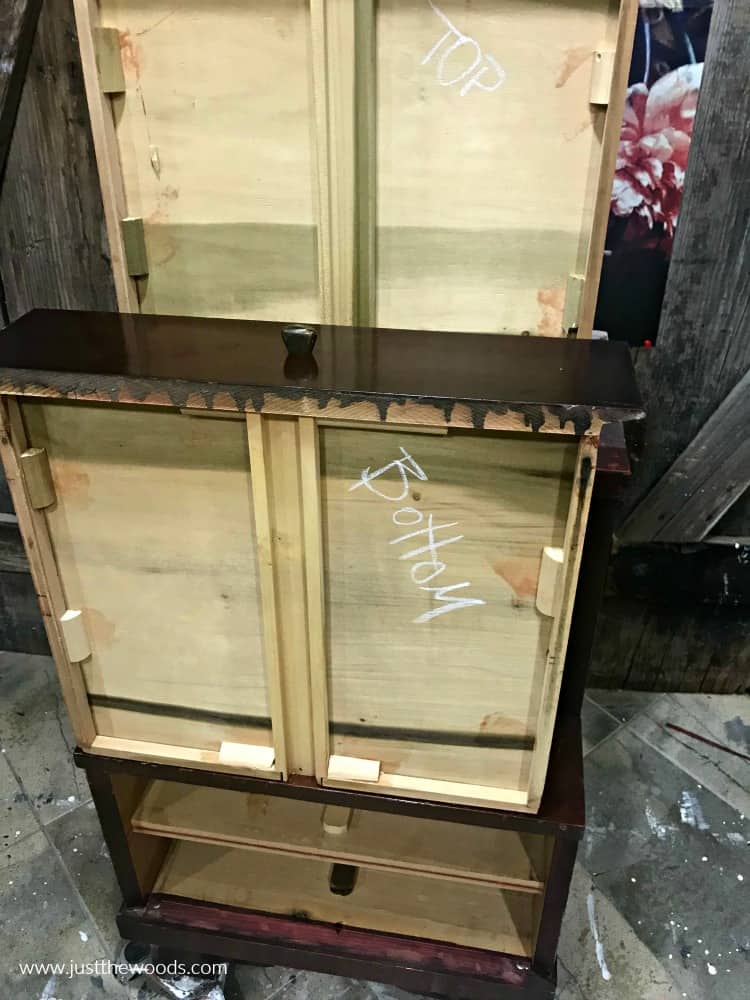 Now give your furniture a light sanding to scuff up the surface. Even though many furniture paint lines brag about no prep needed I always prefer to sand and clean my projects. The way I see it, you will never regret a thorough prep, but you may regret skipping it.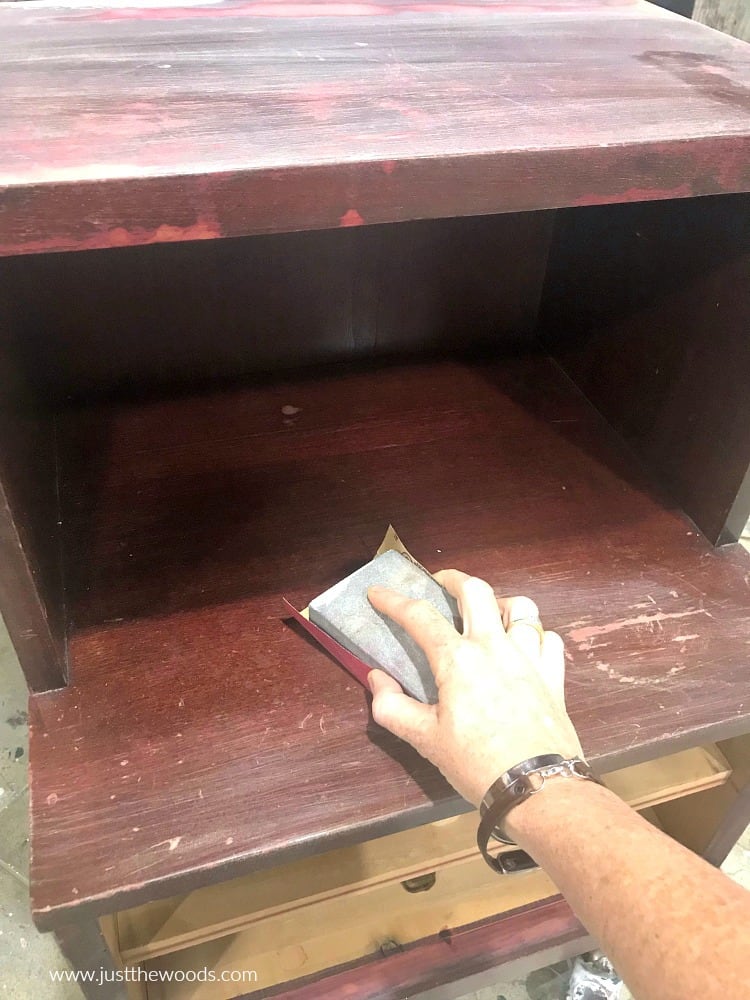 Next, thoroughly clean your surface. You want your paint to stick to the piece of furniture and not to the dirt. A scrubby sponge works great for the first cleaning.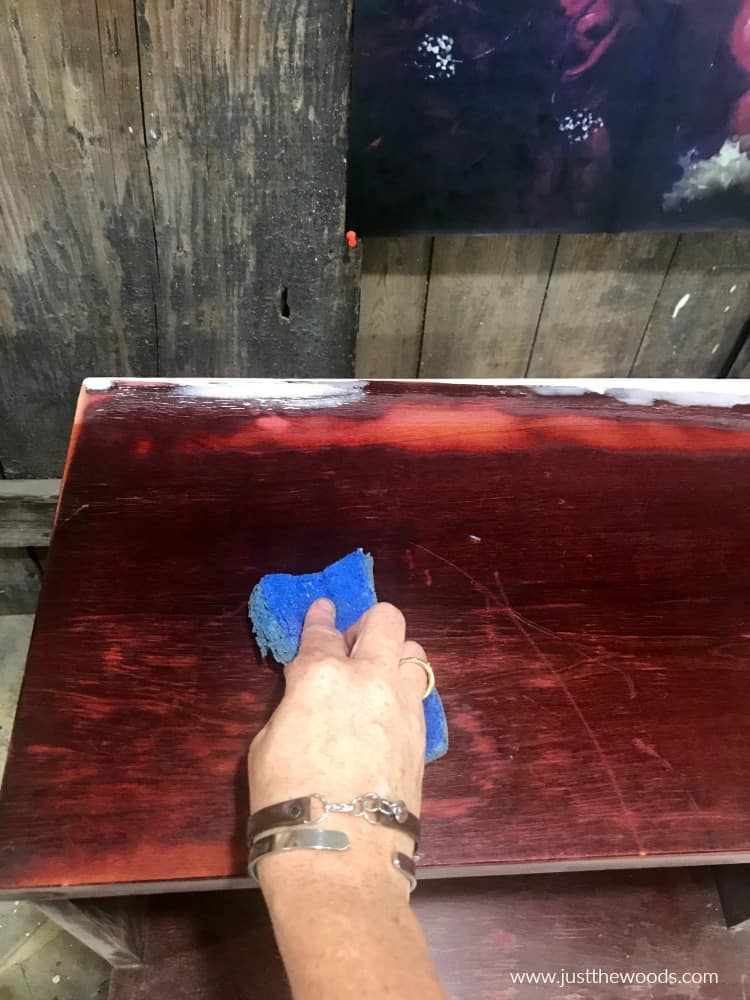 As well as a damp paper towel. Yikes!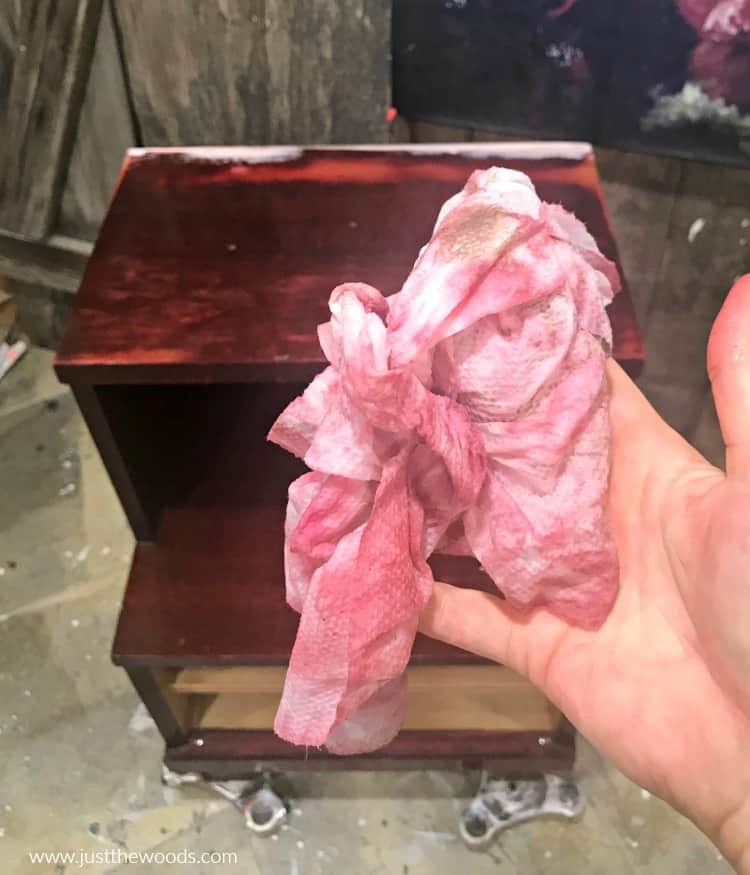 Priming Furniture Before Paint
As you can see, this table is red mahogany. With old mahogany furniture often comes bleed through. Bleed through is that nasty pink that comes right through your paint. We need to make sure that this doesn't happen. There are a few things that you can do to prevent bleed through when painting furniture. For this painted nightstand makeover I am using a product called BOSS by Dixie Belle. The BOSS stands for blocks odors, stains and stops bleed through.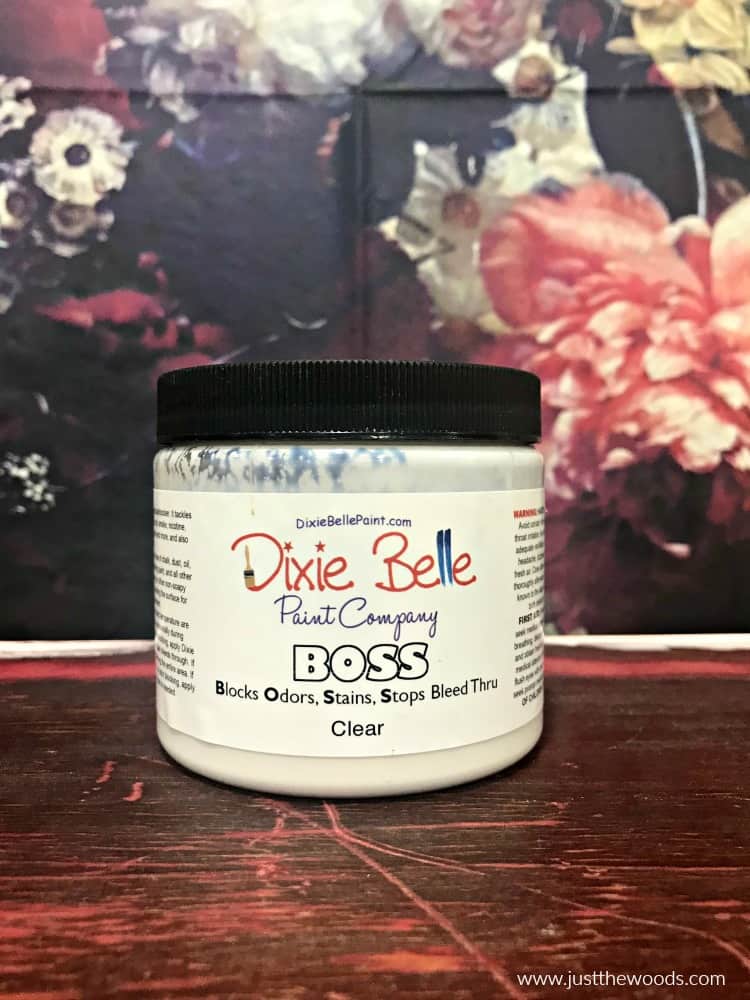 To be honest, when painting furniture white you can use a basic white tinted primer. But when painting furniture in a color, like we are about to, I like that Boss goes on white but dries clear. This way you don't have to worry about any of the white primer showing if and when you distress the piece. You can go ahead and brush Boss onto your table with a brush the same way that you would paint anything. For this project, I am using my Zibra paintbrushes. You can get these white soft bristle brushes online HERE.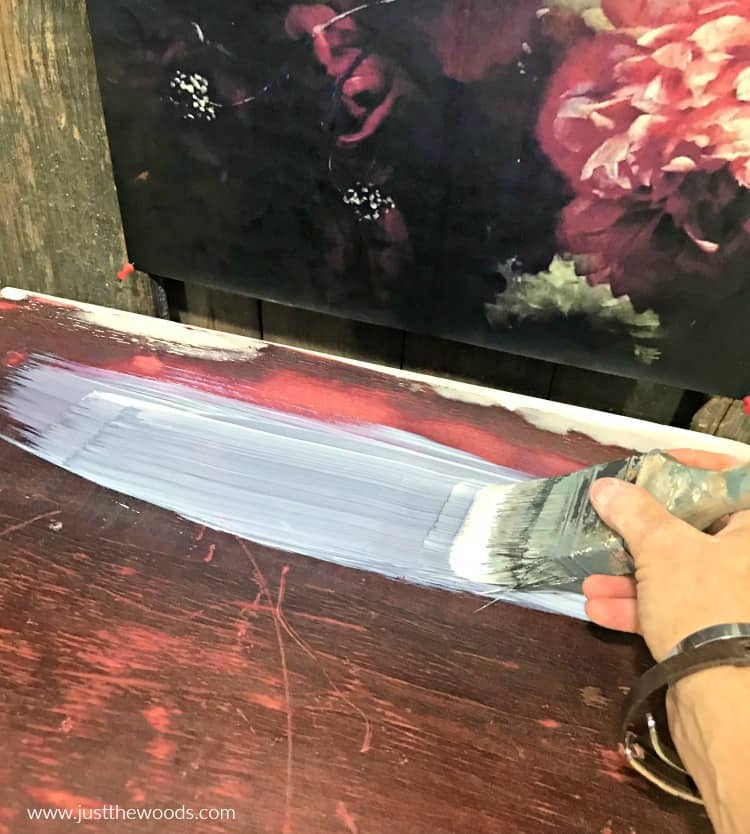 See how it changes from white to clear as it dries? Pretty cool, huh? You can see another project using this bleed through blocking primer here: Spray Painted Blue Table.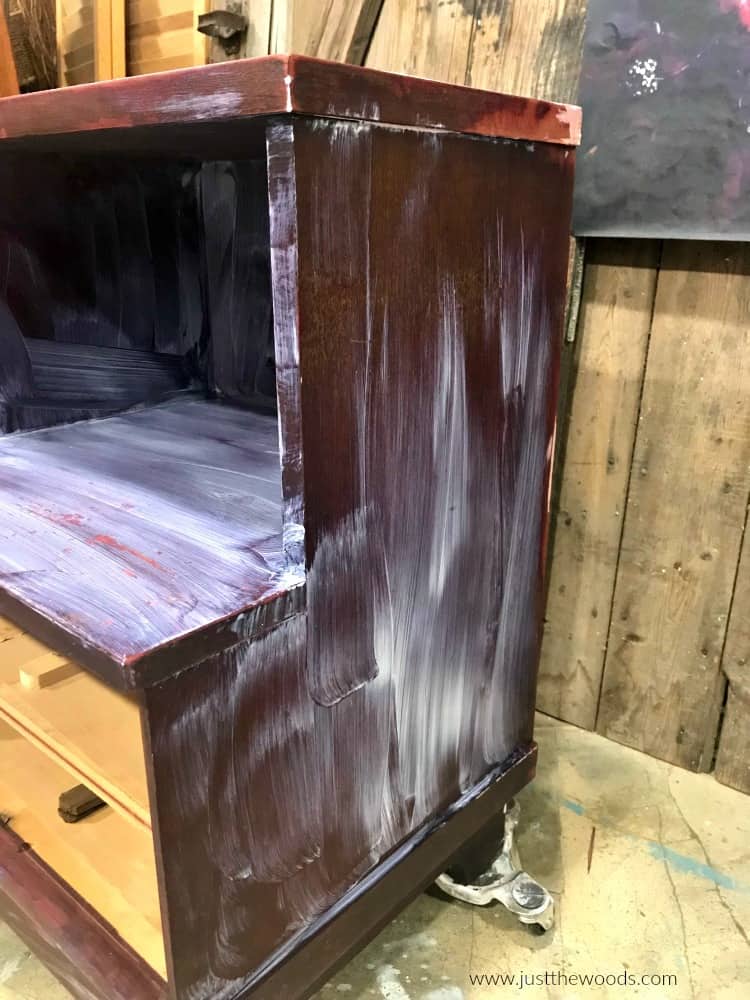 Click HERE to PIN this post for later.
Second Coat of Primer to Stop Bleed Through
Depending on how bad you think the bleed through could be you can apply either one or two coats of the clear primer. In the case of this vintage table, we will be applying two coats just to play it safe.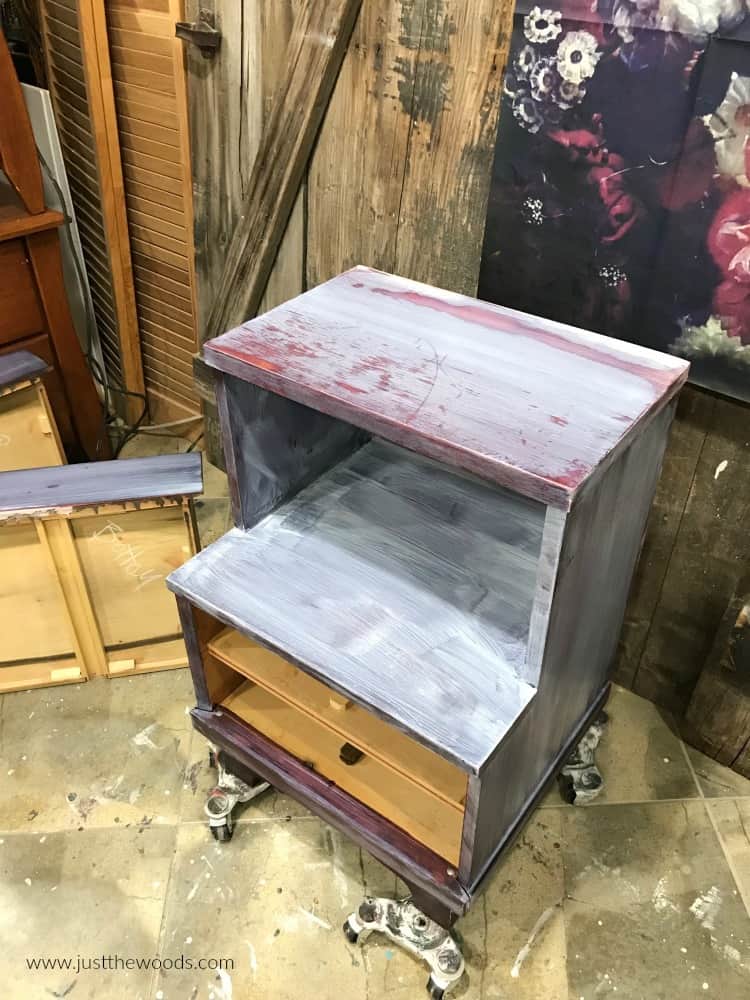 Here is after two coats and the primer is completely dry. You can get BOSS online HERE.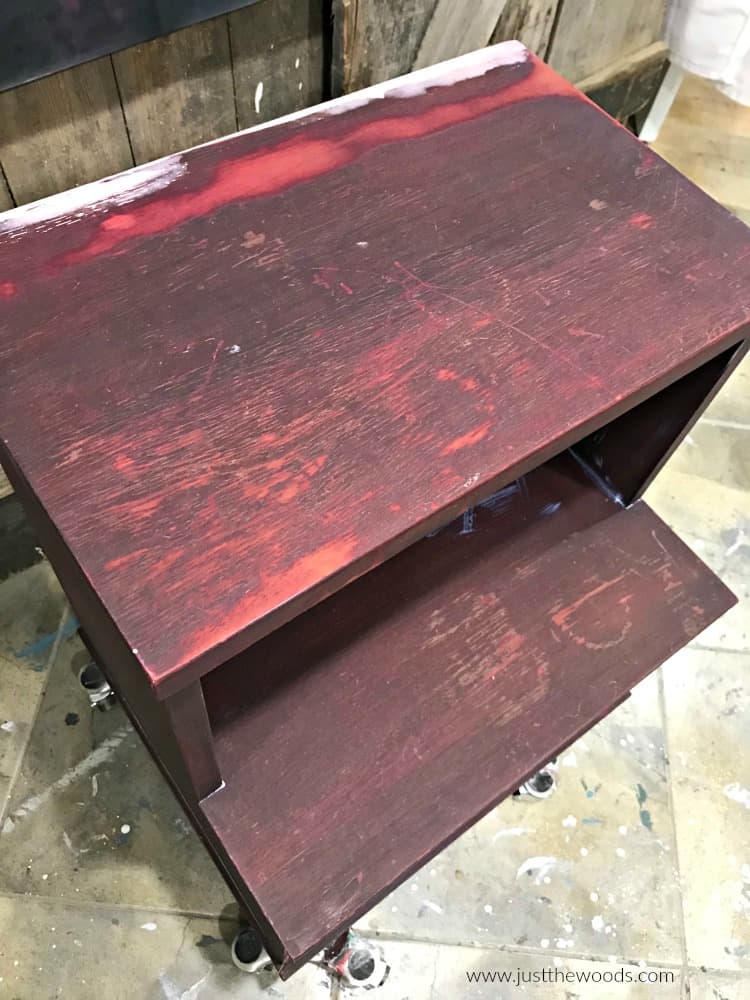 Painting a Bold Pink Painted Nightstand
Now on to the fun part. We are painting this table in a bold pink-plum color called Plum Crazy by Dixie Belle. You can get this pretty pinkish purple paint HERE.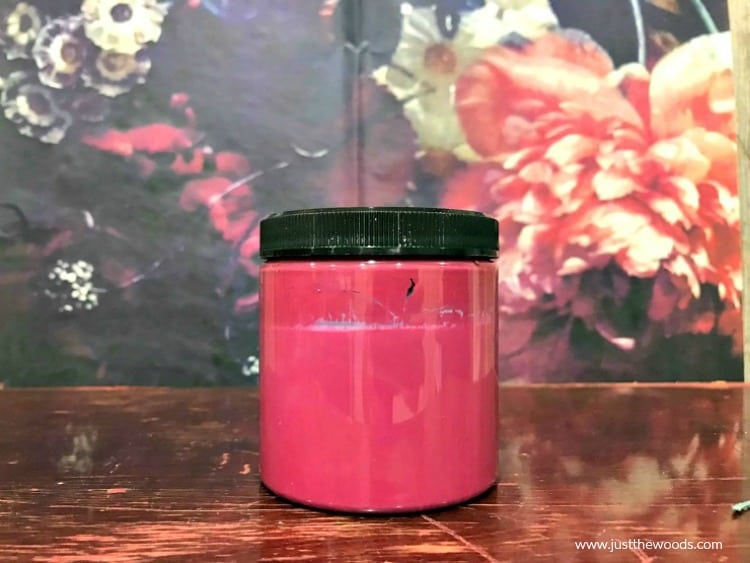 Go ahead and paint your table in this gorgeous color. Sometimes it's nice to steer away from the same old whites and grays and have fun.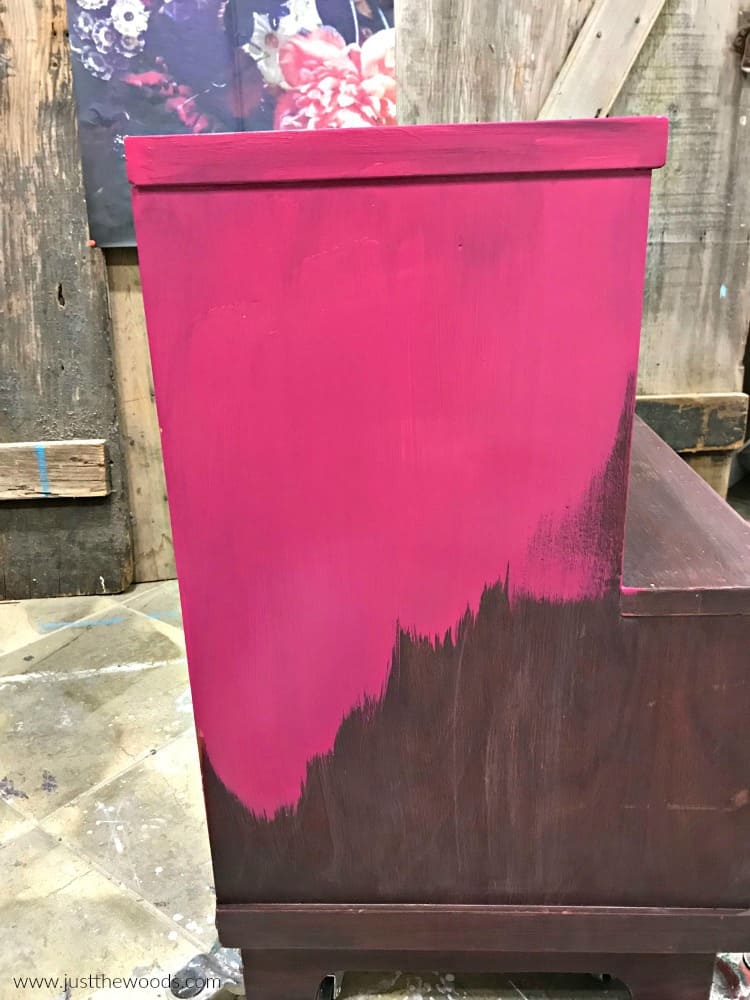 Make sure to let the furniture paint dry completely, and then lightly sand with a fine grit sandpaper. Wipe with a lint-free cloth to remove any sanding dust and apply a second coat.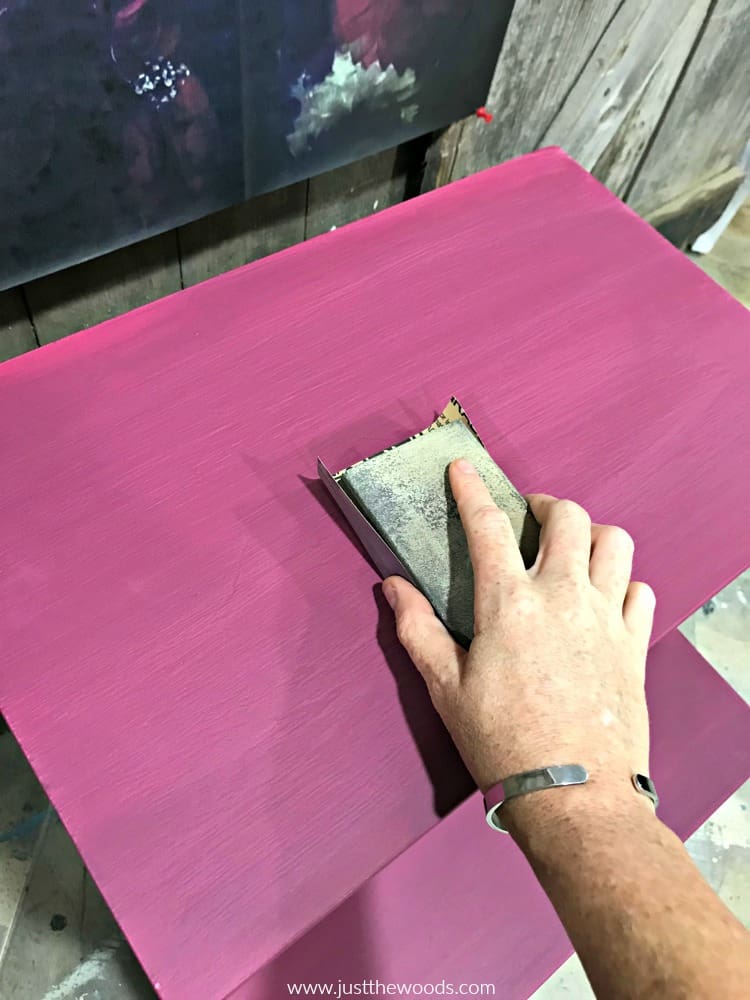 Allow the second coat of furniture paint to dry, lightly sand again and this time also sand along the edges to distress your hand painted furniture.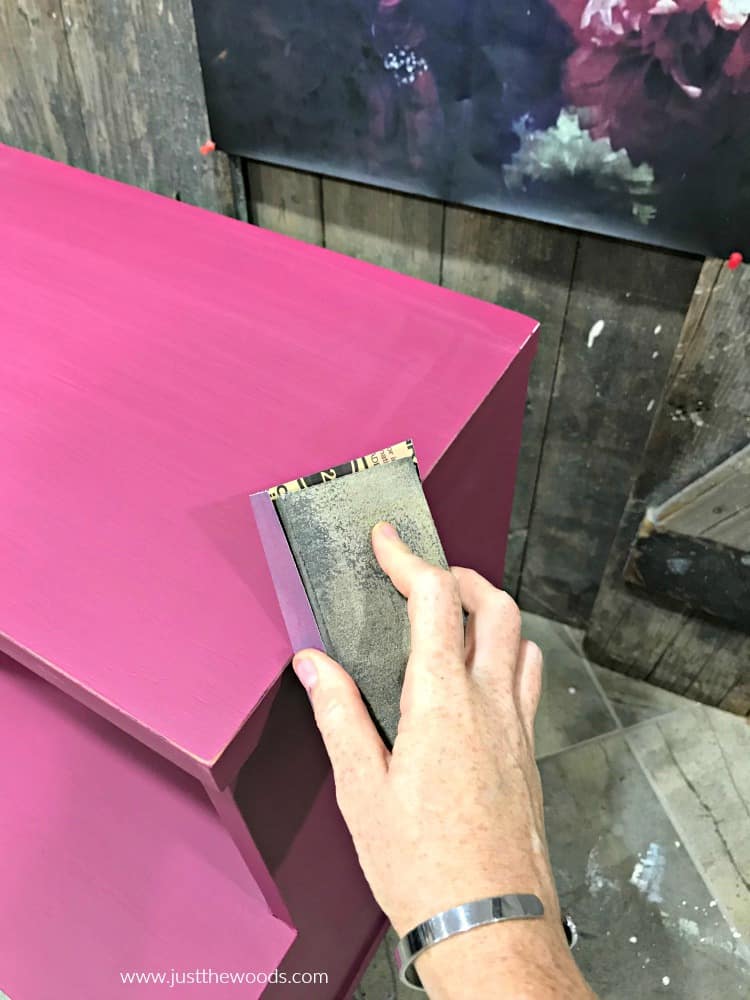 Next, use a lint-free cloth again to wipe and remove any sanding dust before applying the sealer to your painted nightstand.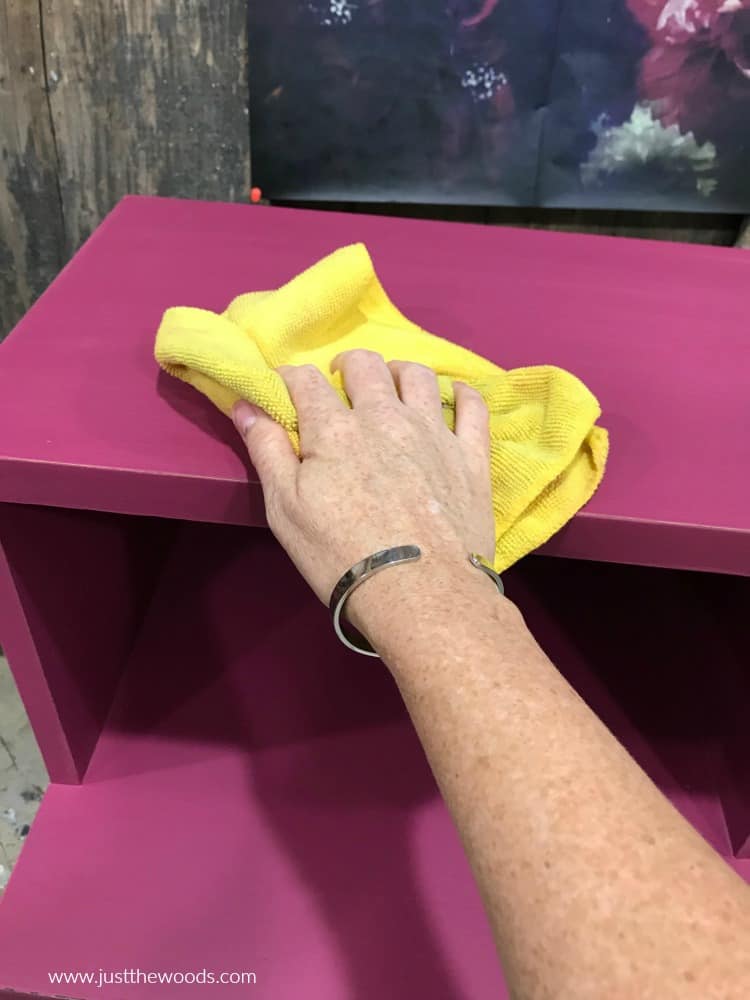 Sealing Painted Furniture
You will always want to seal your painted furniture for protection. To seal your painted nightstand we are using clear sealer from Dixie Belle in the matte / flat finish.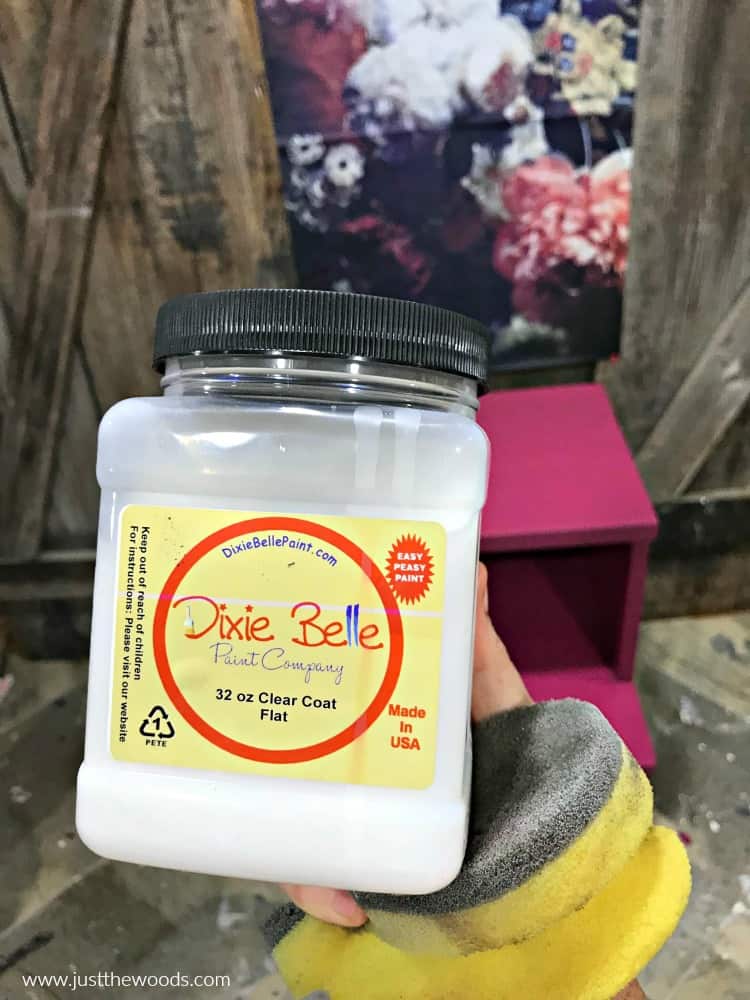 To seal your painted nightstand grab your clear sealer and an applicator sponge. The sponge is the easiest way to apply sealer without streaks or brushstrokes. You can get these handy dandy applicator sponges online HERE. I always grab a few at a time since they go in and out of stock.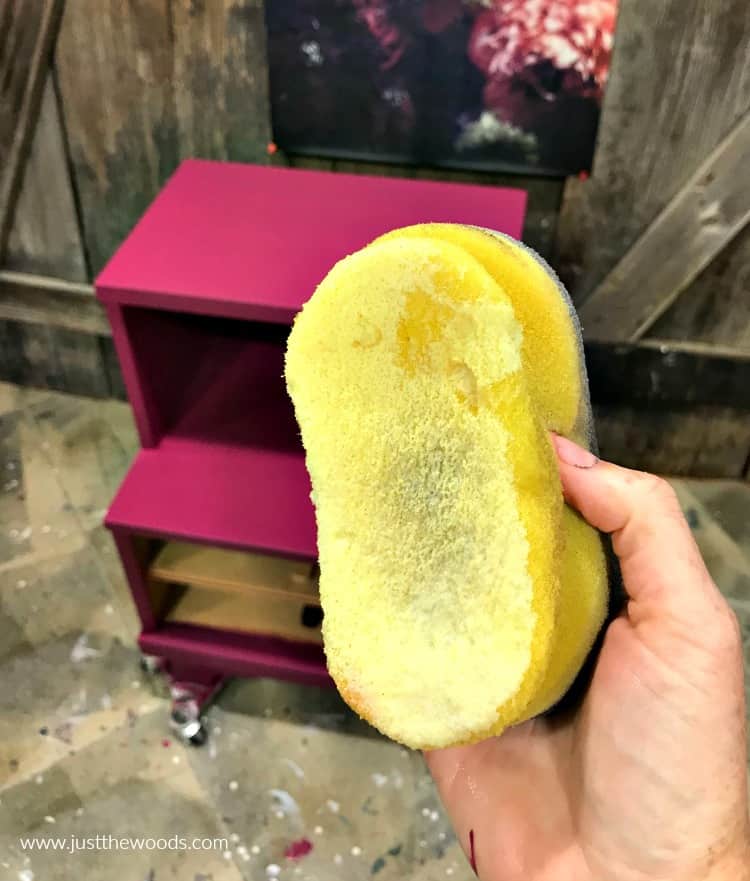 If you have questions about sealing your painted furniture project you can find a full tutorial with video on how to apply clear sealer here: Sealing Painted Furniture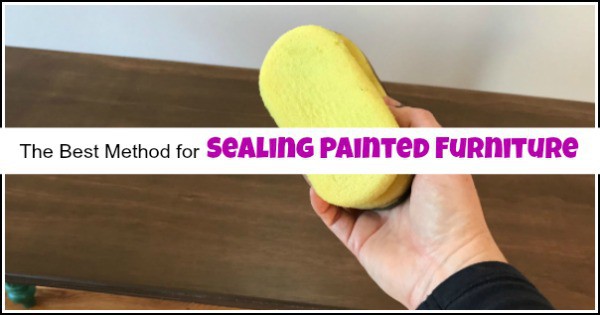 Updating Hardware
Remember in the beginning we removed the original hardware? Well, its time to update that hardware. Yes, you can go get fancy new knobs or pulls for your painted nightstand but you don't have to. You can easily update the existing hardware with just a few simple steps. Before applying paint to your hardware you will need to clean and prep.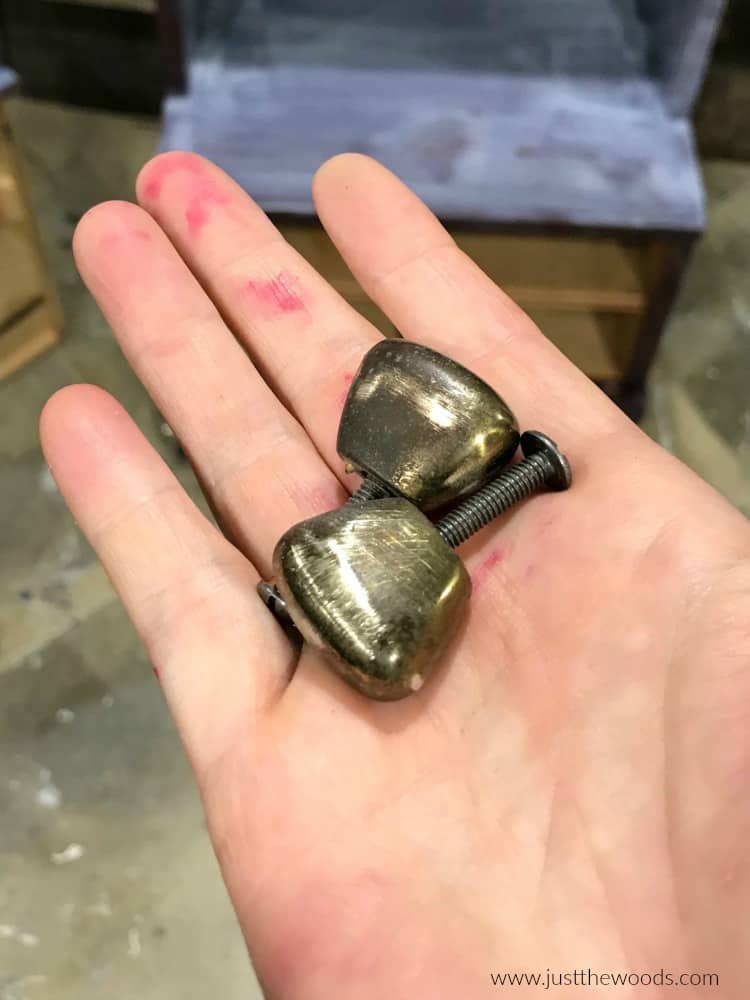 This gold paint is great to paint hardware. You can stick your hardware pulls into a small plastic cup or styrofoam to give you access to all sides of the knobs for painting.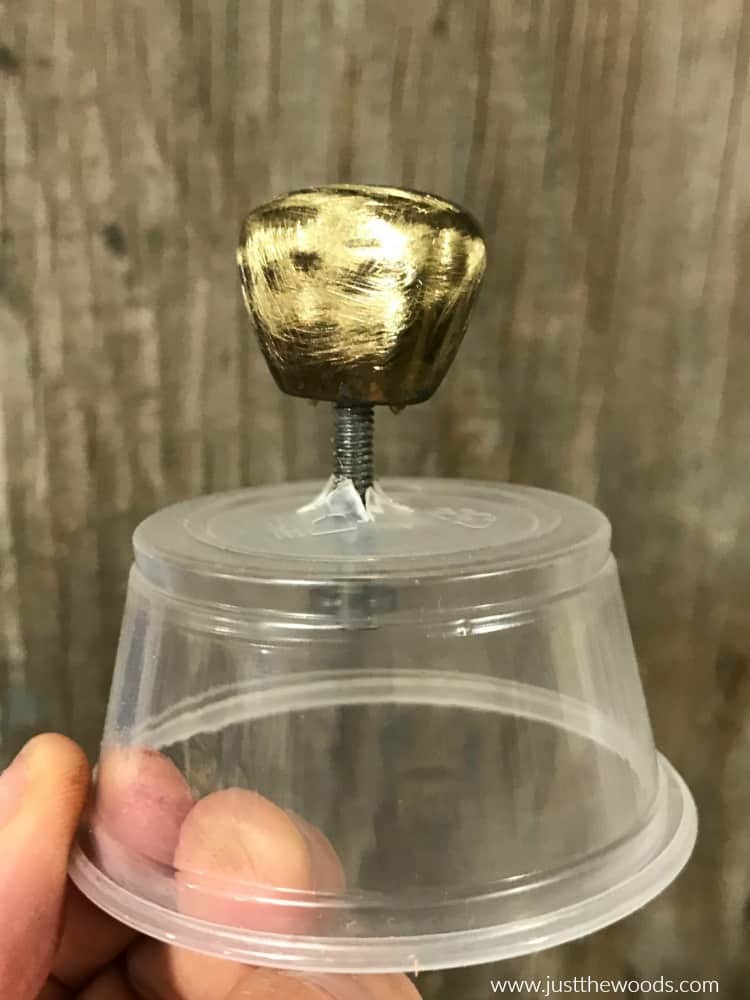 Simply brush on the gold paint to your knobs and allow it to dry. You can get this metallic gold paint online HERE.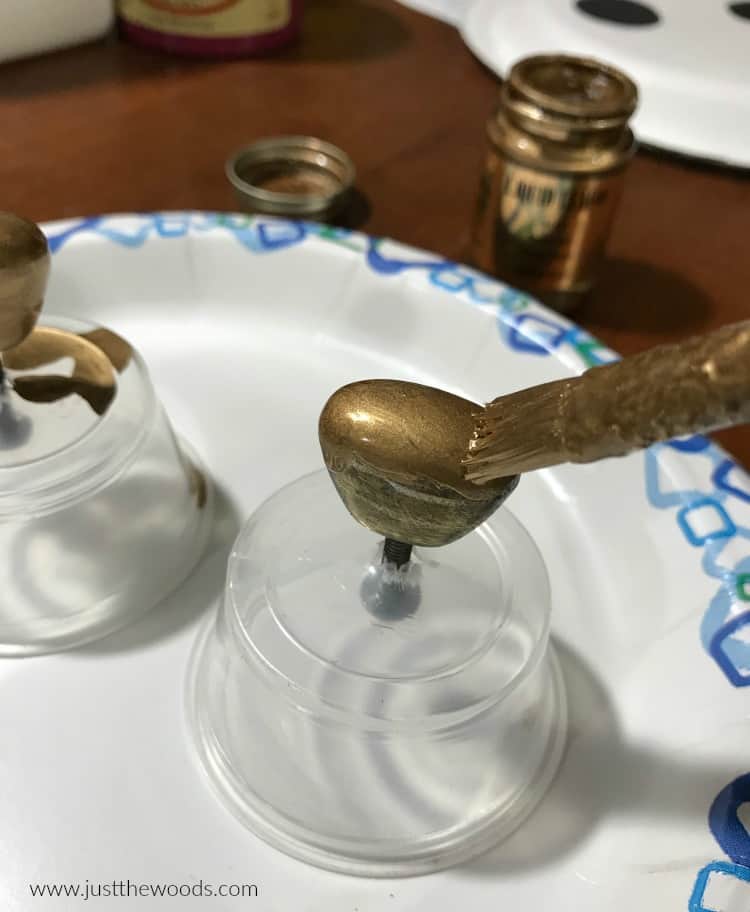 Once completely dry you can go ahead and put your gorgeous gold knobs back onto your painted nightstand.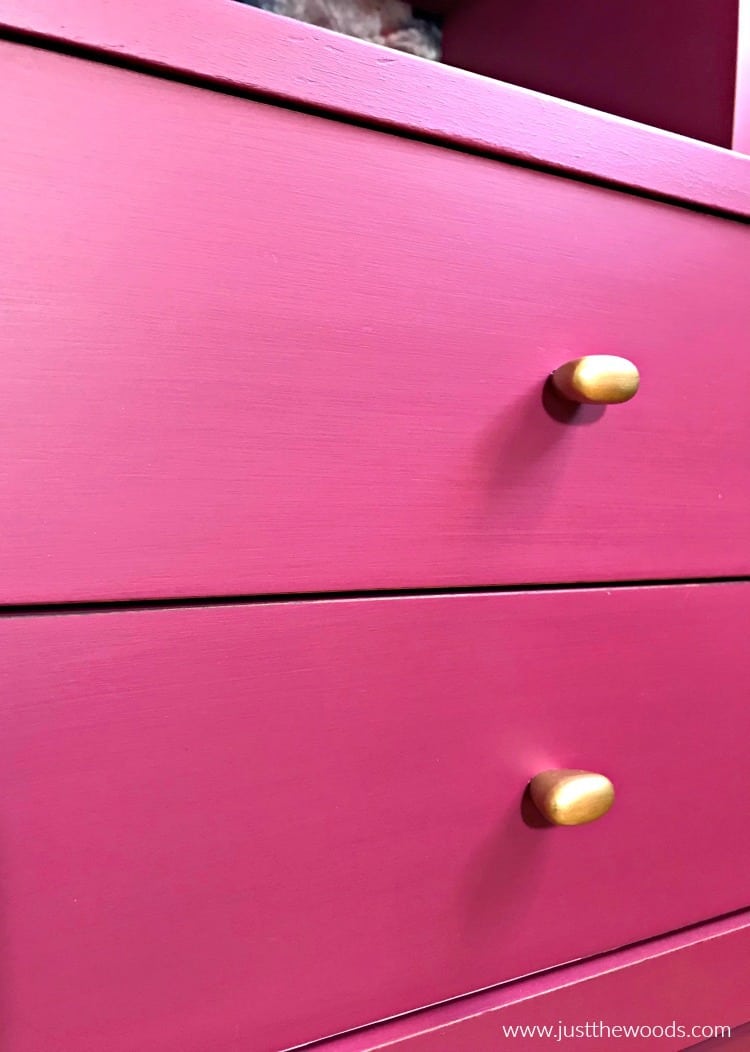 Click HERE to PIN this post for later.
Freshen Up Inside Drawers
The inside of the drawers of our painted nightstand are actually in better shape than the outside was in. Since they are in nice condition we don't need to line or paint them. Let's freshen them up.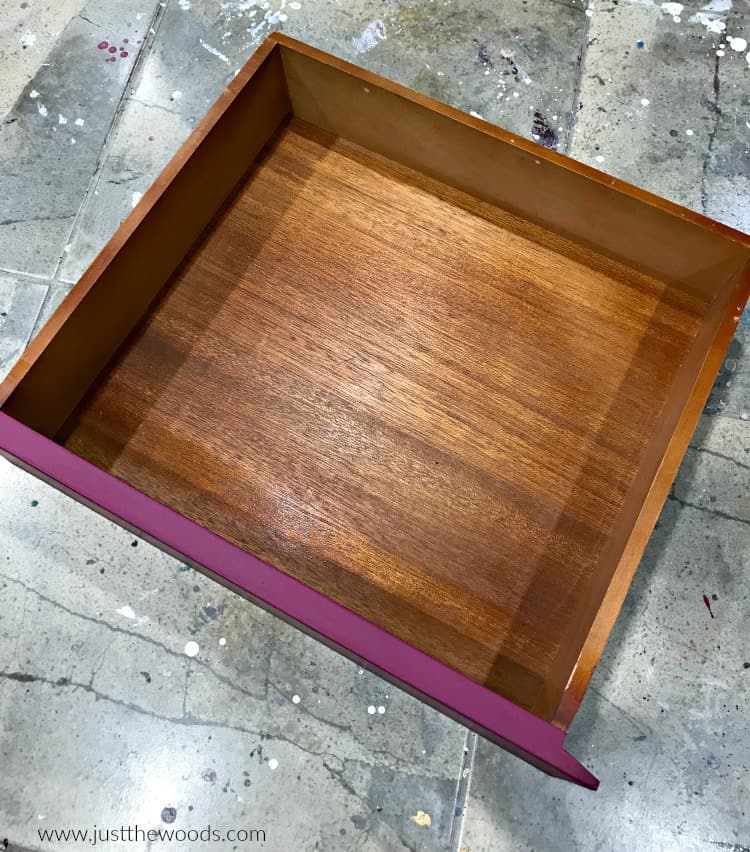 The best way to freshen up, condition and save wooden drawers is with an all natural furniture salve from Wise Owl.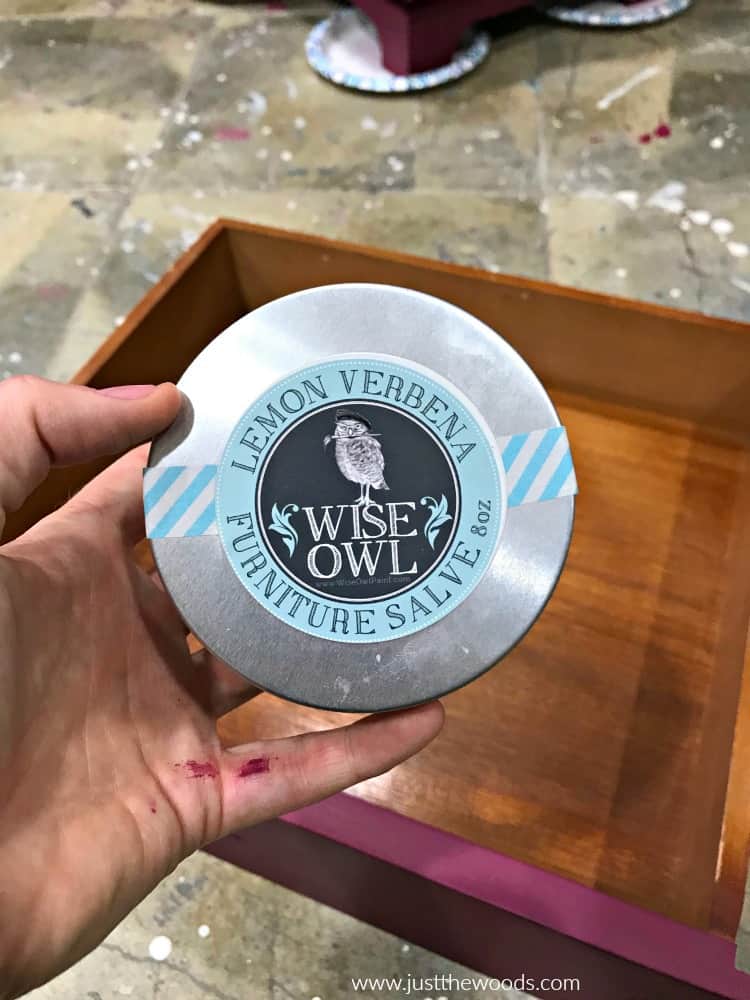 It's so easy to freshen up your old wooden drawers and it takes less time and money than painting them.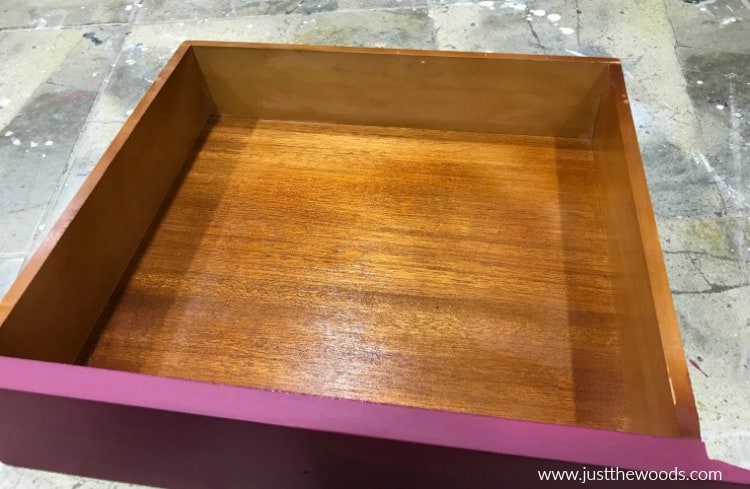 Adding Floral Decoupage to a Painted Nightstand
Last but not least we want to add just a bit of wow to our painted nightstand. What better way than to add floral decoupage? Not sure how to decoupage on wood furniture? First, you will need to measure the space that you want to apply the decoupage material. If you don't know where to get decoupage tissue or paper you can check out this post for decoupage supplies.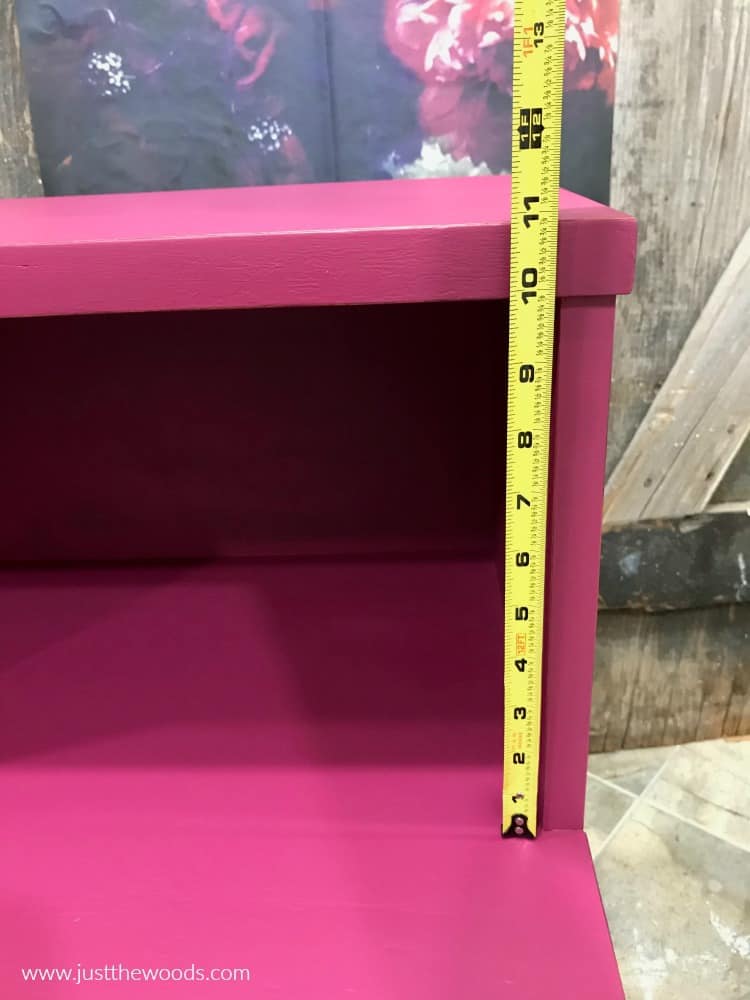 Once you have your measurements you will need to cut and trim your paper. For this painted nightstand makeover we are using a thick tissue paper in a gorgeous dark floral print. I found this online, this online shop has an amazing selection of decoupage tissue: decoupage tissue. Grab your Exacto knife, cutting mat and ruler. It's always better to cut your paper larger first. You can always trim it smaller, but you can't make it larger. This is the cutting mat that I have and use all the time HERE.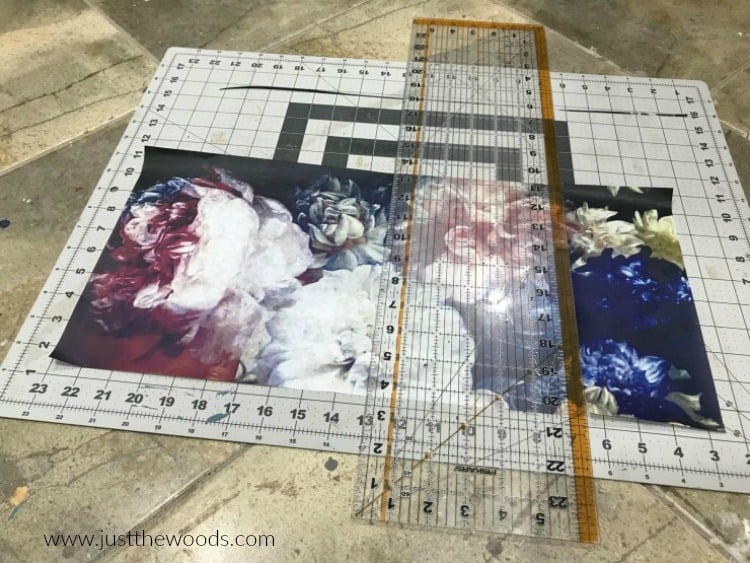 Dry fit your paper into the area before you break out the glue. Make sure that it fits nicely.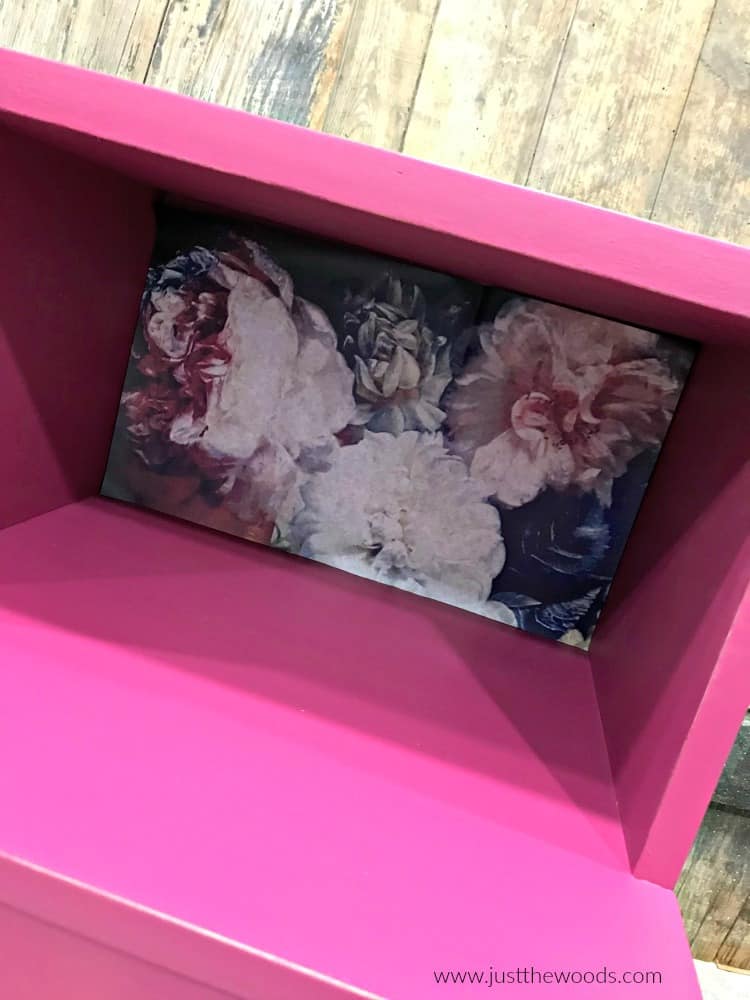 Now that we have our paper cut to size we can grab our Mod Podge. There are different mediums to use when applying decoupage paper to your painted furniture, but Mod Podge is my favorite. You can get some online HERE. Along with mod podge, here are more of my 'go-to' decoupage supplies.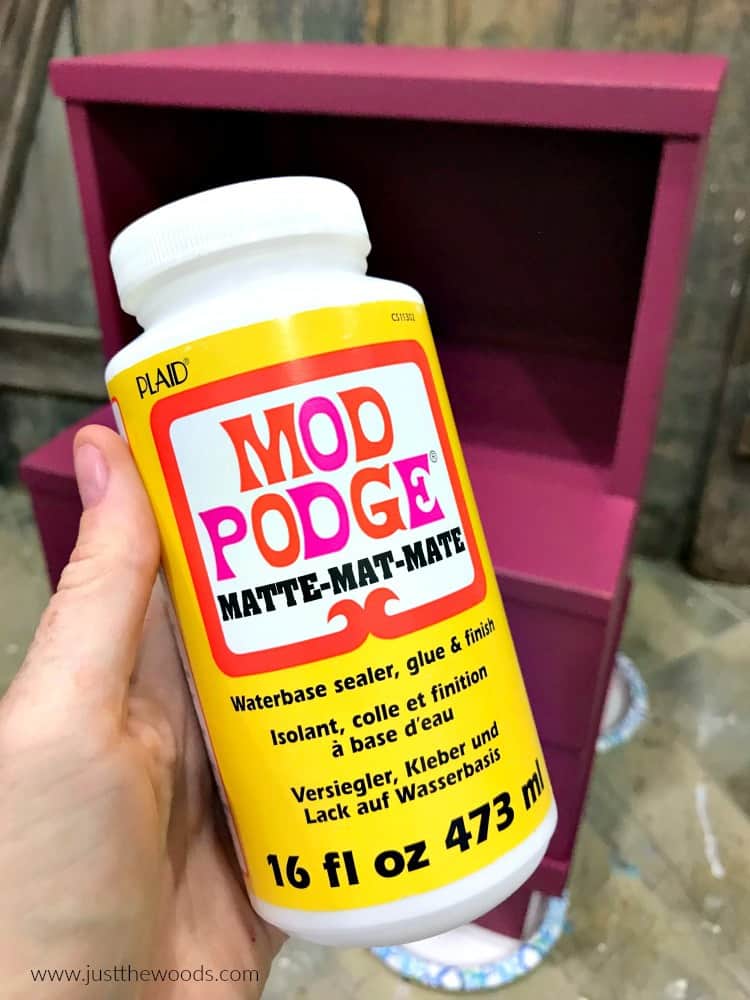 Brush mod podge onto the area where you intend to apply the decoupage paper. Don't use a nice brush for this. Personally, I keep one or two old brushes by the sink that are used just for mod podge. I find that no matter how much you clean and soak the brush you will never get the glue out 100%. Or maybe I just don't take the time. Either way – grab an old brush!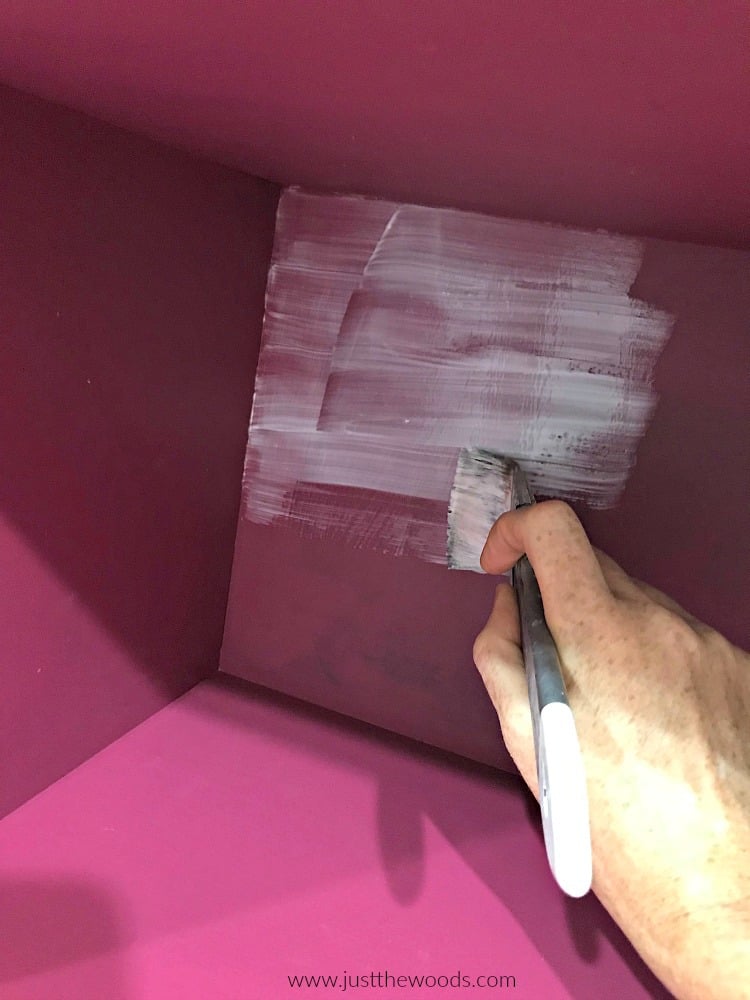 Next, gently place your paper into place and rub out any bumps and bubbles. Do this slowly and carefully. You can find a more detailed decoupage tutorial here: how to paint and decoupage furniture. Or more decoupage inspiration projects: decoupage.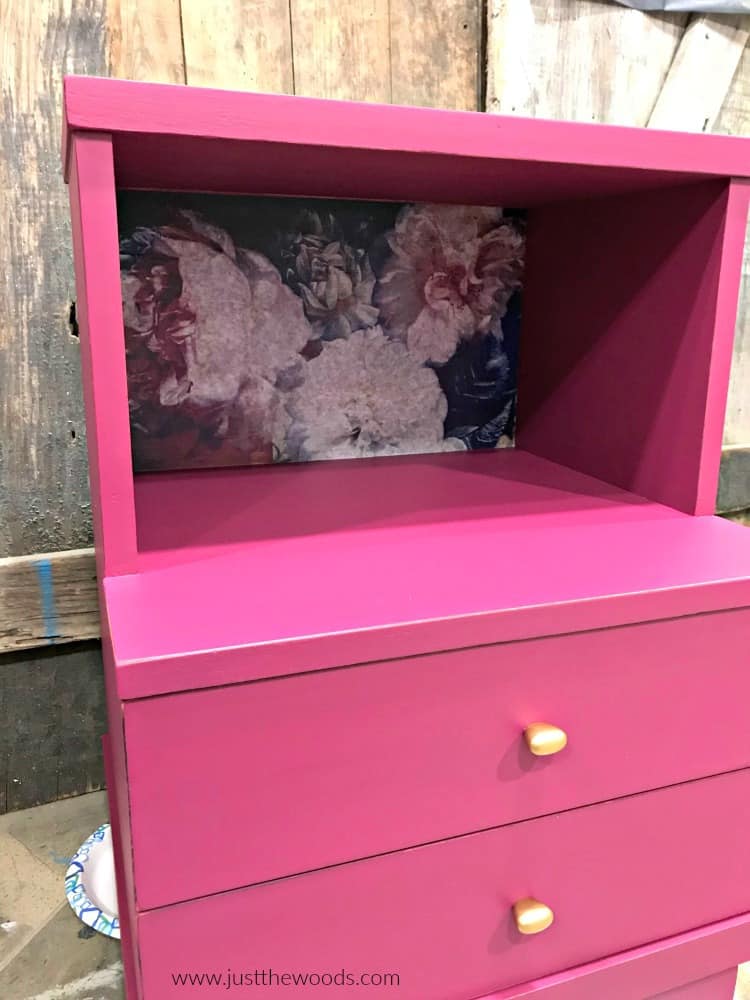 Floral Decoupaged Painted Nightstand
Your damaged old furniture is now gorgeous again. I hope you enjoyed this now go make something beautiful! Most of my makeovers (if not custom orders) are donated to fundraisers and charities. This project was donated to help raise money for a family with a little girl battling cancer on Long Island. <3 Click here to see all of my projects that have been donated to support local fundraisers, schools, and charities: Donation Projects.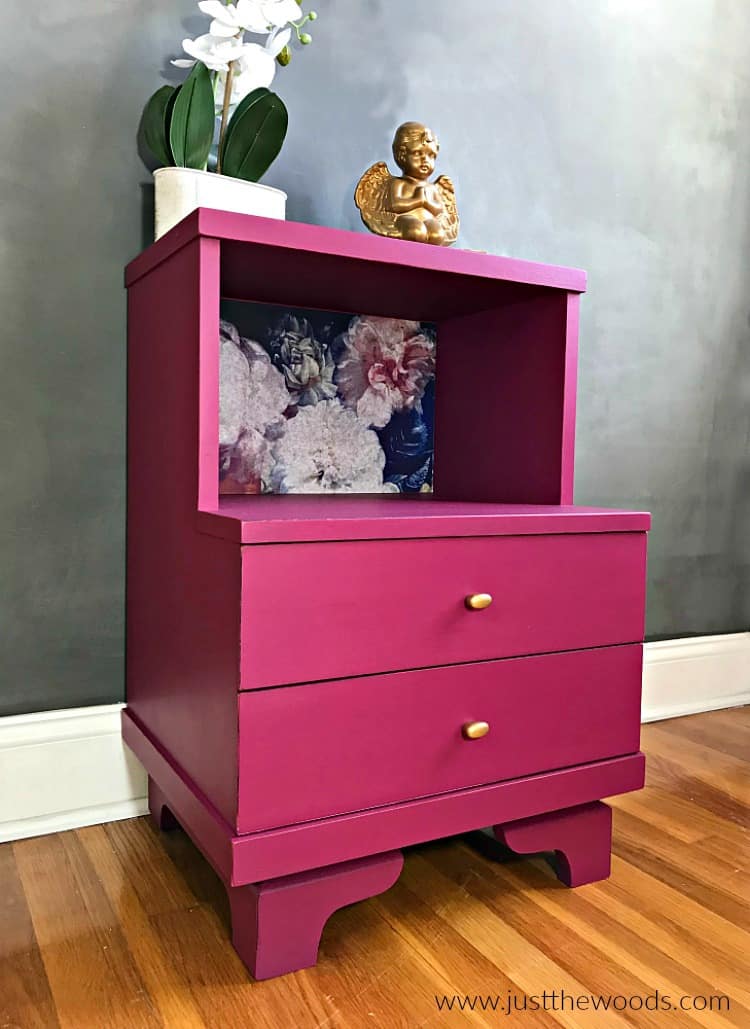 Click HERE to PIN this post for later.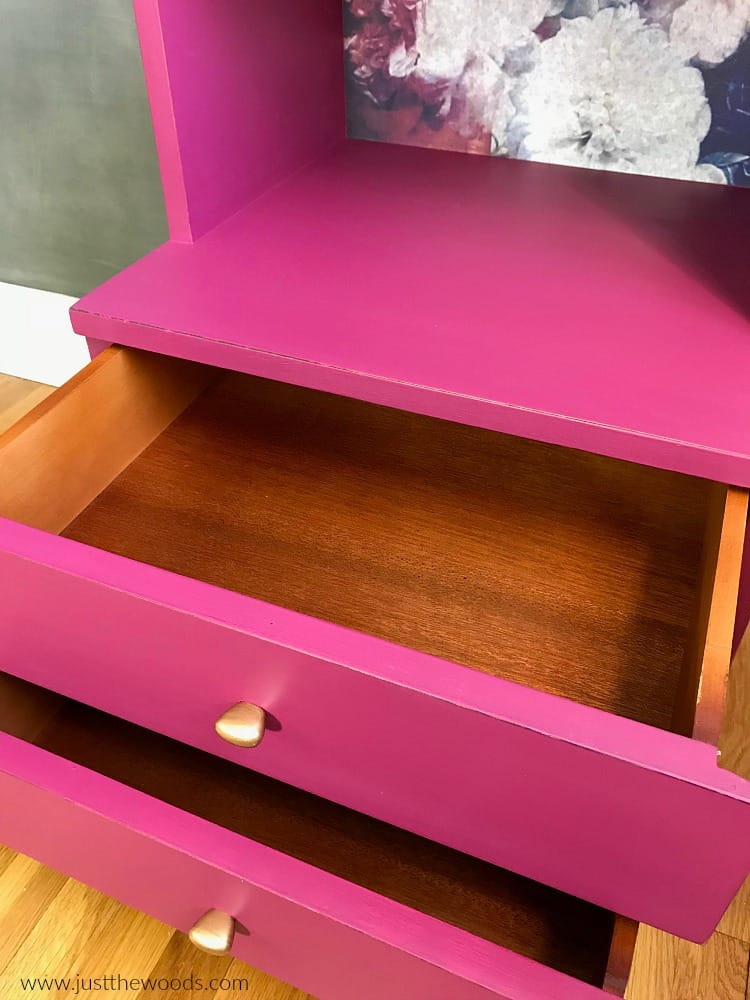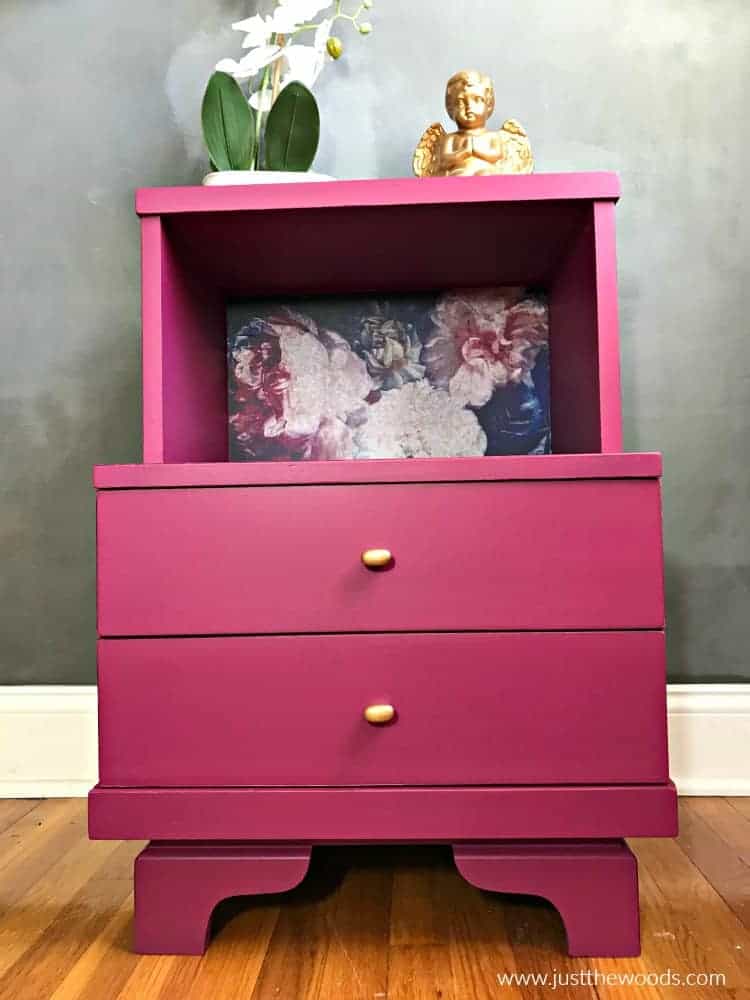 Make sure to get your furniture paint for your next project!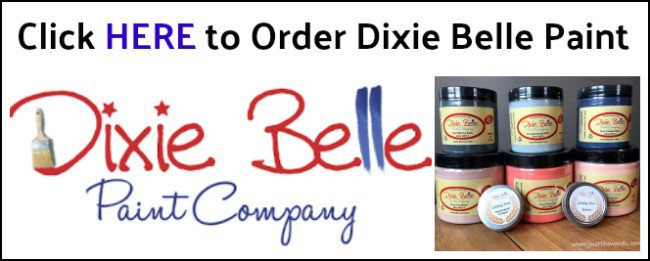 Wait! Don't Go! It's that time of the month again for:
Furniture Fixer-Uppers
Its that time again where a few of my creative and talented blogger friends and I have joined together in our monthly Furniture Fixer Uppers share. Let's see what my friends are up to! Make sure to click the links below the image to check out all the amazing projects that my bloggy girls are working on this month.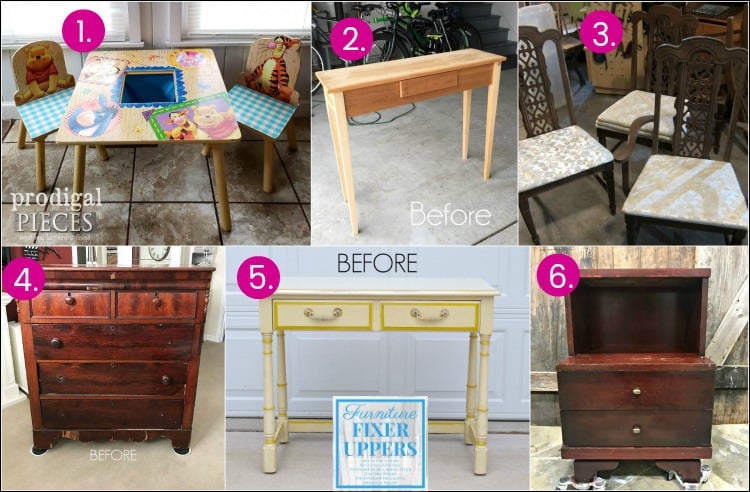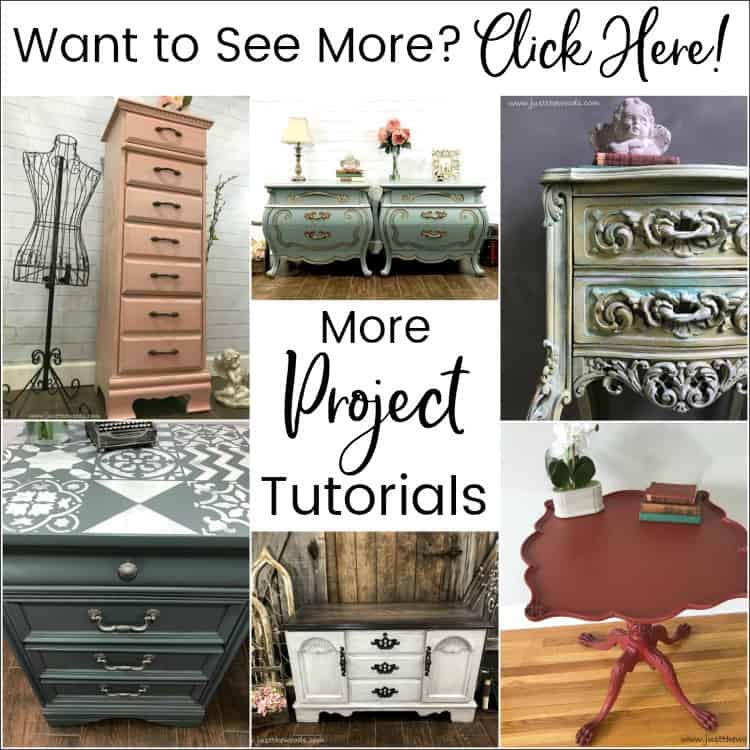 Don't Forget – Follow Just the Woods and Share this post to Inspire others:
FACEBOOK * INSTAGRAM * PINTEREST

Stay connected! For more tips and tricks sign up here :

Click HERE to PIN this post for later.