Easy healthy snacks don't have to be hard to make or full of processed ingredients. I mention it all the time, so you know by now that I have a huge sweet tooth I always tend to have snacks on hand. These delicious easy to make healthy snacks are both for me and the kids. I admit that sometimes I hate sharing but I also want the best for my kids so I often make many of these healthy snack recipes in bulk and freeze what I can so they last longer. Healthy homemade snacks will always be better than store bought since you know what you are putting in your food.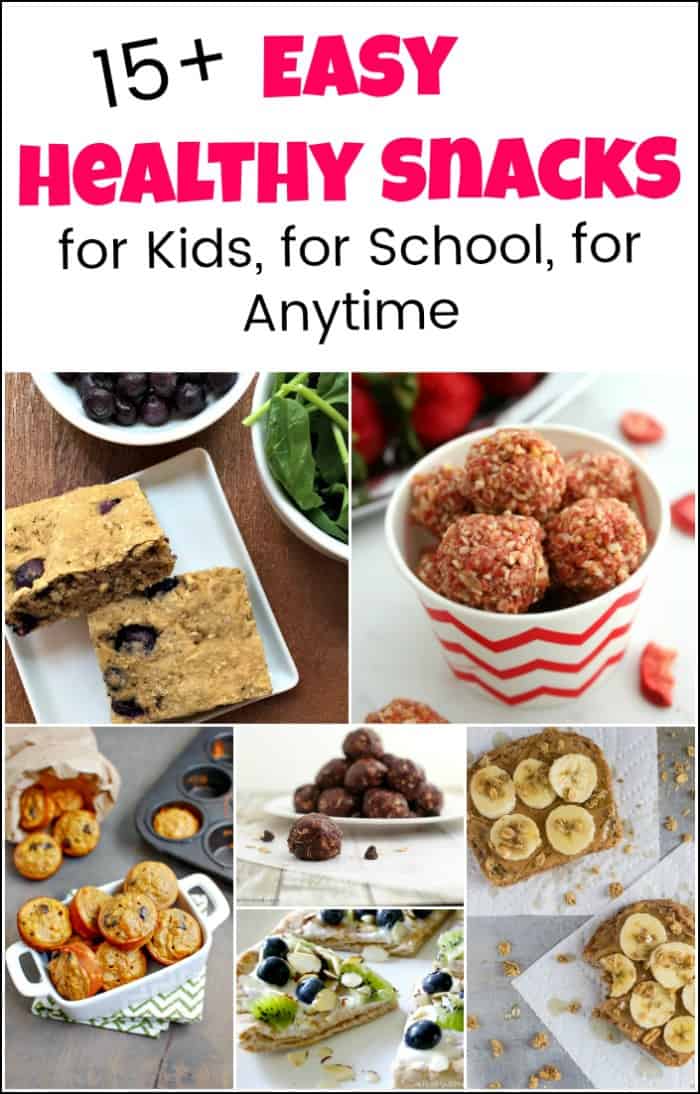 Disclosure: This easy healthy snacks post contains affiliate links for your convenience. Click here for my full disclosure policy. 

Clean Eating and Easy Healthy Snacks
Myself, I lost 50 lbs by exercising and clean eating I am constantly reading food labels and trying my best to keep things healthy around here. (You can read about my weight loss journey here: Clean eating) Because of this, I am a pretty strict eater as far as eating healthy. At any given time I have a stash of healthy muffins or berry donuts in the freezer or chocolate energy bites in the fridge I always enjoy my sweet treats without the added sugar. As an added bonus my kids love them too. Keeping healthy snack foods around the house makes it easier for the kids to eat healthy since there aren't bad food options available.
Real Food Healthy School Snacks for Kids
Processed snacks like cookies and chips might be easier to pack for your little ones, but they definitely aren't the best choices for school snacks. Instead, try these kid-friendly munchies. They're both delicious and nutritious, making them approved by kids and parents! These easy healthy snacks make great school snack ideas as well as after-school snacks. 
Apple Slices with Nut Butter
This classic snack packs a ton of fiber to keep little tummies full. The apples also boost their immune system with vitamin C while the peanut butter or almond butter provides protein to help them grow. Can't bring peanut butter to school due to allergies? Try almond, cashew, or even sunflower seed butter as an alternative. We always aim for organic options when we can and prefer natural almond butter. When reading labels I try my best to find almond butter where the only ingredient is almonds. No added sugar, and even no added oil. This is our favorite almond butter to pair with apples, use in smoothies, baking, and energy balls. (

HERE

) 
Veggies With Hummus
Made from protein-packed chickpeas, hummus is a great snack to send to school. It isn't too messy and it tastes great! Serve with your kiddo's favorite fresh vegetables like celery, carrots, or snap peas to make it even healthier. My kids' favorite is carrots with hummus, sometimes I even mix hummus with avocado and they practically lick the bowl clean. You can get single pack hummus packs at the grocery store for convenience or make your own. Making your own hummus is easier than you may think. It's as easy as throwing a can of chickpeas in the

food processor

with some olive oil, a clove of garlic, lemon juice, and tahini. (you can make it with or without tahini) This is the blender, food processor combo that I use and love (

HERE

) 
Raisins
These sweet little dried grapes taste yummy and don't need refrigeration, making them an ideal school snack. Full of potassium, fiber, and lots of essential vitamins, raisins keep your kid fueled for hours. If you can toss in a few raw nuts with your raisins, even better! 
Cheese
While it sometimes gets a bad rap for its fat content, the calcium and protein in cheese is great for growing kids. Cut it into fun shapes to ensure it doesn't get left in their lunchbox. These kids cookie cutters are perfect to make cheese fun. (HERE) Add in some whole grain, salt-free crackers for a snack that's even more fun! 
Smoothies
Little ones love sipping on these icy creations. Whip up a combo of their favorite fruits (and maybe veggies!), plus some yogurt or almond milk for creaminess. There's no easier way to get a few servings of fruits and dairy into your child's diet. My daughter always asks for a banana strawberry smoothie, so I make sure to toss in a handful of fresh spinach and voila! You can find many healthy smoothie recipes here: Smoothies. You can make a healthy smoothie for an after-school snack, or if you plan to send it to school with them make sure to keep it in an insulated leak-proof thermos like one of these:

HERE

.  
Berries
Kids love the sweetness of berries, making them the perfect "dessert" for school. With antioxidants, vitamin C, and fiber, you can feel good about giving them this treat. If your berries get too soft in the lunch box you can consider freeze-dried berries for on the go and keep the fresh berries for after school snacks when the kids get home. Both are great options. You can get freeze dried berries online HERE. 
Yogurt
Many yogurts can be sugar bombs, so go for plain and dress it up at home. Add your little one's favorite fruits, honey, and/or granola for a tasty treat that helps build their bones. Greek yogurt is packed with gut-healthy probiotics. If you prefer a consistency that is not so thick, then check out organic kefir.
Simple Chips
We love these simple chips. They make great healthy easy snacks and come in different flavors like beets, carrots and sweet potatoes. The ingredients are super simple and NOT full of added unnecessary ingredients. They also satisfy the crunch cravings. So if crunchy snacks are your child's weakness, make some better-for-you ones at home! They are full of essential nutrients like vitamins A, B6, and C, plus they taste even better than the greasy store-bought chips. You can make your own by slicing some sweet potatoes thin, sprinkle with olive oil and sea salt, and bake. Or order these online HERE. 
Hard Boiled Eggs
Easy to pack and fun to eat, hard-boiled eggs are the perfect school snack. Lots of lean protein means a filling, muscle-building munchie for your kiddo. I always wrap the egg in a paper towel and toss into a ziploc bag just in case it cracks before the kids get to eat it. 
Easy Healthy Snack Recipes for the Whole Family
With these healthy treats, you can feel good about your child's snacks. They'll get lots of essential nutrients all while eating something yummy! Please make sure to PIN the main post or from each source post and not individual images in this post. Enjoy.
Pumpkin Chocolate Chip Muffins/Donuts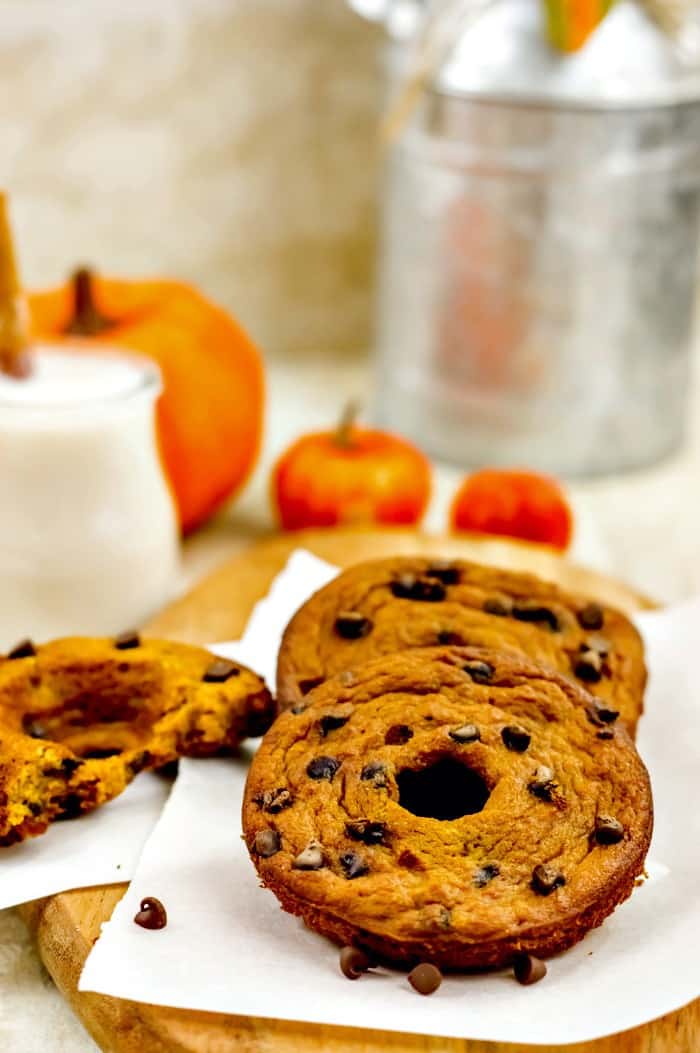 Homemade Strawberry Snack Balls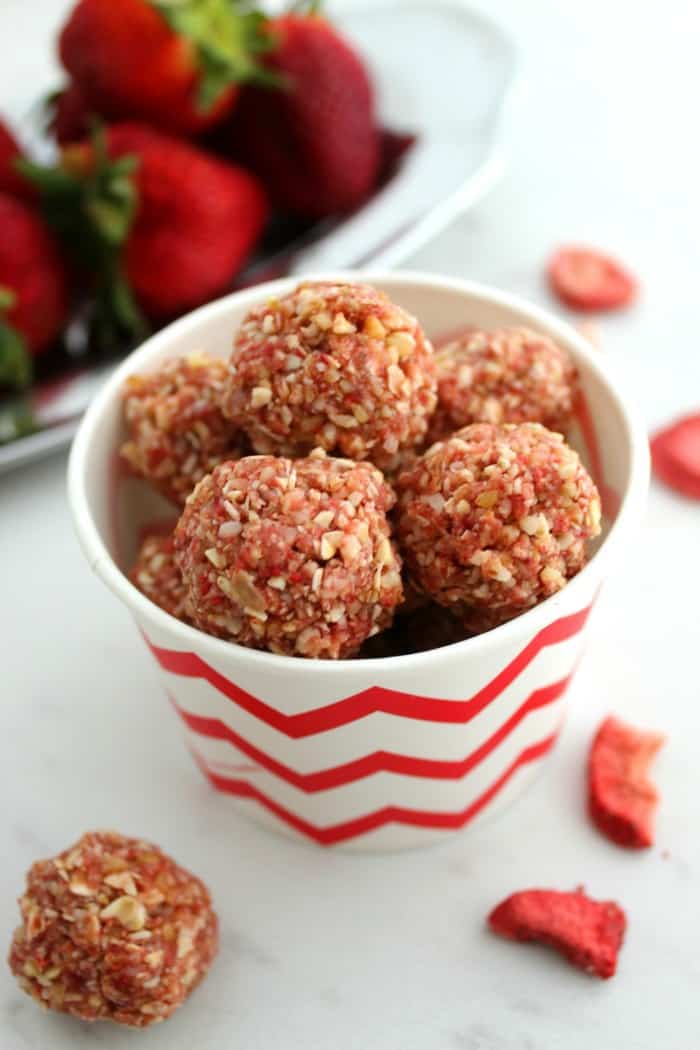 For more healthy clean eating recipes make sure to follow my clean eating Pinterest board here: Clean Eating.  

Fruit and Nut Bites from The Pinning Mama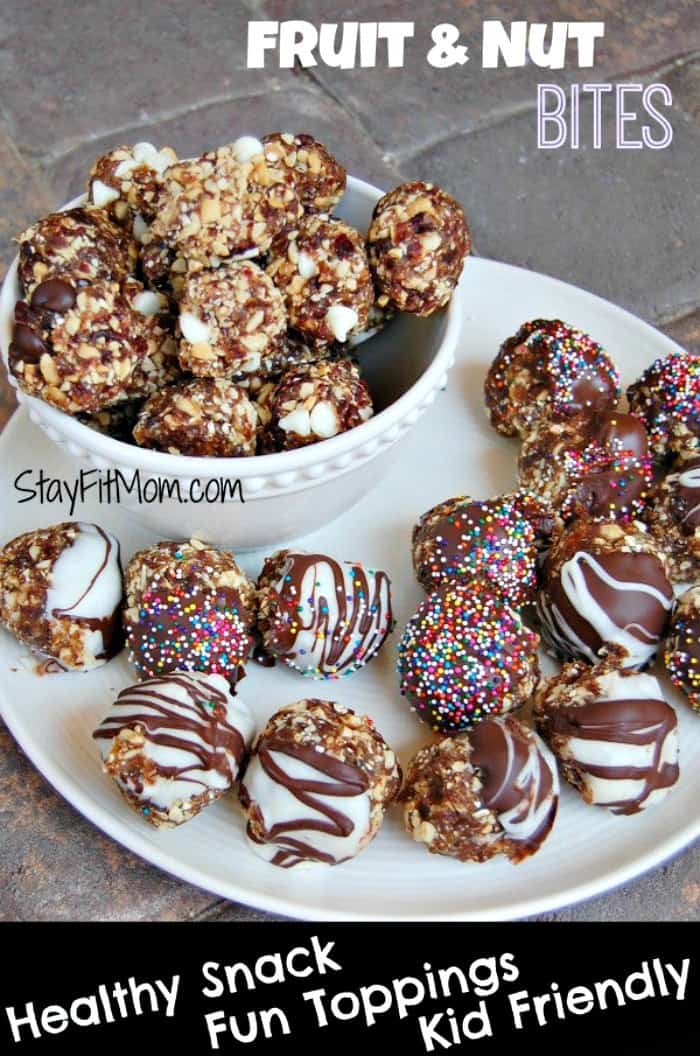 Strawberry Crispy Energy Balls for Kids from Bren Did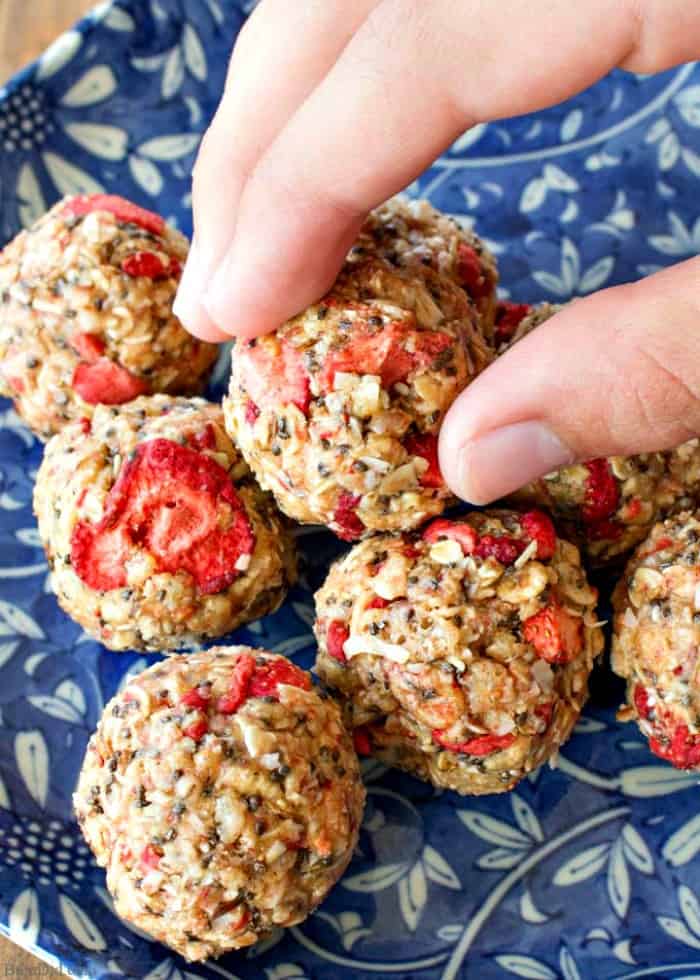 Easy Kid Snacks from Life Anchored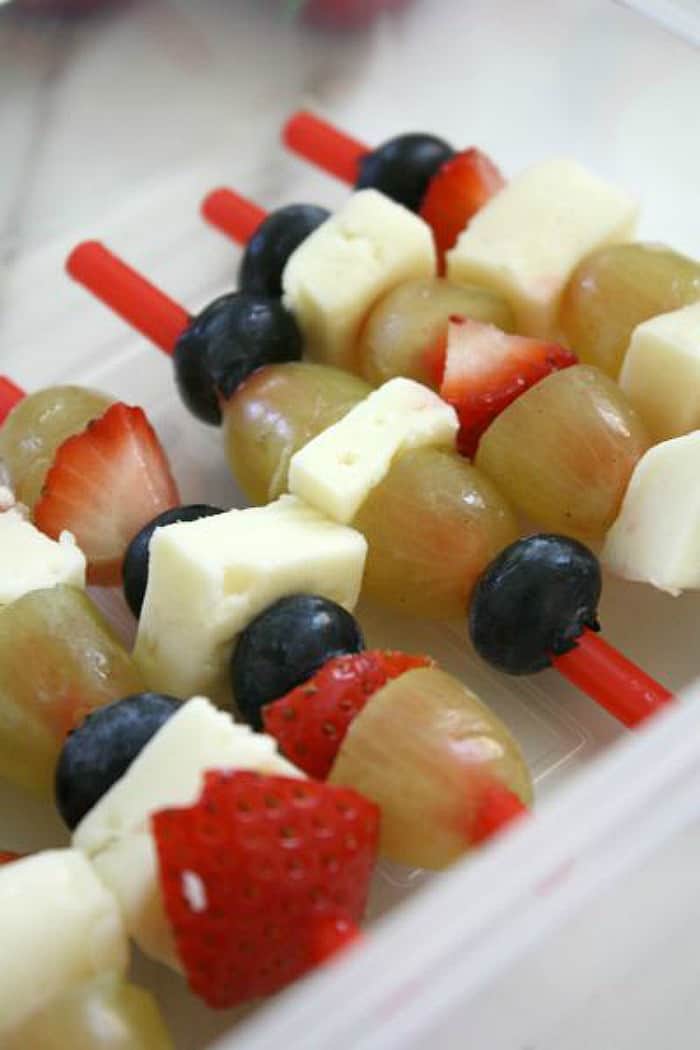 No-Bake Fruit Pizzas from Two Healthy Kitchens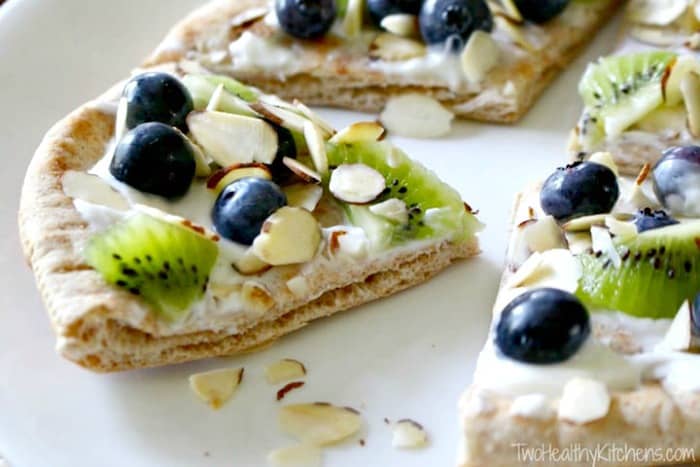 Peanut Butter Chickpea Bars from The Lean Green Bean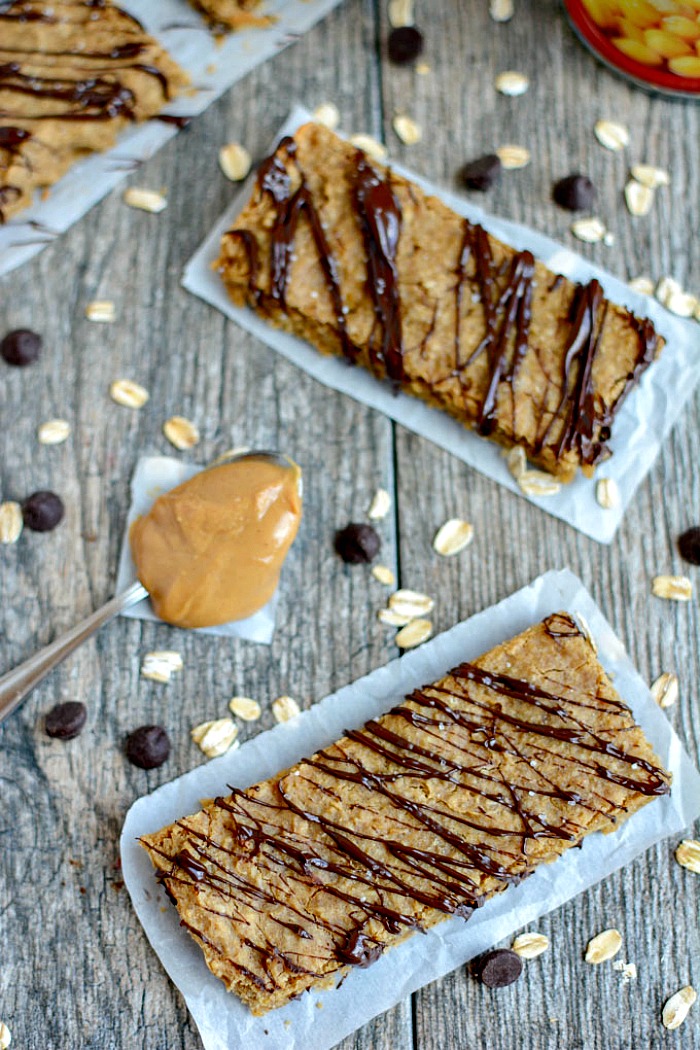 Peanut Butter Banana Toast with Granola and Honey from Well Plated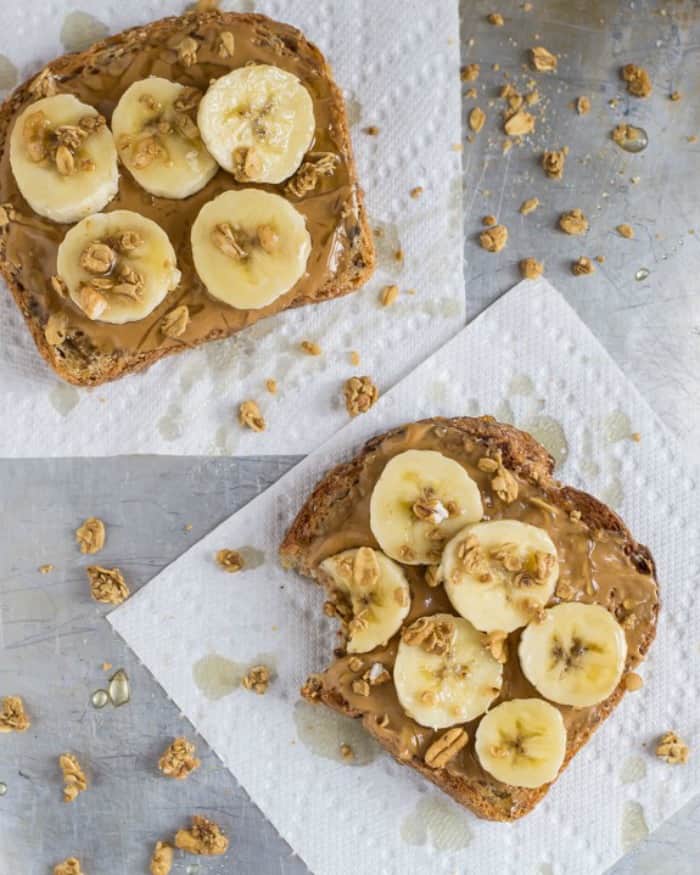 Sweet Potato Banana Bites from The Lean Green Bean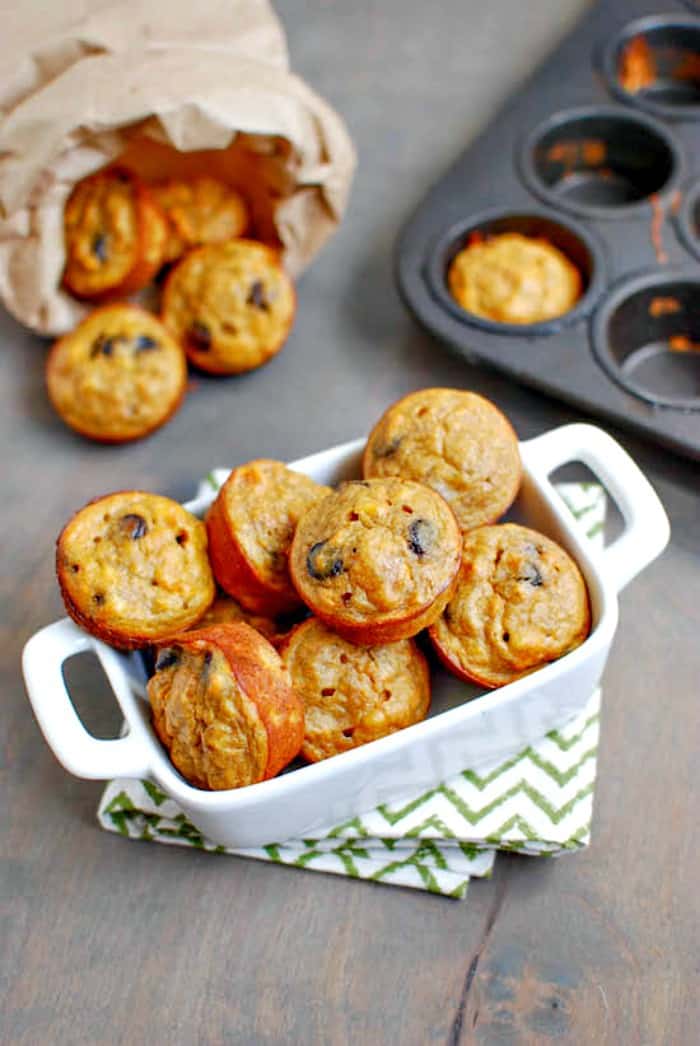 Fruit and Vegetable Snack Bars from Mom to Mom Nutrition 
Apple Turtles from B-Inspired Mama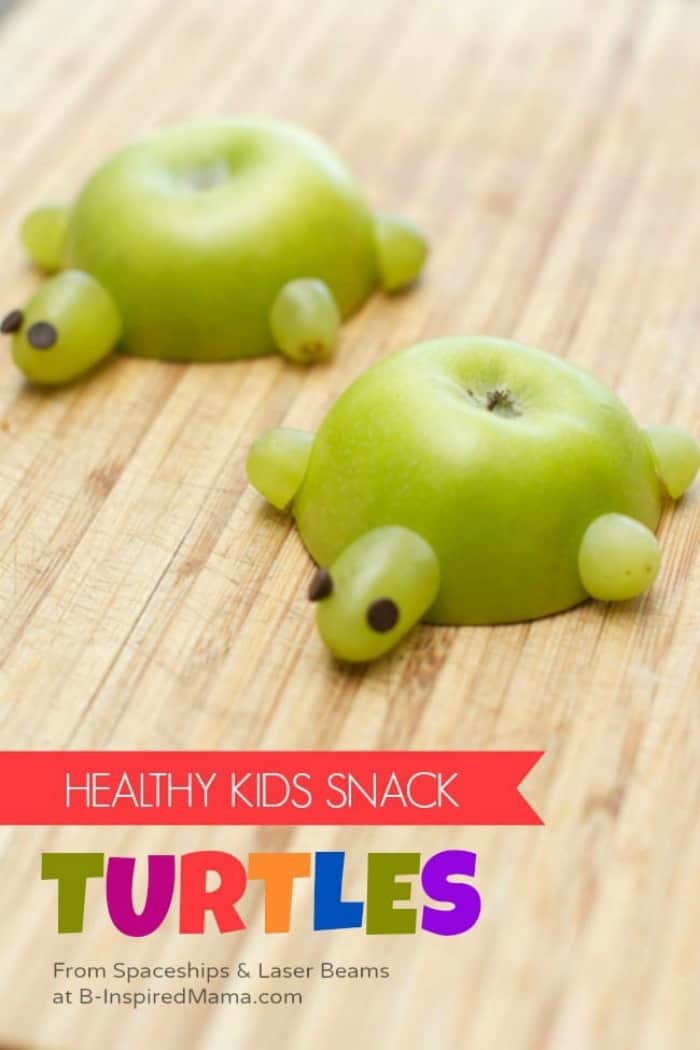 Toddler Snack Idea: Hungry Mice from The Bewitchin Kitchen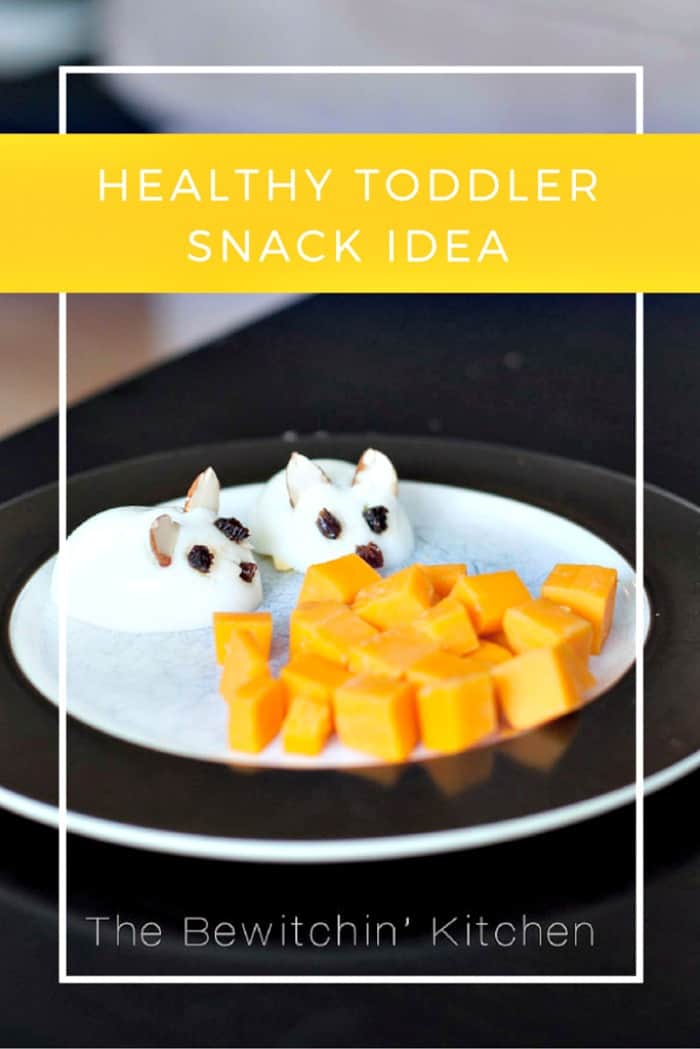 Apple Dippers from The Gracious Wife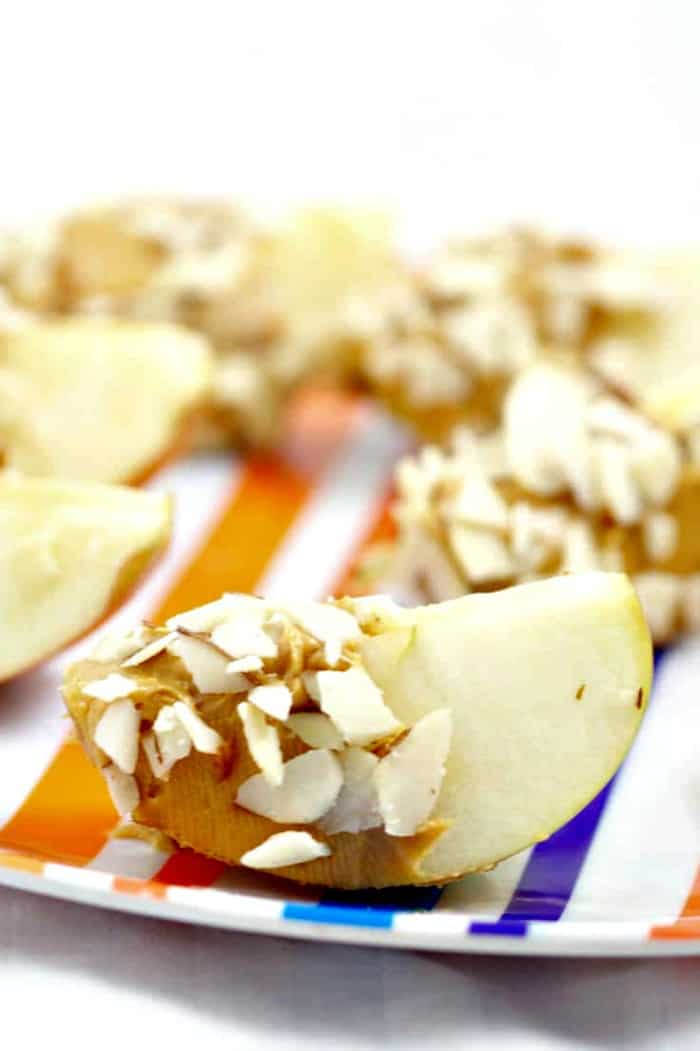 Healthy Snail Snack-Perfect for Preschoolers from Simplistically Living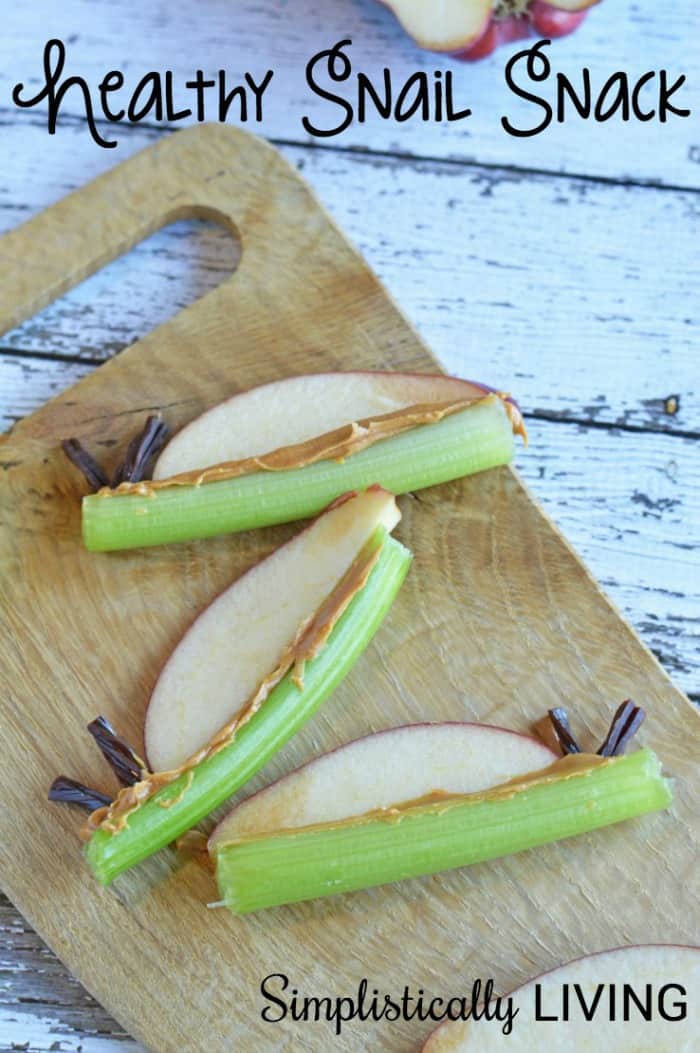 Peanut Butter Chia Crackers from The Lean Green Bean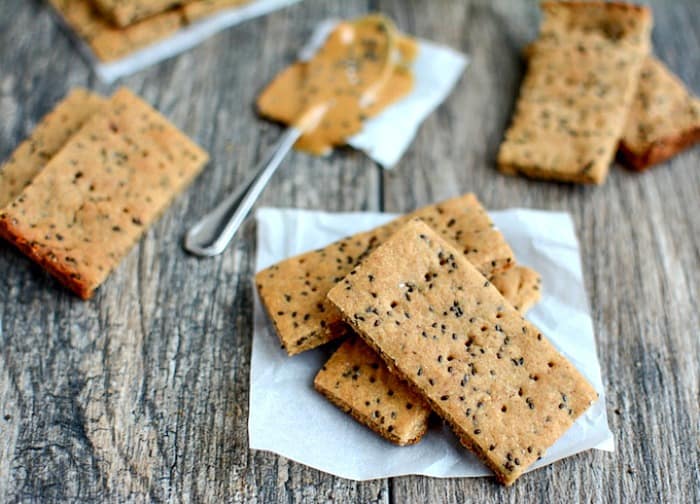 Fruit Caterpillar from A Cedar Spoon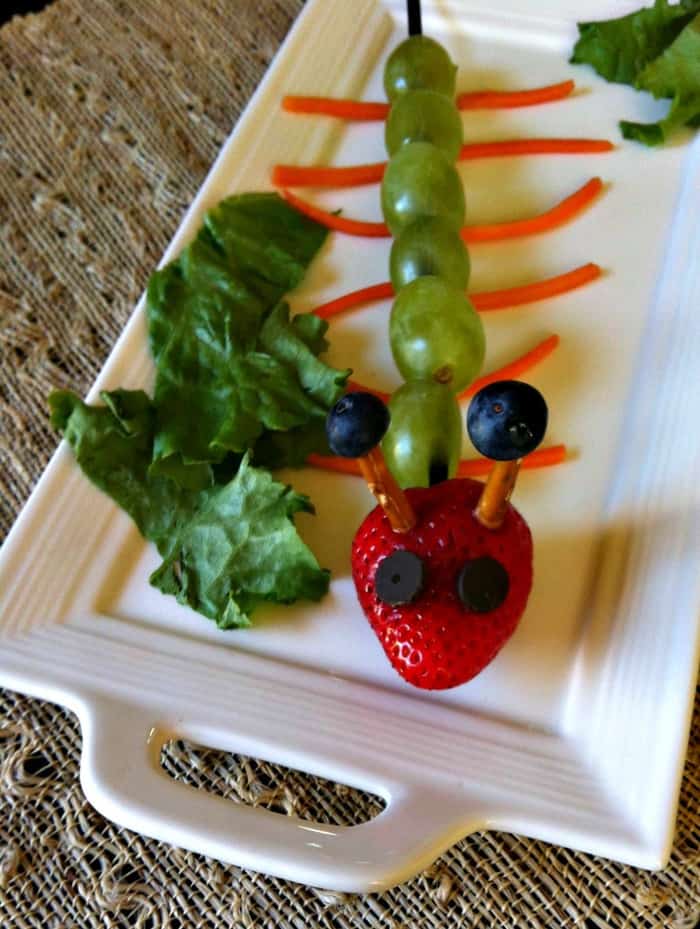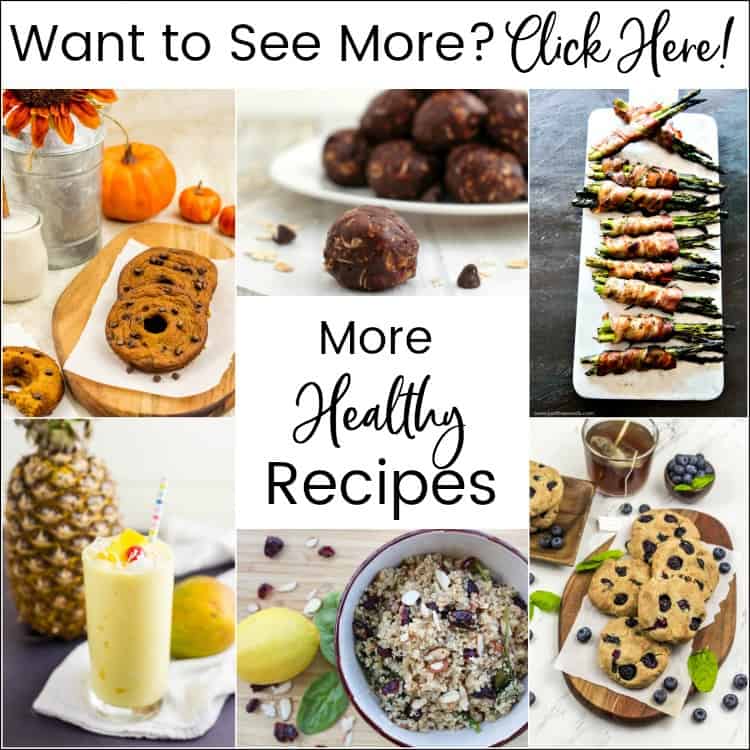 Don't Forget – Follow Just the Woods and Share this post to Inspire others:
FACEBOOK  *  INSTAGRAM  *  PINTEREST * RECIPES