Disclosure: This peacock and patience post contains affiliate links.
Peacock & Patience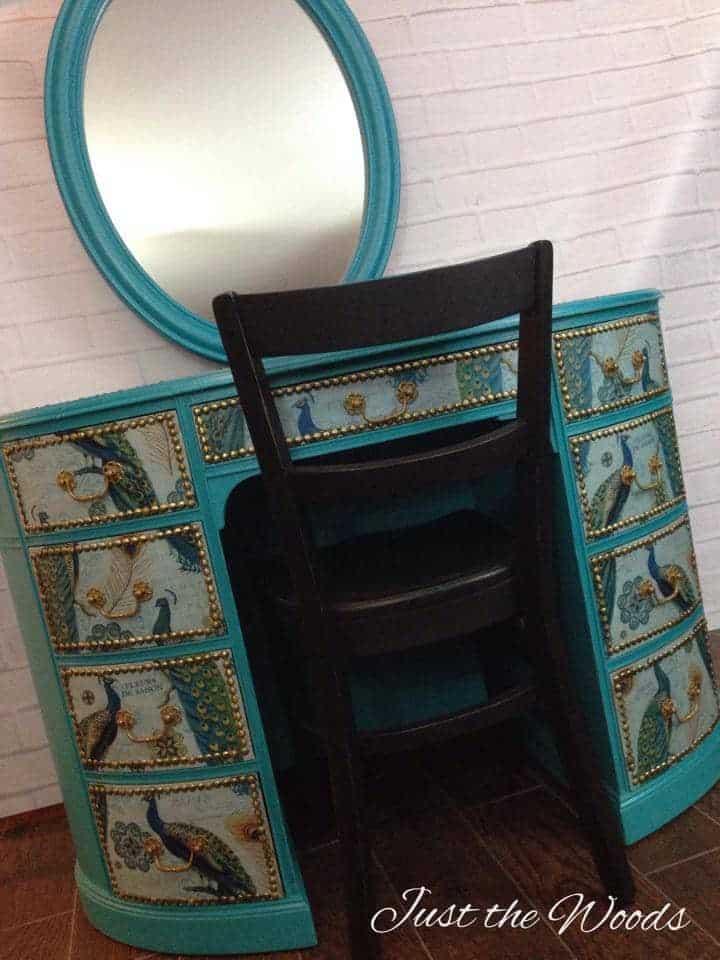 Anyone who has followed my work for an amount of time would recognize my peacock piece, and for anyone new to my work..  this is my peacock piece.  It's been one of my most unique, glamorous and 'blingy' pieces yet. It's also been the longest wait to sell.  I'll start at the beginning.
The Beginning
When I found the desk I knew I had to have it.  It was oval and so different from anything I've seen before. The top had a worn yellow leather inlay,
the back has a shelved cubby space, and the drawers opened with the curve of the desk.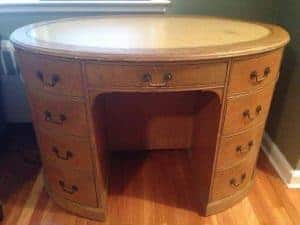 The  mirror was a standard oval mirror that I already had in inventory. It seemed so perfect in shape to put above the desk, so I decided to marry them together.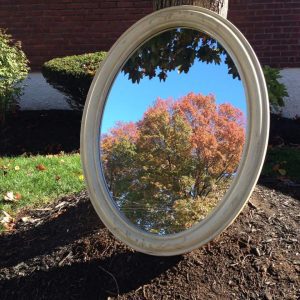 The chair was also in my inventory and made by Thonet Bentwood – a quality piece. Separately they weren't much but once they were all put together it was magical.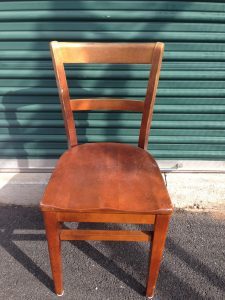 Research
The first thing I did was research.  I wanted to make sure that it wasn't an antique or valuable as is.  Lord knows I'm not looking to the lower value.  Once I learned that these desks were mass produced in the 1920's and my restyling it wouldn't make a difference, either way, I felt I got the green light to go ahead with my plans.  I wanted the desk to pop and really make a statement.  So after some thought, I decided on peacock blue with peacock feathers on the drawer fronts trimmed in studs!  I also refreshed the gorgeous original hardware to gold.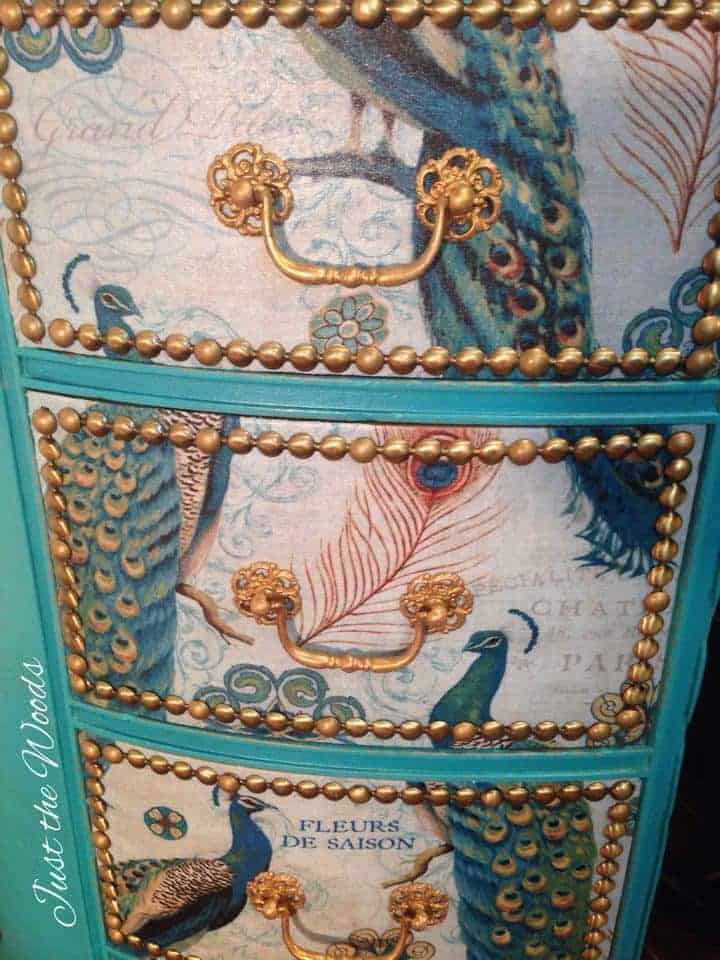 Initially, I was a bit stumped by the yellow leather top, but only for a moment so I decided to work with it…  sort of..  and I covered it with faux black leather and trimmed with studs. The center drawer along with the rear cubby area were both lined with a different peacock feather print.
The chair was painted black with hints of peacock teal peeking thru and the mirror was finished in the same blue with a metallic finish.
Patience
The reason I mention patience in this post is because once finished this vanity was breathtaking, yet specific to the right buyer.  I knew it would take a bit longer to find its forever home since not everyone likes peacocks or bold peacock teal blue, but it was worth it.  My one regret is not taking better photos of the piece, but I posted and shared and advertised with no luck.
I brought it to the boutique where I was told that everyone loves it. It was the centerpiece at the store, people stare and take photos of it.. but still no buyers.  I waited 7 months, and then..  the request came.  She had found her perfect match and the peacock was finally purchased and delivered to Brooklyn where she now lives. Hence patience on my part to wait because each piece has its buyer, the person who connects with it in its own way.  I just had to wait for that person to come along, and I'm so glad she did.