How to Paint Glamorous Furniture with Metallic Paint. Vintage table painted furniture makeover using silver metallic furniture paint.
Are you a lover of glamorous painted furniture? Looking for inspiration for metallic painted furniture or even, maybe looking for what type of metallic paint for furniture is the best option for you. The best and easiest way to glam up a piece of painted furniture is by adding metallic paint to the finish. This makeover shows you just how to transform a charcoal gray painted table to a glamorous statement piece with metallic silver furniture paint. Also, make sure to check out the Best Silver Metallic Paint for Furniture!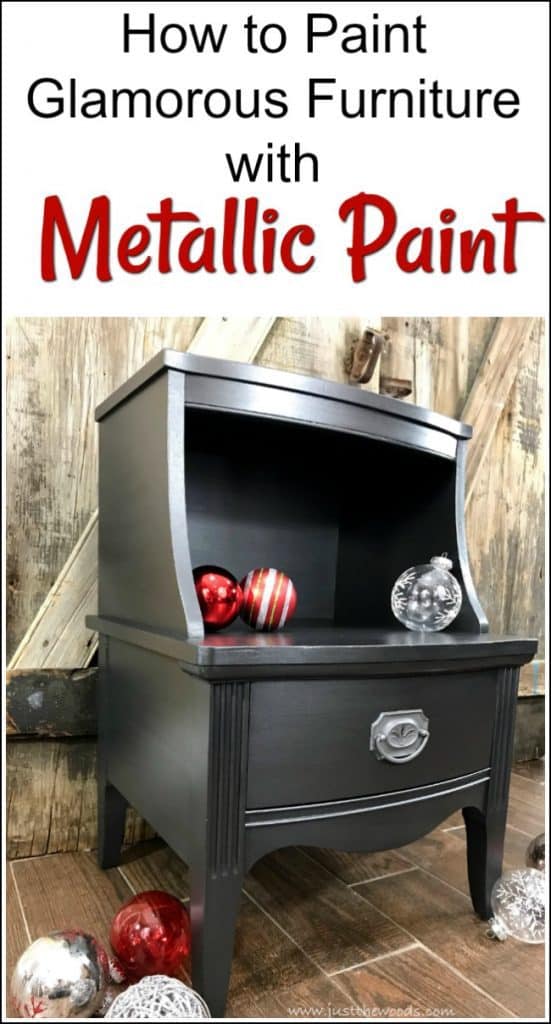 Disclosure: This post contains affiliate links for your convenience. Click here for my full disclosure policy.
How to Paint Glamorous Furniture with Metallic Paint
Materials Needed / Source List:
Sandpaper
Wooster Short Handle Brush
Vintage Wooden Side Table
This solid wood vintage side table has been brought in by a sweet customer of mine. This isn't the first piece that I've refinished for her. I also updated her vintage desk which now looks like this: Gray Painted Desk. But this makeover is a bit different, she told me that she wants 'bling'. Initially, I wasn't sure what she meant by bling and I started having flashbacks of hammering 400 nailheads into a dresser like this one: Upholstery Tack Dresser. Thankfully, she doesn't want that kind of bling, but rather she would like a metallic painted finish on her table.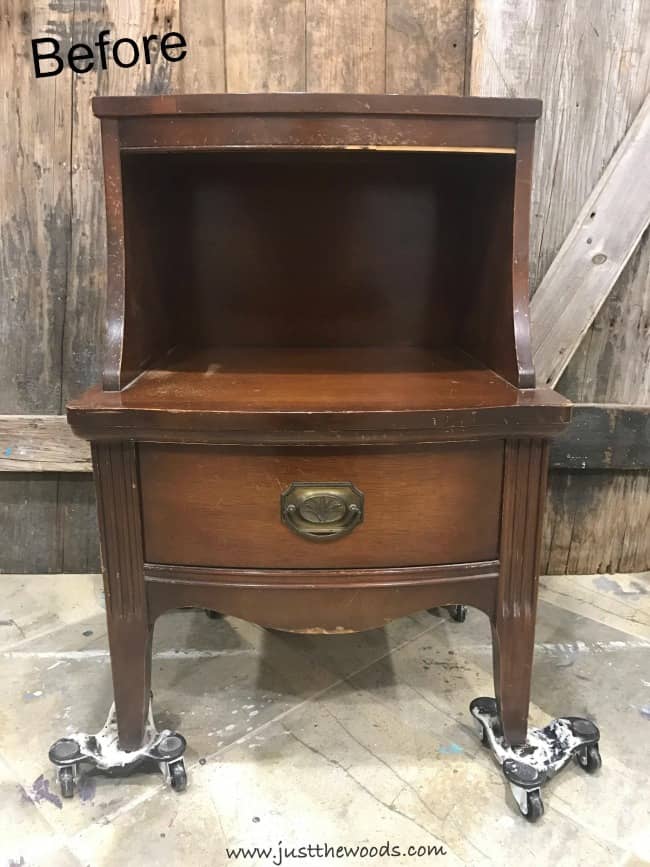 Preparing the Vintage Wood Table for Paint
First, the table is propped up on my handy furniture tri-dollies which make life so much easier. These nifty little wheelies allow me to easily move the piece around as needed. If you don't have them yet, you can get them (HERE). Next, if you look closely there are a few spots where the veneer has chipped away in need of repair.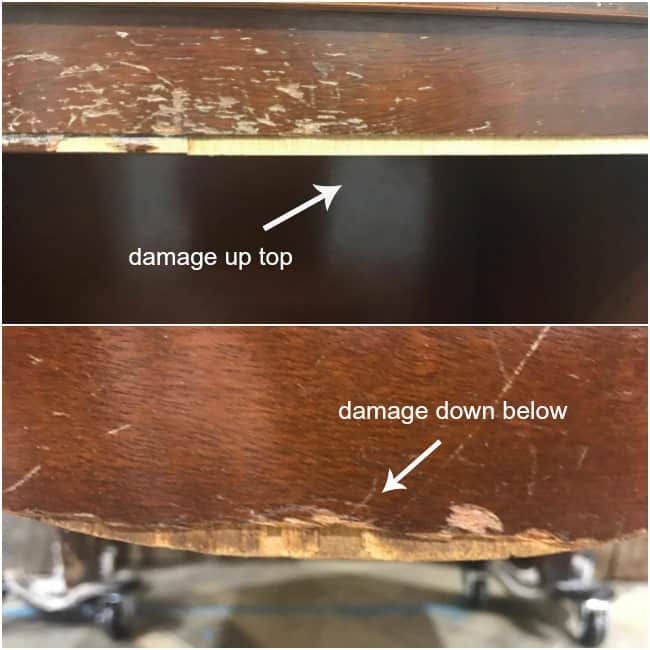 Before we can add metallic paint to this wood we need to make these repairs. Add a wood filler of your choice to the damaged areas. Once the filler dries, sand smooth, add more if needed, dry, sand again. Here is show you how to repair wood furniture.
Once the repairs are made, make sure to thoroughly, clean, sand and prep your furniture. This is my go-to method for how to prep painted furniture. Make sure to pay extra attention to areas that may need a bit more attention like this work area here. This area is given a bit more sanding than just the standard scuff.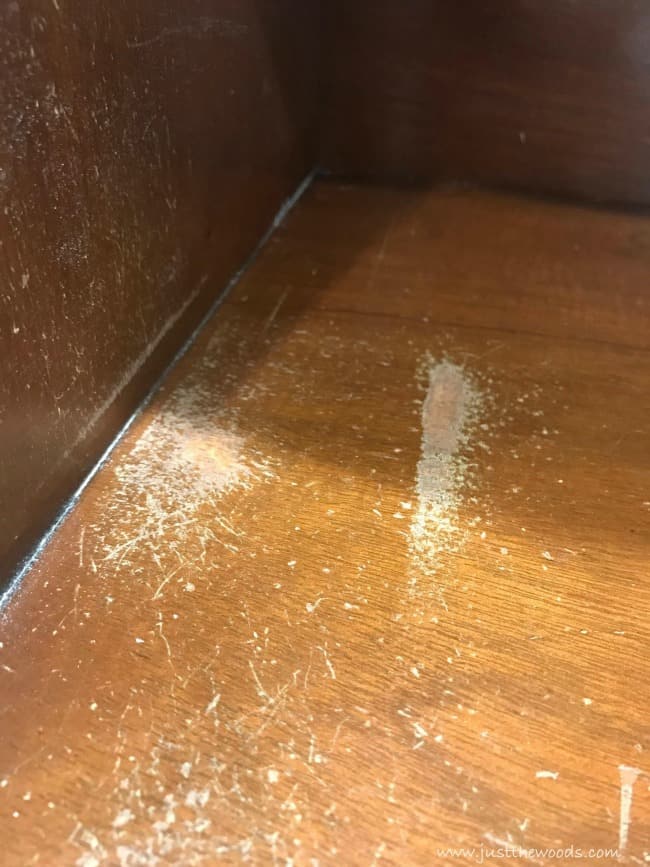 In the case of this table, I have to grab the shop vac to vacuum up the dust that's created from prepping. I can assure you that you will never regret a good prep job.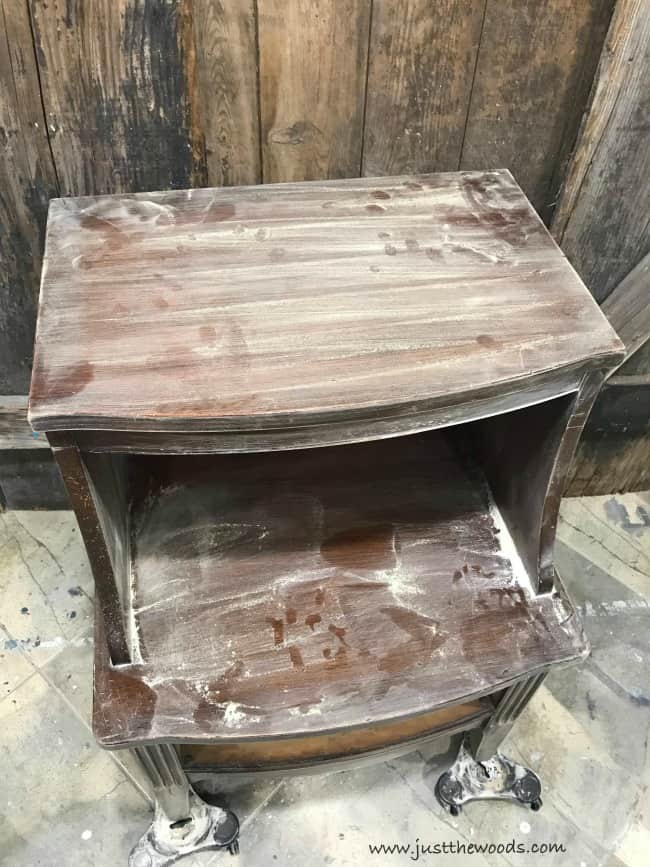 Painting the Vintage Wood Table
Before we can begin painting furniture with metallic paint we need to start with a base color. Since we are adding silver furniture paint to this table we are starting with a charcoal mix. You can mix your own charcoal color if it isn't readily available by combining black and gray. You can find great paint colors available through Dixie Belle (HERE) or Wise Owl (HERE). I love both brands. Make sure to sand in between coats of paint using a fine grit sandpaper if you want a super smooth finish.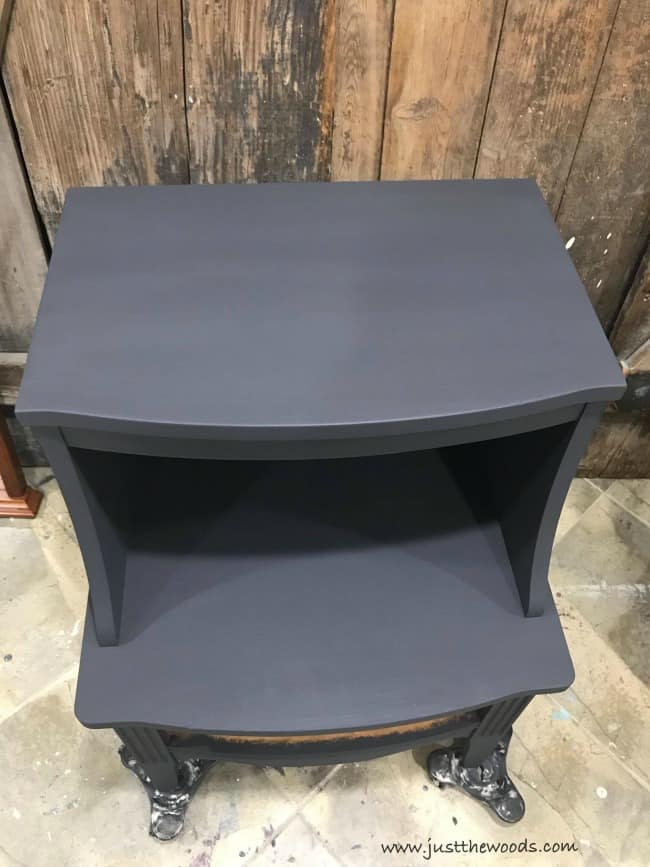 Glazing Painted Furniture with Silver Metallic Paint
To create a metallic painted finish on this table we are mixing two different silver metallic furniture paints. To get a similar metallic painted finish I would suggest trying Modern Masters Metallic Paint. Check out the colors Black Pearl, Steel Gray, and Pewter – find them online HERE.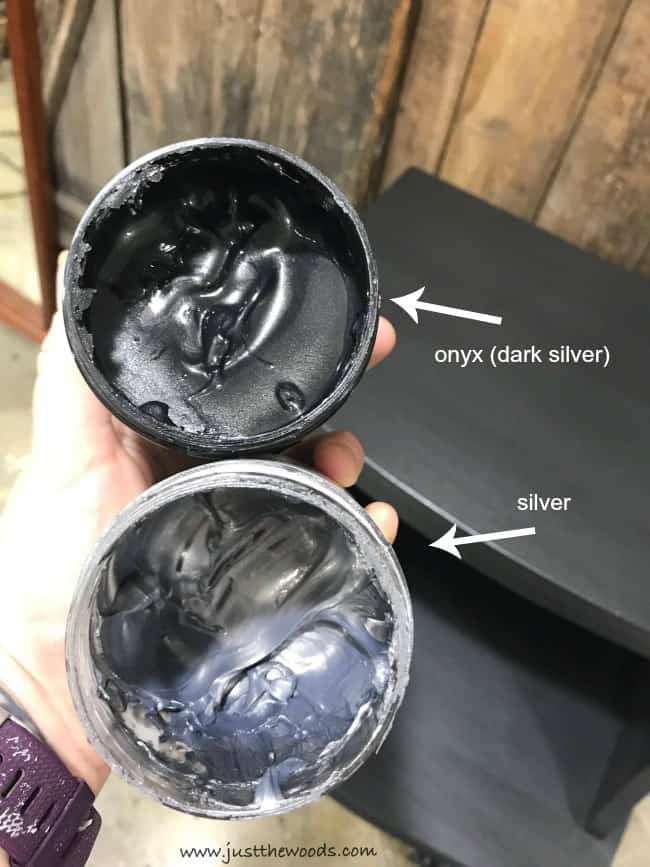 This particular metallic paint is rather thick since it can be used for hardware, stencils, and glaze. You will need to be dilute the mix with water until it reaches the consistency of oil. Next, go ahead and brush the metallic glaze onto the table. Click here to see how metallic glaze can be applied to painted furniture with a paint sprayer: Metallic Glaze Painted Furniture.
Here is a quick video to see the metallic paint being applied to the table.
Make sure to allow your metallic paint to dry before applying the second coat. Once complete you should have a shimmery glamorous painted finish.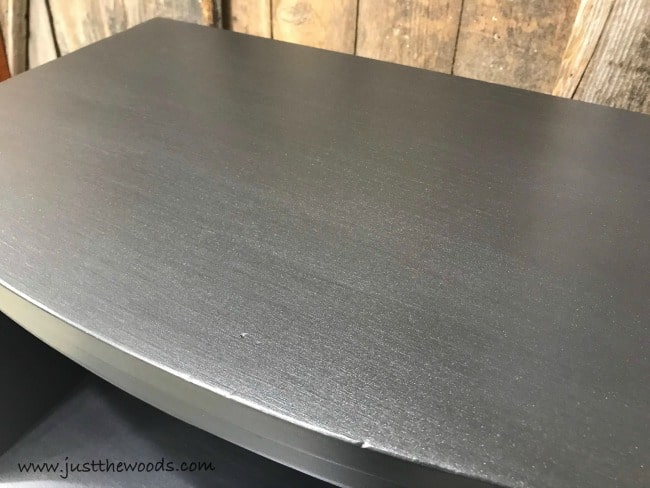 Painting Vintage Hardware
Don't forget the hardware! This vintage hardware has very pretty details that we would like to keep with the table.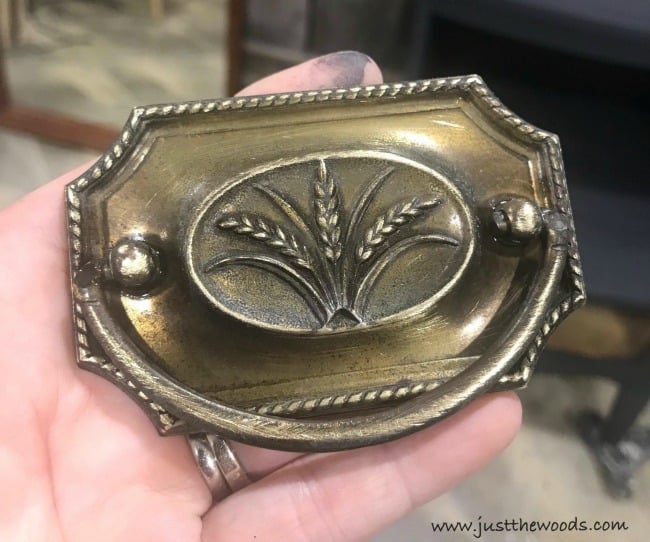 The first thing to do after removing the hardware from the drawer is to clean and prep for paint. This is how I clean, prep & paint hardware. In this case, the hardware is painted in a similar charcoal mix as the table. But the ratio this time is more gray than black. (opposite of the table color).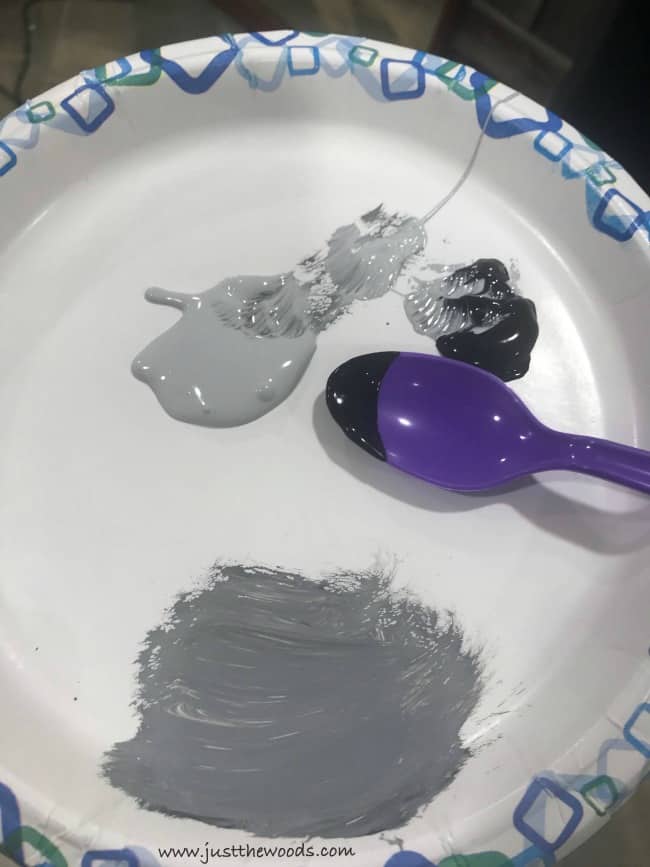 Paint the hardware in this lighter shade of gray.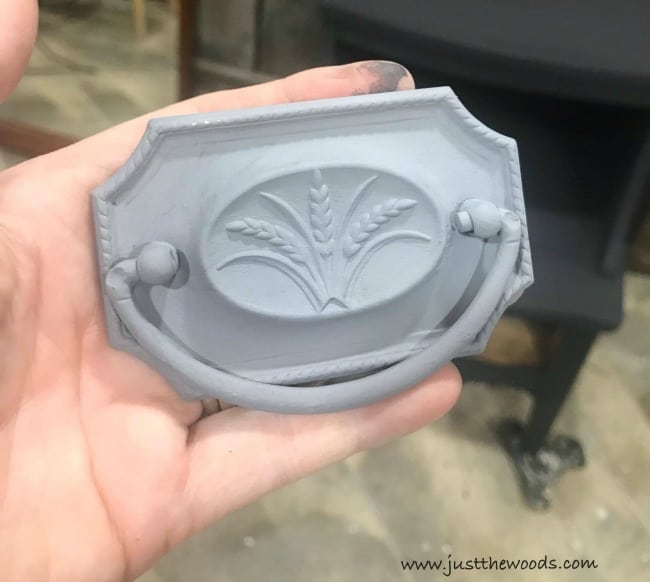 Next, paint the hardware in the same silver metallic paint that is used on the painted table, but again, use the opposite ratio making the metallic silver paint lighter than the mix on the table. Then you can highlight the raised areas of the hardware with the darker silver metallic paint to bring out the details.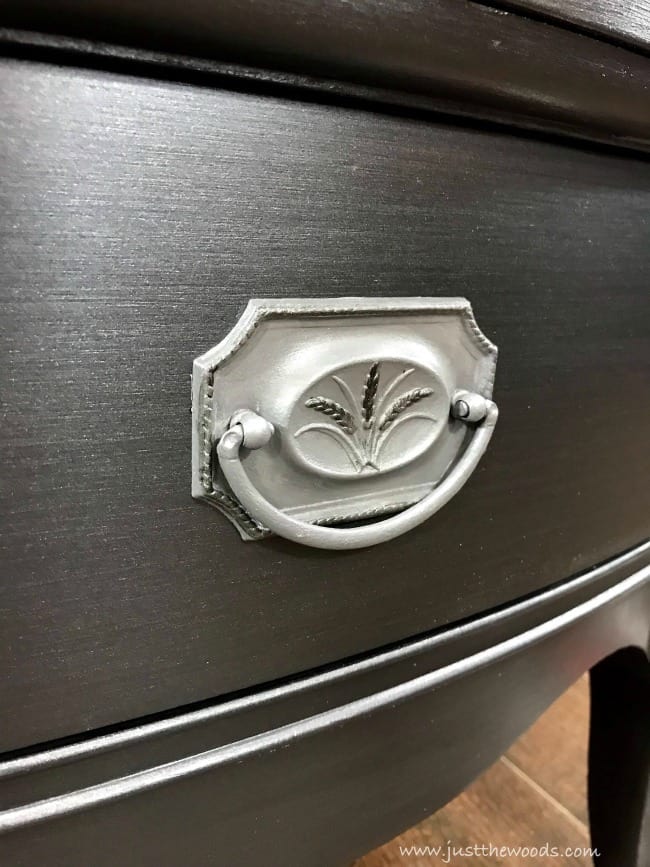 Creating your Own Metallic Painted Furniture
If you are a lover of metallic furniture but never knew which silver metallic paint for wood furniture to use, now you can create your own glamorous silver painted furniture using this metallic paint for furniture. If you prefer not to do the work, you can find gorgeous silver metallic dressers for sale online (HERE).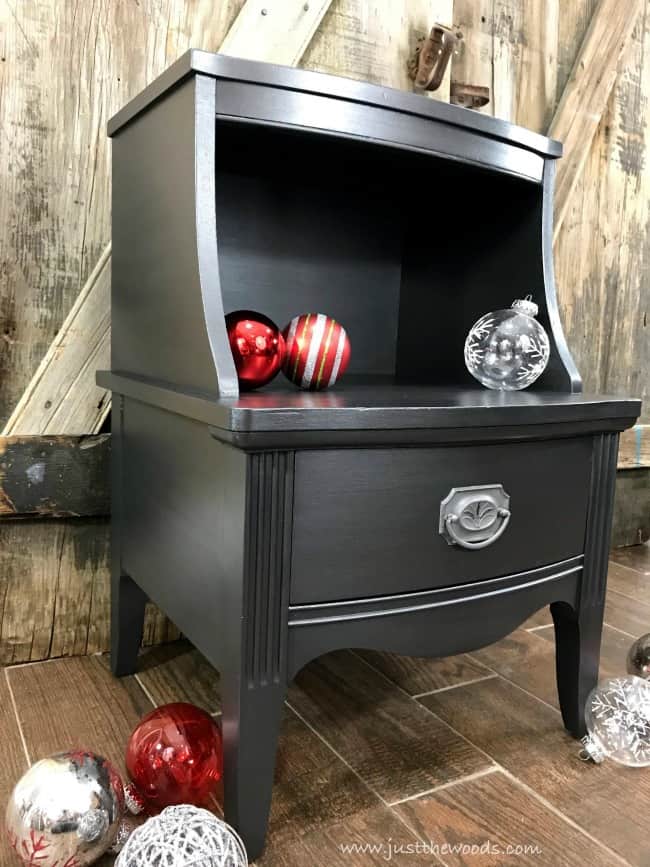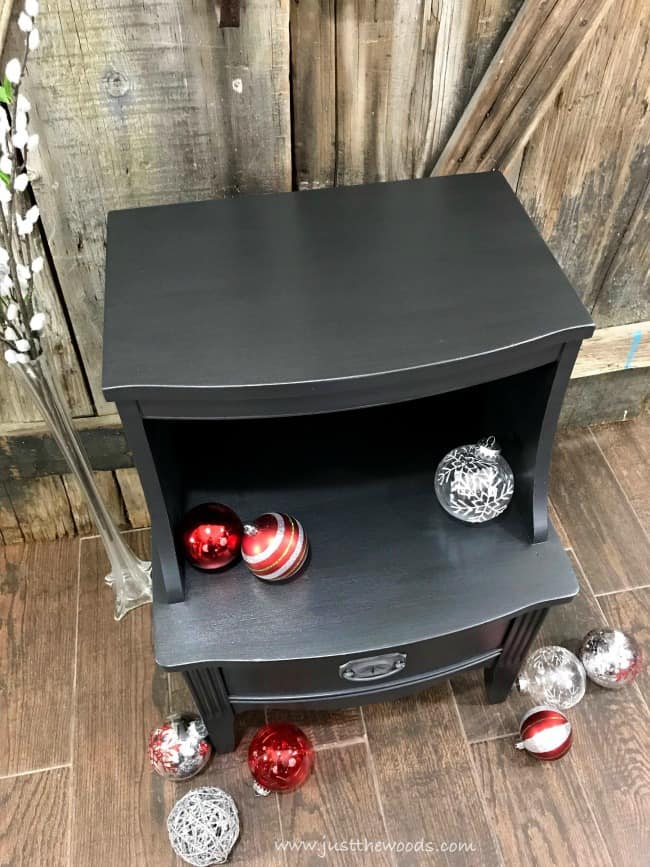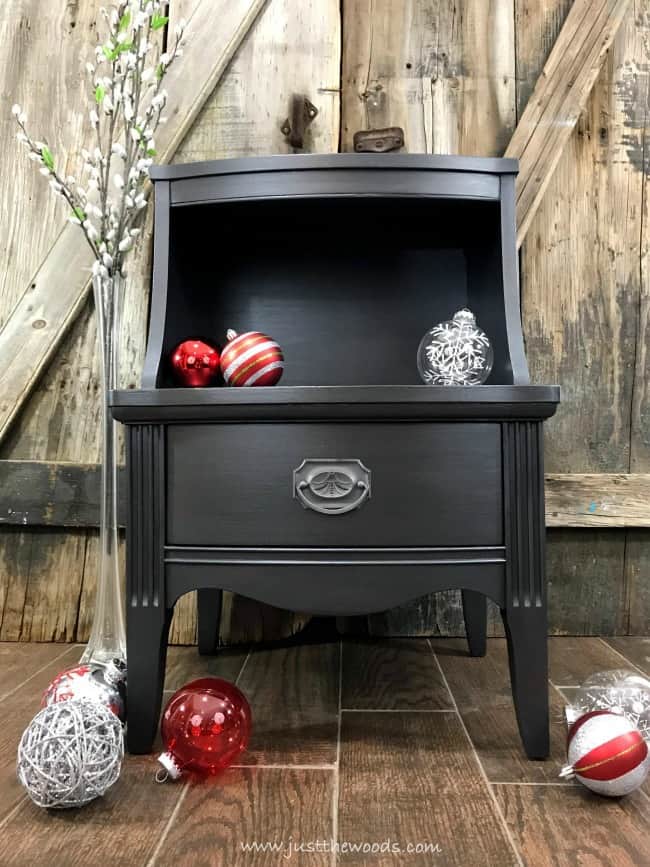 We even had a photobomb from the creepy Elf on the Shelf!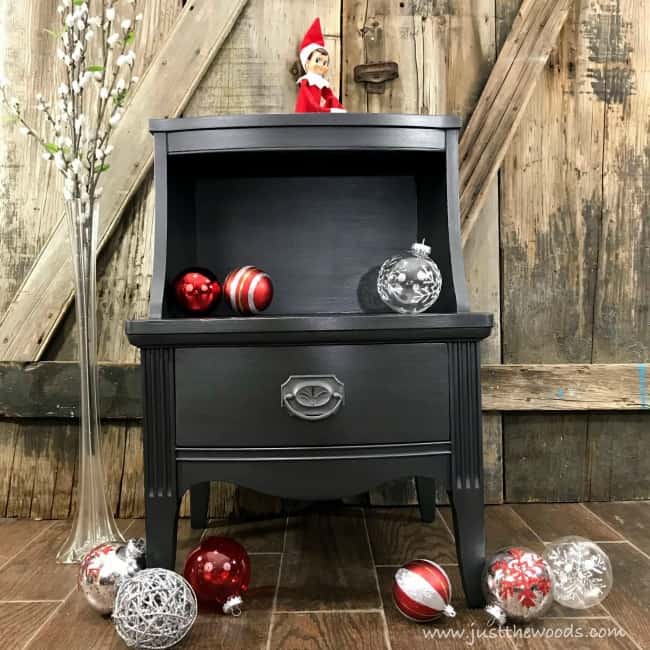 You May Also Like:
If you like this then make sure to check out all the other projects using metallic paint: Metallic Makeovers But if you prefer not to DIY your metallic furniture you can find gorgeous silver furniture online, like this silver nightstand for example. You can get this silver beauty online HERE.
If you adore projects using metallic paint then make sure to check out some of these great makeovers.
Painted Furniture Ideas & DIY Projects using Metallic Paint
Because adding metallic paint to your furniture makeover is always a great idea! Here are 10 more DIY projects using metallic paint.

If you like this post make sure to check out all of the tips & secrets that I wish someone told me when I started painting furniture here: Painting Furniture Secrets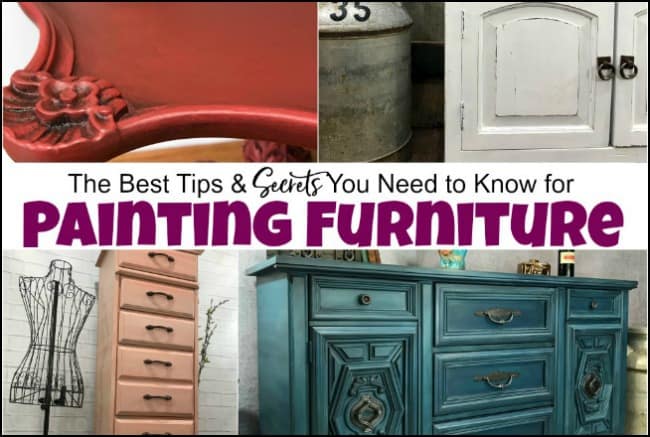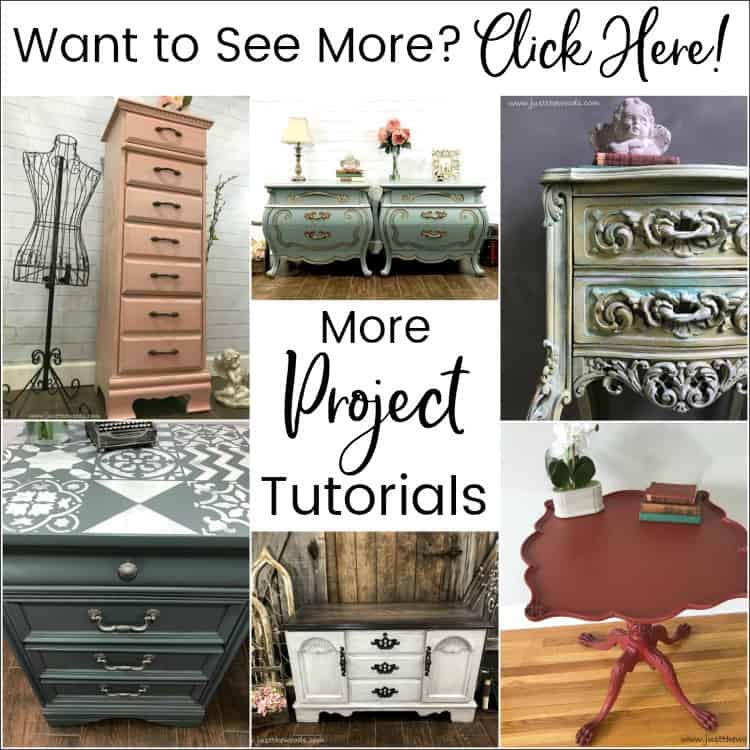 Don't Forget – Follow Just the Woods and Share this post to Inspire others:
FACEBOOK * INSTAGRAM * PINTEREST