Learn how to paint and decoupage furniture with this gorgeous painted vanity project. Painted furniture with peacock fabric decoupaged to the drawers.
How to Paint and Decoupage Furniture
If you love painted furniture than you may want to learn how to decoupage furniture too? This painted vanity sat ignored for almost 2 years in the unfinished inventory before being claimed for a custom makeover. And it was worth the wait!. The bold painted finished and colorful fabric decoupage on the drawers create a gorgeous and unique end result.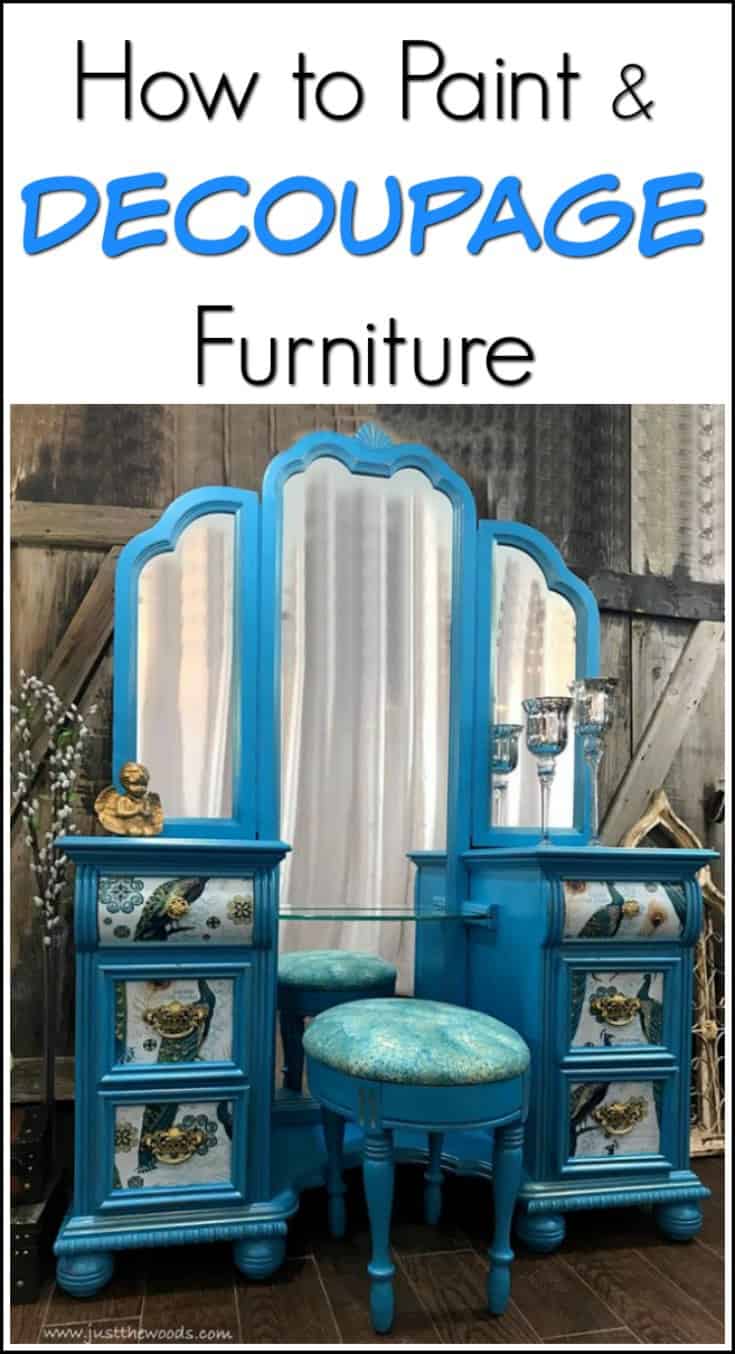 Disclosure: This post contains affiliate links for your convenience. Click here for my full disclosure policy.
Inspiration Piece – Painted Peacock Desk
Before getting started I should mention that this painted vanity makeover has an inspiration piece. There is no blog post for the inspiration piece which makes this even more fun. Since the previous makeover wasn't documented I get to give a thorough walkthrough on how to paint and decoupage furniture with this painted vanity project. Here is the inspiration piece: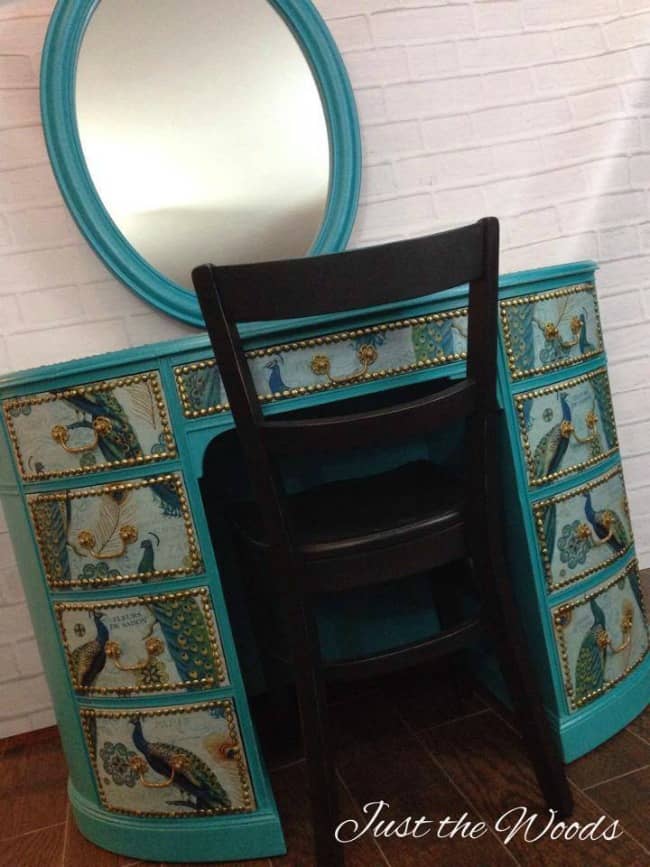 Make sure to stick around to the end, its Furniture Fixer Upper day!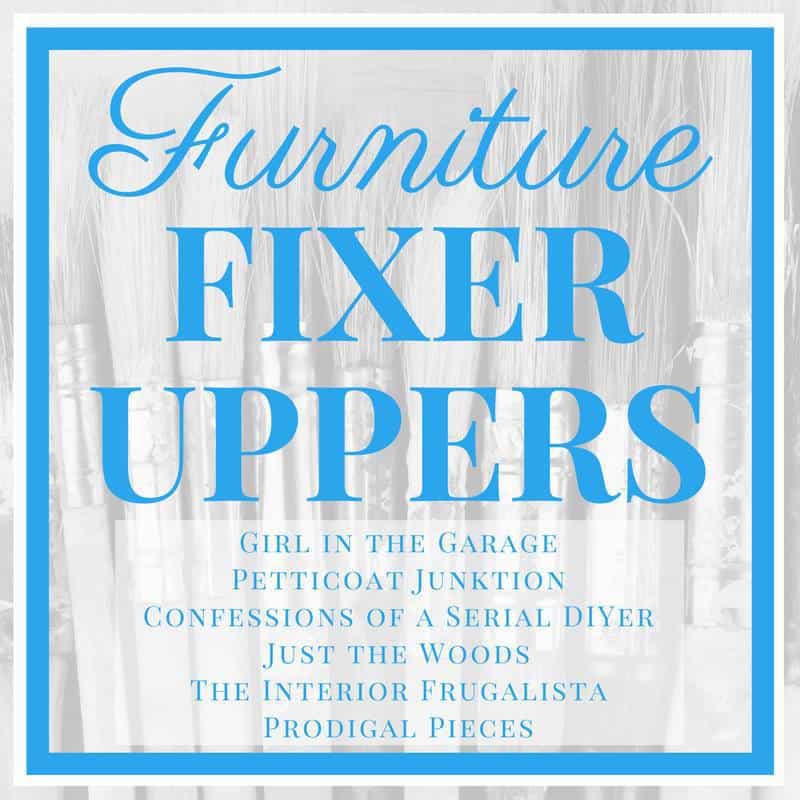 Materials Needed / Source List:
Painting a Vanity
Once dragged out of the storage unit the vanity is flipped over for a full cleaning in the shop. By flipping it over you get easy access to the bun feet and can paint the underside areas much easier than if it were standing upright. Make sure to thoroughly clean and prep the piece first. Click here to see how to prep painted furniture.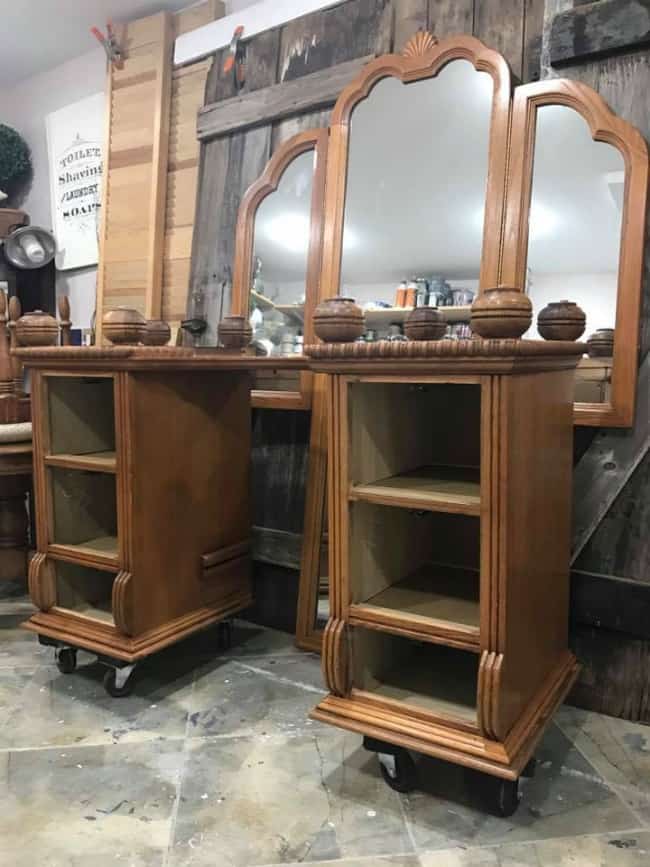 First, paint the feet, then you can go ahead and paint the rest of the vanity or wait until it's flipped back over again. The main point is to get to those feet. I am loving the Zibra paintbrushes lately. This gorgeous bold blue color is amazing. You can get this bold blue look with 'peacock' from Dixie Belle HERE.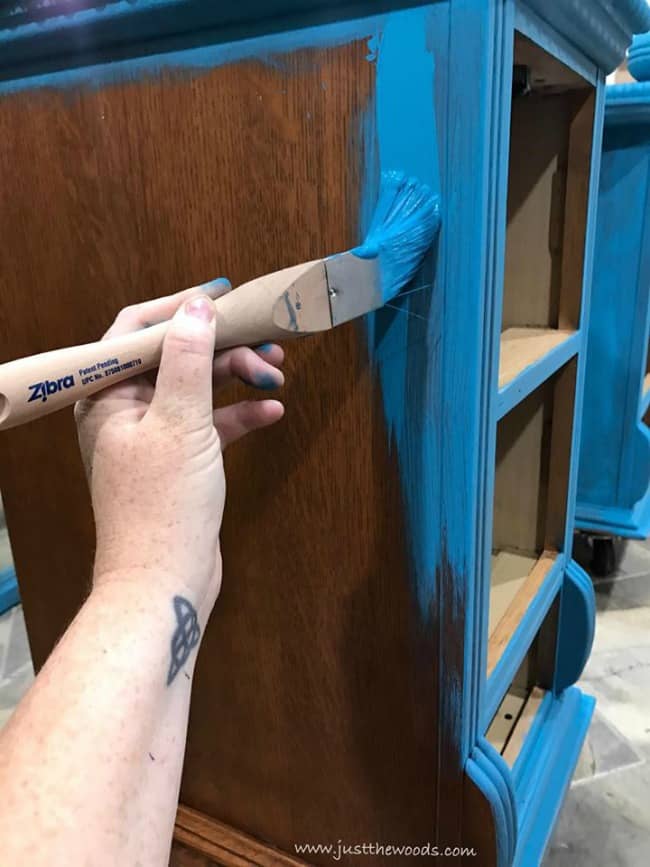 Make sure to seal the feet before flipping it back over. You don't have to seal the body of the vanity until you know that the entire surface areas are painted.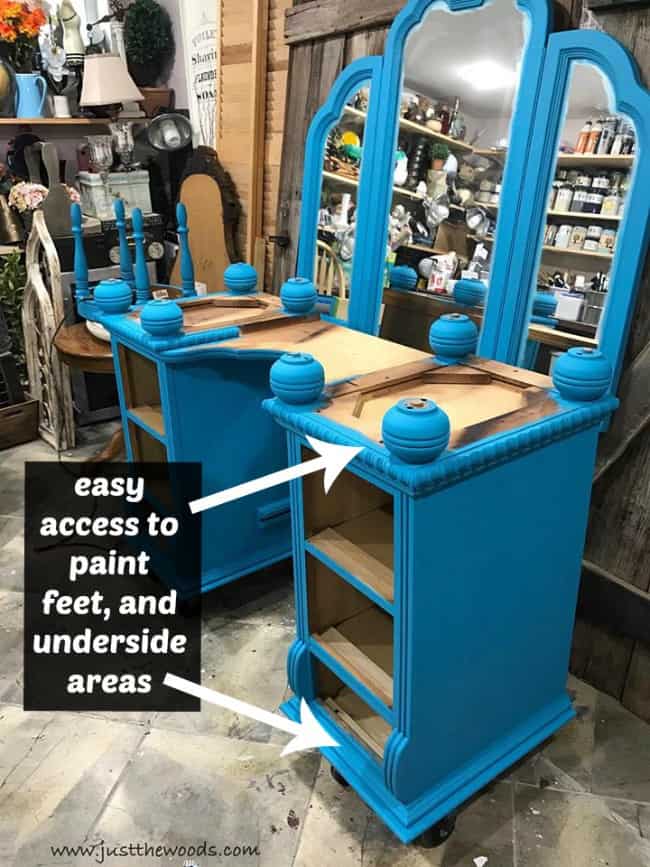 Here is a full tutorial with VIDEO showing how I seal my painted furniture projects: Sealing Painted Furniture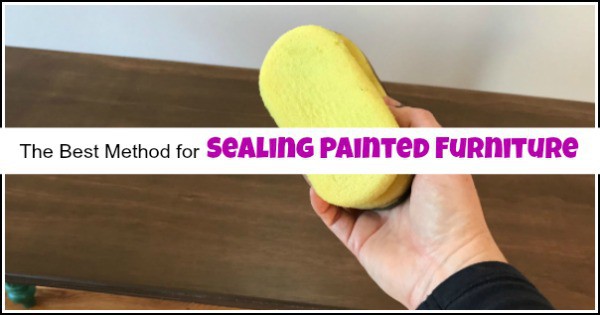 How to Prep Drawers for Decoupage
When adding decoupage to painted drawers you may choose from different materials. Here are a few options:
fabric
tissue
napkin
wallpaper
wrapping paper

If your decoupage material is a light color or see through then you want to paint the surface first. I'm using fabric for this project. The fabric is a light color so I'm painting the drawer area in a light gray.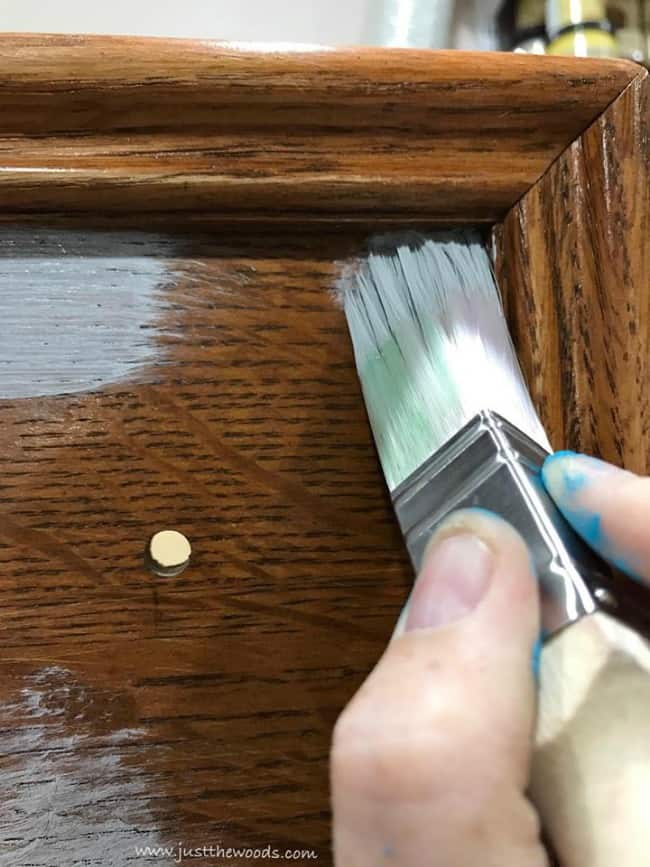 After painting your center area go ahead and tape it off to paint the outer areas. The Scotch blue platinum painters tape is perfect for this because it tears off at perfect 90-degree angles giving you perfect corners. You can see a video of how it tears perfectly each time here on Facebook.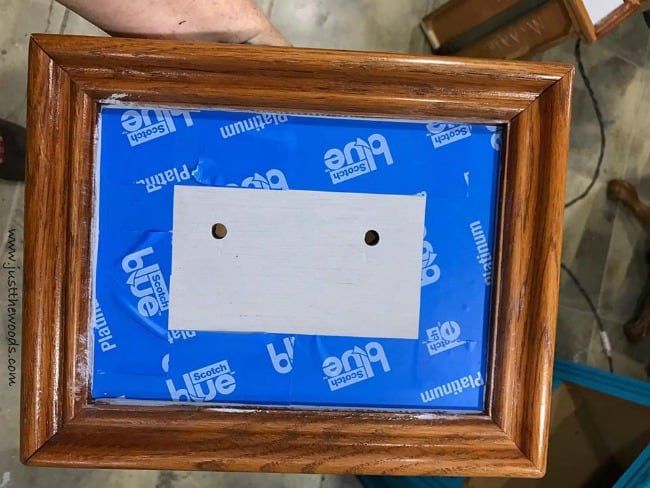 Once you paint your drawers on the outer sides you can set them aside.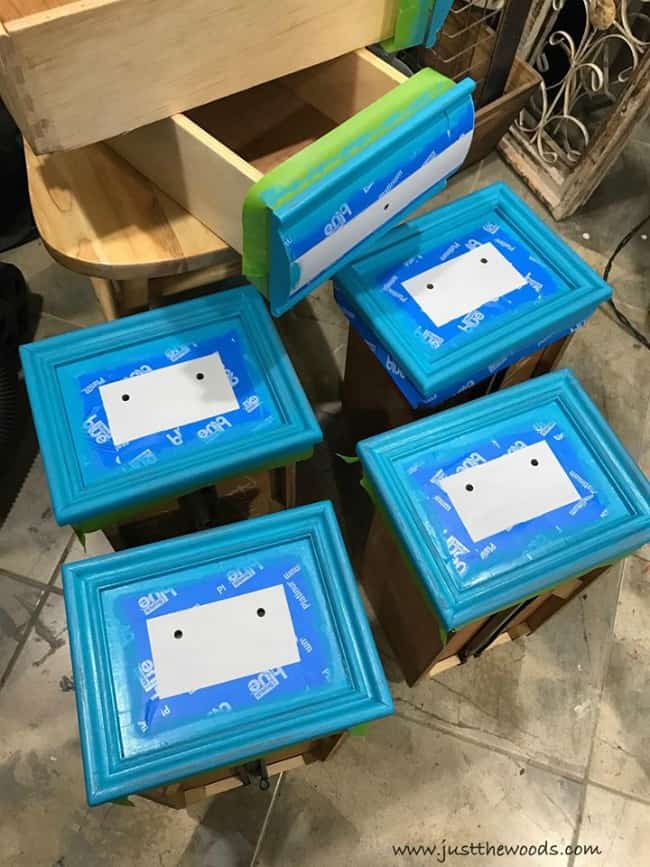 Not sure where to find decoupage supplies? Find them here: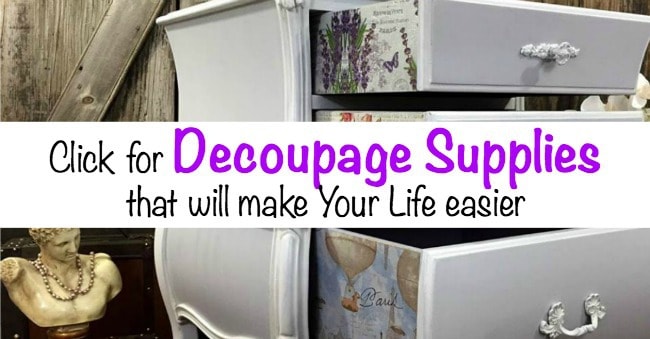 Click here to Pin this post for later.
Quick Tip
A quick tip for when you paint furniture with multiple drawers is to mark your drawers when you remove them from the piece. Using a piece of chalk you can mark which drawer goes where so when its time to put them back together everything falls back into place easily. I share this along with many other tips in my Secrets and Tips for Painting Furniture.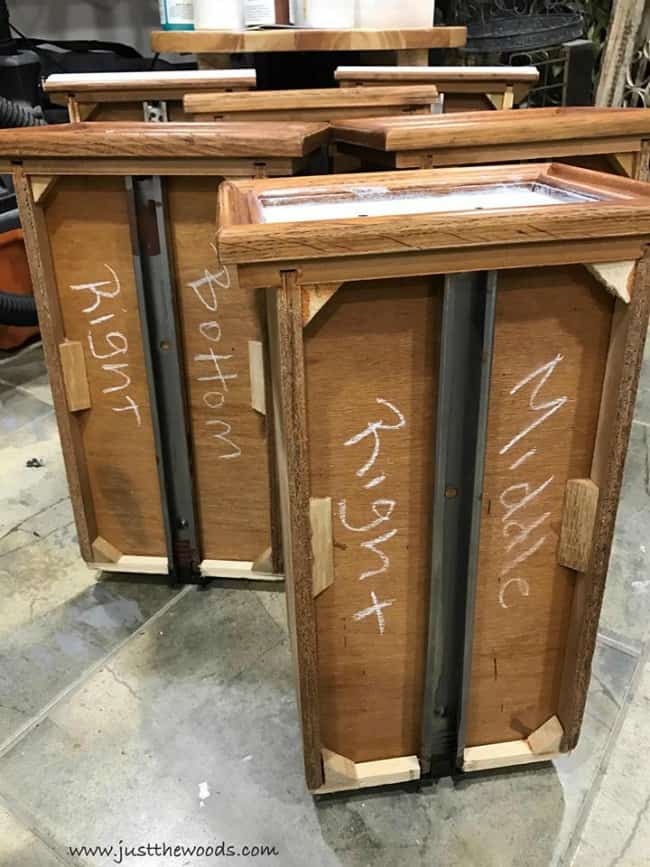 Cutting Fabric to Decoupage
Drawers
First and foremost you want to iron your fabric to get out any wrinkles. Always iron with the pattern face down. You don't want to risk messing up the pretty side of the fabric.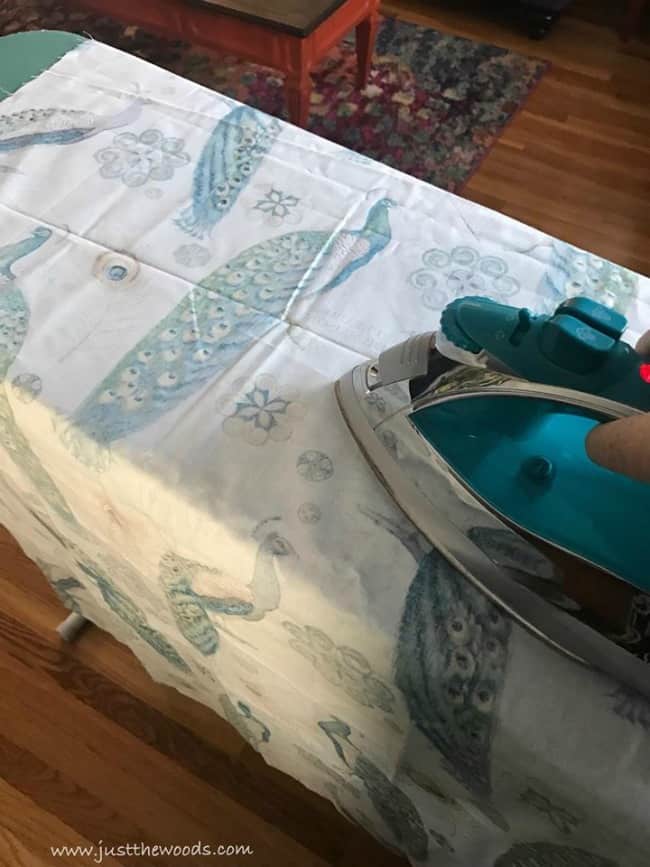 Next, measure the area of your drawers where you will decoupage the fabric. Then lay out the fabric on a clean flat surface. Using your Fiskars cutting mat, a sharp pair of scissors, and a few rulers measure and pencil out the exact measurements of your area. Mark your measurements on the back of the fabric (not the front). Find more tips and tricks to decoupage furniture in my eBook here: Decoupage eBook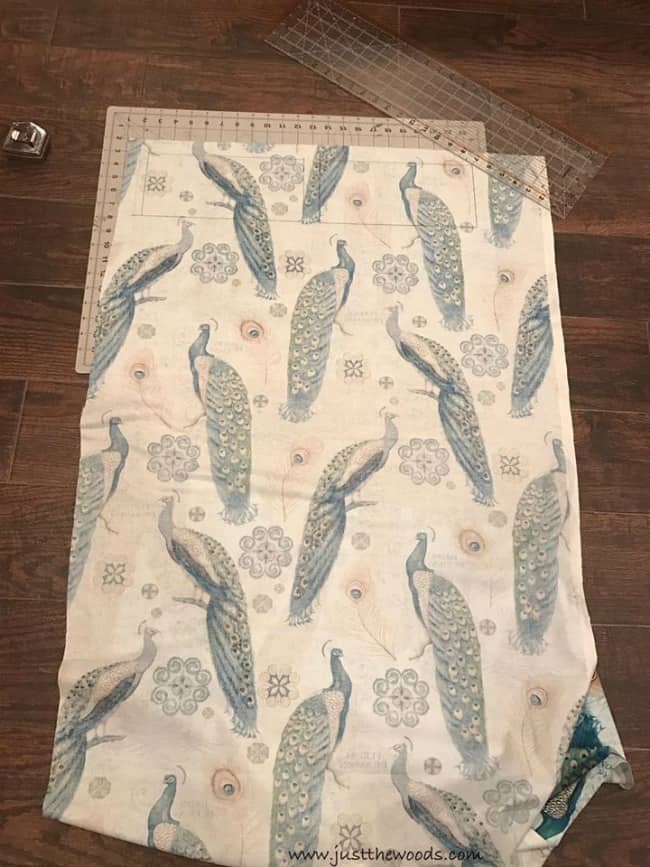 Carefully cut your fabric out. You are better off cutting slightly bigger than your needed size than smaller. You can always trim if needed. The main focus is uniformity and to keep the print vertically in line – one drawer over the other. By doing this, I know that I chopped off a few heads, but some tails were fully visible on some drawers and some heads were fully visible. You can align however you'd like.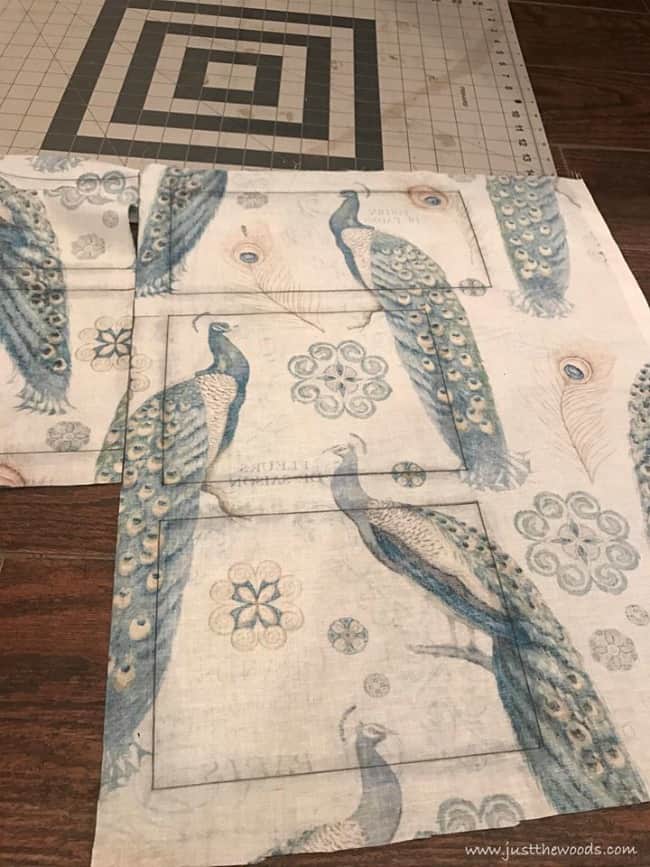 Are you a visual person? To see a live video of how to decoupage furniture you can catch the video where I did it live on Facebook here:
Click here for more decoupage projects: Decoupage

Have you wondered how to seal decoupage? Well, the entire painted vanity, as well as the decoupaged drawers, are all sealed using a clear protective sealer.
Click here to Pin this post for later.
Changing the Look of your Hardware
Now that you have pretty decoupaged drawers you may want to change the look of your hardware. These gorgeous pulls are original to the piece and simply need a new color. They are almost perfect, but we want to lighten them up and make them gold.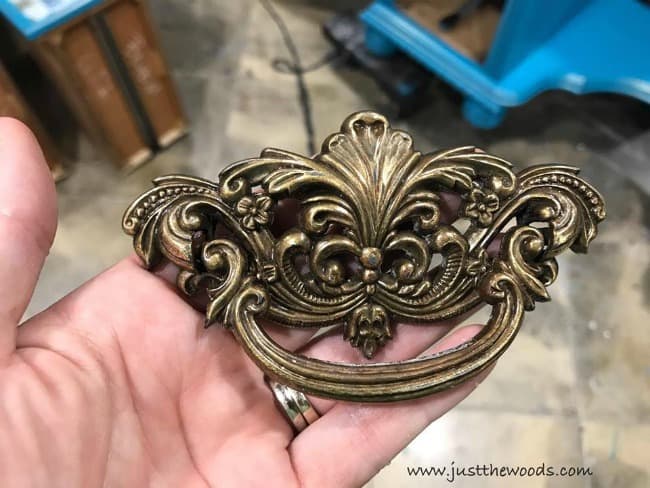 Make sure to clean and prep your hardware. Click here to see how to clean, prep and paint hardware.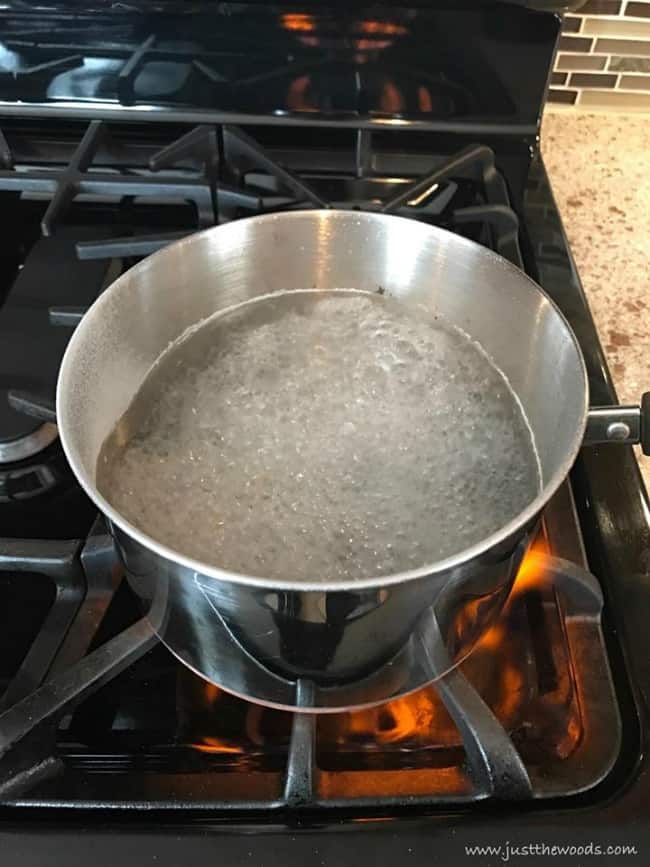 These gorgeous ornate pulls are transformed using metallic gold.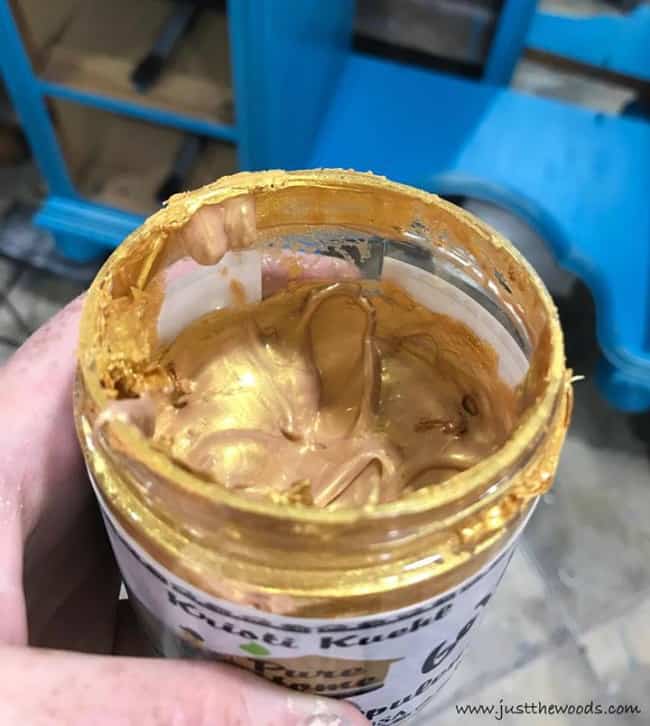 The gold hardware is perfect for these drawers.
Click here to see how the triple mirror was painted to match: How to Paint a Mirror Frame

Adding a Peacock Feather Stencil
A feather stencil is added using the same gold opulence as on the hardware.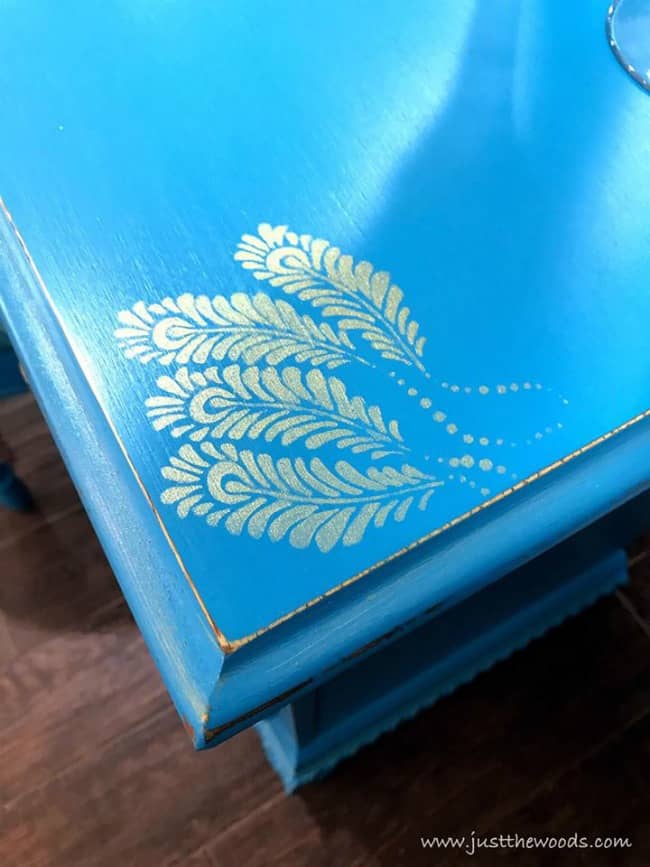 For a more detailed tutorial on adding stencils to your painted furniture makeovers make sure to check out How to Stencil Painted Furniture. There's even a video included in the post.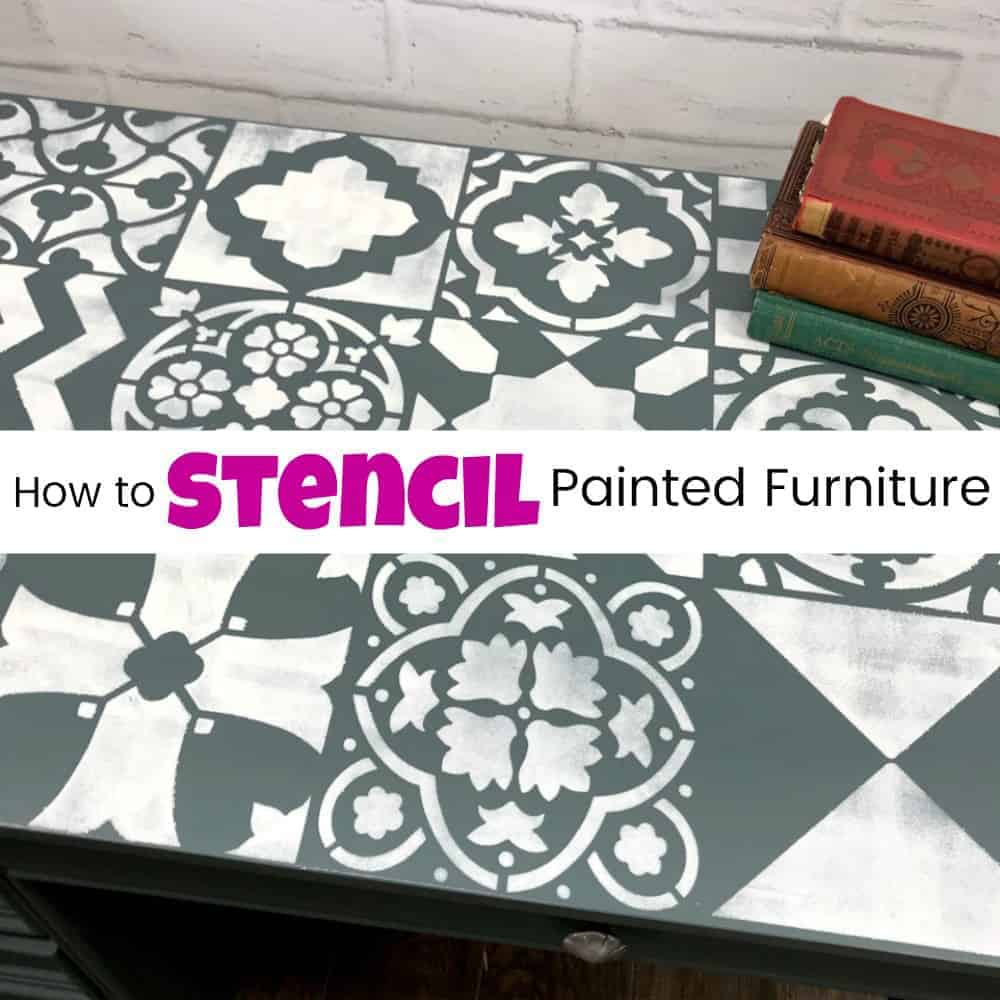 Click here for more DIY stencil projects: Stencil

Reupholstered Vanity Seat
You can't have a painted vanity without an updated vanity seat. Using an electric staple gun the original vanity seat is reupholstered to match the piece. I am using a complimentary fabric with a peacock feather print. Again, make sure to iron the fabric first and work on a clean flat surface.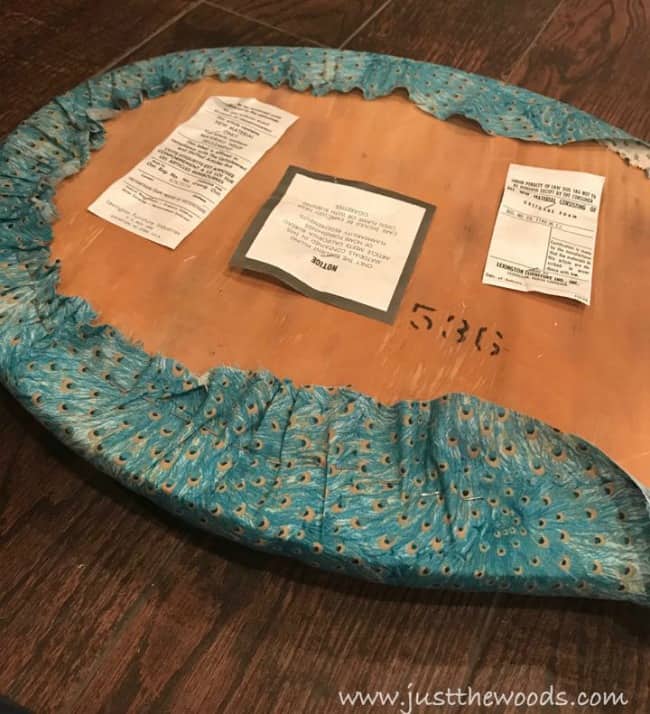 When you don't have enough of the peacock fabric left to cover the seat it's perfectly fine to use another fabric that compliments rather than an exact match.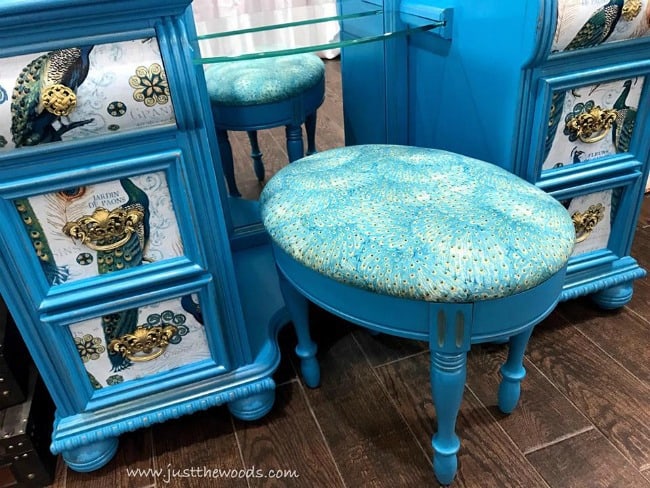 Paint and Decoupage Furniture with Bold Peacock Blue
Now that you know how to paint and decoupage furniture – go be creative while this piece heads home.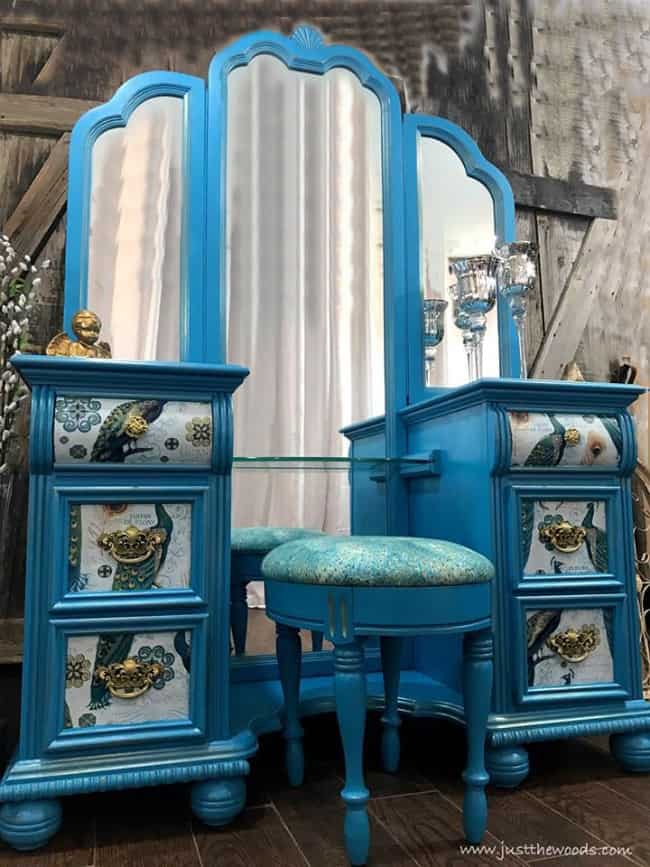 If you love the glamorous touch of metallic furniture then you will adore the Best of Hollywood Glam Furniture for your Home!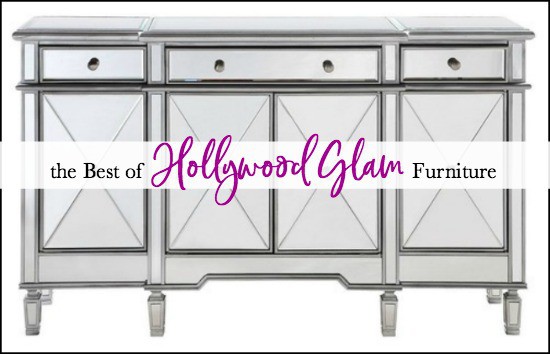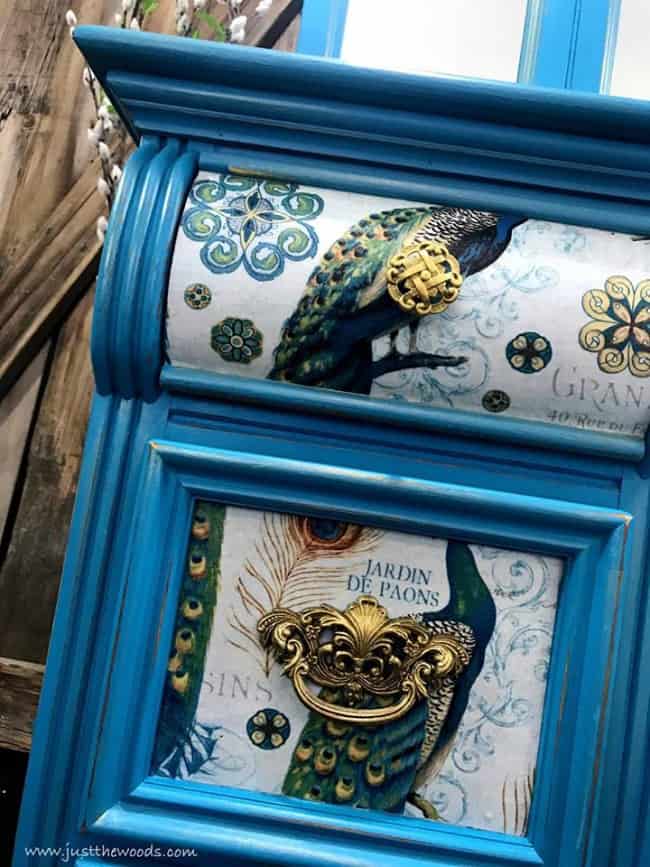 Click here to Pin this post for later.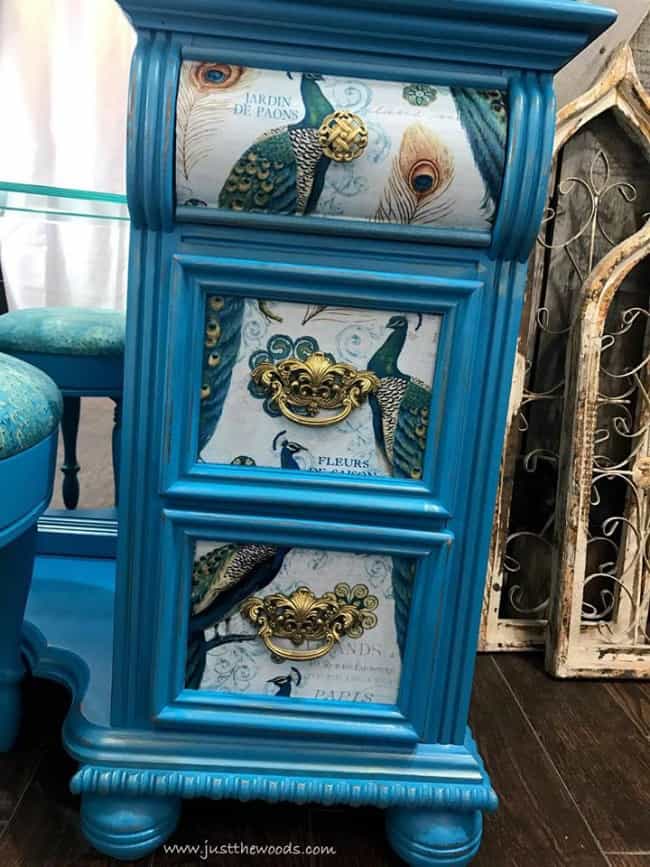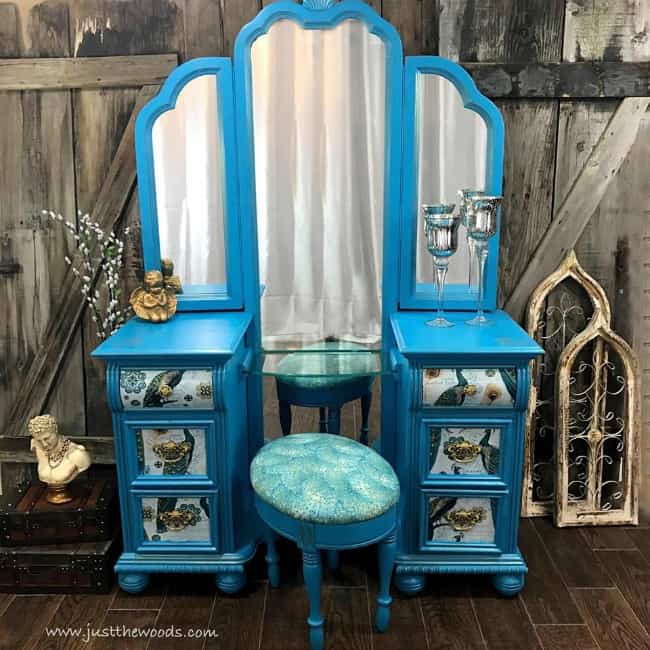 Wait! Don't Go! It's that time of the month again for:
Furniture Fixer-Uppers
A few of my creative and talented blogger friends and I have joined together in our monthly Furniture Fixer Uppers share. Let's see what my friends are up to! Make sure to click the links below the image to check out all the amazing projects that my bloggy girls are working on this month.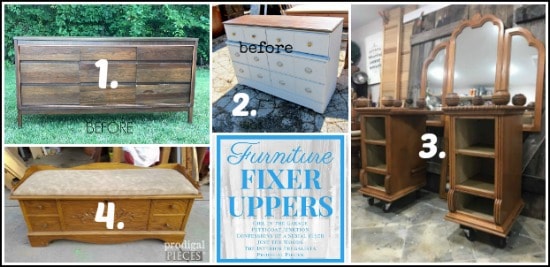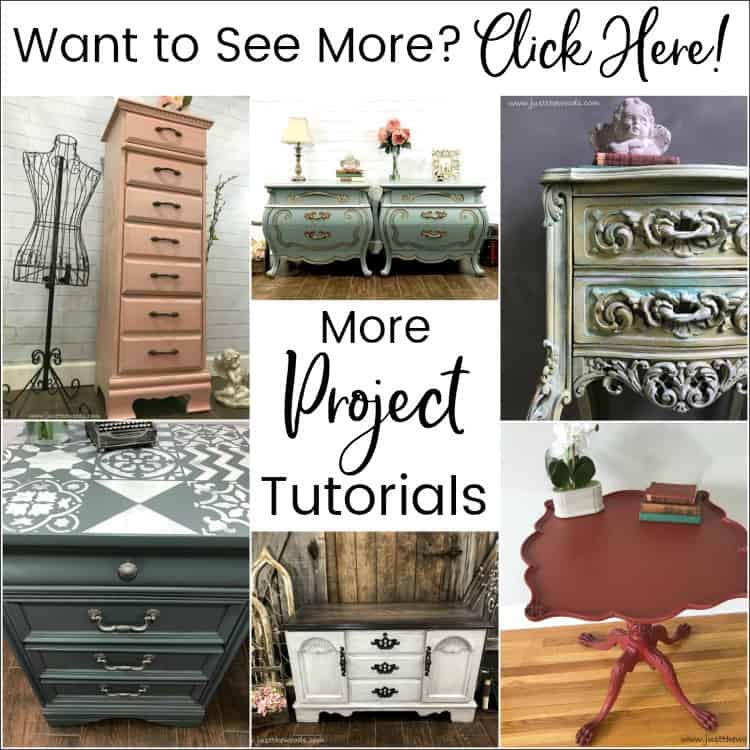 Don't Forget – Follow Just the Woods and Share this post to Inspire others:
FACEBOOK * INSTAGRAM * PINTEREST