Bold Teal Sofa Table
Hey there!  The beauty of painted furniture is that each piece has a backstory of sorts, whether it's history before it comes to me or even a story after it comes to me.  This leggy lady has a story once it came into my possession.  As soon as she arrived I knew that there was no way I would paint over the gorgeous wood grain pattern on top.  I've said it before and I'll say it again – not everything needs paint and some things really should be preserved.   At first glance, she is very plain, but she's dying to shine!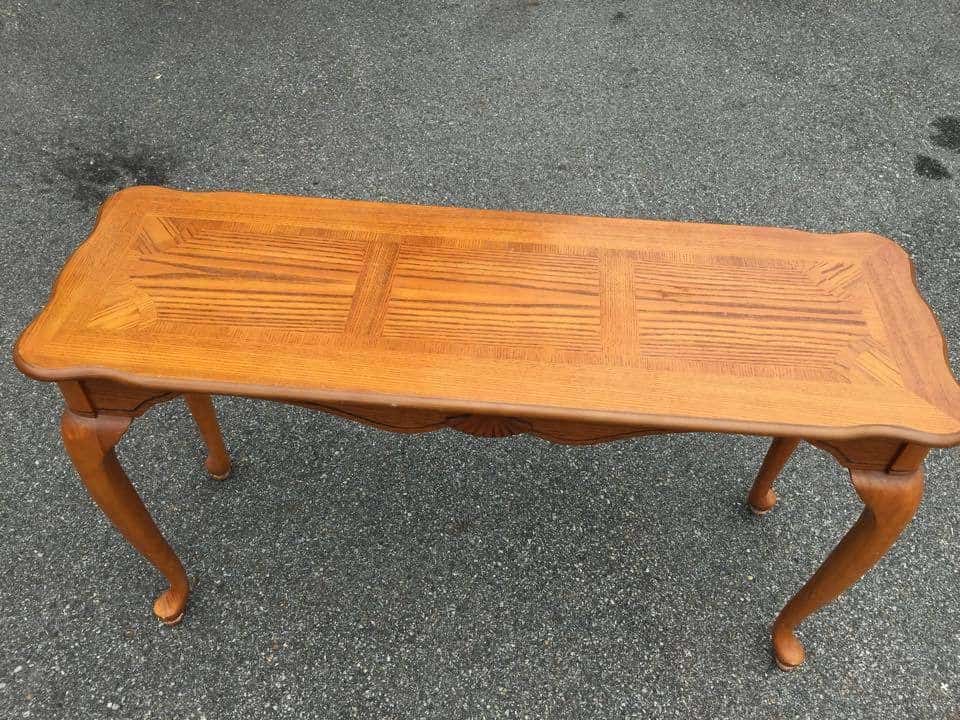 The Project – Sand and Stain
So in the break of a spring/summer rain shower, I immediately went to work and danced between rain drops to sand her top down.  Once the top finish was removed and the bare wood grain was exposed I could see the transformation begin. BUT…. I got a little ahead of myself and excited so when I applied the stain, I admit, it wasn't right.  It was blotchy and uneven.  I tried to fix it, and with every attempt to improve I did nothing but waste product.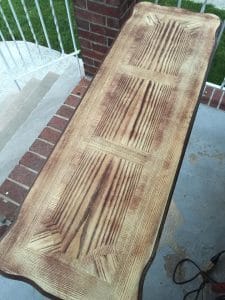 Some say that as long as you learn from your mistakes you never truly waste products.  I say hogwash! But it happens, so we learn and we move forward – making a mental note to never make the same mistake again. So back to the sander she went.. And my failed attempts were sanded away, along with more product than I care to think about.
The second time around I was sure to be more patient with the stain application and it made a world of difference, as it should.  The pattern in the grain was beautiful and the top was silky smooth.  Who could ask for anything more?
The Project – The Paint
Next was on to the base and those legs..  oh those curvy long legs!  I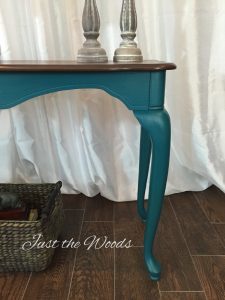 wanted a bold, rich color and the teal was perfect!  For whatever reason, this color tends to be a bit finicky with coverage and to get the deep color I was going for it required FOUR, yes four coats!!  Some colors have more pigment than others and some have better coverage.  It is what it is. Once I was happy with the color I very lightly distressed and sealed her up!   I'm completely in love with this color, the stain, the detail, all of it. Some of the details are obvious like the wood pattern, while others are more  subtle, like the simple design on the front of the table base.
Its the first time, or one of the first times I considered keeping a piece.  Believe it or not – like the mechanic with the broken car and the shoemaker with the worn shoes, I do not have painted furniture in my home.  Strange how that's often the case.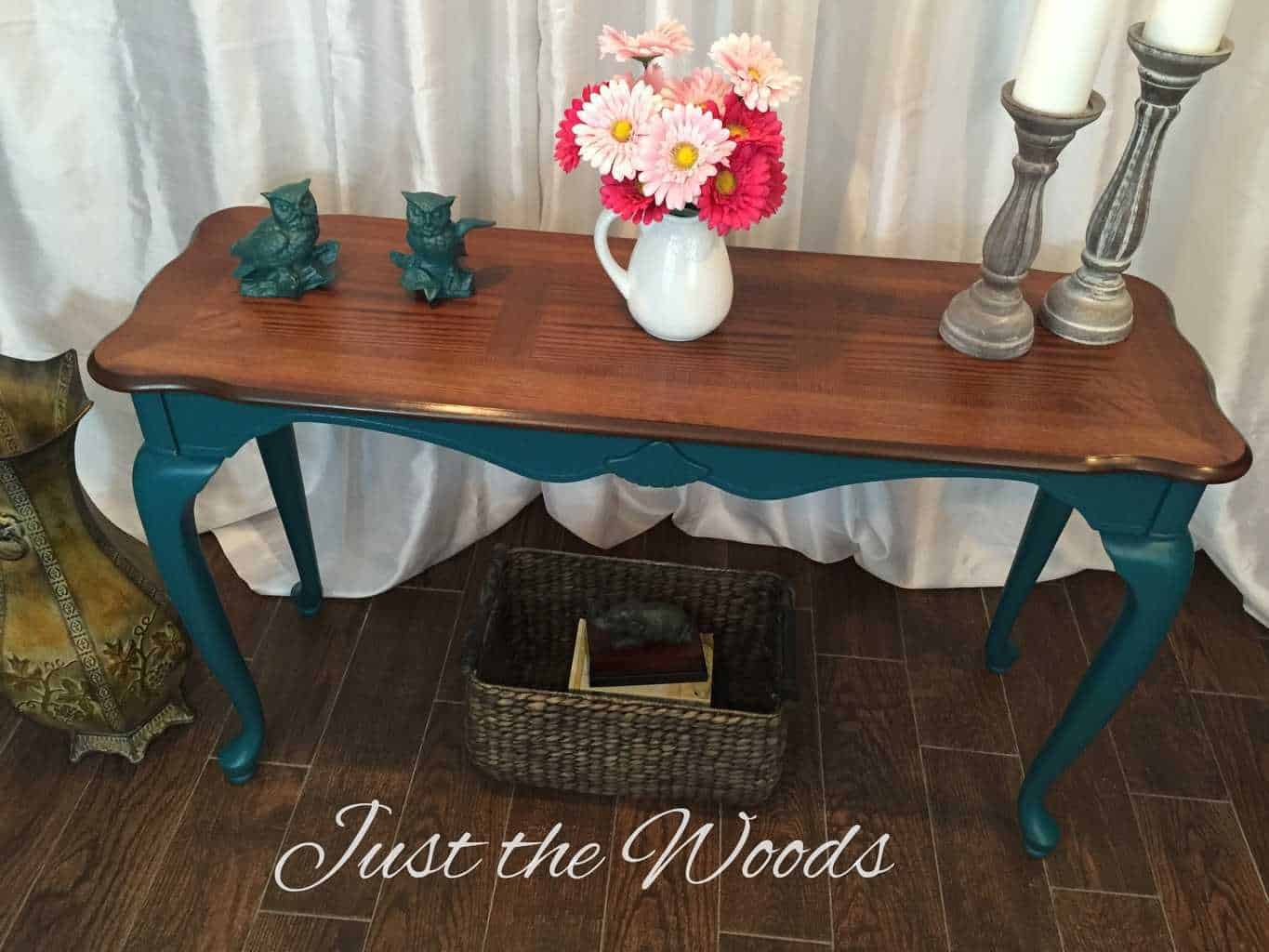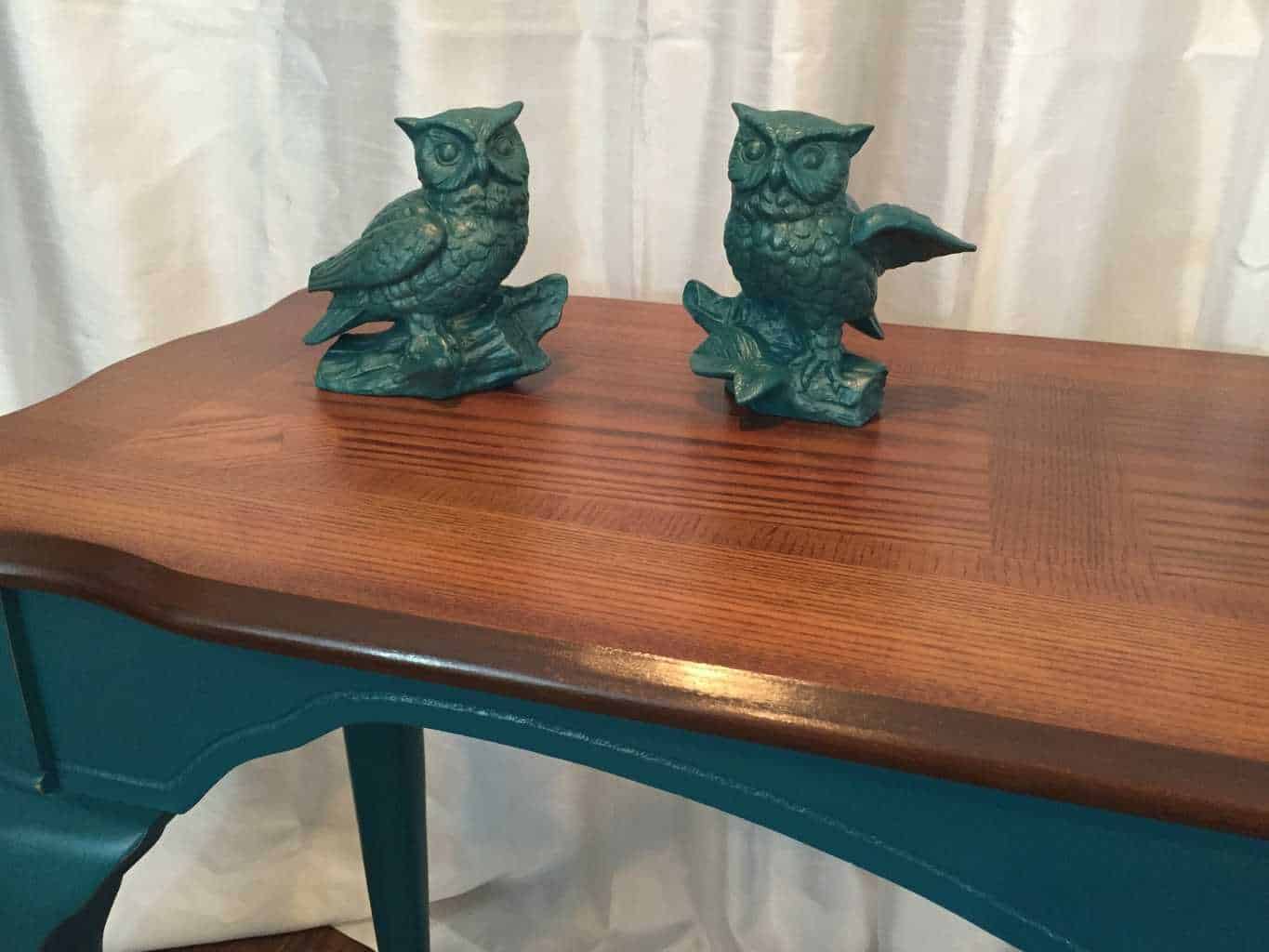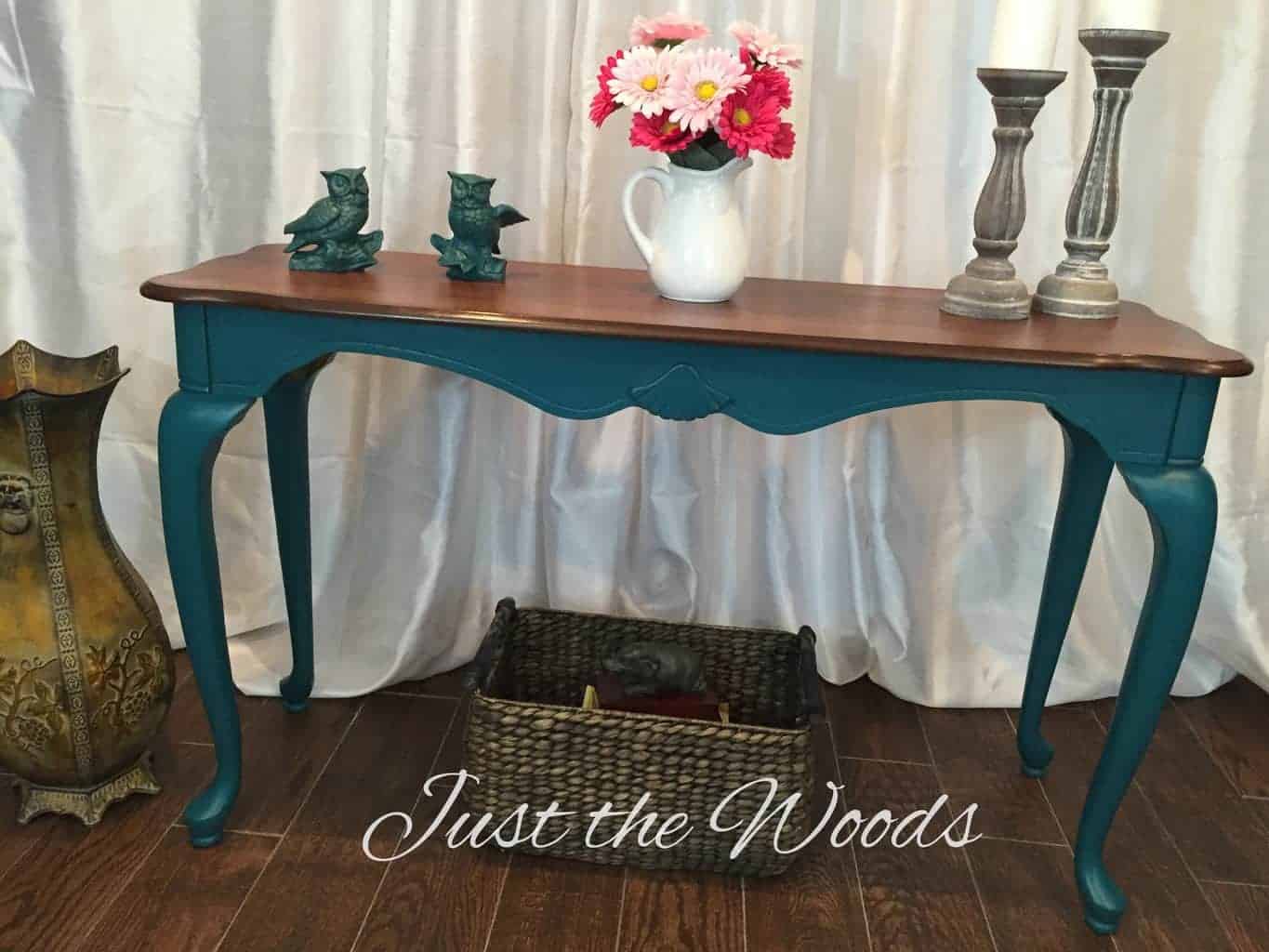 A Glimpse Behind the Scenes
In the midst of finishing up this piece I went to my website and discovered, much to my dismay that I had a glitch and my home page was redirecting to porn!  Yes, it was far from furniture and the more I tried to check, the more inappropriate websites flashed on my screen.  I freaked out and called my web designer in a frantic panic.  For whatever reason, he couldn't see an issue and told me he would get back to me. I could hear in his voice that he thought I had lost my mind and was seeing things.   I prayed that for that brief time no one would log on and see what I can't un-see.  A few minutes later I was updated that the vulnerability in my website had been repaired and all was good again.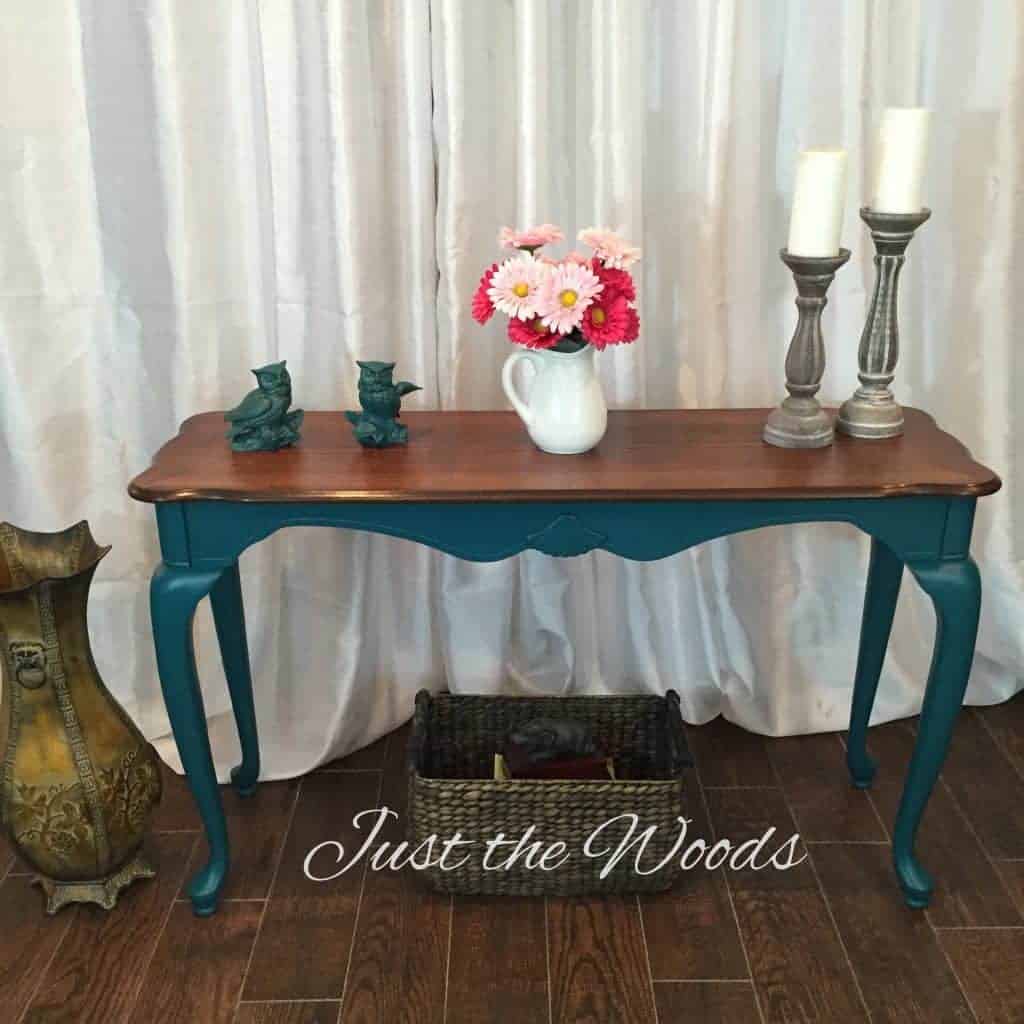 Part of this post is to share this leggy beauty's transformation, and another is to share that when you buy from a small business, you are getting so much more than what you would get from a chain department store.  Mistakes, lessons learned, countless hours of hands-on work, panic of unexplained mishaps, blood, sweat, and tears.  And for that, I humbly thank you from the bottom of my heart  <3
Subscribe here to be added to the mailing list :