Silver metallic paint and glam seem to go hand in hand. Have you considered giving your painted furniture a metallic painted makeover? If you are looking for inspiration for metallic painted furniture or even, maybe you are looking for what type of metallic paint for furniture is the best option for you. The best and easiest way to glam up a piece of painted furniture is by adding silver metallic paint to the finish. This makeover shows you just how to transform a modern white nightstand into a glamorous statement piece with metallic silver furniture paint.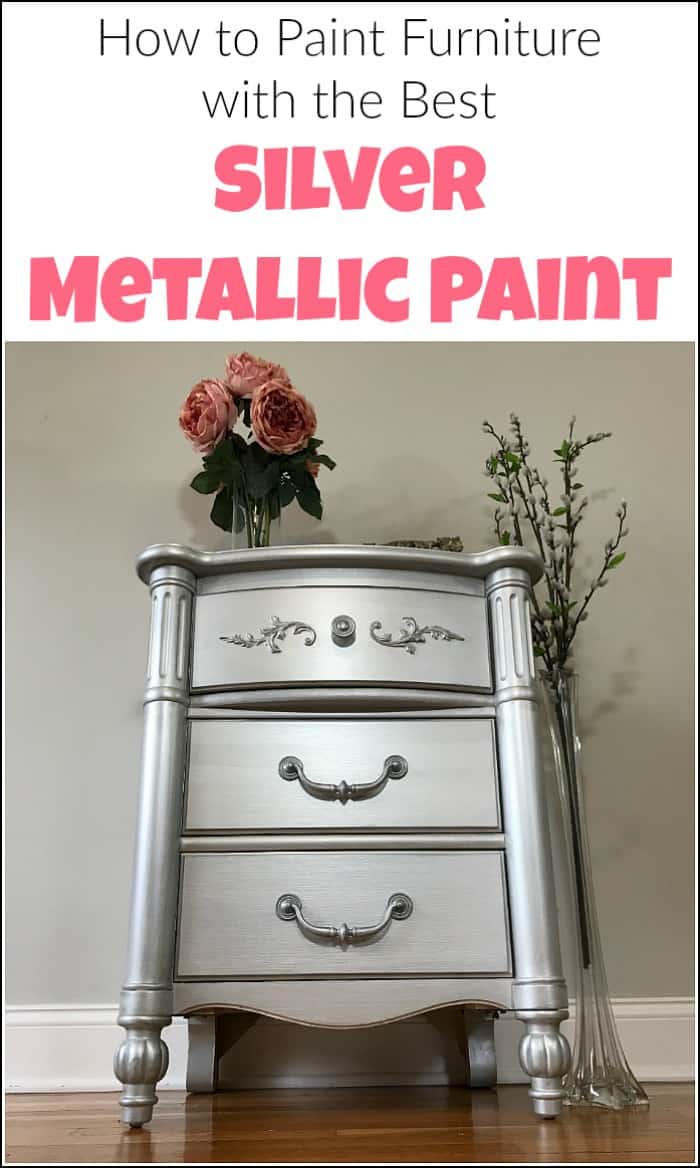 Disclosure: This silver metallic paint for furniture post contains affiliate links for your convenience. Click here for my full disclosure policy.

Supplies & Tools Needed to Paint Furniture with Silver Metallic Paint
Materials Needed / Source List:
Tools
Cling On Paintbrush
Sandpaper

Find all of my favorite tools and products on my

Amazon Page here
Paint
Unfinished Modern Nightstand
Before we begin, this metallic makeover is part of our monthly Furniture Fixer Uppers share. Make sure to stick around all the way to the end for more great painted furniture before and after projects.
This little white nightstand is actually not old at all. At least not in terms of furniture. It's rather modern with a combination of solid wood and MDF making it rather heavy and actually made quite well. But the original finish is white, slick and has a few bumps and bruises.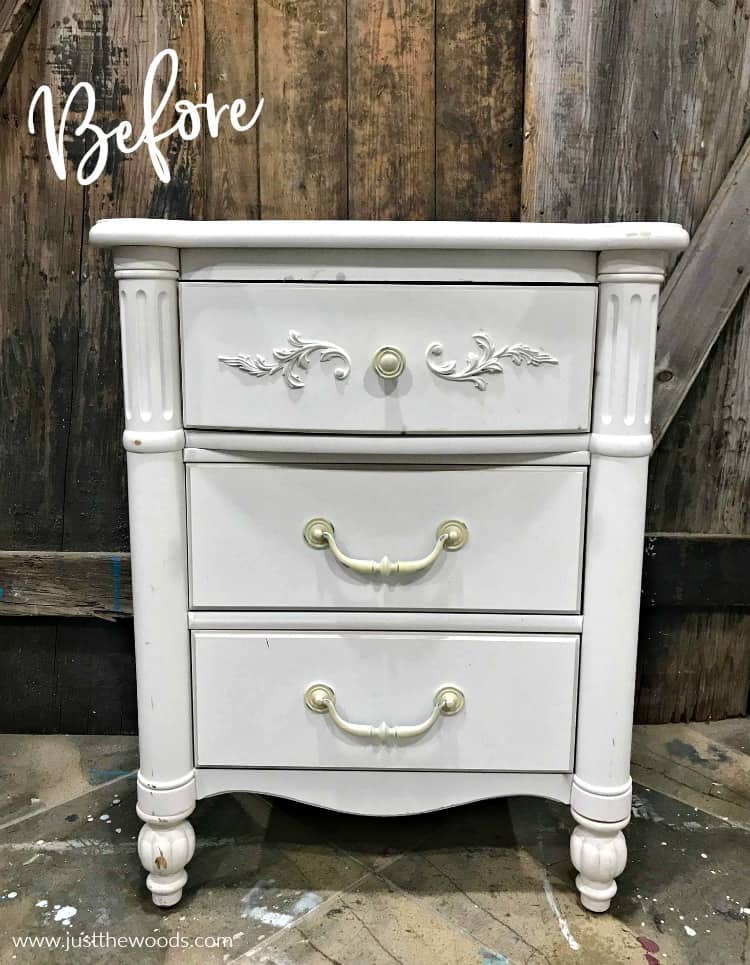 Here is a close up of the top of the nightstand. There appears to be some odd speckled stains and marks. But, no worries, we can handle this.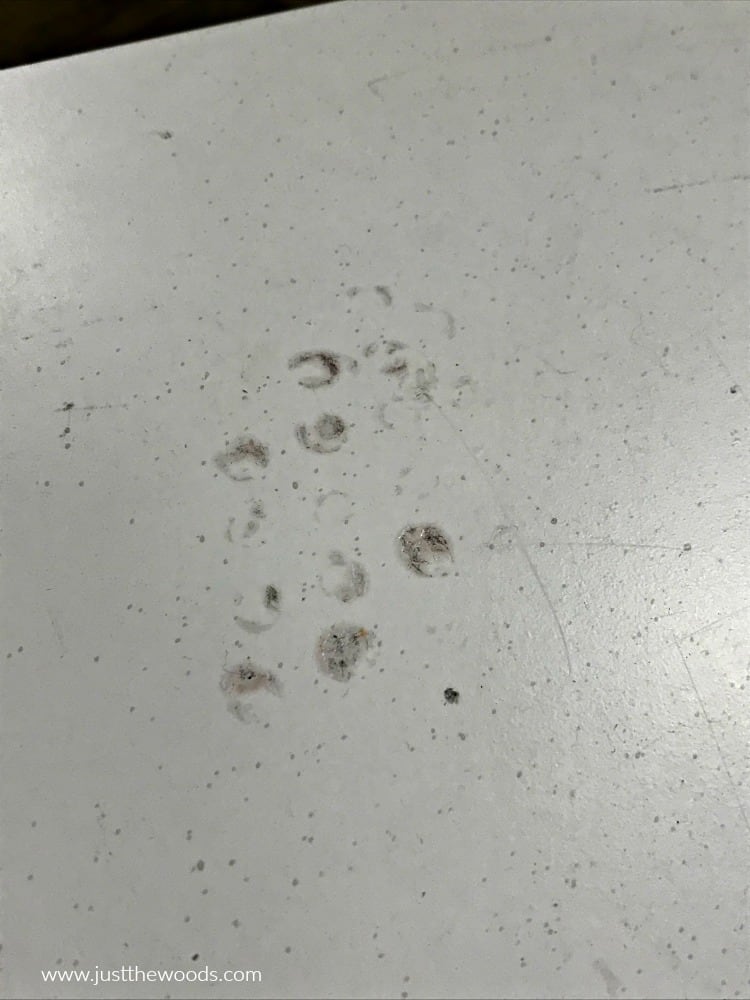 Prepping Furniture for Silver Metallic Paint
First, the table is propped up on my handy furniture tri-dolly wheelies which make painting furniture so much easier. These nifty little wheelies allow me to easily move the piece around as needed. If you don't have them yet, you can get them (HERE) Next, as with every painted furniture project, we need to give this table a light sanding and cleaning. This is my standard process for how to prep painted furniture.
Next, we are taking one extra step before we start painting this table. Since the table is that newer MDF type laminate kind of surface we are going to add Slick Stick. Slick Stick by Dixie Belle acts as a bit of a primer to allow better adhesion when working with extra slick surfaces. We probably could just add our furniture paint, but I like to err on the side of caution. So why cut corners and take chances when we don't have to? You can see a full tutorial on using Slick Stick here: the Best & Trusted Way to Paint Laminate Furniture. You can also get slick stick online HERE.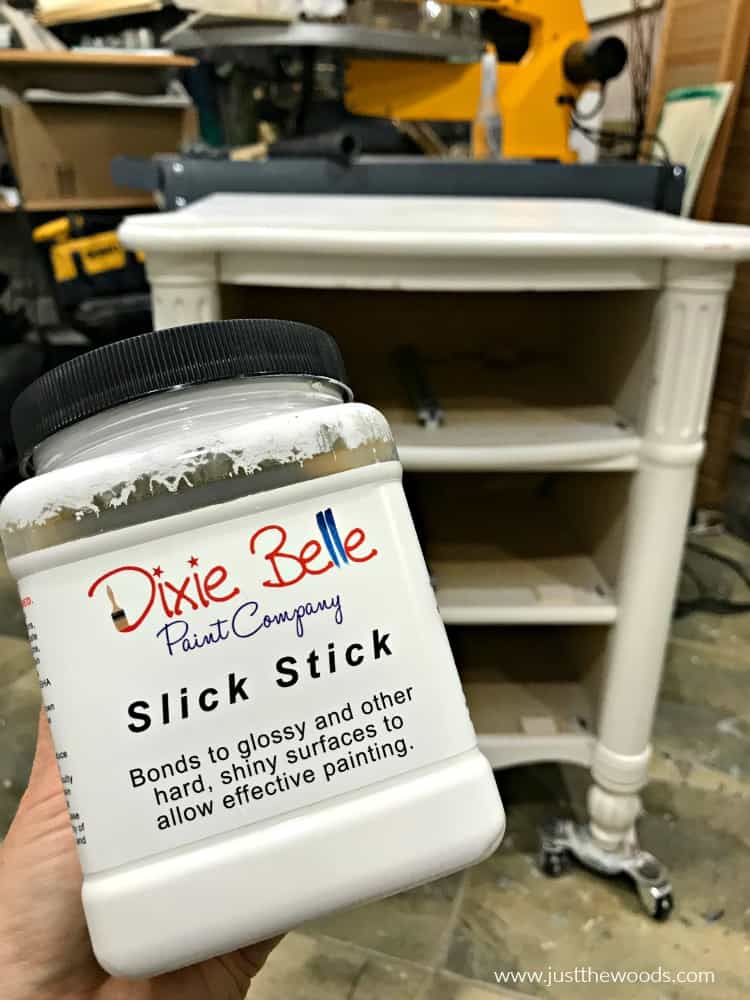 Using my Flat Cling On paint brush I apply 2 coats of Slick stick to the table allowing each coat to thoroughly dry. As you can see the slick stick goes on white and also dries white.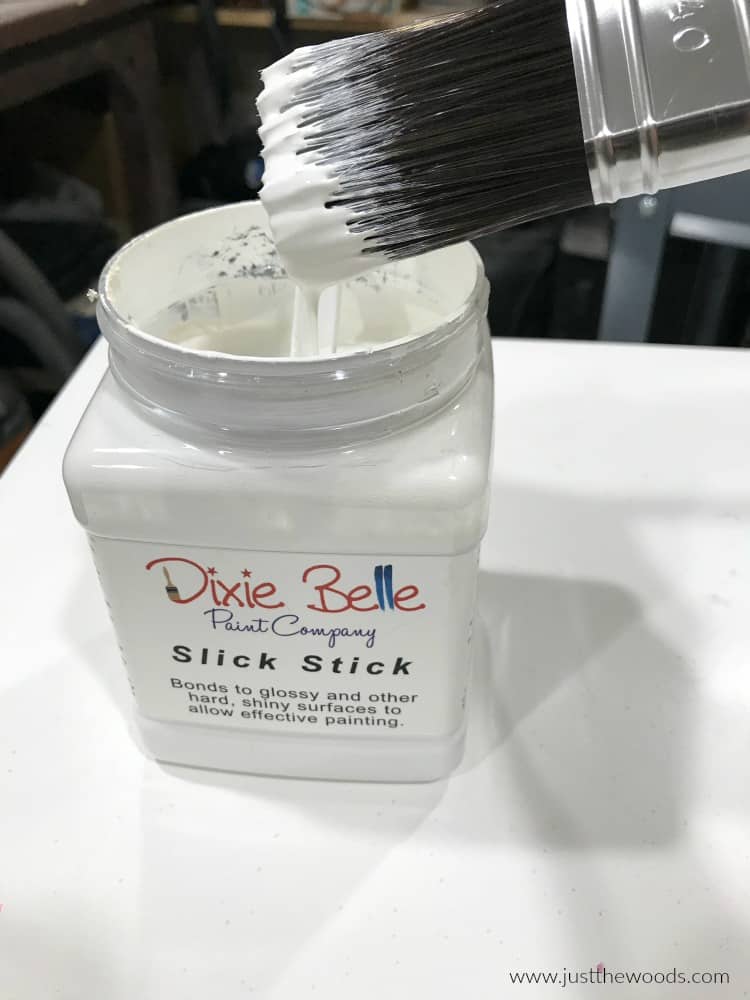 Painting a Table Gray Before Adding Metallic Furniture Paint
Now that our table is prepped and ready we can grab our furniture paint. Because I know that the silver furniture paint is rather platinum I want to give it a bit of a gray base. To do this we are applying Manatee Gray paint from Dixie Belle first. You can get this pretty gray paint online HERE. Keep in mind, when painting furniture with metallic paint you don't necessarily need to use paint for the base. The silver metallic base coat will work just fine, but I want the gray base – I don't need it. 😉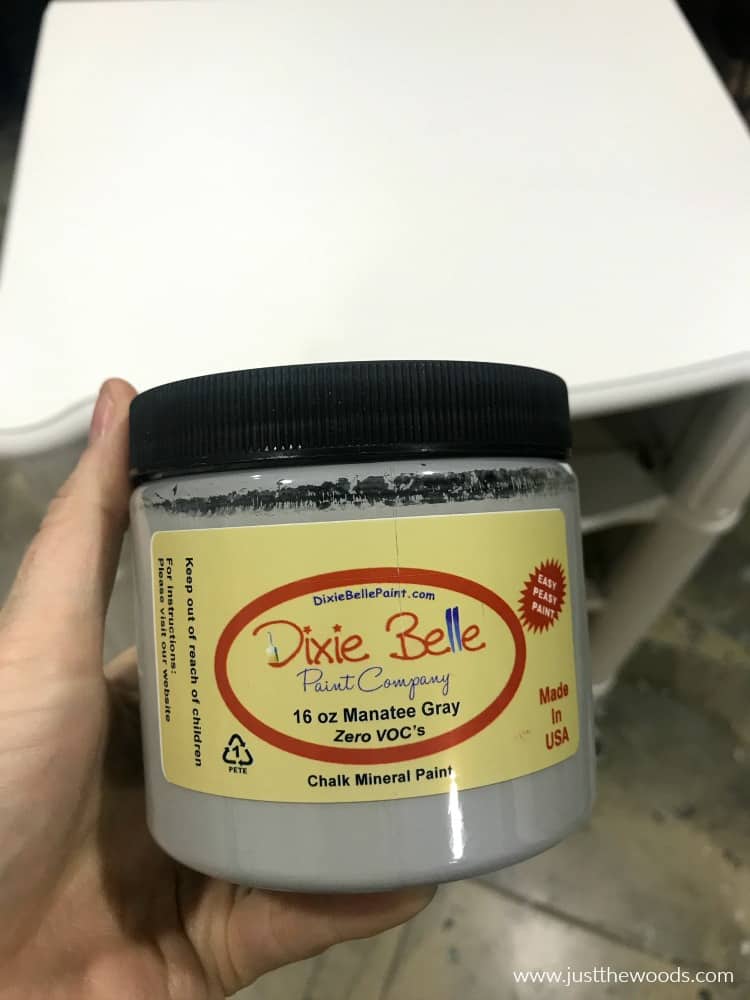 You only need one coat of your gray chalk paint since we still have a metallic silver paint base coat and top coat to add. But this will cover and tone down the starkness of the white creating a slightly more gray base for our silver metallic painted finish.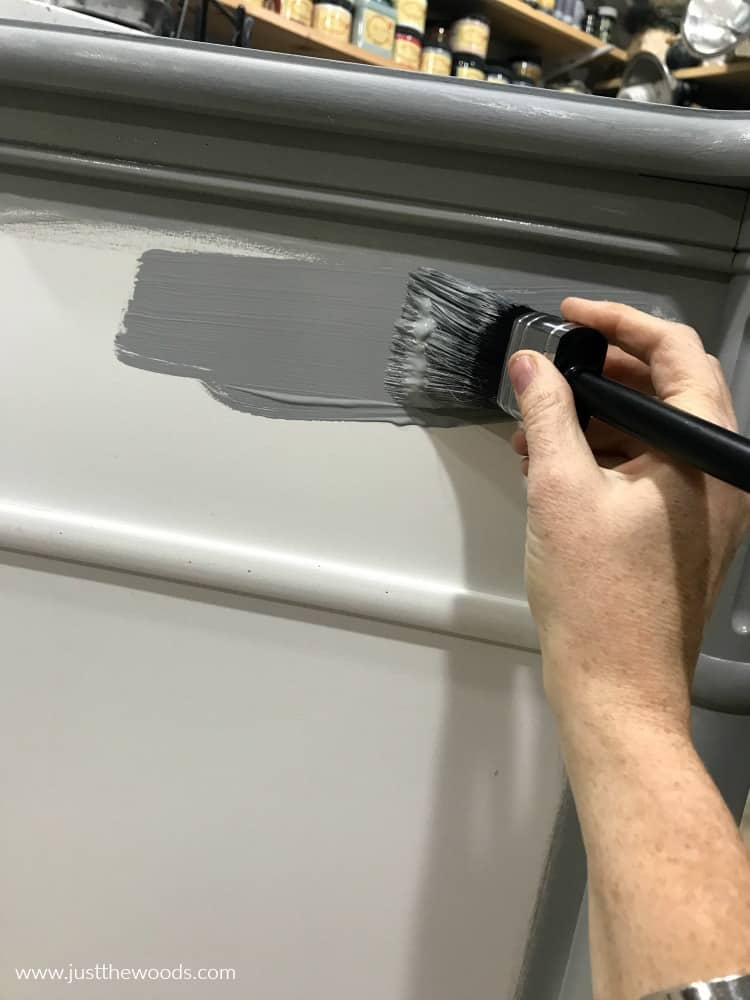 Applying Our Metallic Paint Base Coat
Next, in creating our perfect platinum silver metallic painted finish we need to apply the base coat. The silver metallic paint base coat appears more pearl white than anything, but don't let that fool you.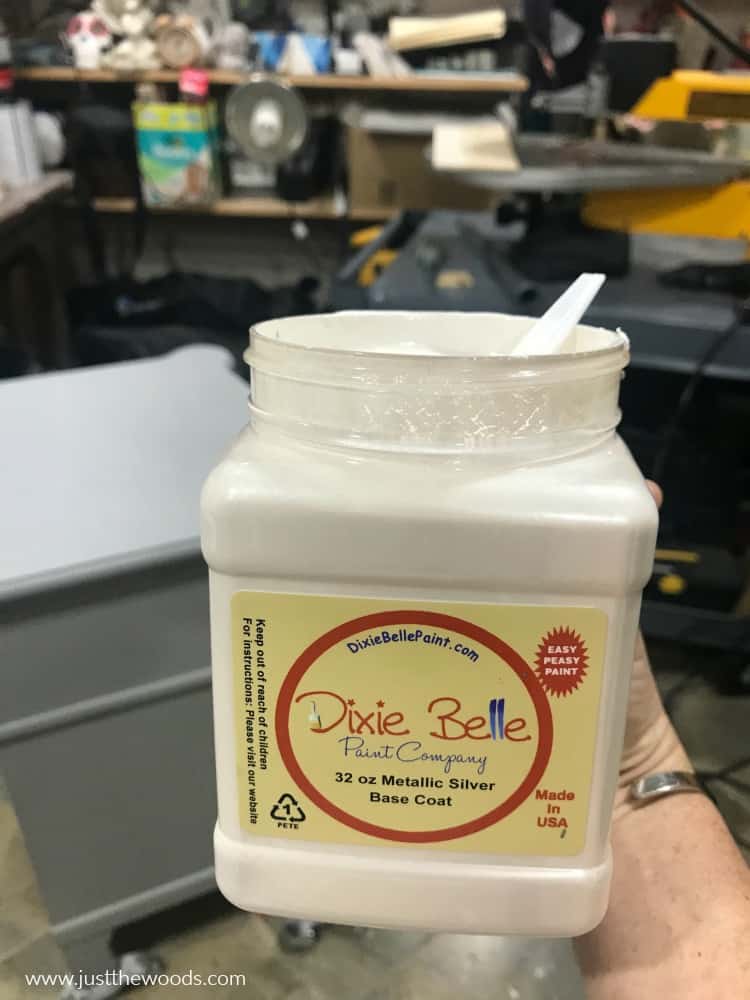 Here is a quick visual where one drawer is painted with the metallic silver paint base coat where the other drawer still only has the manatee gray paint on it. Not very silvery just yet, but we will get there.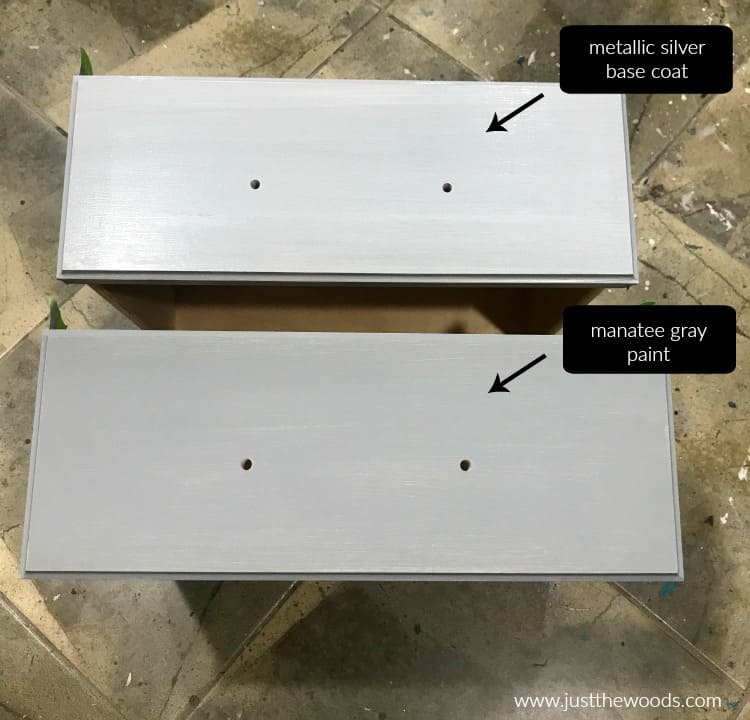 Apply two coats of the metallic silver furniture paint base coat over your entire piece. You will notice a little bit of shimmer, but not quite full silver shimmery just yet.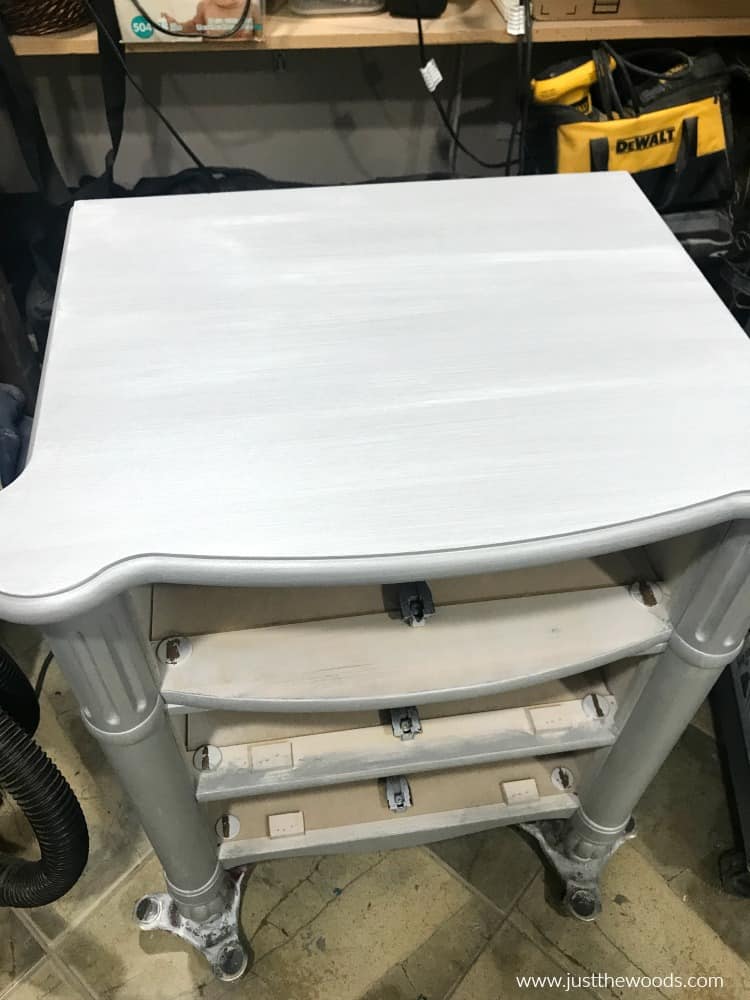 Silver Metallic Furniture Paint Top Coat
After two coats of the silver metallic paint base coat, we can now apply the metallic silver paint top coat. The best thing about this metallic furniture paint top coat is that it is exactly that – a top coat! Meaning you do not have to apply another top coat or sealer on top of your metallic paint. Woohoo! But if you are working on a project where you do need a sealer then make sure to check out The Best Method for Sealing Painted Furniture.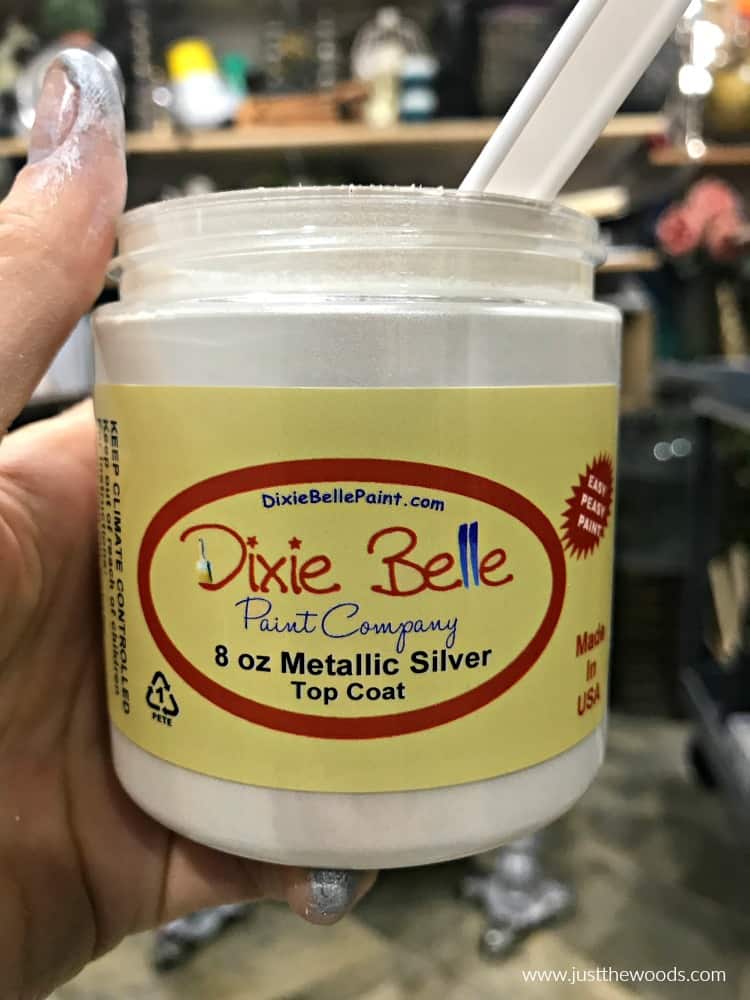 With your brush go ahead and apply your silver metallic paint top coat over your base coat. Make sure that the base coat has fully dried first. The silver furniture paint goes on more white just like the base coat. But after just one coat you will notice the shimmer as the paint dries.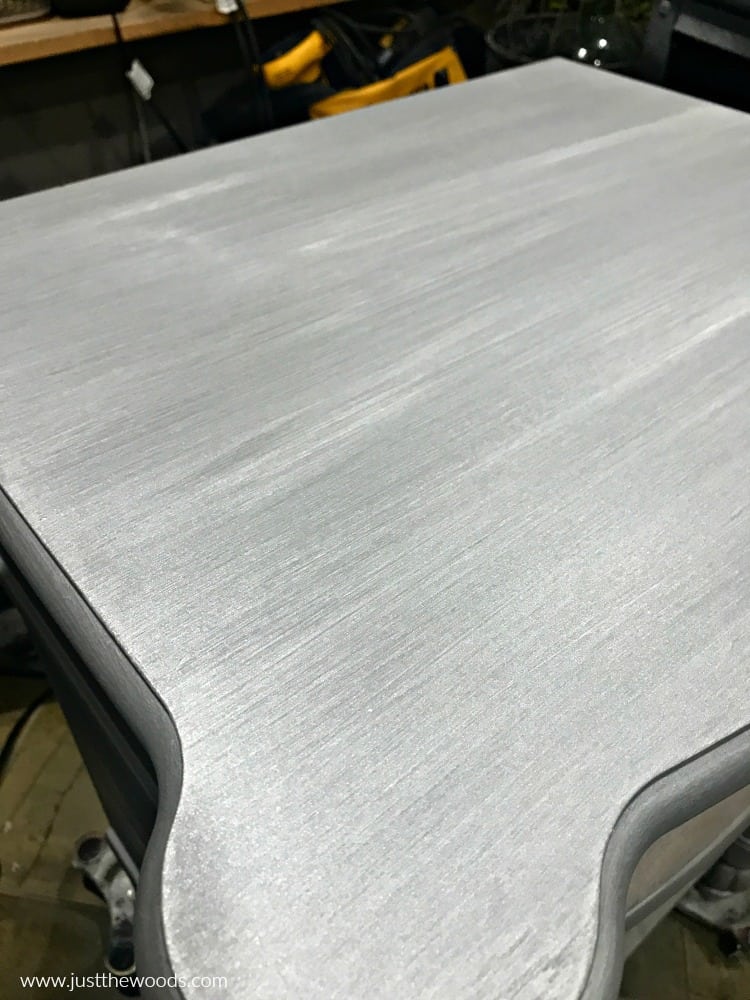 Here you can see the difference between the dry first coat of metallic paint and the wet second coat of metallic paint. It goes on more pearl white and dries platinum silver.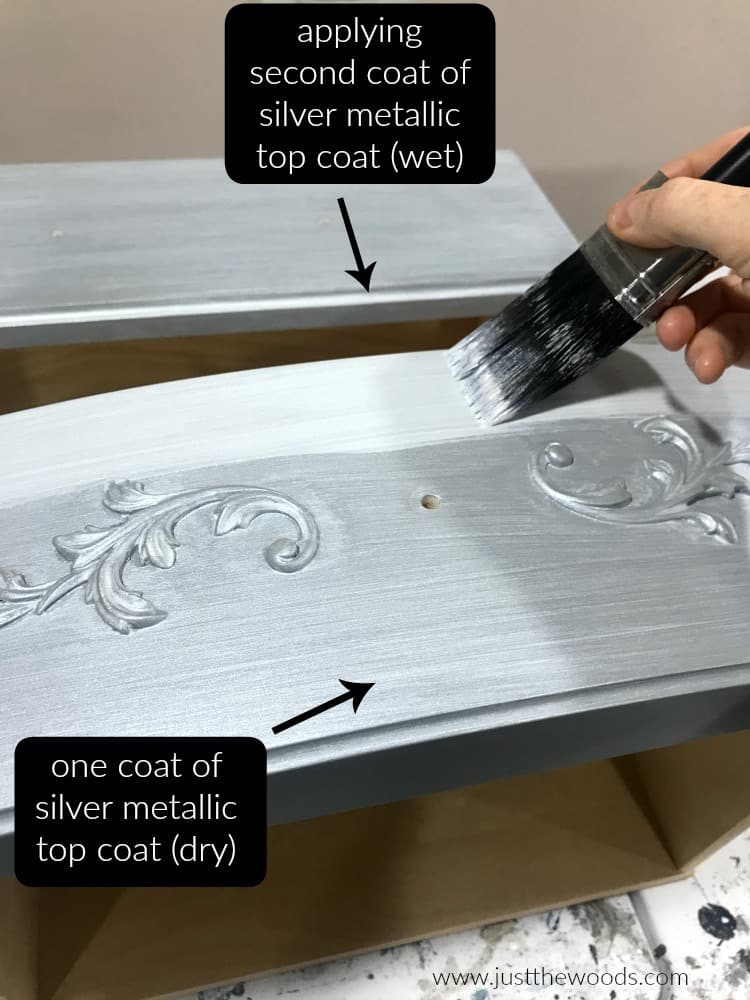 Need more of a visual? Here is a quick video showing you how to apply metallic furniture paint.
Painting Hardware with Metallic Silver Paint
We can't have a painted furniture makeover without doing something with the hardware. It just so happens that the hardware on this nightstand is actually perfect for the piece, and in great shape. So we will thoroughly clean the hardware first. This is how I clean and prep hardware for paint. If you have old hardware with paint on it, you can remove the paint first with this process: how to remove old paint from hardware. Either way – clean the hardware. 😉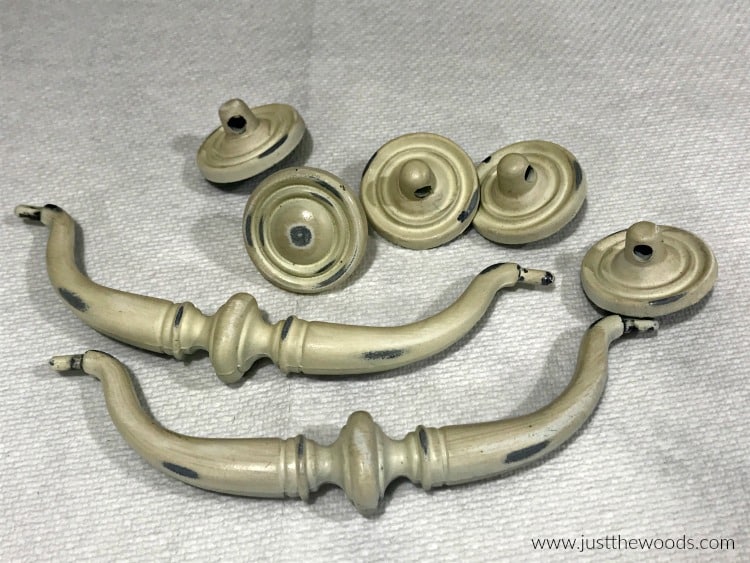 If you want to know how to paint hardware metallic silver, guess what? We are following the same steps as on the table. Start with manatee gray.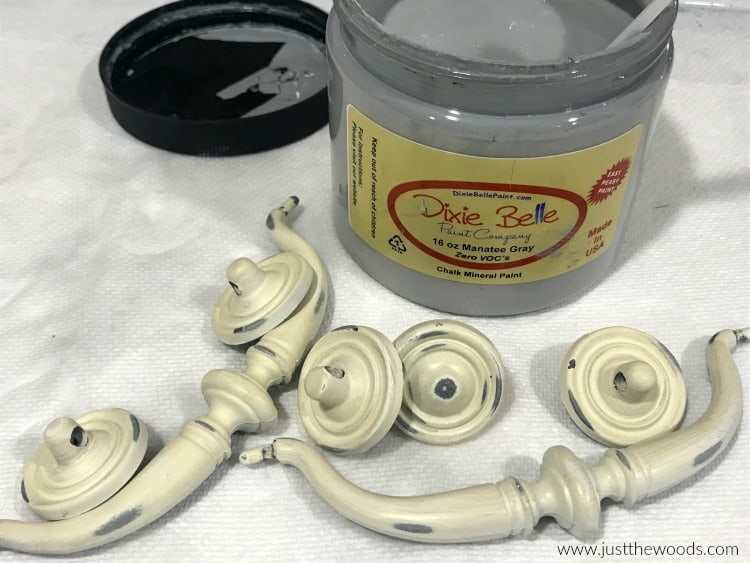 Once clean go ahead and paint your hardware with a coat of manatee gray.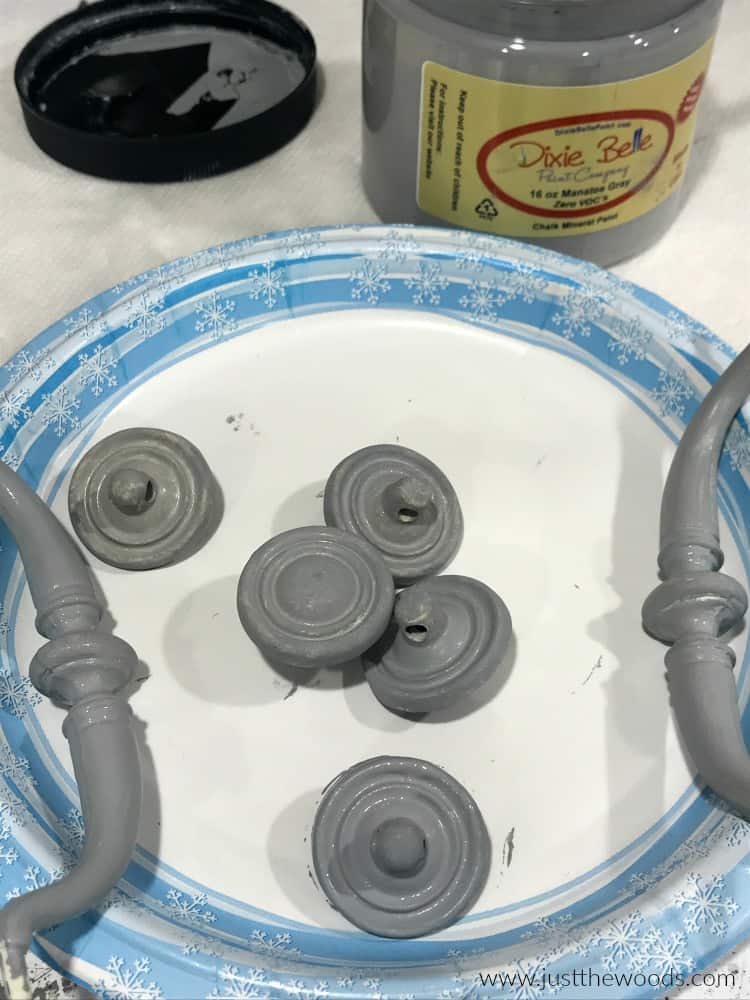 Make sure the gray furniture paint is completely dry and we will be using the silver metallic paint base coat next.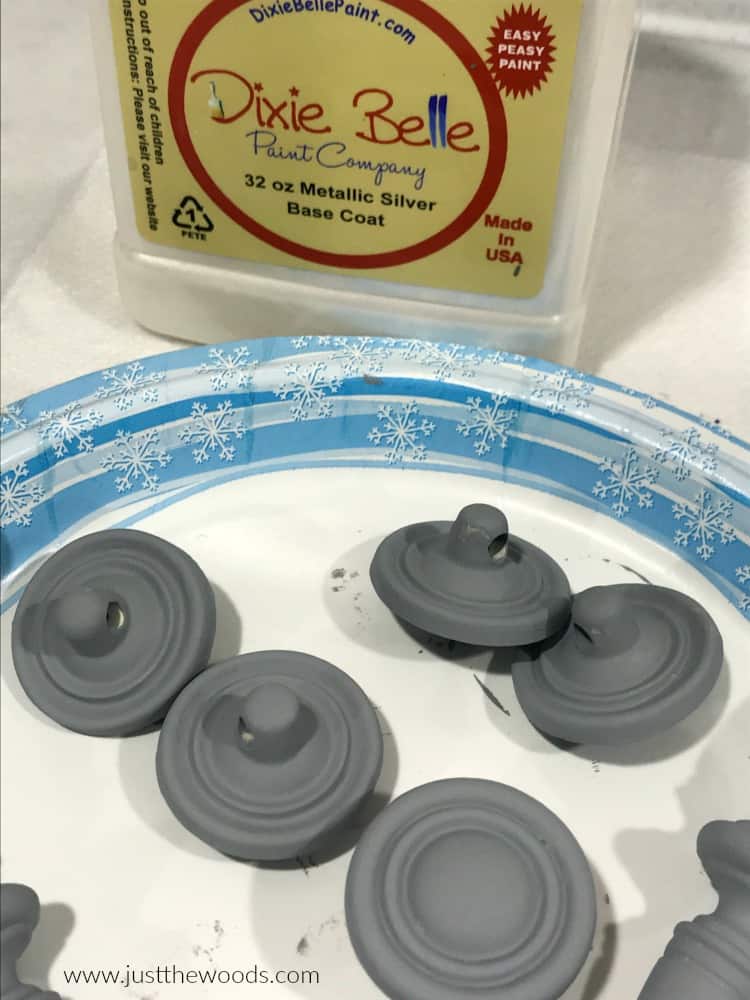 Here is the difference between one coat of silver metallic paint base coat over the gray paint vs just the gray paint alone.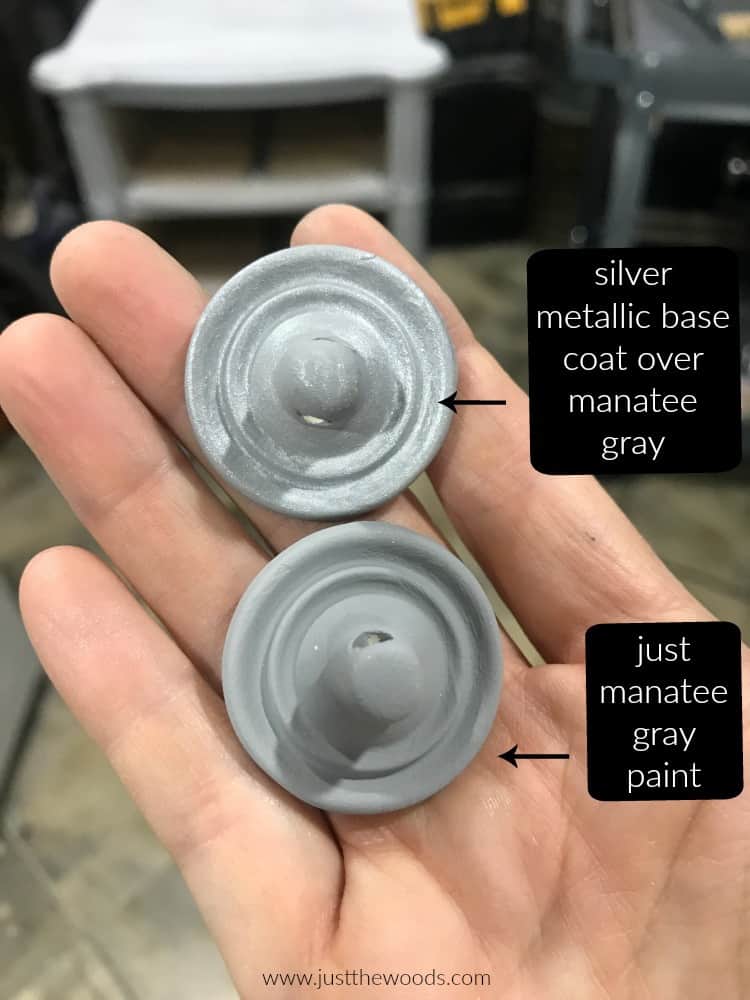 Just like when you are painting furniture with metallic paint you will finish with the silver metallic top coat. Again, no additional sealer is required since the metallic top coat is also a sealer.
Click HERE to Pin this post for later.
Applying Silver Gilding Wax to Metallic Painted Furniture
Before we finish our silver painted furniture project we will add just a touch more glam. In addition to metallic paint for furniture did you know that there are also great metallic gilding waxes that are great for highlights? For example, metallic bronze gilding is used to highlight a painted lingerie chest.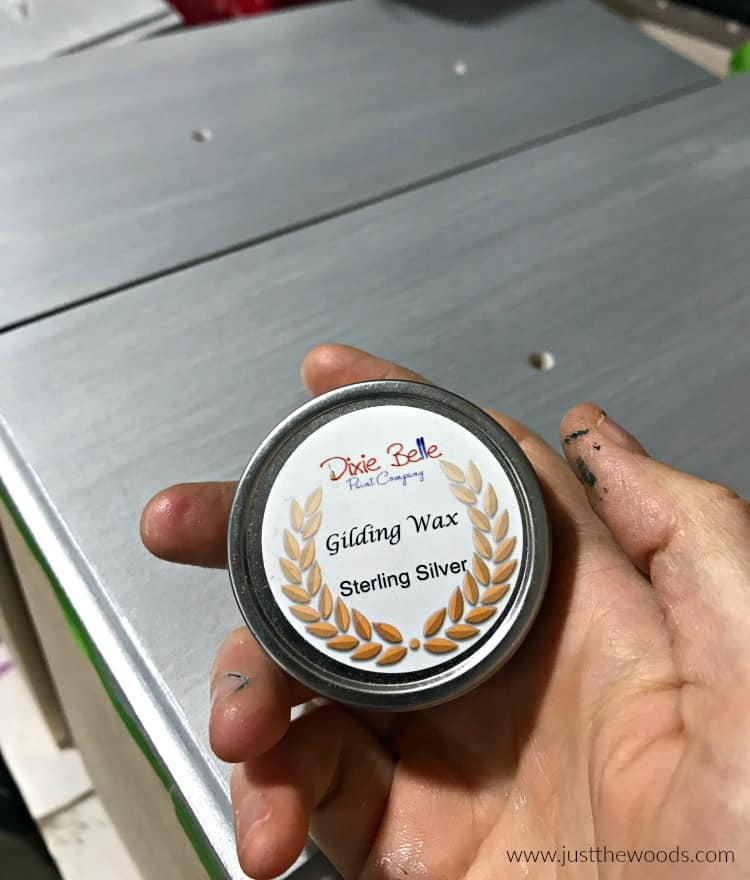 We are going to use the silver gilding wax to highlight the raised edges on the hardware as well as areas of the painted table.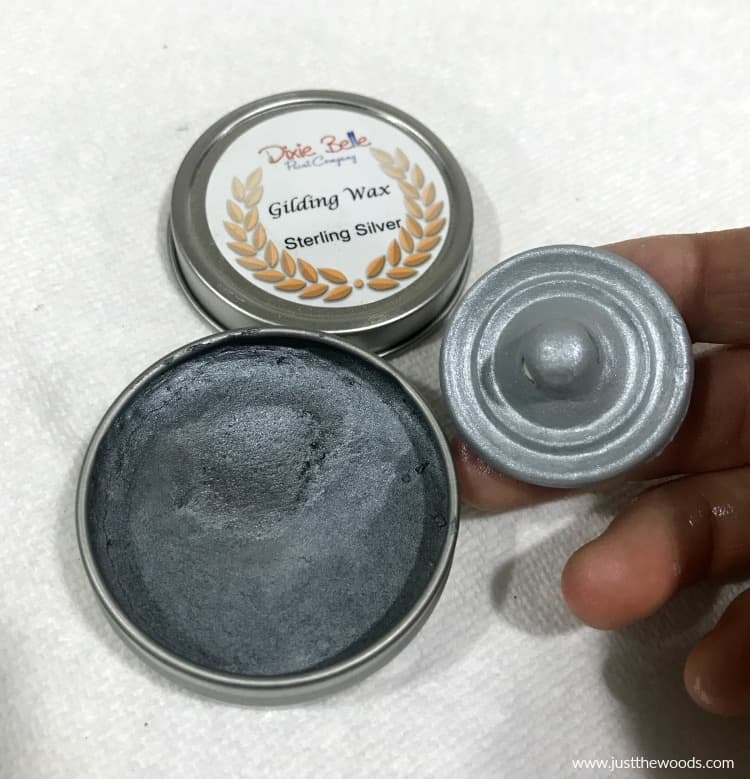 You can see the subtle difference here where the silver gilding adds just a bit more depth to the silver metallic painted finish.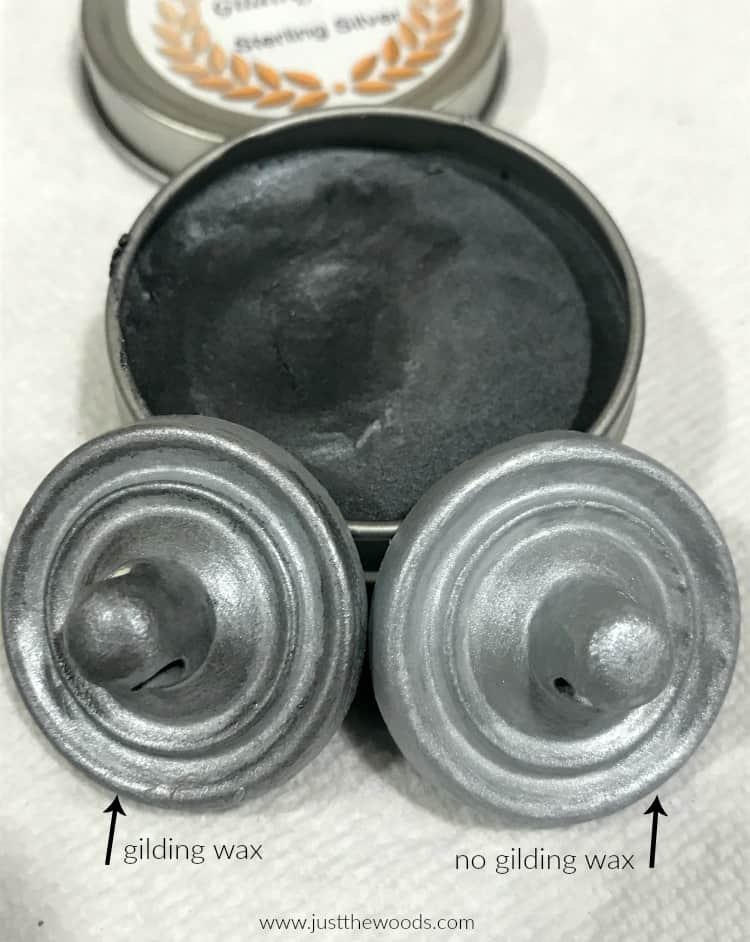 In addition to the hardware, the silver gilding is applied to the edges and raised details on the drawer front adding that subtle hint of added glam to our silver metallic paint.
As we put our metallic painted furniture back together you may be wondering about the insides of these drawers. Well, to be honest, they are in really nice condition so other than a simple wipe down there is nothing else needed. But if you have drawers that need a little bit extra attention make sure to look into how to save wooden drawers without paint. And if you prefer to see metallic silver paint used as a highlighter rather than on an entire piece, then you need to see it on these Beauty and the Beast inspired painted bombe chests.
Click HERE to Pin this post for later
If this has been a bit too much information and you are new to furniture painting then you can always start at the beginning with How to Paint Furniture – a Beginners Guide.

Gorgeous Silver Metallic Painted Table
If you are a lover of metallic furniture but never knew which silver metallic paint for wood furniture to use, now you can create your own glamorous makeovers. And even if your piece is laminate you can prep to create the same gorgeous results. So don't let anything stop you from getting the shimmery metallic painted finish that you desire.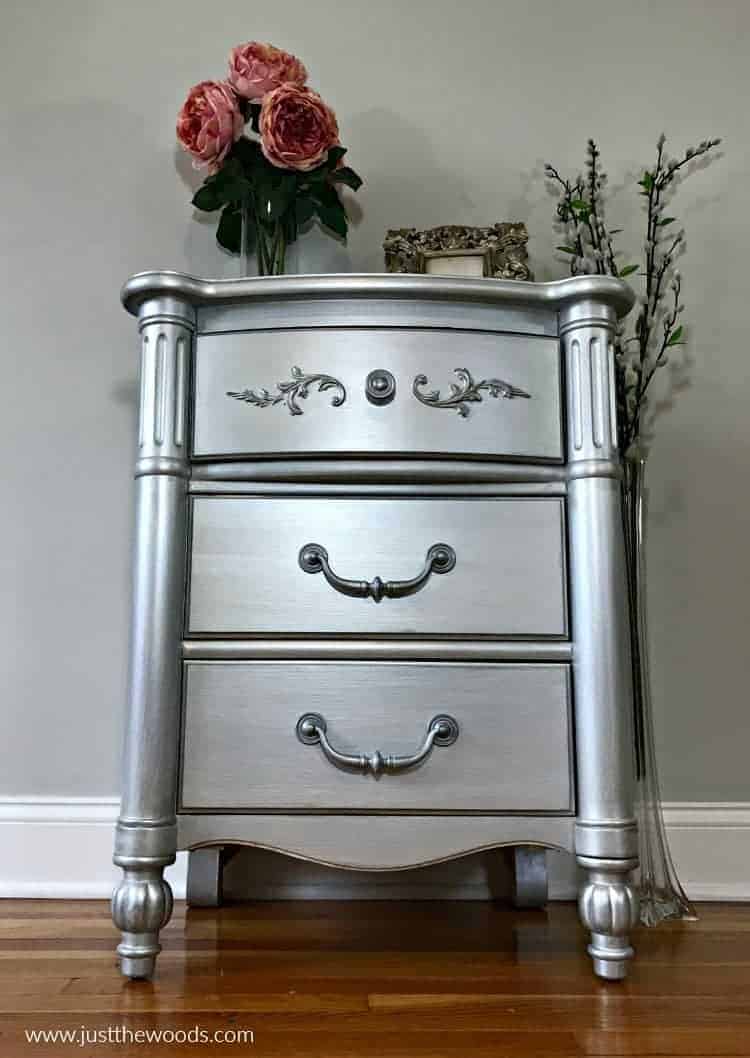 This project, like many of my makeovers, has been donated to a local school to help with their fundraising efforts. Click here to see all of my projects that have been donated to support local fundraisers, schools, and charities: Donation Projects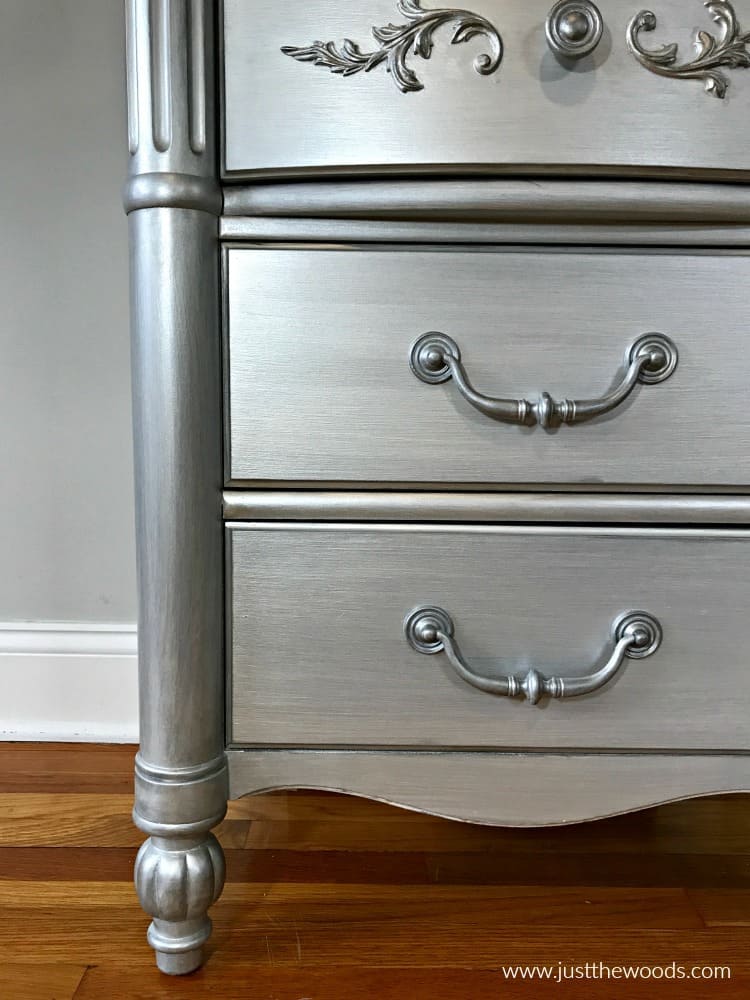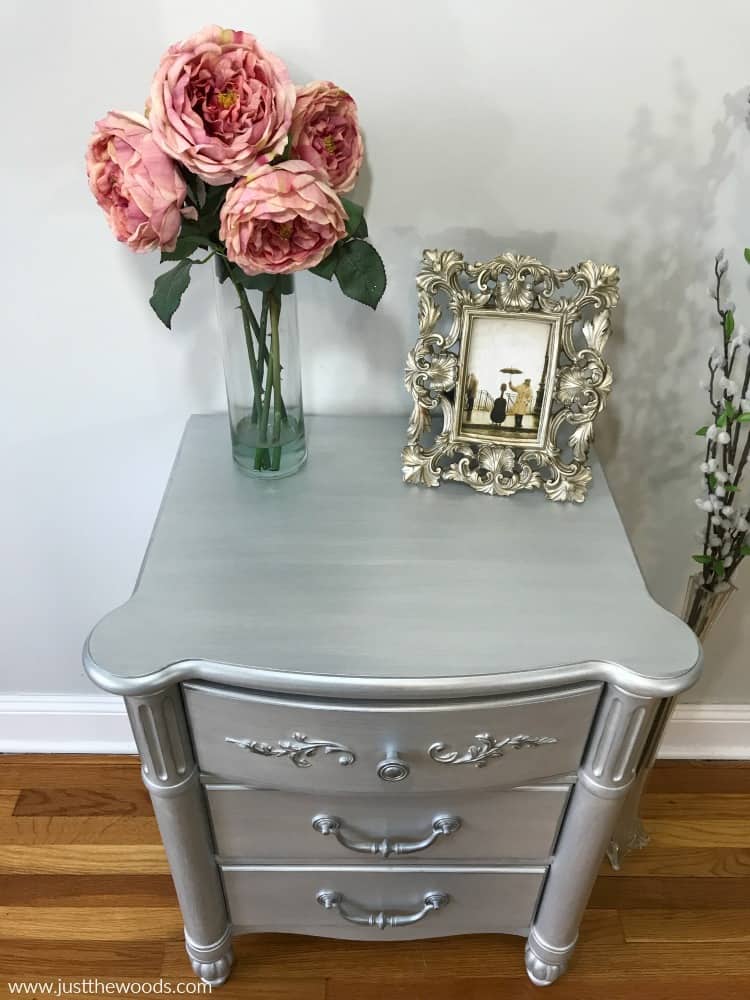 Click HERE to Pin this post for later
As pretty as this dark wall is, it doesn't show the shimmery silver metallic painted finish as nicely as the light colored wall above but feel it's still nice enough to share. Isn't it amazing how a wall color can make a piece of furniture look so different?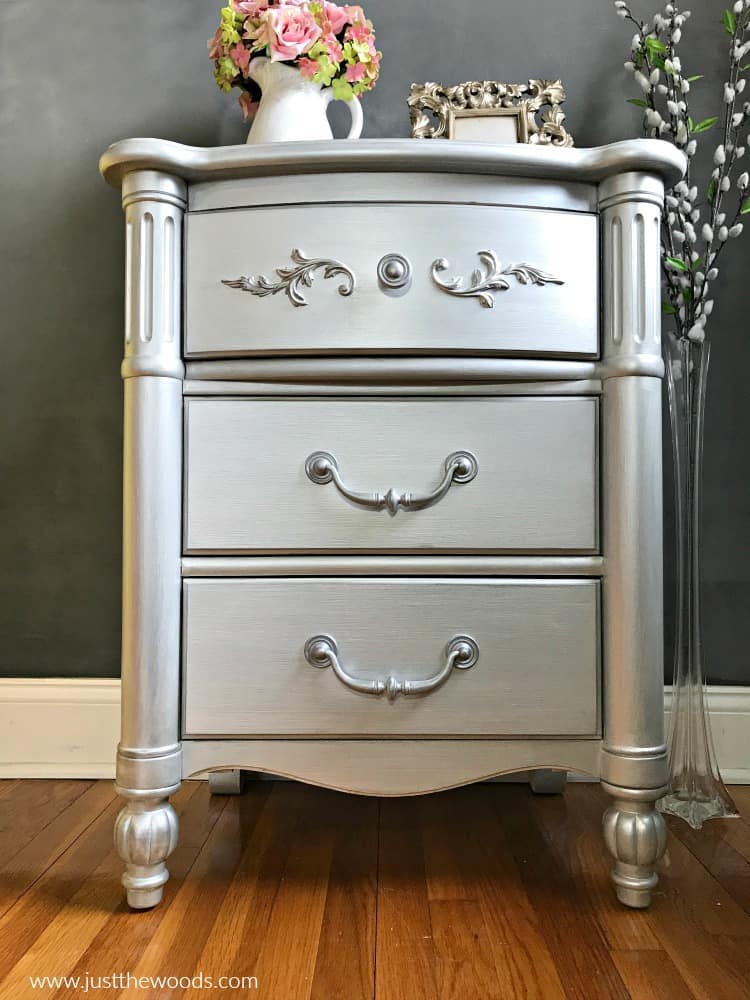 If you like this then make sure to check out all the other projects using metallic paint: Metallic Makeovers If you prefer not to DIY your metallic furniture you can find gorgeous silver furniture online, like this silver nightstand for example. You can get this silver beauty online HERE.
Ready for Your Next Project?
Get any of these products for this project online here: * updated to add that since this project, Dixie Belle has updated their metallic paint to Moonshine Metallics and are meant to be even easier to use! You can find them HERE.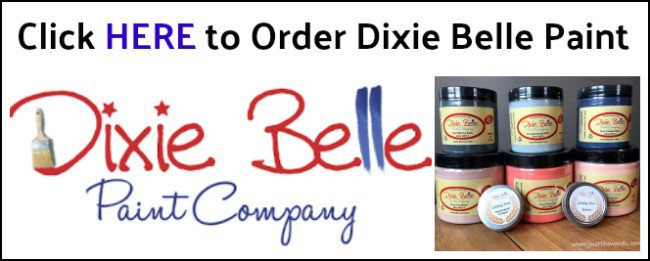 Wait! Don't Go! It's that time of the month again for:
Furniture Fixer-Uppers
Its that time again where a few of my creative and talented blogger friends and I have joined together in our monthly Furniture Fixer Uppers share. Let's see what my friends are up to! Make sure to click the links below the image to check out all the amazing projects that my bloggy girls are working on this month.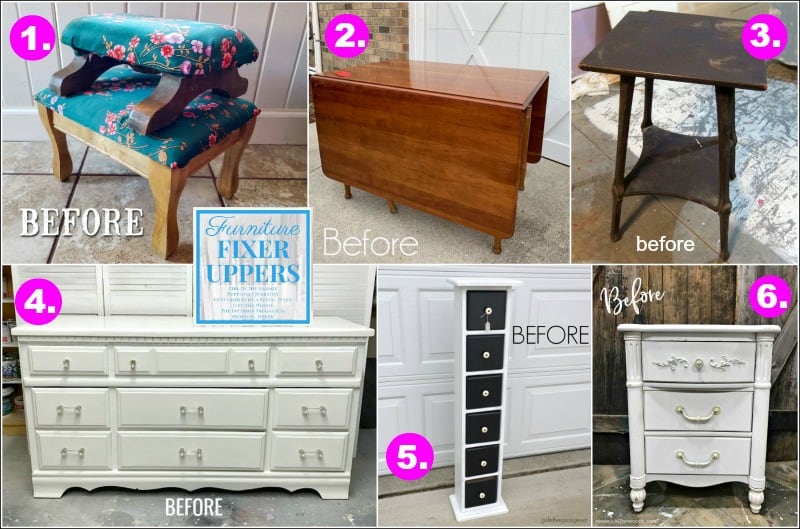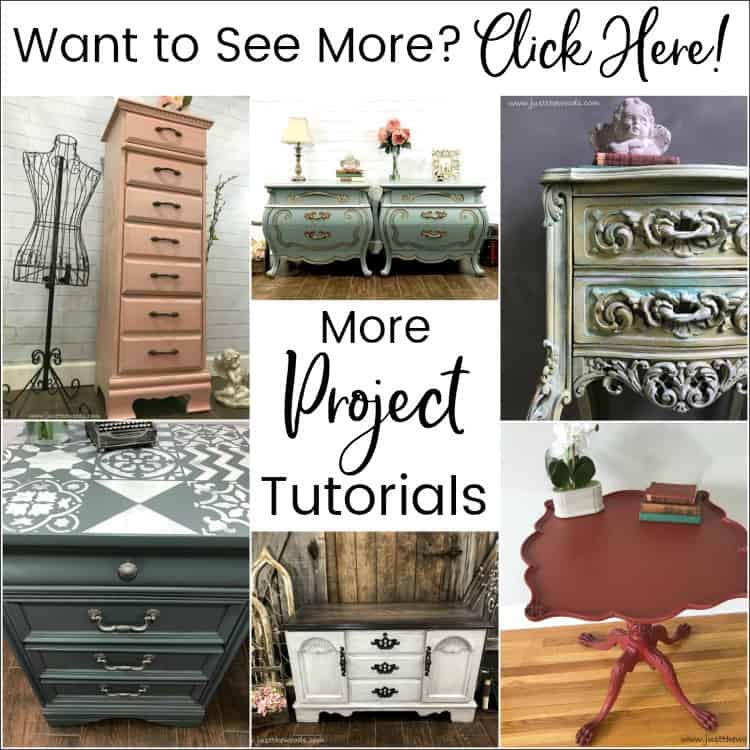 I'd love for you to join me for more painted furniture makeovers, and DIY projects! and Share this post to Inspire others:
FACEBOOK * INSTAGRAM * PINTEREST

Stay connected! For more tips and tricks sign up here :

Click HERE to Pin this post for later