Organizing a small closet can be tricky. Here are my best ever solutions for small closet organization as well as how to organize shoes in a small closet. With a small closet organizer, you can fit more than you think.
If you are looking for small closet organization ideas trust me, I feel your pain. We have struggled with a small closet for the past 8 years since we bought our home. Due to the fact that the master closet is small with no option of making it larger, my husband has been forced to use a hallway closet and the bedroom closet is just for me.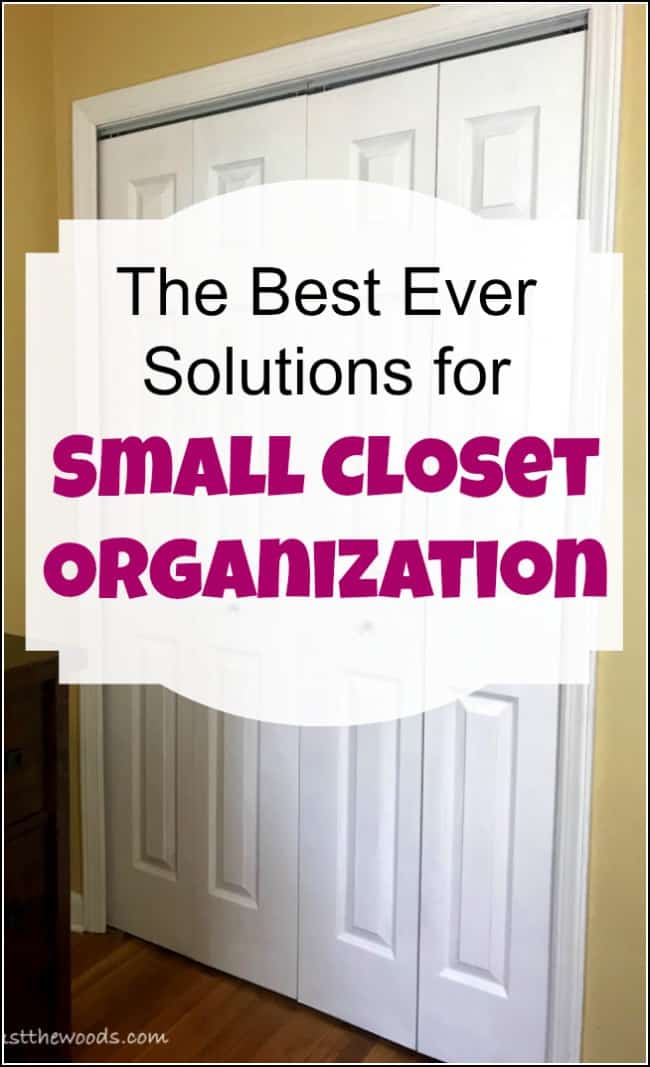 Disclosure: This small closet organization post contains affiliate links for your convenience. Click here for my full disclosure policy.

Materials Needed / Source List:
The Original Small Closet
To give an idea of how small the closet is that we are organizing, it measures appx 52″ wide by 23″ deep. This small closet is the original to the house with metal sliding doors that are supposed to look like wood. Um, they don't look at all like wood! As an added aggravation, the doors don't even stay on the tracks making this closet renovation that much more needed. In case you are wondering, opening up the wall to make the closet larger is not an option because it would make my daughters closet smaller (and her closet is much smaller than mine).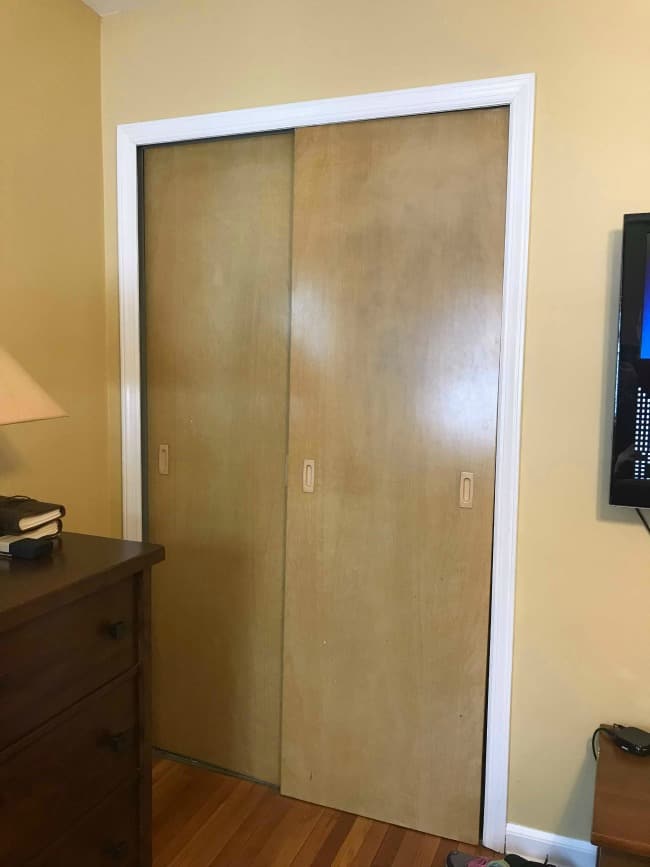 Before We Can Start Organizing a Small Closet
The very first thing to do in this small closet organization makeover is to remove those old doors and empty the closet out completely. Oh my! Yes, the inside of the closet is pink with a sort of step built on the floor, I suppose that was for shoes, maybe? I'd also guess that the inside of this closet has not been painted since the 1950s.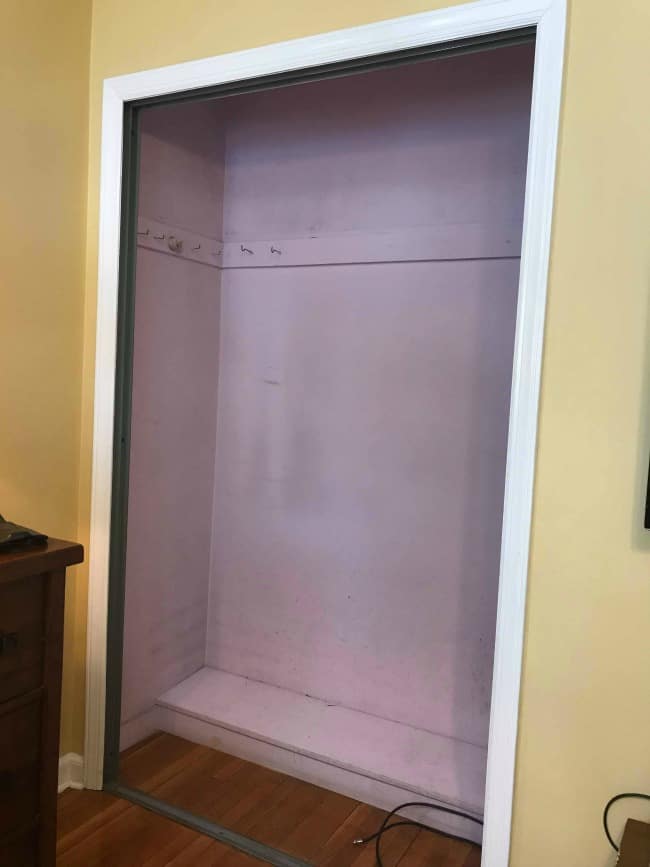 I even found my old high school art drawing. 🙂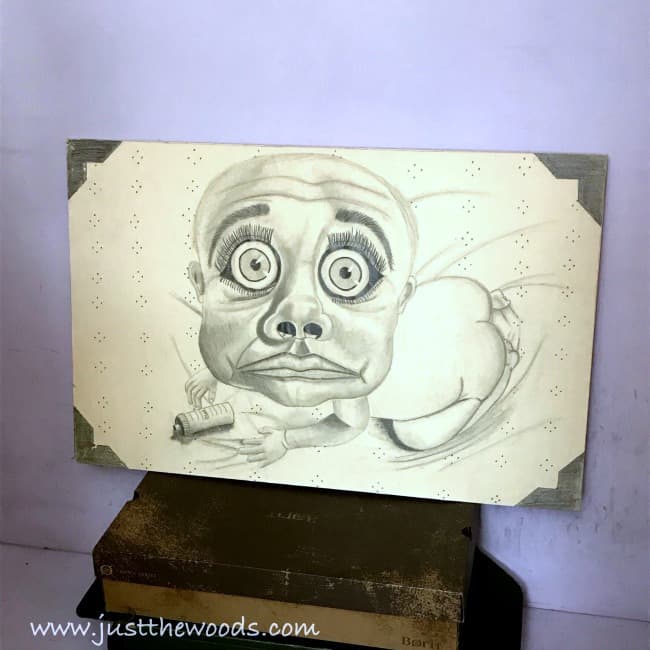 Small Closet Renovation
This is always a good time to PURGE! If there are clothes that no longer fit, you no longer like or wear, no longer need, etc – purge! I threw out anything that wasn't worth giving away and gave a large bag full of clothes to a fellow mom and friend. I can also say that some of the clothes look better on her than they ever looked on me. hehe Somehow I have accumulated around 30 pairs of jeans! How is this even possible?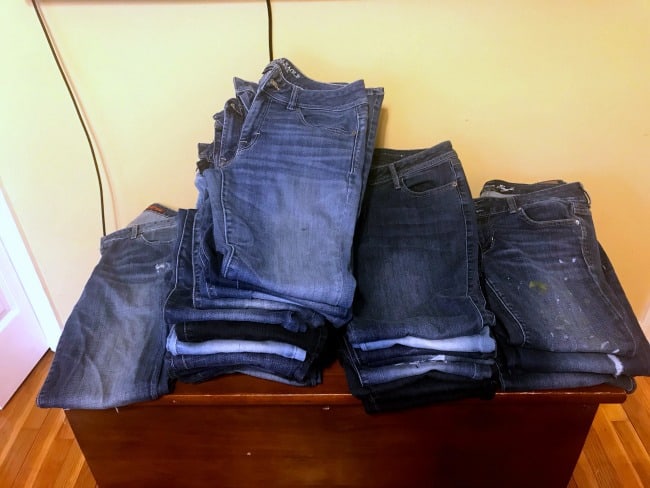 The wooden trim around the inside wall is removed.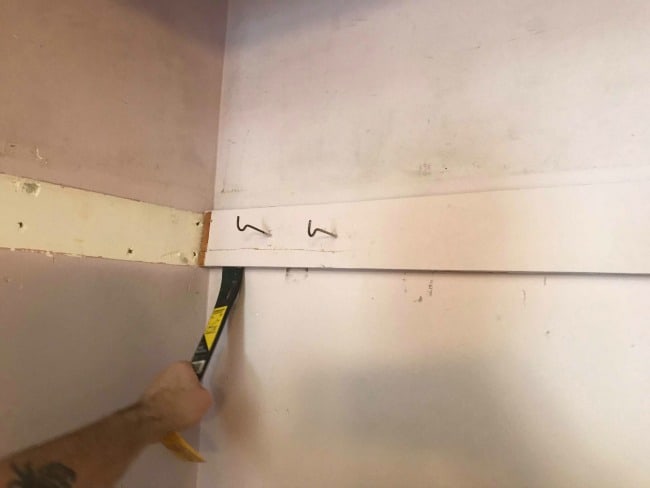 The bottom step is torn out, as well as the metal door tracks from the original doors. I did that part by myself with a lot of bad words and yelling.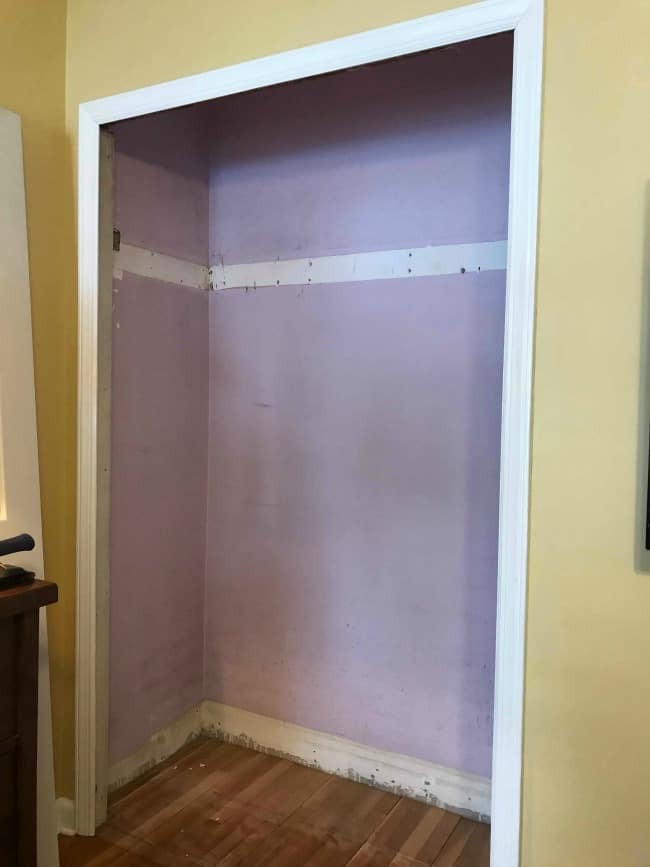 Of course, there are oops.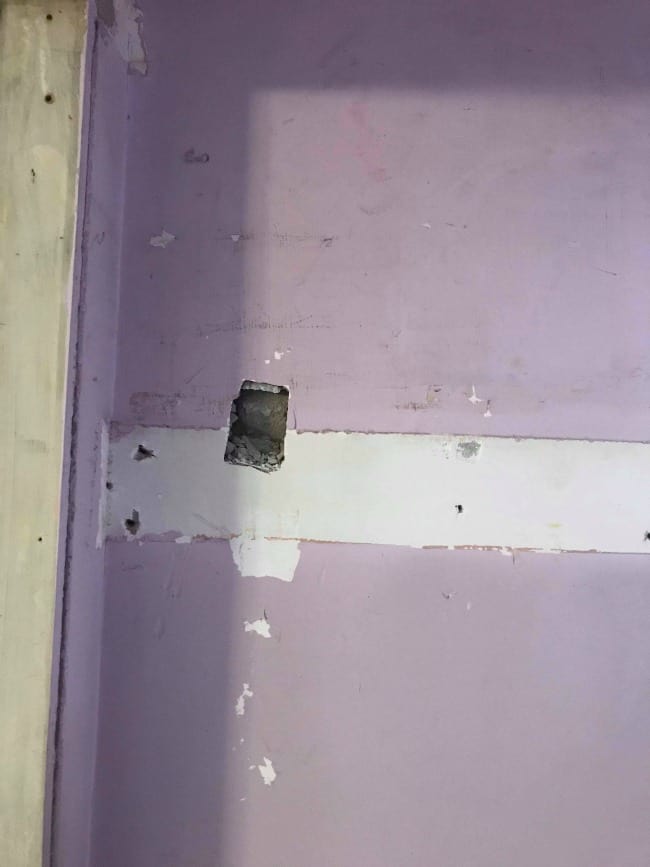 Repairs to the Small Closet
The holes, dents, dings and any damage is patched and spackled.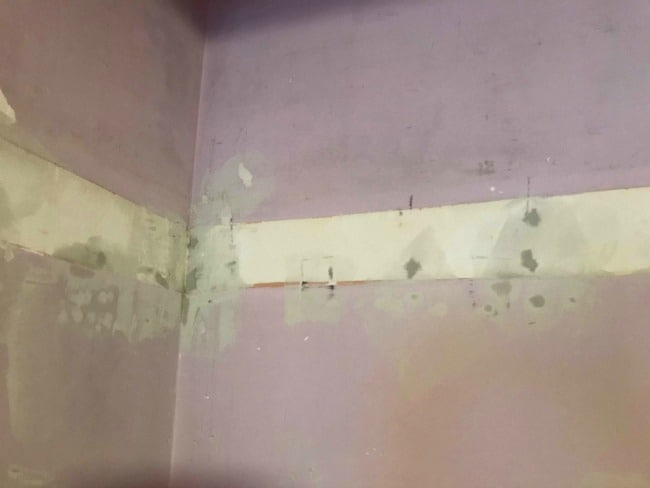 The hole required a bit of mesh along with spackle, but the repairs are made. This part was Brian's oops, so he got to fix it 😉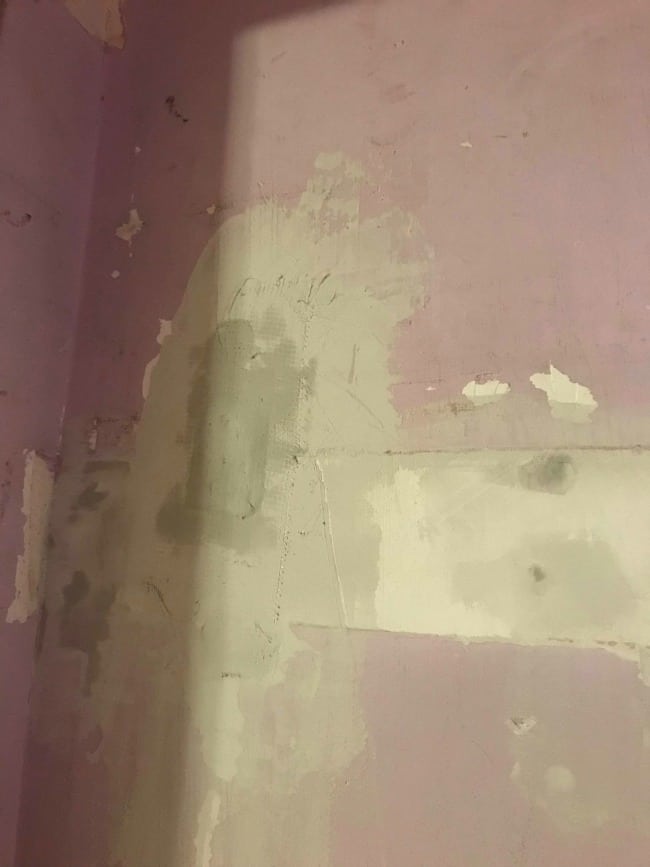 The Closet Floor
Since the floor step is removed now the finish on the wooden floor is uneven. Part of the floor is unfinished (the wood under the step) and part is finished from when we had the floors redone when we bought the house. There is also a very visible line where the old door track was.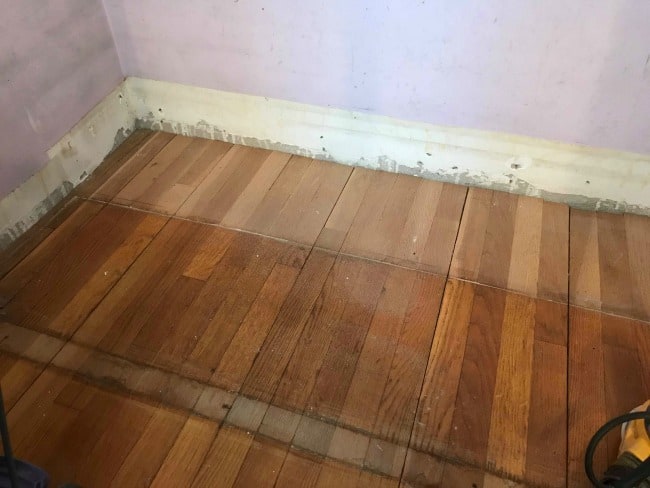 Without going overboard, I am sanding the closet floor using my Dewalt orbital sander. To keep the sanding dust to a minimum I remove the dust bag and insert my vacuum attachment. The vacuum sucks up the dust and prevents it from blowing all over my bedroom.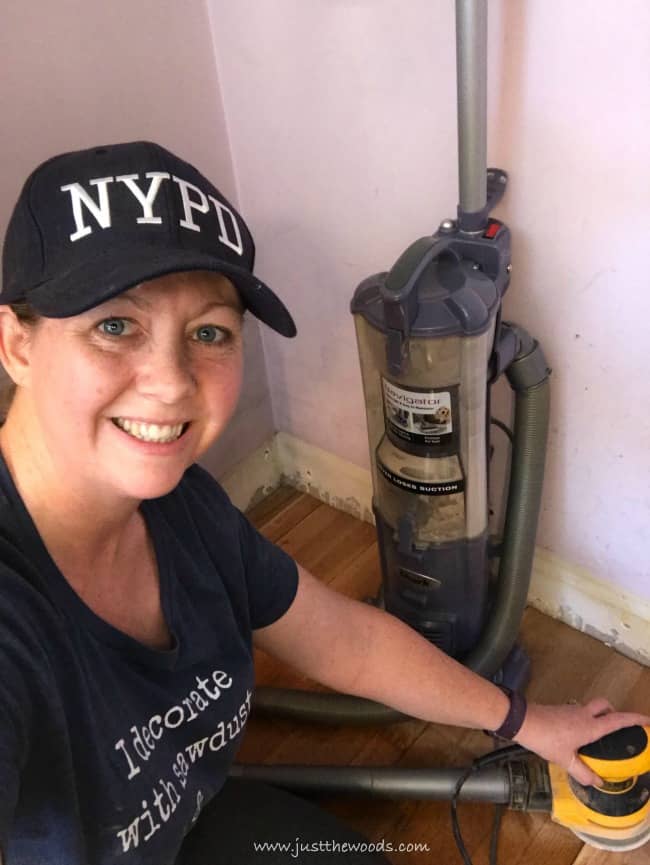 The attachment fits inside like this. It doesn't snap in or clip in, but it stays enough for me to get the job done. This works great for small projects, but I do have to gently hold the attachment in place while I work. I also do the same in my shop with my shop vac attachment and the sander. This is my sander HERE and this is my vacuum HERE.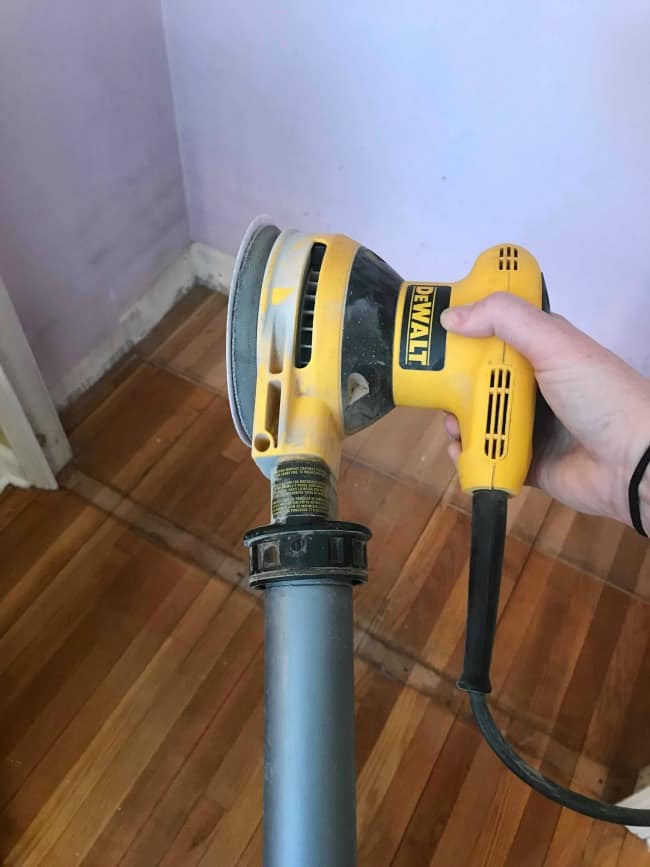 The sander smooths out the floor so I can add a new sealer.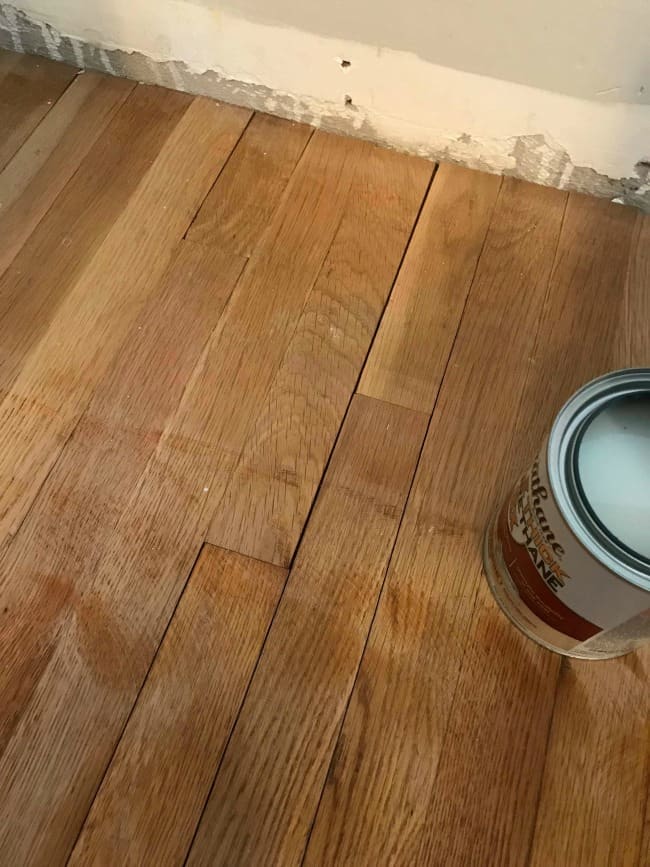 Using a foam brush I coat the inside of my small closet floor with Varathane tripe thick. Find Varathane HERE.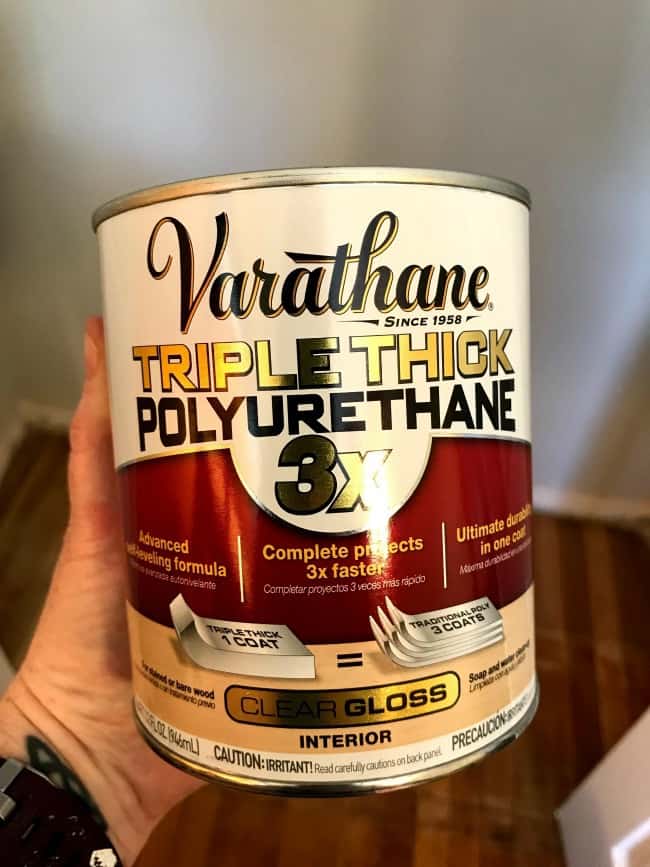 Much better than before.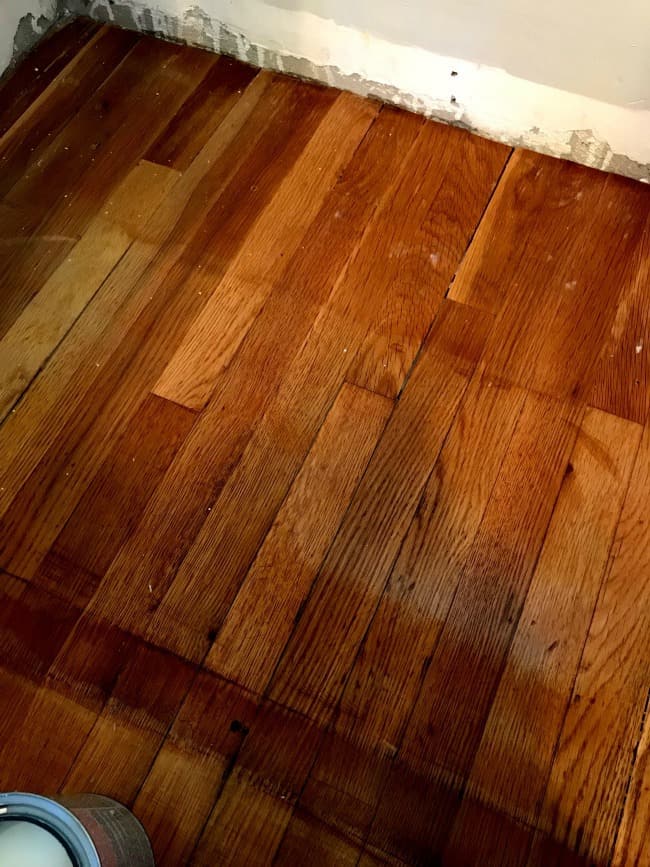 Once the repairs are complete, dried and sanded I paint the inside of the closet using leftover paint from our living room makeover. It's a very light and neutral gray called Close Knit from Behr. No more pink! We then installed new bifold doors. The doors came primed but had to be painted. Find the closet doors HERE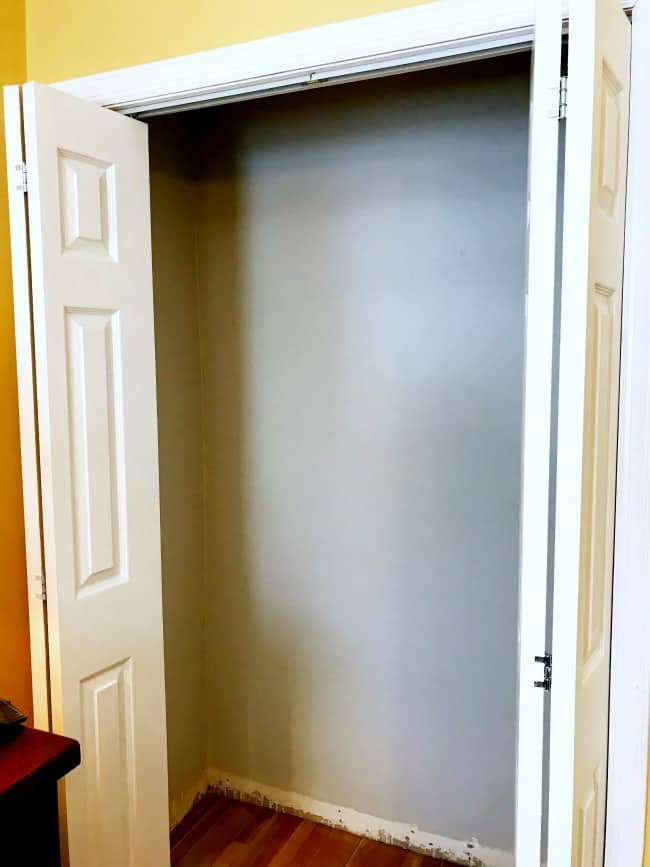 Click here to Pin this post for later.
Choosing a Closet Organizer for a Small Closet
After an abundance of research, I decided on this small closet organizer. I love the options of having shelves, a drawer, and hanging rods. This closet organizer says that it fits a space from 4′ – 9 ' which is perfect since my small closet is just a bit larger than 4′. Unfortunately, the first box was missing two shelves which delayed our small closet organization project until we could swap it out for a new one. But once we had all of the pieces we are good to go. You can find this small closet organizer system HERE. The drawer is sold separately and can be found HERE. The top shelf is also sold separately, found HERE.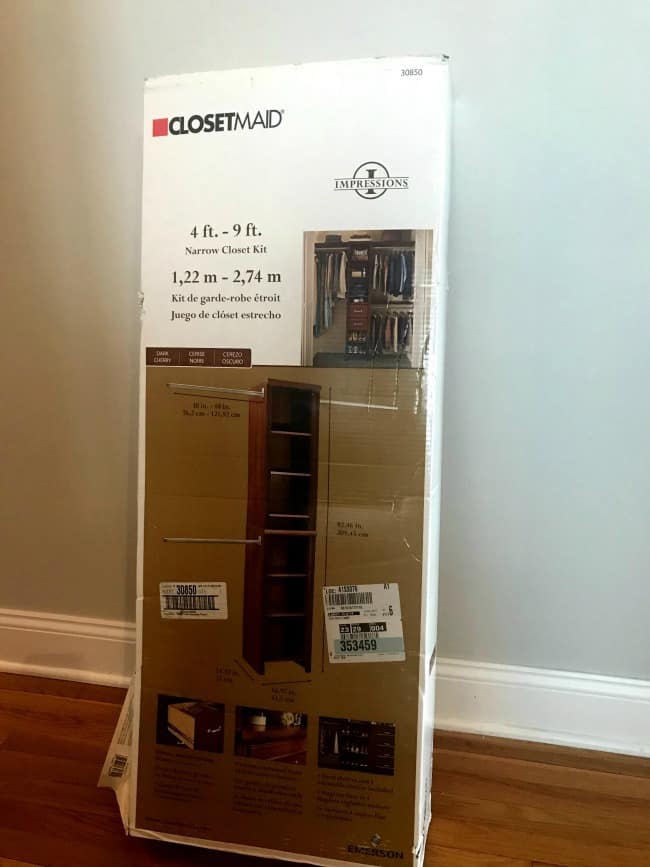 The small closet organizer unit is installed in the closet with a few cuts and minor adjustments. It just so happens that the rods were a bit too short and all needed to be trimmed.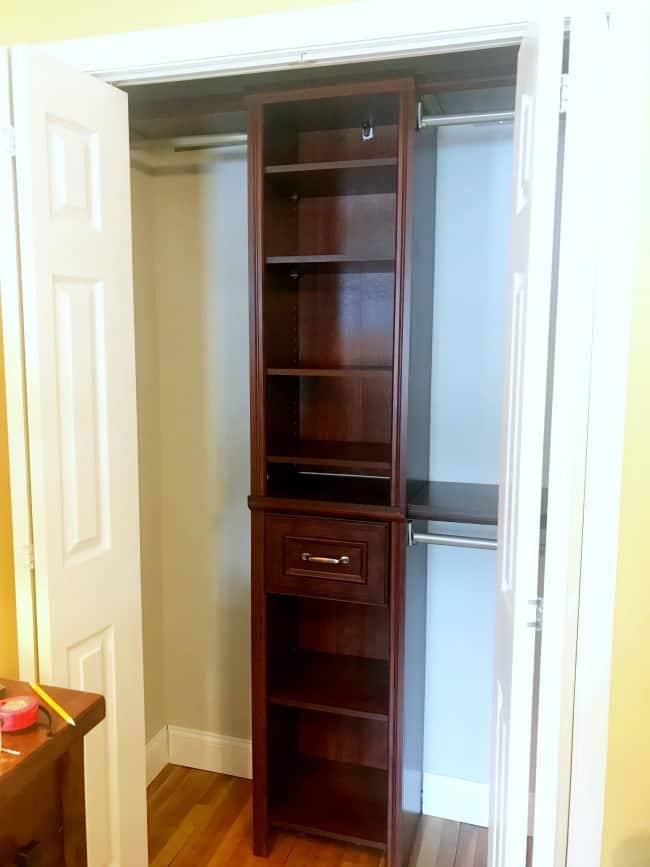 I do love the added shelf at the top for additional storage space. This way I can maximize and organize the small closet and use up as much available space as possible. The top shelf also needs to be cut and trimmed to fit.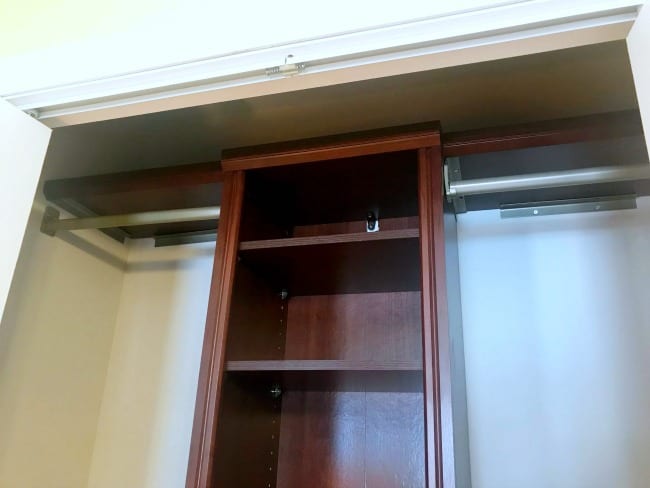 New baseboard is installed along the floor for a neat and clean look.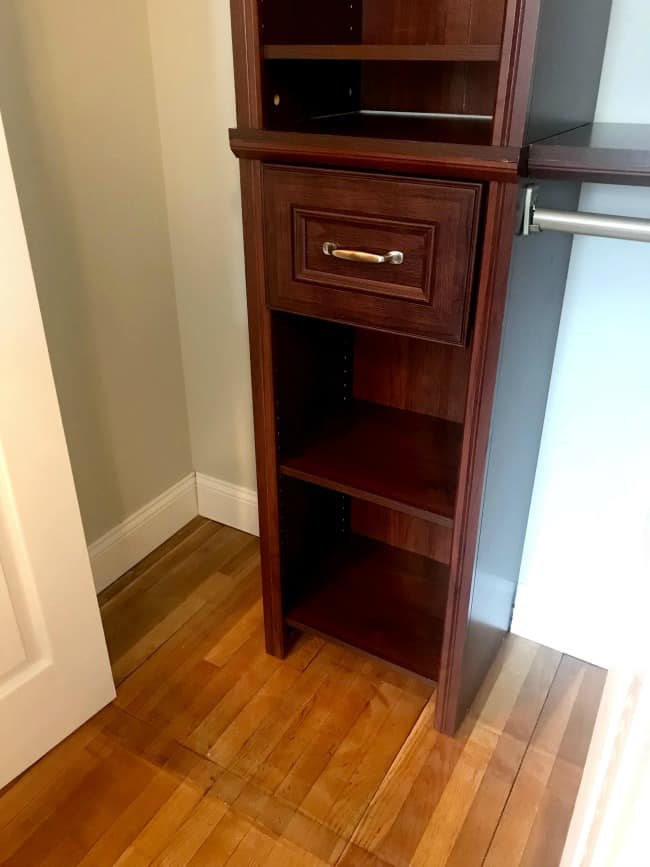 How to Organize Shoes in a Small Closet
Now that the closet renovation portion of the small closet organization project is complete its time to get to organizing a small closet. Starting with the shoes! Though I am a jeans and T-shirt kind of girl on a daily basis I do still have an abundance of shoes and clothes. I have many shoes that I only break out for special occasions. Starting with the shoes that I literally will never wear again, but simply must keep I start labeling each box with an index card and marker. Each small card is taped to the end of the shoe box with a note of whats inside.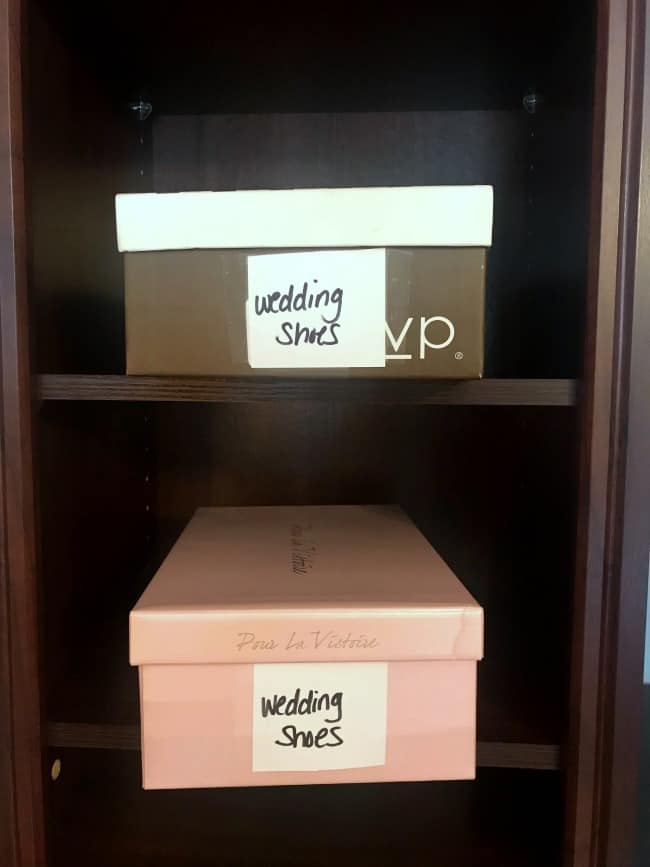 Other shoe boxes are labeled with a mention of the season as well. There is no need for access to summer sandals in the cold of winter.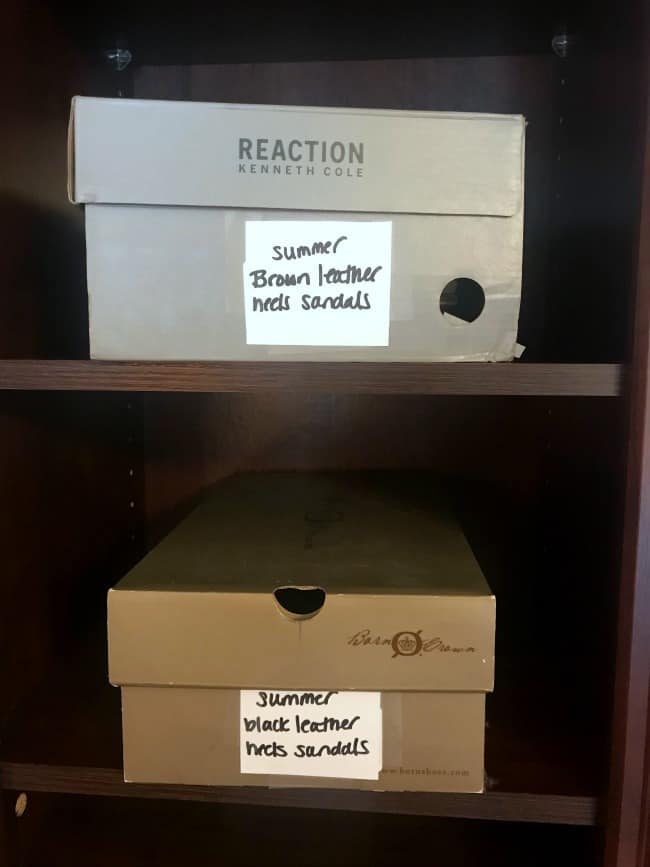 Once all shoeboxes are labeled they are stacked up on top of the top shelf. This way I can see what shoes are where for whenever I may need them. But they remain out of the way. If you don't have the original show boxes you can get plastic shoe box storage containers HERE. I have a few of these as well.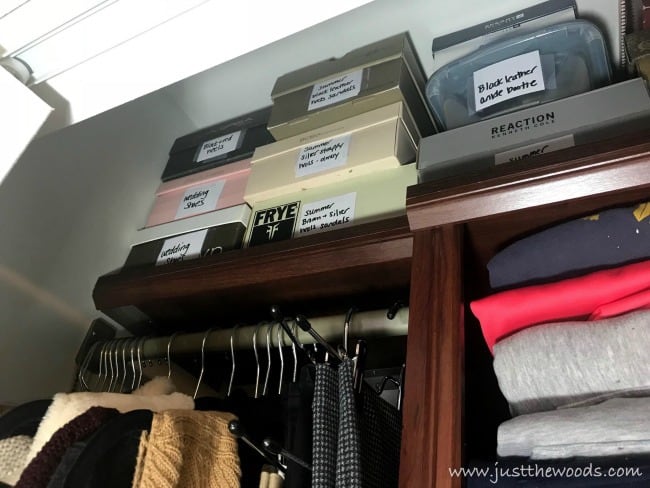 The shoes that I do need and wear on a daily basis remain down below in the lower shelves for easy grab and go.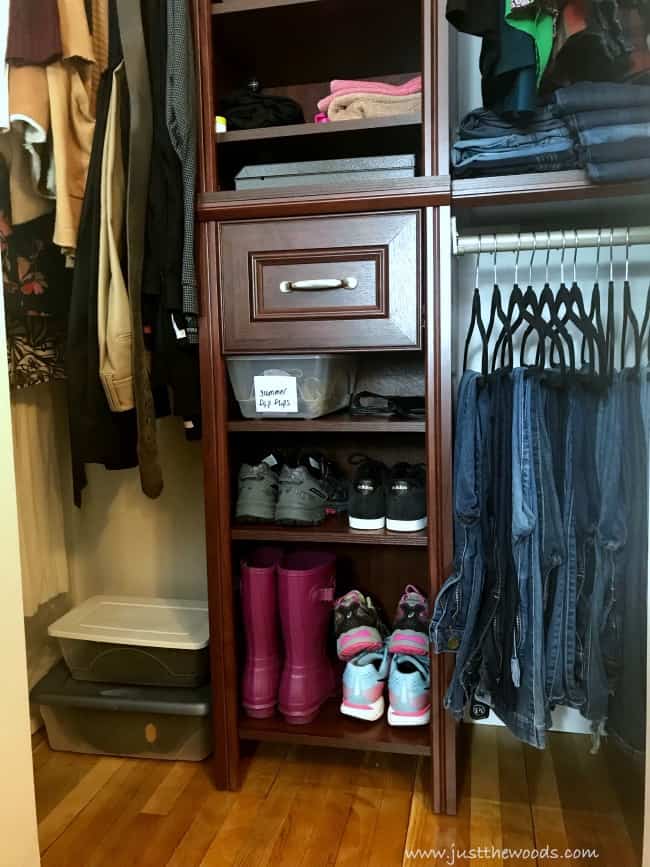 Click here to Pin this post for later
Small Closet Organization Ideas for Clothing
When it comes to the clothing, I managed to hold on to most of the jeans because well, jeans are timeless. But since there are so many pairs of jeans I swapped out my chunky plastic hangers for these ultra-thin heavy duty velvet hangers. These hangers are thin and heavy duty allowing me to fit my abundance of clothes in a small space. Find the hangers HERE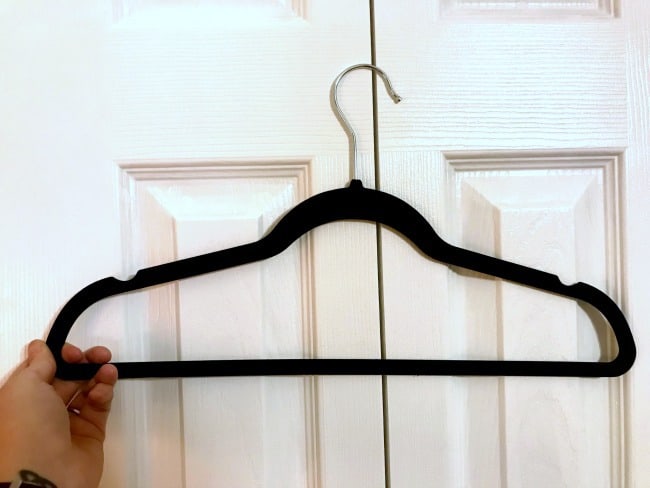 All of the jeans that I normally wear are hung on the lower rod. I was also looking for small closet shelving ideas to work with our closet makeover. By add adding the top shelf and the shelf above the lower rod, it gave the added shelving needed to maximize space. The few pairs of jeans that no longer fit are folded on the shelf above the lower hanger rod. I know I should probably get rid of those jeans, but I'm not quite ready.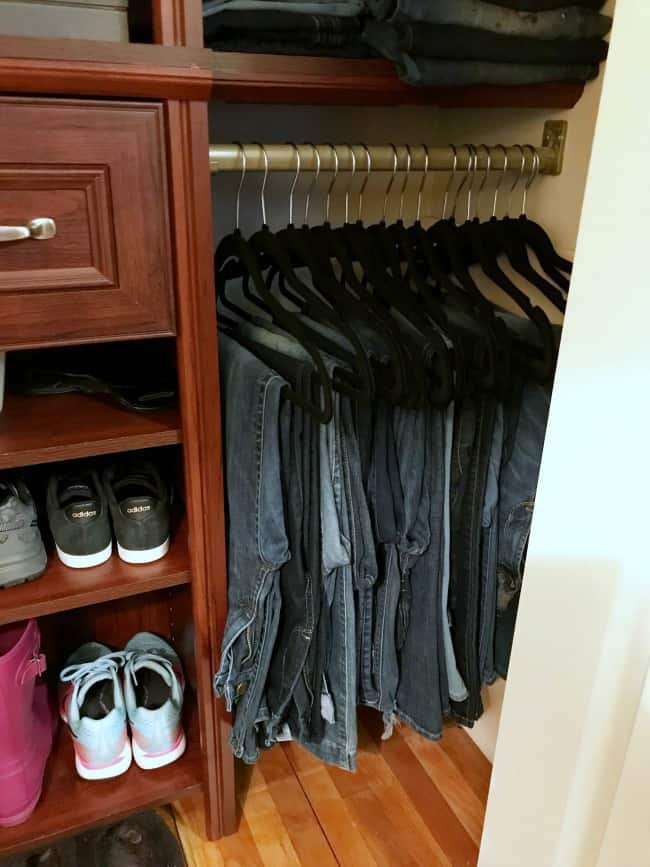 These hangers are also great for silky shirts and dresses because the clothes don't slip off.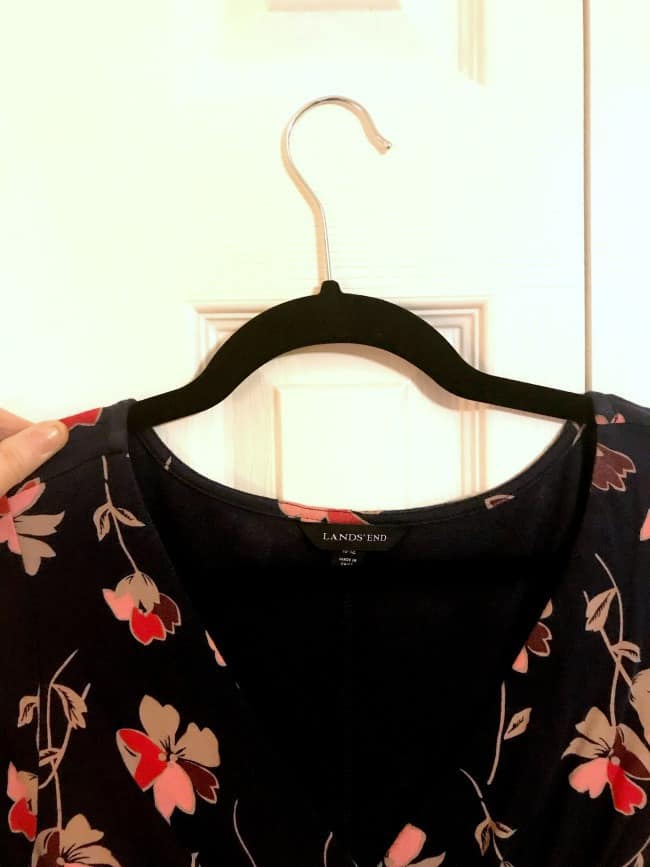 If you have dress pants that you prefer not to fold in half there are these great 4 tier space saving trouser hangers. I prefer to hang the pants by the ankles like this. You can find them HERE.
Rather than bulk up my hangers with sweatshirts, I have folded and stacked all of my hooded sweatshirts on the shelves in the center.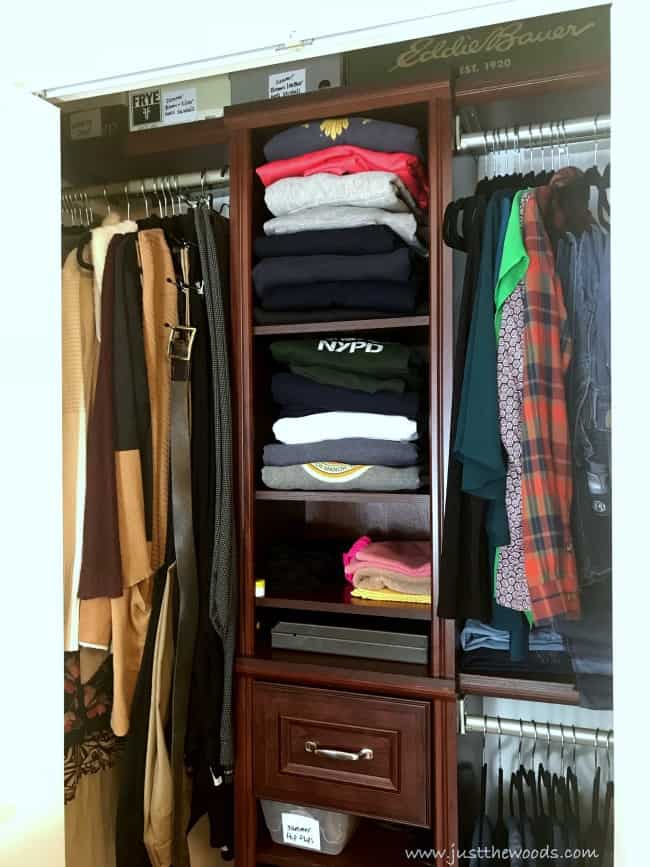 Small Closet Renovation and Organizing Project
I can't decide if I prefer to leave the closet doors open to enjoy how nicely it all fits inside.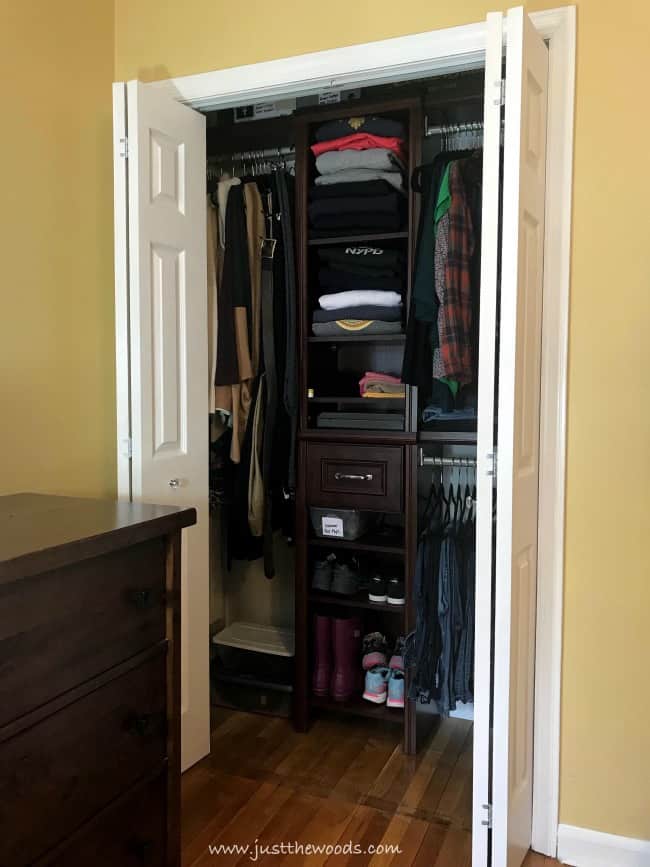 Or closed and concealed.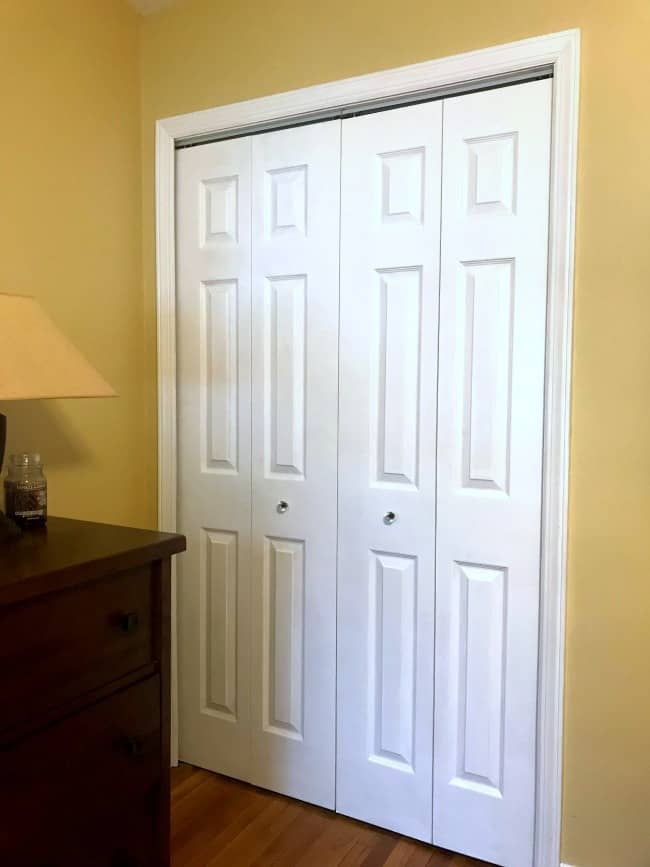 My cozy bedroom finally feels complete. Simple and organized, the way I like it. Sometimes I feel like the only person without an all-white bedroom.
Click here to Pin this post for later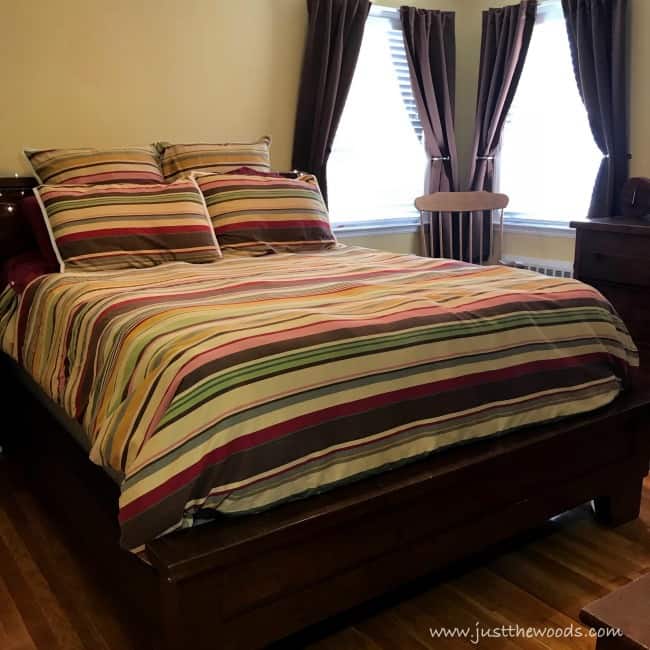 Don't Forget – Follow Just the Woods and Share this post to Inspire others:
FACEBOOK * INSTAGRAM * PINTEREST
Subscribe to our mailing list here:
PINTEREST PIN READY TO SHARE