This healthy veggie pasta recipe with dairy free alfredo sauce is gluten free, dairy free and clean eating. Pasta with veggies make the perfect side dish. I love to add extra vegetables to my veggie pasta.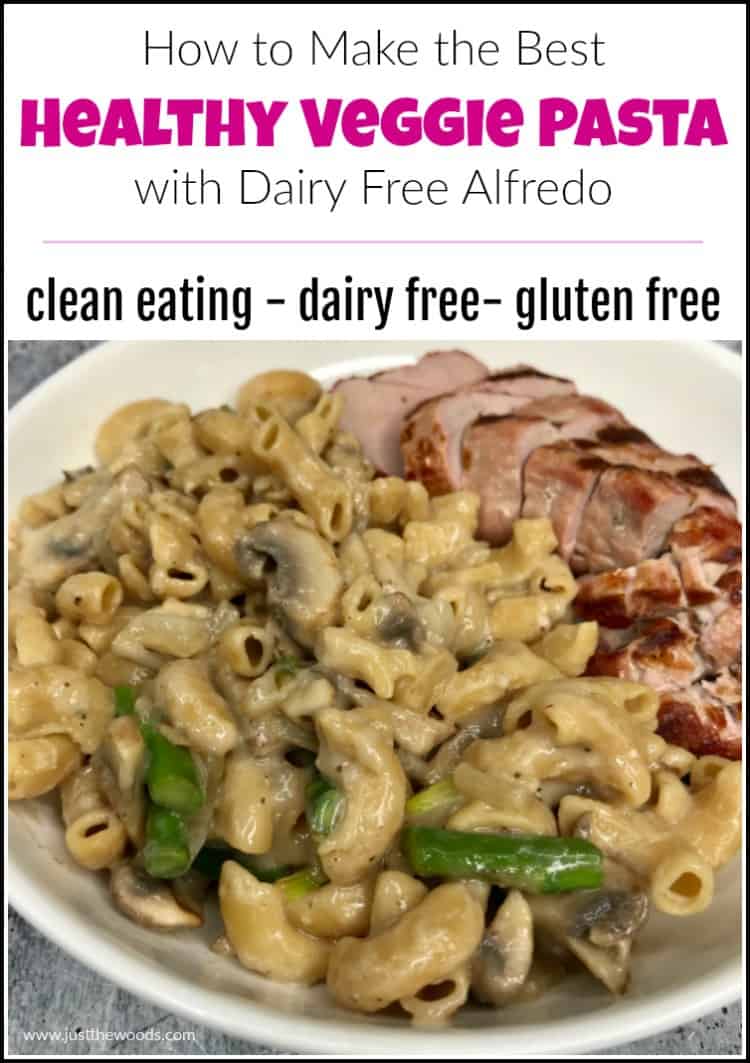 Disclosure: This clean eating healthy veggie pasta recipe post contains affiliate links for your convenience. Click here for my full disclosure policy.

Healthy Veggie Pasta with Dairy Free Alfredo Sauce
What You Will Need (Full Printable Recipe Available Below)
Ingredients:
1 box (8oz) vegetable pasta (I use this kind here:

Free to Eat

)
12 mushrooms, chopped
1 onion, chopped
8 asparagus spears, cut
avocado oil (I like this brand here:

avocado oil

)
1 cup dairy free alfredo sauce (I use this kind here:

alfredo

)
Getting Personal
Along with eating clean and trying to keep my family eating healthy I also see a nutritionist. To make a long story short he runs a full blood panel and can see where my body is lacking certain things or has an abundance etc. Then we take this info and use food as a sort of medicine to address any issues. For example, my thyroid is a mess, my glutamine is extremely low, and my hormones are a mess. To keep it simple, my current diet now includes more cashews and less almonds. More pork, and less chicken. I find myself seeking out recipes and then making a lot of changes to them to keep them healthy for myself and my family. As a result I now plan to add more alternative clean eating recipes to my blog.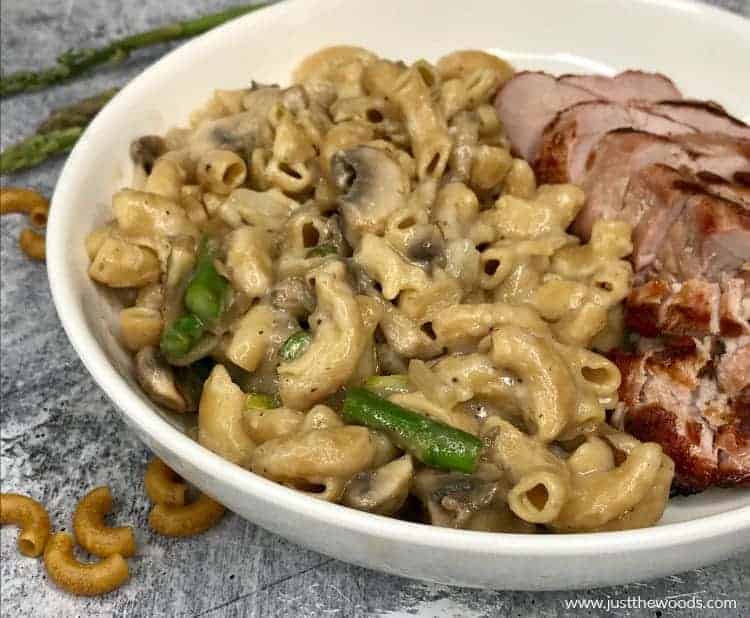 Clean Eating Basics
Continuing on, and rewinding at the same time – I mention that this is a clean eating recipe because I am all about eating healthy and clean eating. If you are new to a clean eating way of life then you need to check out Everything You Need to Know about a Clean Eating Diet. You can also see how I lost 50 lbs and am keeping it off by following a clean eating diet here: How I Lost 50 Lbs Clean Eating. I tend to try different things and mix different flavors to keep meals healthy and tasty.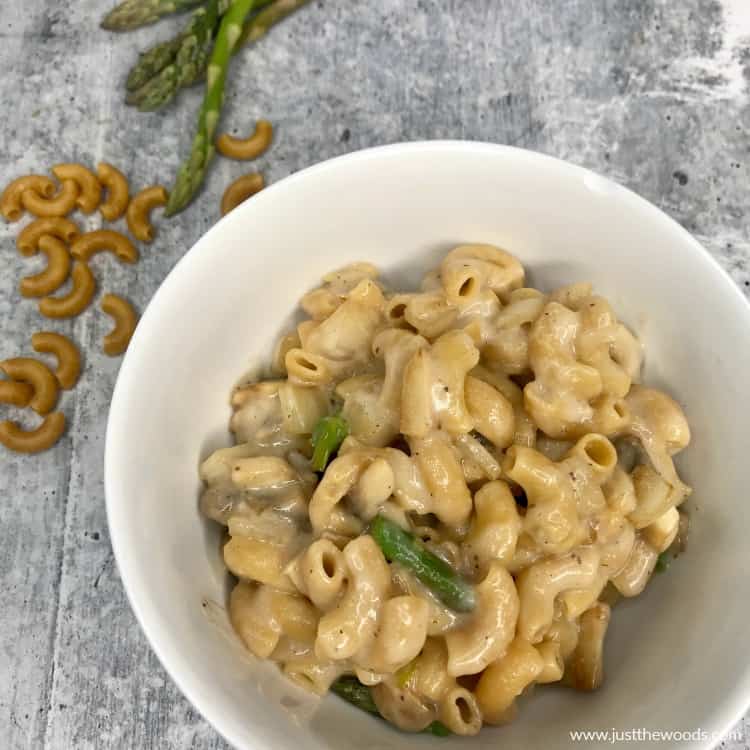 Gluten Free Veggie Pasta with Dairy Free Alfredo Sauce
Ingredients
Let's gather our gluten free veggie pasta and other simple ingredients. This veggie pasta is from Cybele's Free to Eat. Thats it, nothing else. You can get Cybele's pasta online here: Free to Eat. Or if you are a member of

Thrive market

you can get both the pasta and the alfredo sauce there. I am a member of

Thrive Market

and love it. (I have no affiliation with Thrive or these brands, I am just sharing what I eat and love). Thrive has a huge variety of healthy food options that can be easily delivered to your home.
Prep
Cut, chop and trim your vegetables that you are adding to your veggie pasta. This is a great way to sneak a whole bunch of veggies into your kids if they are otherwise reluctant.
Cook
Take your veggie pasta and cook it according to the directions on the box. This veggie pasta is made from parsnips, cauliflower and lentils. This brand ( Cybele's pasta ) does have a few other vegetable combinations to choose from for their pastas. Next, Im going to make the red lentil, pumpkin and butternut squash rotini. 🙂
While your pasta is cooking, spray a little avocado oil into a

nonstick pan

and sauté your vegetables. This shouldn't take but a few minutes. Cook until the onions are translucent and the mushrooms and asparagus soften.
Heat your dairy free Alfredo sauce. You can heat on the stove top or take the easy way. I confess, I normally just heat a bit up in the microwave. Fair warning, it will come out of the jar and seem a bit gelatinous and weird. But trust me, it is surprisingly delicious.
When the pasta is cooked to your desired tenderness, drain the pasta.
Combine
Combine your veggie pasta, sautéed vegetables and dairy free alfredo sauce and enjoy.
Veggie Pasta with Alfredo Sauce and Vegetables
This veggie pasta makes the perfect side dish to any meal. The results are similar to a vegetable pasta bake but made in a fraction of the time. It goes great with London Broil.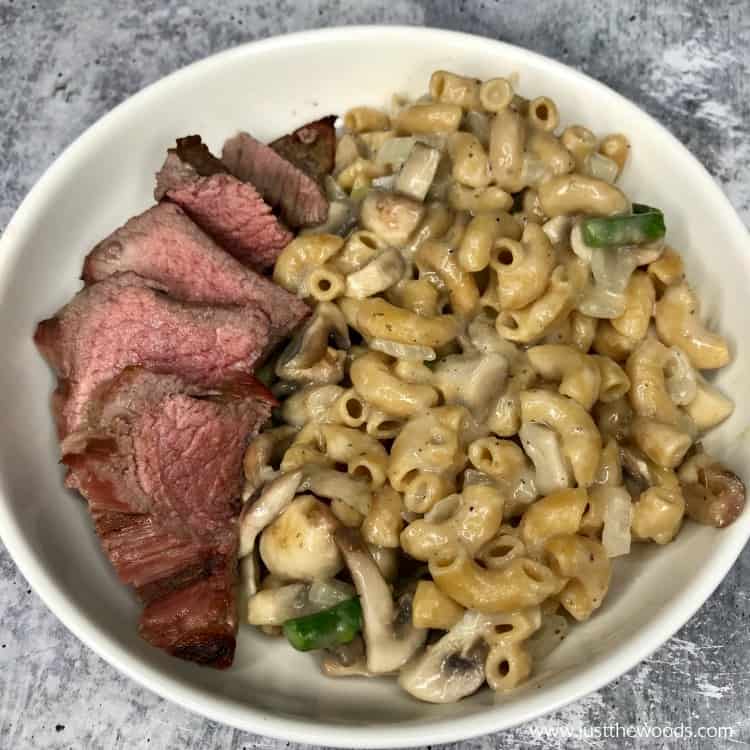 Pasta and vegetables also go great with grilled pork tenderloin.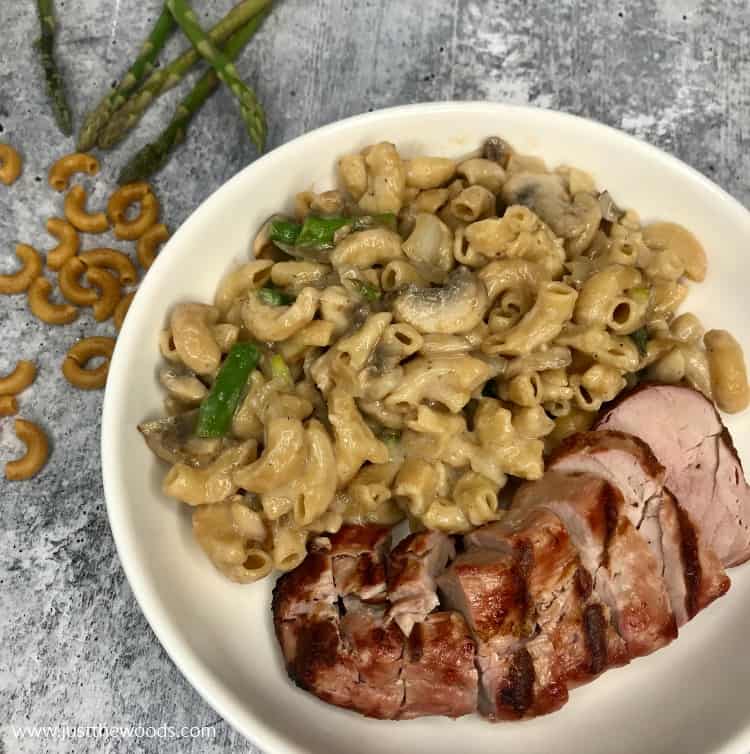 My kids absolutely love this healthy vegetable pasta recipe.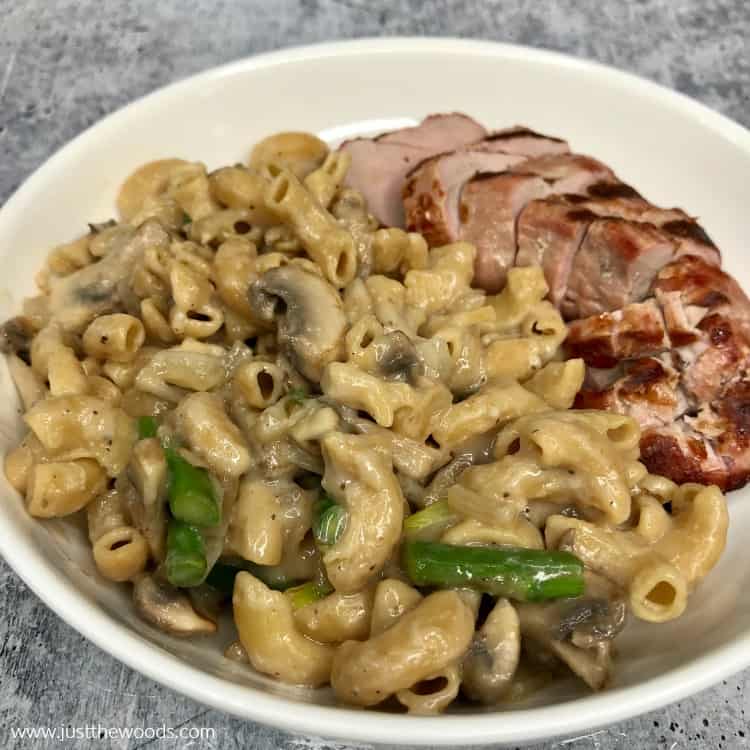 Looking for more recipes using gluten free pasta? Check these out: Gluten Free Pasta Recipes.
Printable Recipe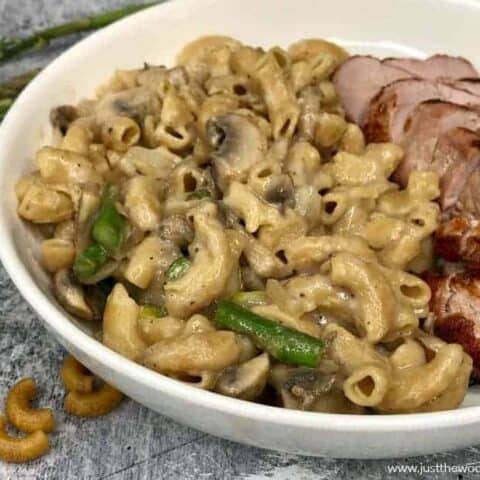 How to Make the Best Healthy Veggie Pasta with Dairy Free Alfredo
Ingredients
12 mushrooms, chopped
1 onion, chopped
8 asparagus spears, cut
Instructions
Chop, cut and trim your onion, mushrooms and asparagus
Cook your pasta according to the directions on box.
Saute cut vegetables with a little avocado oil.
Heat alfredo sauce on stove top or microwave.
Drain pasta and combine all ingredients together.
Serve and enjoy
Recommended Products
As an Amazon Associate and member of other affiliate programs, I earn from qualifying purchases.
Nutrition Information:
Yield:

4
Serving Size:

1
Amount Per Serving:
Calories:

293
Total Fat:

5.6g
Saturated Fat:

1g
Cholesterol:

0mg
Sodium:

355mg
Carbohydrates:

45g
Fiber:

5g
Sugar:

4g
Protein:

18g
nutritional values are estimates and may vary depending on products/ingredients used.
For more healthy clean eating recipes make sure to follow my clean eating Pinterest board here:
Clean Eating
.


Don't Forget – Follow Just the Woods and Share this post to Inspire others:
FACEBOOK * INSTAGRAM * PINTEREST * RECIPES