Your health is your best investment and you are worth it!
What is Nutrition and Health Coaching?
Nutrition coaching focuses on supporting YOU and empowering individual wellness transformations. I will help YOU look at health holistically and work towards a greater quality of life. Together we will work towards taking the steps towards long term behavioral change. There is more to health than the food on your plate.
Health is a not a destination but a journey.
What Does a Nutrition and Health Coach Do?
A nutrition coach offers a growth mindset and understands that growth takes time. The change that transforms in YOU is a result of the work that YOU do. I am here to assist and guide you in your journey. I will help you develop and make progress towards your personal wellness goals by:
building self awareness of feelings, mindsets, and behaviors

exploring areas of life that may be out of balance

setting effective and achievable goals

implementing healthy lifestyle changes

staying accountable
Keep in mind that change does not happen overnight. It requires patience and self love. What works for one person may not work for someone else. We are all unique and require an individual approach to what works.
What I Don't Do:
As a nutrition and health coach my job is to guide you. To be clear, I am not a nutritionist or dietician so I do not provide meal plans, I do not cook for you, I do not prescribe supplements.
My Specialities:
Because we all specialize in something, I tend to work with clients who are busy, working parents. Those who strive to find balance between work, family, eating better and self care. I help clients who are interested in eating clean, gluten free and dairy free while still loving food and not feeling deprived.
Nutrition Coaching is for You if You are ready to:
make some changes

put yourself first

love and accept yourself

let go of emotional eating

stop looking at food as good and bad

we will focus on building a healthy relationship with food

enjoying better foods rather than eliminating foods

make lasting and positive changes in your life
Lasting change takes time, we don't develop bad habits overnight nor will be develop positive habits overnight. Be patient with yourself and trust the process.
Together we will create a plan that will help you achieve your goals through small, actionable steps. This includes building simple habits, in small manageable steps, in an easy and maintainable way.
Often we know better, but we don't always do better. I'm here to help you stay on track.
How Long Does It Take?
There is no set timeline when it comes to behavioral lifestyle change. There is no one size fits all. This one-on-one coaching program is set up to start with a minimum 4 month commitment. You will start with 4 months, during which we will touch base regularly and then you decide whether you would like to continue on or not. This is your journey and it is up to you. Statistics do say that it takes 4 to 6 months to make sustainable and lasting change in your habits.
Nutrition Coaching is NOT for You if:
you are not ready to change your life

you don't want to take action on your goals

you are comfortable having a difficult relationship with food

you have a clinically diagnosed eating disorder

you want to get rid of the symptoms, but not the cause
Getting Started with a Nutrition Coach
Getting started we will set a time for an initial consultation and assessment of your present condition through a series of simple questions. Next, we will review some diet and lifestyle adjustments to support your health and vitality and uncover the habits that contributed to your current lack of health and the steps to reverse this.
Are You Ready?
If you are ready to get started contact me at: [email protected] to set up an initial consultation. Or fill out a heath history questionaire form and I will get back to you! Click here to fill out the form.

Curious About Me Before Reaching Out?
I get it, you may want to know a little bit more about me before committing to spending 4 months of your life with me. So, in short, I started off painting furniture and doing the DIY thing. Then I became a Certified Personal Trainer, a Certified Nutrition Coach, as well as an Integrative Health Coach. Life is a constant journey and we all evolve and passions change. I've slowly journeyed away from furniture and towards food and living a healthy lifestyle. I can also tell you that I am not here to preach to you because I've been there. No one wants a preacher. These are my transformation pics, and I continue to grow and learn each and every day. With that, I love to share that with you in the form of recipes, and I'd love to be your guide, by your side in your own transformation process.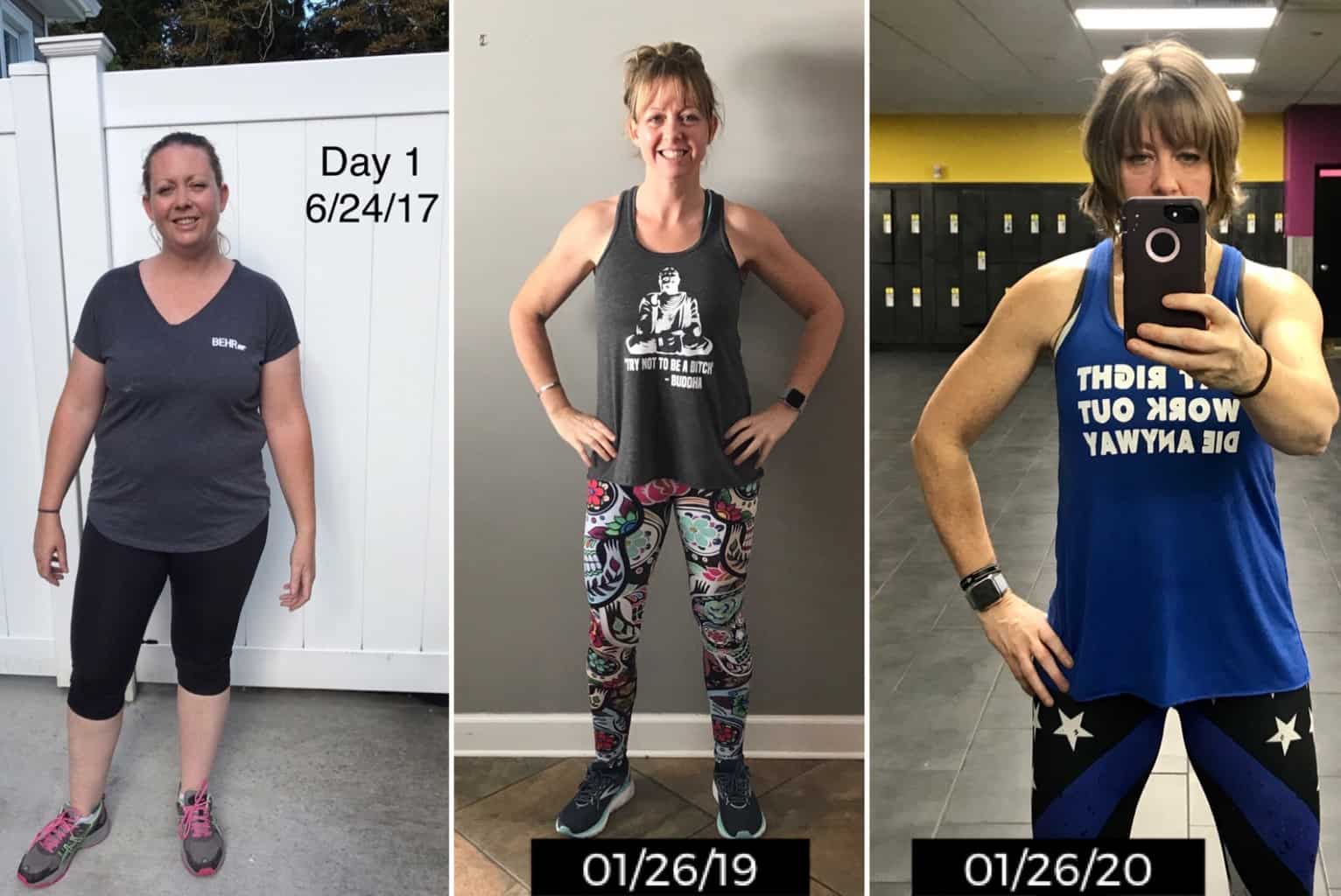 Education & Certifications
BA in Psychology – Adelphi University
Certified Personal Trainer – National Academy of Sports Medicine (NASM)

Weight Loss Specialist Certification – NASM
Basics of Bodybuilding – NASM

Certified Nutrition Coach – Precision Nutrition (PN1)
Certified Health Coach – International Association of Health Coaches (IAHC)
Integrative Health Coach – Institute for Integrative Nutrition (IIN)
Random facts about me:
I was a skydiver. I've jumped out of a plane in NY, NJ, CA, PA, GA and FL (total over 200 jumps)
I turned 21 in Key West and have done the Duval Crawl.
I've lost my money in Las Vegas.
I've spent a night in the Swiss Alps.
I once took a train to Paris, from Germany with just a backpack and no plans.
I am a Navy Veteran.
I've had 3 miscarriages and a failed IVF.
I have a Bachelors Degree and I'm still paying off my student loans.
I never thought I would have my own business.
I start every day with a shot of apple cider vinegar.
I go to the gym 4-6 days a week and love to run.
I drive a pickup truck.
Are You Ready Now?
If you are ready to get started contact me at: [email protected] to set up an initial free, no commitment consultation. Or get started by filling out the initial health history questionnaire and I will get back to you: Click here to fill out the form.

Testimonials:
My top three goals were eating healthier to help with stomach problems, stop the late night snacking, and overall feel healthier.
My coach helped me work toward these goals by providing healthier options for snacks, providing me with healthy recipes, guiding me through eating at a slower pace, and helping me work on my consumption of water.
The biggest tangible change I have noticed since beginning is that I am not late night snacking the way I used to. Once 7:30 comes, I do not pick anymore.
The most significant overall change I have noticed has been my stomach pains from eating have definitely decreased. I do not feel lousy every time I eat now since I am watching portions and what I am eating.
I would describe Kandice as motivational and knowledgeable. Kandice really helped me notice where my weaknesses were and held me accountable for keeping to the program. She really provided me with a lot of information that helped me in this journey.
I would recommend Kandice to anyone of my friend's and family. She helped me realize all the bad habits I had, without being harsh about it. Things like eating too much at one sitting, not drinking enough water, and in general not putting my health first.
It was a pleasure working with Kandice through this difficult journey and I appreciate all the tips that I know I will continue implementing as I continue this healthy journey. And thanks for all the recipes that I can try along the way!
Nicole, (Staten Island, NY)