How to distress furniture is one of the easiest furniture painting techniques there is. Distressing paint on furniture is also probably one of the most commonly used technique as well. When you distress painted furniture you want to keep in mind the natural wear and tear of a piece and work with that in mind. Today I'm sharing how to distress painted wood furniture for that chic worn look.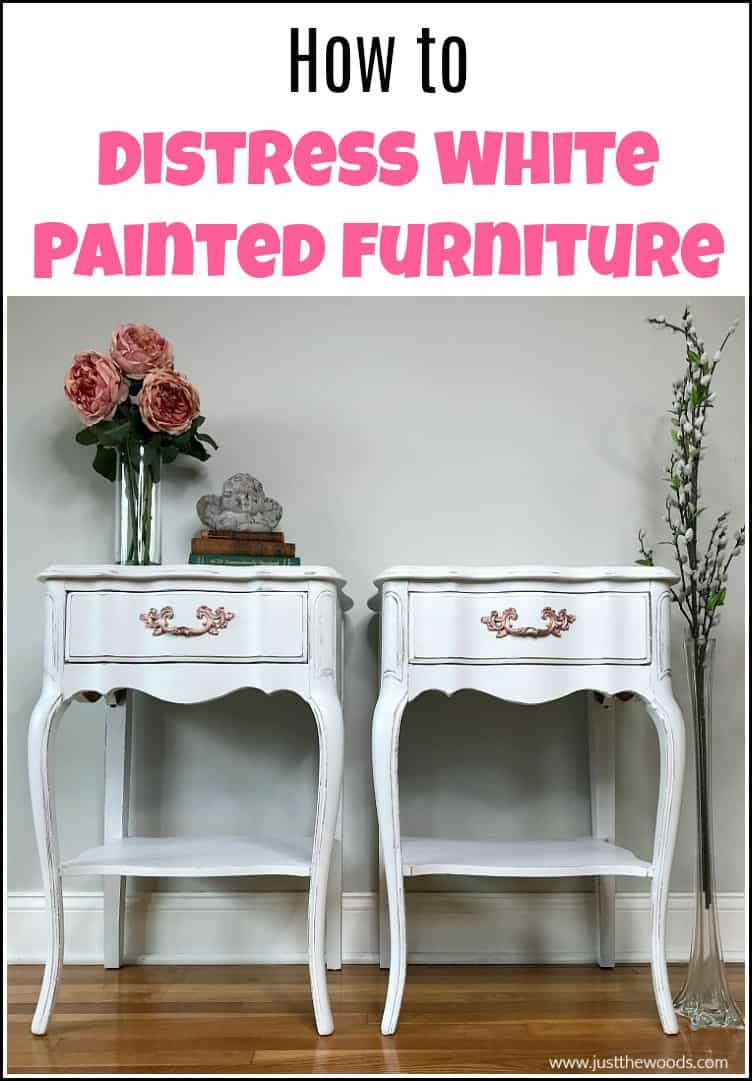 Disclosure: This how to distress furniture paint post contain affiliate links for your convenience. Click here for my full disclosure policy.

Supplies & Tools Needed to Paint and Distress Furniture
Materials Needed / Source List:
Tools
Sandpaper
Orbital Sander

Find all of my favorite tools and products on my

Amazon Page here
Paint
Modern Masters Metallic Paint

Or this Rose Gold
Before we begin, this distressed white painted tables project is part of our monthly Furniture Fixer Uppers share. You know what that means! Make sure to stick around all the way to the end for more great painted furniture before and after projects.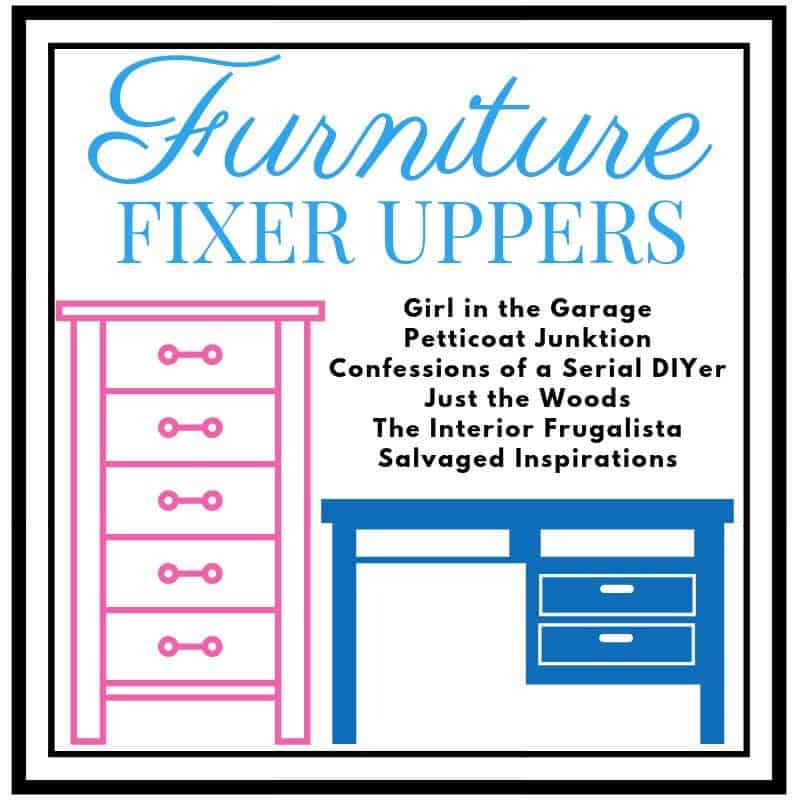 Unfinished Original Wood Tables
These tables are super cute, solid wood but very dirty. They certainly have seen better days.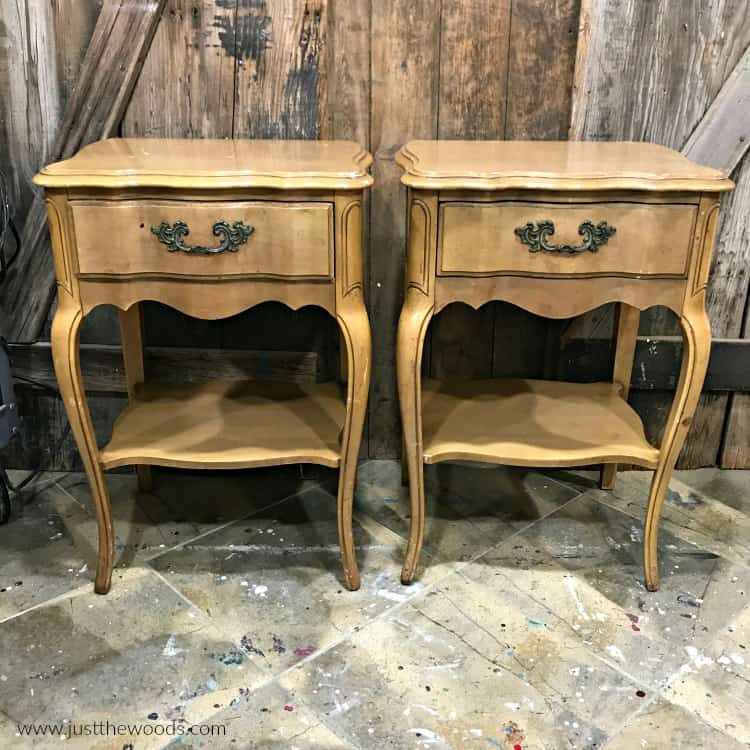 Because of their condition I admit I have been procrastinating with this makeover. Here is a close up of the table top. It will definitely need to be sanded smooth.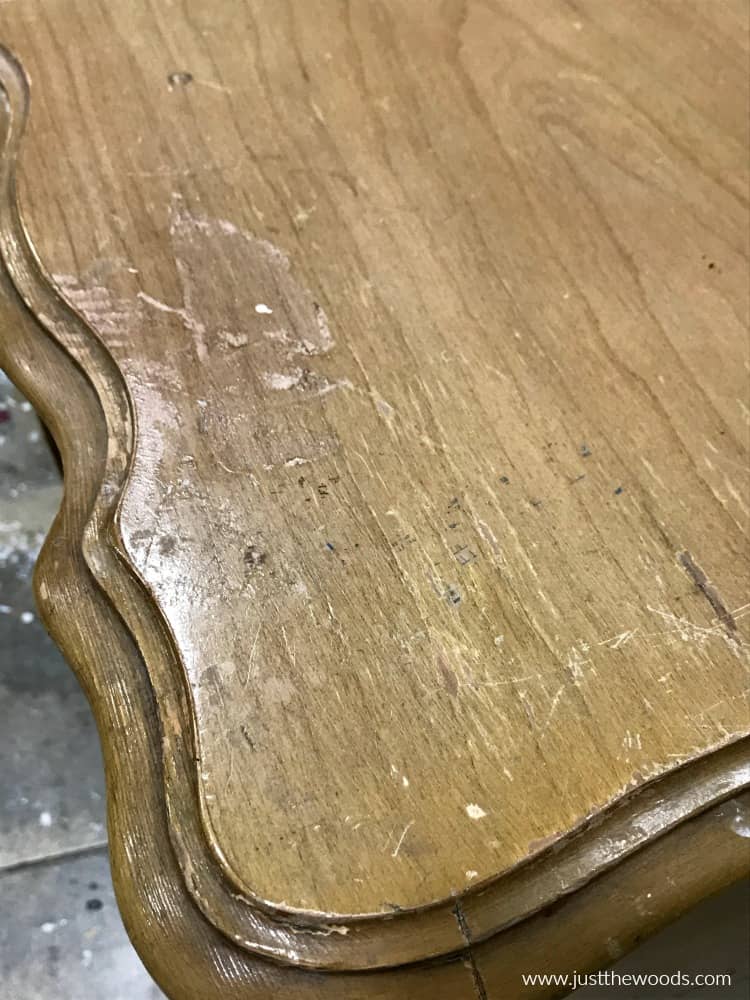 Maybe the top doesn't seem that bad. Ok, well here is the table leg. Can you see now how gross these tables are? It almost looked like someone dropped coffee on the floor and is splattered up all over the table legs, and was never cleaned.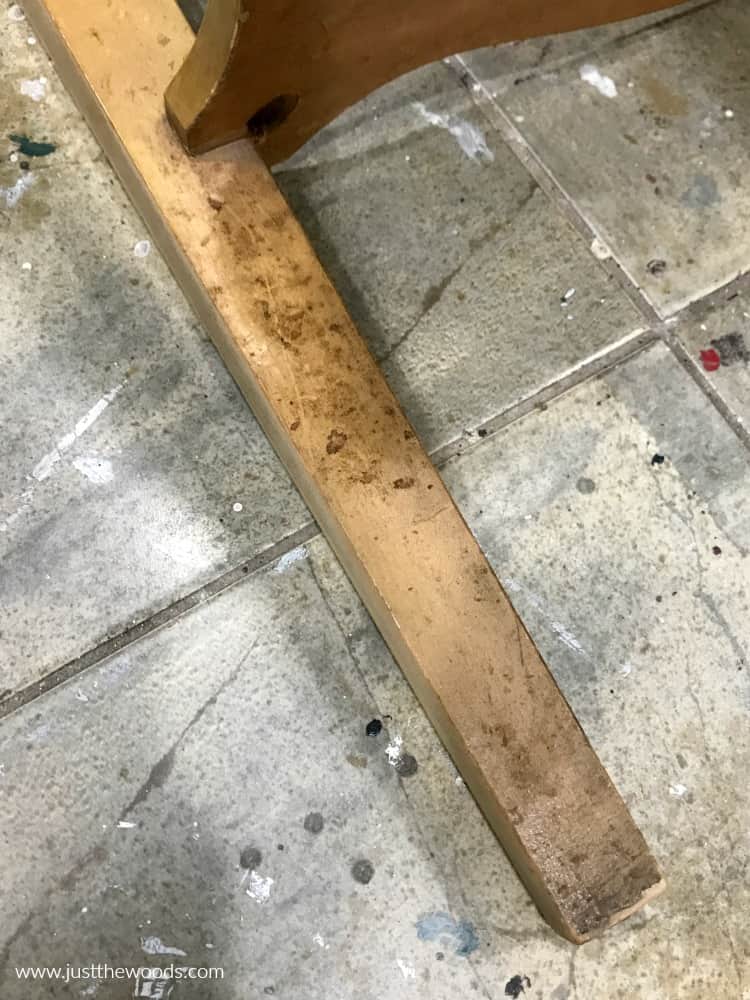 Prepping Wood Tables for White Furniture Paint
Prep time. We need to get these tables thoroughly clean and sanded and ready for paint. First, we need to remove the hardware. If you intend to keep the hardware make sure to put it somewhere safe.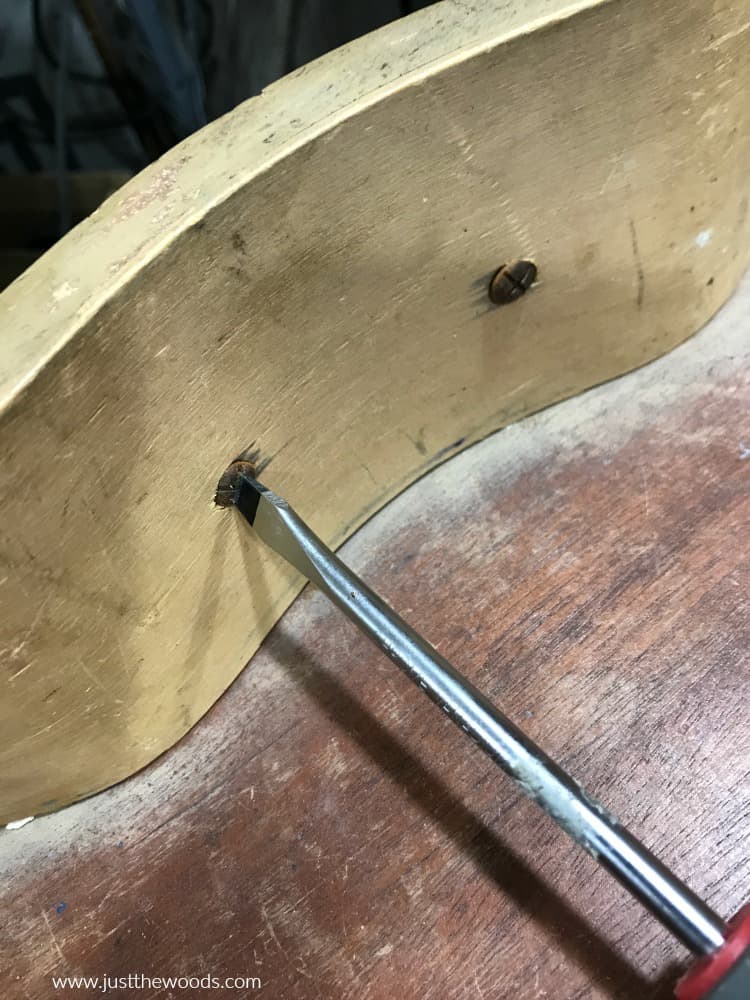 Sanding Wood Furniture
Next, we are going to tackle the tops of these tables. I decide to break out my trusty orbital sander. I love my Dewalt.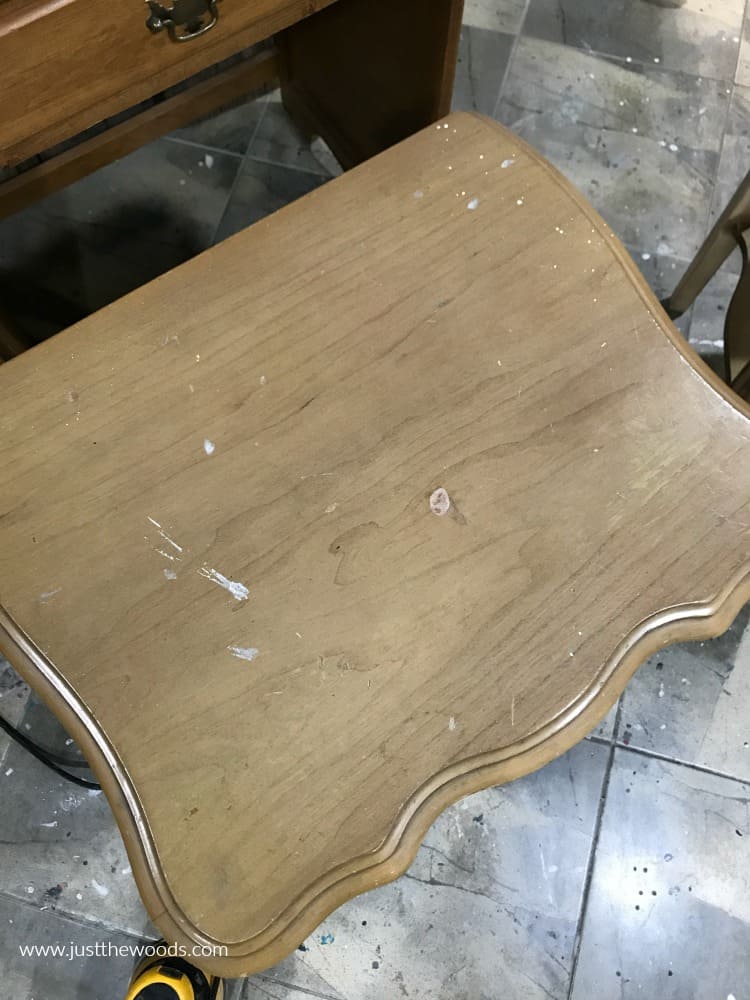 Wow, what a difference the sander makes!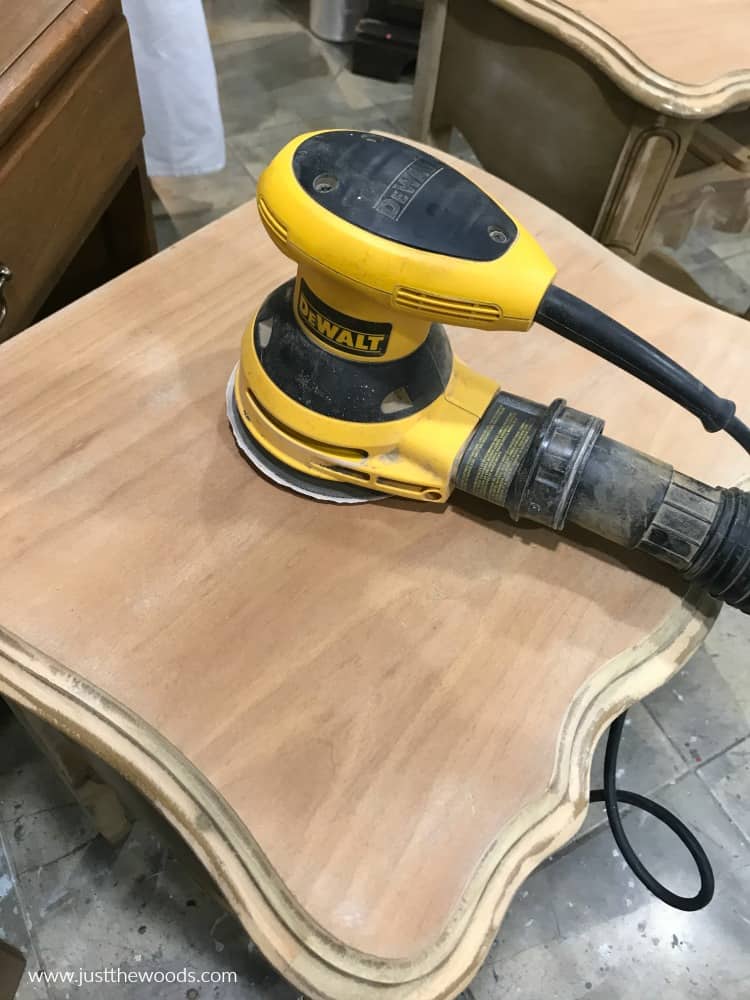 Since I am on a roll with the sander I am going to sand the tables in their entirety with my Dewalt sander. Check out how much better that table leg looks after a quick sanding. It sanded most of that dirt and grime right off.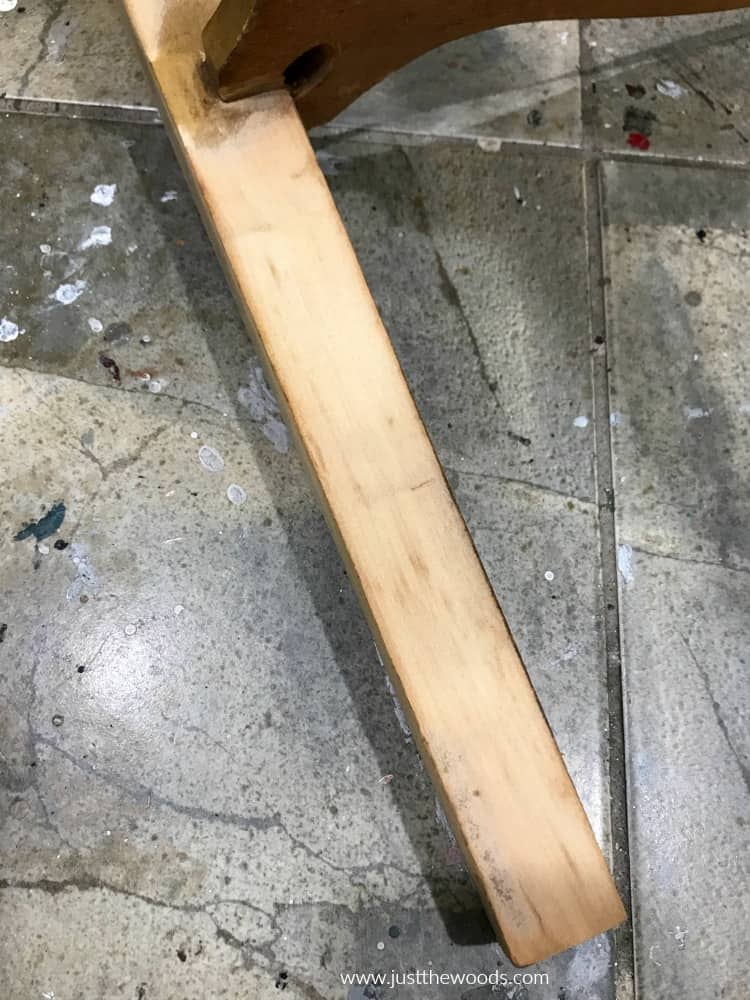 Next, I move on to sand the top edge of the drawers. You can see the progression of the sanding here.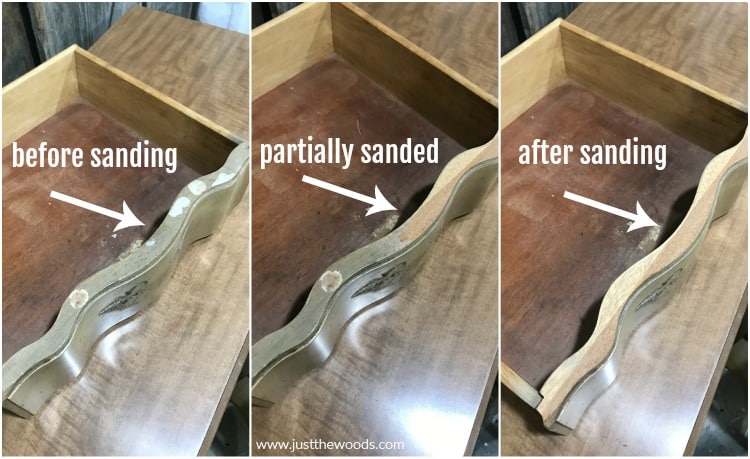 For the less then flat areas that need more, just go over the rest of the tables with a piece of sandpaper. Give the tables a quick scuff. 150 grit works well for this part.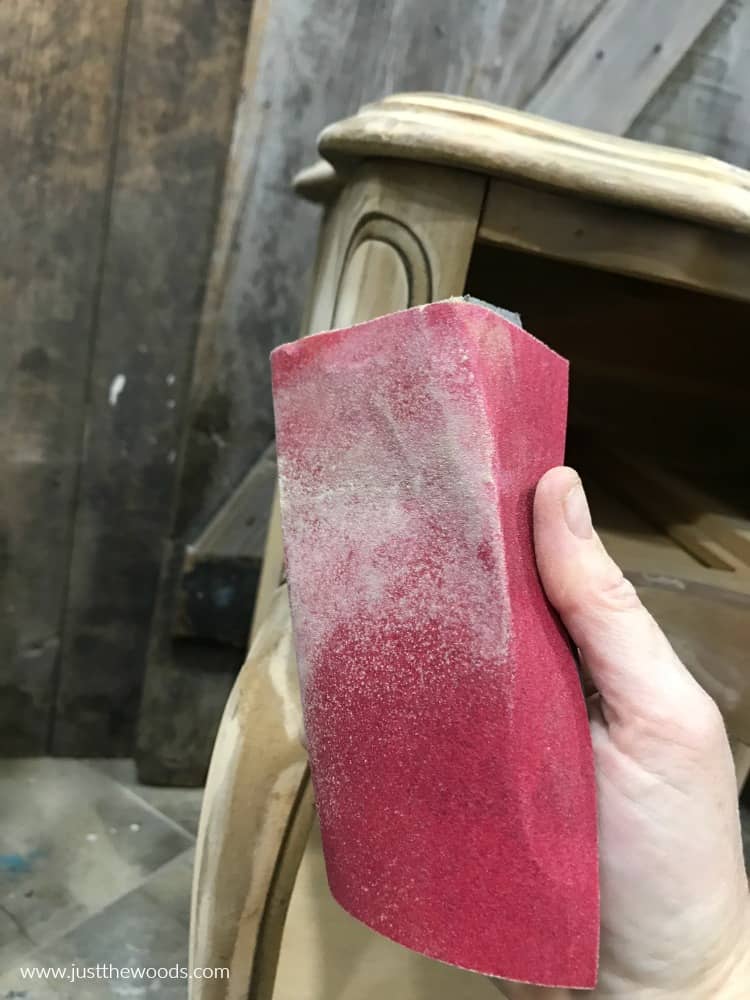 Make sure to give the insides of the drawers the same prep as the outside (unless they are in really nice condition). Once done, your tables should be all sanded and scuffed.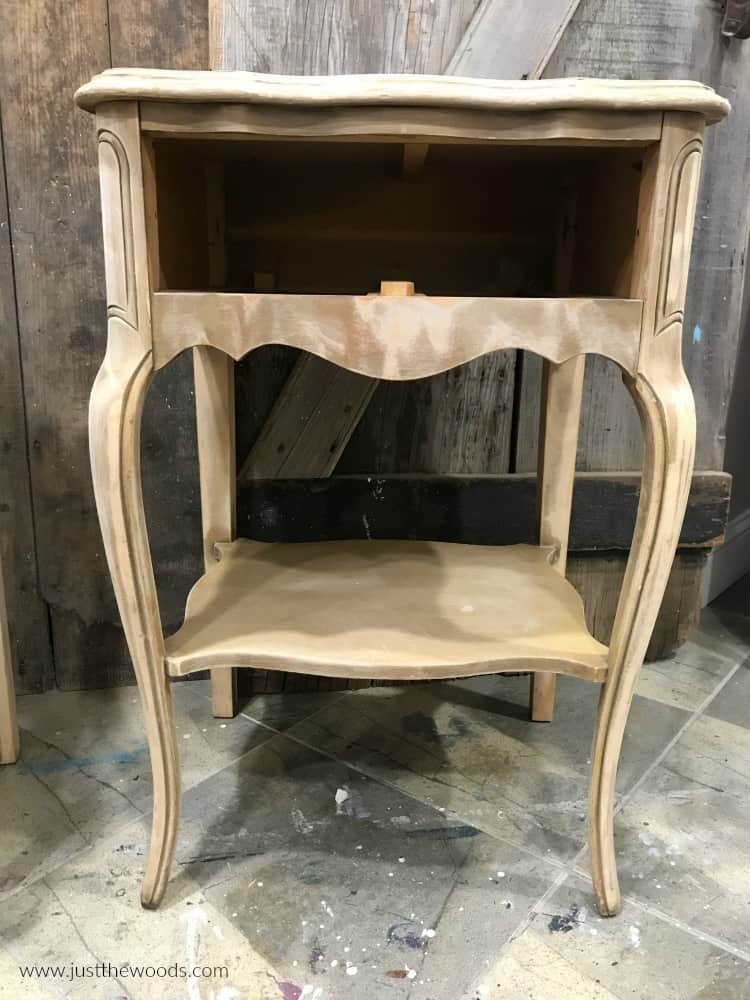 Cleaning Wood Furniture for Paint
Now we need to clean these wood tables before we can move on to painting. Grab a scrubby sponge and clean the entire surface of your furniture with a little dish soap, white vinegar and water. Then follow up with a clean damp cloth and give a 'rinse' wipe down to remove any residue.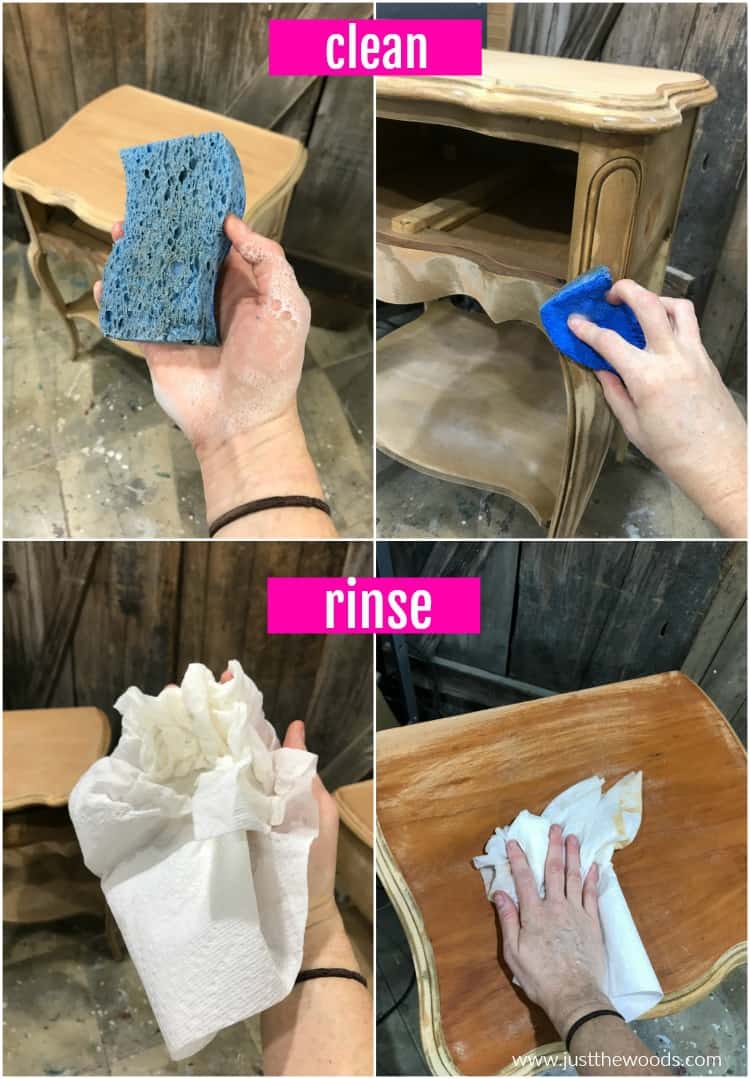 Priming Wood Furniture
Now that our tables are all prepped and clean we can move forward. Since we are painting furniture white there are a few precautions that we will need to take. In order to prevent any possible bleed thru we will need to prime our wood furniture. To do this, I am using Dixie Belles BOSS primer. You can get Boss primer online here: Boss Primer.
Now grab your favorite brush and make sure it's clean. I often like to swap back and forth between Cling Ons and Zibra brushes. They both have soft bristles, are easy to work with and clean up well. (I abuse my brushes) To be honest, I like them both. Zibra brushes are a bit more affordable and can be ordered online (HERE). Cling Ons are always awesome and can be ordered online (HERE).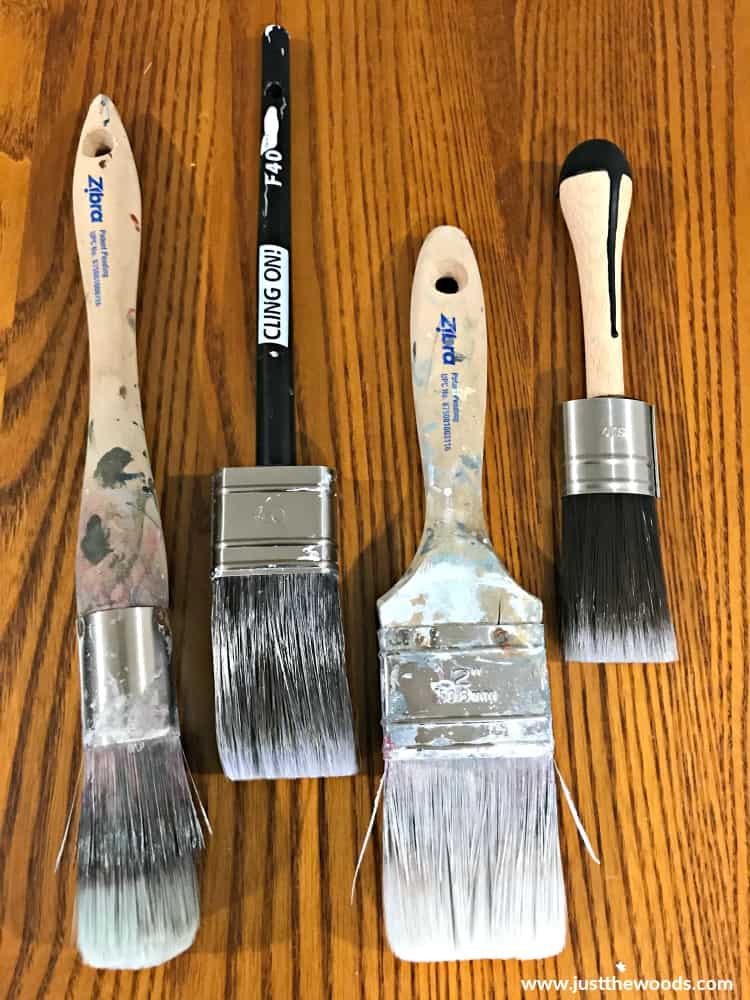 Today I grabbed my flat Zibra brush. Use your brush to apply the Boss primer the same way you apply furniture paint.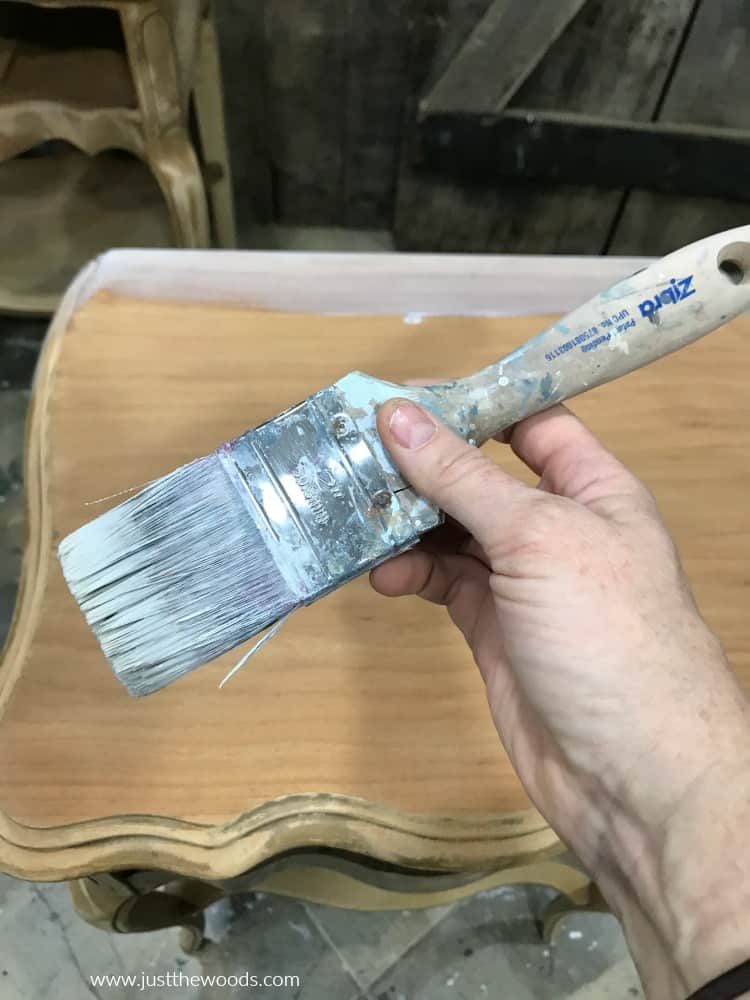 The Boss primer will go on white and dry clear. You can see the table on the left is still wet, while the one on the right is already dry. This is great when you are distressing furniture and don't want white primer showing underneath. This way you can safely get the distressed paint look with only the original wood peeking through under your paint.
Depending on how dark your original wood may be you will want to use at least one to two coats of Boss primer. I apply two coats to play it safe.
Painting Furniture White
Since we are painting furniture white and then following up with how to distress white paint we need just that, white paint. For this project I am using Cotton from Dixie Belle. Cotton is a pure snowy white furniture paint. You can get this paint and others online here: Cotton white paint.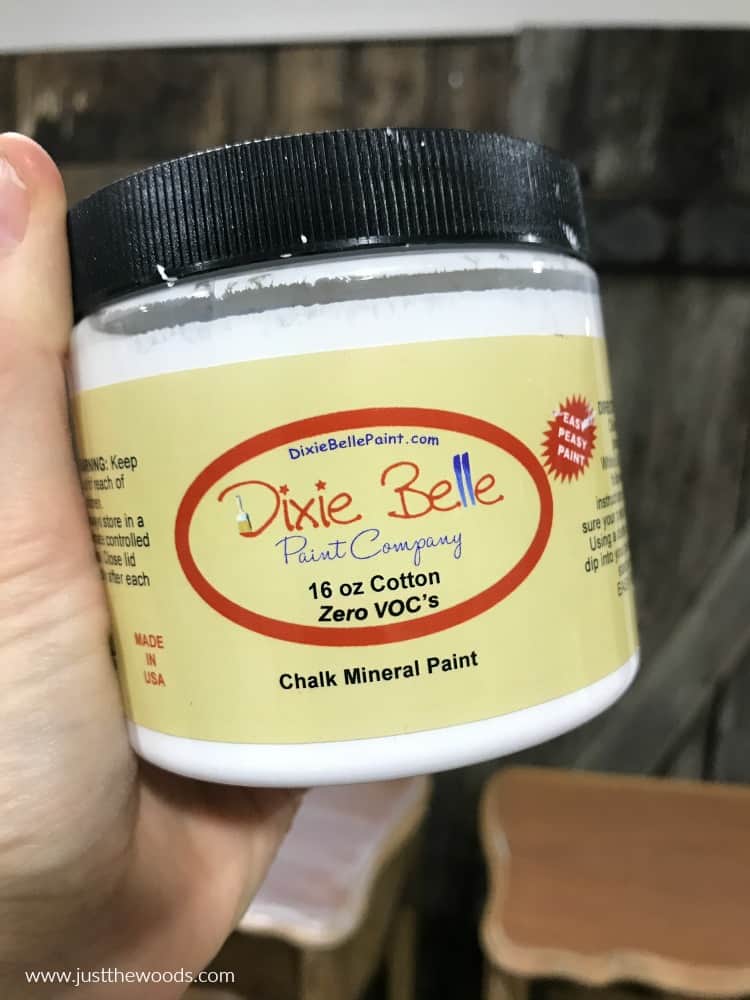 This time I grab my Cling On brush and start with the drawers. Since the inside of the drawers are not so pretty I am going to paint the inside of the drawers to keep the makeover crisp and clean. Paint the drawers, inside and out with your white furniture paint.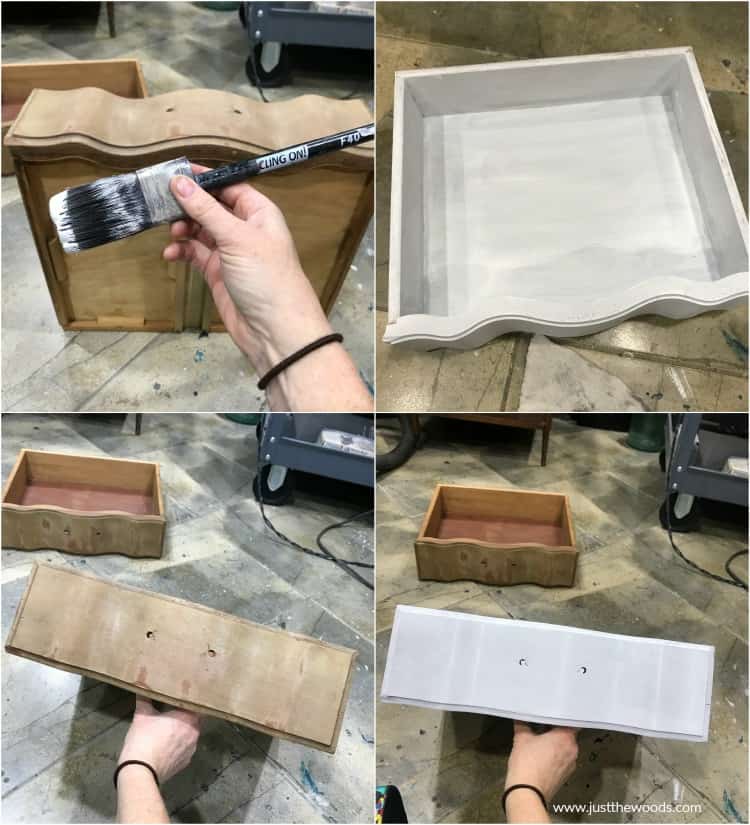 Next, go ahead and paint the rest of your tables. Since we already applied two coats of Boss primer the first coat of Cotton is going on very nicely.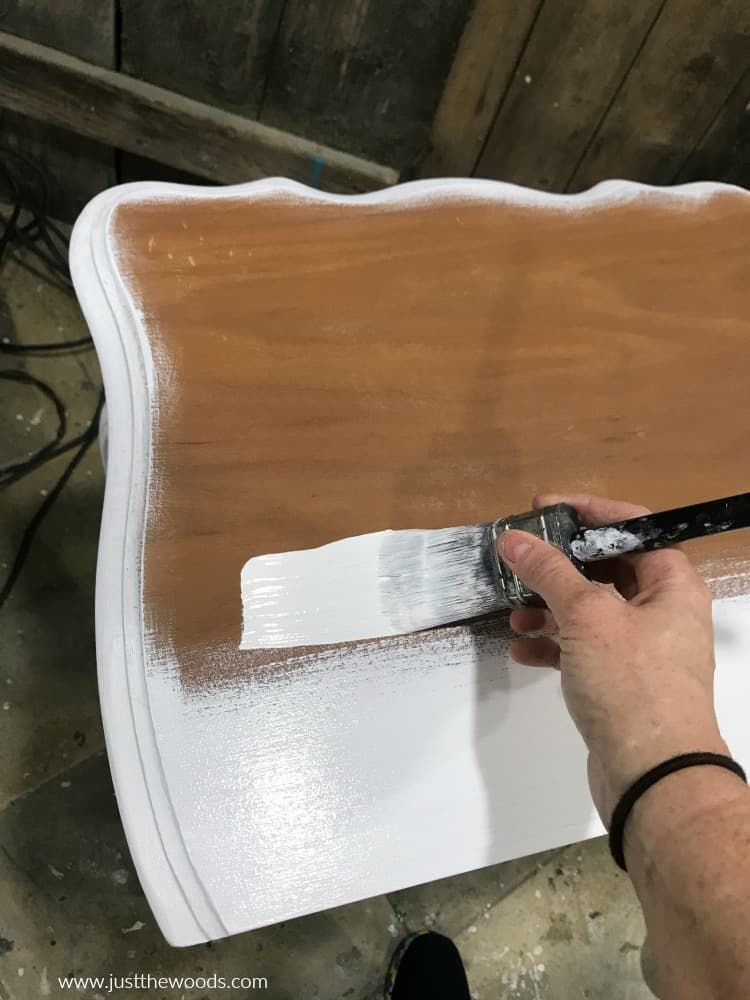 Once the paint is dry you need to go over the entire surface lightly, with a fine grit sandpaper. This will minimize brush strokes and create a super soft finish.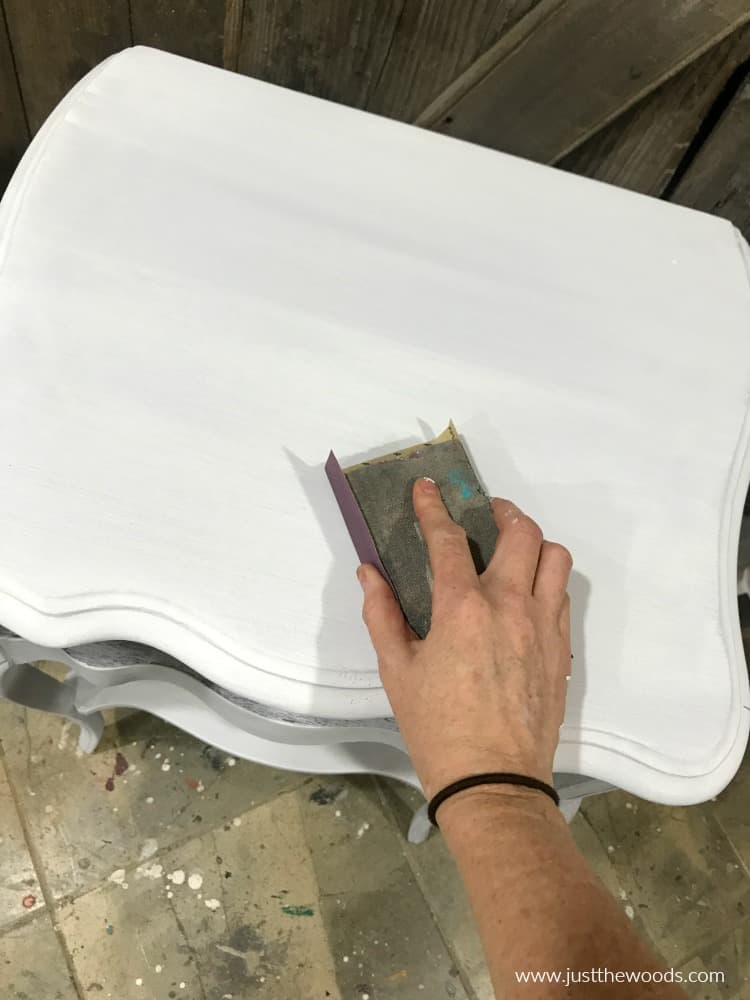 Anytime you do any type of sanding on your painted furniture you will want to follow up with a clean, lint free cloth to wipe away any dust before you move on. I keep a bucket of these cloths in my shop and toss them in the wash after each project. They are handy to have and you can get them online here: lint free cloths.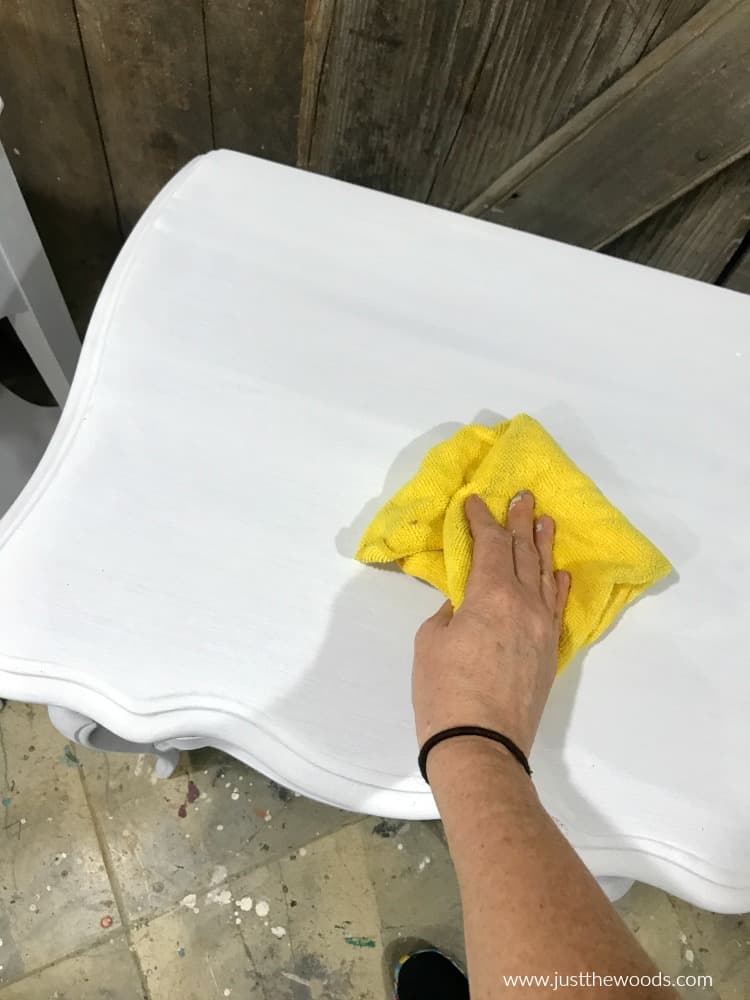 Two Coats of White Furniture Paint
Make sure to apply a second coat of white paint to your project.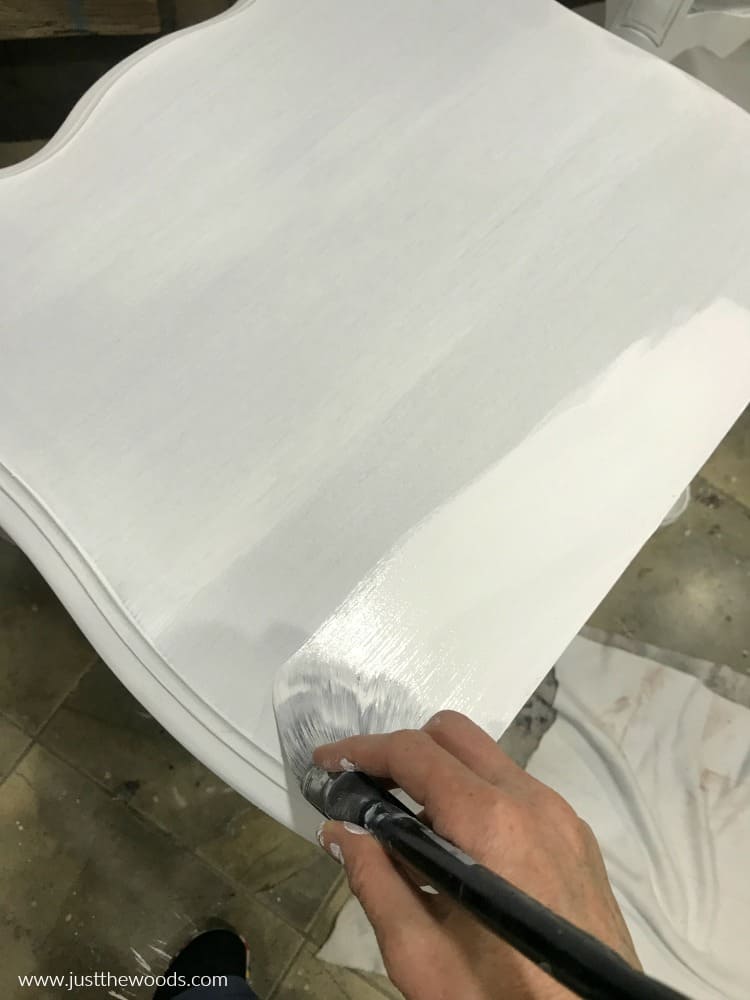 You can see here where one coat of paint looks, mehh, ok, but the second coat really makes the white … WHITE!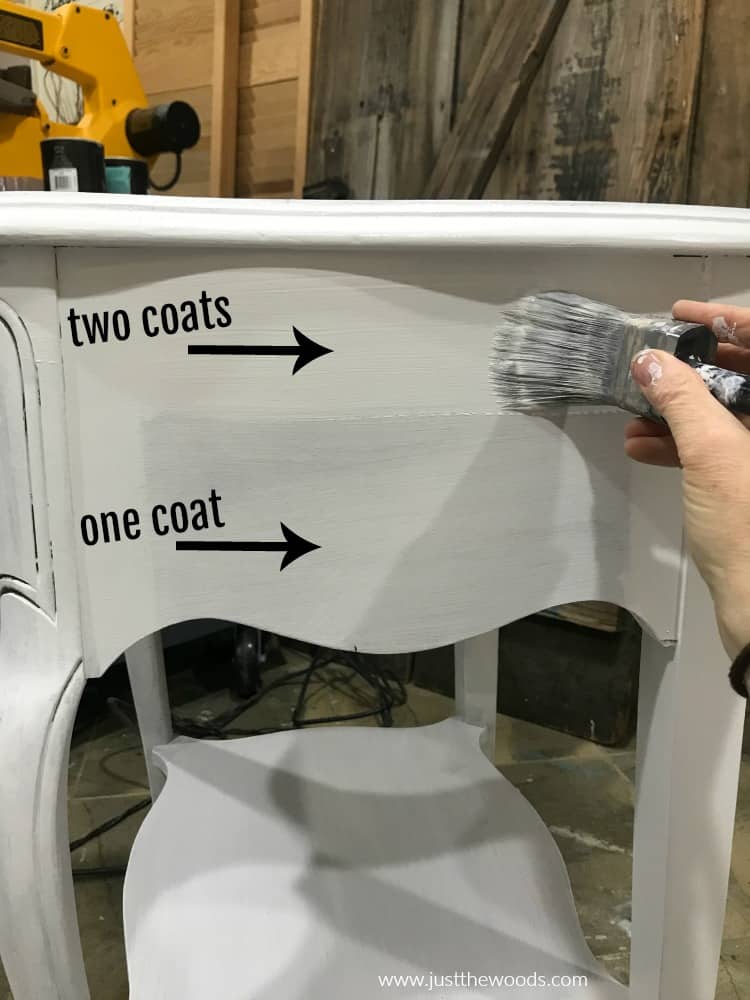 Once you apply two coats of white furniture paint you should have crisp clean results. Make sure to do the same for the inside of the drawers as well as the outside. White can be tricky, so if your painted finish is not the white that you hoped for, or if you are painting over a dark wood like mahogany, you may need to apply a third coat.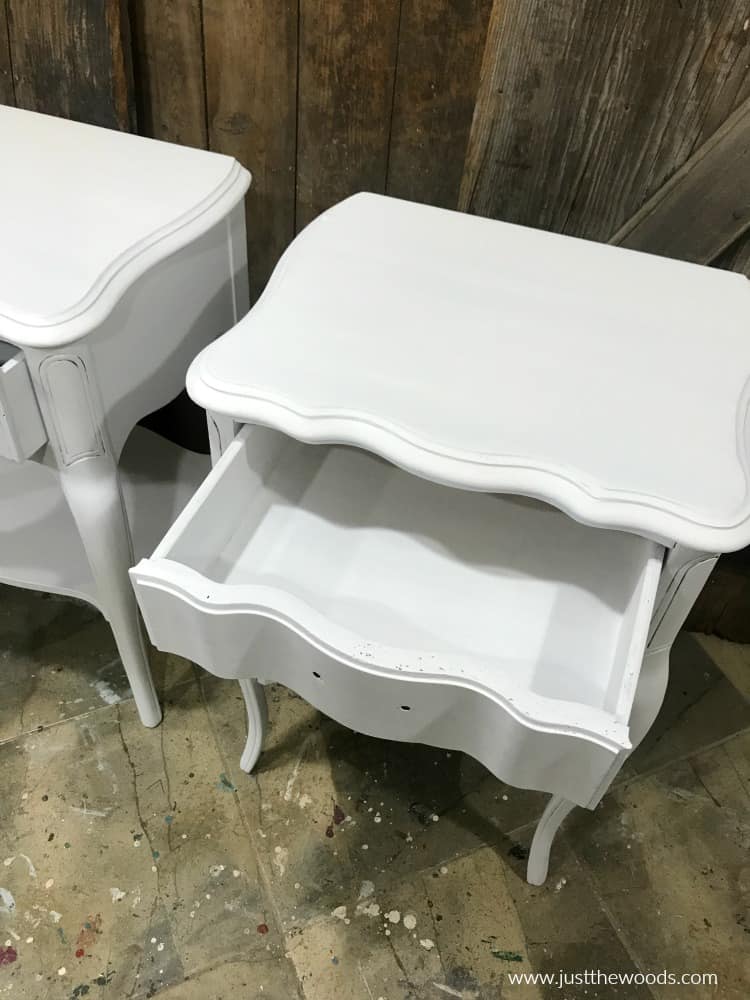 The funny thing about white painted furniture is that if you don't distress white paint your project may look like it is only primed. Eek. I shared this pic as a teaser asking "is it white paint, or primer?" lol.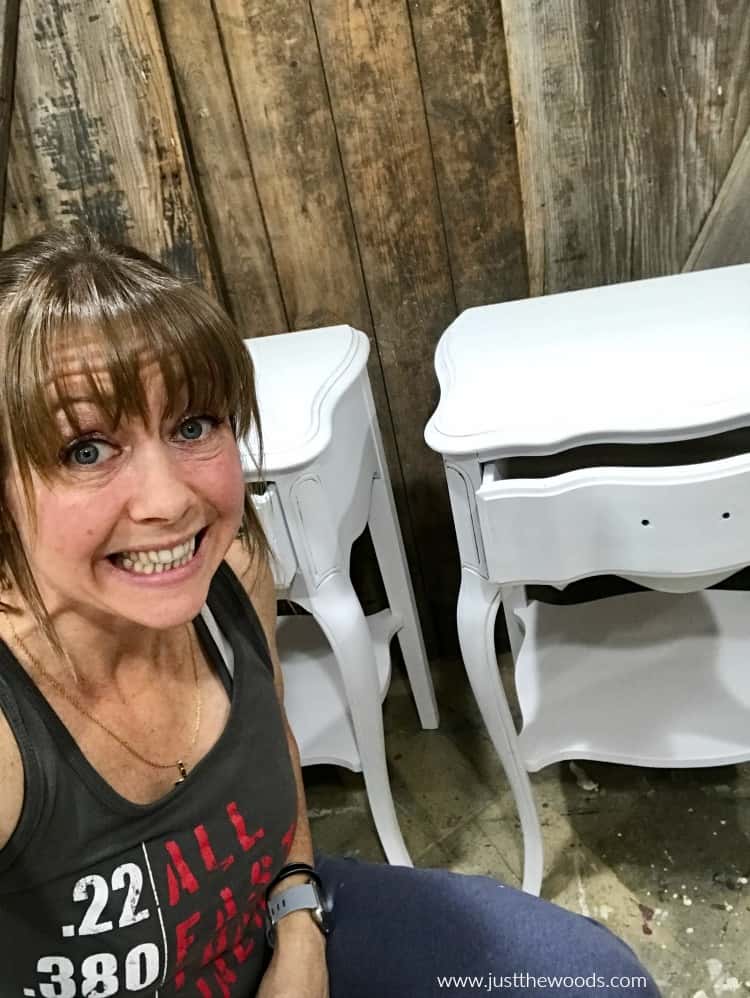 For more tips on painting furniture white check out: 5 Things You Need to Do when Painting Furniture White.
Painting Hardware with Metallic Rose Gold Paint
Before we move on to the actual how to distress furniture can we just quickly go over this hardware?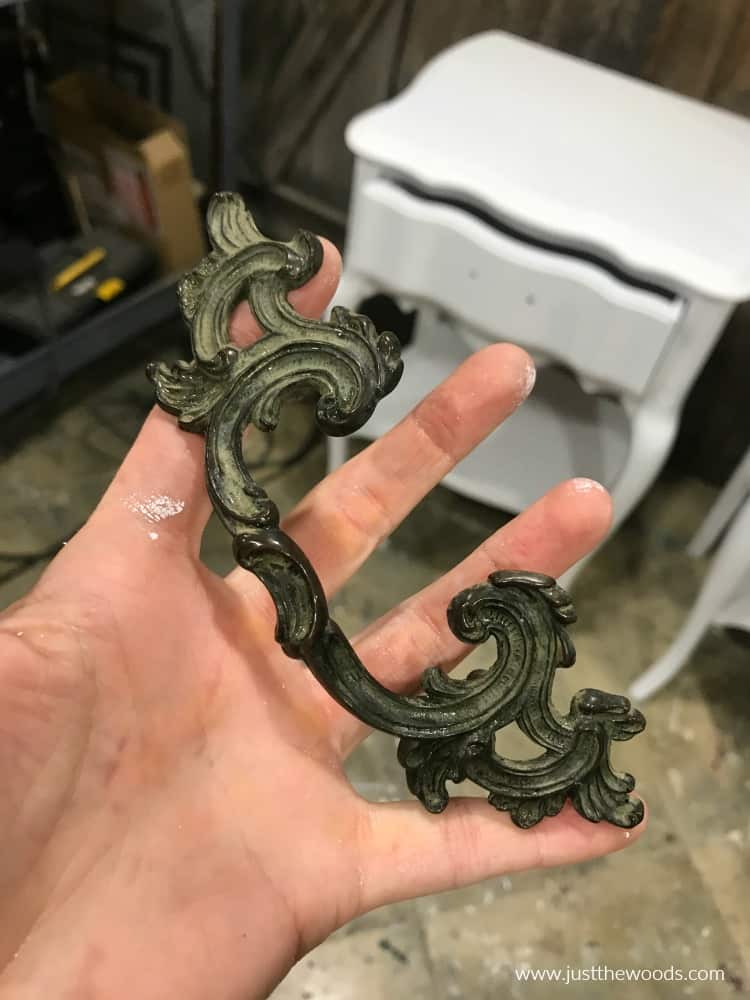 Make sure to thoroughly clean your hardware. This is my process for How to Prep and Clean Hardware. If your hardware has paint on it you can also see How to Clean Brass Hardware to get the paint off. Next, we are going to use Modern Masters metallic primer for warm colors. The primer is a warm beige color, and works best under warm paint colors.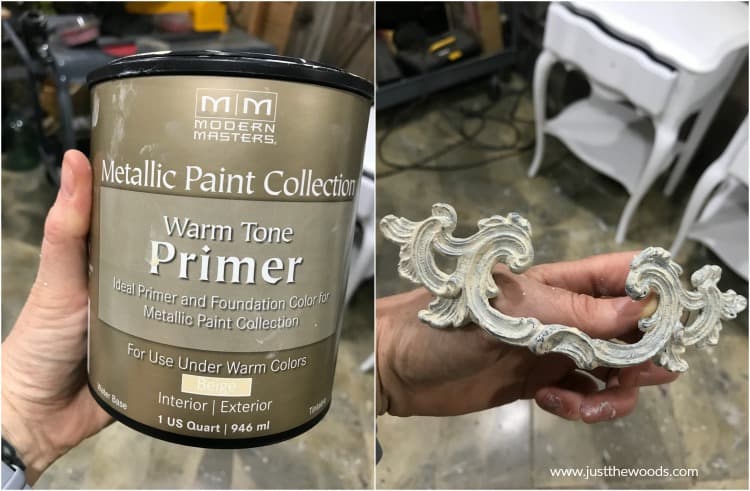 After one to two coats of warm primer go ahead and apply your metallic rose gold paint to your hardware. The primer really helps the coverage of the metallic paint.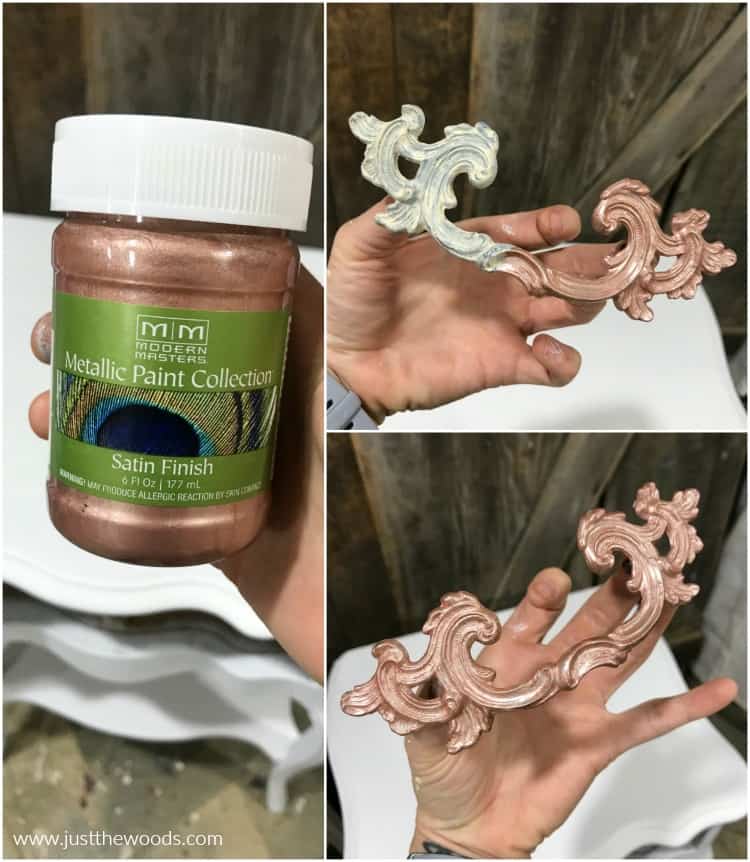 How pretty is this soft metallic pink paint? It will look lovely on the crisp white painted tables. If you love this metallic rose gold make sure to check it out in stripes in this metallic painted desk. If you can't find this rose gold from Modern Masters, you can also go with this rose gold metallic paint from wise owl.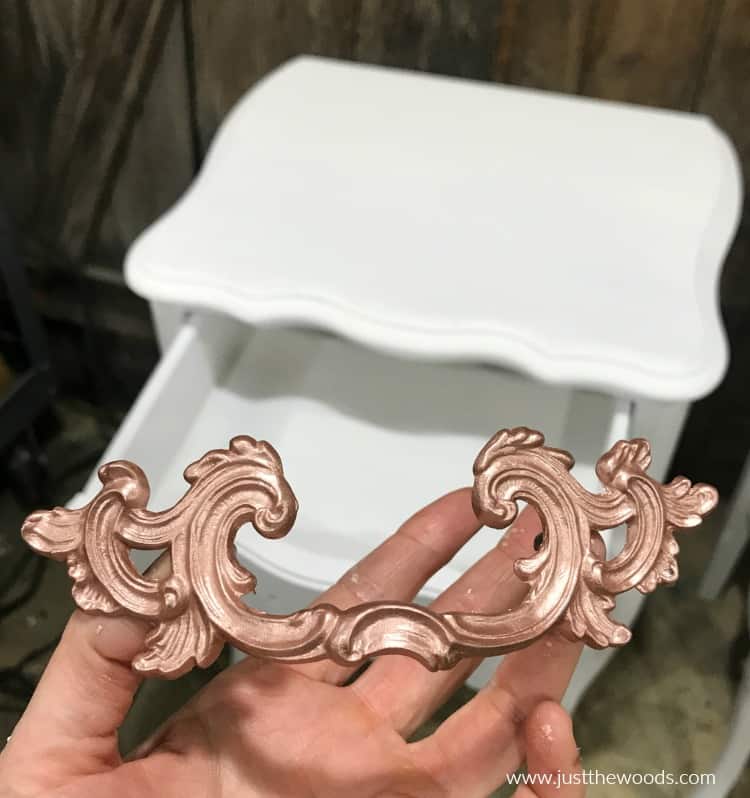 How to Distress Furniture
Now we can finally see how to distress painted wood with sandpaper. Typically, I like to distress furniture with 220 grit sandpaper. Go ahead and wrap your sandpaper around a sanding block to make it easier to grip and hold.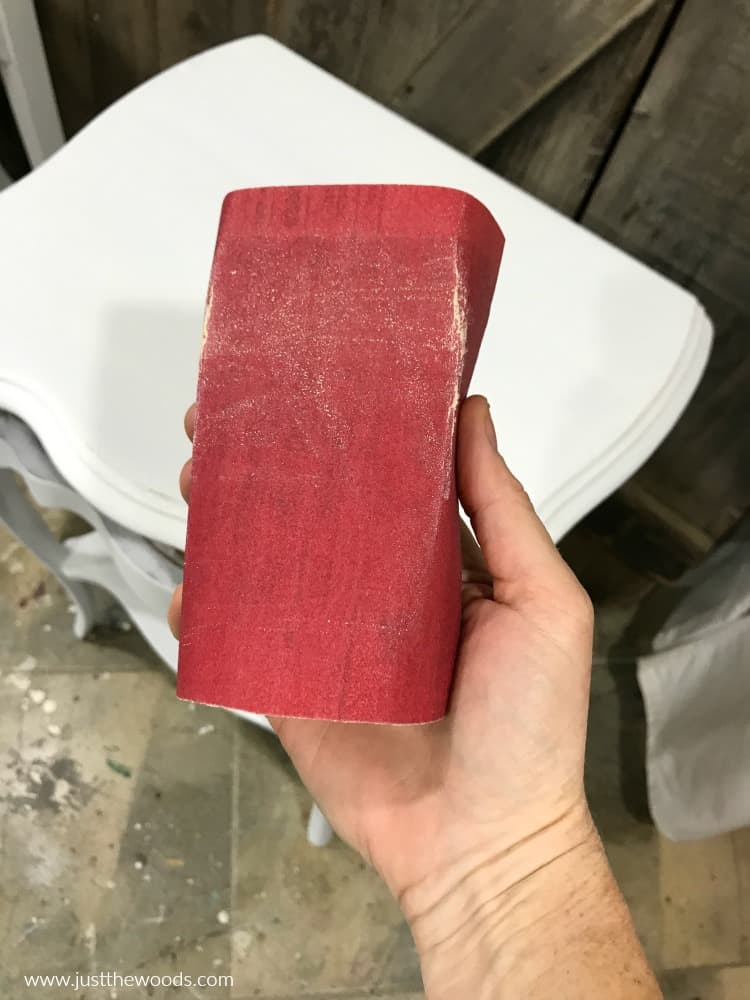 When you distress painted wood with sandpaper you will want to gently apply pressure with your sandpaper block on the edges of the painted surface. This distresses the paint away in the areas where it would naturally wear over time.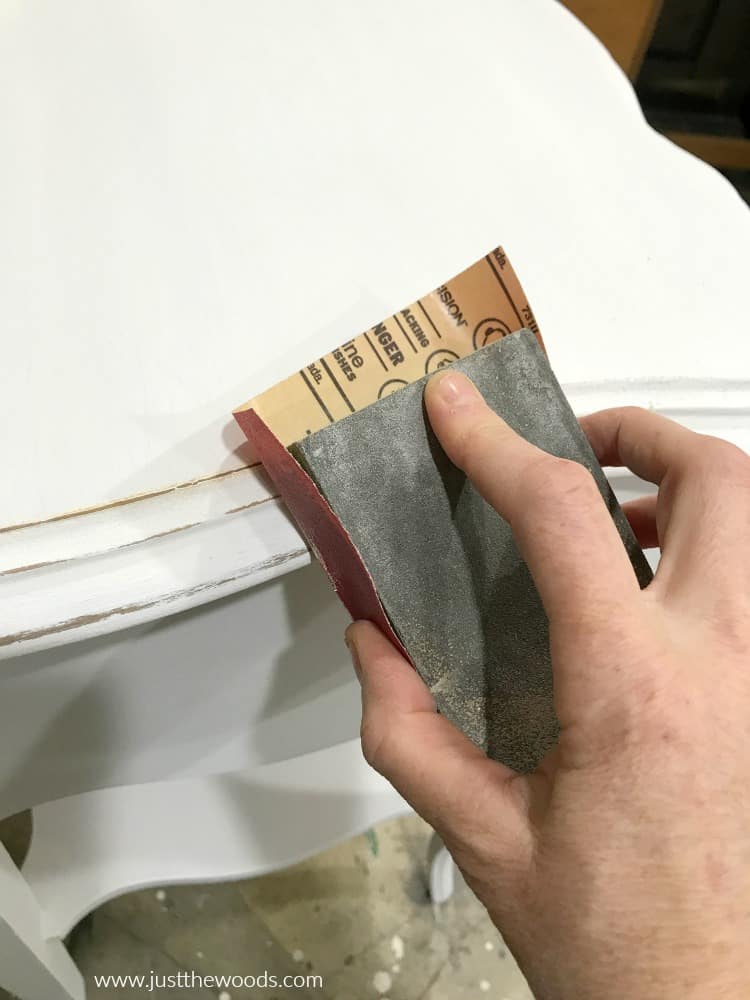 For any areas where the flat block can't or won't reach just remove the block and use the sandpaper to get in those curves.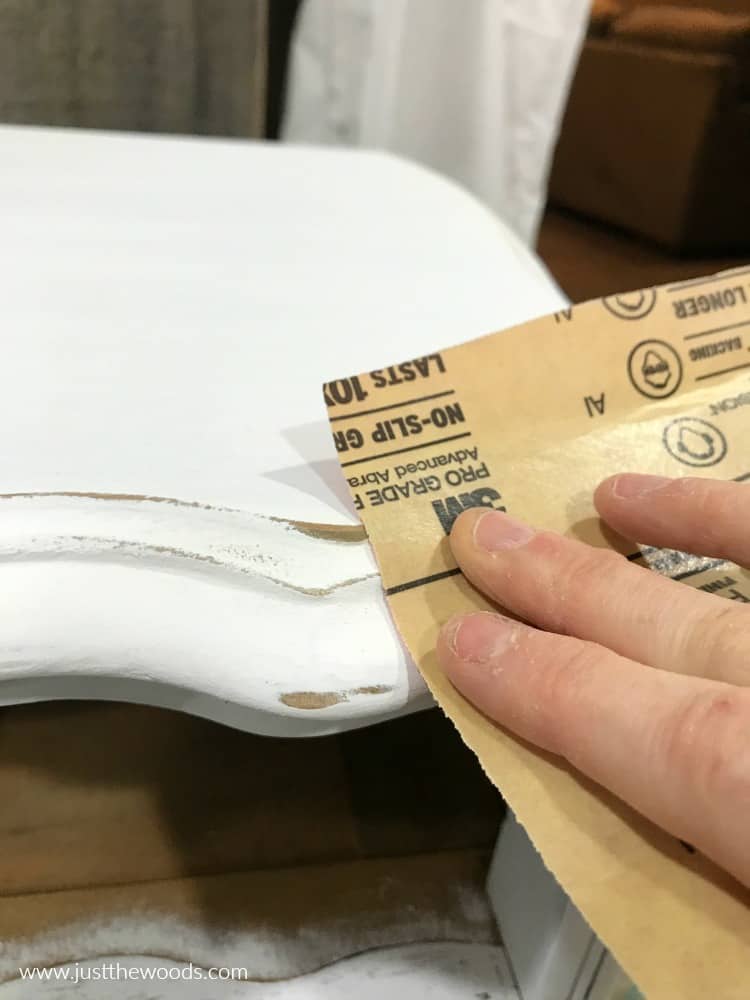 Make sure to lightly sand the flat surfaces as well. You do not want to use much pressure on the flat areas, simply enough to smooth the finish without distressing paint.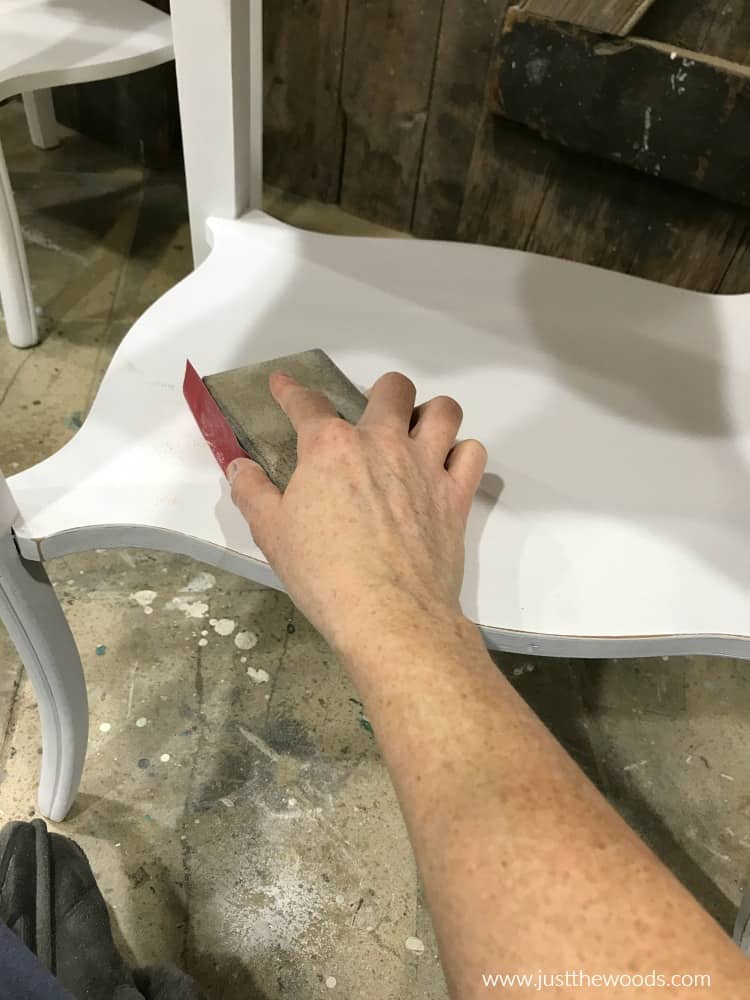 If you get a little ahead of yourself and distress paint more than you initially plan then you can always fix it. Here is where I saw you How to Touch Up Paint on your painted furniture.
Video Tutorial
Prefer video? You can follow the project via video here. If you are unable to see the video you may need to turn off 'ad-blockers' on your site. The video may also autoplay within the tutorial post.
Sealing Your Distressed Furniture Project
Now that we know how to distress furniture we need to protect the project with sealer. When distressing painted wood you will create a bit of dust. Make sure to wipe your project with a lint free cloth to remove the dust created during the distressing. You do not want to seal that dust to your project.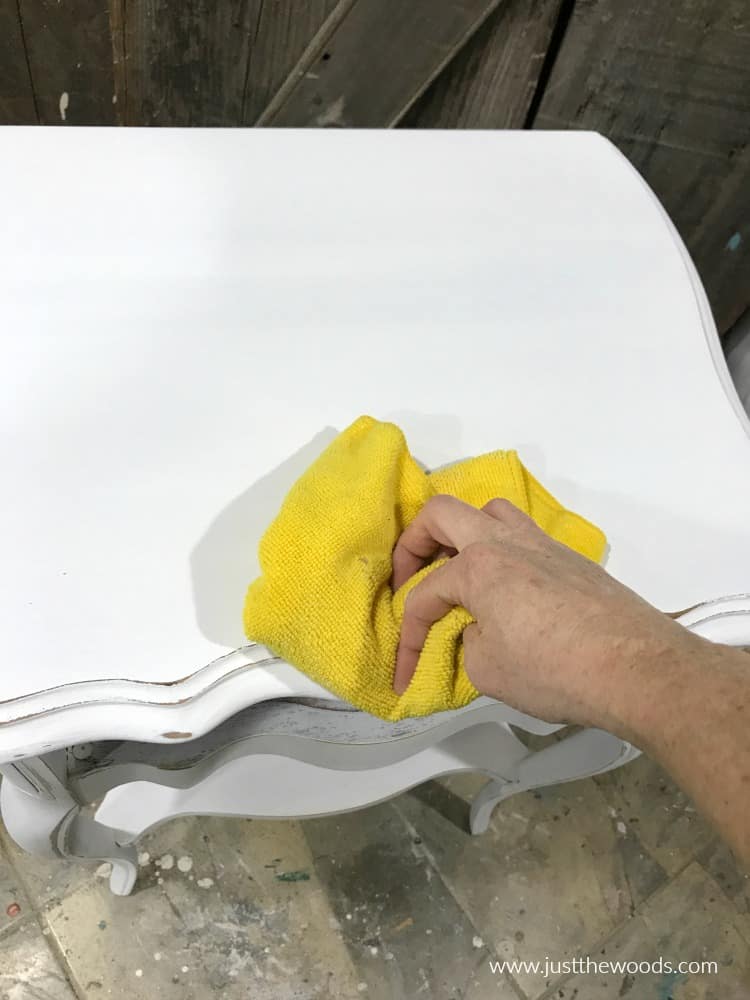 Next, we are going to seal our white distressed furniture with Gator Hide from Dixie Belle. This is a pretty hard core top coat that you can get online here: gator hide.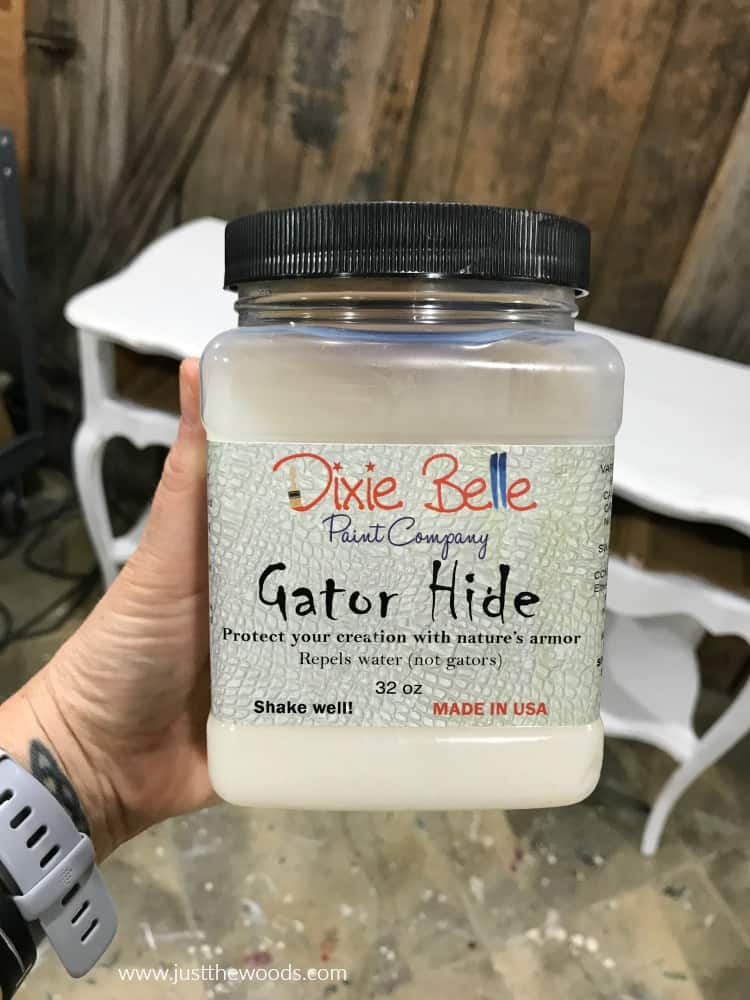 When sealing painted furniture especially white painted furniture I always like to tint my sealer with the color of the project. To do this, you can simply dab a little drop of paint in with your sealer.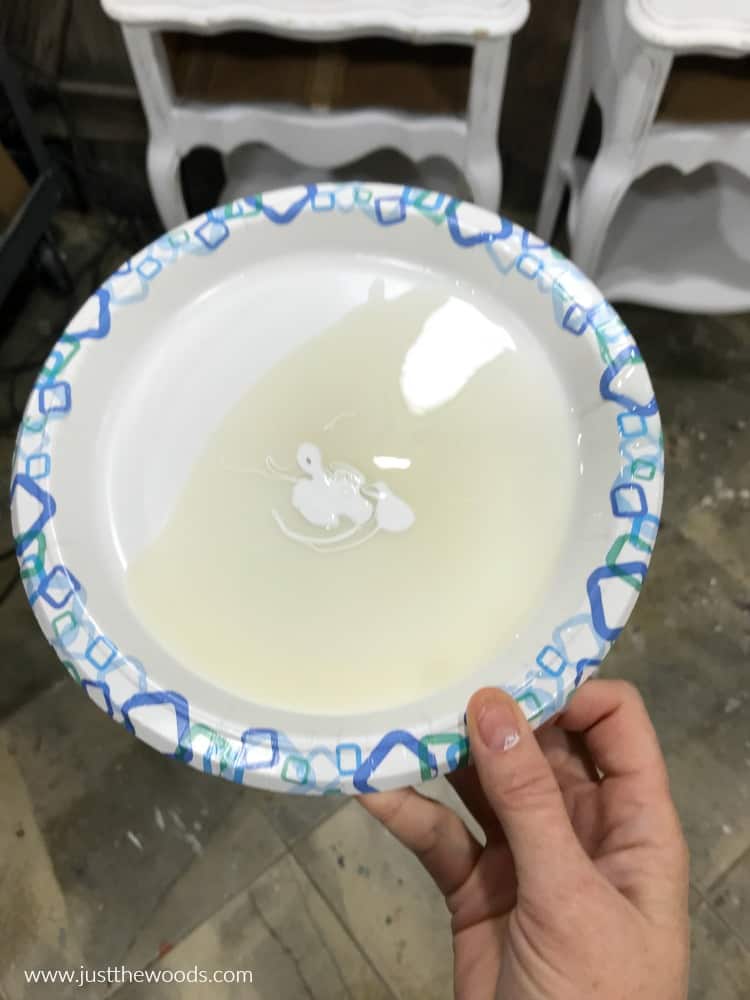 Go ahead and apply your sealer to your project. I am using a flat Cling on for the insides of the drawers to ensure I get in the corners.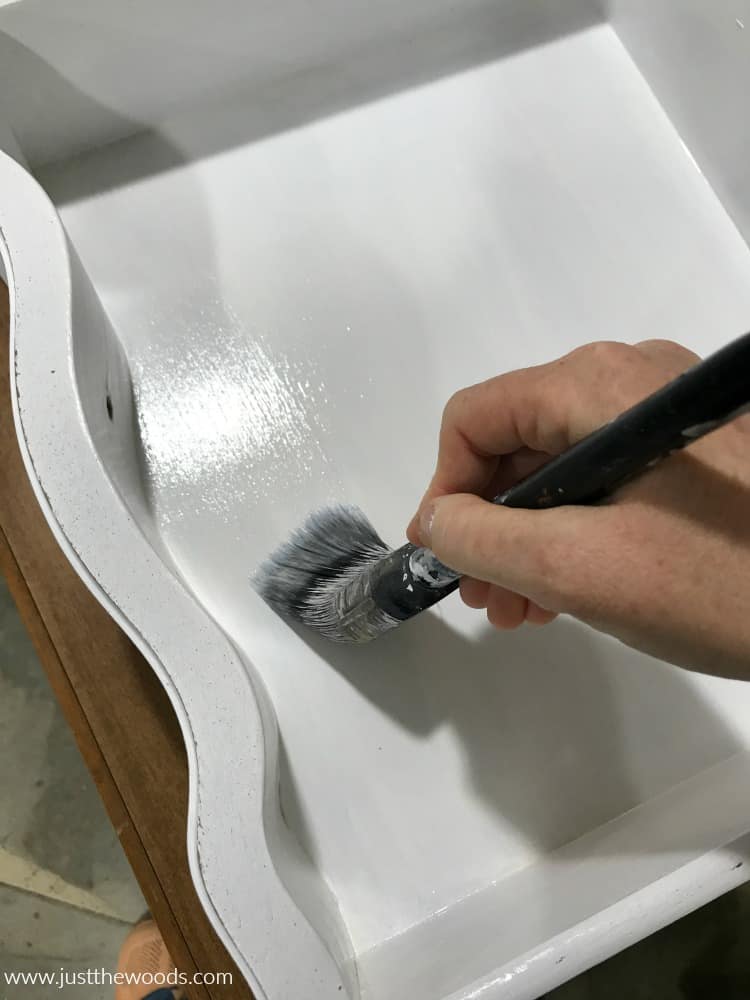 For the rest of the painted tables we can go ahead and use my favorite yellow applicator sponges. You can get these online HERE. They do tend to go in and out of stock, so when they are in stock I grab a few because I have yet to find an alternative that I like as much as these.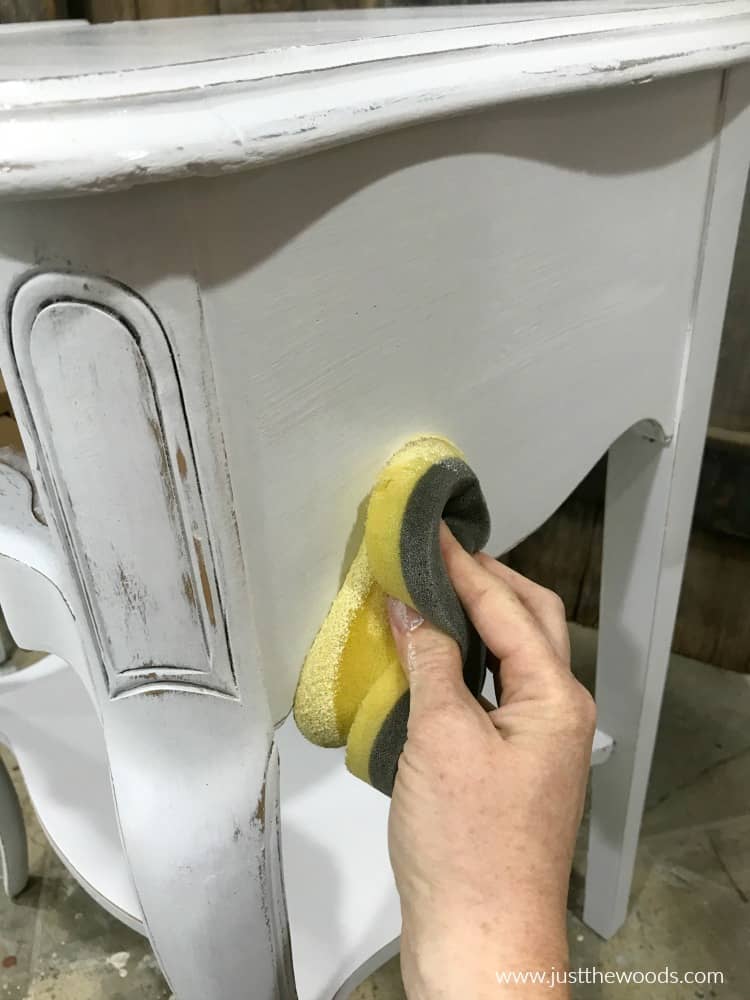 If you ever have questions about sealing your furniture makeover project you can find a full tutorial with video on how to apply clear sealer here: Sealing Painted Furniture.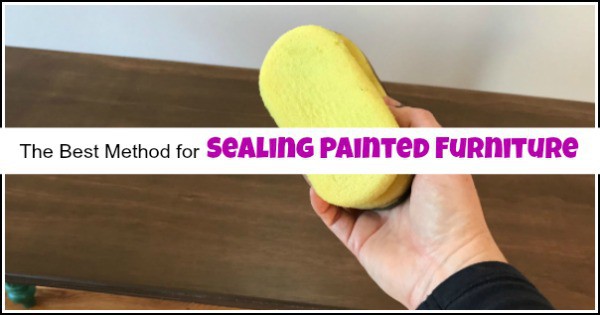 Inside the Drawers
Keep in mind, when you are refinishing old furniture you do have options as far as the inside of the piece and the inside of the drawers. For this project we paint the drawers, inside and out. But you can: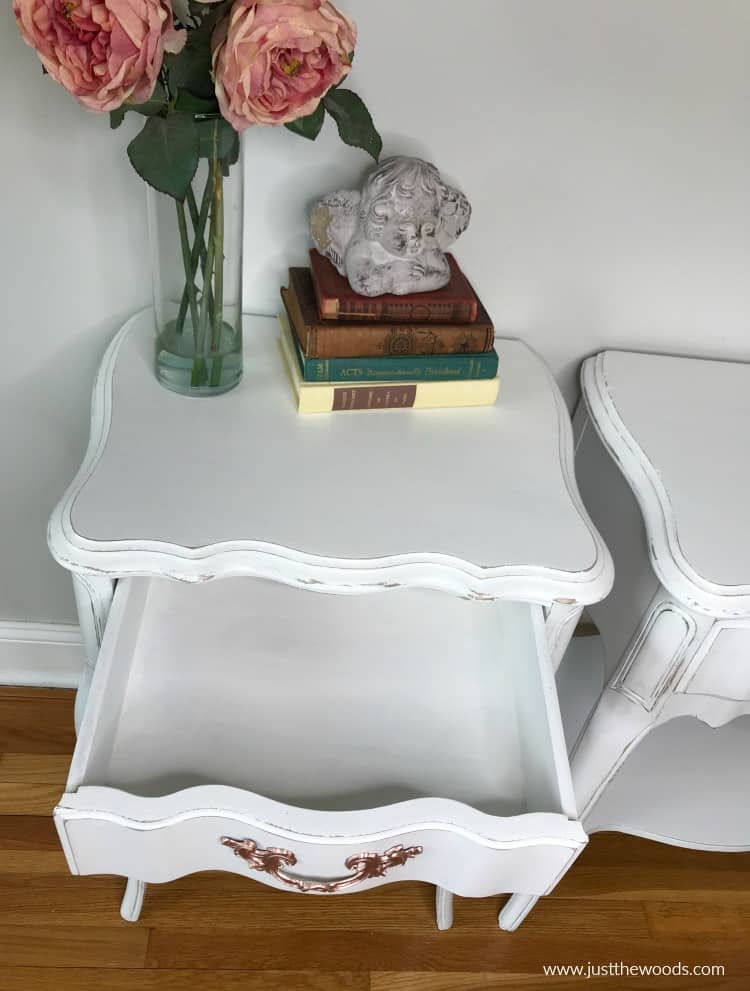 Distressed Furniture Makeover
This project, like many of my makeovers, is being donated. Most of my makeovers are given to a local school, animal rescue or charity to help with their fundraising efforts. But this pair of white distressed painted tables is going to our church where they will be raffled off. Click here to see all of my projects that have been donated to support local fundraisers, schools, and charities: Donation Projects.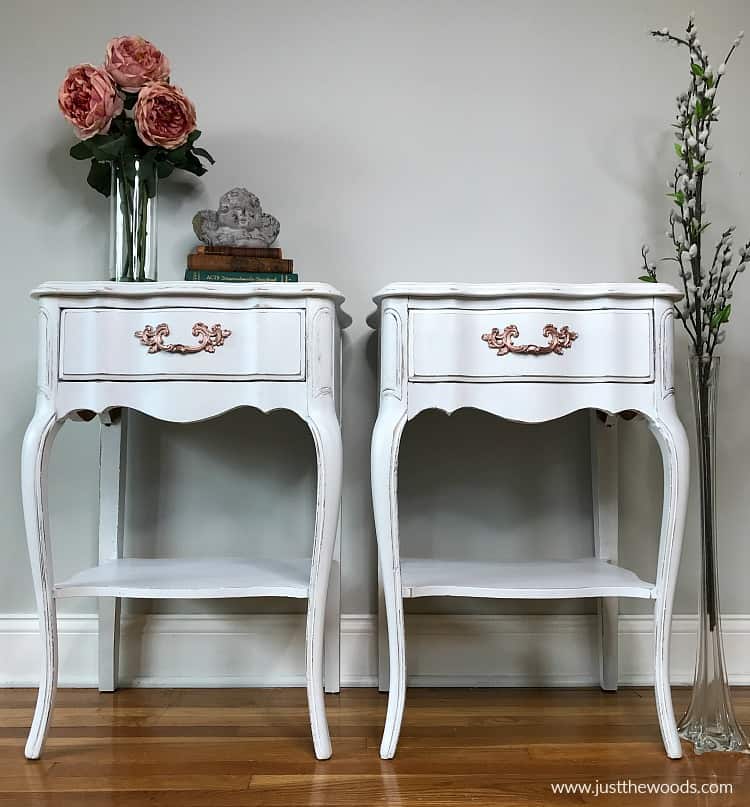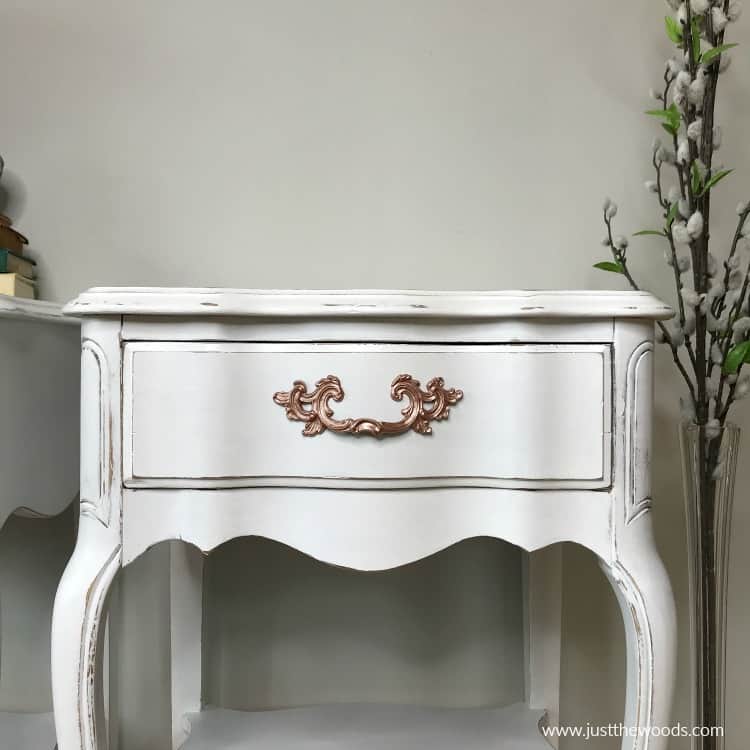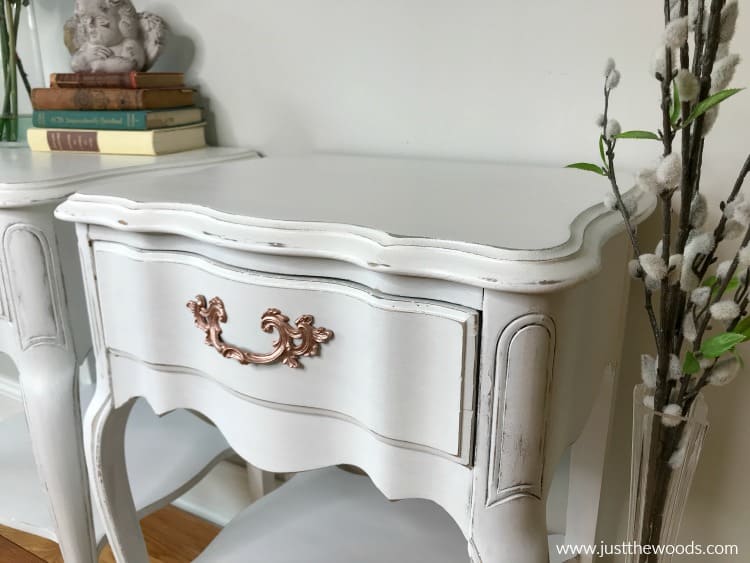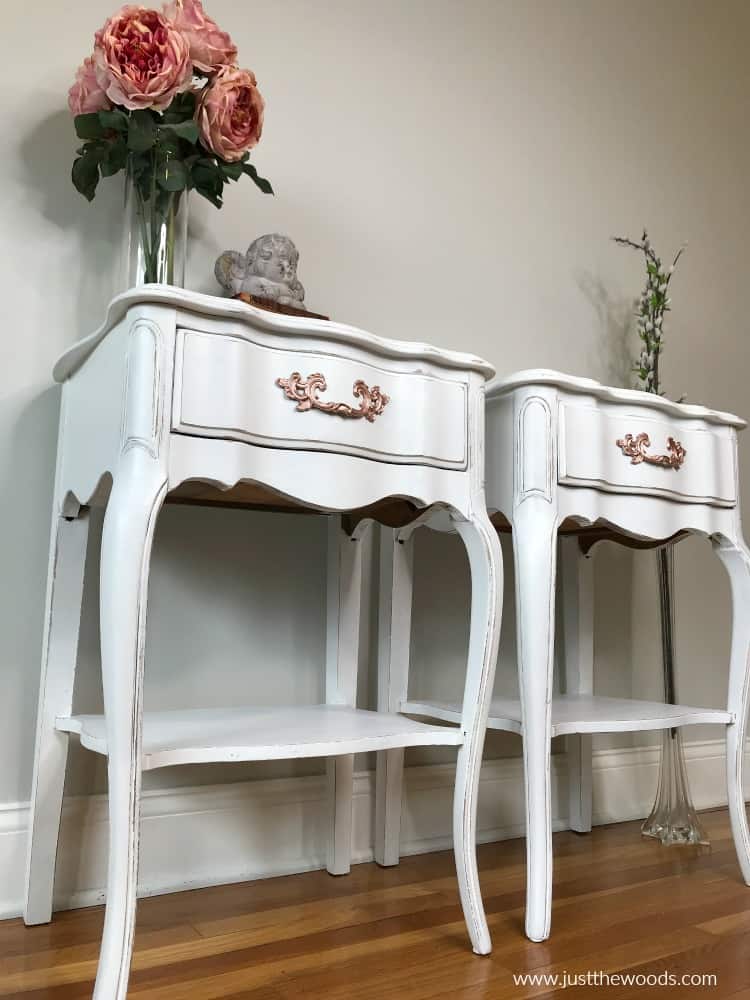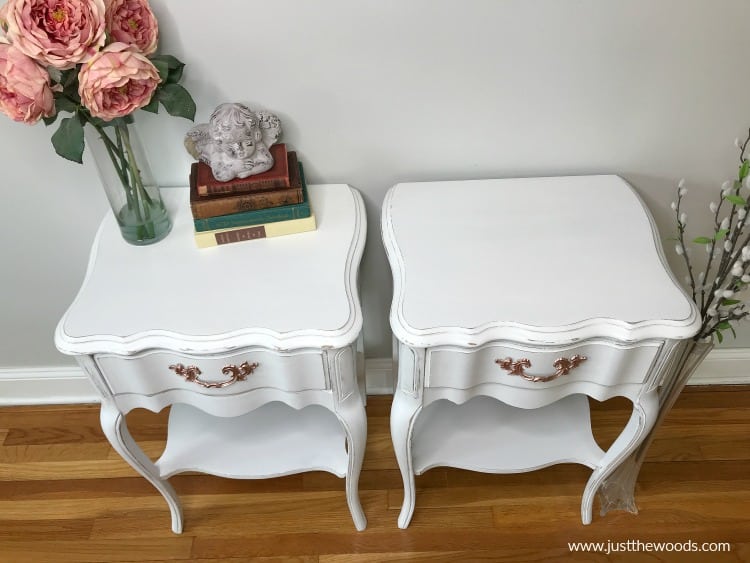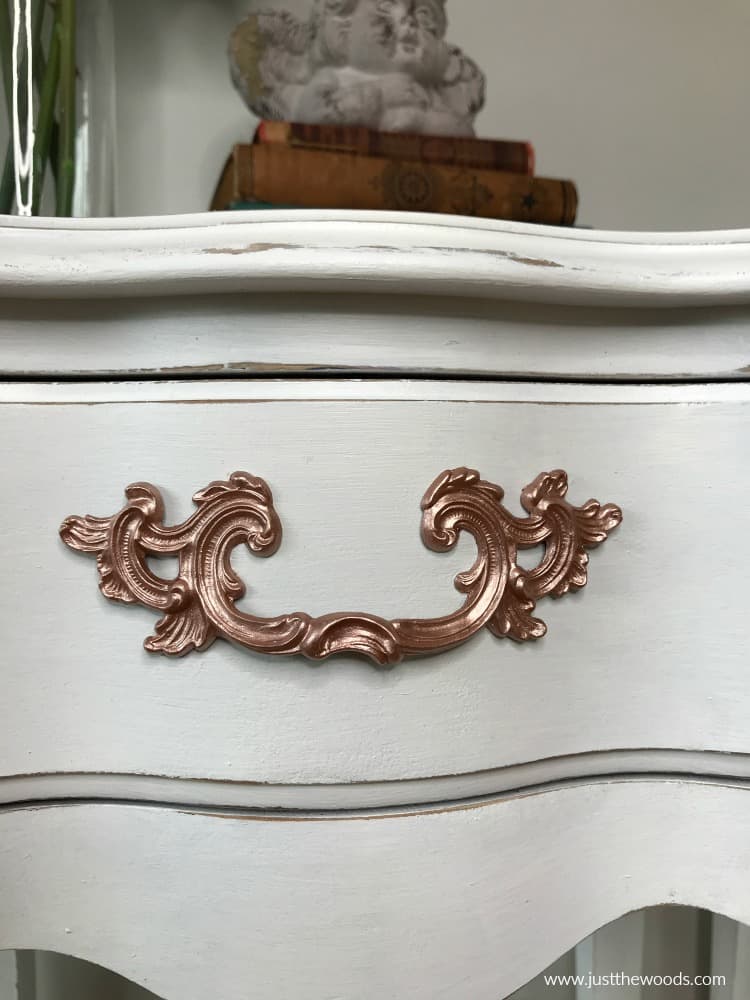 Grab any of the Dixie Belle prime, paint, sealer products used for this project as well as many others online HERE.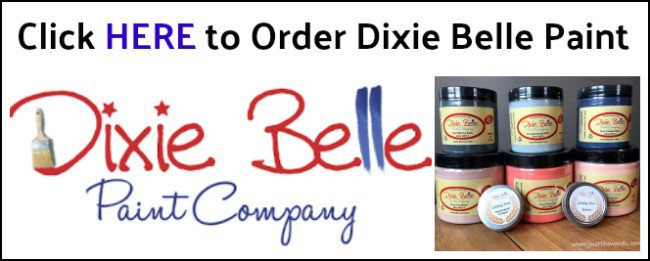 Furniture Fixer-Uppers
It's that time again where a few of my creative and talented blogger friends and I have joined together in our monthly Furniture Fixer Uppers share. Let's see what my friends are up to! Make sure to click the links below the image to check out all the amazing projects that my bloggy girls are working on this month.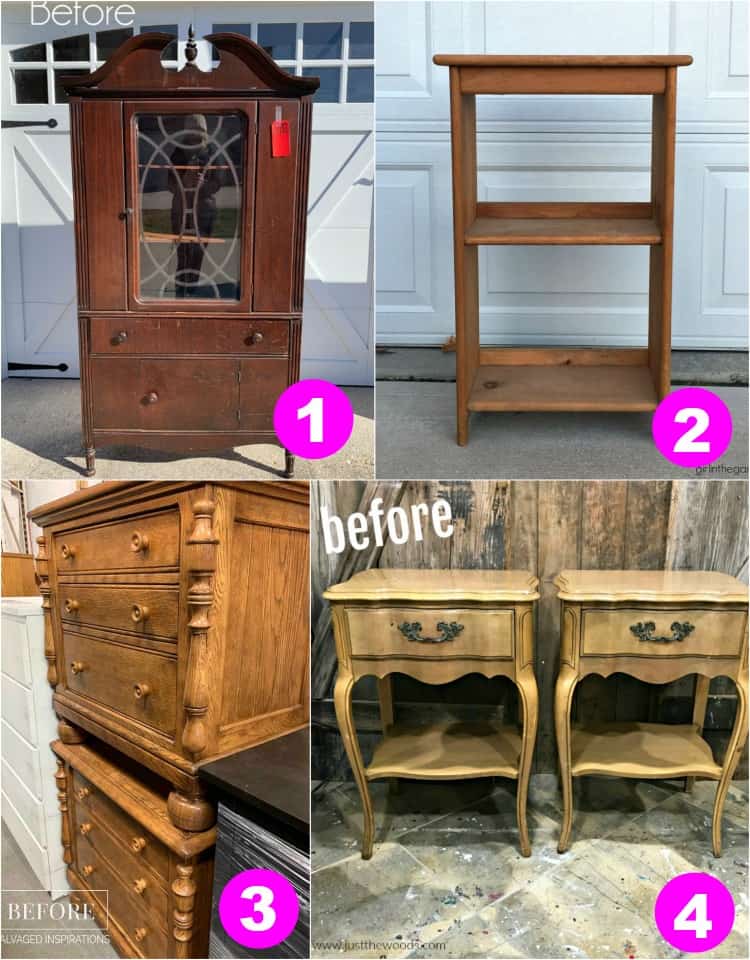 1. Confessions of a Serial DIYer
4. Just the Woods (you are here)
5. Petticoat Junktion (she isn't able to join this month but will be back next month)
6. Interior Frugalista (she's on vacation this month)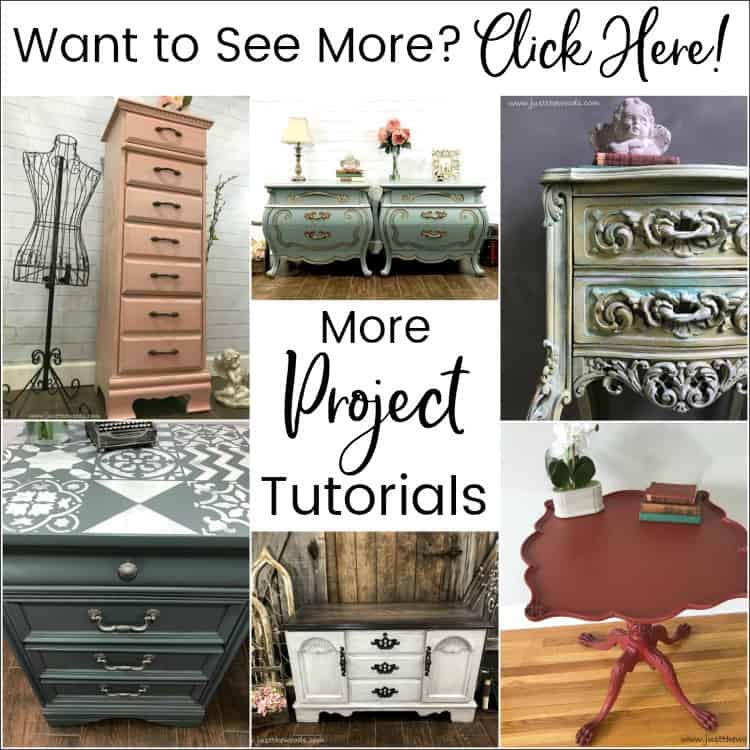 Don't Forget – Follow Just the Woods and Share this post to Inspire others:
FACEBOOK * INSTAGRAM * PINTEREST

Stay connected! For more tips and tricks sign up here :