This delicious cashew butter recipe is easy and free from added sugars, salt and oils making it the best clean eating and paleo nut better. Did you ever check out the nutrition label of the nut butters in the grocery store? Yuck! They are full of added and unnecessary things like sugar. Why would cashew butter or any nut butter need sugar added is beyond me. But this homemade cashew butter recipe has only one ingredient: cashews.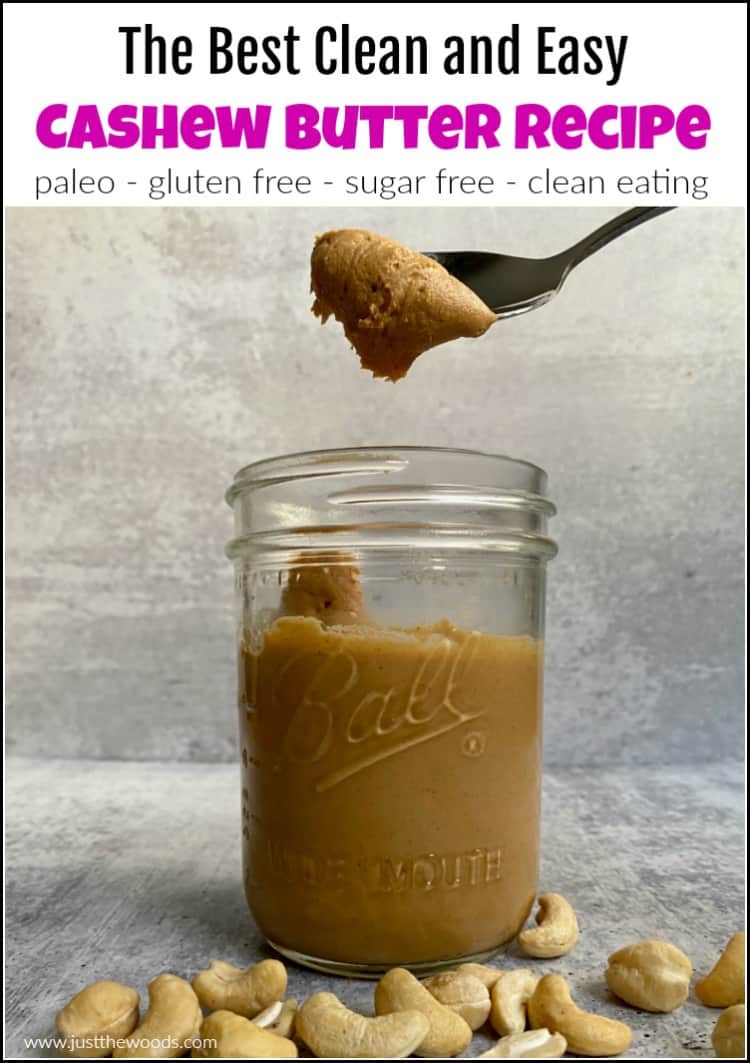 Disclosure: This healthy homemade cashew butter recipe post contains affiliate links for your convenience. Click here for my full disclosure policy.

Creamy Sugar Free Cashew Butter Recipe
What You Will Need (Full Printable Recipe Available Below)
Ingredients:
Getting Personal
Along with eating clean and trying to keep my family eating healthy I also see a nutritionist. To make a long story short he runs a full blood panel and can see where my body is lacking things or has an abundance etc. Then we take this info and use food as a sort of medicine to address any issues. For example, my thyroid was a mess, my glutamine has always been low, and my hormones are not where I'd like them to be. To keep it simple, my current diet now includes more cashews and less almonds. More pork, and less chicken. No wheat, gluten, dairy, soy or refined sugars. By doing this, I am able to keep myself off of medications and fuel my body properly with a healthy diet and lifestyle.
Clean Eating Basic
I like to mention that this is a clean eating recipe because I am all about eating healthy and clean eating. If you are new to a clean eating way of life then you need to check out Everything You Need to Know about a Clean Eating Diet. You can also see how I lost 50 lbs and am keeping it off by following a clean eating diet here: How I Lost 50 Lbs Clean Eating. I tend to try different things and mix different flavors to keep meals healthy and tasty.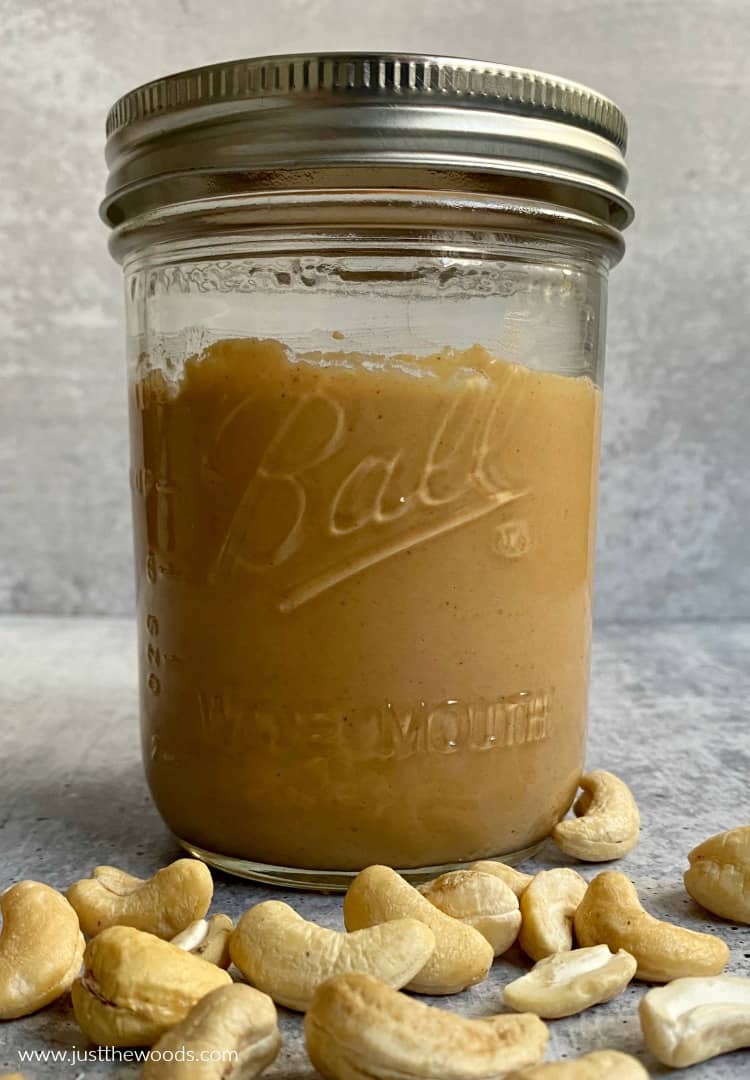 How to Make Cashew Butter
When it comes to making cashew butter all you really need is cashews and a high speed blender or food processor. Anything extra is just that – extra. I prefer to use raw cashews and I get them online here: cashews. Try to stay away from roasted and salted when you make homemade cashew butter.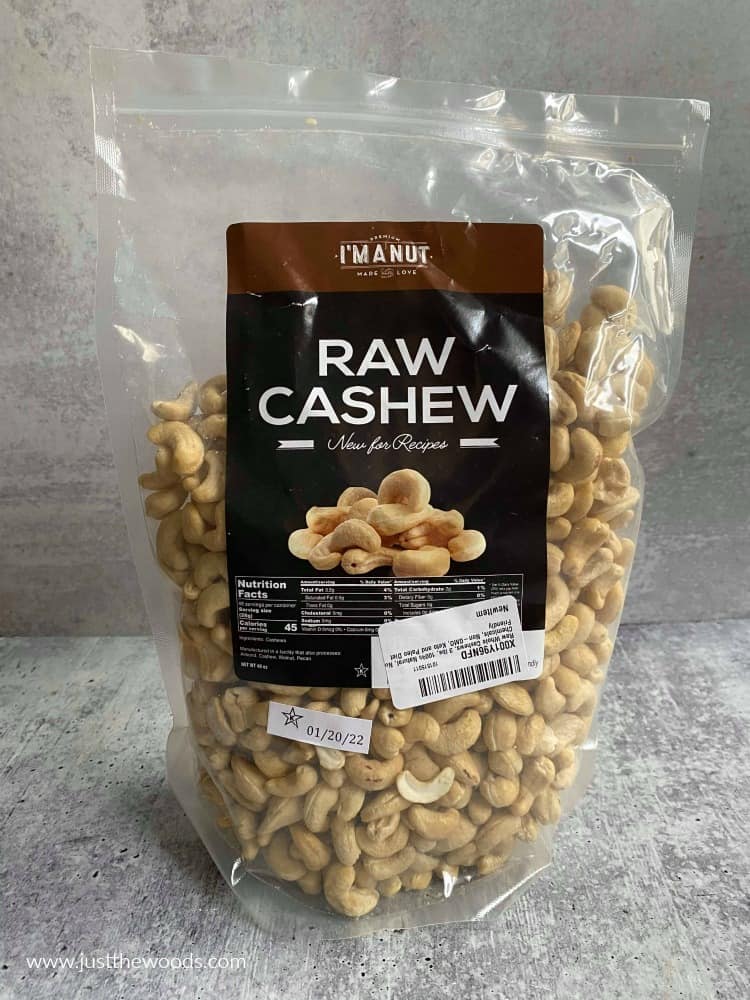 I keep my cashews on the counter in an air tight container. This allows the kids to see them and grab them when they are looking for a snack.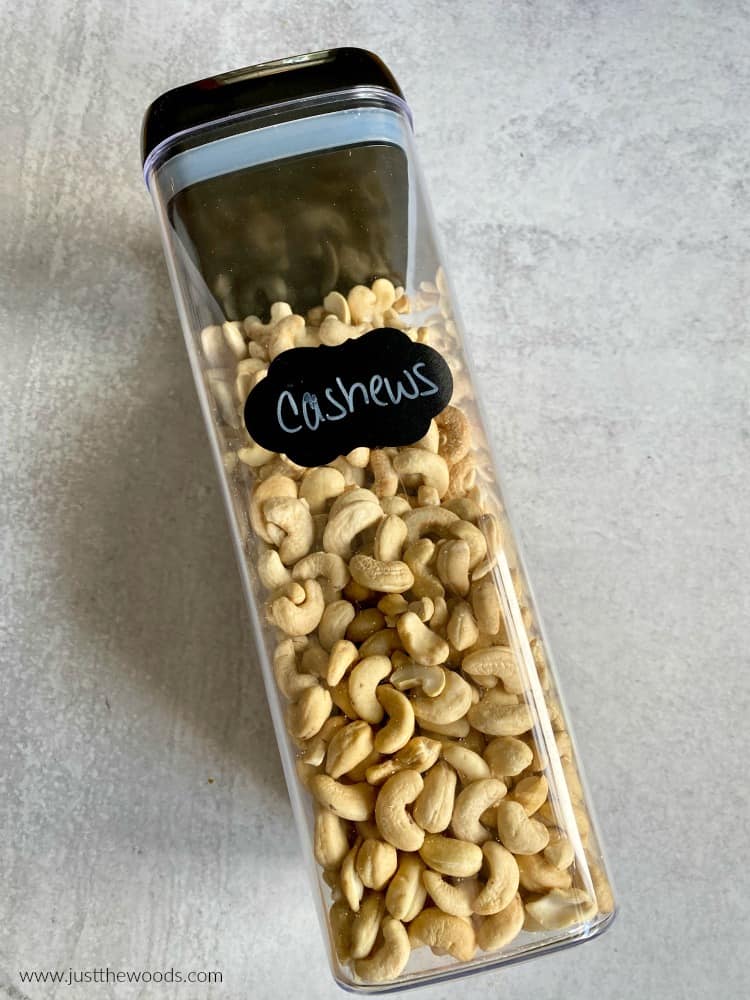 In fact, I recently reorganized my pantry items with these clear containers. I notice the kids grabbing nuts and dried fruit more now that they are visible and available. These are the containers I have: Pantry containers.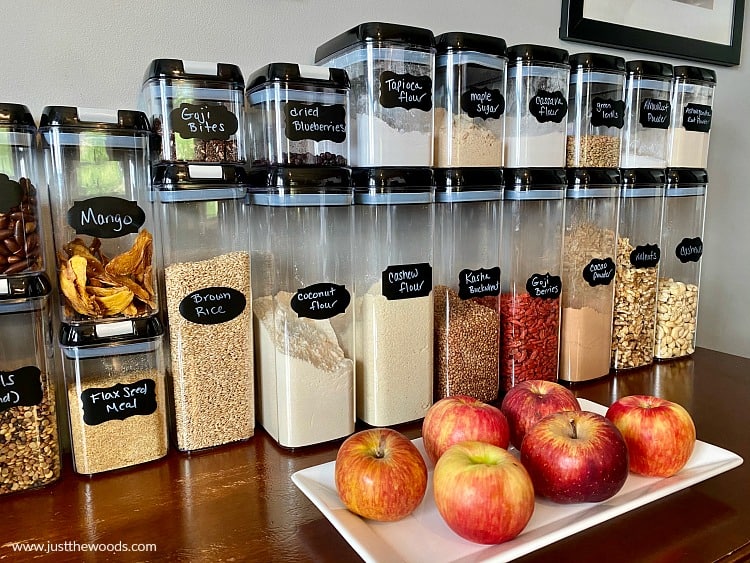 Roasting Cashews
First, for your raw cashew butter you will need to preheat the oven to 400 degrees and take out a baking sheet. Cover the baking sheet with parchment paper and spread out cashews on sheet.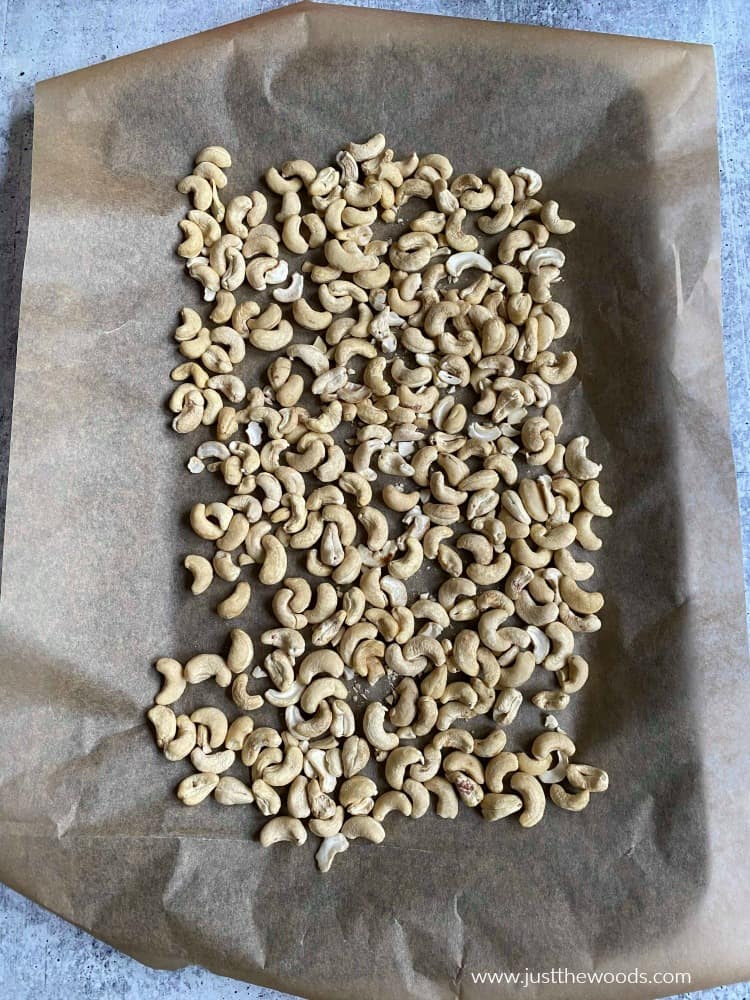 Roast the cashews in the oven for 10 to 15 minutes until slightly brown. I tend to notice that the cashews towards the sides of the baking sheet roast quicker then the center. You can toss the cashews midway but I personally wouldn't worry about it too much.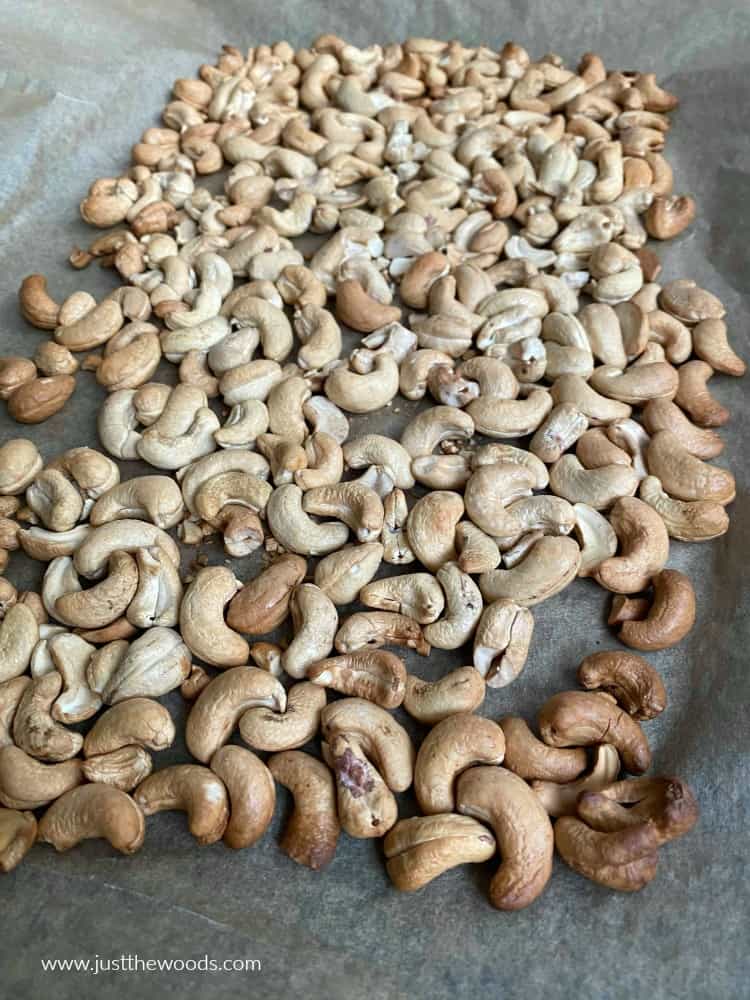 Blending Cashews
The key to making your homemade smooth cashew butter is a quality high speed food processor or blender. After I used my previous food processor to death I researched and finally splurged on a Cuisinart Food Processor. This thing is great! You can find it online here: food processor.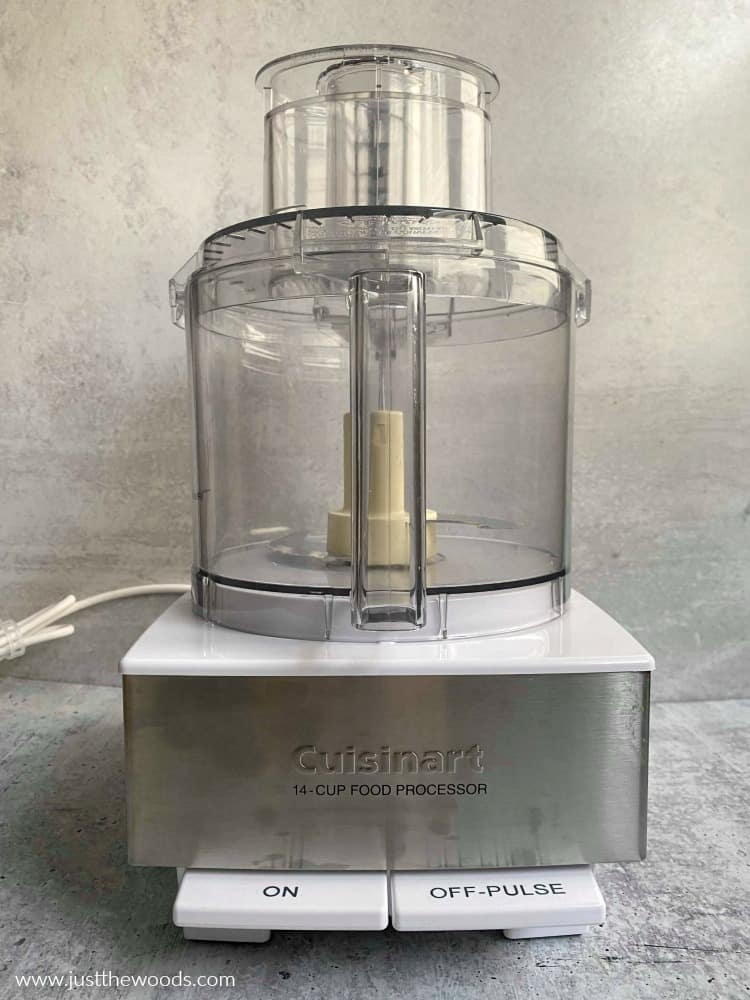 Take your now roasted cashews and pour them right into the food processor.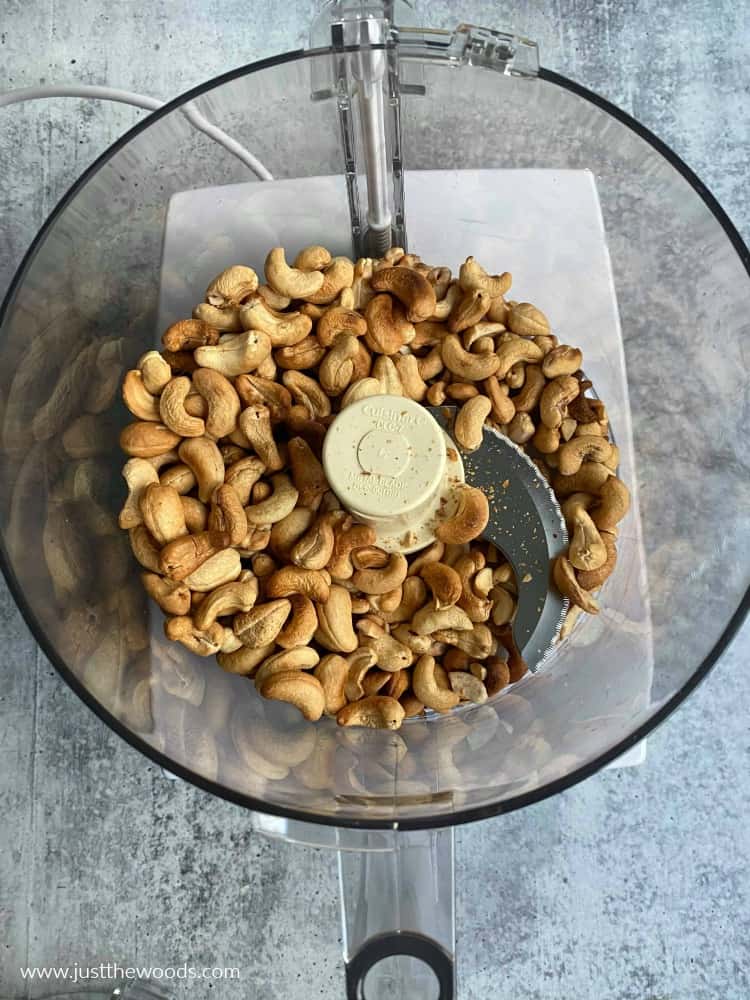 Go ahead and process the cashews until smooth. This could take anywhere from 5 to 10 minutes or more depending on your machine and its motor. The warmth from the blending will help create a smooth texture to your cashew butter. You may need to stop and scrape the sides down.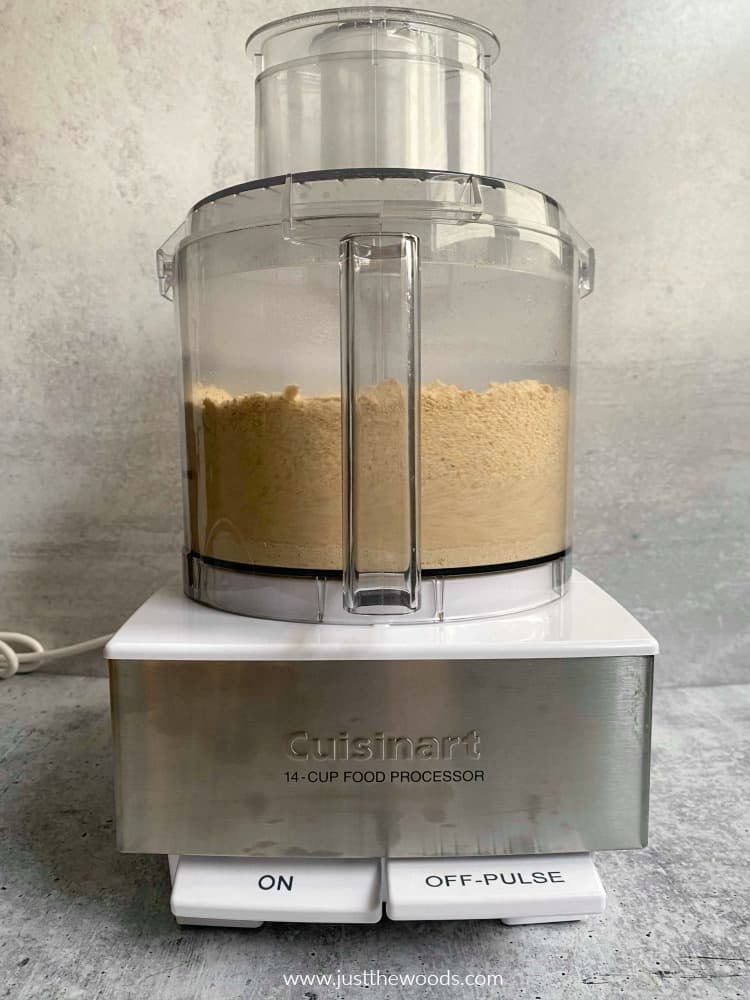 You do have to be patient with this step and trust the process. But once those toasty cashews get going they will get smooth! Check out this consistency.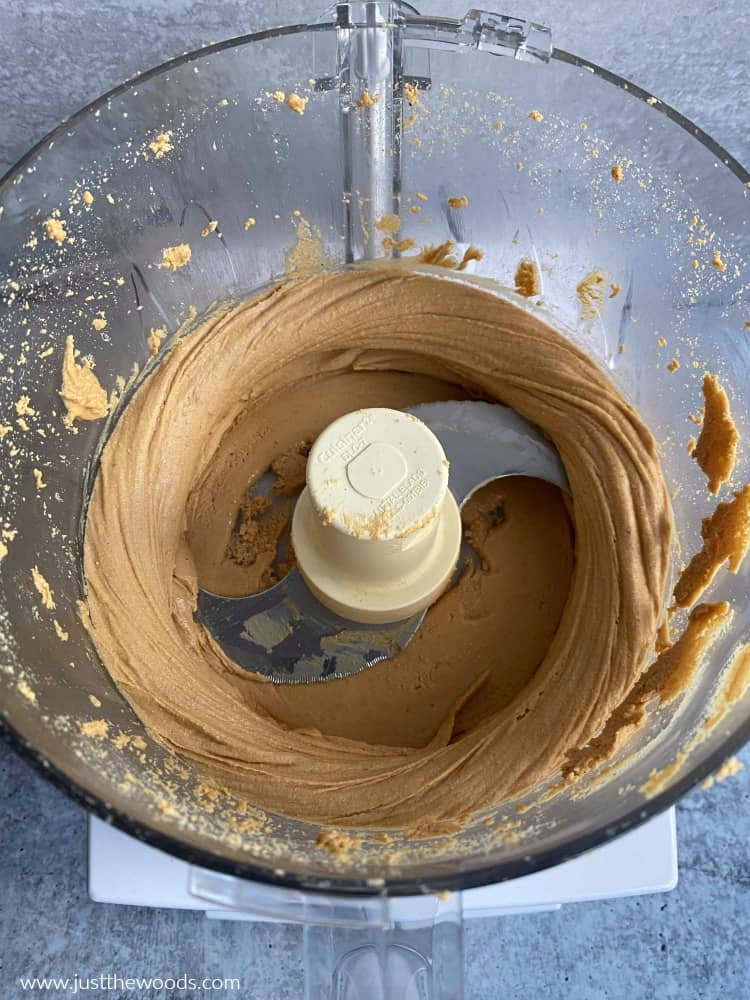 Homemade Cashew Butter
Once your cashews are fully blended and smooth you should be able to easily scoop your nut butter without any dry crumbly pieces. This is when you know you are ready to transfer to an air tight glass container.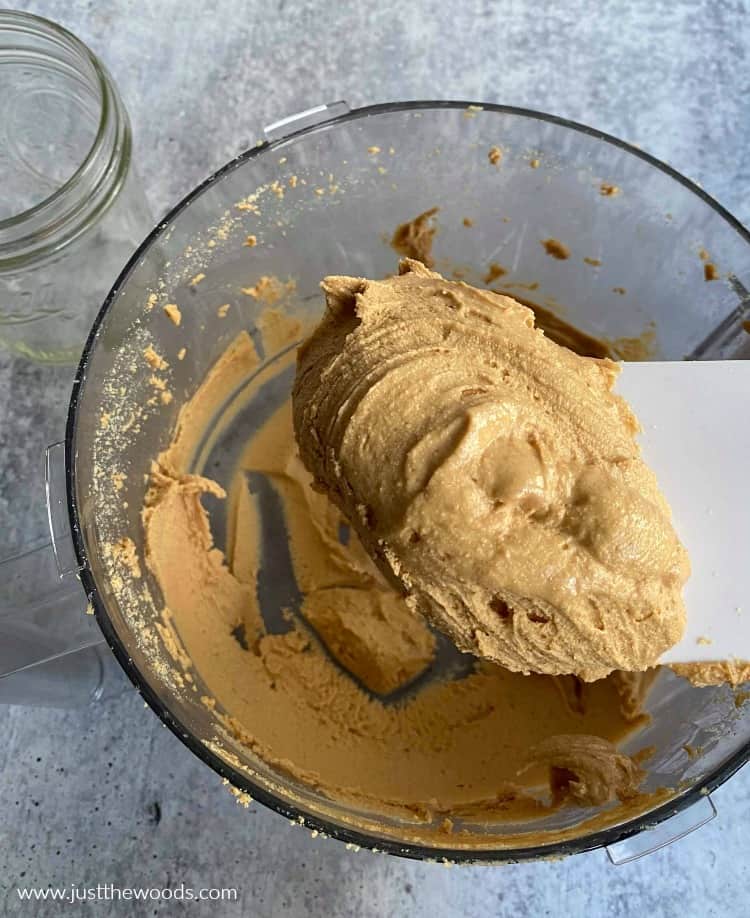 Transfer your homemade nut butter to an air tight container or mason jar.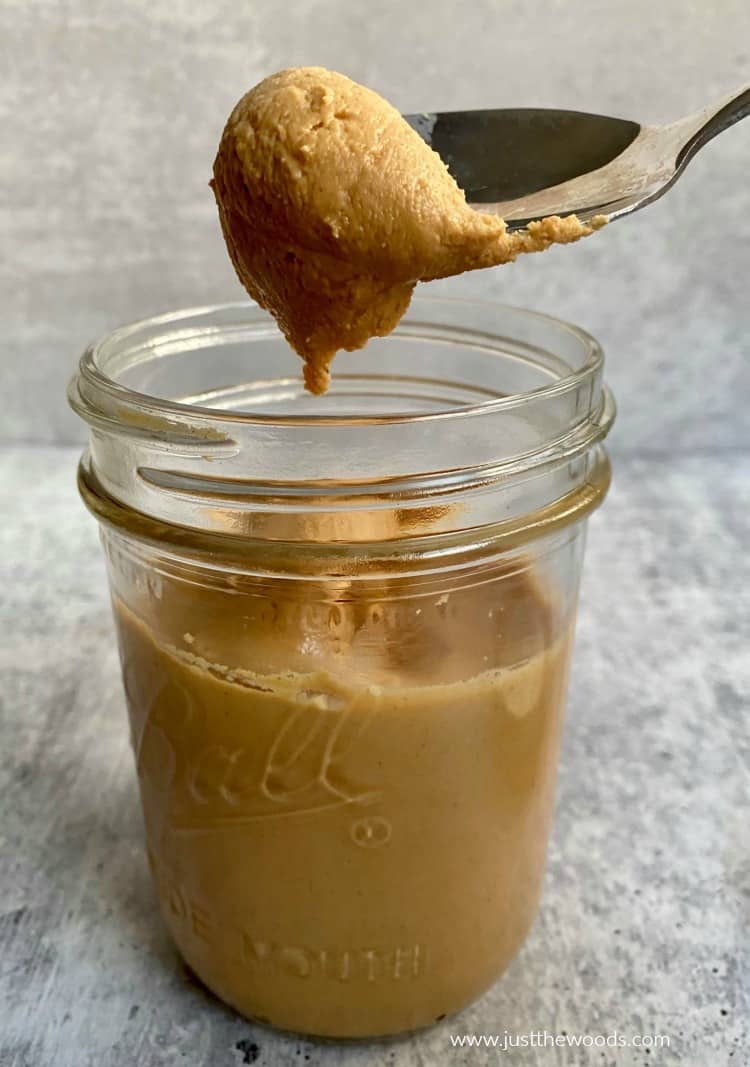 Once I started using this cashew butter recipe I no longer purchase nut butter from the grocery store. My kids like to eat this by the spoonful and I have yet to see that separation of oil that you see from the store bought kind. You can also add a little sea salt to your creamy cashew butter recipe if you prefer but I really don't think its even necessary.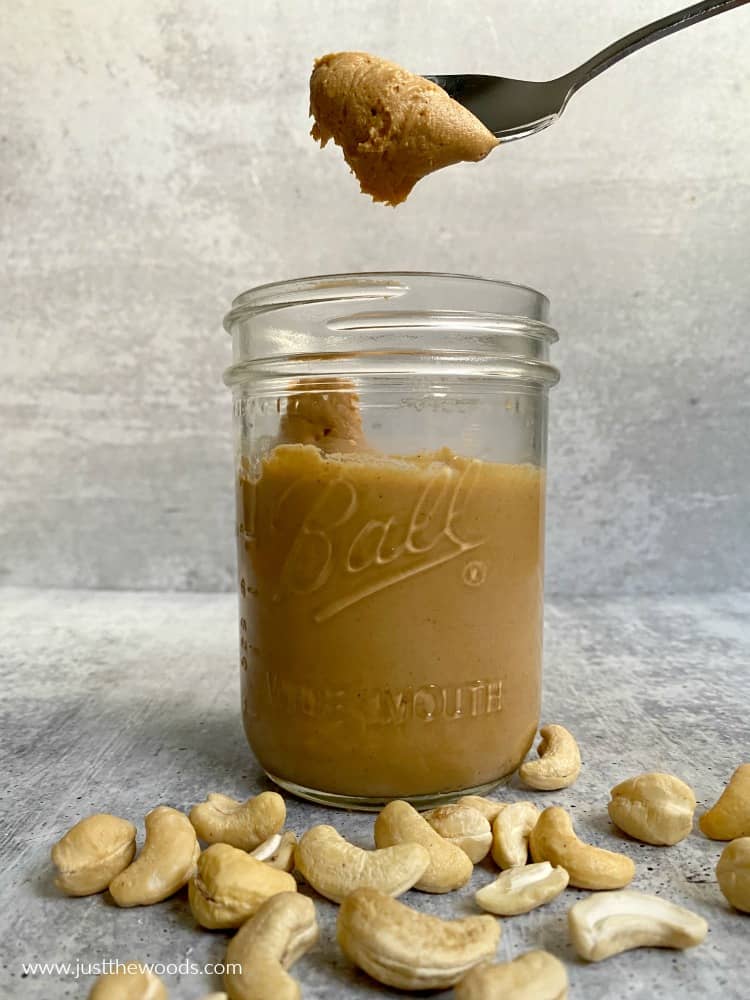 When you find yourself looking for a snack in the evening but don't know what to eat. Have a spoonful of your homemade cashew butter to curb that craving. Sometimes I add a few unsweetened cacao chips to my spoon too and I'm all set for the night. No more grazing on everything in sight. 😉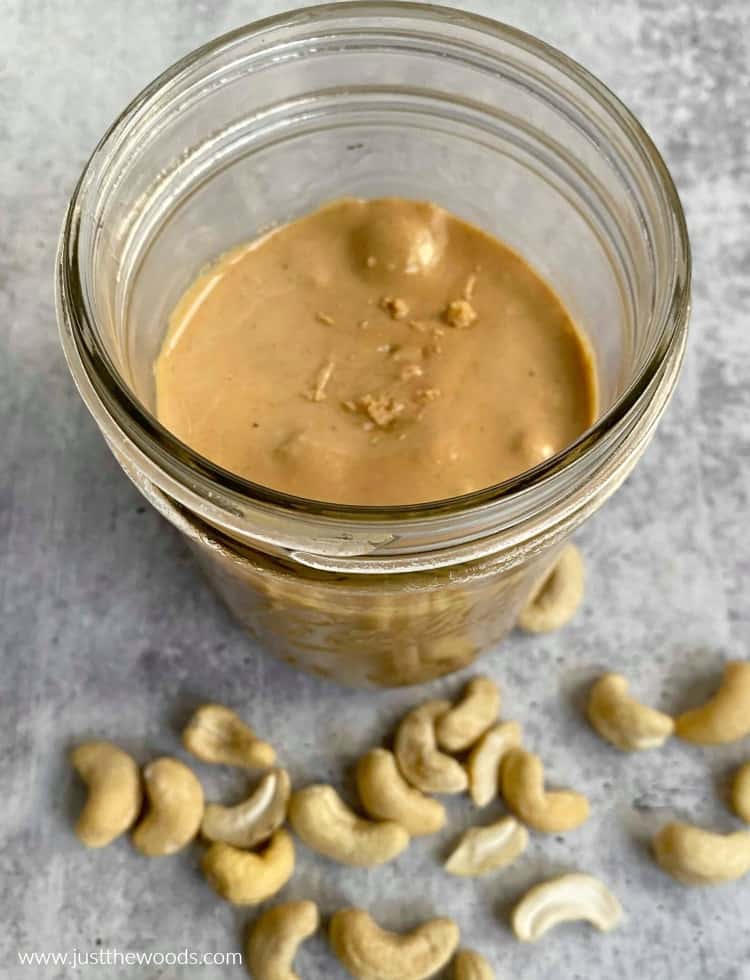 Printable Recipe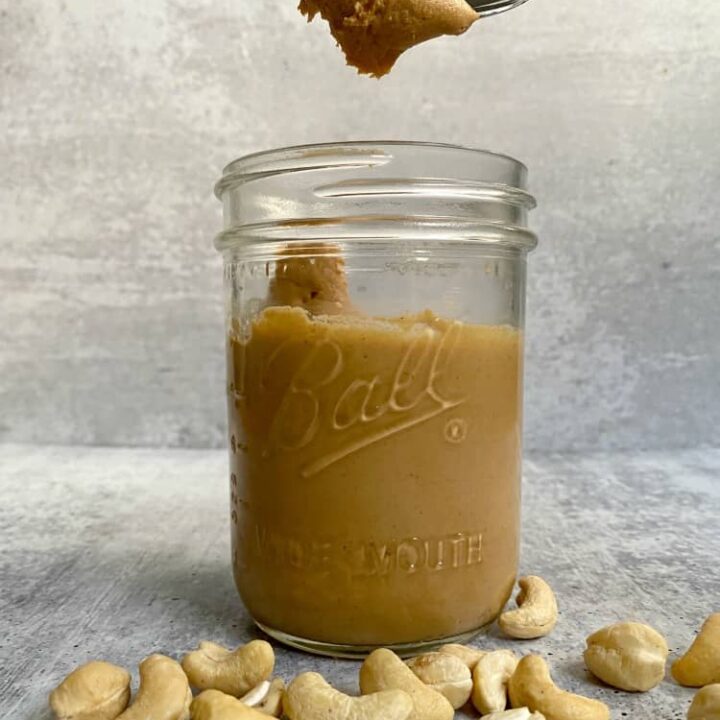 The Best Clean and Easy Cashew Butter Recipe
Additional Time:
10 minutes
This delicious cashew butter recipe is easy and free from added sugars, salt and oils making is the best clean eating and paleo nut better.
Instructions
Preheat oven to 400 degrees,
Line baking sheet with parchement paper.
Spread cashews on baking sheet.
Roast cashews for 10-15 mintues
Transfer cashews to high speed food processor of blender
Blend cashews for 5-10 mintues or more, until smooth and creamy
Transfer cashew butter to air tight container or mason jar.
Recommended Products
As an Amazon Associate and member of other affiliate programs, I earn from qualifying purchases.
For more healthy clean eating recipes make sure to follow my clean eating Pinterest board here:
Clean Eating
.


Don't Forget – Follow Just the Woods and Share this post to Inspire others:
FACEBOOK * INSTAGRAM * PINTEREST * RECIPES