Chocolate Rum Balls in our house are also called 'reindeer poop' or 'reindeer poop in the snow'. No matter what you call them, chocolate rum balls are a delicious and rich sweet treat. These sweet chocolate truffles always remind me of the holidays when my mom would disappear into the kitchen and make all of her holiday cookies and sweets. Do you have a favorite Christmas chocolate rum balls recipe or maybe another type of recipe for rum balls without chocolate? If you don't know how to make rum balls then you will absolutely love this easy rum balls recipe.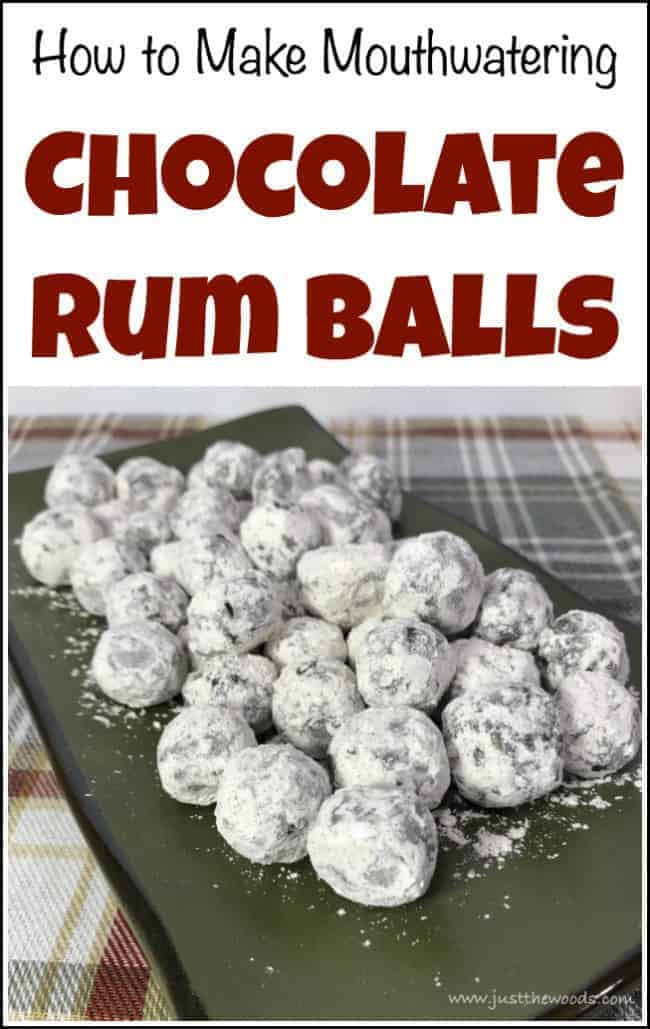 Disclosure: This post contains affiliate links for your convenience. Click here for my full disclosure policy.
Easy & Delicious Christmas Chocolate Rum Ball Recipe
What You Will Need
Chocolate Morsels
Nutmeg
Ground Cinnamon
Confectioners Sugar
Wax Paper
Rum Extract
How to Make Chocolate Rum balls
Melt your chocolate morsels over low heat. Make sure to stir as the chocolate melts to prevent any sticking or burning.
Melt the chocolate until smooth and turn off heat. Add sour cream, rum extract, and nutmeg to your melted chocolate.
Put your chocolate rum ball mix into a small bowl and refrigerate until firm.
Once firm, roll your chocolate balls into small "reindeer poop" size balls and place on wax paper.
In a separate small bowl mix your confectioner's sugar and cinnamon.
Drop each rolled chocolate ball into the sugar mix.
Roll the chocolate rum ball in the sugar to coat.
Easy peasy delicious chocolate rum balls are ready to eat. Or refrigerate until you are ready.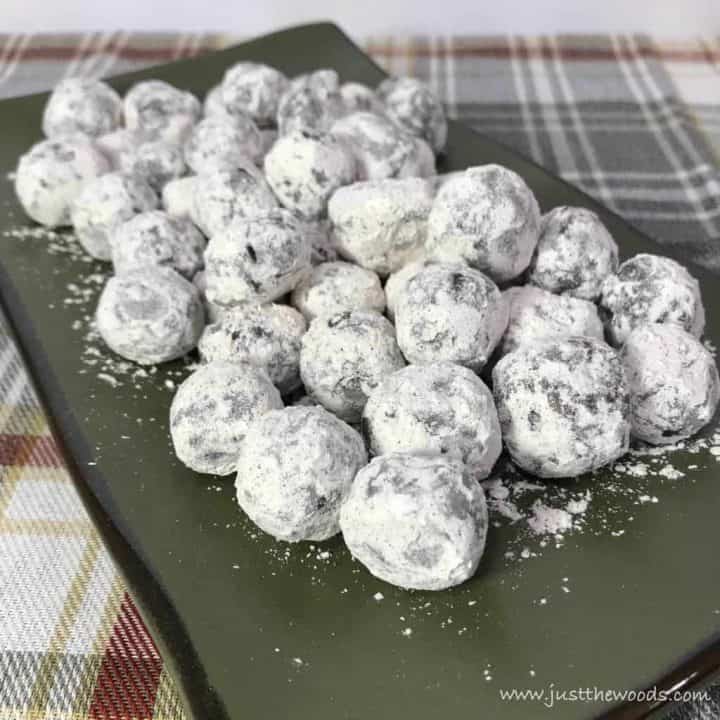 Chocolate Rum Balls Recipe
Delicious, rich, sweet chocolate rum balls. How to Make Mouthwatering Chocolate Rum Balls. Sweet, rich delicious chocolate rum balls. Perfect Christmas dessert or a holiday treat.
Ingredients
11 oz package Nestle Chocolate Morsels
1/4 cup sour cream
1/4 tsp rum extract
1/8 tsp nutmeg
1/4 cup confectioners sugar
1/2 tsp cinnamon
Instructions
in a small saucepan over low heat melt choc morsels, stir until smooth, remove from heat
stir in sour cream, rum, and nutmeg
put in a small bowl and refrigerate until smooth
shape into balls and put on wax paper
combine confectioners sugar and cinnamon in a small bowl
roll each ball in the mixture to coat
refrigerate
Don't Forget – Follow Just the Woods and Share this post to Inspire others:
FACEBOOK * INSTAGRAM * PINTEREST * RECIPES