These chocolate zucchini muffins are so light and moist. The chocolate flavor is mild and not overpowering while the zucchini is shredded allowing you to sneak it into this healthy chocolate zucchini muffin recipe without the kids even knowing. It's a win win for anyone trying to get some veggies into loved ones.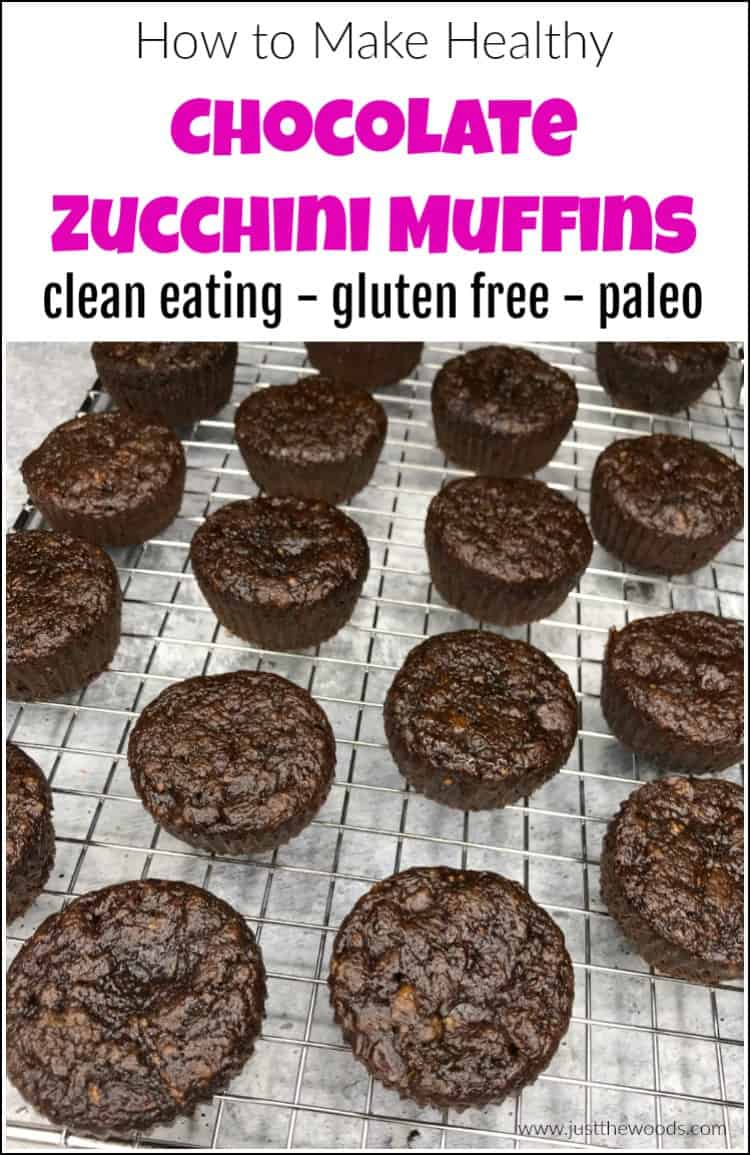 Disclosure: This best chocolate zucchini muffins recipe post contains affiliate links for your convenience. Click here for my full disclosure policy.

Homemade Chocolate Zucchini Muffins Recipe
What You Will Need (Full Printable Recipe Available Below)
Ingredients:
1 medium zucchini (grated)
3 eggs
1/4 cup raw honey
2 Tbsp coconut oil
1 1/2 tsp vanilla extract
1/4 cup cacao powder
1 cup cashew flour
1 1/2 tsp baking soda
1/2 cup cacao chips
2 scoops/1 serving protein powder (optional)
Additional –
muffin pan
silicone muffin liners
Getting Personal
Along with eating clean and trying to keep my family eating healthy I also see a nutritionist. To make a long story short he runs a full blood panel and can see where my body is lacking things or has an abundance etc. Then we take this info and use food as a sort of medicine to address any issues. For example, my thyroid is a mess, my glutamine is extremely low, and my hormones are a mess. To keep it simple, my current diet now includes more cashews and less almonds. More pork, and less chicken.
I find myself seeking out recipes and then making a lot of changes to them to keep them healthy for myself and my family. As a result I now plan to add more alternative clean eating recipes to my blog. Like many of my recipes, this zucchini chocolate chip muffins recipe is gluten free, clean eating, and paleo. As an added bonus I am adding vegan protein powder for a bit of protein.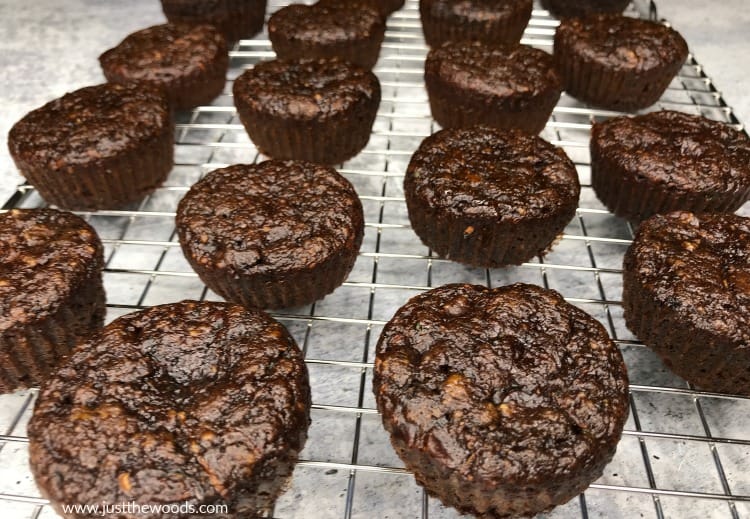 Clean Eating Basic
Continuing on, and rewinding at the same time – I mention that this is a clean eating recipe because I am all about eating healthy and clean eating. If you are new to a clean eating way of life then you need to check out Everything You Need to Know about a Clean Eating Diet. You can also see how I lost 50 lbs and am keeping it off by following a clean eating diet here: How I Lost 50 Lbs Clean Eating. I tend to try different things and mix different flavors to keep meals healthy and tasty.
How to Make the Healthy Zucchini Muffins with Chocolate
Ingredients:
As always, let's start by gathering our ingredients. These are a base ingredients for making the best chocolate zucchini protein muffins. A quick rundown:
Cashew flour – this is a great alternative to almond flour and a staple in a paleo lifestyle as well as clean eating diet. It is made from nothing but cashews which provide you with those healthy fats. If you can't find this in your local grocery store (often you can't) you can get some online here:

cashew flour

.
Pasture raised eggs – when buying eggs I try to get pasture raised. These have a deep orange yolk instead of yellow because the hens are allowed to roam about the pasture and soak up the sun. They tend to be much better for you then the conventional eggs.
Zucchini – I always try to buy organic when possible. Obviously, get this at your local grocery store.
Honey – make sure to use raw and unprocessed honey. This is the one that I like here:

honey

.
Cacao and Cacao chips– make sure to use

cacao powder

and not cocoa powder. And there are 3 different type of chocolate chips that I use when baking. This comes down to personal preference.

The higher the percentage the less sweet and more pure cacao. When I use 100% cacao chips my kids accuse me of using fake chocolate. lol. For these chocolate chip zucchini muffins I am using the 85% cacao chips.
Protein Powder
I am adding a clean protein powder to our chocolate zucchini muffins recipe, because, why not?
Clean Lean Protein – this plant protein has all the good stuff and none of the bad. It is gluten free, dairy free, soy free, no artificial sweeteners, no weird ingredients. It is vegan and perfect for clean eating. This clean protein is a pea protein blended with probiotics and other gut-friendly ingredients for healthy digestive support for those looking to avoid whey protein and avoid that bloated feeling. It contains no artificial sweeteners, flavors, gums, or fillers; plus the L-Glutamine and particular probiotics in this formula were added to target gut health.You can get it online here: Clean Protein Powder.
Making Zucchini Protein Muffins:
Preheat the oven to 350 degrees.
Grab your muffin pan and line with silicone liners. These make clean up a breeze and I will never go back to paper liners again. You can get these online here:

silicone muffin liners

.
First, using a cheese

grater

, grate your zucchini over a paper towel.
Once you grate the entire zucchini you will want to press the water out with a few paper towels. Don't skip this step! If you skip this step you will have a mushy mess.
Next, in a medium sized bowl add the eggs and grated zucchini.
Add the honey, coconut oil, vanilla extract, cacao powder, and baking soda.
Add the cashew flour and protein powder.
Mix your chocolate zucchini muffin mix thoroughly and then add the cacao chips.
Go ahead and spoon your chocolate zucchini muffins mix into your muffin pan. I typically only fill them about half way.
Bake your healthy chocolate zucchini muffins for 10-12 minutes. Make sure they pass the toothpick test before you remove them from the oven to cool.
Healthy Chocolate Zucchini Protein Muffins
Once cool you can pop your muffins out of the liners and enjoy.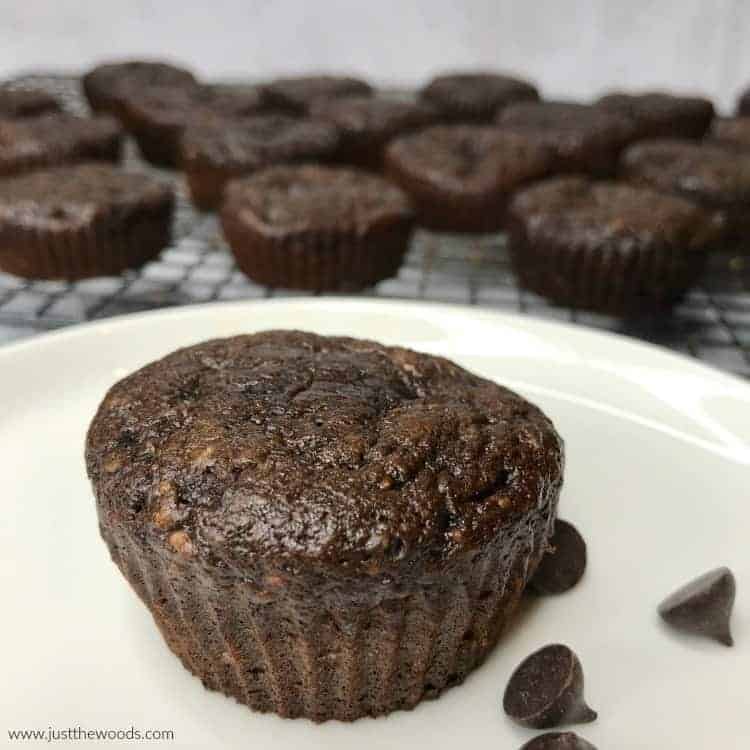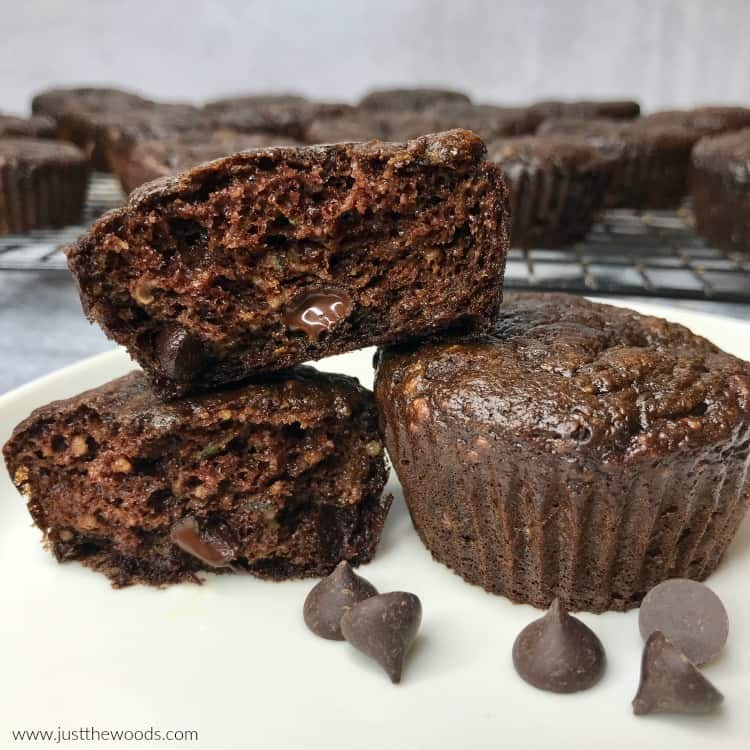 We normally leave these in an air tight container for up to 3 days. If there are still any left after that we transfer to the fridge for a few more days. But they usually don't last very long in our house. My husband came home from work an ate six of these chocolate zucchini muffins .. SIX of them!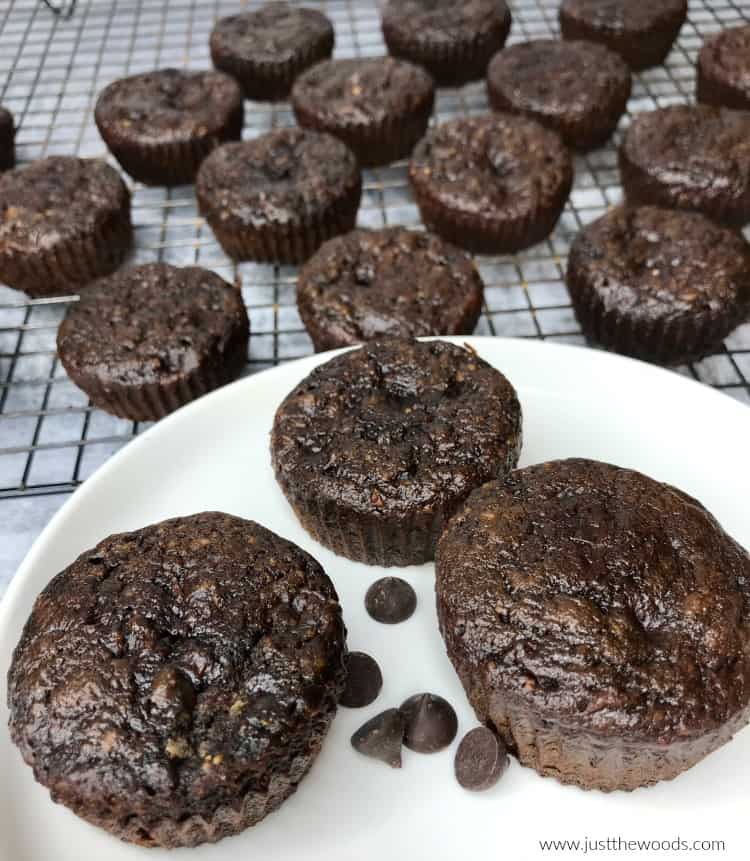 It seems even the kids love these zucchini chocolate chip muffins.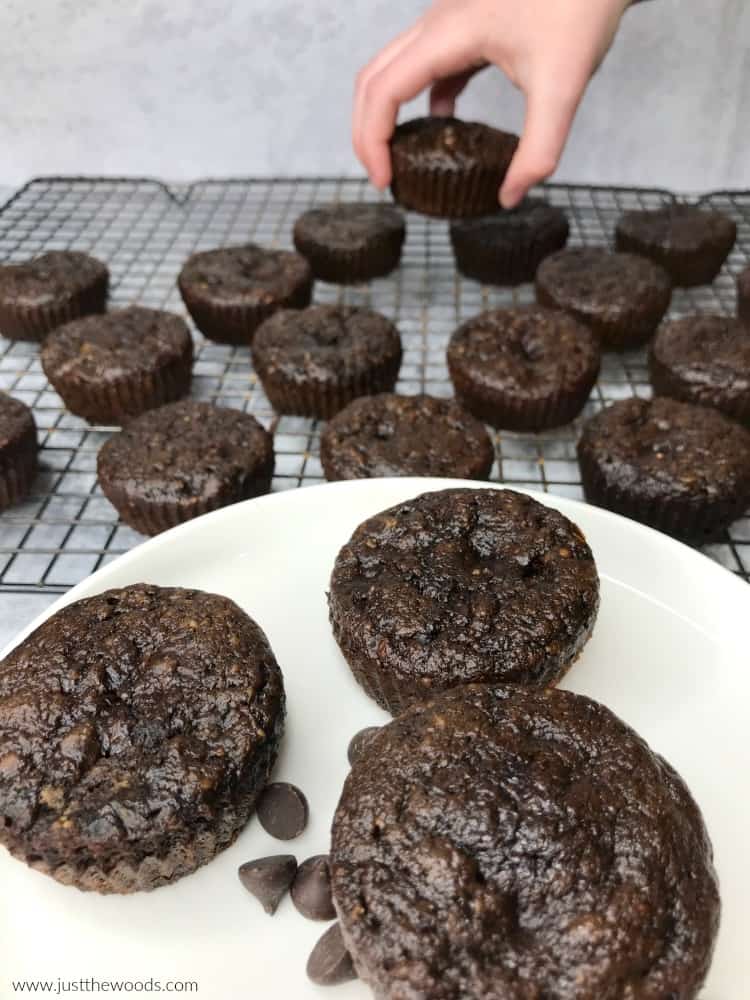 Love muffins? Check out more healthy muffins recipes here: muffins!
Printable Recipe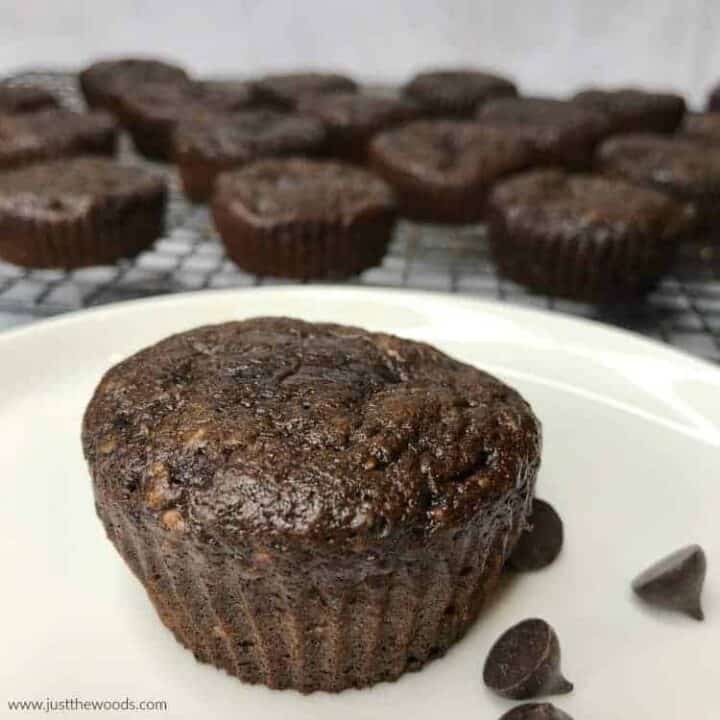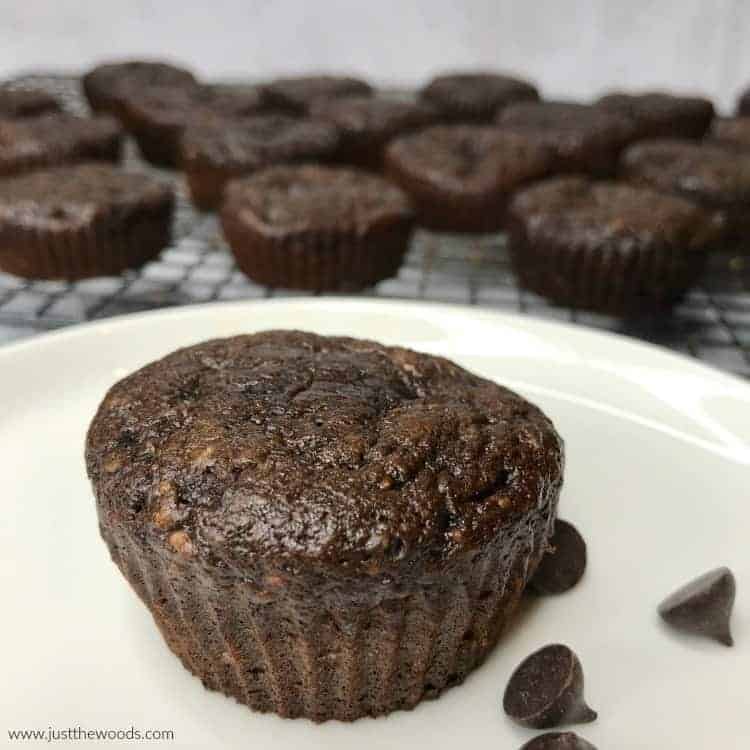 How to Make Healthy Chocolate Zucchini Muffins
These chocolate zucchini muffins are so light and moist. This healthy chocolate zucchini muffin recipe is packed with zucchini, healthy cacao and protein. Naturally sweetened with honey, they have no refined sugar, are gluten free, clean eating, and paleo.
Ingredients
1 medium zucchini (grated) 
3 eggs 
2 Tbsp coconut oil
1 1/2 tsp vanilla extract
1 1/2 tsp baking soda
Instructions
pre heat oven to 350
grate your zucchini
press water out of grated zucchini with paper towels
combine all ingredients except cacao chips
mix thoroughly
stir in cacao chips
spoon into muffin pan with silicone liners
bake for 10-12 minutes
remove and let cool
Recommended Products
As an Amazon Associate and member of other affiliate programs, I earn from qualifying purchases.
Nutrition Information:
Yield:

20
Serving Size:

1
Amount Per Serving:
Calories:

111
Total Fat:

7.3g
Saturated Fat:

2.3g
Cholesterol:

27.6mg
Sodium:

119.4mg
Carbohydrates:

8.5g
Fiber:

1g
Sugar:

4g
Protein:

3.5g
For more healthy clean eating recipes make sure to follow my clean eating Pinterest board here:
Clean Eating
.


Don't Forget – Follow Just the Woods and Share this post to Inspire others:
FACEBOOK * INSTAGRAM * PINTEREST * RECIPES