These gluten free zucchini bread muffins are so light and moist. They can easily be made as muffins or as a loaf of zucchini bread. The great thing about zucchini is that there really is no flavor because when baking the zucchini takes on the flavor of whatever you are cooking it with. By pureeing the zucchini you are able to sneak it into this healthy zucchini bread muffin recipe without the kids even knowing. It's a win win for anyone trying to get some veggies into loved ones.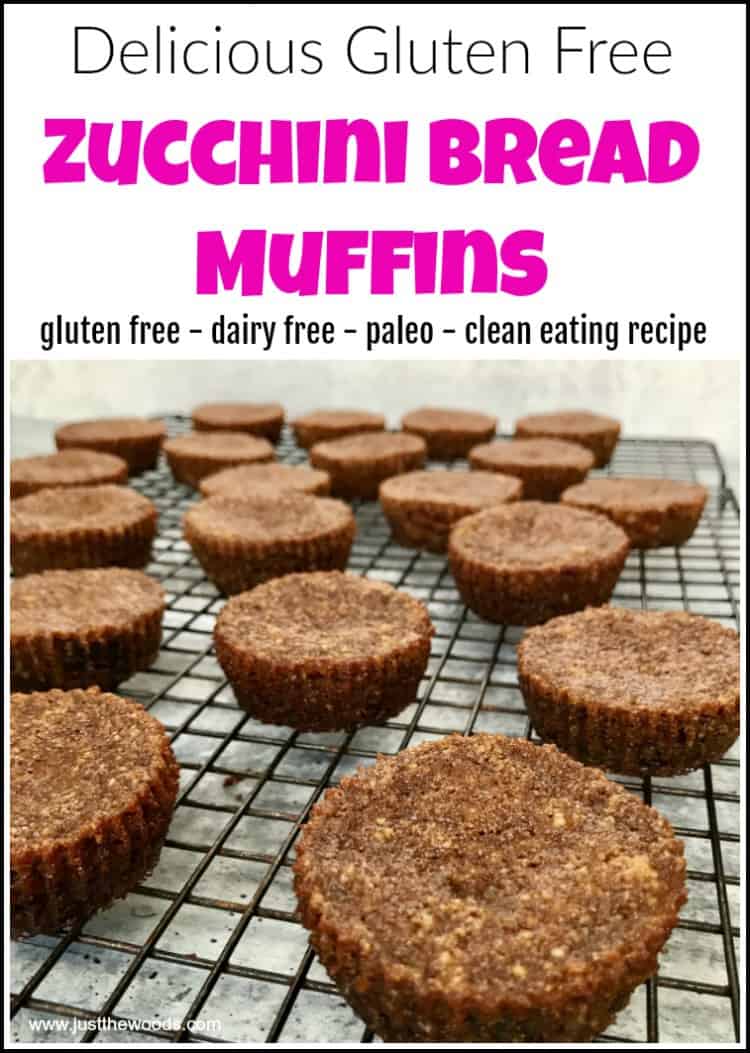 Disclosure: This best gluten free zucchini bread muffins recipe post contains affiliate links for your convenience. Click here for my full disclosure policy.

Homemade Zucchini Bread Muffins Recipe
What You Will Need (Full Printable Recipe Available Below)
Ingredients:
1 cup zucchini (pureed)
2 eggs
1/2 cup coconut sugar
1/2 cup coconut oil
1 1/2 cup cashew flour
1/2 tsp baking soda
1/2 tsp baking powder
3/4 tsp cinnamon
1/4 tsp nutmeg
1/2 cup chopped walnuts
1/4 cup cacao chips
1/8 cup raisins
Additional –
muffin pan
silicone muffin liners
Getting Personal
Along with eating clean and trying to keep my family eating healthy I also see a nutritionist. To make a long story short he runs a full blood panel and can see where my body is lacking things or has an abundance etc. Then we take this info and use food as a sort of medicine to address any issues. For example, my thyroid is a mess, my glutamine is extremely low, and my hormones are a mess. To keep it simple, my current diet now includes more cashews and less almonds. More pork, and less chicken.
Zucchini Bread Muffin Recipe
I find myself seeking out recipes and then making a lot of changes to them to keep them healthy for myself and my family. As a result I now plan to add more alternative clean eating recipes to my blog. Like many of my recipes, this zucchini bread muffins recipe is gluten free, clean eating, and paleo. This one originated with my friend, Nicole. She sent it me and said "I know you will modify it to make it work for you" which is exactly what I'm doing. Her recipe called for processed sugar and flours and ingredients that I simply don't use. But most recipes can be modified into a healthier version.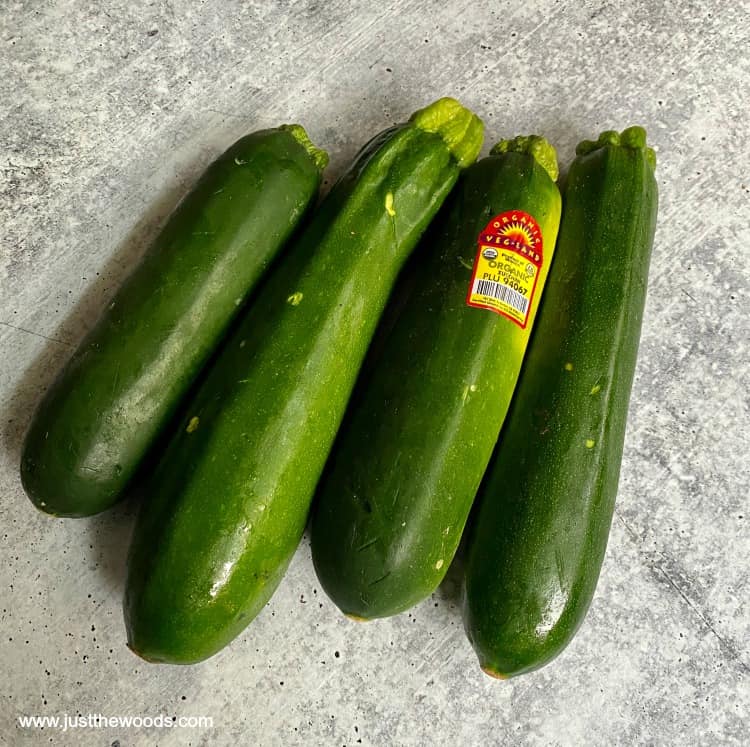 Clean Eating Basics
Continuing on, and rewinding at the same time – I mention that this is a clean eating recipe because I am all about eating healthy and clean eating. If you are new to a clean eating way of life then you need to check out Everything You Need to Know about a Clean Eating Diet. You can also see how I lost 50 lbs and am keeping it off by following a clean eating diet here: How I Lost 50 Lbs Clean Eating. I tend to try different things and mix different flavors to keep meals healthy and tasty. In addition, I am also a certified nutrition coach so if you are looking for a bit more guidance when it comes to eating for your health feel free to reach out to me: Nutrition Coaching.
How to Make the Healthy Zucchini Bread Muffins
Zucchini Bread Muffin Ingredients:
As always, let's start by gathering our ingredients. These are a base ingredients for making the best gluten free zucchini bread muffins. A quick rundown of some of the main ingredients:
Dry Ingredients
Cashew flour – this is a great alternative to almond flour and a staple in a paleo lifestyle as well as clean eating diet. It is made from nothing but cashews which provide you with those healthy fats. If you can't find this in your local grocery store (often you can't) you can get some online here:

cashew flour

.
Coconut palm sugar – This is a healthier alternative to processed refined sugars. Coconut palm sugar also falls low on the glycemic index and is not as sweet as other sugars. You can find it online here:

coconut palm sugar

.
Wet Ingredients
Coconut oil – I always opt for organic, unrefined coconut oil. Get some online

HERE

.
Pasture raised eggs – when buying eggs I try to get pasture raised. These have a deep orange yolk instead of yellow because the hens are allowed to roam about the pasture and soak up the sun. They tend to be much better for you then the conventional eggs.
Zucchini – I always try to buy organic when possible. Obviously, get this at your local grocery store. You can make this zucchini bread muffin recipe with the green zucchini or the yellow squash zucchini. I have made them with both.
Add Ins
Walnuts – When it comes to nuts, I always keep random nuts in my pantry to snack on here and there. Avoid the salted kind and look for natural/organic/raw. Again, check the ingredients and make sure there is only one ingredient – the nut. And stay away from any with added sugar, salt, and oil.
Cacao and Cacao chips– make sure to use

cacao powder

and not cocoa powder. And there are 3 different type of chocolate chips that I use when baking. This comes down to personal preference.

The higher the percentage the less sweet and more pure cacao. When I use 100% cacao chips my kids accuse me of using fake chocolate. lol. For these gluten free zucchini muffins I am using the Enjoy Life cacao chips.
Making Zucchini Bread Muffins:
Preheat the oven to 350 degrees.
Grab your muffin pan and line with silicone liners. These make clean up a breeze and I will never go back to paper liners again. You can get these online here:

silicone muffin liners

.
Next, chop the zucchini into chunks, leaving the skin on. If there are large seeds, go ahead and remove the seeds. Place the zucchini chunks in the food processor and puree until smooth. You may need to add a little water if the zucchini is too thick. If you have one of those

fancy shmancy food processor blenders

I am 100% jealous. I have a

blender

, food processor, spiralizer all in one and it works just fine. Measure out one cup of the zucchini puree.
In a medium size bowl mix the coconut sugar and the eggs. Add the dry ingredients and the zucchini puree. Mix to combine well.
Next, add the nuts, raisins and cacao chips.
Baking Zucchini Muffins
Go ahead and spoon your zucchini bread muffin mixture into your muffin pan. I typically only fill them about half way or so.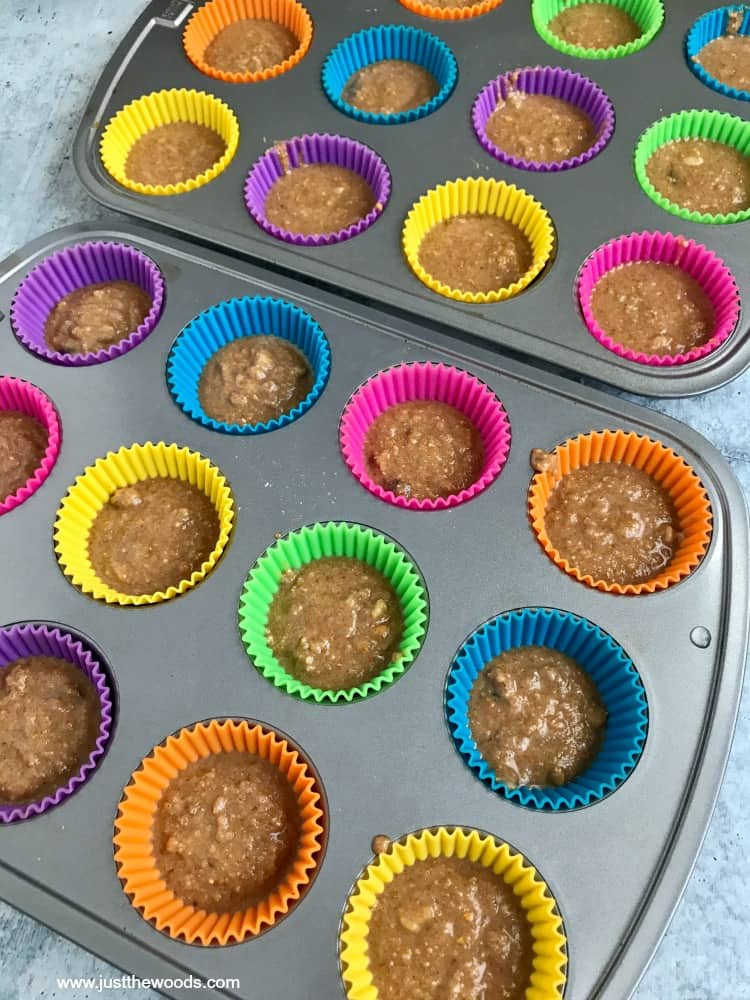 Bake the zucchini muffins for 12-15 minutes, until the tops begin to turn slightly brown. Also make sure they pass the toothpick test.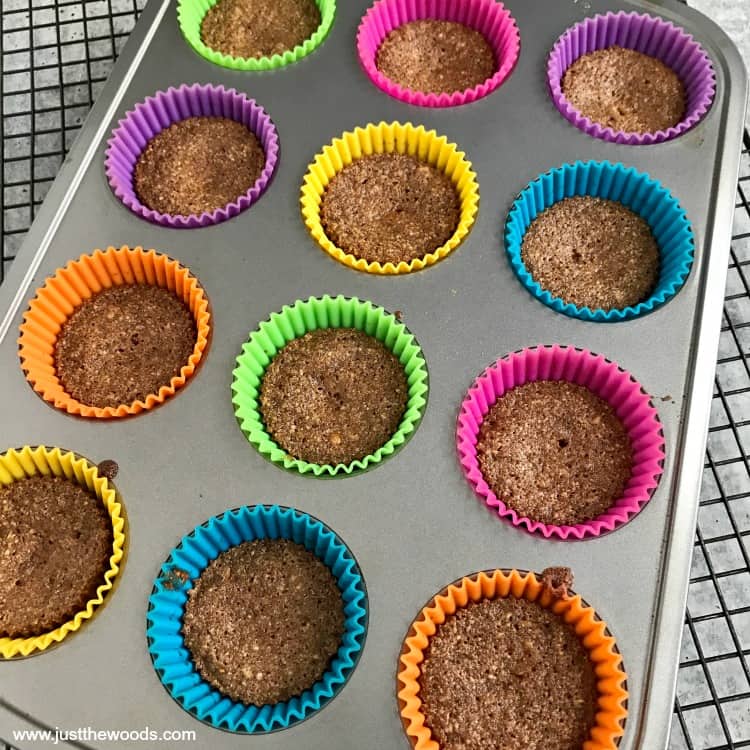 Allow your gluten free zucchini bread muffins to cool on a baking rack.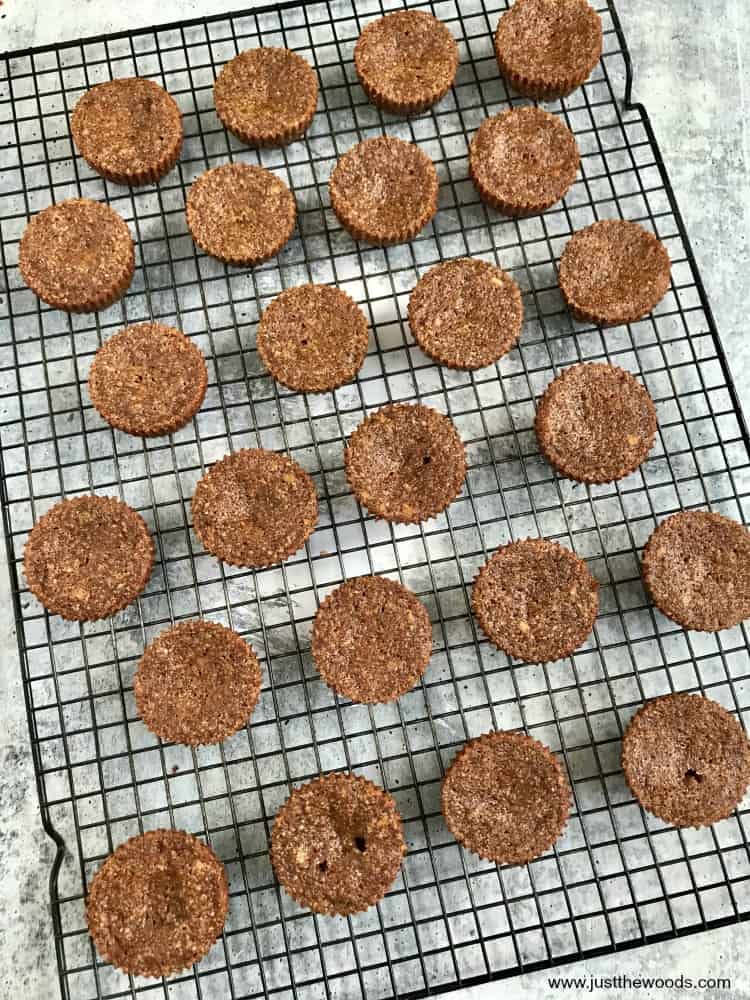 Healthy Zucchini Bread Muffins
Once cool you can pop your muffins out of the liners and enjoy. The first time I made these the kids said that they taste like Christmas. I think that's because of the cinnamon and nutmeg. These are super moist and delicious.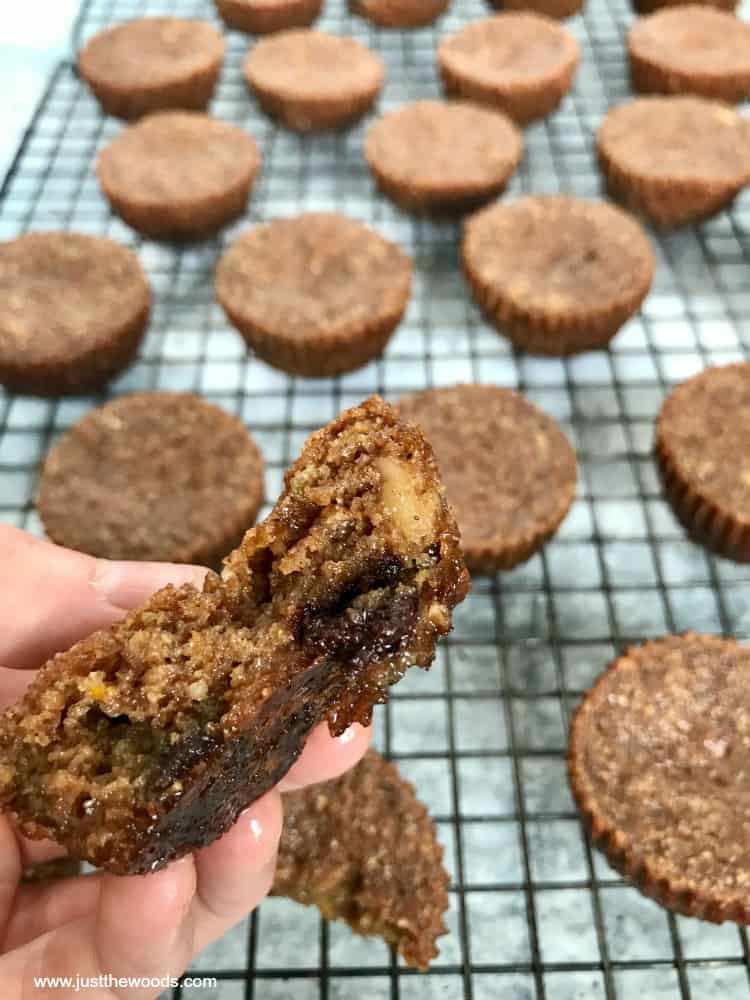 We normally leave these in an air tight container for up to 3 days on the counter. If there are still any left after that we transfer to the fridge for a few more days. These zucchini bread muffins also freeze well, and easily reheat in the microwave in just a few seconds.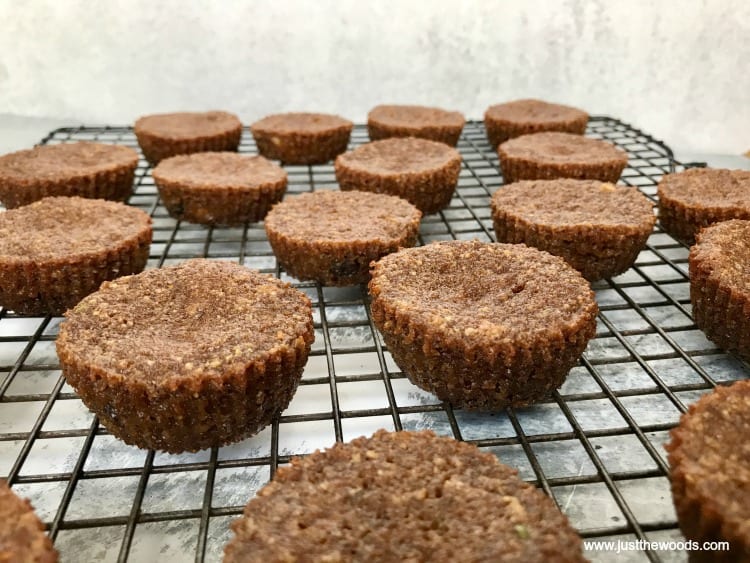 Zucchini Bread Alternative
If you prefer a zucchini bread loaf instead of muffins you can use this same recipe in a loaf pan. I like to line the pan with parchment paper first. You will need to bake the loaf on 350 for 35-40 minutes.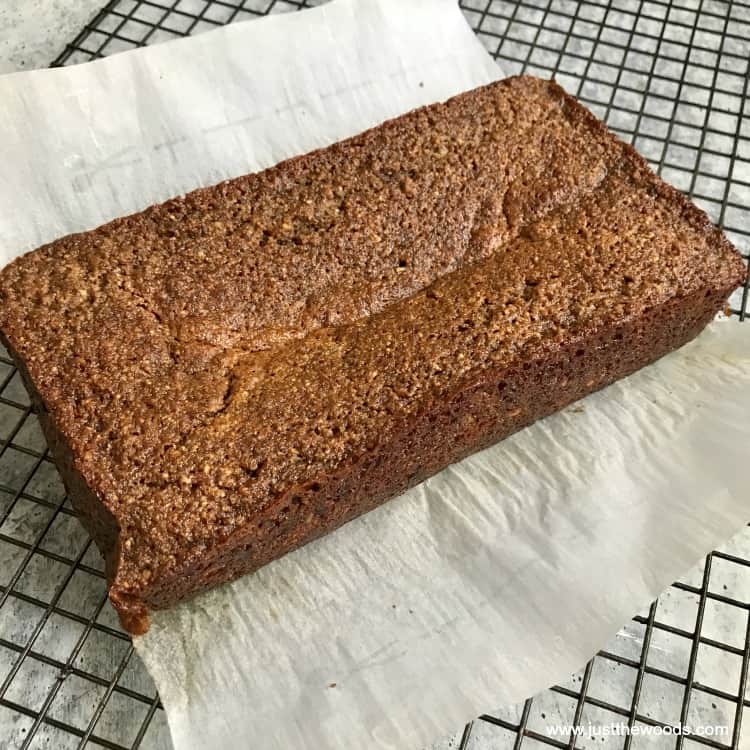 Love muffins? Check out more healthy muffins recipes here: muffins!
Printable Recipe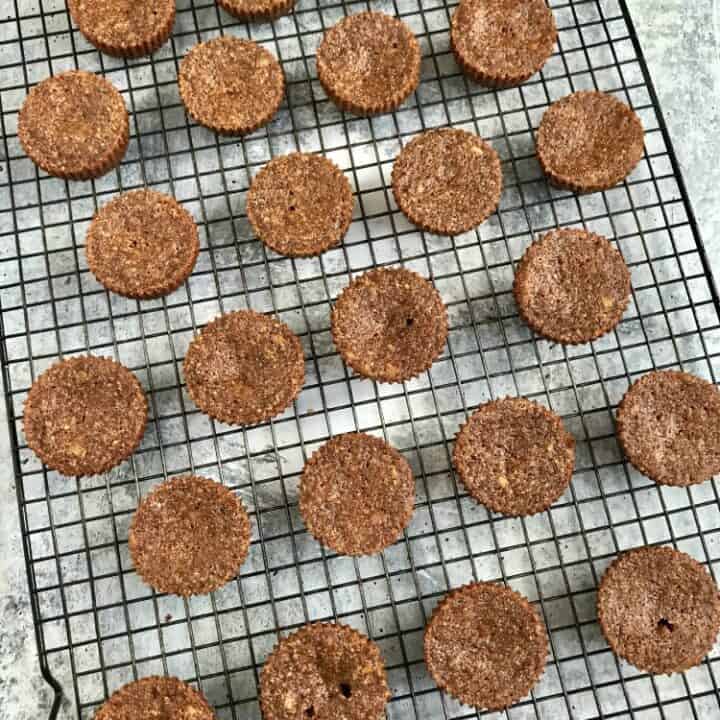 Delicious Gluten Free Zucchini Bread Muffins
These gluten free zucchini bread muffins are so light and moist. They can easily be made as muffins or as a loaf of zucchini bread.
Ingredients
1 cup zucchini (pureed) 
2 eggs 
1/2 cup coconut sugar
1/2 cup coconut oil
1 1/2 cup cashew flour
1/2 tsp baking soda
1/2 tsp baking powder
3/4 tsp cinnamon
1/4 tsp nutmeg
1/2 cup chopped walnuts
1/4 cup cacao chips
1/8 cup raisins 
Instructions
Pre heat the oven to 350 degrees,
Cut zucchini into chunks with skin on. Remove seeds if you see them.
Puree zucchini in food processor. Add a little water if the puree is too thick.
Mix the coconut palm sugar with eggs. Add dry ingredients and mix well.
Add zucchini and oil.
Next, add nuts, raisins, cacao chips.
Fill muffin liners 1/2 full or so.
Bake for 12-15 minutes
Let cool and enjoy
Notes
If making a zucchini bread loaf instead of muffins bake for 35-40 minutes. Test by inserting a toothpick into the center. If the toothpick comes out clean it is done. If it comes out wet with batter let cook a little longer.
Recommended Products
As an Amazon Associate and member of other affiliate programs, I earn from qualifying purchases.
For more healthy clean eating recipes make sure to follow my clean eating Pinterest board here:
Clean Eating
.


Don't Forget – Follow Just the Woods and Share this post to Inspire others:
FACEBOOK * INSTAGRAM * PINTEREST * RECIPES