A protein pancake recipe that is quick, easy and flexible! This is the one. If you are searching for healthy protein pancakes recipes then you will love this.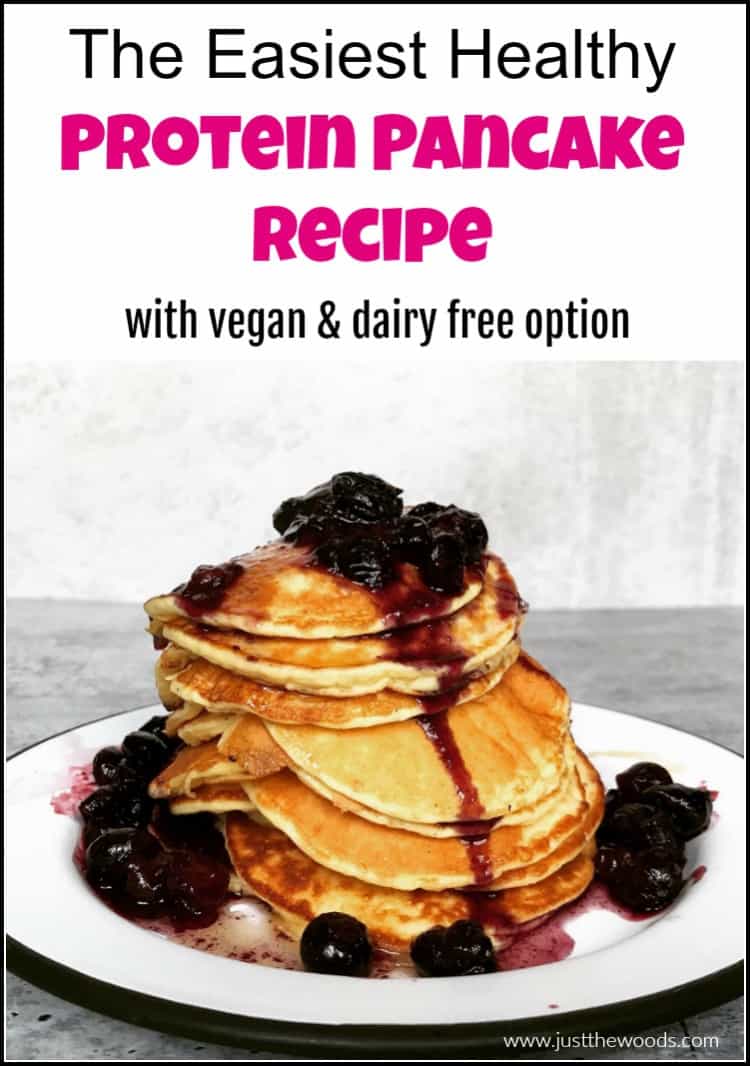 Disclosure: This healthy protein pancake recipe post contains affiliate links for your convenience. Click here for my full disclosure policy.

Homemade Protein Powder Pancake Recipe
What You Will Need (Full Printable Recipe Available Below)
Ingredients:
1 single serve container cashew yogurt
3 eggs
1 tsp vanilla extract
1 tsp baking powder
a scoop/serving protein powder
Additional – toppings of your choice (optional)
berries / fresh fruit
pure maple syrup
Getting Personal
Along with eating clean and trying to keep my family eating healthy I also see a nutritionist. To make a long story short he runs a full blood panel and can see where my body is lacking things or has an abundance etc. Then we take this info and use food as a sort of medicine to address any issues. For example, my thyroid is a mess, my glutamine is extremely low, and my hormones are a mess. To keep it simple, my current diet now includes more cashews and less almonds. More pork, and less chicken.
I find myself seeking out recipes and then making a lot of changes to them to keep them healthy for myself and my family. As a result I now plan to add more alternative clean eating recipes to my blog. This healthy protein pancake recipe is actually a spin off from another protein pancake recipe. I have made changes to the original recipe to make it more my suitable to myself. The original recipe has a few more ingredients and uses greek yogurt.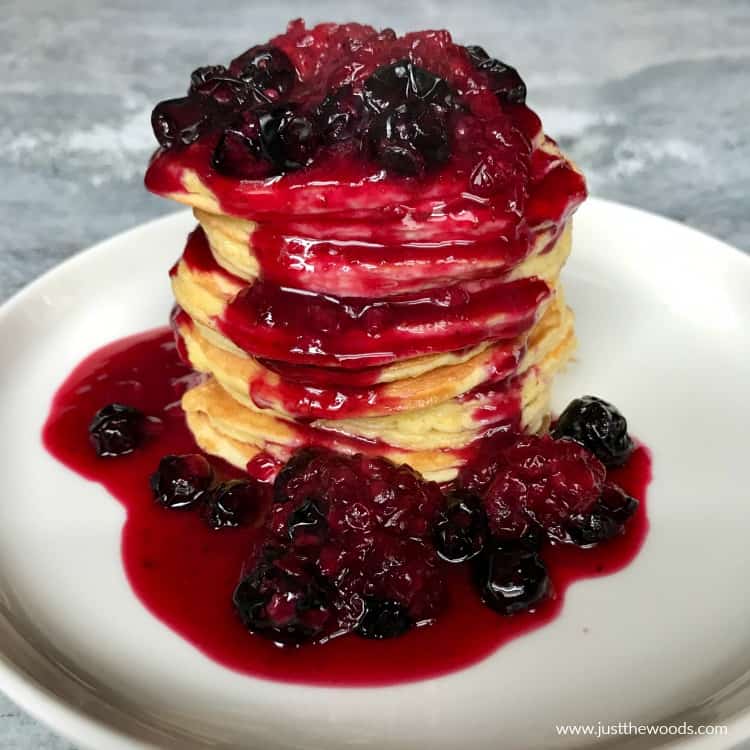 Clean Eating Basic
Continuing on, and rewinding at the same time – I mention that this is a clean eating recipe because I am all about eating healthy and clean eating. If you are new to a clean eating way of life then you need to check out Everything You Need to Know about a Clean Eating Diet. You can also see how I lost 50 lbs and am keeping it off by following a clean eating diet here: How I Lost 50 Lbs Clean Eating. I tend to try different things and mix different flavors to keep meals healthy and tasty.
How to Make Protein Pancakes
As always, let's start by gathering our ingredients.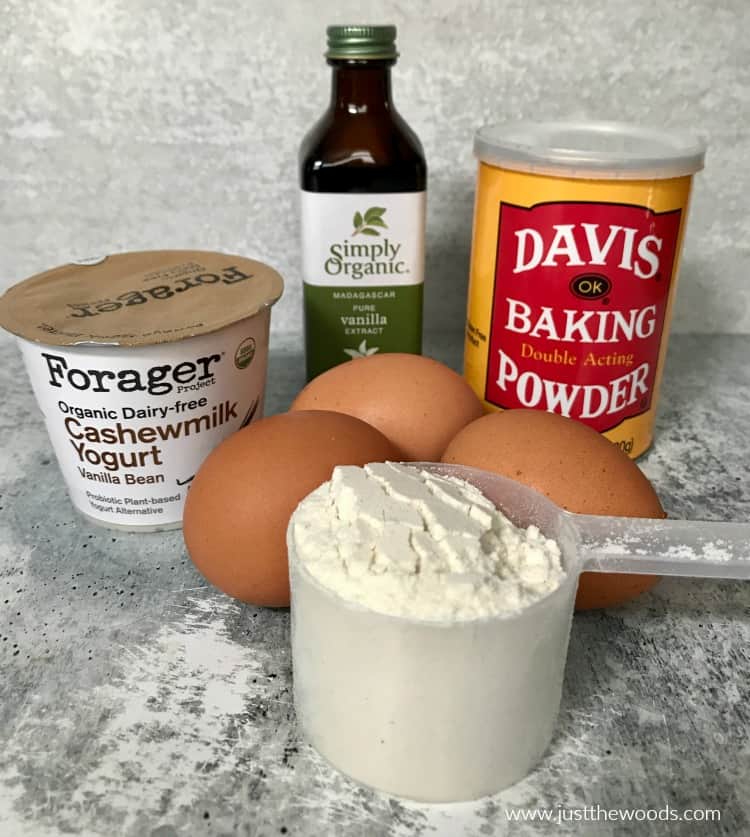 If you are like me, maybe you never knew they made a cashew milk yogurt. But they do. Cashew milk yogurt is a great dairy free alternative to greek yogurt. This is the one that I use, and I usually use the vanilla cashew milk yogurt with my protein pancake recipe. On occasion, I will use the plain or the blueberry and they work just as well. If you can't find this yogurt in your local grocery store you can get it online here: cashew milk yogurt.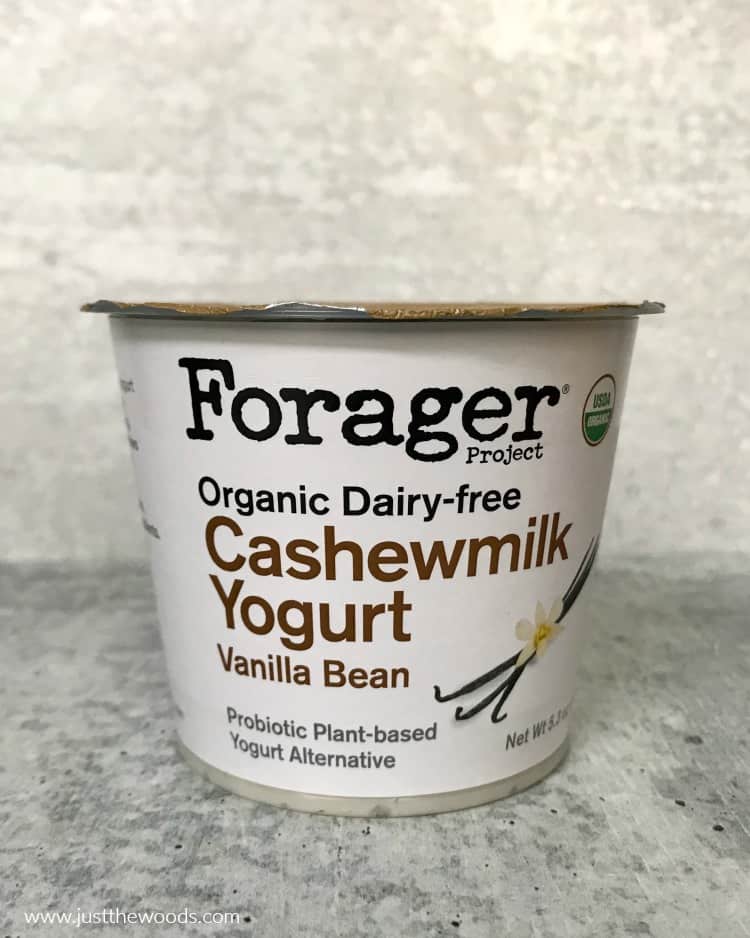 Let's start off with our three eggs in a bowl. I like to use my glass Pyrex because I can easily pour the protein pancake mixture from it.
Next, go ahead and add your cashew milk yogurt. Make sure it's the single serve. Otherwise you will have to measure out 5.3 oz for this protein pancake recipe.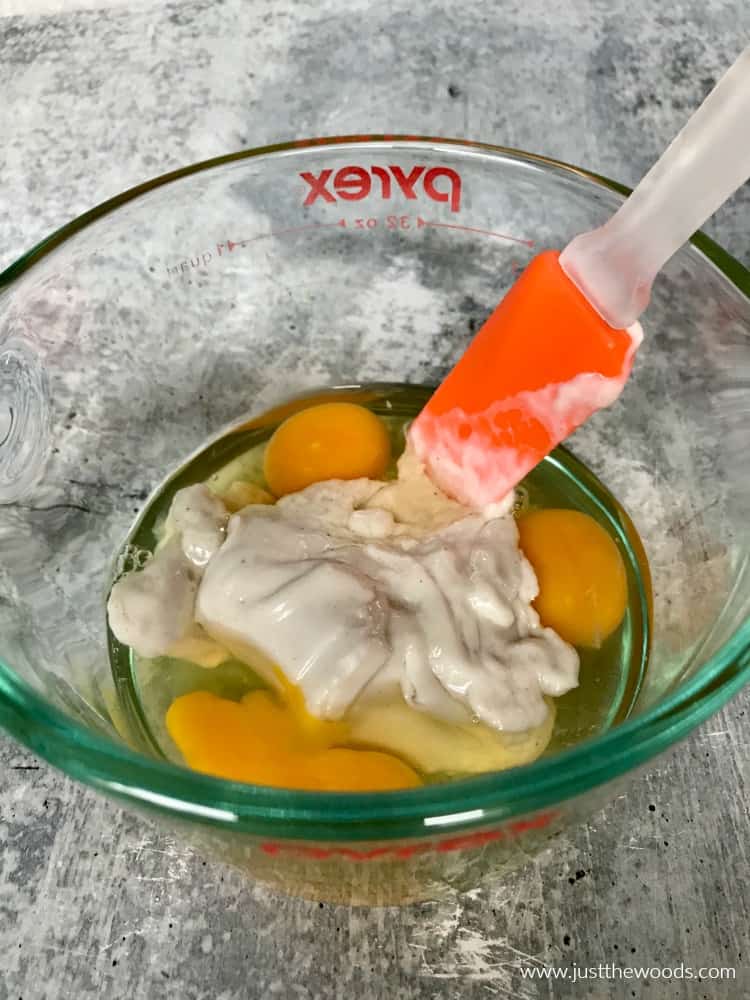 Protein Powder Options
You can't have a protein powder pancake recipe without your protein powder. This is where I give you an option. If you want a high protein pancake recipe then I suggest using ProJym protein powder. ProJym is a protein blend and actually tastes great! I discovered ProJym when I got a bit more into weightlifting. But you don't need to be a bodybuilder to use it. My kids also eat these ProJym protein pancakes. Though not dairy free, ProJym is lactose free. You can find this online here: ProJym.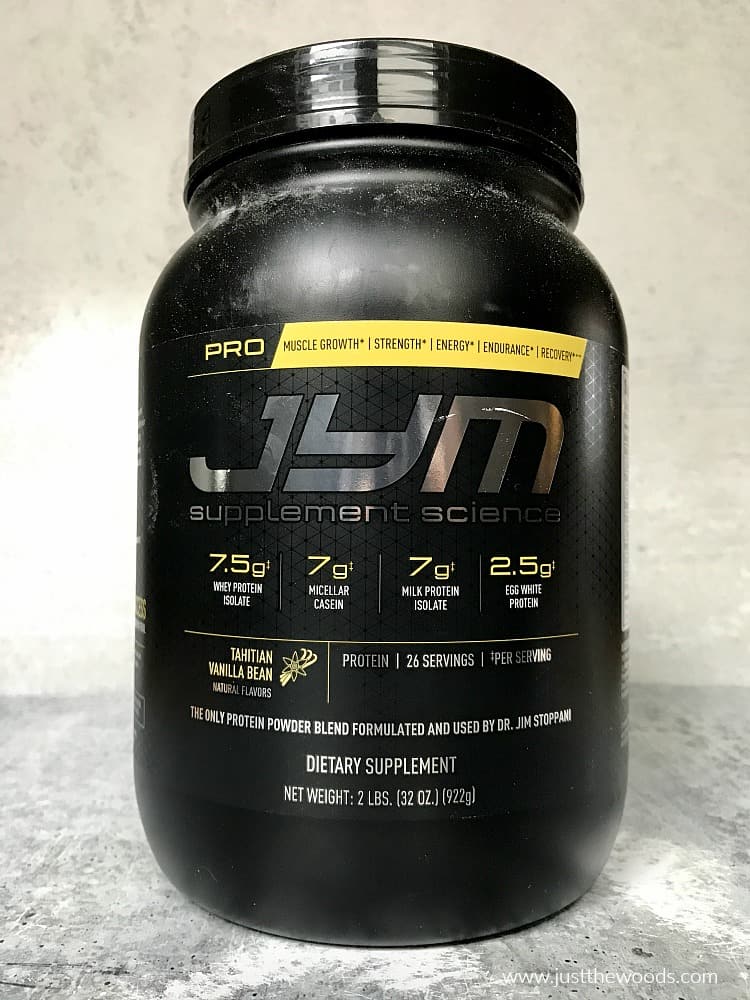 But if you prefer a vegan protein pancake recipe then you can also use Orgain which is a plant based pea protein. If you use Orgain then you would use 2 scoops (since 2 scoops = 1 serving) You can find this clean protein powder online here: Orgain. I do find that the pancakes come out less fluffy with the plant based protein powder.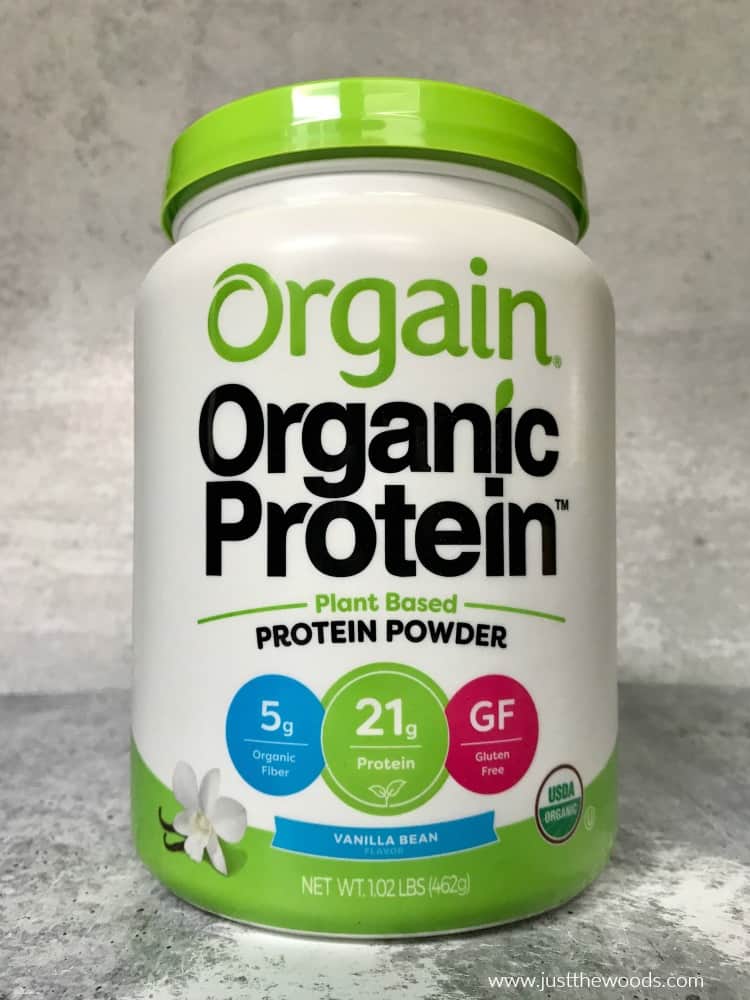 Because I am all about clean options I'm also about to try this protein pancake recipe with Nuzest clean lean protein, which is another clean, vegan, dairy free, gluten free pea protein powder option. You can get Nuzest here: Nuzest .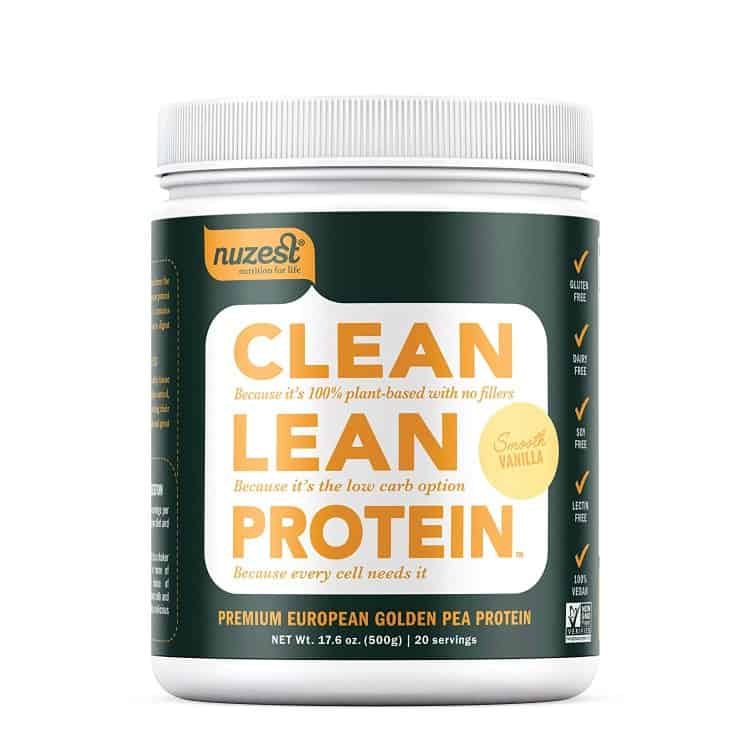 Add your protein powder of choice to your pancake mix. I've made these with both protein powders and personally love the ProJym over the Orgain.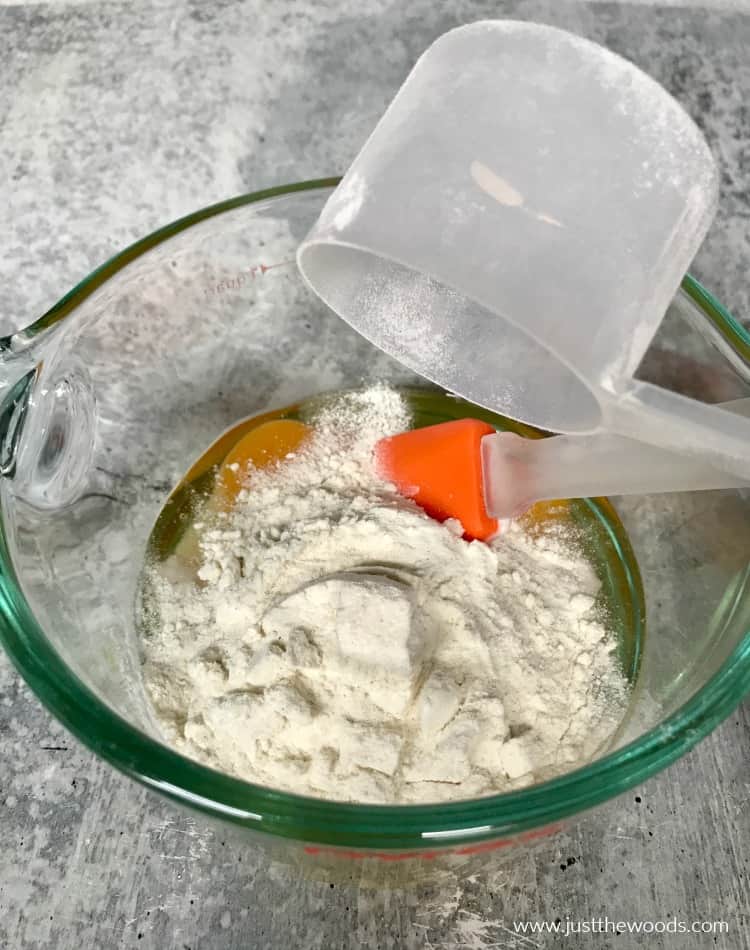 Next, add your baking powder and vanilla extract.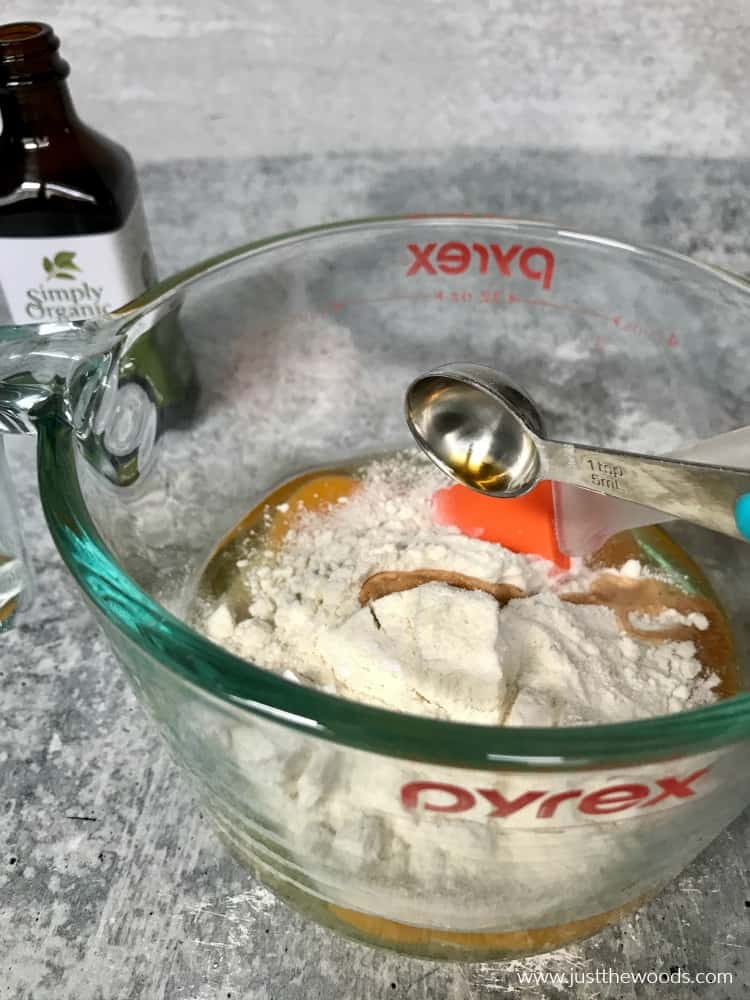 Stir your protein pancake mixture thoroughly.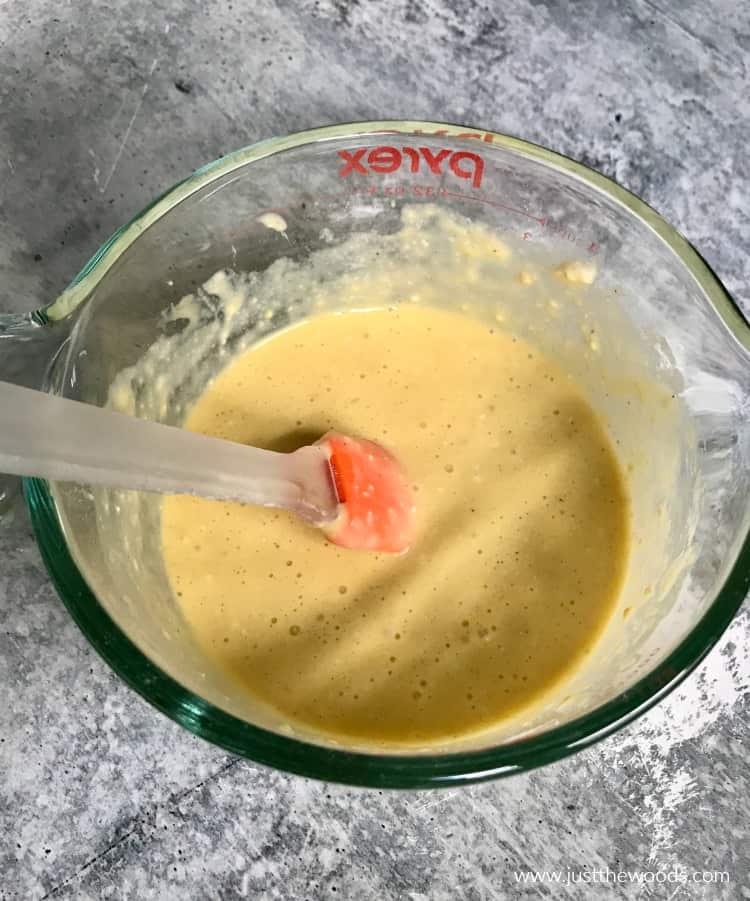 Making Protein Pancakes on the Griddle
Time to pour. We use this griddle every day. If you have a spot to store it when not in use its a great little thing to have. Pour your protein pancake mix onto your griddle. With this griddle I set the temp between 275 and 300 degrees. When you see little bubbles, so ahead and flip your pancakes.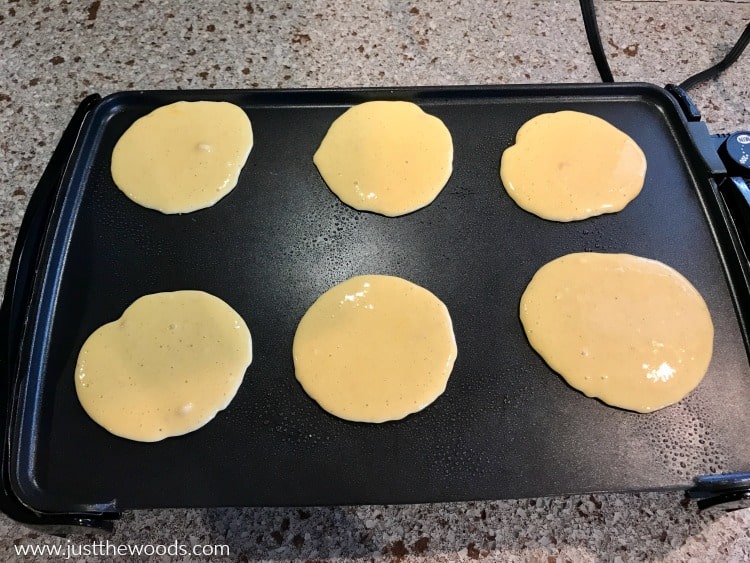 The Best Protein Pancakes Recipe
Stack your protein pancakes and top them with your favorite toppings.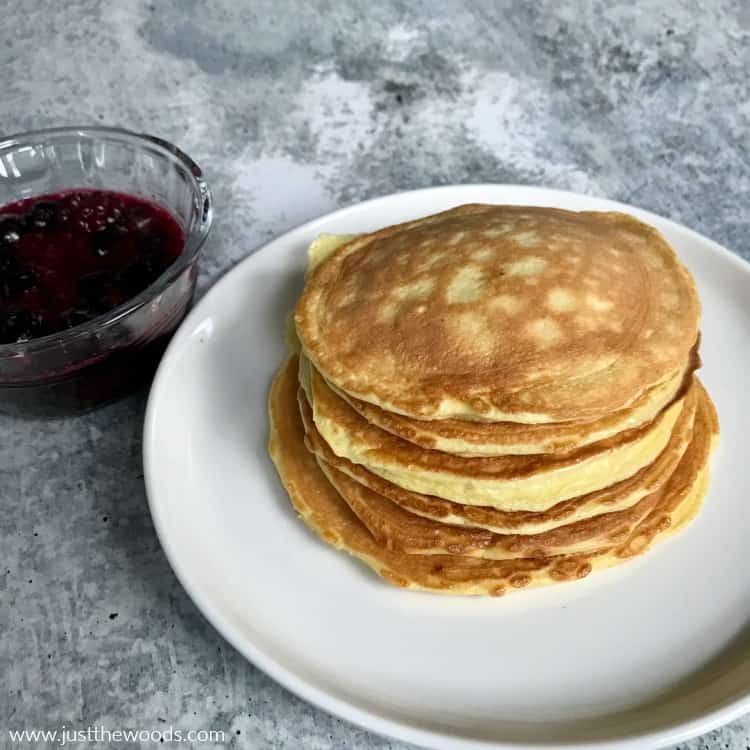 My 'go-to' topping is a mixture of blueberries and blackberries. I put a few berries in a small dish and heat in the microwave, then mash a little bit and voila.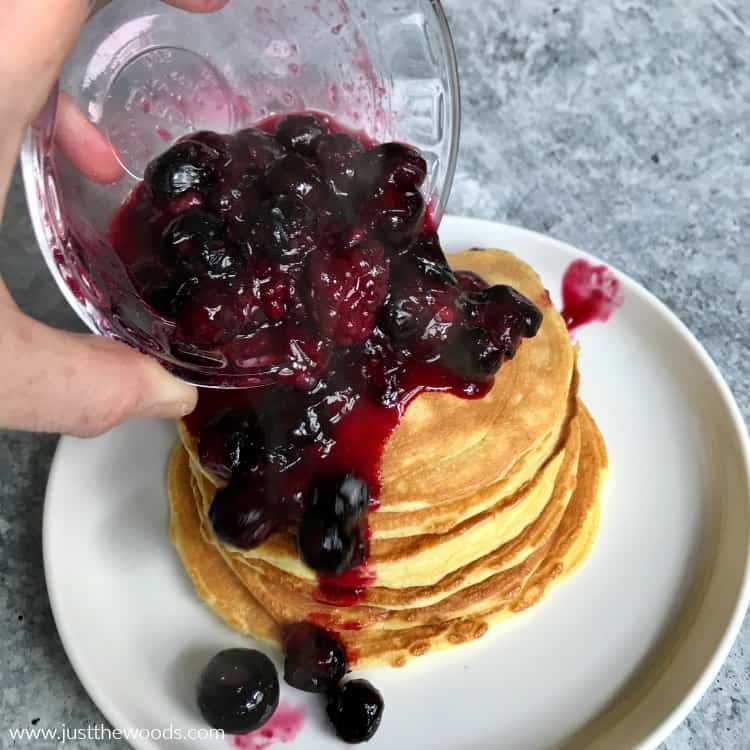 We make these just about every day and top them with fresh blueberries.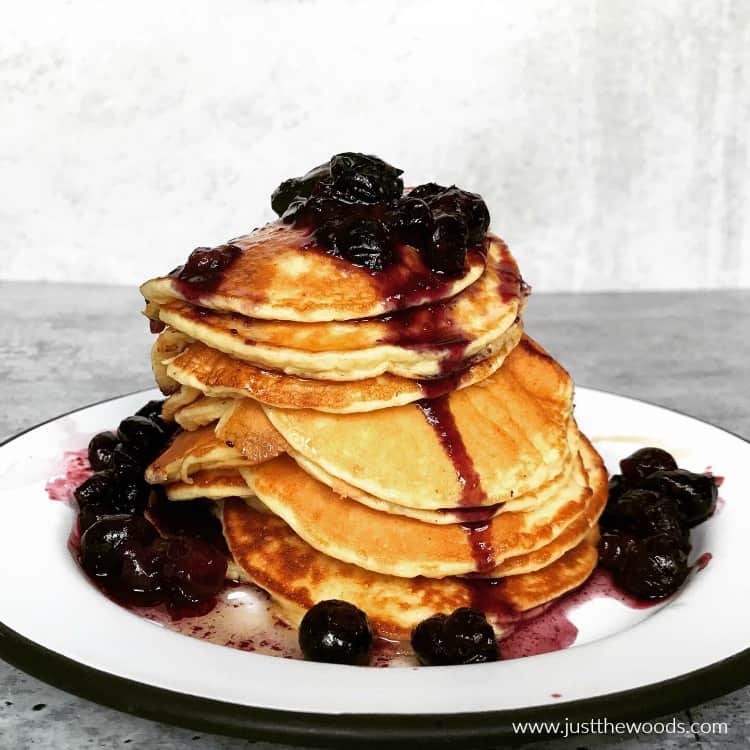 Sometimes we top them with cacao chips and mini marshmallows (for the kids). These are made with chocolate protein powder (ProJym).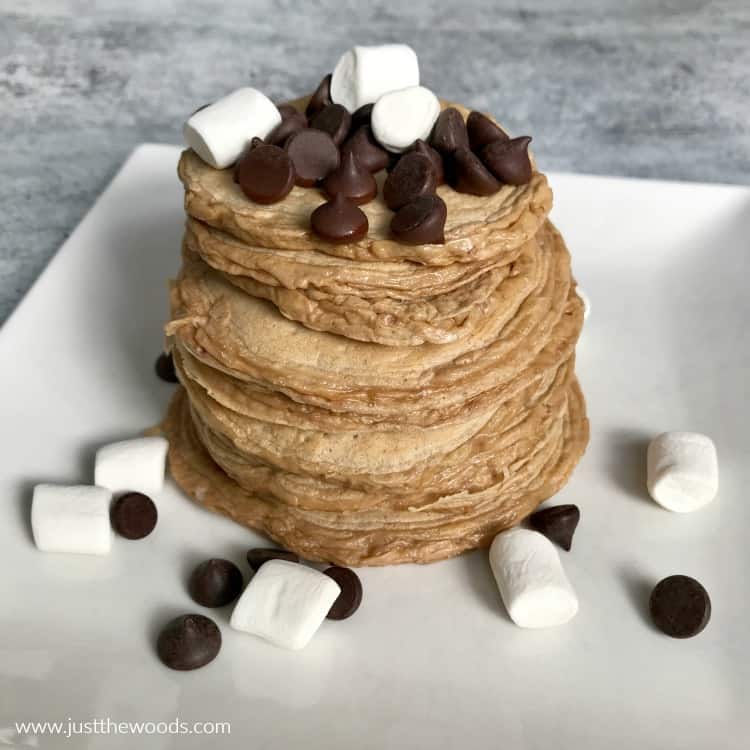 Topped with nut butter and walnuts (for the hubby).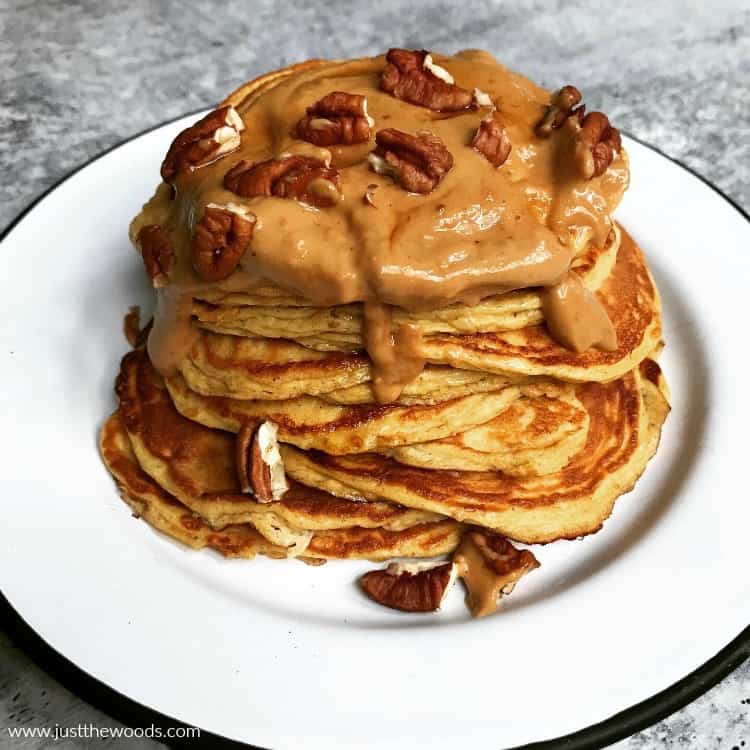 My favorite is a mixture of berries and cherries.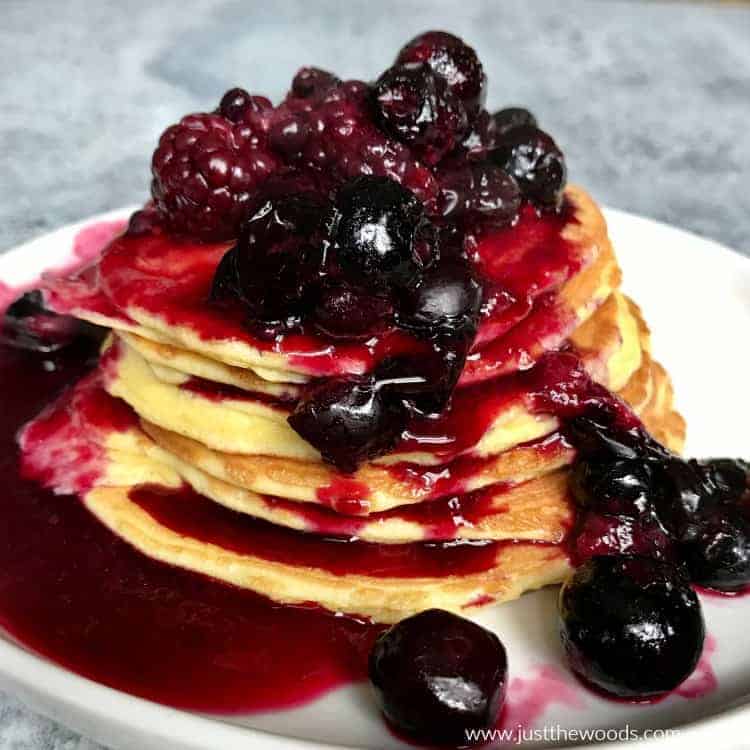 The pancake recipe itself always remains the same, but the toppings change. You can top this healthy protein pancake recipe however you'd like.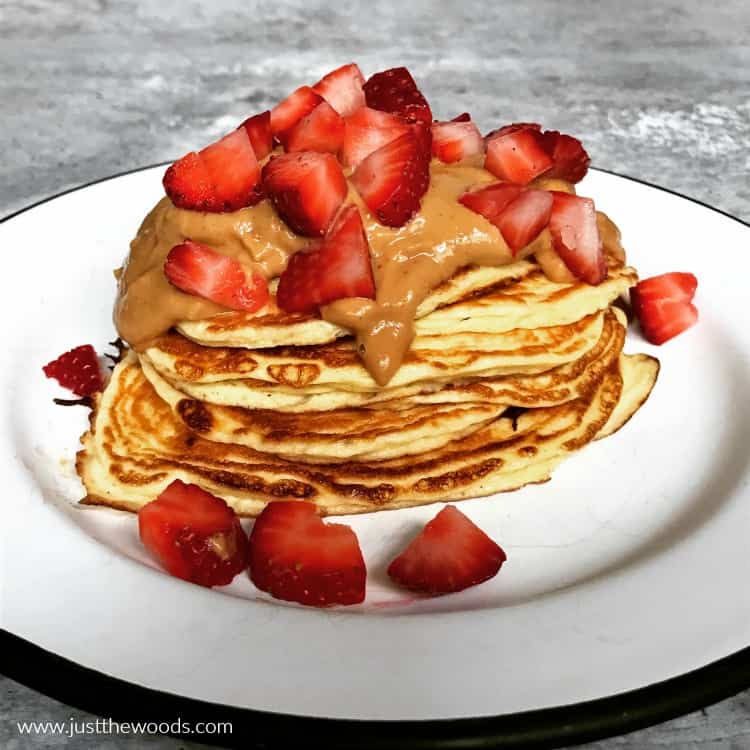 Protein Pancake Nutritional Values
Nutritional values will vary depending on products used and how many pancakes you actually eat.
12 pancakes – If you eat the entire stack (all 12 pancakes) which is what my husband eats, from this protein pancake recipe the Macro breakdown is as follow: 490 calories, 23.5g fat, 23g carbs, 45g protein.
6 pancakes – If you eat half the recipe (6 pancakes) which is what I eat, the macro breakdown is 245 calories, 11.8g fat, 11.5g carbs, 22.5g protein.
4 pancakes – If you split this recipe three ways and eat approximately 4 pancakes (this is how many my kids eat) the breakdown is 163 calories, 7.8g fat, 7.7g carbs, 15g protein.
Printable Recipe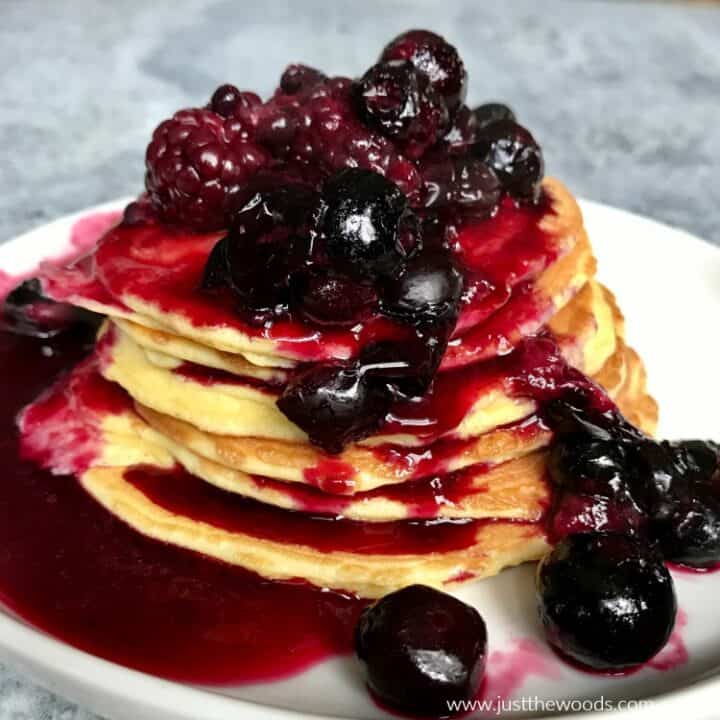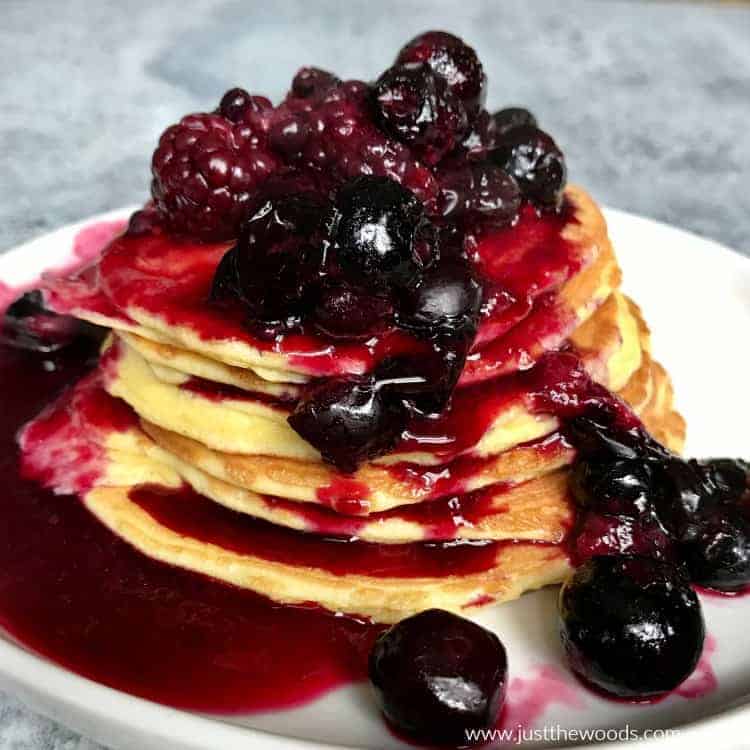 The Easiest Healthy Protein Pancake Recipe
Delicious healthy protein pancake recipe. These gluten free protein pancakes are made with cashew milk yogurt and protein powder.
Ingredients
single serve cashew milk yogurt
3 eggs
1 tsp vanilla extract
1 tsp baking powder
a serving protein powder
Instructions
Mix all ingredients together
cook on griddle at 275
top with fruit or pure maple syrup

Notes
Makes 12 pancakes / 6 pancakes is one serving (I started giving the kids only 4 pancakes per serving and its plenty for them)
Recommended Products
As an Amazon Associate and member of other affiliate programs, I earn from qualifying purchases.
Nutrition Information:
Yield:

2
Serving Size:

1
Amount Per Serving:
Calories:

245
Total Fat:

11.8g
Saturated Fat:

3.5g
Trans Fat:

0g
Cholesterol:

284mg
Sodium:

460mg
Carbohydrates:

11.5g
Sugar:

6g
Protein:

22.5g
nutritional values are estimates and may vary depending on products/ingredients used.
For more healthy clean eating recipes make sure to follow my clean eating Pinterest board here:
Clean Eating
.


Don't Forget – Follow Just the Woods and Share this post to Inspire others:
FACEBOOK * INSTAGRAM * PINTEREST * RECIPES