This Ninja Foodi pulled pork recipe is so easy to make. It's fast, delicious and healthy. Who could ask for anything more? This easy pulled pork recipe is made using the pressure cooker function of the Ninja Foodi in just over a half an hour making it just as quick as it is easy. It doesn't have to be Tuesday to enjoy pulled pork tacos.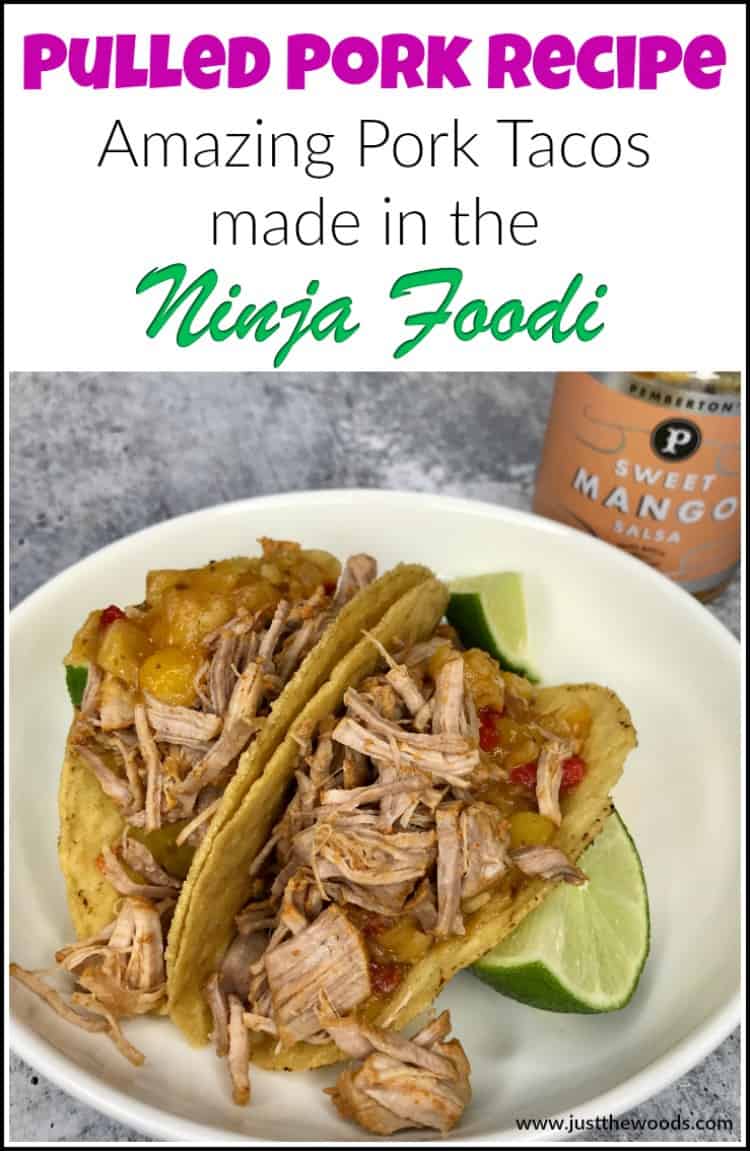 Disclosure: This healthy Ninja Foodi pulled pork taco recipe post contains affiliate links for your convenience. Click here for my full disclosure policy.

Quick and Easy Pulled Pork Recipe (in the Ninja Foodi)
What You Will Need (Full Printable Recipe Available Below)
Ingredients:
2-3 lbs lean pork tenderloin
1 Tbsp coconut palm sugar
2 tsp Paprika
2 tsp garlic powder
1/2 tsp cumin
2 tsp onion powder
1/8 tsp cayenne
1/3 cup Apple Cider Vinegar
1 1/4 cup broth
grain free taco shells
Additional – toppings of your choice (optional)
Getting Personal
Along with eating clean and trying to keep my family eating healthy I also see a nutritionist. To make a long story short he runs a full blood panel and can see where my body is lacking certain things or has an abundance etc. Then we take this info and use food as a sort of medicine to address any issues. For example, my thyroid is a mess, my glutamine is extremely low, and my hormones are a mess. To keep it simple, my current diet now includes more cashews and less almonds. More pork, and less chicken.
I find myself seeking out recipes and then making a lot of changes to them to keep them healthy for myself and my family. As a result I now plan to add more alternative clean eating recipes to my blog. This healthy Ninja Foodi pulled pork tacos recipe protein is actually my own version compiled and adjusted from multiple other pulled pork taco recipes that I found. Taking a little from here, and a little from there I came up with my own clean eating pork taco recipe.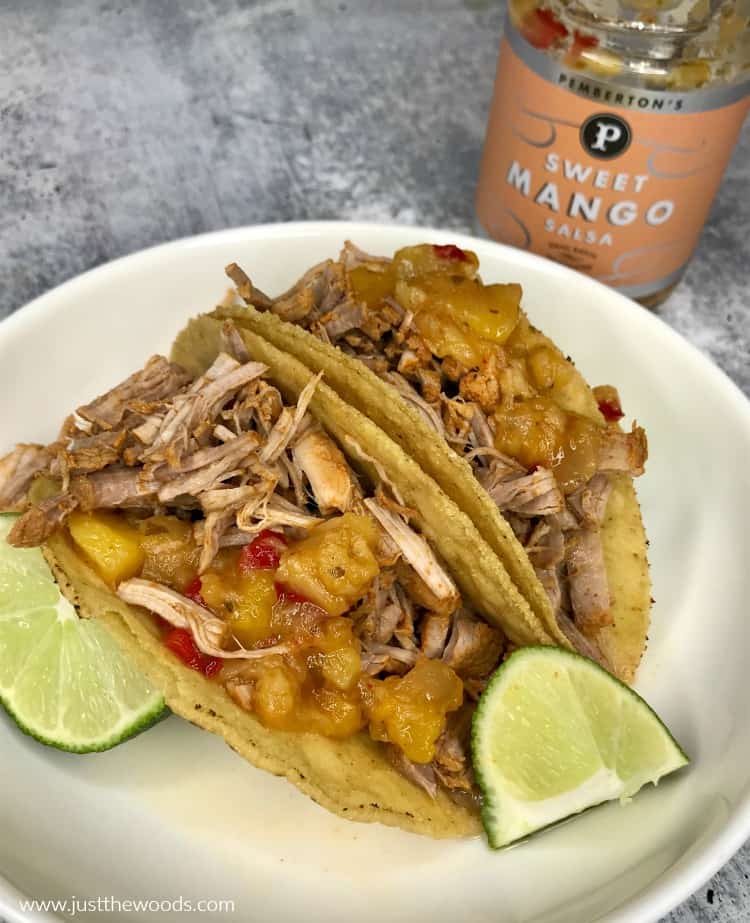 Clean Eating Basic
Continuing on, and rewinding at the same time – I mention that this is a clean eating recipe because I am all about eating healthy and clean eating. If you are new to a clean eating way of life then you need to check out Everything You Need to Know about a Clean Eating Diet. You can also see how I lost 50 lbs and am keeping it off by following a clean eating diet here: How I Lost 50 Lbs Clean Eating. I tend to try different things and mix different flavors to keep meals healthy and tasty.
How to Make Pulled Pork in the Ninja Foodi
As always, let's start by gathering our ingredients.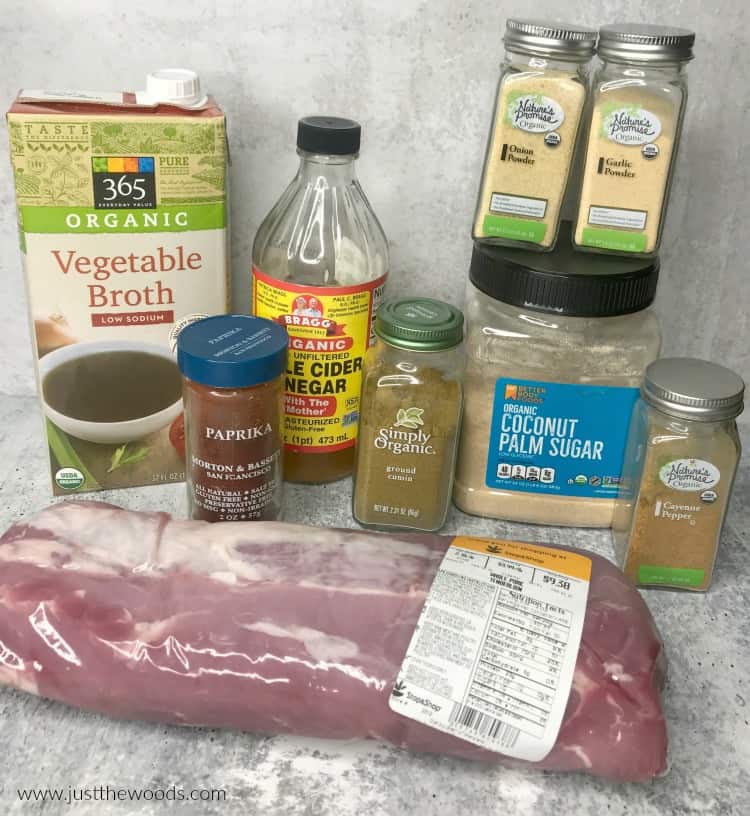 To start we are going to cut our pork tenderloin into chunks. You want the chunks to be around 2-3″ in size.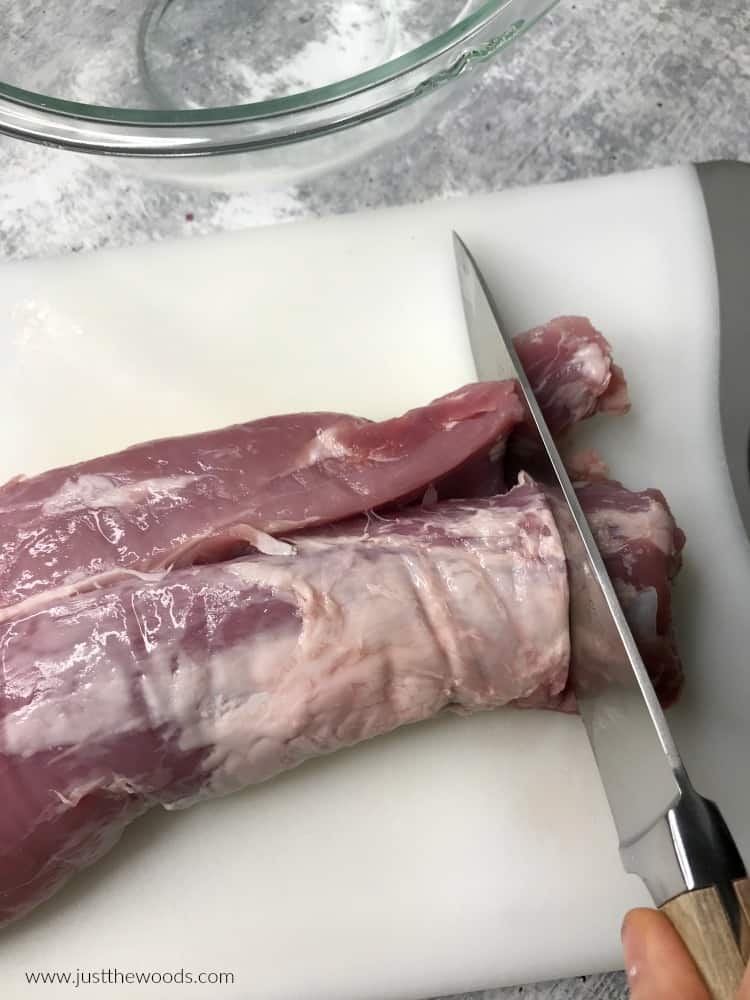 Toss your chunks of pork tenderloin into a medium size bowl.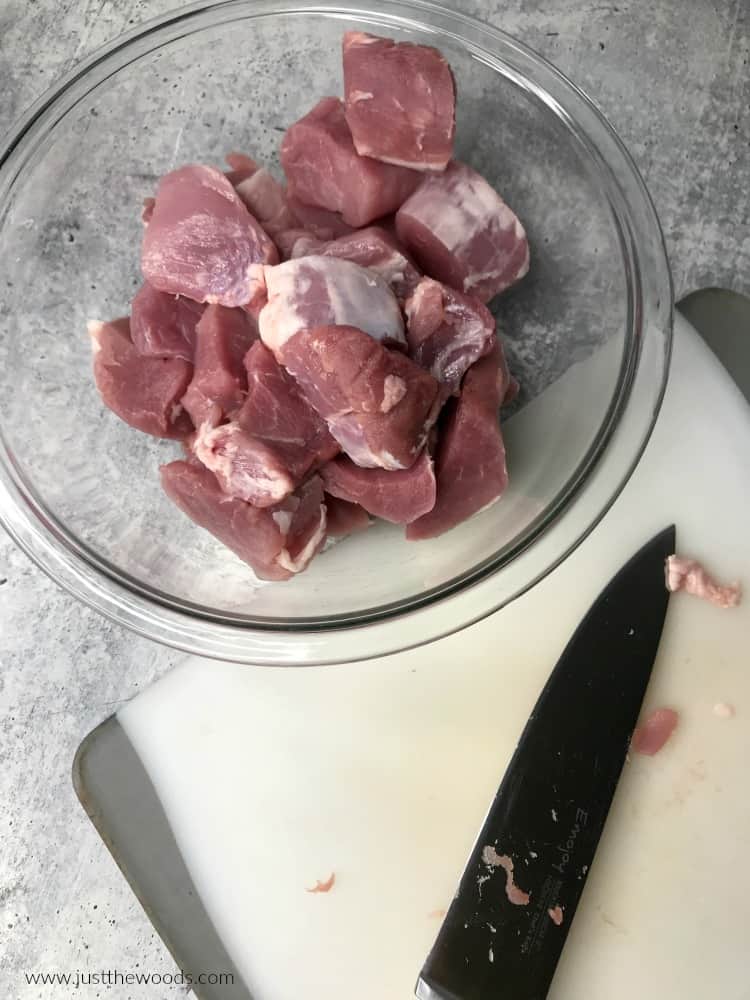 Pulled Pork Rub Recipe
Now we can move on to our pulled pork rub recipe. We are going to start with the coconut palm sugar. This is a healthier alternative to processed refined sugars. Coconut palm sugar also falls low on the glycemic index and is not as sweet as other sugars.
If you would prefer a taco seasoning mix without any sugar at all you need to check out this one: Homemade Taco Seasoning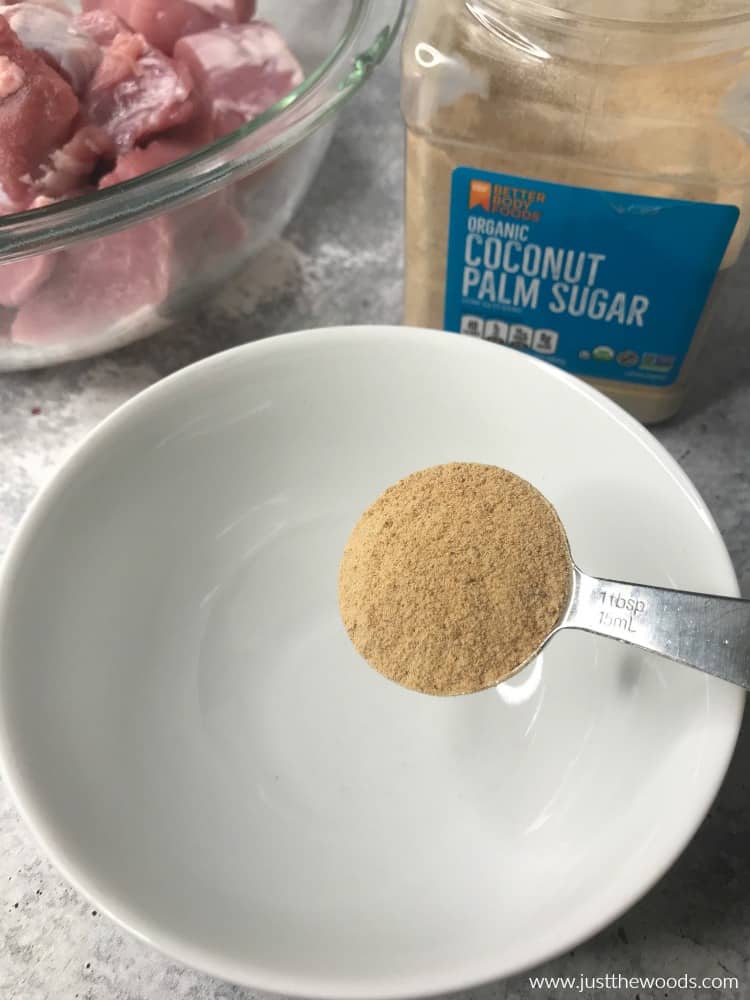 Next, add the remaining dry ingredients. Paprika, garlic powder, onion powder, cumin and cayenne. Mix your pulled pork dry rub ingredients together.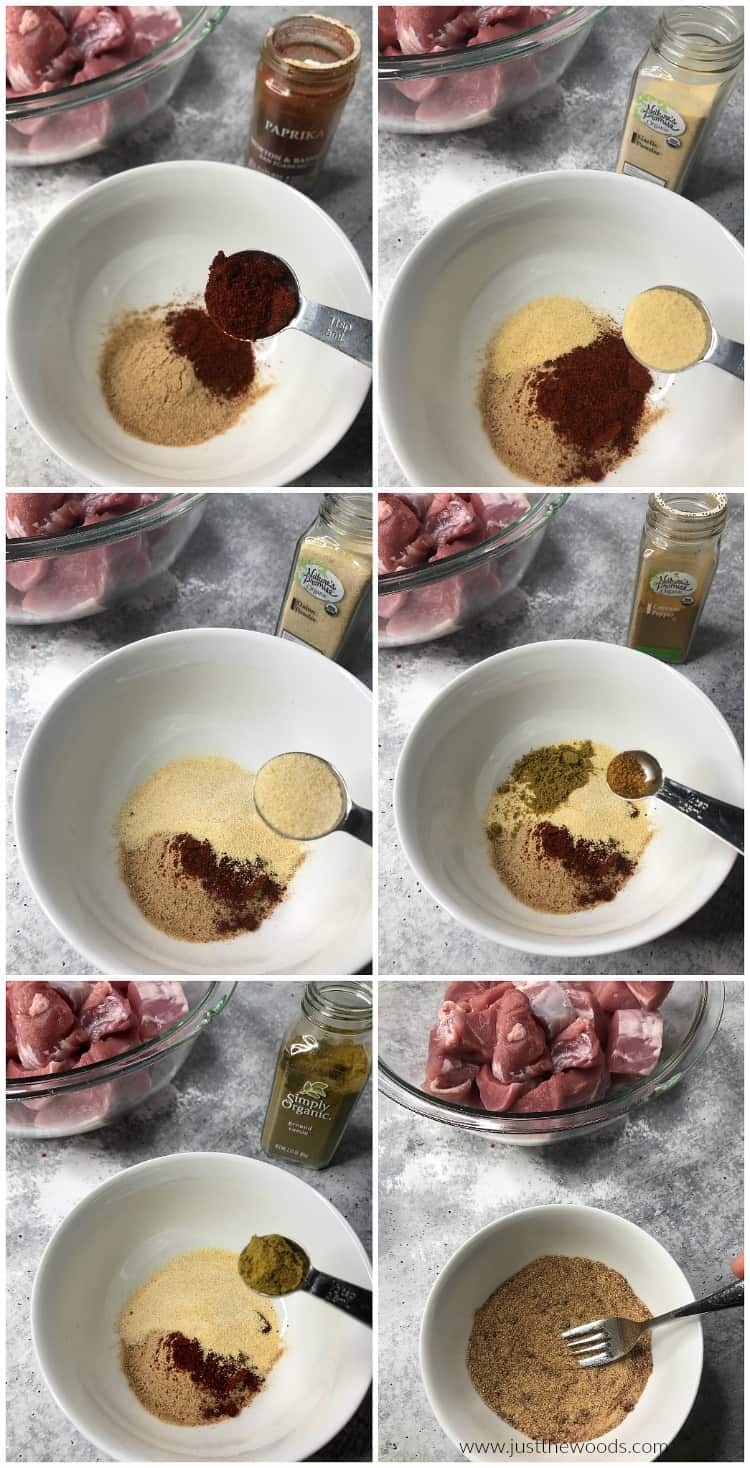 Add your pulled pork taco rub to the pork tenderloin.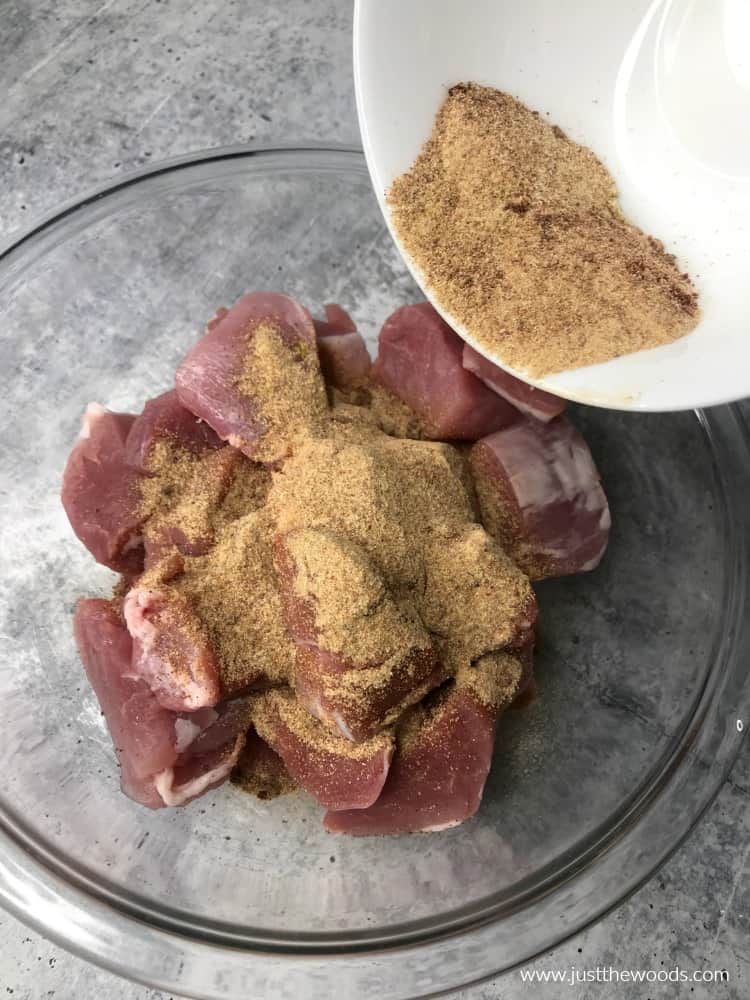 With clean hands massage the rub all over your pork and cover with plastic wrap. Place your pork in the fridge to marinate for 1-2 hours or overnight (if you plan your meals that far ahead). I normally let them site for just a few hours. Even if you don't let them marinate Im going to assume they will still come out tasty.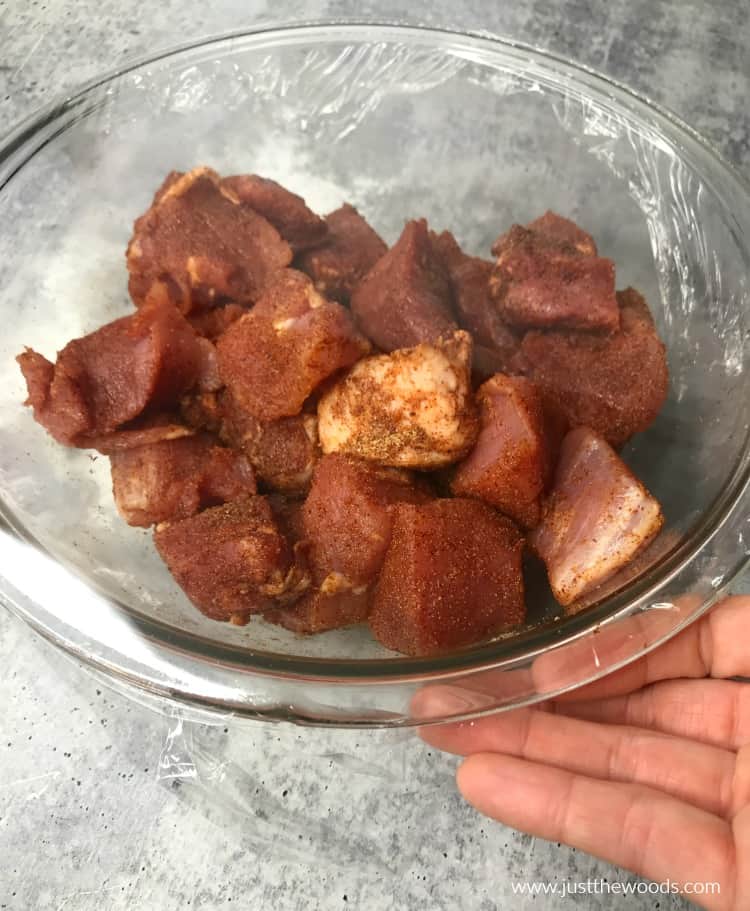 Ninja Foodi Pulled Pork Tacos
Now it's time to break out the Ninja Foodi. This thing is amazing! It is a pressure cooker, slow cooker, air fryer, dehydrator, and more all in one. It makes meal prep a breeze and last minute cooking ideas easy. If you don't have one yet you can get it online here: Ninja Foodi. There is also a video review of the Foodi at the bottom of this recipe.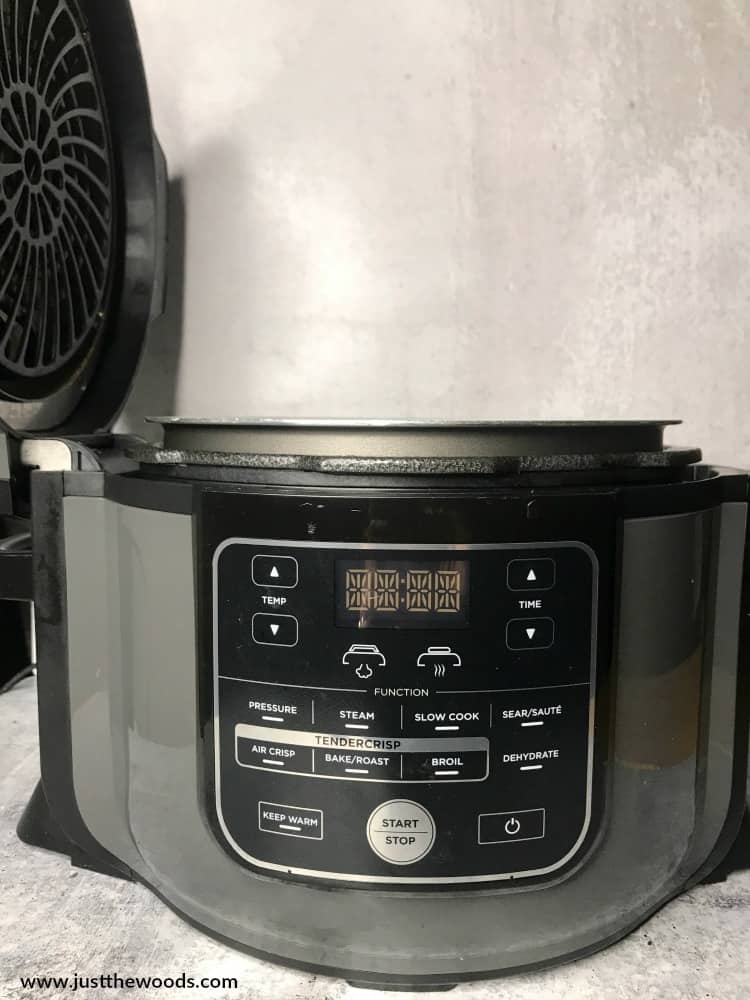 Sear/Saute Pork Tacos
First, we are going to remove any racks or baskets from the Foodi and select the sear/saute option. Press the sear/saute then press start for the Ninja Foodi to begin heating up.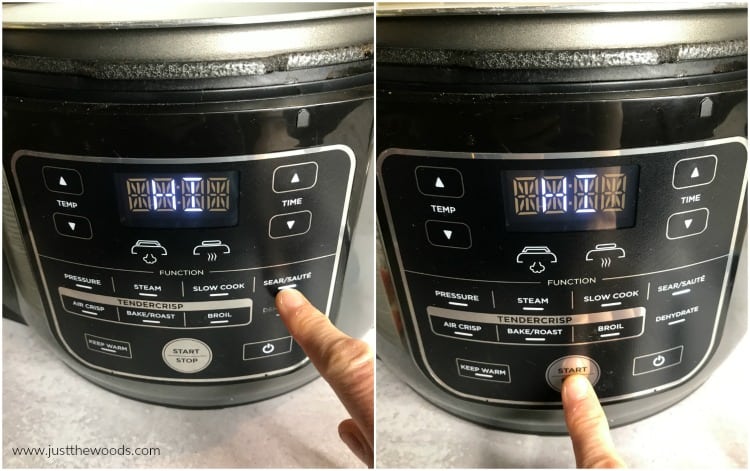 With this function the Ninja Foodi will heat up with the lid open. We are going to brown the pork before be pressure cook. Drop your chunks of pop tenderloin into the Ninja Foodi and brown the pieces just a bit. Then remove the pork from the Foodi. I simply place it back in the glass bowl.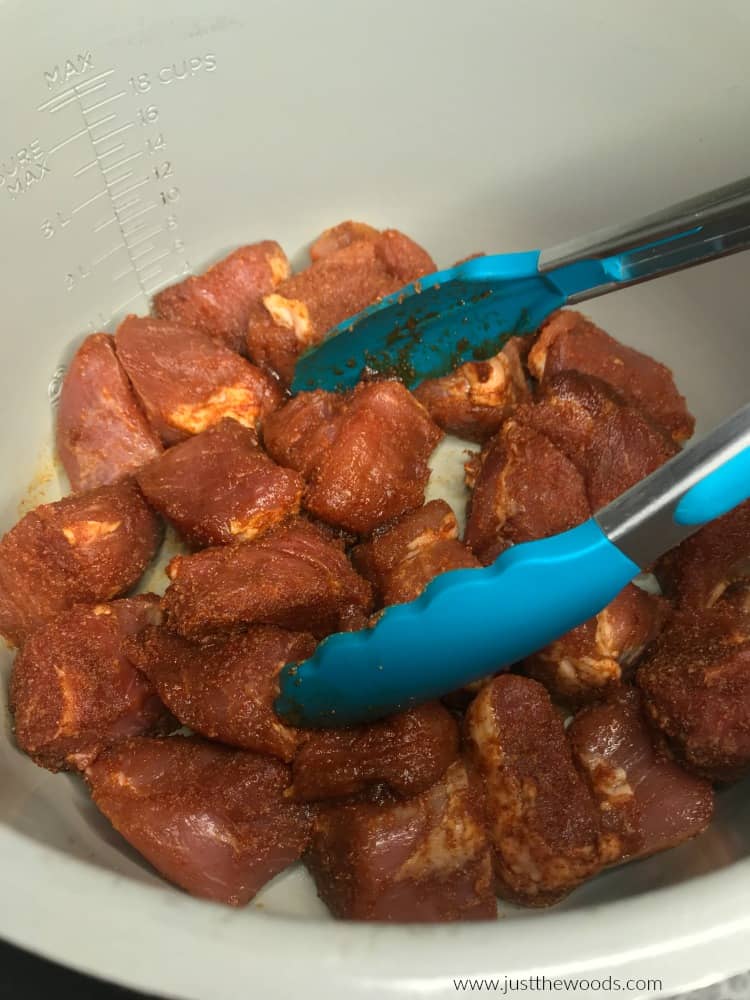 With the pork removed from the Ninja Foodi, pour the apple cider vinegar and broth into the pot. You can leave the Foodi still set to sear/saute for this. Deglaze the pot with a wooden spoon to get any bits that may be there unstuck.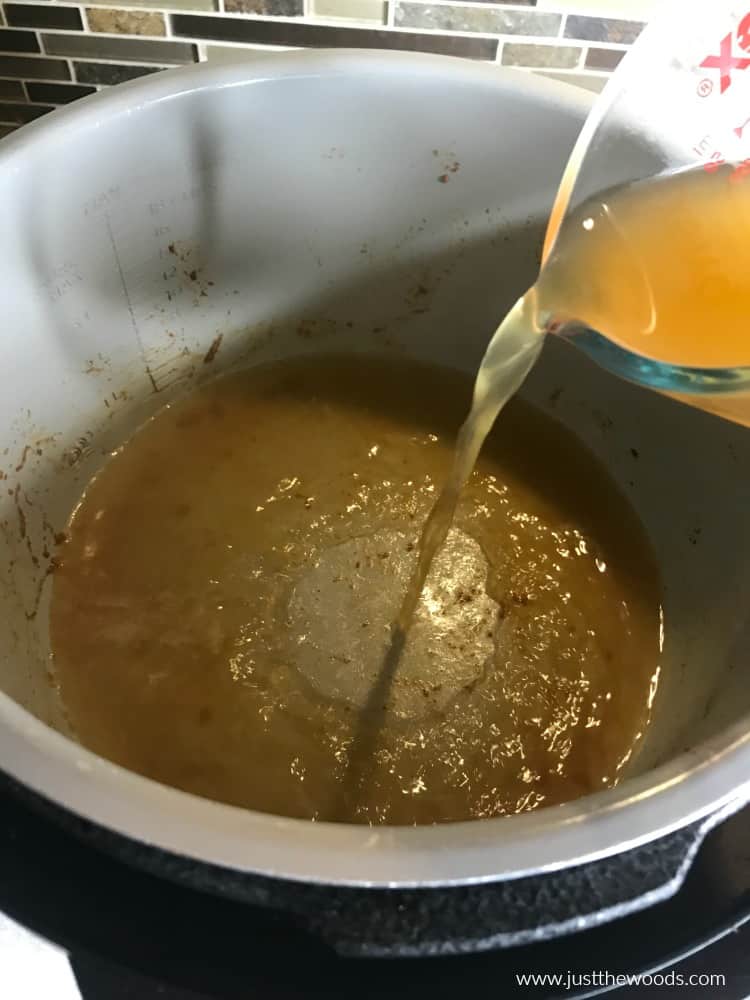 Return the pork to the Ninja Foodi pot.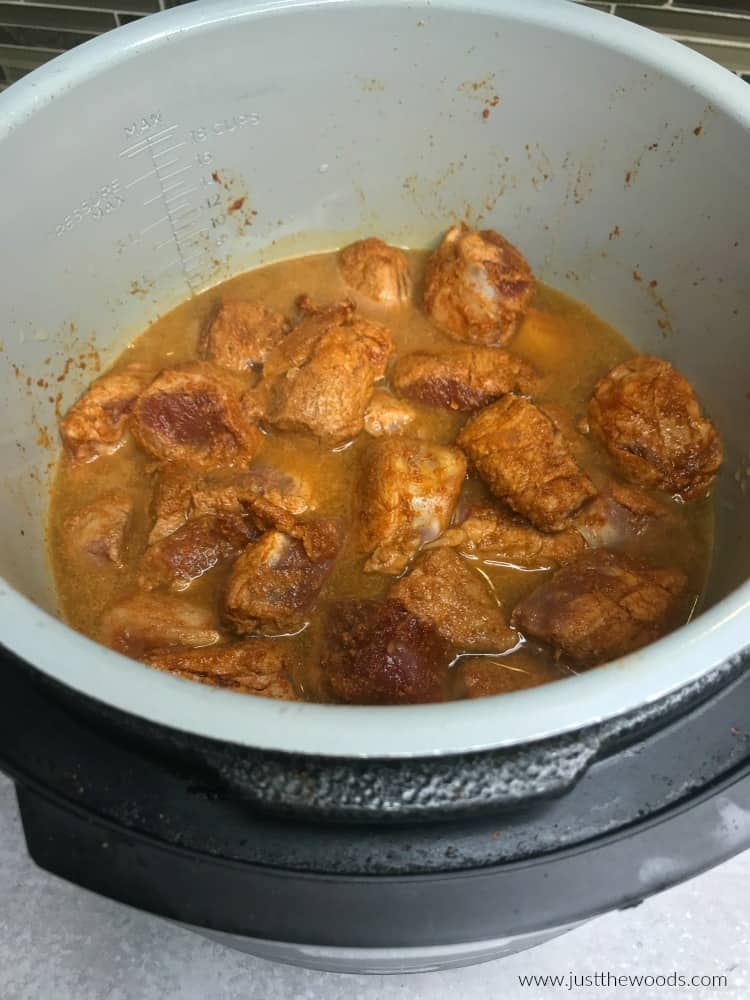 Pressure Cooker Pulled Pork Tacos
Now attach the pressure cooker lid to the Ninja Foodi and make sure to set the valve to seal. The valve is wobbly and seems loose. This is normal.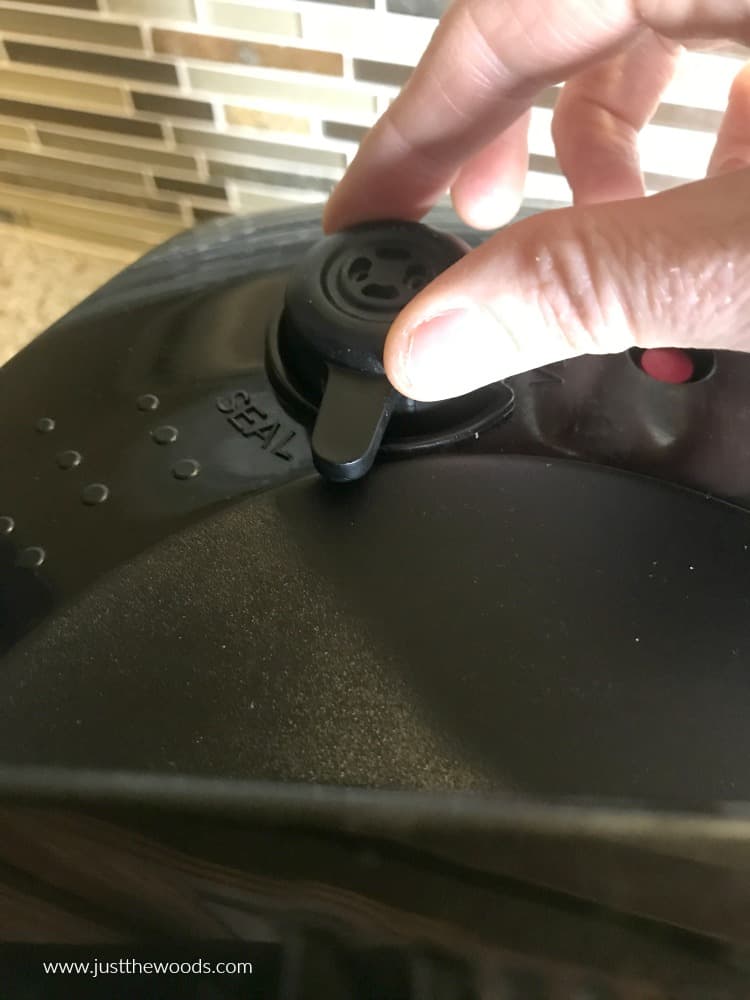 Next, to set your Ninja Foodi to pressure cook you will need to:
select 'pressure' – Hi
set your time – 35 min
press Start
the Foodi will start heating up to come to pressure
once the Foodi reaches pressure the timer will begin counting down.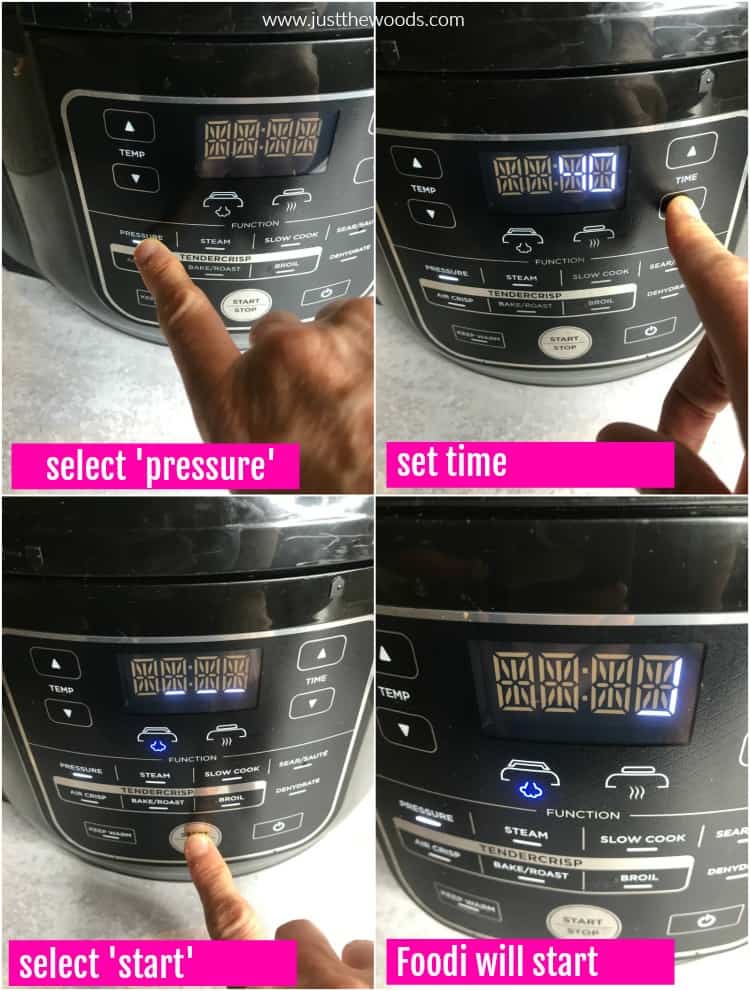 Once the Ninja Foodi is finished cooking your pulled pork it will begin a slow release of pressure. I tend to not have the patience for the slow release and go for the Quick release. Once the pressure is fully released the red button on the top will drop and you can remove the lid.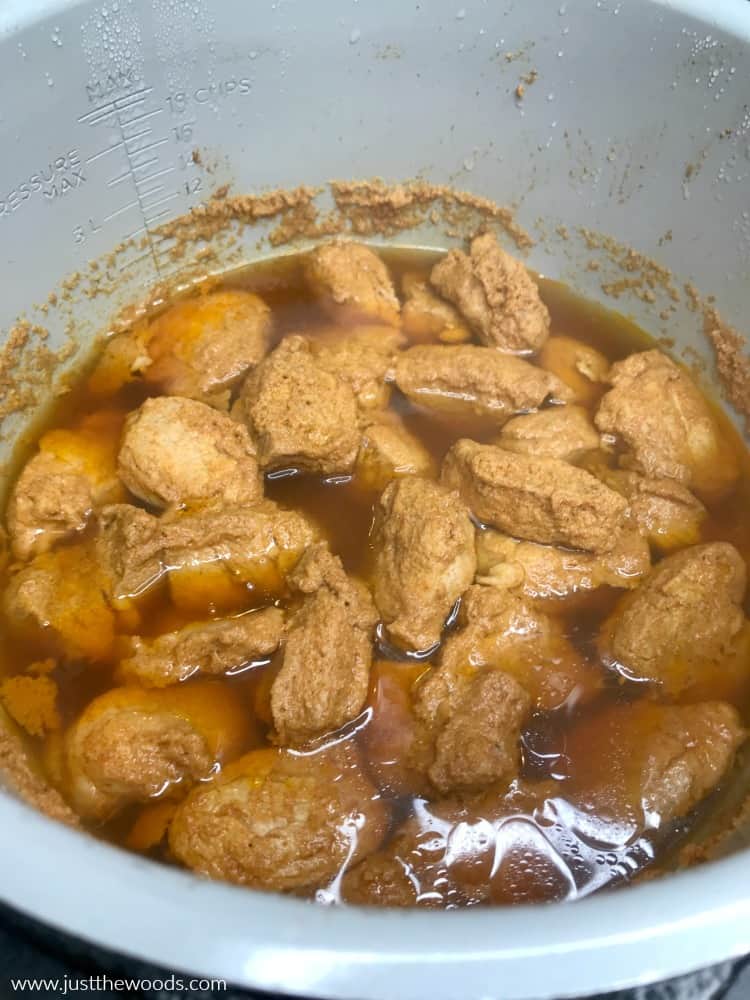 Ninja Foodi Pulled Pork Tacos
Keep your cooked pork tenderloin in the juices and shred with a fork. It should fall apart easily.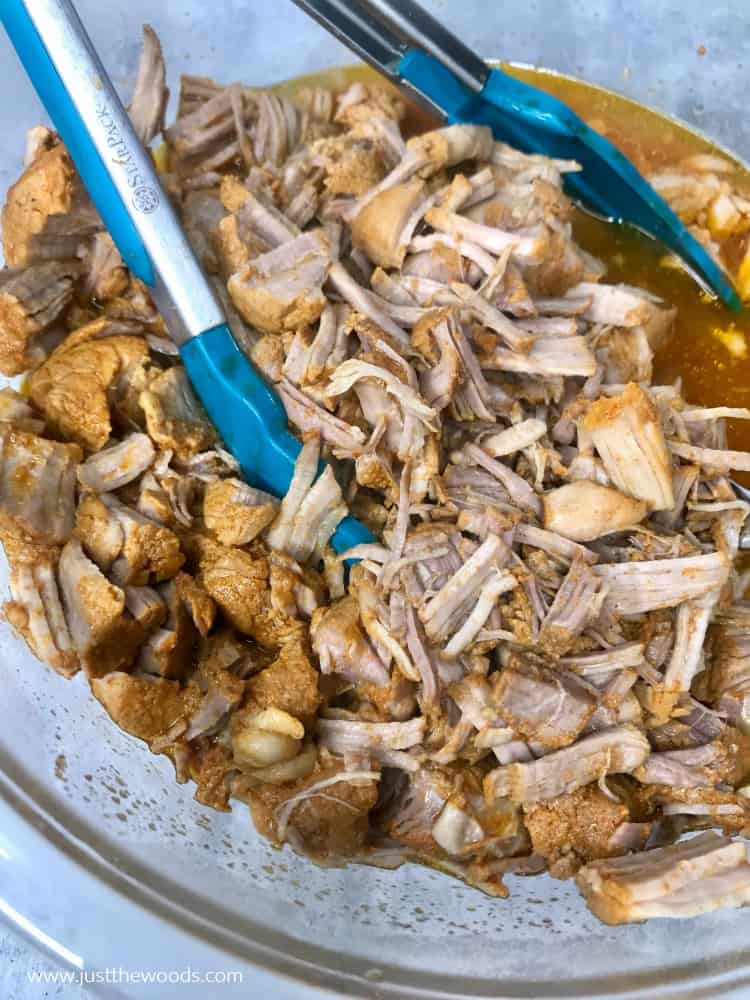 To make these delicious pulled pork tacos I am using grain free taco shells and mango salsa. You can get the taco shells online here: taco shells, and the mango salsa here: mango salsa.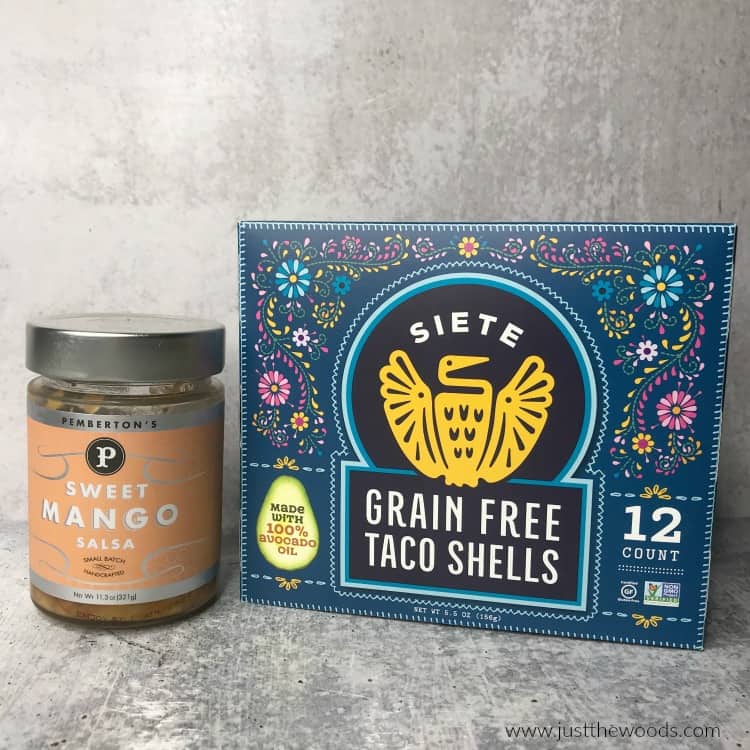 Arrange your Ninja Foodi pulled pork tacos and enjoy. Depending on the size of your pork tenderloin and how much you stuff your taco shells this recipe makes approximately 10-12 pulled pork tacos.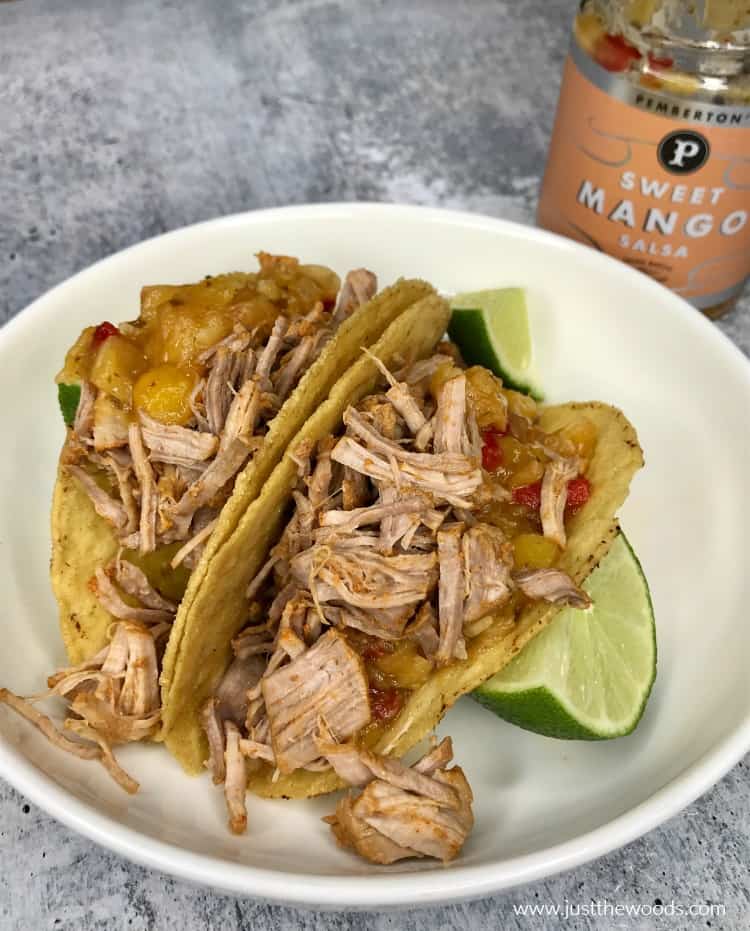 Ninja Foodie Review
Here is a quick video showing a quick Ninja Foodi review and rundown of its functions, parts and simple cleaning. If you are unable to see the video you may need to turn off 'ad-blockers' on your site. The video may also autoplay within the post.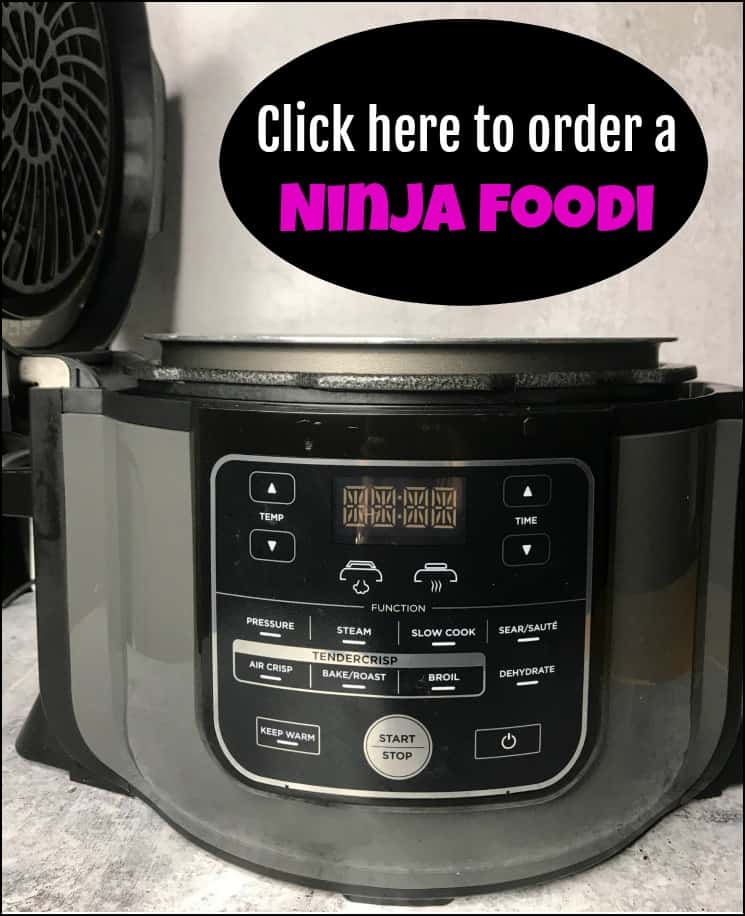 Printable Recipe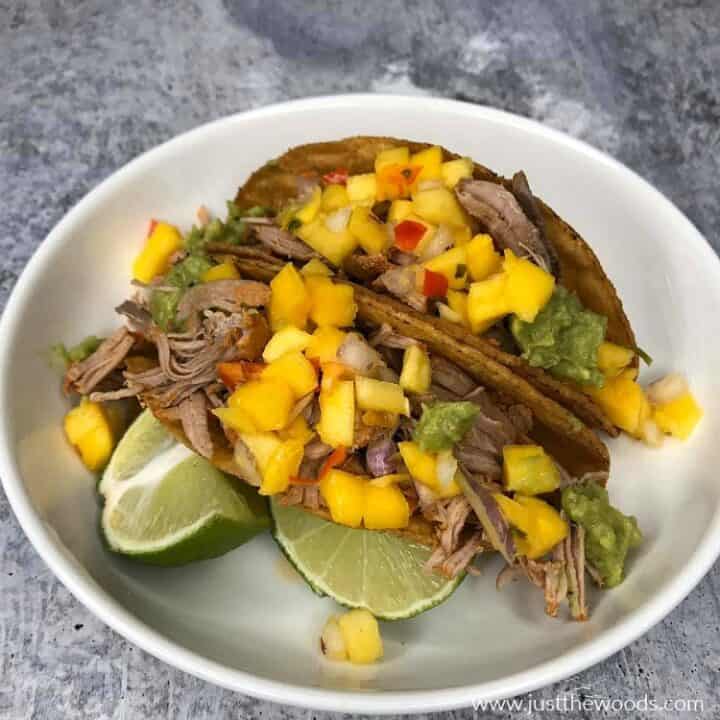 Ninja Foodi Pulled Pork Recipe for Amazing Pork Tacos
This Ninja Foodi pulled pork recipe is so easy to make. It's fast, delicious and healthy. Pulled pork tacos made in the Ninja Foodi pressure cooker.
Ingredients
Pork tenderloin (2-3 lbs)
2 tsp Paprika
2 tsp Garlic Powder
1/2 tsp Cumin
2 tsp Onion Powder
1/8 tsp cayenne
1 1/4 cup broth
Instructions
Cut pork tenderloin into chunks
Mix dry ingredients
Season pork with let ingredients and let sit 1-2 hours min (or overnight)
Set Ninja Foodi to sear/saute and slightly brown tenderloin chunks on all sides
Remove pork from Foodi and add liquid
Deglaze bottom of Foodi
Add pork back to the Foodi
Attach pressure cook lid
Set Ninja Foodi to Pressure Cook on High
Cook for 35 minutes
Allow Foodi to slow release for up to 5 mintues then quick release pressure. DO NOT remove lid until pressure is fully released.
Shred pork with fork
Prepare your tacos and serve with your favorite toppings.
Recommended Products
As an Amazon Associate and member of other affiliate programs, I earn from qualifying purchases.
Nutrition Information:
Yield:

4
Serving Size:

1
Amount Per Serving:
Calories:

111
Total Fat:

3g
Saturated Fat:

1g
Trans Fat:

0g
Unsaturated Fat:

2g
Cholesterol:

18mg
Sodium:

135mg
Carbohydrates:

13g
Fiber:

1g
Sugar:

6g
Protein:

8g
nutritional values are estimates and may vary depending on products/ingredients used.
For more healthy clean eating recipes make sure to follow my clean eating Pinterest board here:
Clean Eating
.