Disclosure: Vintage Shabby Chic tables post contains affiliate links for your convenience.
Vintage Shabby Chic Tables
Materials Needed:
Black Sharpie pen
Plain chalk
Staging / Home Decor
Before
These nightstands are actually part of a custom bedroom set. The items are being finished separately so I figured I might as well post about them separately.  My customer told me that she wanted to shift the look of these pieces from dark and modern to vintage shabby chic.  She decided on a soft, almost sage green.  But like most projects it wasn't quite that simple.  Let me first share the before photo, dark right?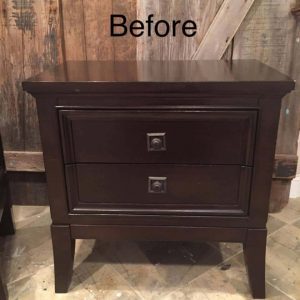 My customer had seen previous pieces that I've done with the pretty prints on the sides of the drawers, so we decided to add that special little detail as well. BUT..  because there's almost always a but.. the sides have tracks!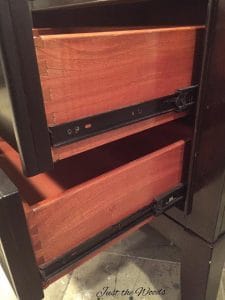 The Process
Oh, my Lord!  I almost had a full on panic attack when these were dropped off.  So many questions raced through my mind.  I kept thinking to myself: "what if I remove the tracks and can't line them back up again?" "what if they line up crooked and out of whack?" and "what if? what if? what if?" So I took a step back and a deep breath and took this project on in a very methodical manner.  I removed the tracks one at a time while labeling the drawer and dresser in chalk since chalk can easily be wiped away once finished. The holes on the sides of the drawers were then marked with a sharpie.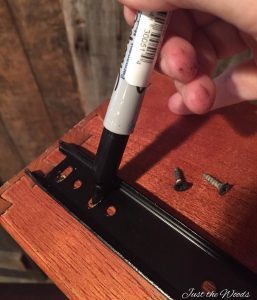 Most of the sides had extra holes so I made sure to mark the holes that the screws were in and ignore the others, otherwise I would've scrambled to figure out which were the correct holes and which weren't.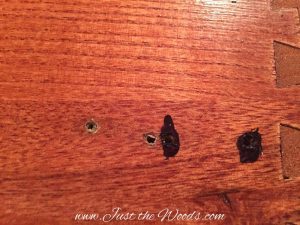 Each set of screws were then separately placed in a small plastic bag and taped to the corresponding track and labeled to make sure it goes back on to the correct drawer and side.  Is my OCD shining through yet? Ex. nightstand 2, top drawer, left side.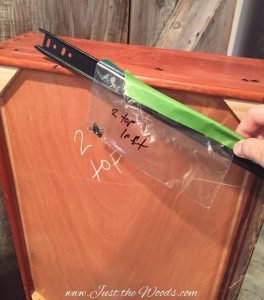 Next, after sanding and prepping the sides I painted a thin coat of Pure & Original island white and marked my holes again.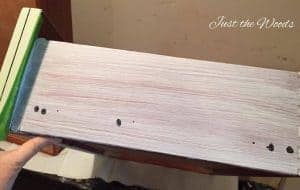 Then I applied my pretty vintage print and marked my holes yet again.   Once the print was sealed I was able to reattach the correct track to each drawer side.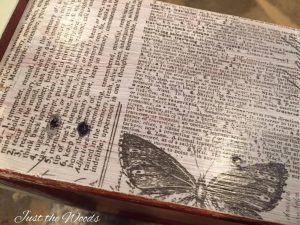 When I removed the hardware I discovered another surprise..  there were holes requiring filler since the new pulls are gorgeous clear crystal knobs from D. Lawless Hardware and only need one hole.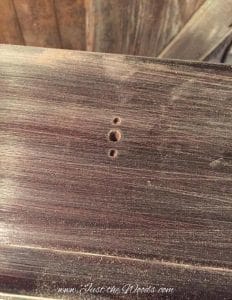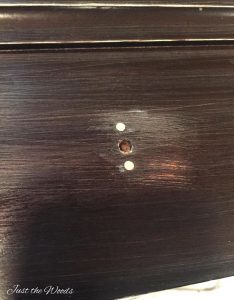 Paint
The nightstands were then hand painted in a Pure & Original kiwi white and distressed revealing bits of the dark underneath creating a vintage shabby chic feel.  These  were then sealed with dead flat eco sealer by Pure & Original.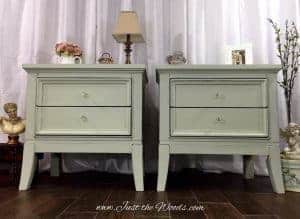 Distressing with sandpaper creates a great worn vintage look. I love the dark coming through the light green!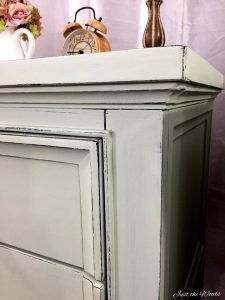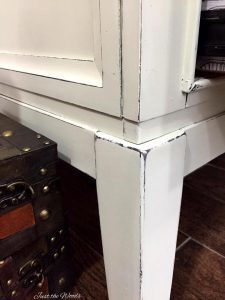 These crystal knobs were the perfect choice to go with the new look of these tables.
The Result
 Then, of course, there are the sides!!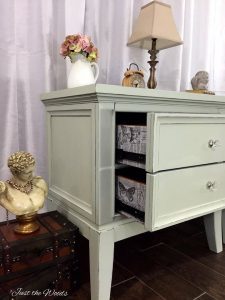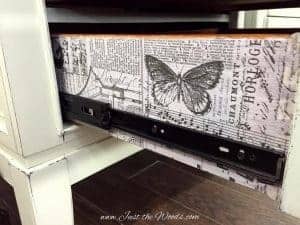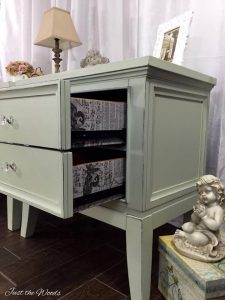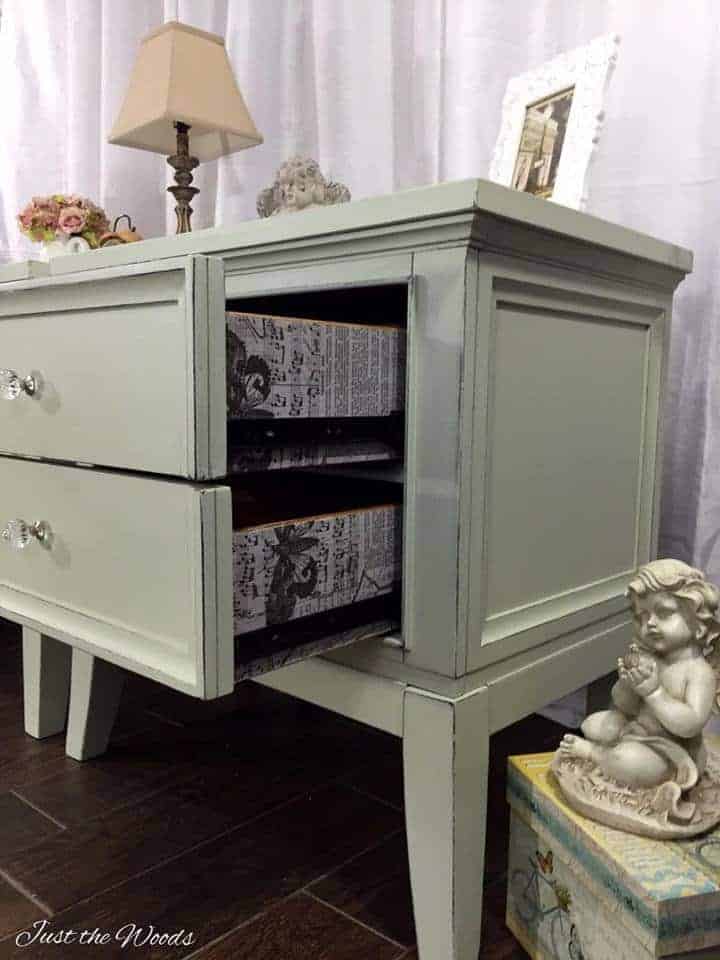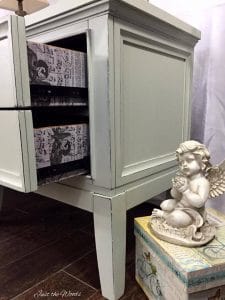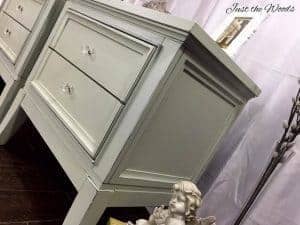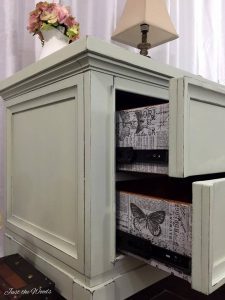 These nightstands truly went from modern to vintage shabby chic.  The matching dresser to the set can be found HERE.
Thanks for following along with me.  xoxo
I'll be sharing this post at these fabulous link parties.
Don't Forget – Follow Just the Woods :
FACEBOOK  *  INSTAGRAM  *  PINTEREST
Subscribe to our mailing list here:
PINTEREST PIN READY TO SHARE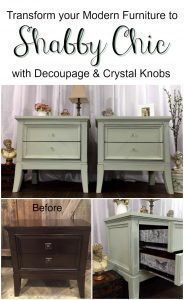 Learn to Decoupage :