Painted Dresser with Surprise Drawers
A white distressed dresser is always a classic and never seems to go out of style. Finish it with a dark brown top or paint the entire dresser white. Either create a perfect look for that timeless distressed dresser makeover.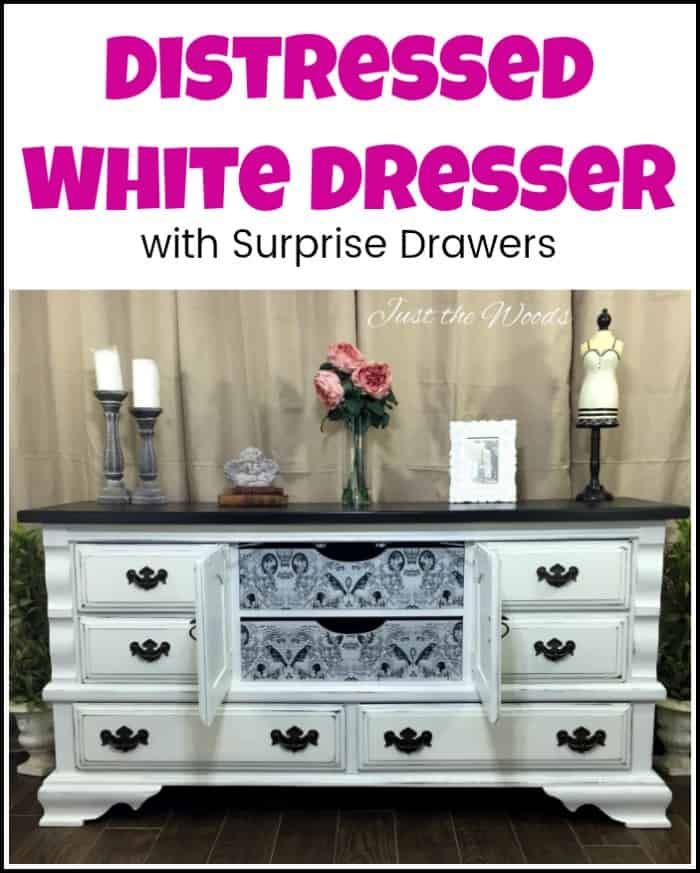 Disclosure: This post contains affiliate links for your convenience. Click here for my full disclosure policy.
Original Vintage Dresser
This painted and distressed white dresser sat in its original vintage condition for way too long. I have to tell you that I have had this dresser in my inventory for quite some time.  It was actually reserved at one point to be customized and then became available again, no one seemed to want it.  I feared that no one could see its potential, at least not the potential that I could see for it.  I also had no intentions of refinishing this dresser when I did. But I scooped up an ornate buffet knowing I had no space for it, forcing me to pull this dresser out.  It had so many scratches from being moved around so much, other pieces stacked on top of it, etc. Take a look at the condition it was in when I pulled it from inventory.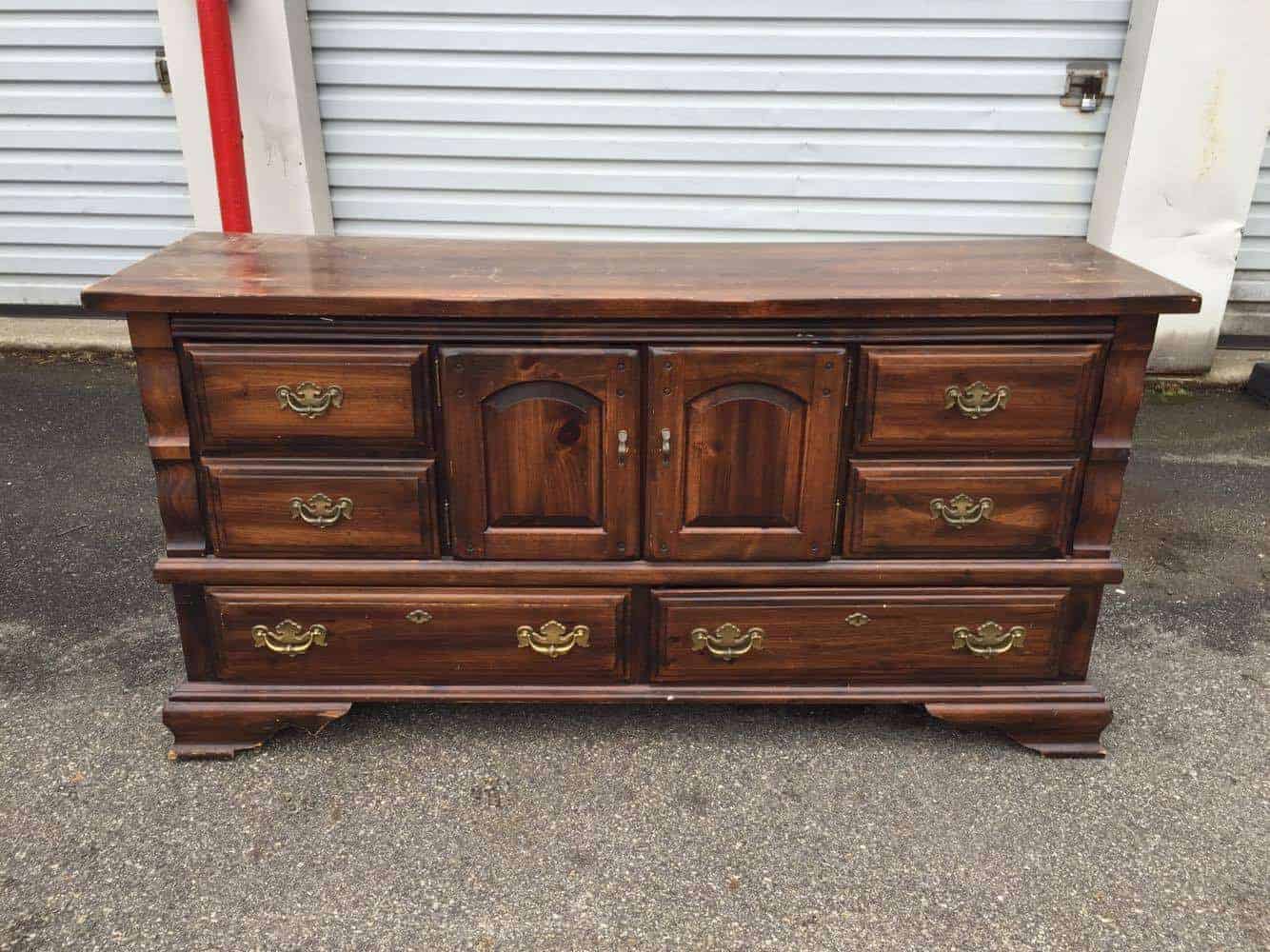 Prepping Vintage Furniture to Become a Distressed White Dresser
I know that from a distance all anyone sees is ugly brown and ugly hardware.  The first step in transforming this vintage dresser is to sand the top, smoothing out the scratches as much as possible, clean, prep and vacuum out the dust from inside.  My little helper insists on vacuuming out the dust. This is my standard process for How to Prep Painted Furniture.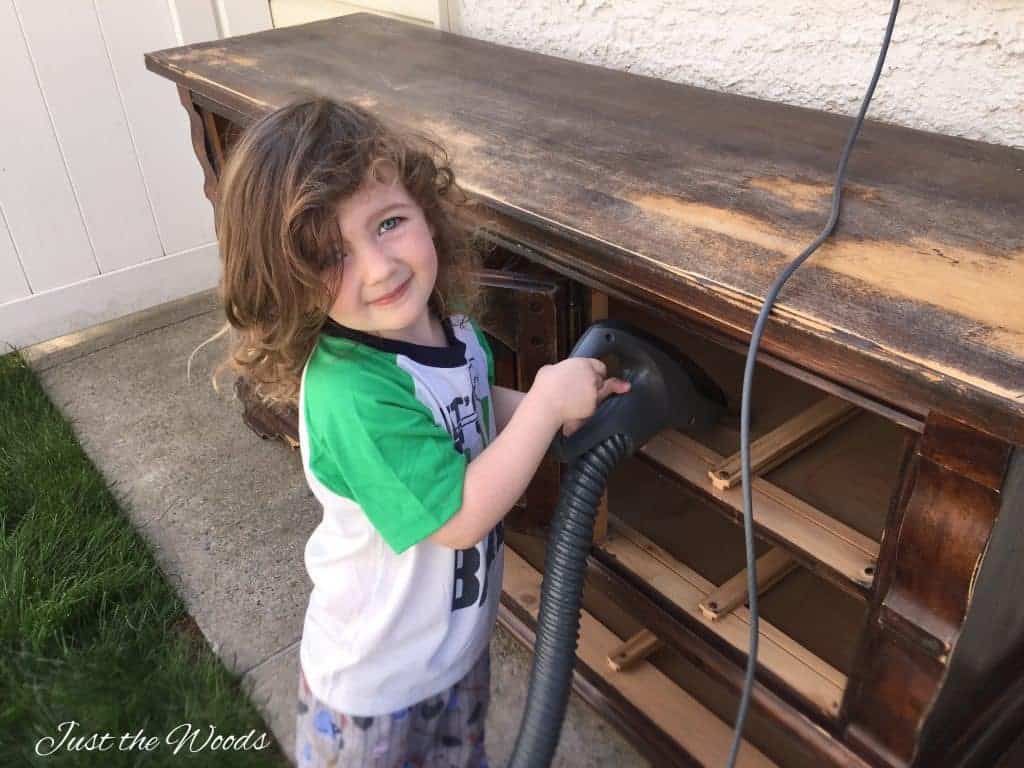 New to painting furniture and not sure where to start? Start at the beginning with How to Paint Furniture – a Beginners Guide.

Since this dresser is unplanned and will be listed for sale I decided to keep it neutral with a custom mixed rich espresso brown made by mixing brown and black paint.  The bottom is painted in a creamy white for an antique white dresser look. You can find great quality furniture paint online HERE.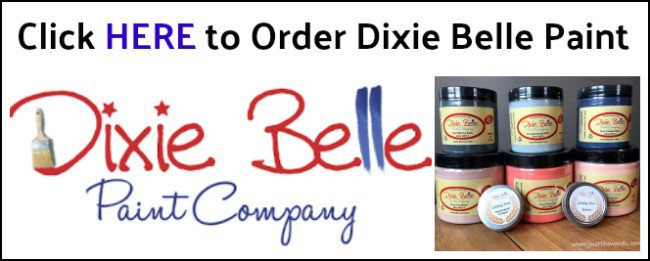 Decoupaged Drawers on a Distressed White Dresser
I also decided to add an extra touch to the drawer fronts of this distressed white dresser. For the drawers that are hiding behind the center doors I add a pretty vintage print from my stash. You can find gorgeous decoupage tissue and prints online HERE.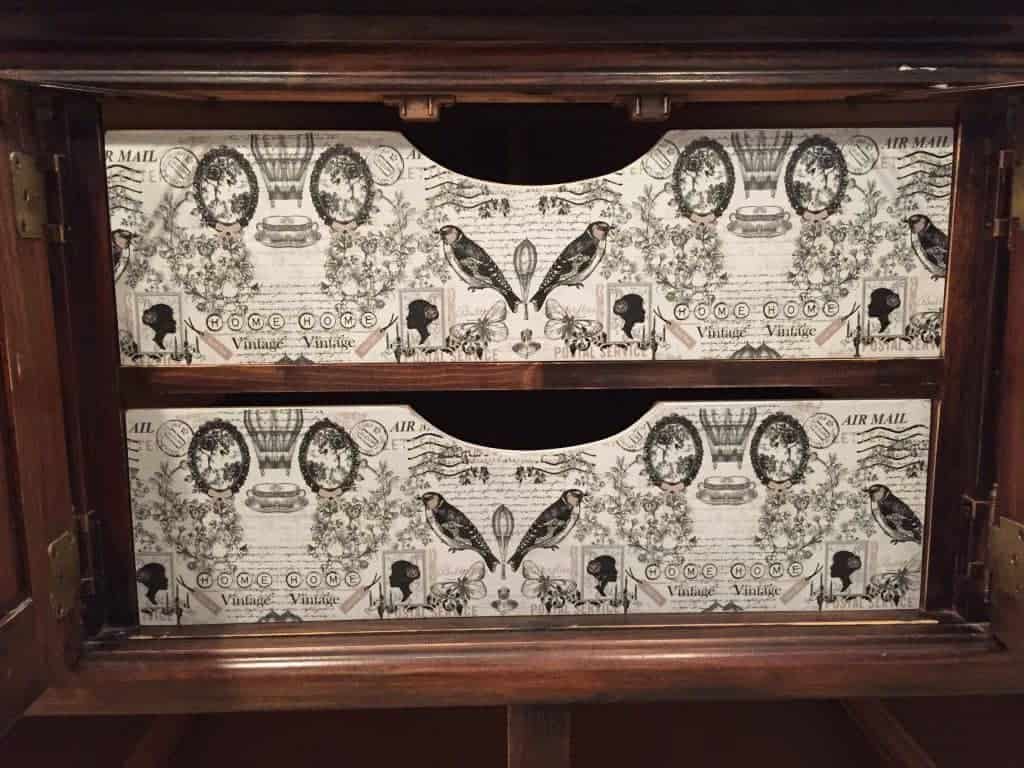 Dag nabbit they don't match! I waited overnight until after they were completely dry to check on them and realized that they were totally off.  I had to take the bottom drawer and sand the print off with my electric sander to start all over. The second time around I decided to do the bottom drawer differently than the top and I think it works much better now.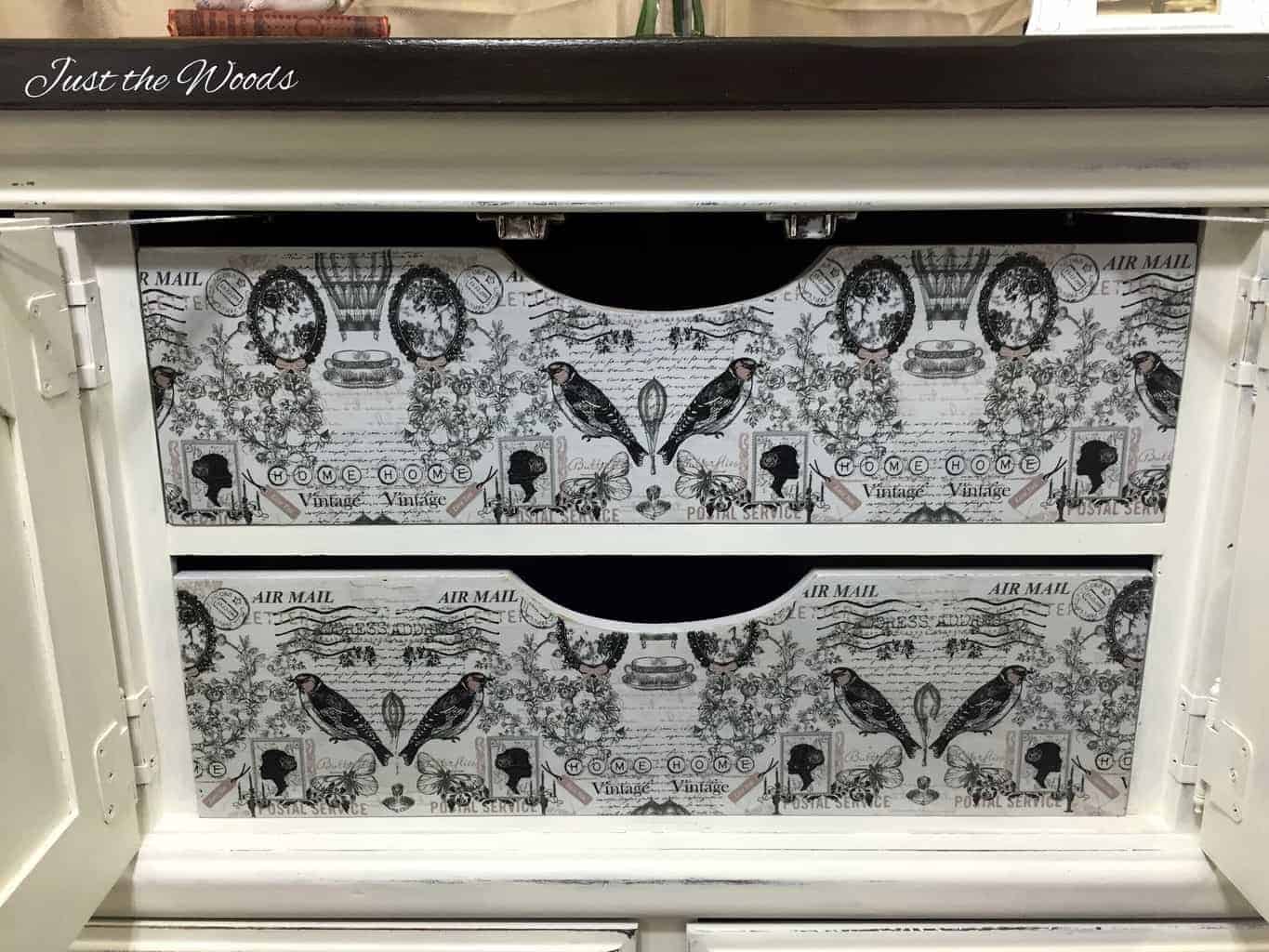 This ugly duckling really transformed into a beautiful vintage painted dresser.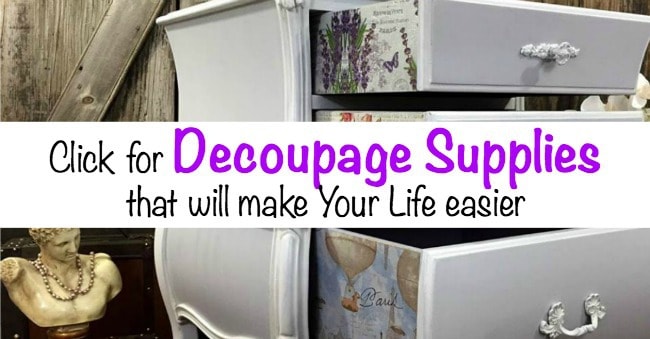 The Result – Vintage Painted Dresser
From dark brown and boring to classic distressed white dresser.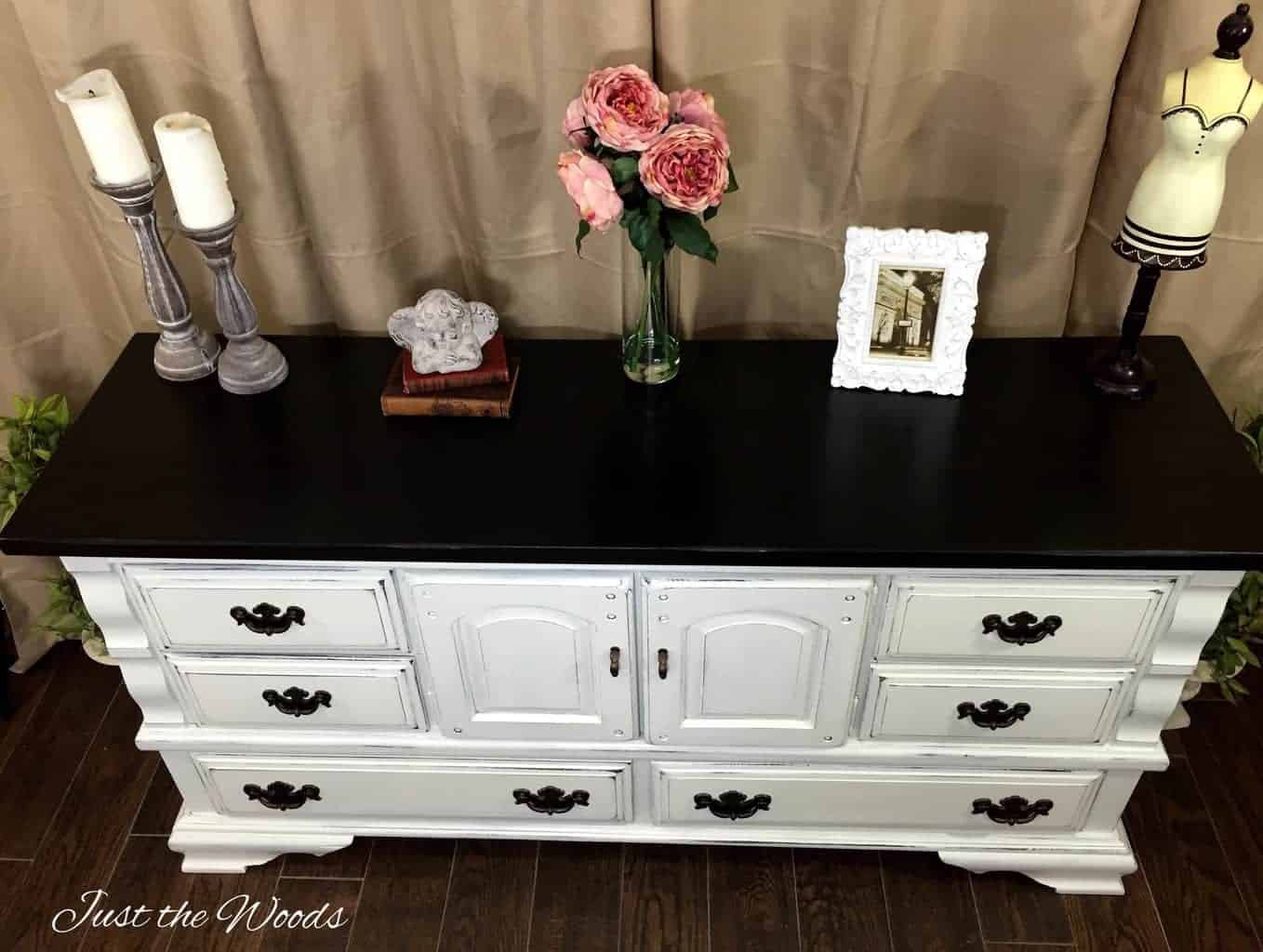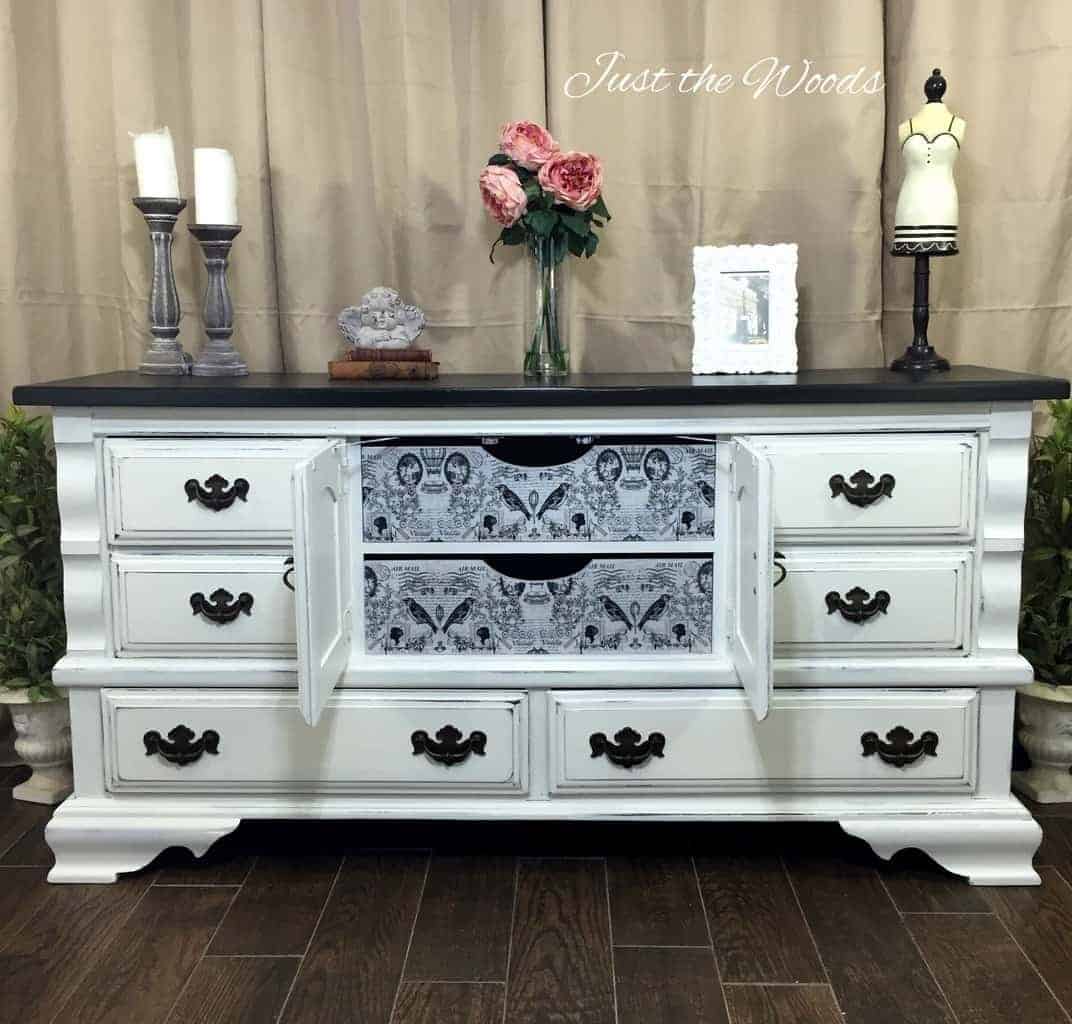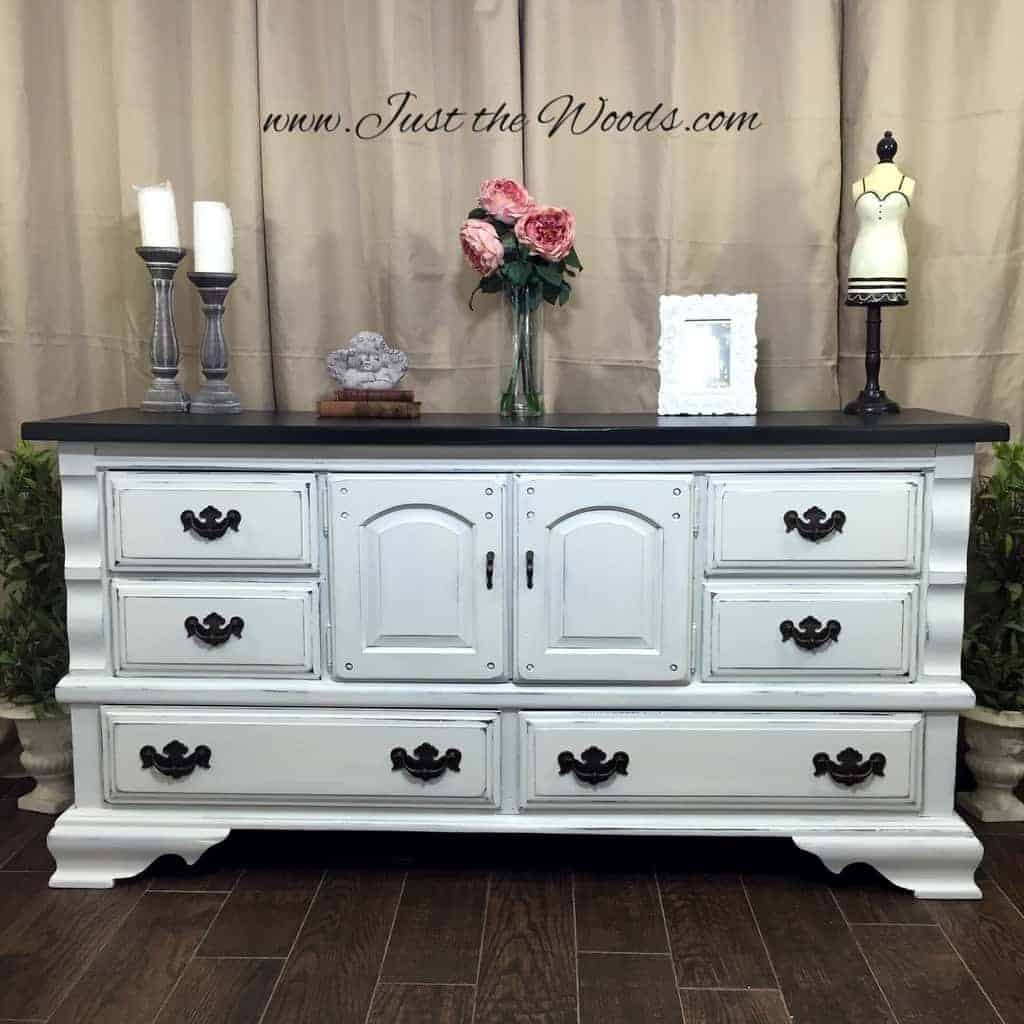 The details and edges are all distressed using my favorite flexible sandpaper.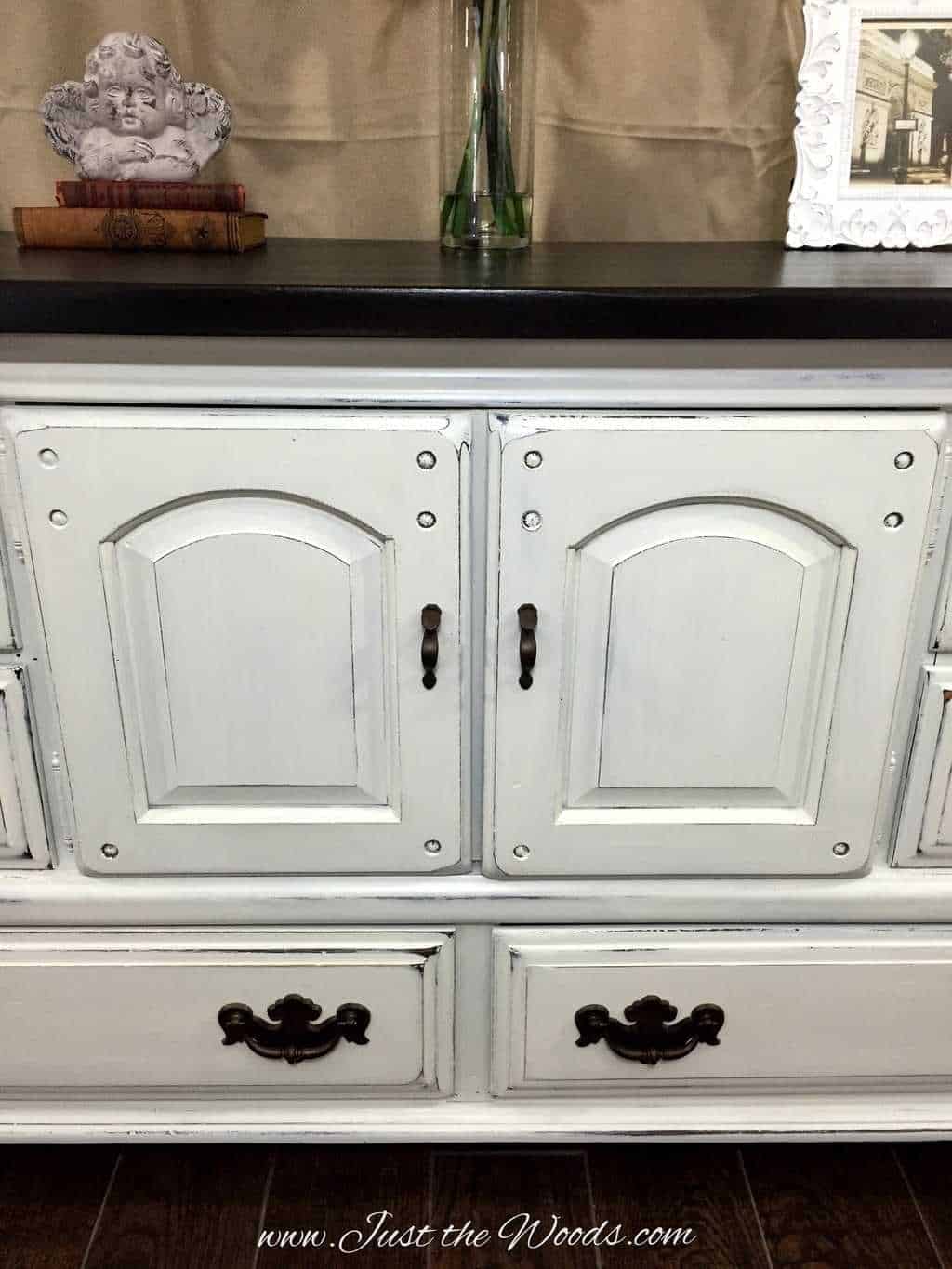 The brassy gold hardware is freshened up to a dark almost hammered bronze.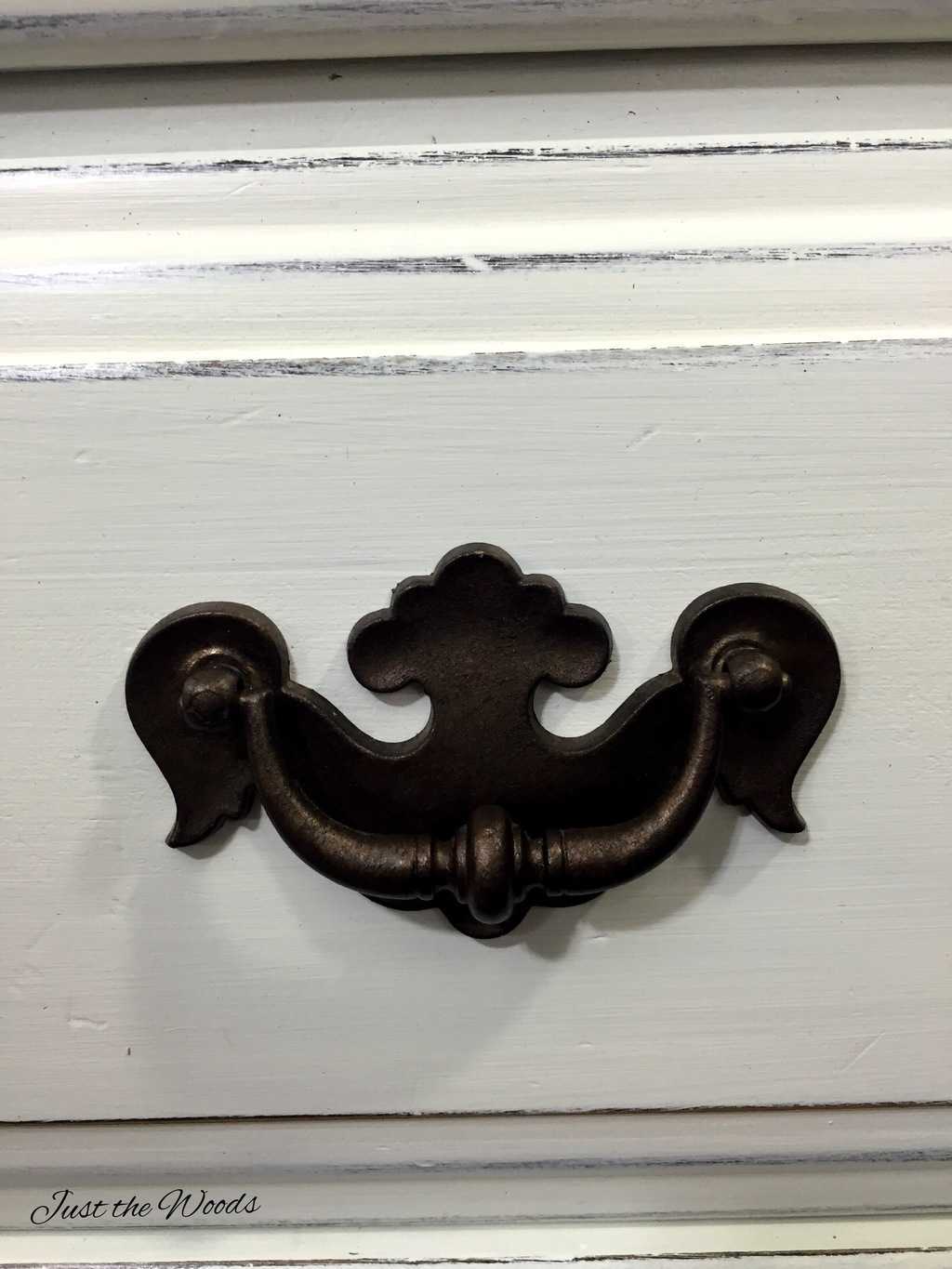 The drawers really give it the extra wow factor while keeping the dresser as a whole rather neutral.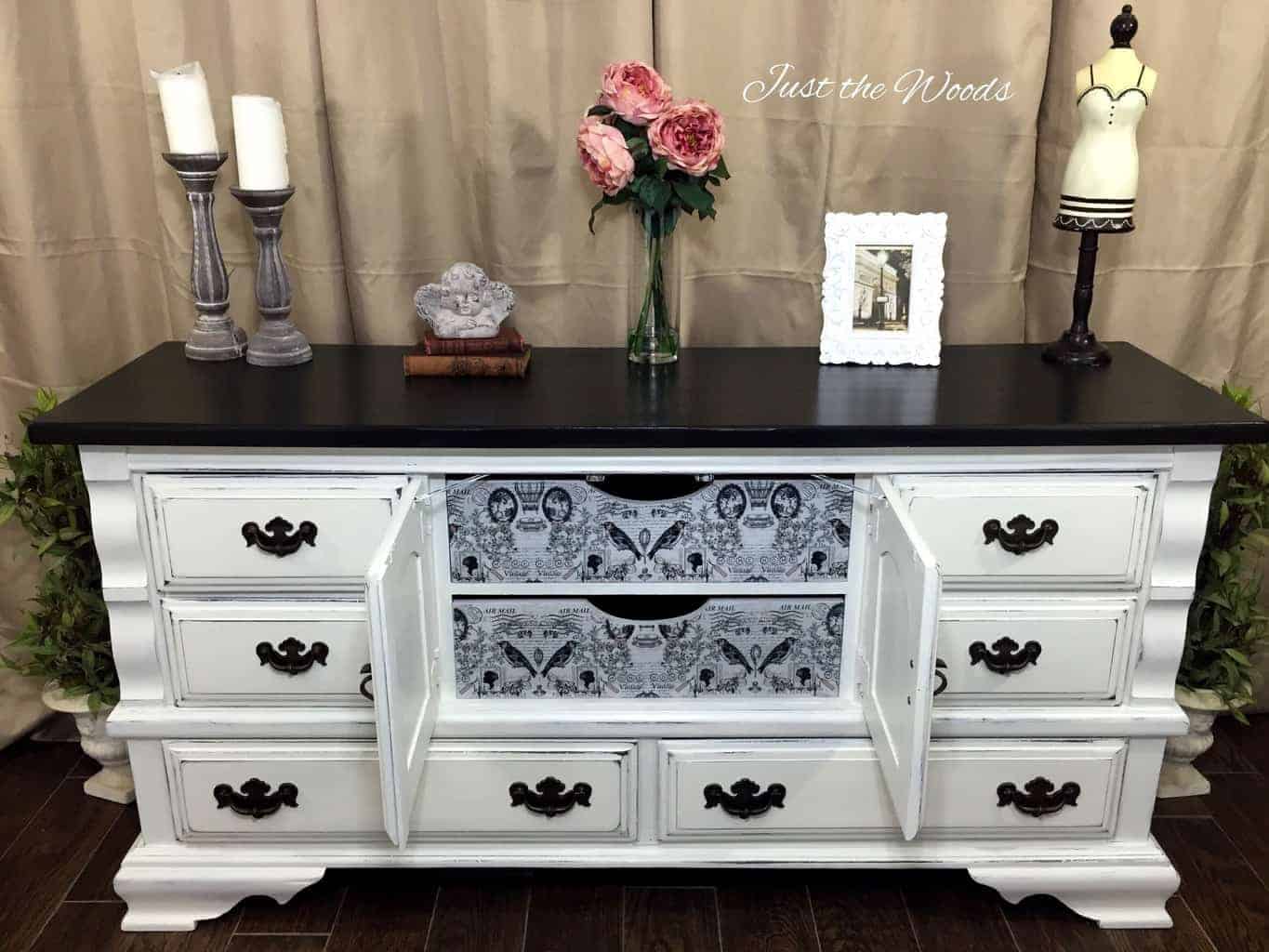 The entire piece is sealed for protection with a clear Protective Finish. Here is a full tutorial with VIDEO showing how I seal my painted furniture projects: Sealing Painted Furniture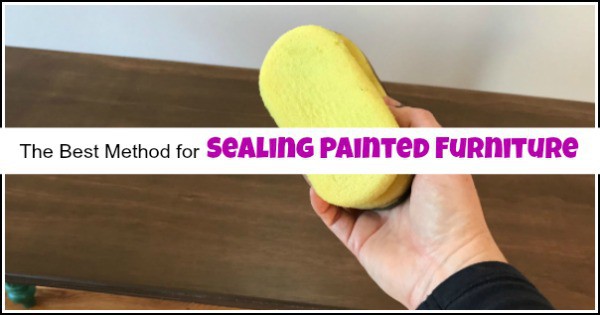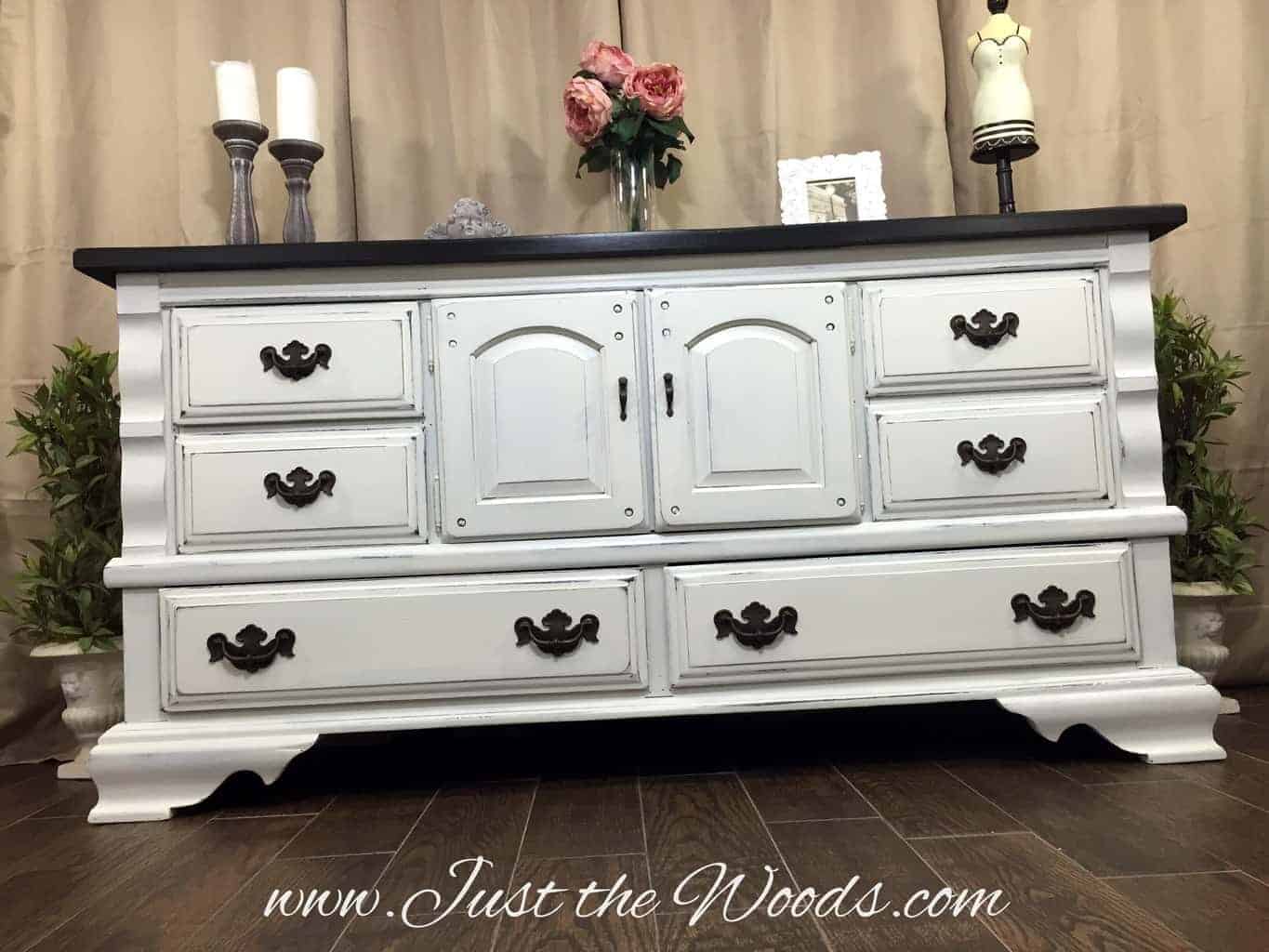 Thanks for following along with me.  xoxo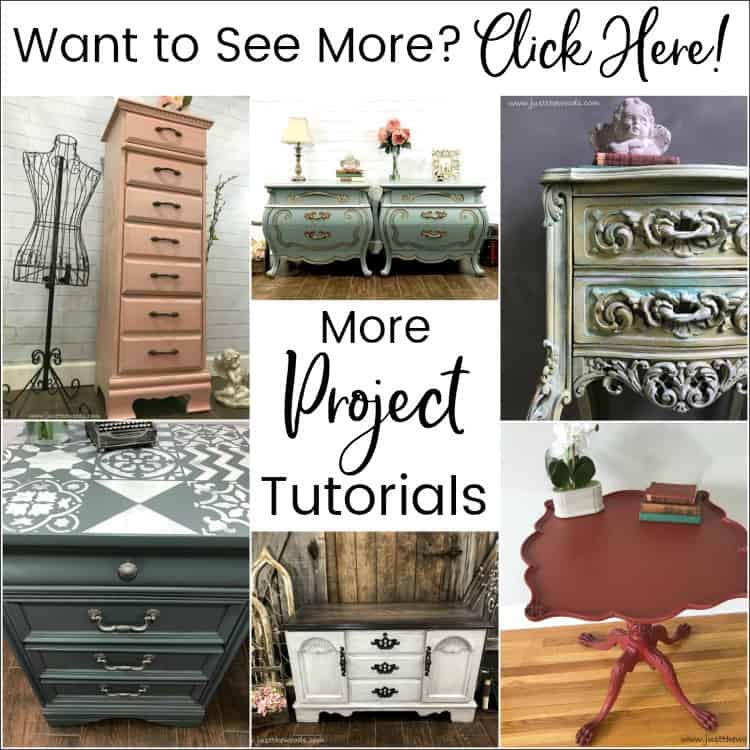 Don't Forget – Follow Just the Woods :
FACEBOOK  *  INSTAGRAM  *  PINTEREST
Subscribe to our mailing list here: