These are hands down the best chocolate chip walnut cookies ever. In fact, I make this delicious chocolate chip walnut cookie recipe all the time because my whole family loves them. These healthy chocolate chip walnut cookies are actually made without any flour or butter and are so easy to make.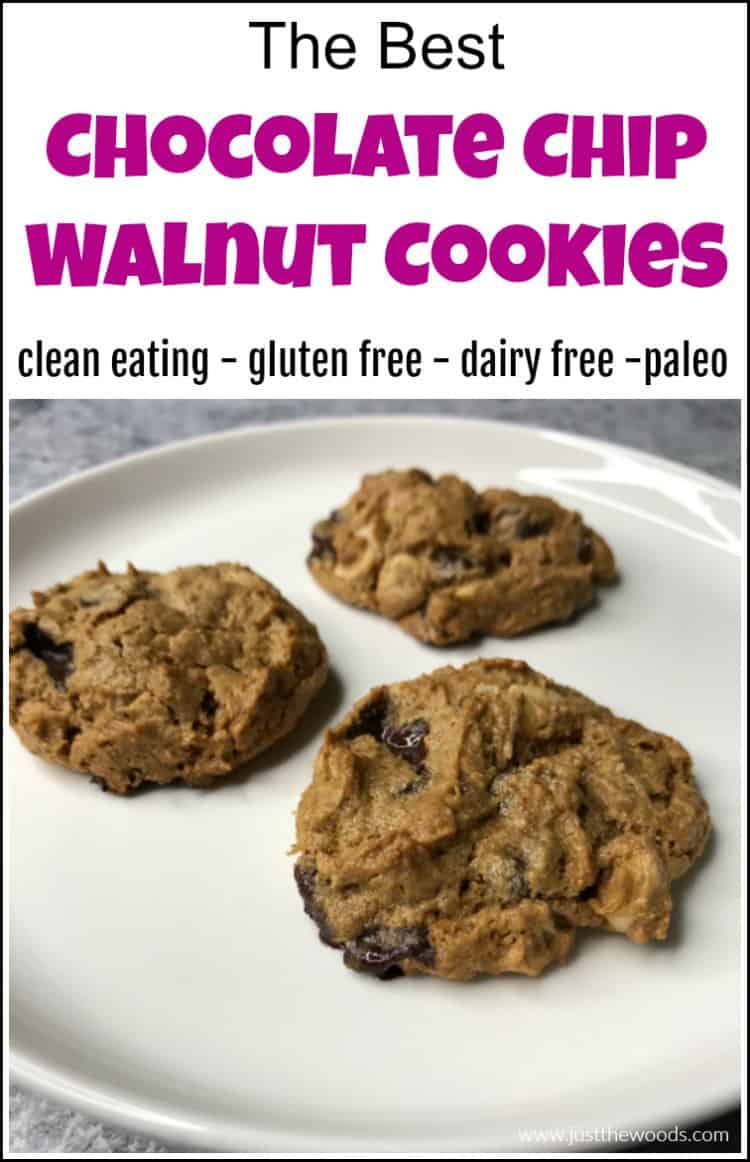 Disclosure: This clean eating chocolate chip walnut cookie recipe post contains affiliate links for your convenience. Click here for my full disclosure policy.

Homemade Chocolate Chip and Walnut Cookies
What You Will Need (Full Printable Recipe Available Below)
Ingredients:
1 cup cashew butter
3/4 cup coconut palm sugar
1 egg
1 tsp vanilla extract
1/2 tsp baking soda
1/4 cup chopped cashews
1/4 cup chopped walnuts
3/4 cup cacao chips (or dark chocolate chips of your choice)
Additional
parchment paper
baking sheet
ice cream/ cookie scoop (optional)
Getting Personal
This chocolate chip walnut cookies recipe is actually a recipe that my nutritionist originally shared with me. Along with eating clean and trying to keep my family eating healthy I also see a nutritionist. To make a long story short he runs a full blood panel and can see where my body is lacking things or has an abundance etc. Then we take this info and use food as a sort of medicine to address any issues. For example, my thyroid is a mess, my glutamine is extremely low, and my hormones are a mess. To keep it simple, my current diet now includes more cashews and less almonds. More pork, and less chicken. I find myself seeking out recipes and then making a lot of changes to them to keep them healthy for myself and my family. As a result I now plan to add more alternative clean eating recipes to my blog.
Clean Eating Basics
Continuing on, and rewinding at the same time – I mention that this is a clean eating recipe because I am all about eating healthy and clean eating. If you are new to a clean eating way of life then you need to check out Everything You Need to Know about a Clean Eating Diet. You can also see how I lost 50 lbs and am keeping it off by following a clean eating diet here: How I Lost 50 Lbs Clean Eating. I tend to try different things and mix different flavors to keep meals healthy and tasty.
How to Make Chocolate Chip Walnut Cookies
Let's gather our chocolate chip cookie ingredients.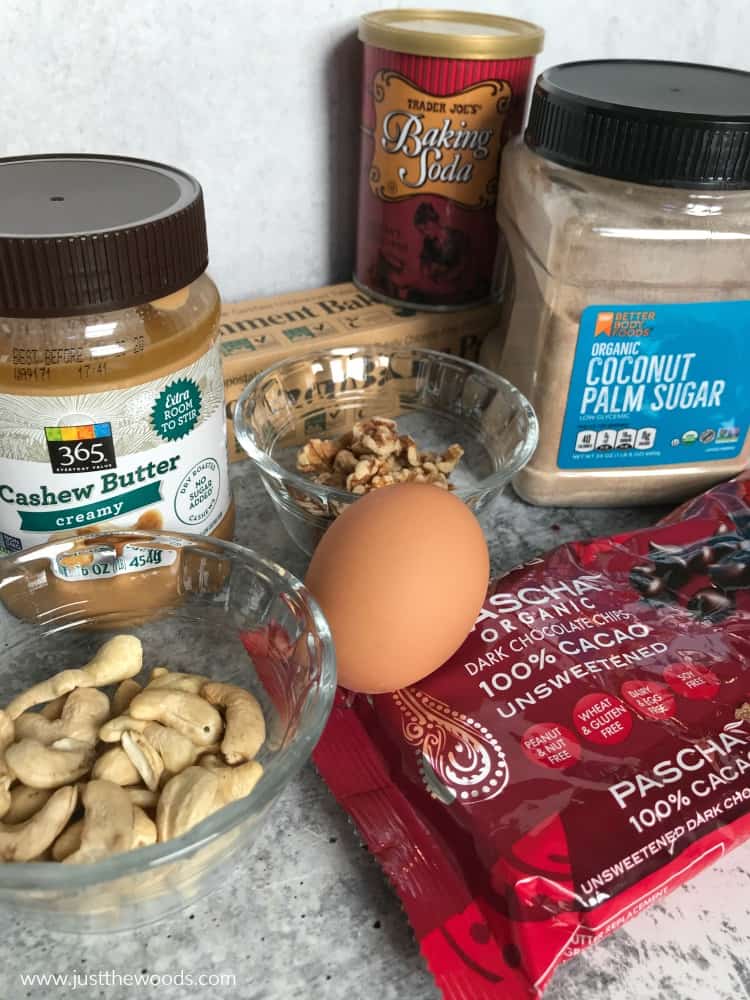 These chocolate chip walnut cookies are made with cashew butter which creates a light nutty taste. It has a milder taste than peanut or almond butter. Try to make sure your cashew butter doesn't have any added sugars. This is the one I like, and you can even get it online if you can't find it in your local store. Here: Cashew Butter.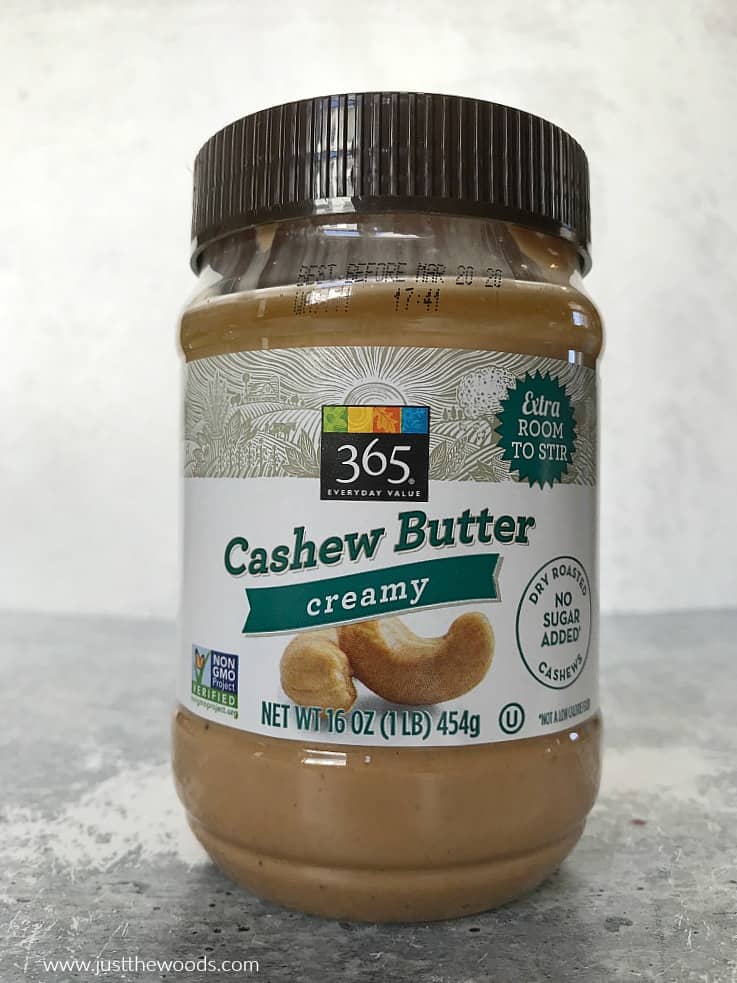 Making Cashew Butter Chocolate Chip and Walnut Cookies
Pre heat your oven to 350 and line 2 baking sheets with parchment paper.
In a medium sized bowl add the egg and 1 cup of cashew butter.
Next, add the coconut palm sugar. This is a healthier alternative to processed refined sugars. Coconut palm sugar also falls low on the glycemic index and is not as sweet as other sugars.
Add the baking soda, vanilla extract and cacao chips. I am using

100% cacao chips

but you can also use

85% cacao chips

. If you prefer a little more sweetness to your chocolate you can also use these

vegan 69% cacao chocolate chips

.
We are going to add the nuts next. If you can't find chopped nuts you can easily chop them yourself. I like to toss them into a plastic bag and gently whack them with a hammer until they are small. 😛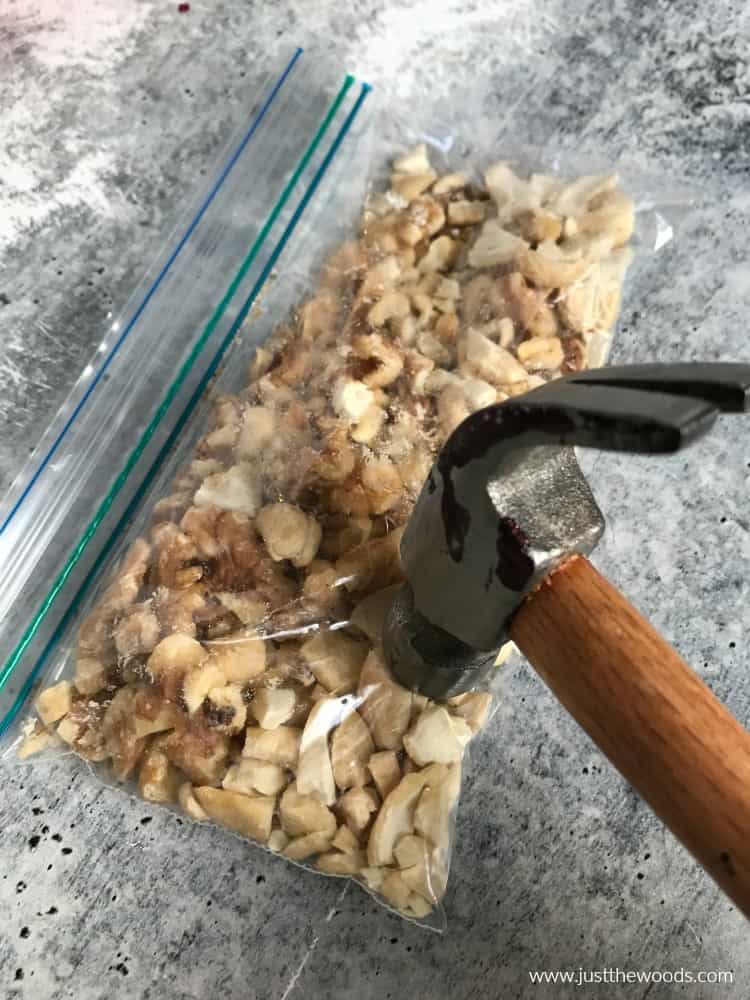 Add your chopped walnuts and cashews to the mix and stir until thoroughly combined. You can modify and use 1/2 cup walnuts if you prefer. I like the walnut cashew mix, but it all comes down to personal preference.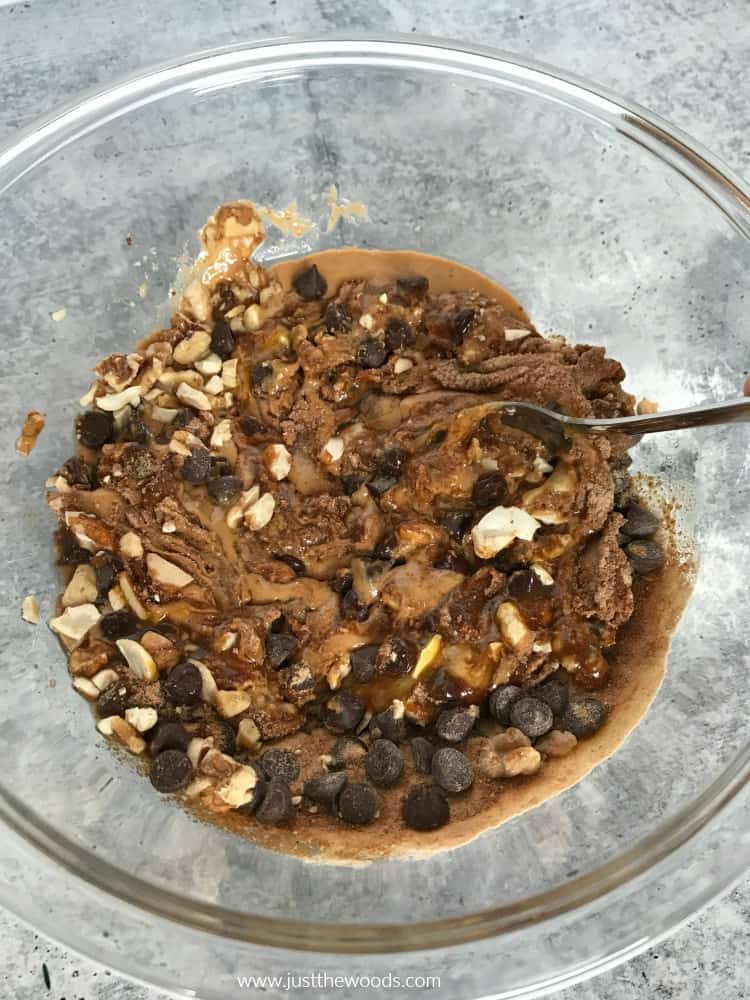 Measuring your Chocolate Chip Walnut Cookies to the Baking Sheet
To measure out these chocolate chip walnut cookies I like to use my cookie scoop. This thing is great for making cookies, and meatballs! You can grab one online here Scoop.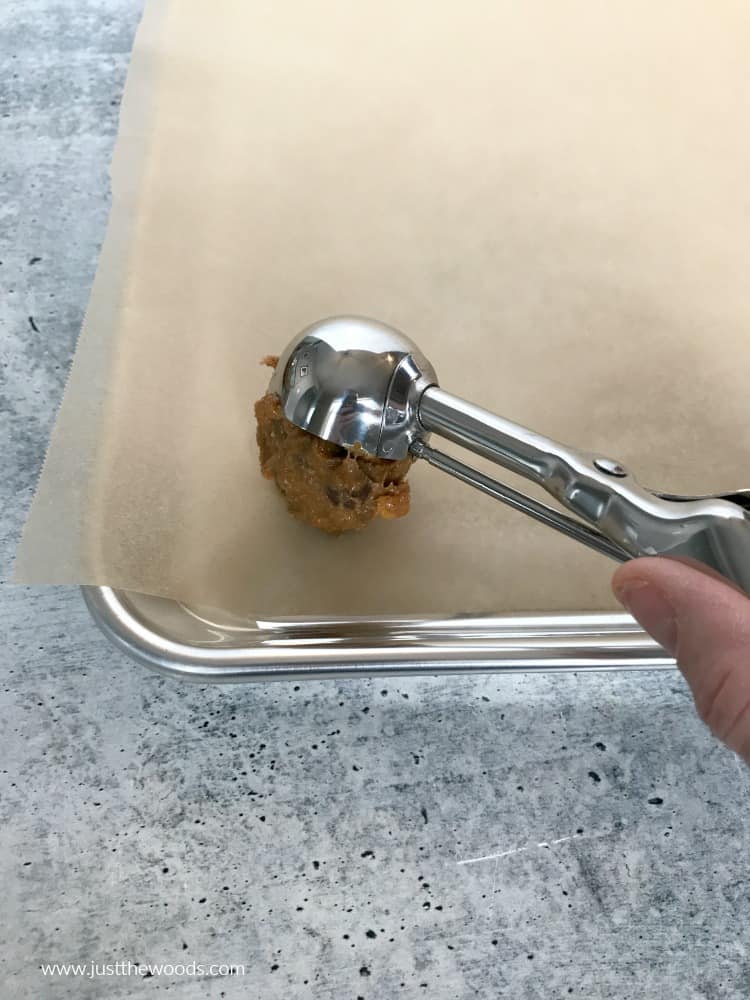 If you don't have a scoop then drop your chocolate chip walnut cookie mix in roughly 1.5″ balls evenly spread apart on your baking sheet. I end up with 12 cookies on each baking sheet.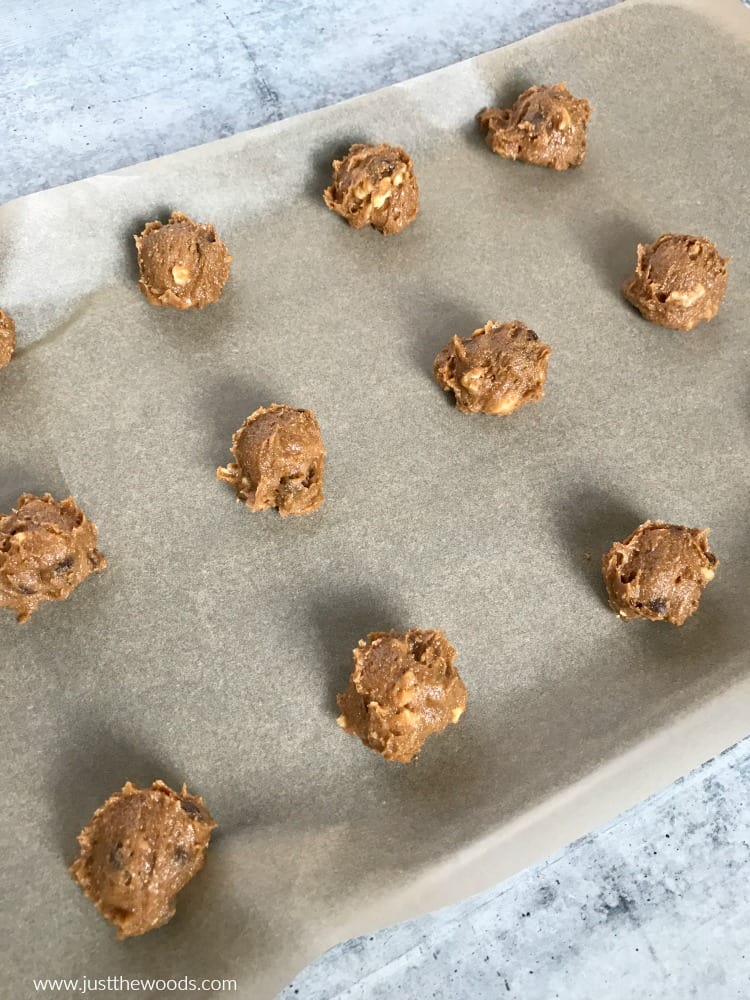 Next, place your baking sheets in the oven and set the timer for 6 minutes. After 6 minutes swap the baking sheets and move the sheet from the lower rack to the upper rack and vice versa. Bake for another 6 minutes. (12 minutes total)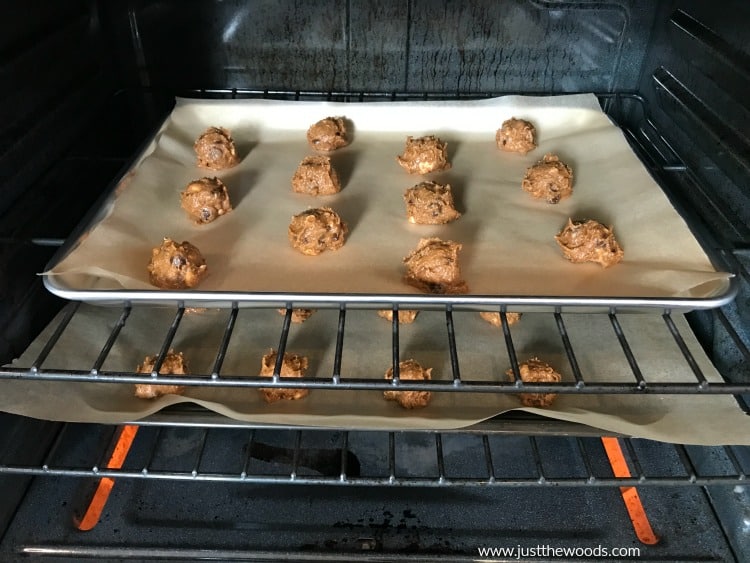 Remove the cookies from the oven and transfer to a cooling rack. This is partially why I user the parchment paper. You can slide the entire sheet of cookies from the baking sheet to the cooling rack. Allow your paleo chocolate chip cookies to cool. If you try to pick them up right away they will fall apart. They are very mushy when then first come out of the oven, so you must let them cool.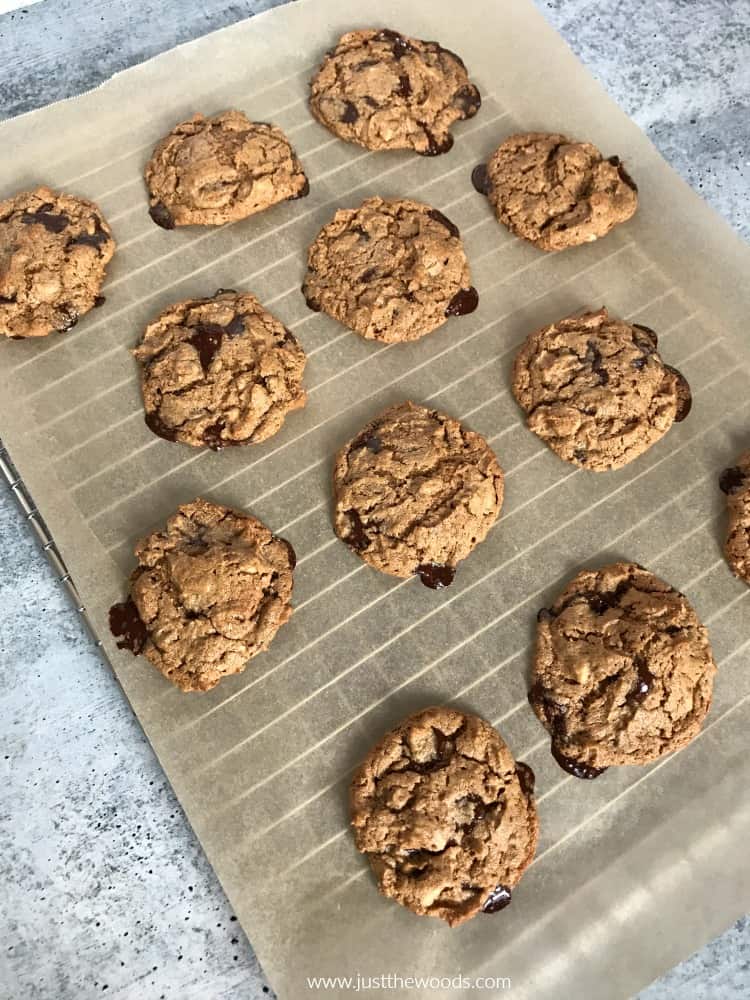 Chocolate Chip Walnut Cookies
Once cool you can remove your chewy chocolate chip walnut cookies from the cooling rack and enjoy. If you prefer crunchy chocolate chip walnut cookies you can store them in an air tight container in the fridge and they will harden a bit more.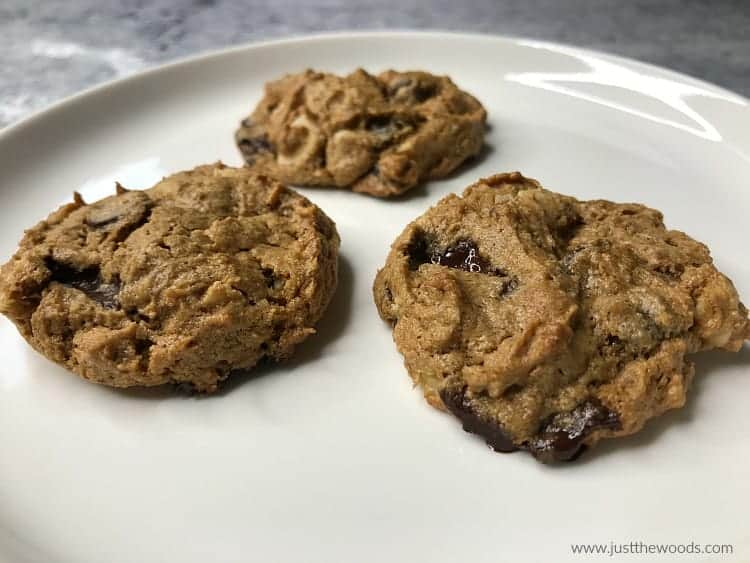 Printable Recipe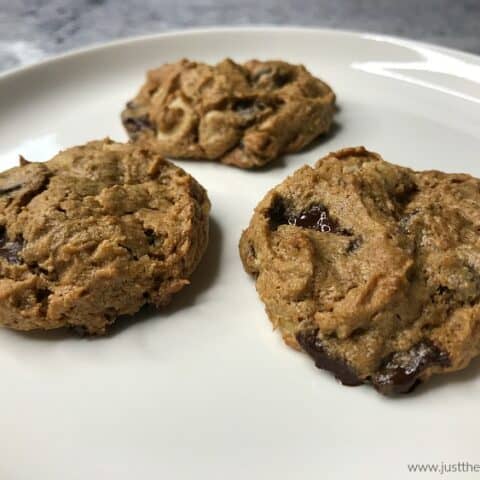 The Best Paleo Chocolate Chip Walnut Cookies Recipe
Delicious chocolate chip walnut cookies made with cashew butter. Clean eating, gluten free, paleo.
Ingredients
1 egg
1 tsp vanilla extract
1/2 tsp baking soda
1/4 cup chopped cashews
1/4 cup chopped walnuts
Instructions
Pre heat oven to 350 degrees
Line 2 baking sheets with parchment paper
Mix all ingredients together
Scoop cookies in 1.5" balls evenly spread
place both baking sheets in oven on seperate racks
bake for 6 minutes then swap baking sheets on oven racks
bake for another 6 minutes
remove from oven and let cool
Recommended Products
As an Amazon Associate and member of other affiliate programs, I earn from qualifying purchases.
Nutrition Information:
Yield:

24
Serving Size:

1
Amount Per Serving:
Calories:

129
Total Fat:

8g
Saturated Fat:

1g
Trans Fat:

0g
Unsaturated Fat:

6g
Cholesterol:

8mg
Sodium:

76mg
Carbohydrates:

13g
Fiber:

1g
Sugar:

7g
Protein:

3g
nutritional value may vary depending on products used
For more healthy clean eating recipes make sure to follow my clean eating Pinterest board here:
Clean Eating
.