When you think oven roasted butternut squash do you think sweet or savory? I feel like the initial thought is to go with sweet but this savory roasted butternut squash recipe is so good you may never go back to cinnamon again. This is what happens when you try new things and think outside the box with it comes to food. You can discover amazing new flavors that work beautifully together.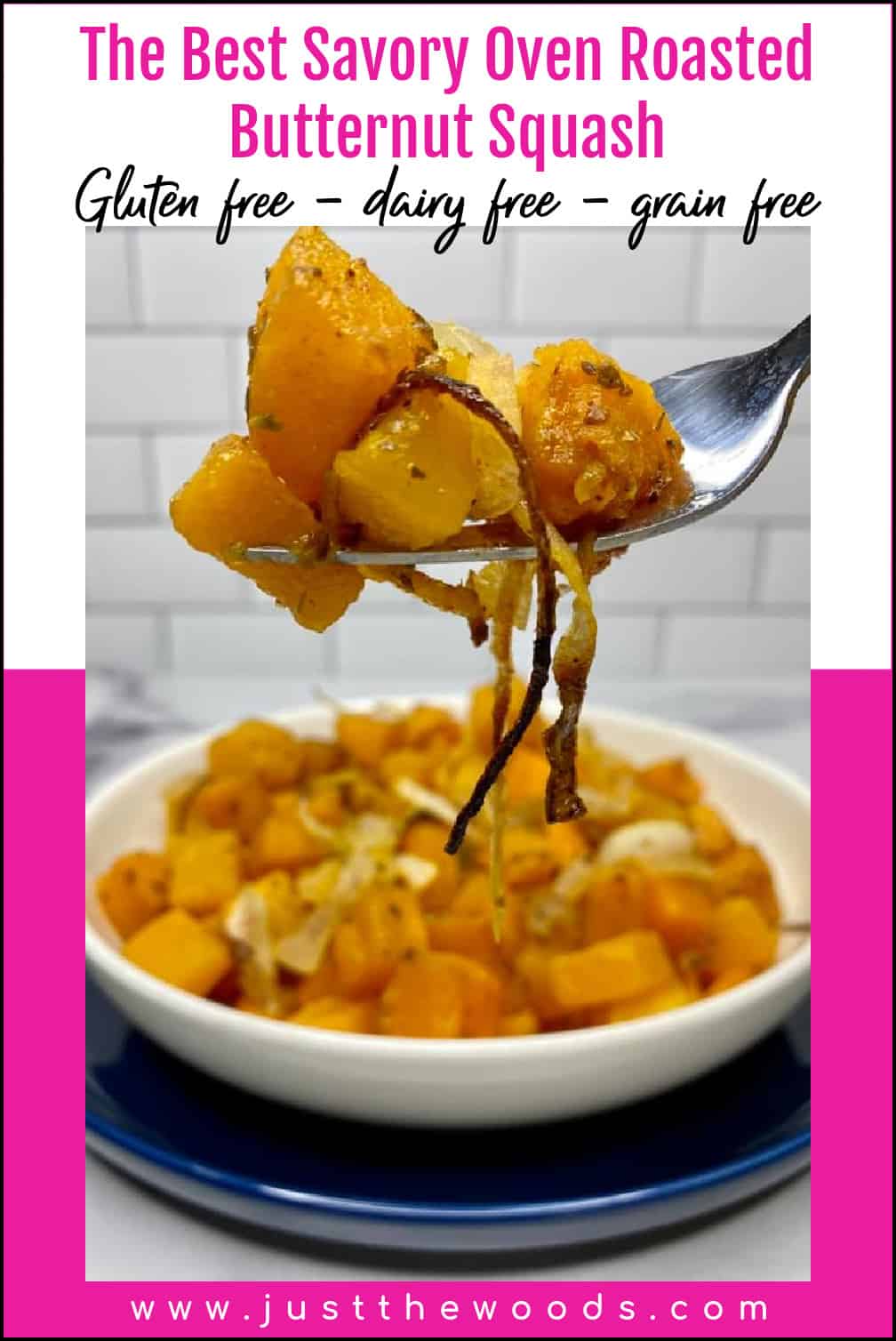 Disclosure: This healthy easy oven roasted squash post contains affiliate links for your convenience. Click here for my full disclosure policy.

Easy Savory Squash Recipe
What You Will Need (Full Printable Recipe Available Below)
Ingredients:
1.5 lbs butternut squash, cubed
1/2 yellow onion, sliced
2 Tbsp avocado oil
1 tsp oregano
1/4 tsp smoked paprika
1/8 tsp chipotle powder
pinch of sea salt & pepper to taste

Getting Personal
Along with eating clean and trying to keep my family eating healthy I also see a nutritionist. To make a long story short he runs a full blood panel and can see where my body is lacking things or has an abundance etc. Then we take this info and use food as a sort of medicine to address any issues. For example, my thyroid was a mess, we found multiple nodules (benign), my glutamine has always been low, and my hormones are not where I'd like them to be. To keep it simple, my current diet now includes more cashews and less almonds (but not no almonds). More pork, and less chicken. No wheat, gluten, dairy, soy or refined sugars. By doing this, I am able to keep myself off of medications and fuel my body properly with a healthy diet and lifestyle.
Clean Eating Basic
I like to mention that this is a clean eating recipe because I am all about eating healthy and clean eating. If you are new to a clean eating way of life then you need to check out Everything You Need to Know about a Clean Eating Diet. You can also see how I lost 50 lbs and am keeping it off by following a clean eating diet here: How I Lost 50 Lbs Clean Eating. I tend to try different things and mix different flavors to keep meals healthy and tasty. Personally, I find the the quality of your ingredients are just as important as the ingredients themself.
How to Make Amazing Savory Oven Roasted Butternut Squash
Ingredients:
As always, let's start by gathering our ingredients. When choosing veggies I always aim for organic. The same goes for herbs and spices.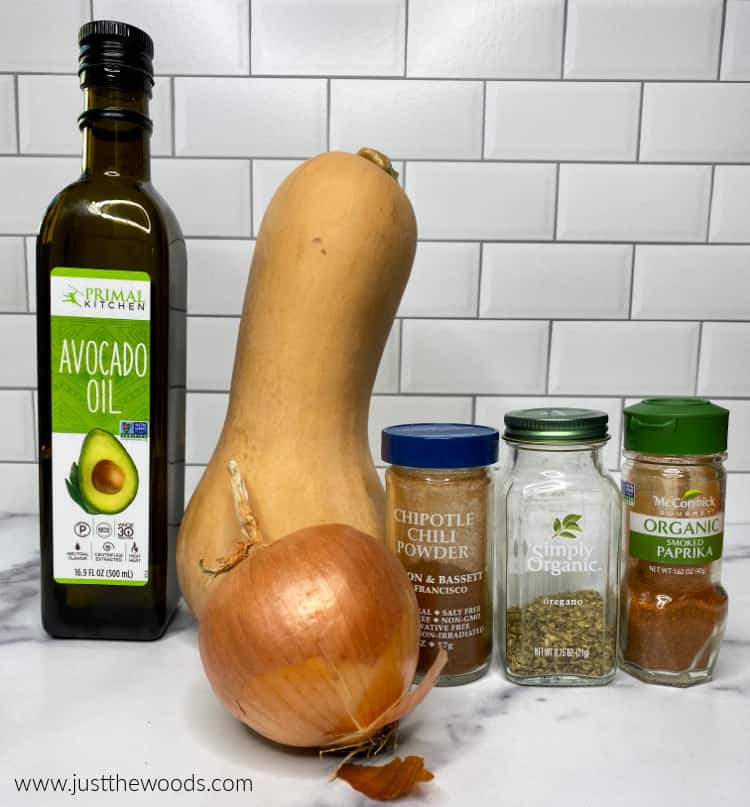 If you struggle with cutting, peeling and cubing your butternut squash feel free to get the package of butternut squash that's already cubed. Theres no shame in letting someone else do the work for you when it comes to that stuff. I won't tell 😉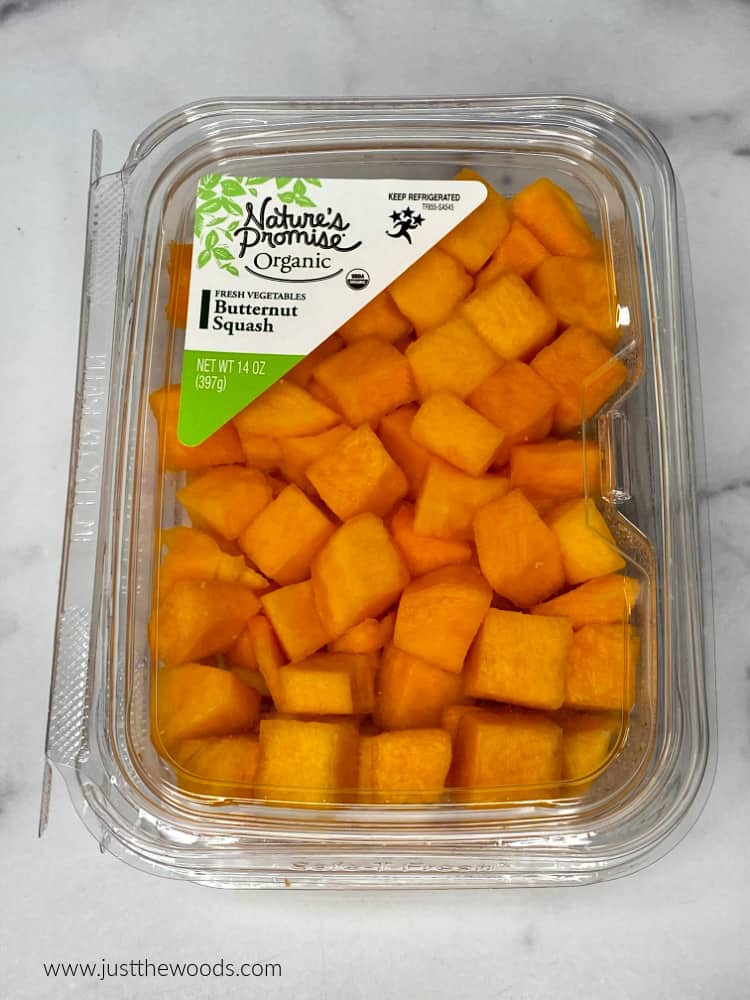 Preparing Your Butternut Squash Cubes
Preheat the oven to 425 degrees.
Whichever route you take for this savory roasted butternut squash recipe aim for 1.5 lbs of butternut squash cubes, and place in a large bowl.
Slice your onion into thin half moons. Then add to the bowl with the squash.
Mix the squash and onion and add the avocado oil. This helps the herbs stick nicely to the butternut squash.
Next, you can go ahead and add the herbs: oregano, smoked paprika, chipotle powder, and sea salt. This seasoning for butternut squash is the only way I will make squash from here on out.
Toss to combine. Its this easy to prepare butternut squash!
Line a baking sheet with parchment paper and spread your prepared savory butternut squash out on the sheet.
How to Roast Squash in the Oven
Go ahead and place the butternut squash and sliced onions in the oven and bake for 25 minutes. When you remove your savory squash from the oven the cubes should be fork tender.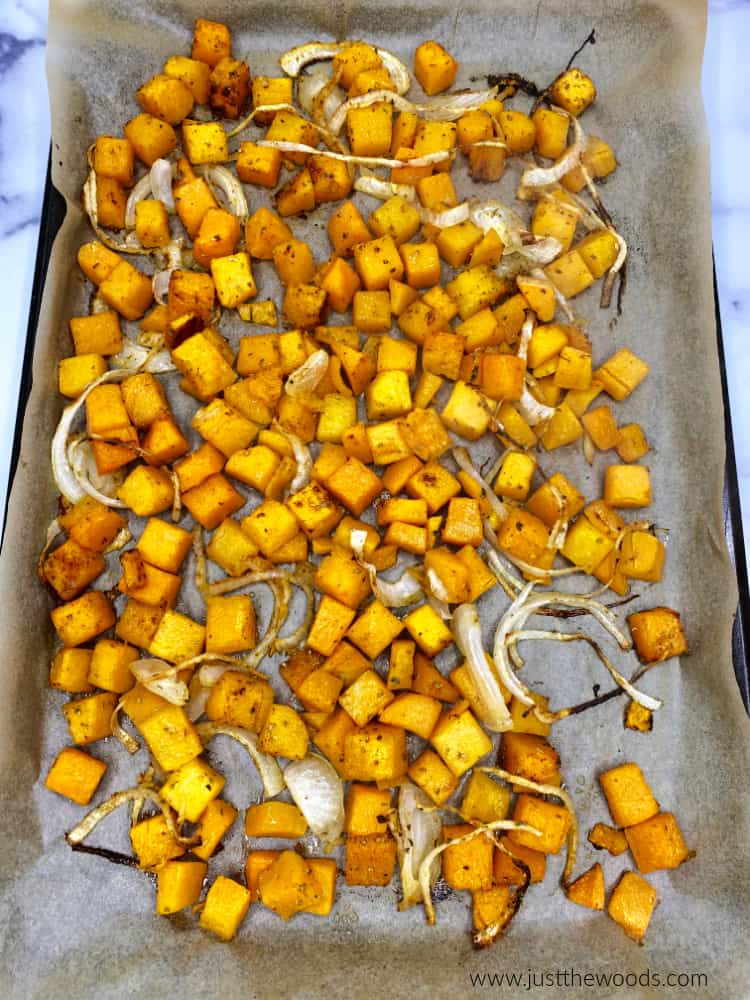 Savory Roasted Squash
Enjoy your healthy roasted squash.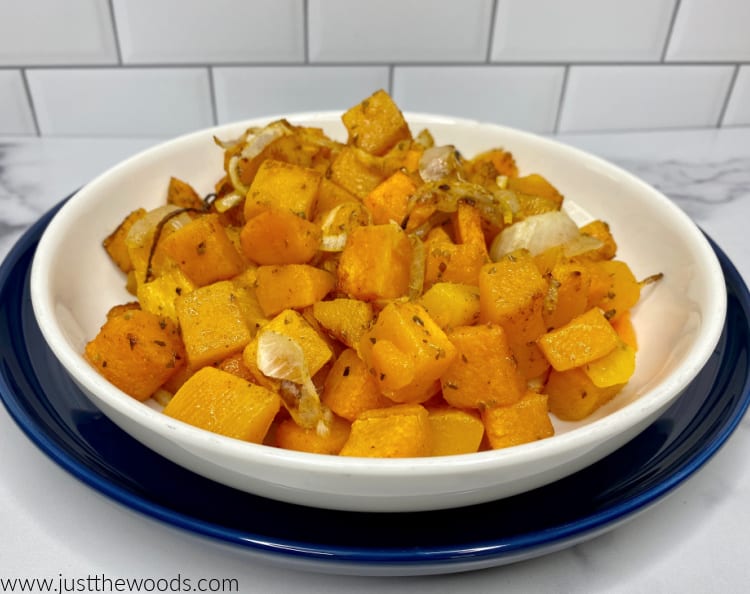 This savory oven roasted butternut squash makes the perfect side dish to almost any meal.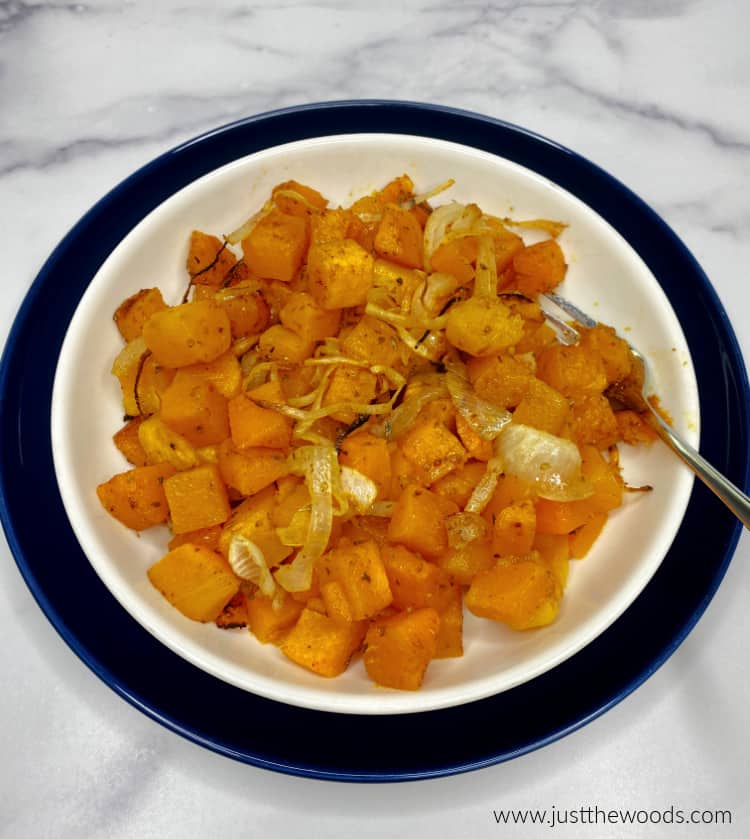 I like to say that this savory oven roasted butternut squash recipe makes about 6 servings, but lets face it I can finish it myself in much less.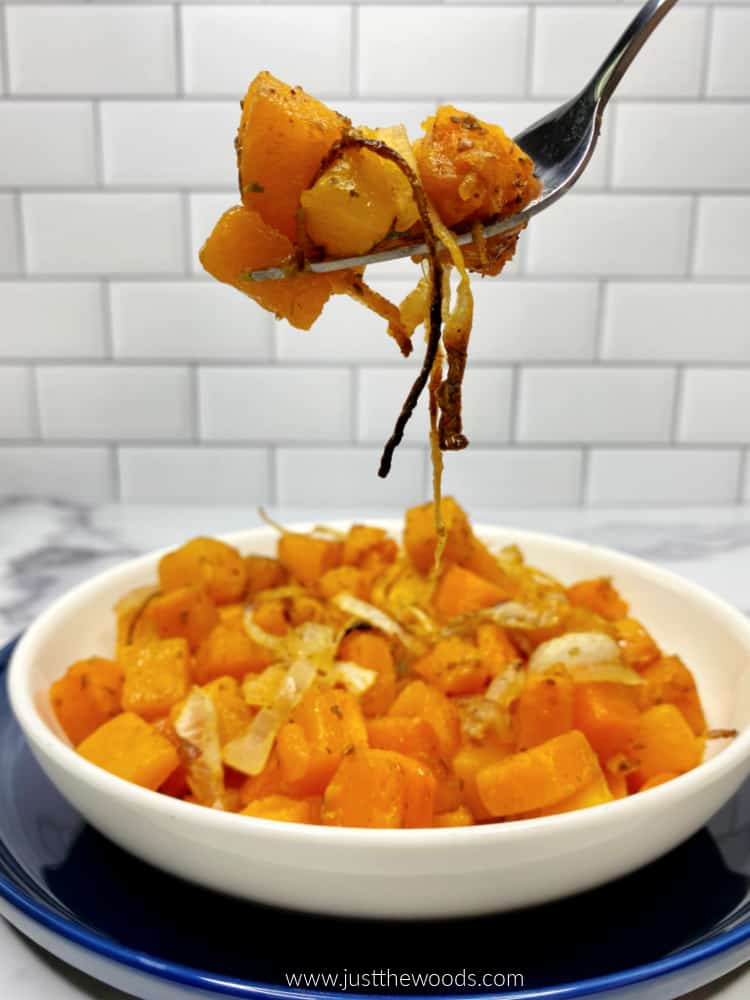 If you happen to end up with leftovers this savory squash pairs beautifully alongside eggs in the morning with a half of an avocado.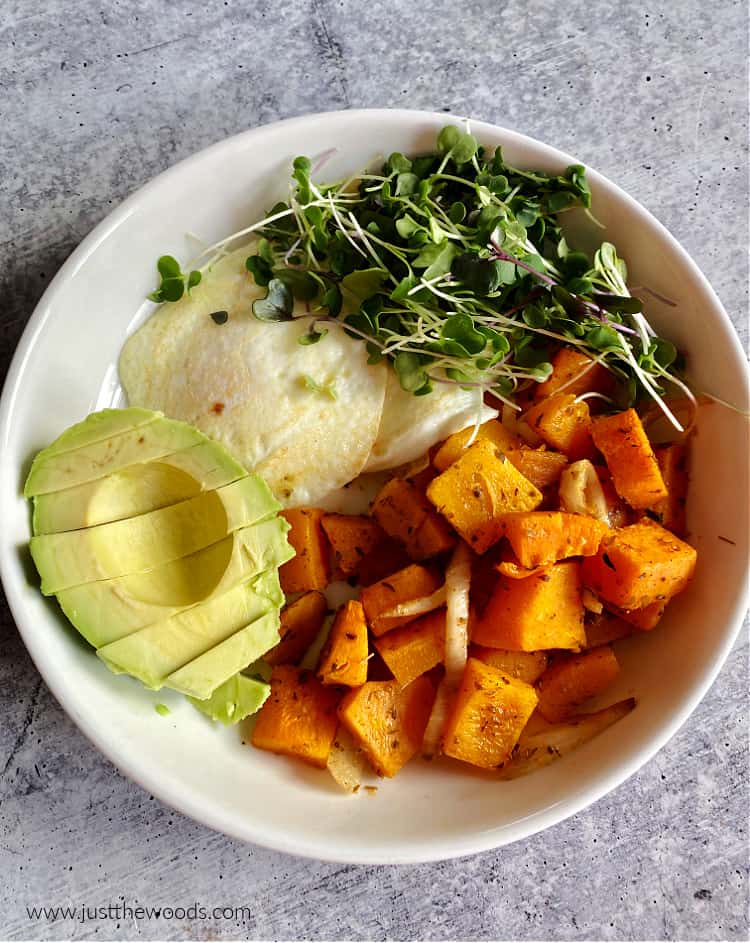 Printable Recipe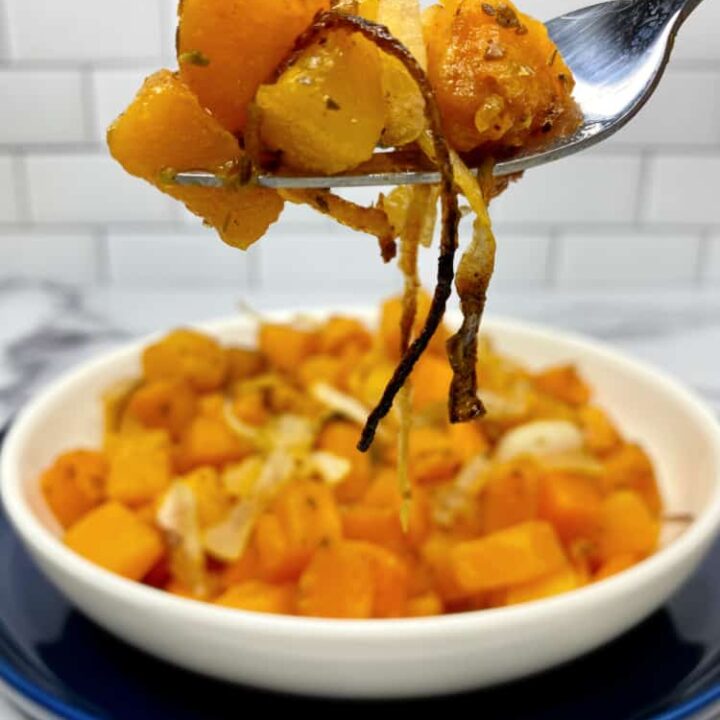 The Best Savory Oven Roasted Butternut Squash
Delicious savory oven roasted butternurt squash makes the perfect side dish to any meal.
Ingredients
1.5 lbs butternut squash, cubed
1/2 yellow onion, sliced
2 Tbsp avocado oil
1 tsp dried oregano
1/4 tsp smoked paprika
1/8 tsp chipotle powder
pinch of sea salt to taste
Instructions
Preheat oven to 425
peel, and cube the butternut squash
slice the onion into thin half moon
place squash and onion in a large bowl
add avocado oil
add herbs
line a baking sheet with parchment paper
spread veggies on baking sheet
roast butternut squash for 25 mintues, until fork tender
enjoy
Nutrition Information:
Yield:

6
Serving Size:

1
Amount Per Serving:
Calories:

91
Total Fat:

5g
Saturated Fat:

1g
Trans Fat:

0g
Unsaturated Fat:

4g
Cholesterol:

0mg
Sodium:

28mg
Carbohydrates:

13g
Fiber:

4g
Sugar:

3g
Protein:

1g
nutritional values are estimates and may vary depending on products/ingredients used.
For more healthy clean eating recipes make sure to follow my clean eating Pinterest board here:
Clean Eating
.


Don't Forget – Follow Just the Woods and Share this post to Inspire others:
FACEBOOK * INSTAGRAM * PINTEREST * RECIPES