You are going to love these coconut cups! They are made with just four ingredients and with no added sugar these blueberry coconut cups manage to satisfy your sweet tooth. These coconut butter cups are also vegan, gluten free, dairy free, grain free, paleo, keto and fall under the category of clean eating.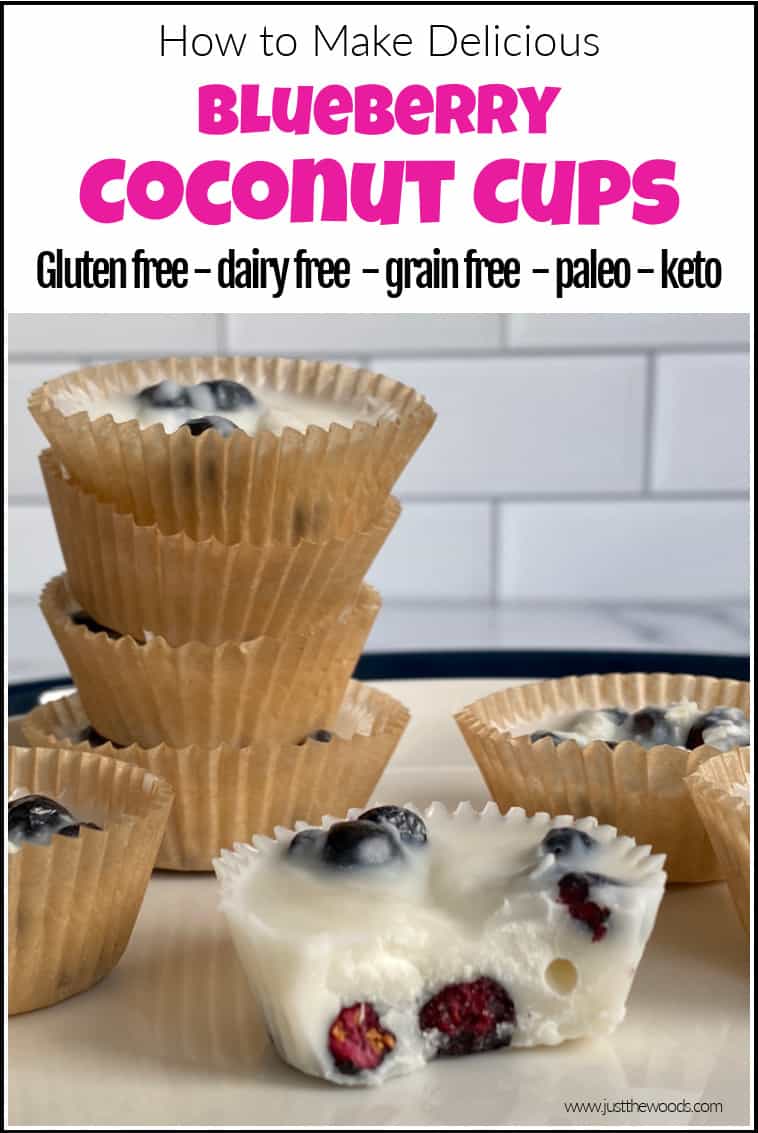 Disclosure: This healthy no bake blueberry coconut cups recipe post contains affiliate links for your convenience. Click here for my full disclosure policy.

Easy No Bake Blueberry Coconut Cups Recipe
What You Will Need (Full Printable Recipe Available Below)
Ingredients:
1 cup coconut butter aka coconut manna
1 Tbsp coconut oil
1/4 cup freeze dried blueberries
2 Tbsp shredded unsweetened coconut
Additional:
Mini muffin tin
mini muffins parchment paper liners
Getting Personal
Along with eating clean and trying to keep my family eating healthy I also see a nutritionist. To make a long story short he runs a full blood panel and can see where my body is lacking things or has an abundance etc. Then we take this info and use food as a sort of medicine to address any issues. For example, my thyroid was a mess, my glutamine has always been low, and my hormones are not where I'd like them to be. To keep it simple, my current diet now includes more cashews and less almonds (but not no almonds). More pork, and less chicken. No wheat, gluten, dairy, soy or refined sugars. By doing this, I am able to keep myself off of medications and fuel my body properly with a healthy diet and lifestyle.
I love snacks and have a bit of a sweet tooth. These coconut cups are one of my all-time favorite healthy clean eating snacks. I keep mine in a container in the fridge for when I want something quick, easy and to curb the sweet cravings. I admit that once in a while I eat so many that it feels like I'm defeating the purpose. They are so yummy it's hard to believe they are healthy. Keep in mind that they are not a low calories food, but when you are eating whole, unprocessed and clean ingredients there is more to nutrition then calories. Along with all of my delicious smoothie recipes, there are always healthy energy balls, muffins and/or donuts in my grab and go stash of snacks.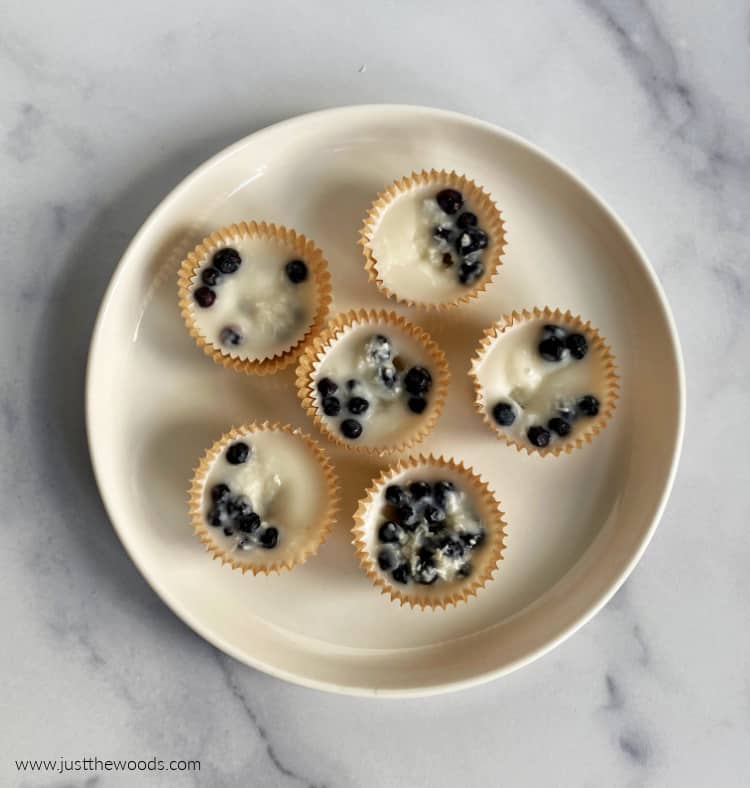 Clean Eating Basic
I like to mention that this is a clean eating recipe because I am all about eating healthy and clean eating. If you are new to a clean eating way of life then you need to check out Everything You Need to Know about a Clean Eating Diet. You can also see how I lost 50 lbs and am keeping it off by following a clean eating diet here: How I Lost 50 Lbs Clean Eating. I tend to try different things and mix different flavors to keep meals healthy and tasty. Snacks are also my jam. I love making homemade protein bars, muffins, and energy bites. You can never have too many snacks on hand. Just don't eat them all at once.
How to Make No Bake Coconut Cups aka Coconut Fat Bombs
Ingredients:
As always, let's start by gathering our ingredients.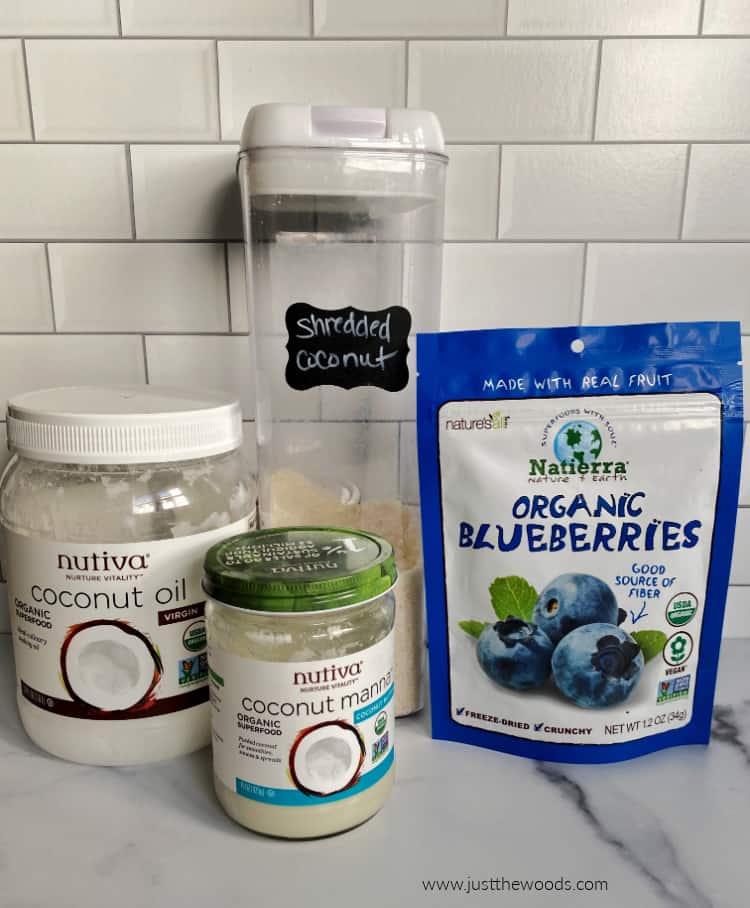 If you have ever melted chocolate or coconut butter before then you may be familiar with a double boiler. This is simply a pot with water in it and then another pot above it. The top pot is where you melt your coconut butter. This method is meant to prevent you from burning the ingredients since they are not directly on top of the heat source. You can get a double boiler online here: Double boiler.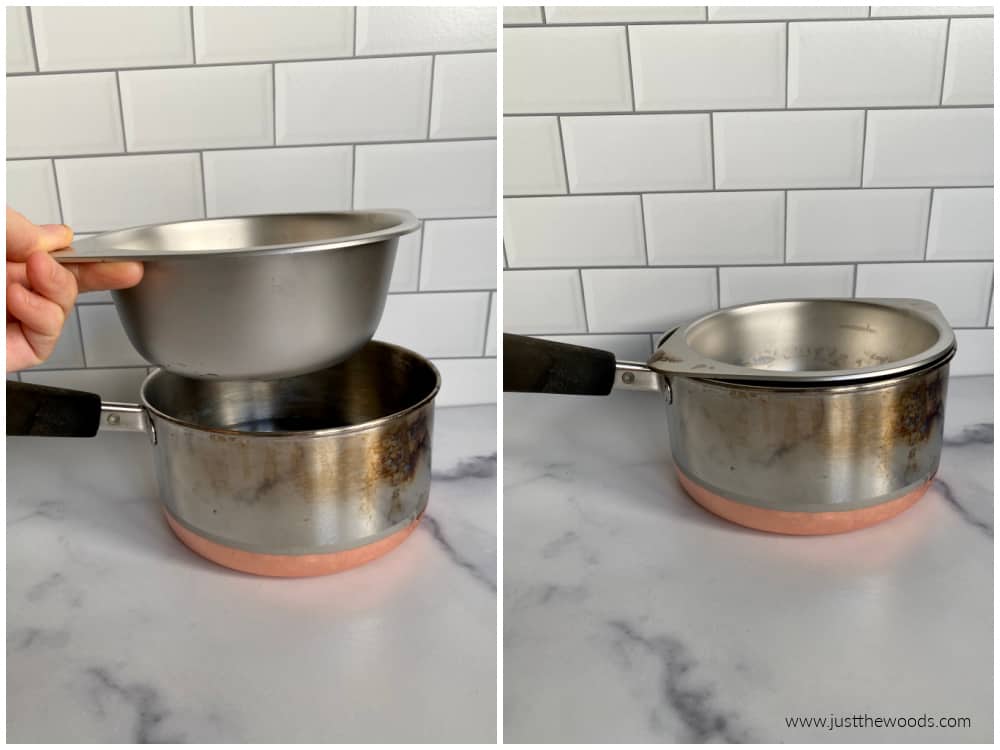 Next, line a mini muffin pan with parchment paper liners. These just make the process so much easier.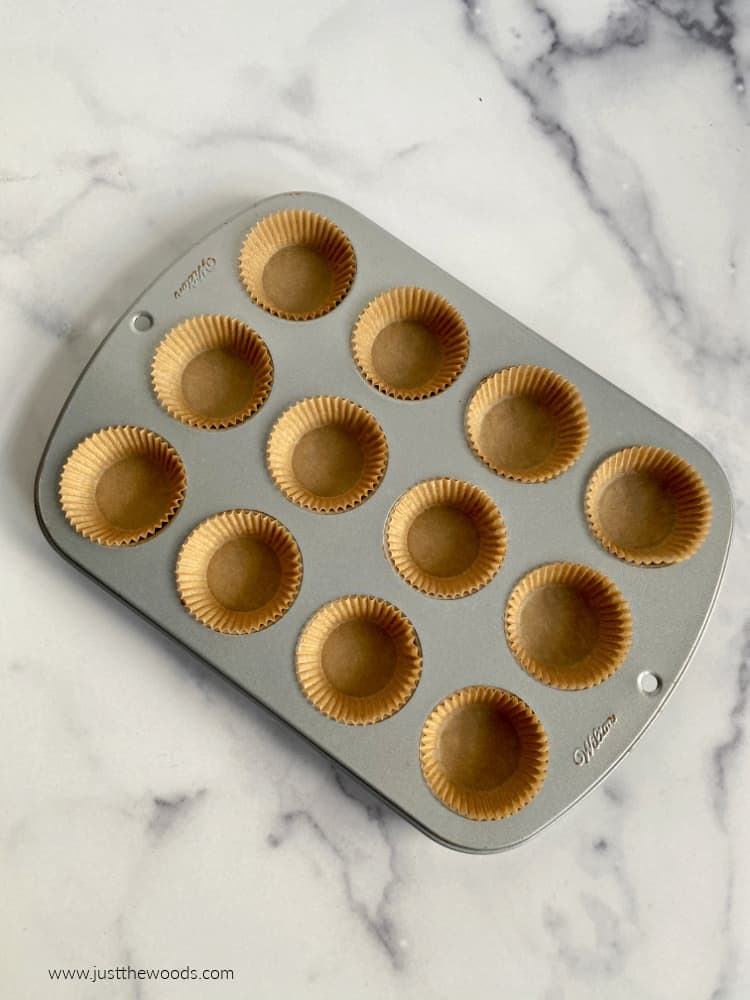 Making Blueberry Coconut Cups
First, measure out your coconut butter. Since the coconut butter, also known as coconut manna, is rather solid you may need to break it up with a spoon or knife.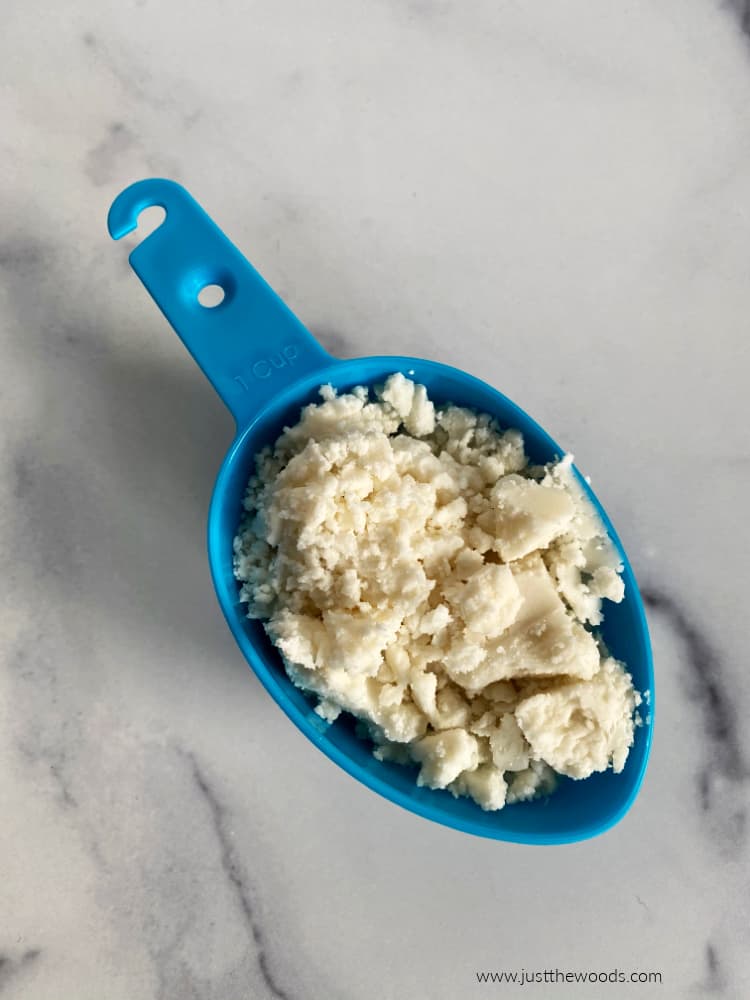 Add the coconut manna to the double boiler and heat until it is melted. While the coconut butter is melting add the coconut oil as well. Stir the coconut as it melts then set aside.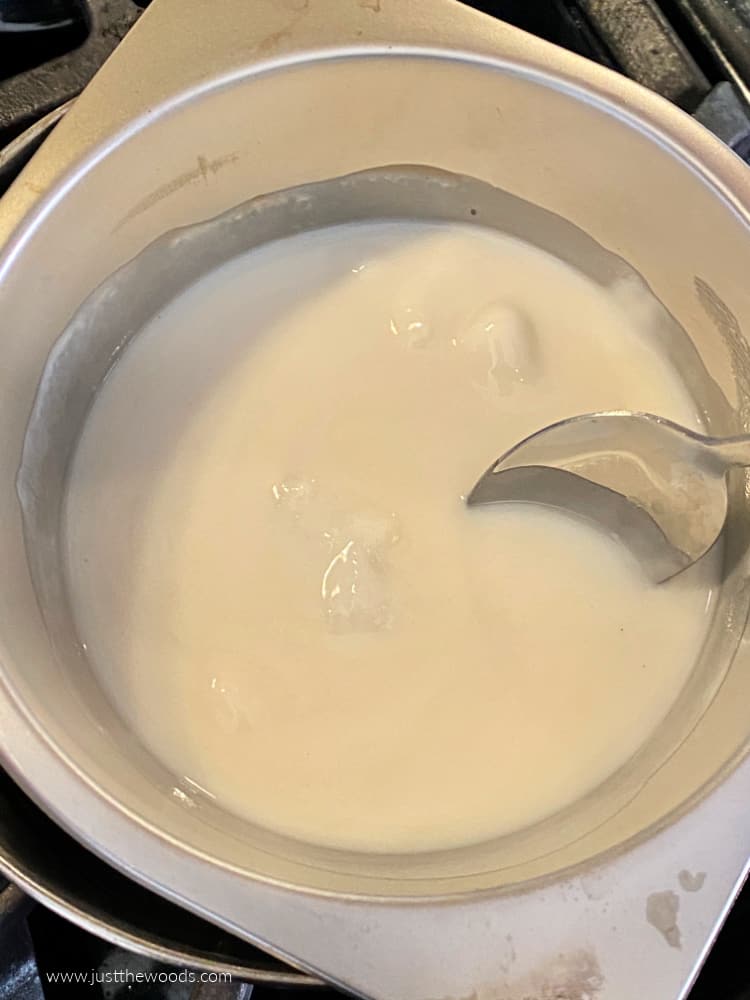 Now, evenly portion out and spread the dried blueberries into the bottom of each muffin cup.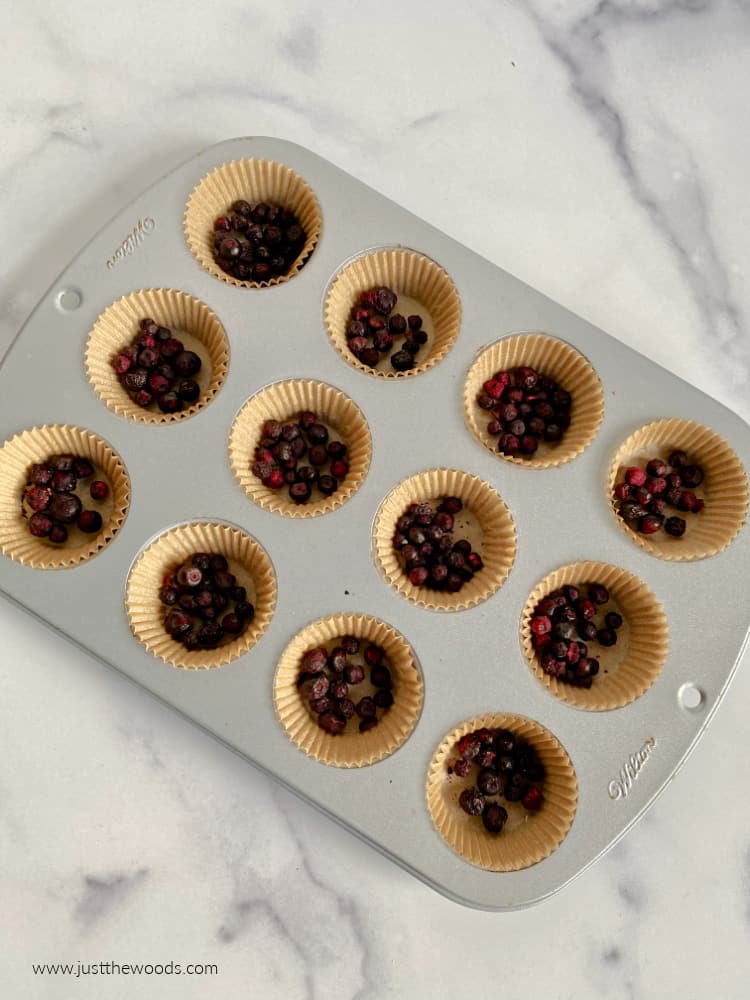 Next, add the shredded coconut to the cups as well. Something to note: when it comes to shredded coconut, always opt for the unsweetened version.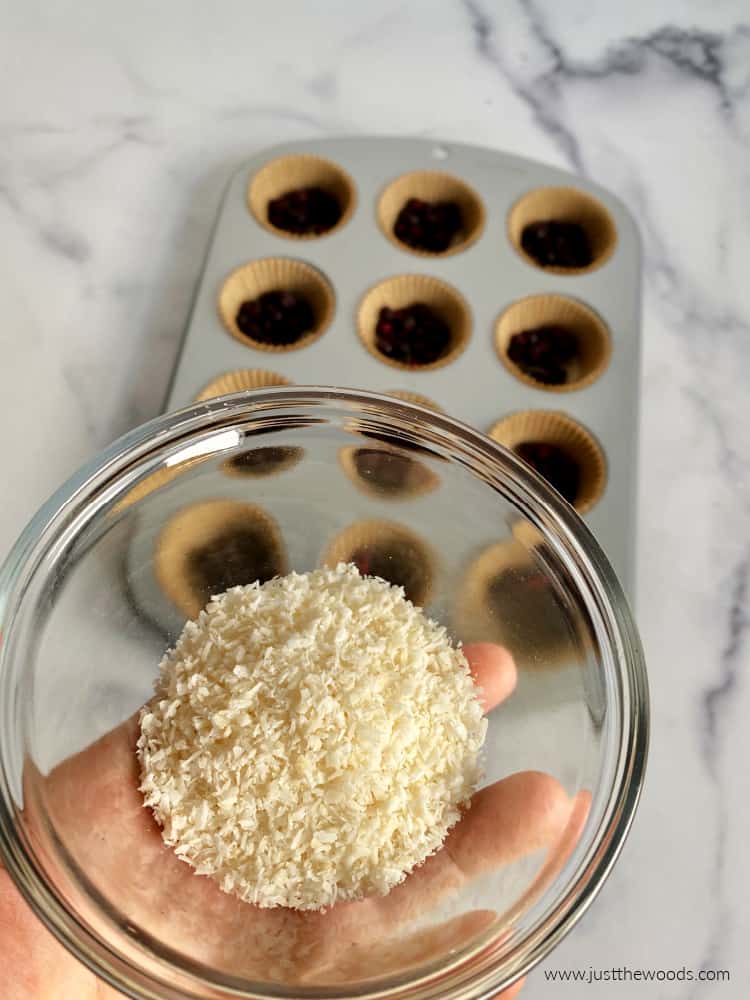 Once your blueberries and coconut is in the cups you can grab the melted coconut and make sure it is still in melted form and has not started to harden.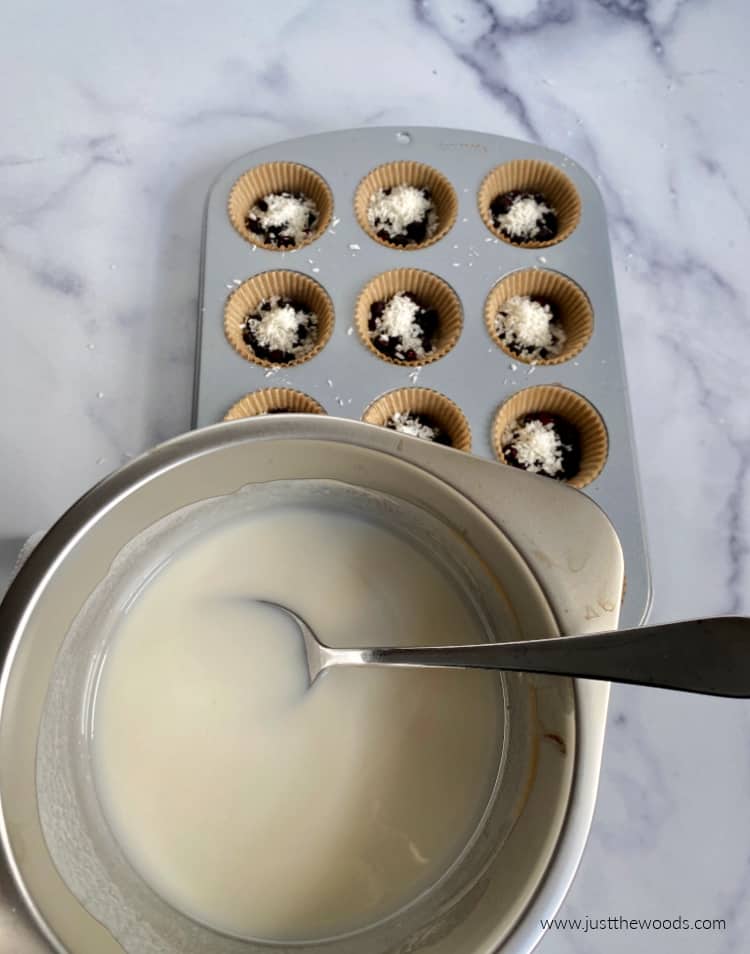 Carefully, spoon the melted coconut butter mixture into each muffin cup.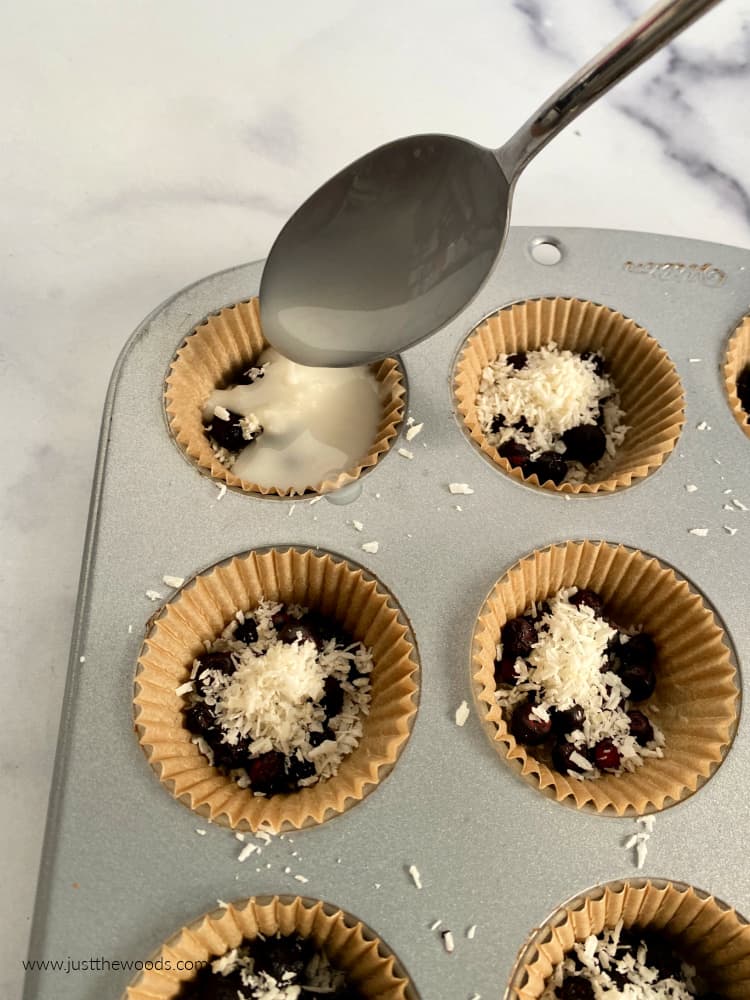 Once you spoon all of the melted coconut butter into each cup you may notice that a few of the blueberries may rise to the top of your coconut cups.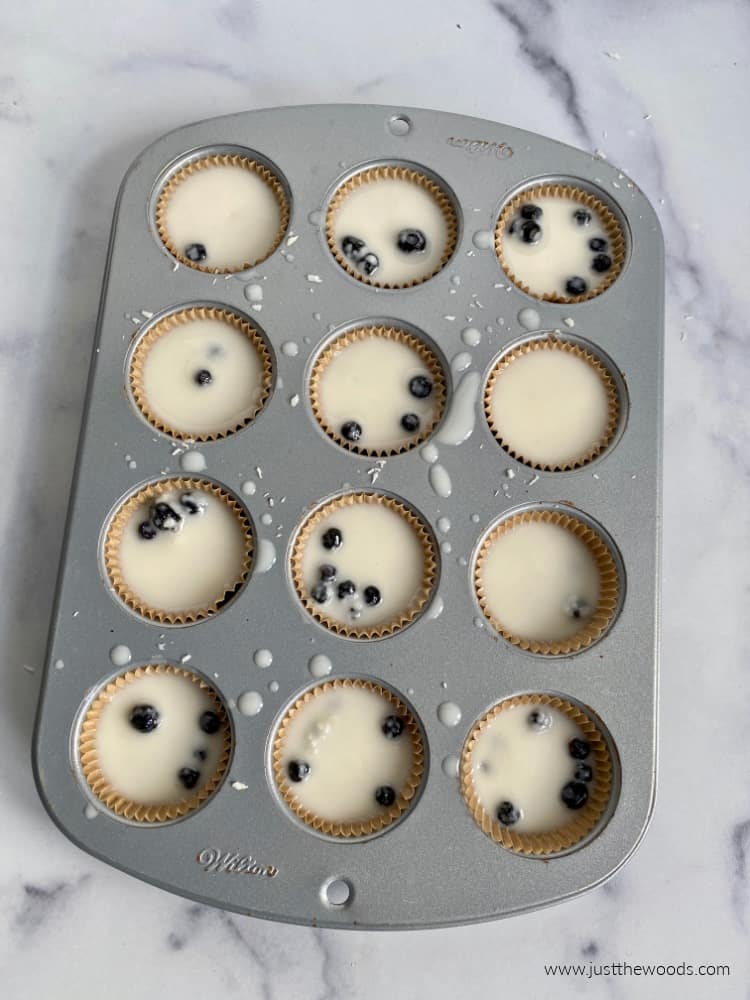 Your blueberry coconut cups will need to cool to harden and set. You can place them in the refrigerator or the freezer for this. Since I have little patience I always opt to place my coconut cups in the freezer so that they will set quicker.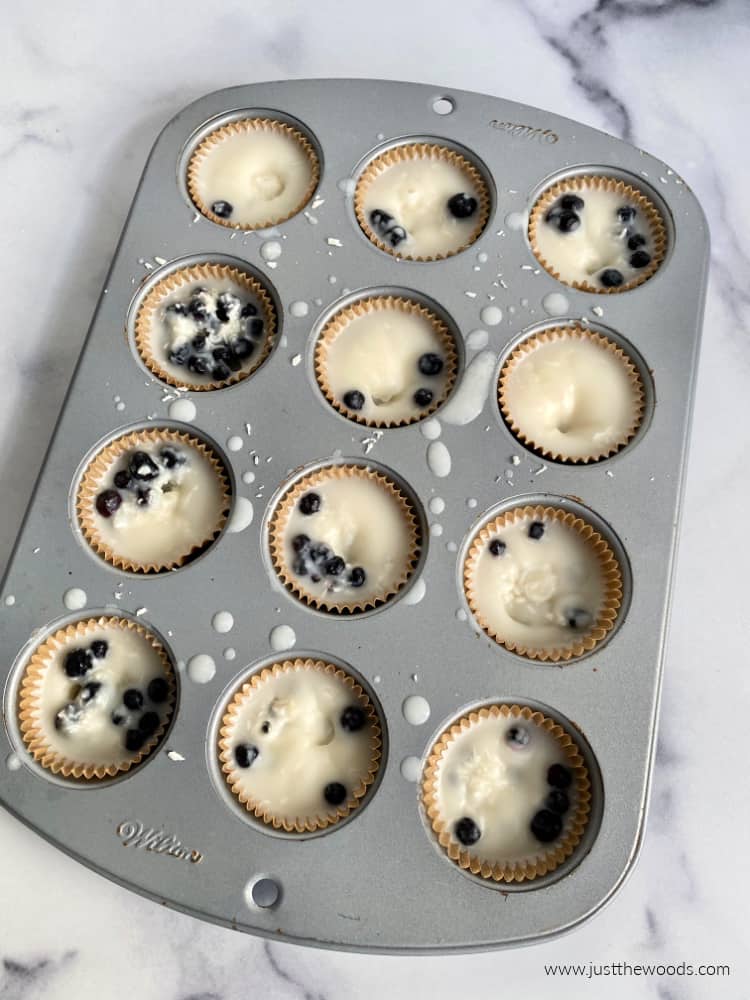 Easy Blueberry Coconut Cups Recipe
Once your blueberry coconut cups are completely cooled, hard and set you may remove them from the muffin pan and enjoy.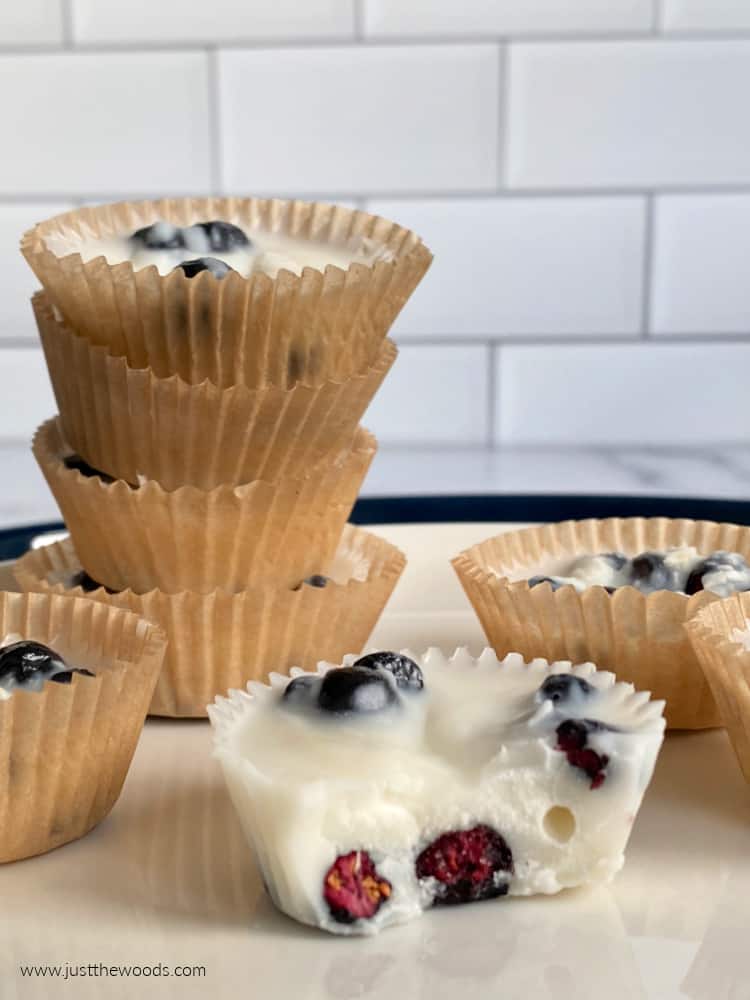 Printable Recipe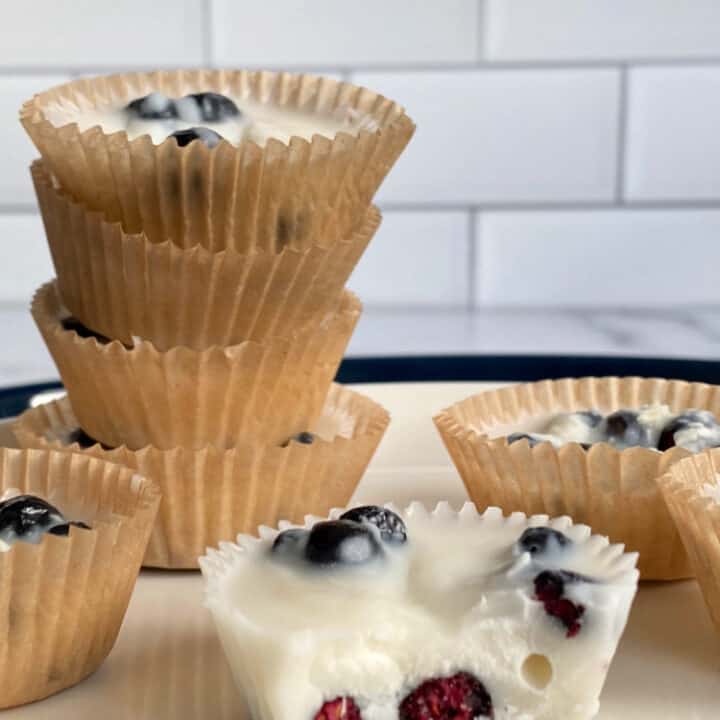 How to Make Delicious Blueberry Coconut Cups
Total Time:
2 hours
15 minutes
Blueberry coconut cups made with just four ingredients. This blueberry coconut cups recipe will satisfy your sweet tooth.
Ingredients
Instructions
Line mini muffin tin with parchment paper liners
Melt coconut butter and coconut oil in a double boiler
add dried blueberies to the bottom of each muffin cup
add shredded coconut to each muffin cup
Spoon melted coconut butter and oil into each muffin cup over the blueberries and coconut
place in the freezer or refrigerator to harden and set
Store in the refrigerator for 1 week in an airtight container
Nutrition Information:
Yield:

12
Serving Size:

1
Amount Per Serving:
Calories:

191
Total Fat:

17g
Saturated Fat:

16g
Trans Fat:

0g
Unsaturated Fat:

1g
Cholesterol:

0mg
Sodium:

28mg
Carbohydrates:

9g
Fiber:

4g
Sugar:

5g
Protein:

2g
nutritional values are estimates and may vary depending on products/ingredients used.
For more healthy clean eating recipes make sure to follow my clean eating Pinterest board here:
Clean Eating
.


Don't Forget – Follow Just the Woods and Share this post to Inspire others:
FACEBOOK * INSTAGRAM * PINTEREST * RECIPES