Anchors Aweigh Navy Cabinet
Way back, many years ago I served in our great Navy. It was five years spent traveling, and making friends and really growing up. It was one of the best times of my life. This makeover is a little nostalgic to me for that main reason.  I'm sharing this Navy Pride cabinet for a couple of reasons.  Aside from it being slightly personal to me, it's also not often that you see a 'masculine' piece of painted furniture.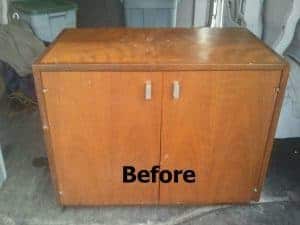 It was originally a basic, vintage cabinet with a shelf inside.  Ideal for a small area and versatile enough to use as a table or cabinet. Perfect for a man cave to hide your hooch, cigars, man magazines (hunting, fishing – not the naughty kind!), TV remote control, etc.   It had really beautiful trim around the edges that I wanted to preserve.
Painted Vintage Cabinet with Wood Trim
Disclosure: This Anchors aweigh cigar label vintage cabinet post contains affiliate links. 
I decided to clean up those edges by applying a bit of non-toxic stain to darken them up and only paint inside the squares.  I also removed the hardware.  Not that there was anything wrong with the existing hardware – but I wanted something more appropriate for what I had planned for him.    I  knew I wanted a vintage cigar box label image, have you ever noticed how colorful they are?   Since I'm feeling a bit nostalgic and went with the Navy Pride cigar box label image.  I found the perfect image here.
Navy Pride Vintage Cabinet Makeover
The Navy pride cigar box label image was carefully decoupaged on the front of the cabinet. I made sure to measure and cut the poster down the center. Making sure the image lined up perfectly in the middle was a chore, but I think I did a pretty good job. If it's the tiniest bit askew, as my husband's grandmother would say "a man on a galloping horse wouldn't notice".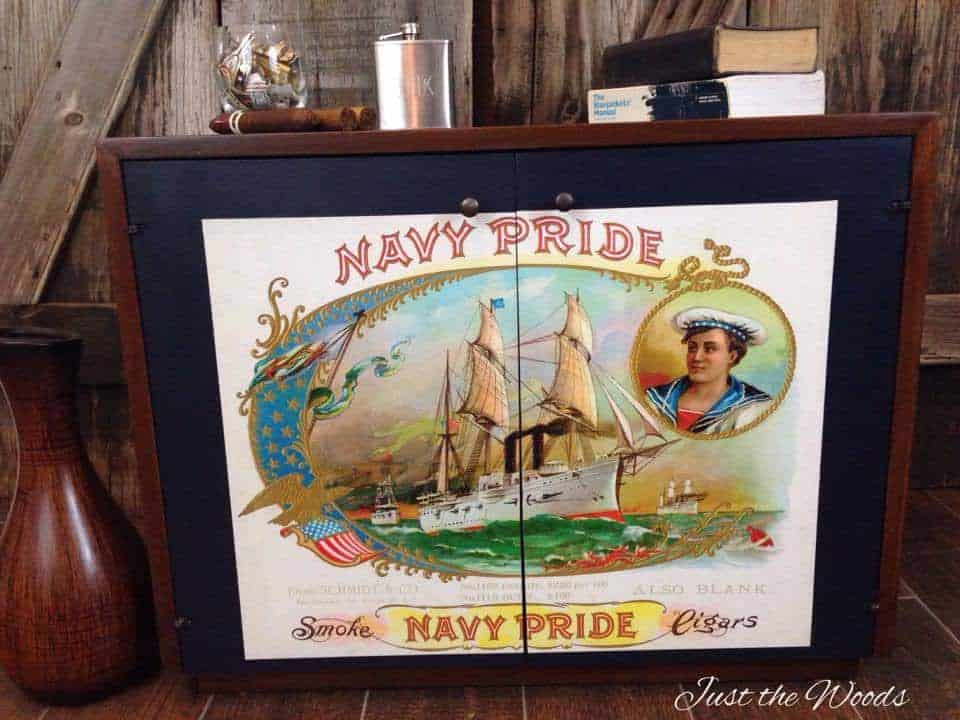 How gorgeous is that wood around the edges?!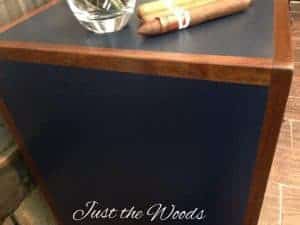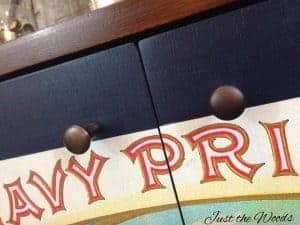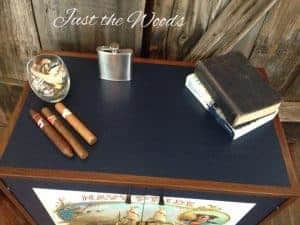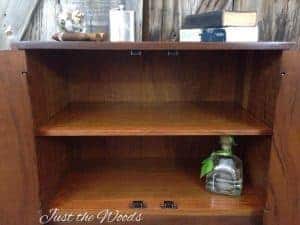 Once I finished and sealed him up, I added small bronze pulls and had a custom cut piece of glass cut to protect the top.  My thought process being that since it is an ideal man cave piece and men tend to be a little rougher than women in general (I base that merely on my experiences with the men in my life) a little extra protection from beer spills or water rings isn't a bad thing.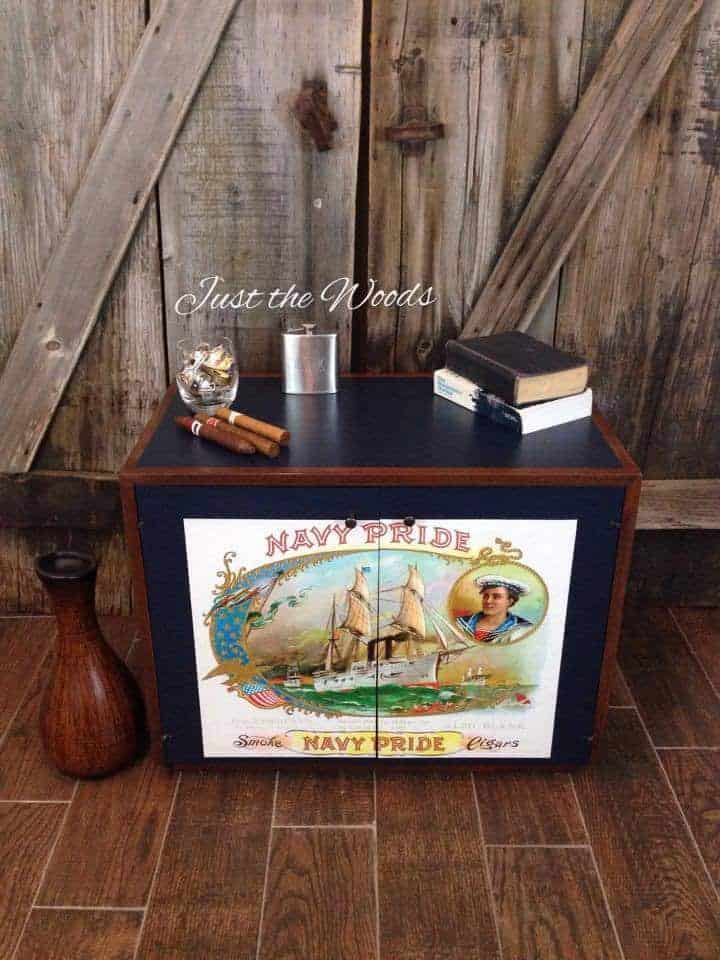 A Little Personal – US Navy
On the personal side, here are a few throwback photos from my time served in our great Navy in an FA-18A squadron.  There's nothing like the smell of jet fuel in the morning!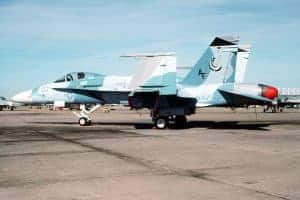 Anchors Aweigh, my boys, Anchors Aweigh.
Farewell to college joys, we sail at break of day-ay-ay-ay.
Through our last night on shore, drink to the foam,
Until we meet once more. Here's wishing you a happy voyage home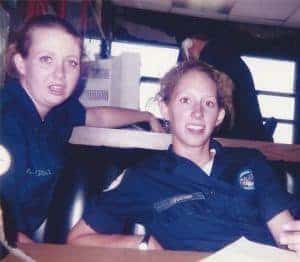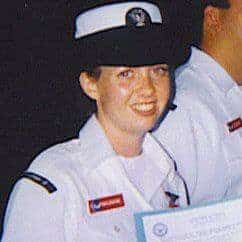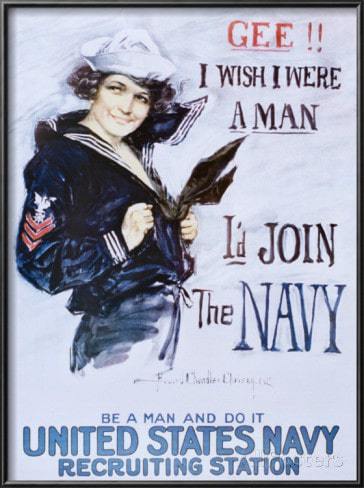 If you like this Bold Navy paint color you can get this look with Sailor in the SHOP
I'll be sharing this post at these fabulous link parties.
Don't Forget – Follow Just the Woods :
FACEBOOK  *  INSTAGRAM  *  PINTEREST
Let's stay in touch – Subscribe to our mailing list here:
PINTEREST PIN READY TO SHARE