Get organized with kids chore charts. Or at least give your kids a little more responsibility with printable chore charts. 
If you love printables then I have a few for you today. Initially, my plan was to make a printable display for the Spring Cleaning Checklist that I have for my kids. But, since they are only 5 and 7 I would have to make a few edits since I'm sure if I sent them to clean windows the windows would end up with fingerprints all over them and less clean then they were to start with. That being said, the timing was perfect when I saw Bethany from Reality Daydream on Facebook talking about the kids chore charts that she uses for her kids. I decided to make slightly more age appropriate chore checklists for my littles in hopes that our mornings are a little less chaotic. Wishful thinking!
Make sure to stick around through to the end to find all of my Power Tool Challenge team friends' creative projects on how to display printables.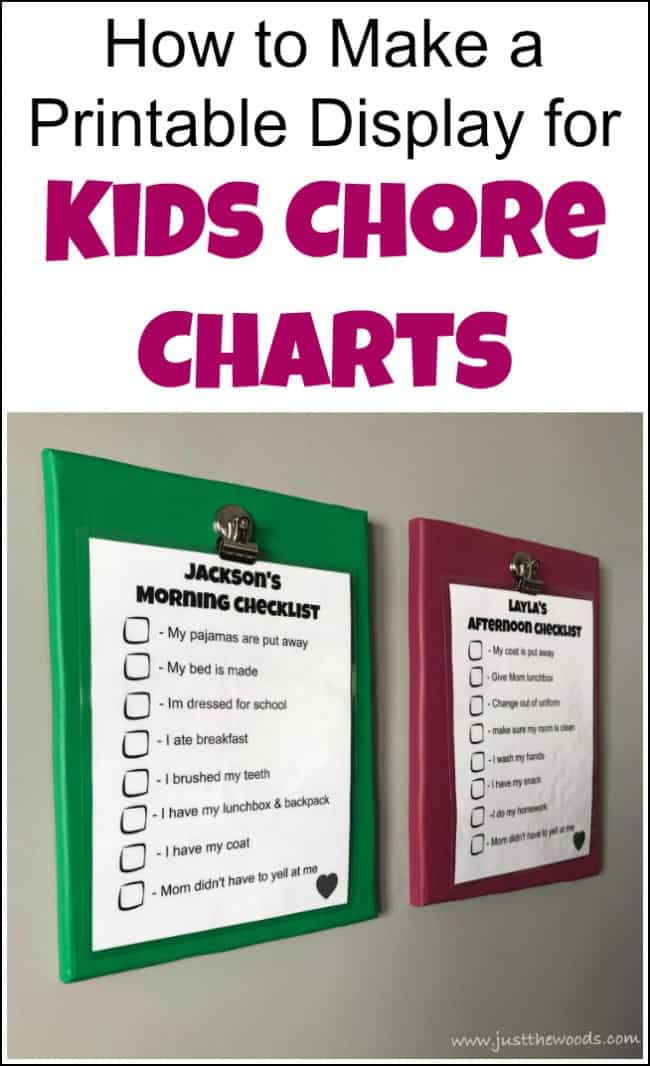 Disclosure: This post contains affiliate links for your convenience. Click here for my full disclosure policy. 

How to Make a Display for Kids Chore Charts Printables
Materials Needed / Source List:
Cutting the Wood for Printable Display
The funny thing is that I made a trip to Home Depot specifically for wood for this project. But I had to cut into it for another project where I rebuild the bottom of a Lane Cedar chest. That explains why my wood is already been cut into.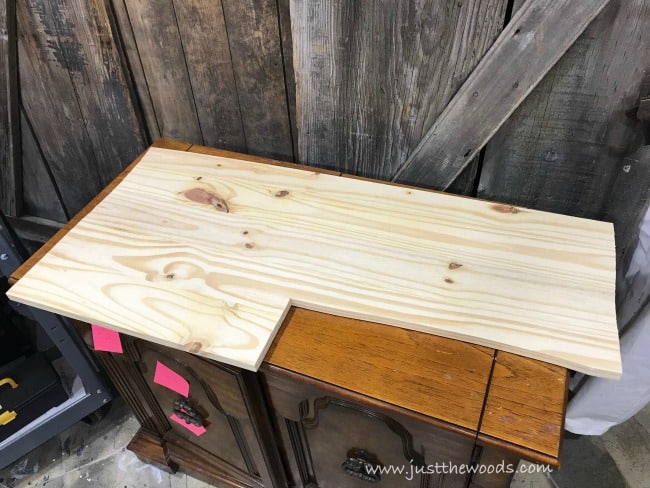 Whether using my initial Spring Cleaning Checklist or my new kids' chore charts, the printable is a standard letter sized 8.5 x 11 so the display sign will work for either printable. Rather than get all fancy and precise I am tracing around a wire basket in my shop to give me a basic rectangle shape on the wood.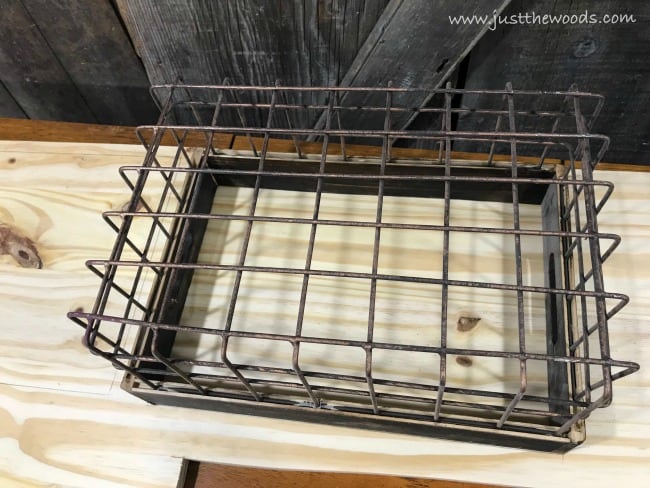 Now the fun part. I am using my new scroll saw to cut the wood. I know that it would make more sense to use a table saw to cut straight lines, but what fun is that?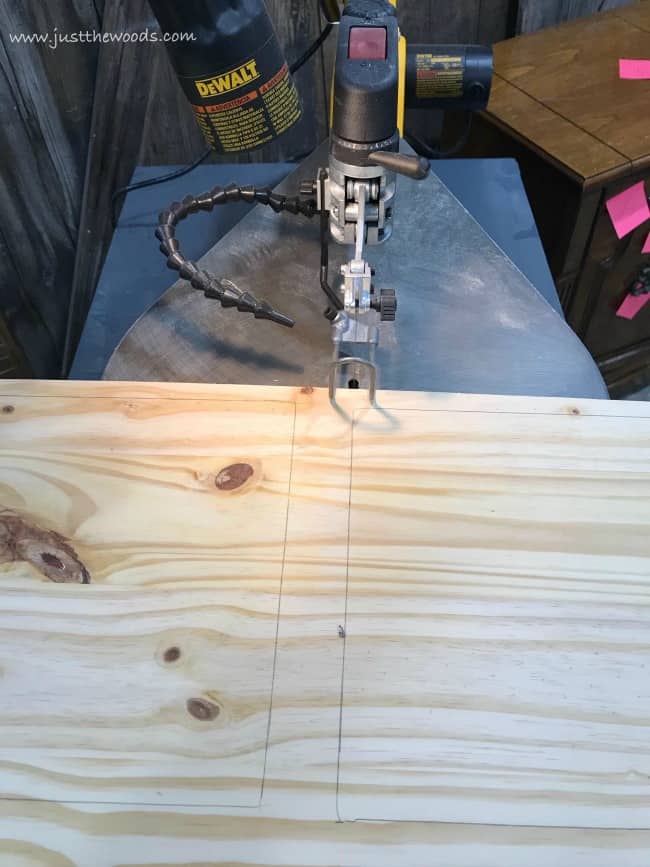 After cutting the wooden chore chart display boards with the scroll saw, I clamp them down with my trigger clamps to give the edges a smoother look.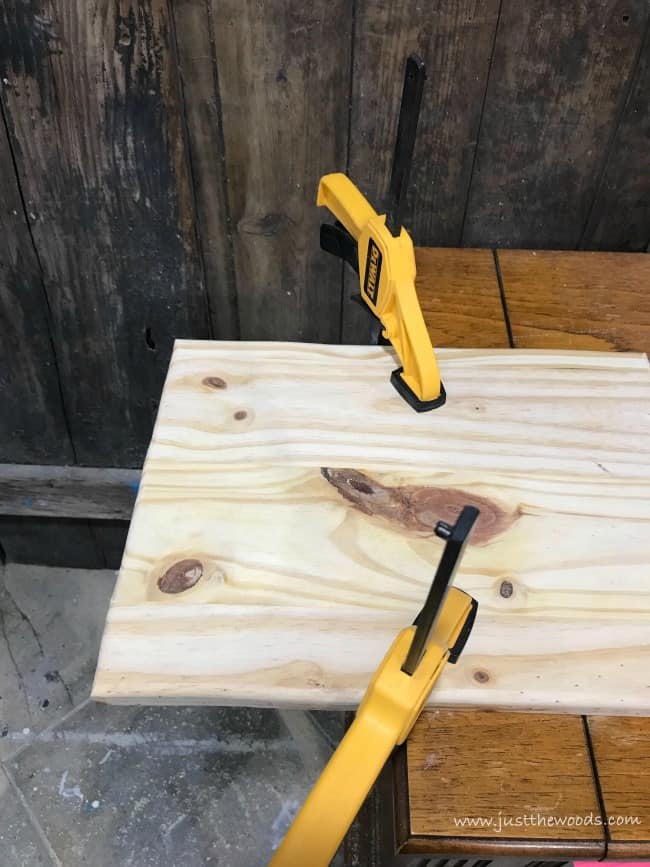 To get a rounded edge I am using the 'roundover' bit in my bit set.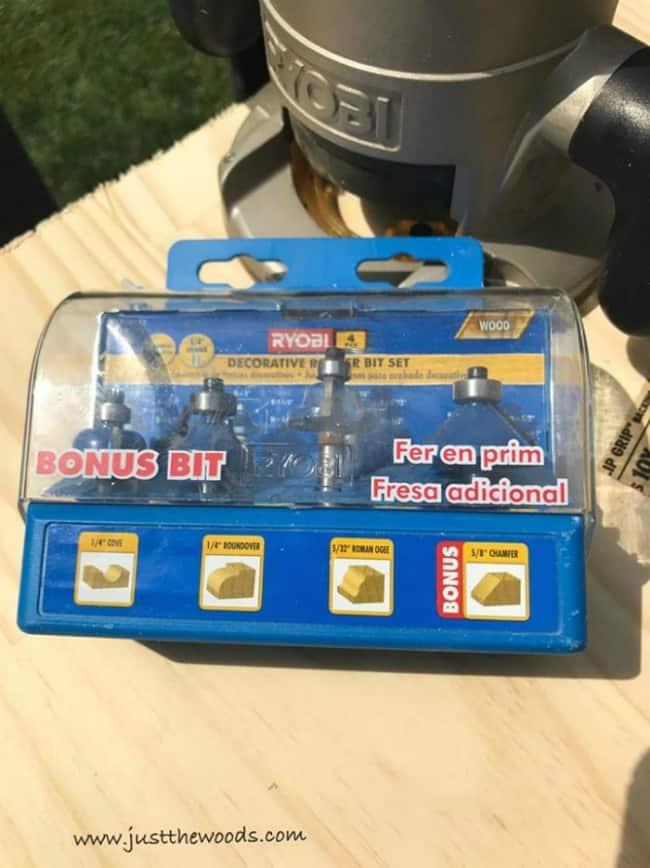 Scroll Saw & Router Video
To see the scroll saw in action, as well as the router for the edges I have put together a video for you. Sometimes watching is easier than reading.
Painting the display boards for each chore chart printable. Of course, I let the kids pick their own colors. Without a double Layle chose a pink-purple called Plum Crazy and Jackson chose Tree Frog Green, both by Dixie Belle Paint Company.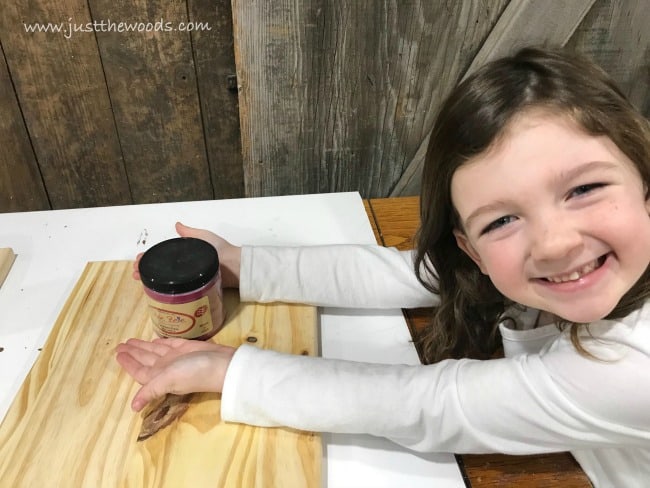 These are both perfect colors for their chore charts. 
I grab my Zibra brush and paint one board with tree frog green.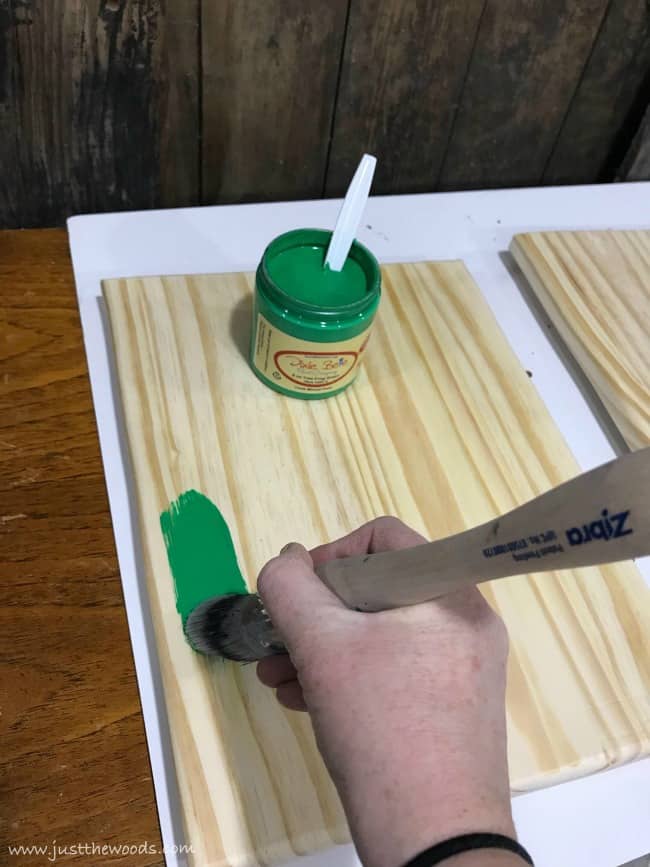 And my cling on the brush to paint plum crazy. Being in a rush, I tossed one brush into a bowl of water while I used the other not having to worry about cleaning them thoroughly or accidentally mixing paint colors.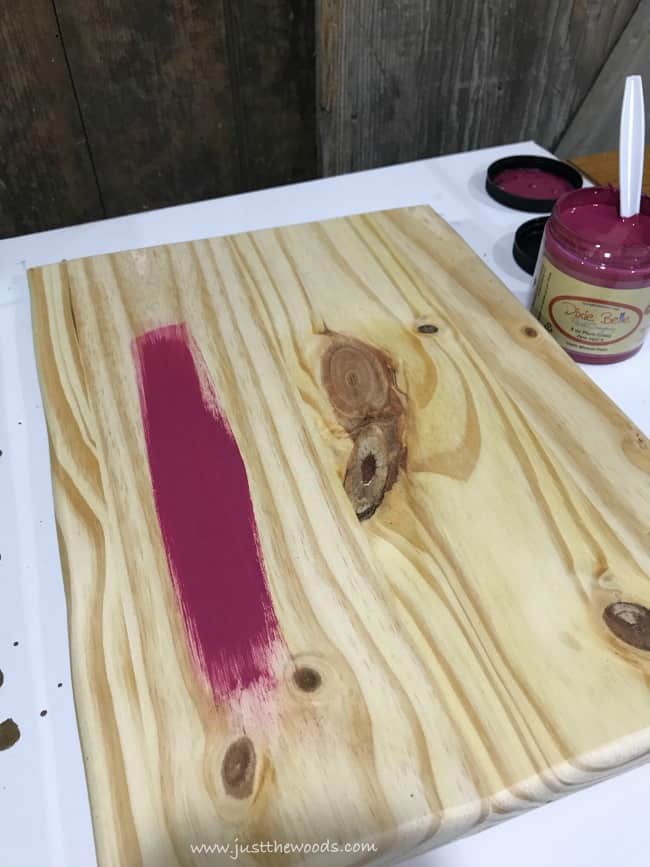 Once the paint dries on the printable display board make sure to seal it. Im using satin clear sealer by Dixie Belle Paint Company.

Adding Hanging Hardware to Display the Kids Chore Checklist
Now that my wooden sign is finished its time to add the display and hanging hardware. Flip the board over and screw in your picture hanging D rings.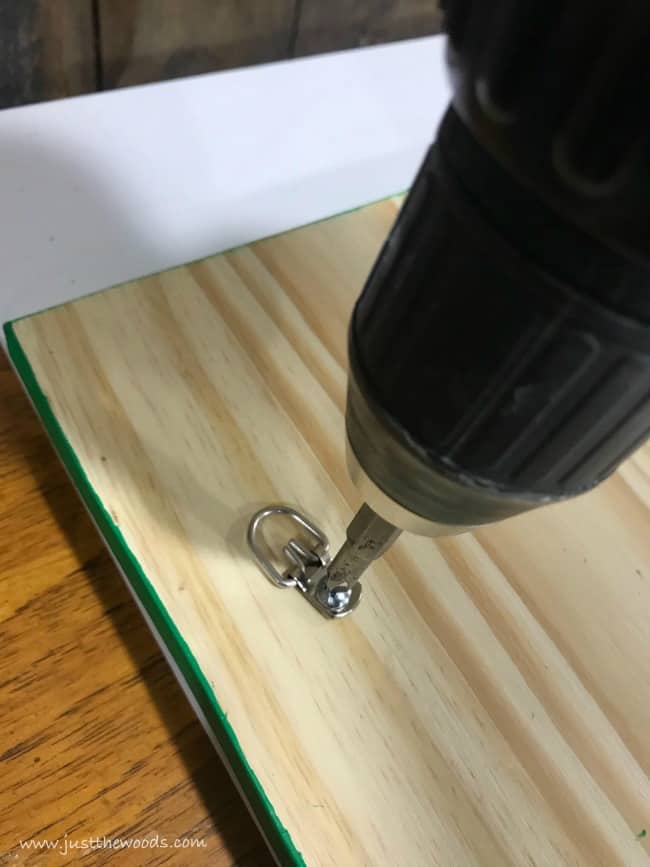 Then attach your wire from one ring to the other.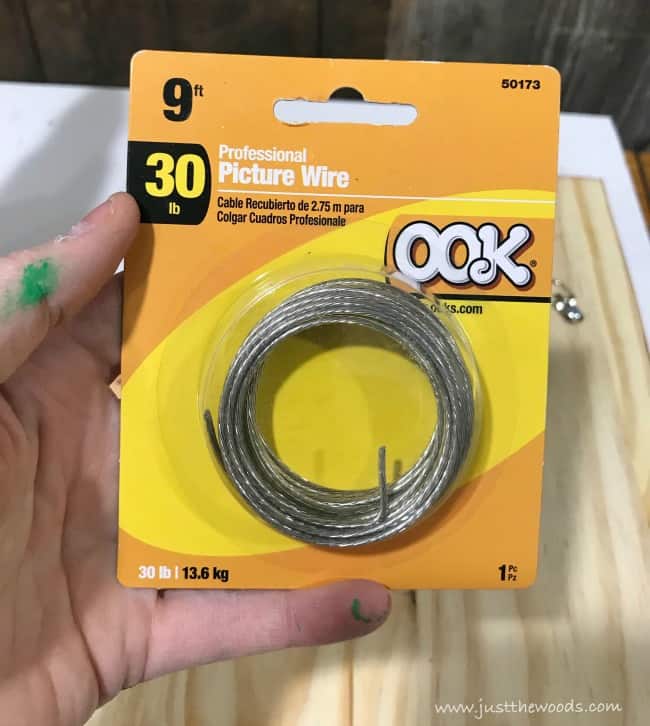 Flip your board back over to add a clip. I scooped up some magnetic bulldog clips and simply hammered a nail into the center area of the board. You don't really need the magnetic part, but its what I have on hand. Make sure that the nail that you choose will fit in the little hold of your clip.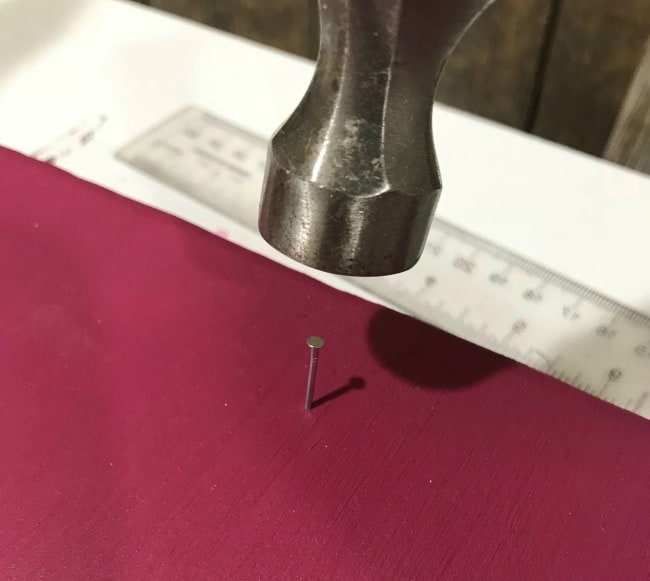 Printable Child Chore Charts
Since I would like my little darlings to repeat this behavior every day and not make me yell like a crazy person I decided to have the kids chore charts laminated. You can either run to Staples and have them laminate for you or you can get yourself a laminator (HERE) Then simply clip the laminated chose chart into each display board.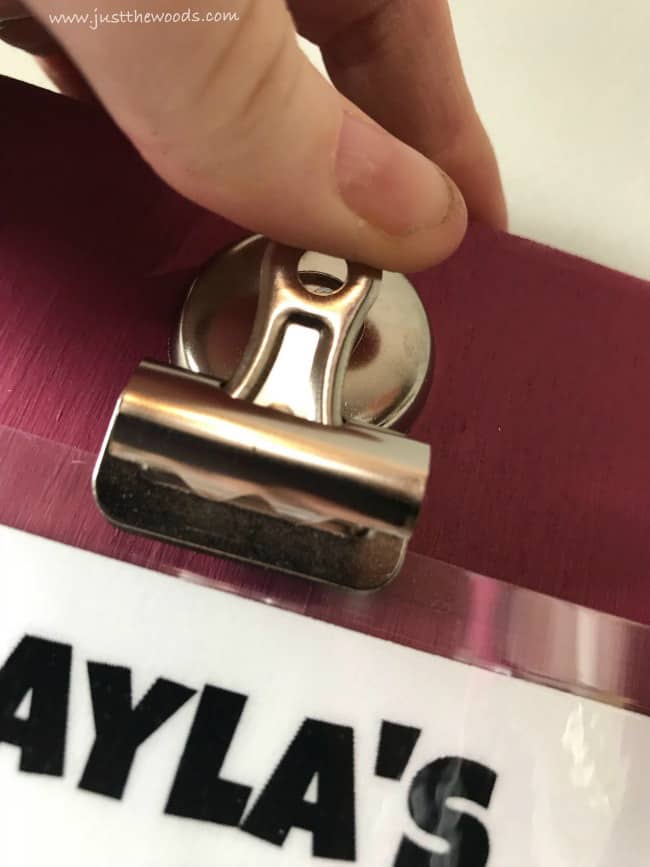 I made sure to laminate these kids chore charts with both the morning and afternoon routines.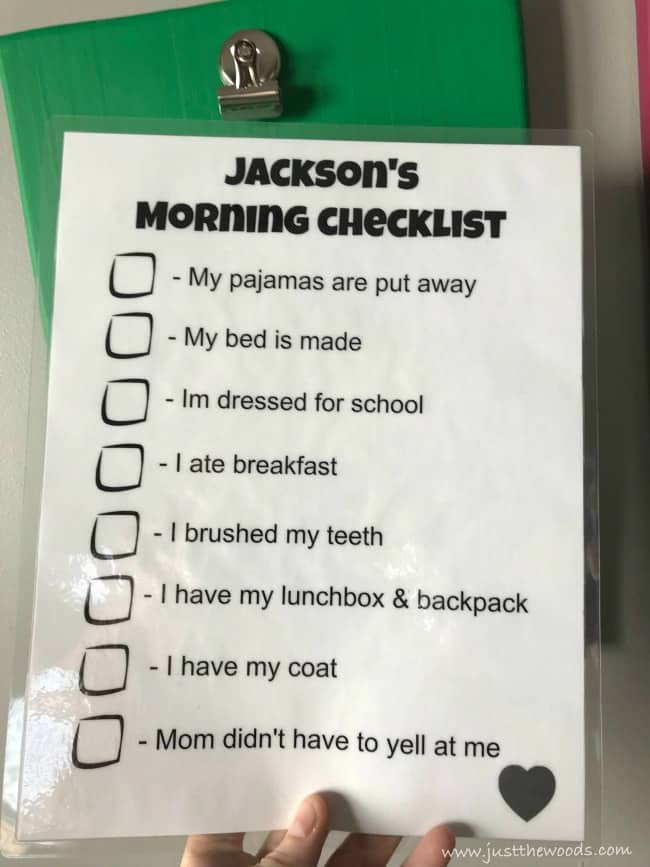 Morning on one side and when you flip it over the afternoon routine is on the other side.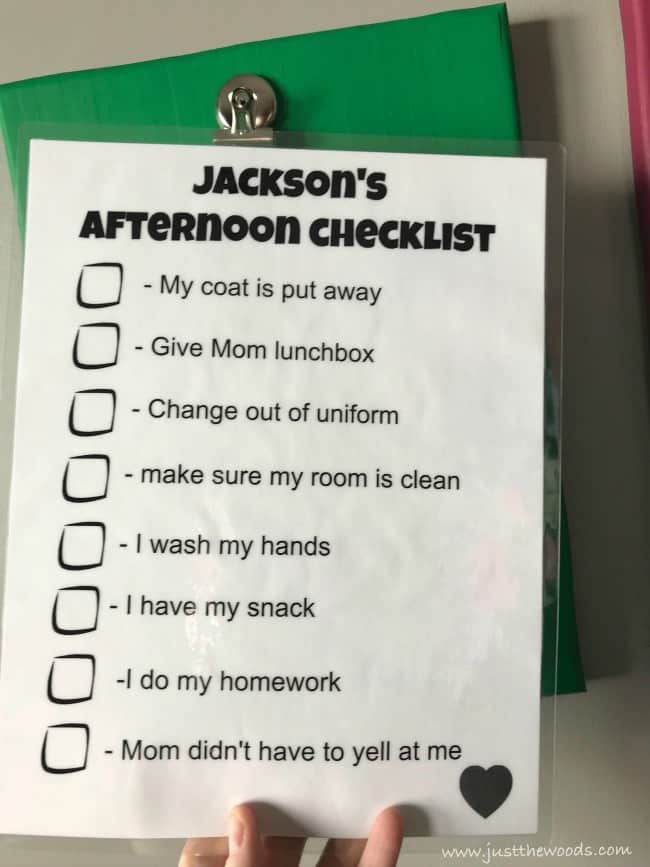 Each kid gets their own personalized chore chart to follow before and after school.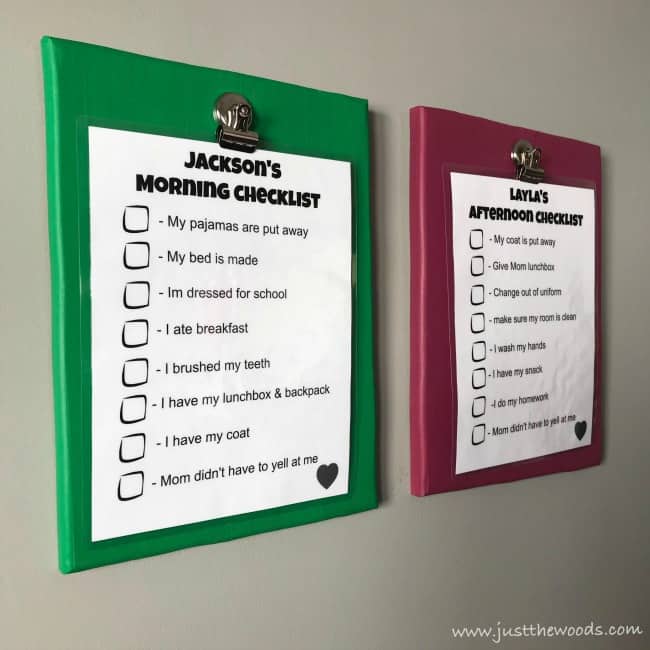 To make things easier I'm hanging each kids chore chart on their own bedroom door using command strips. This way we don't damage the door.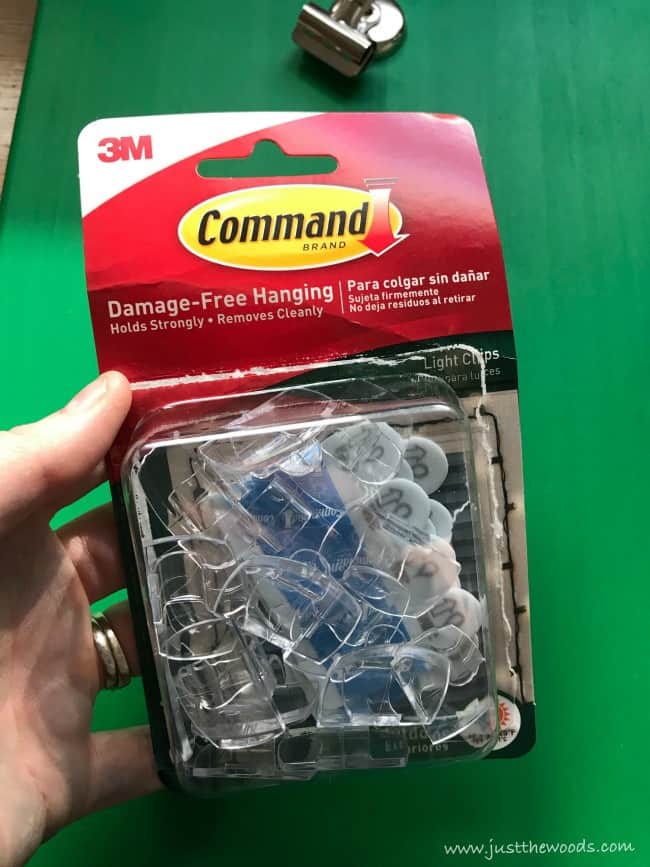 The kids love having their own personal chore checklist and so far so good. A little less chaos, but we'll see how long it lasts.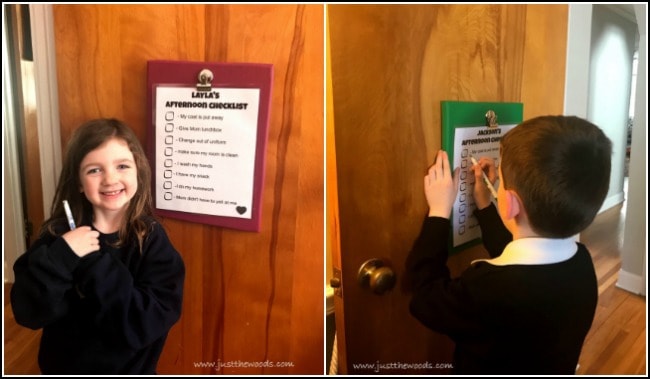 If you have older children, or would like a bit more detailed Spring Cleaning Checklist I also have this one. This is the original cleaning checklist printable that I was going to use for this project.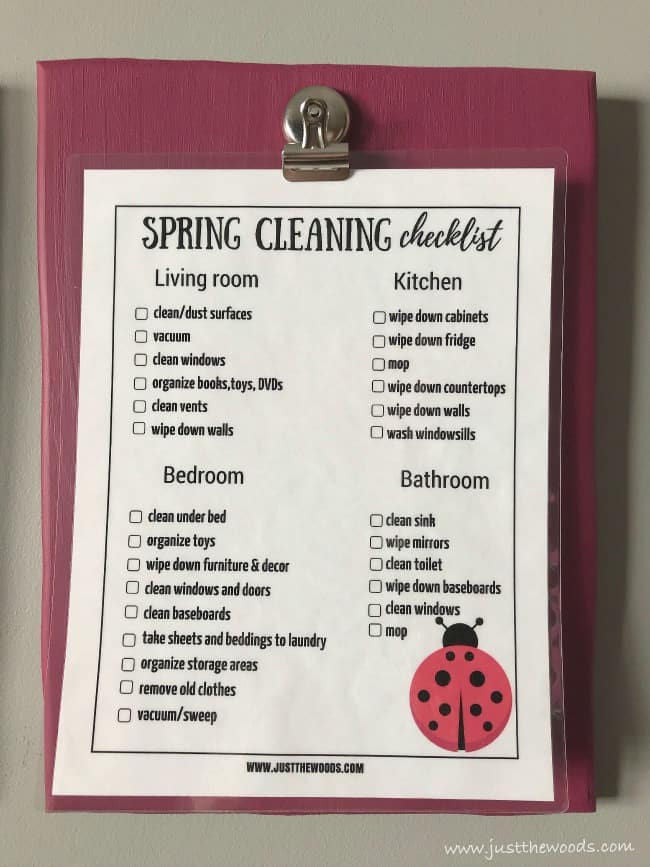 Or with a bold red outline.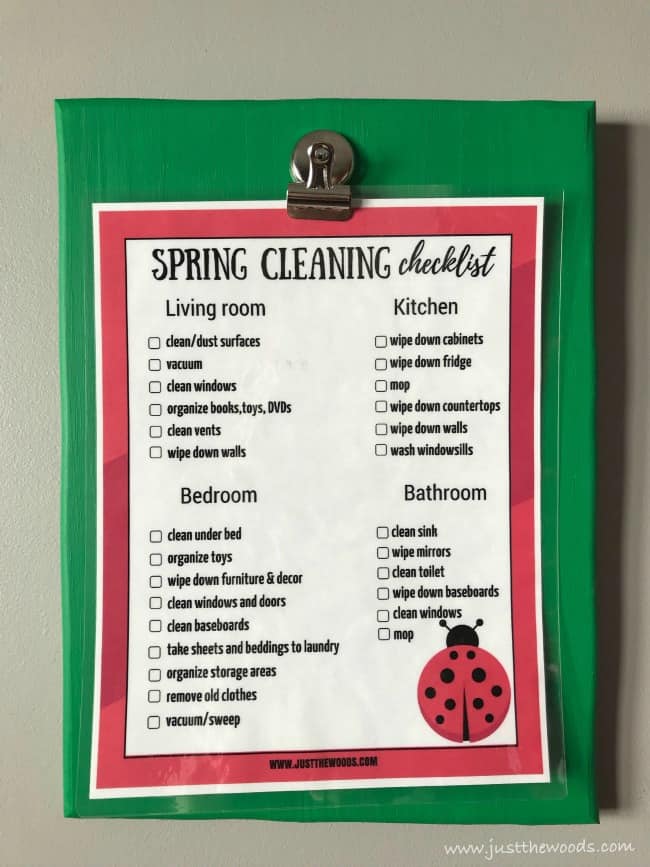 You can get all of these Free printables for yourself to download and print for your home here:  Printables   I made sure to remove the names from the free printable chore charts so they will suit your home and not mine 😉

If for some reason you prefer not to enter your email but still want the printable you can purchase them for $1 each here:
If you like this post then you may also enjoy How to Clean the Kitchen in half the time.
Power Tool Challenge Team
This is a power tool challenge project where a few of my fellow bloggers and myself get together and create a project based on one theme. I'm sure you can guess by now that this theme is creating a printable display. Each project must be created using at least one power tool. Make sure to check out these other projects and collect as many printables as you would like. Links to each project are below the image.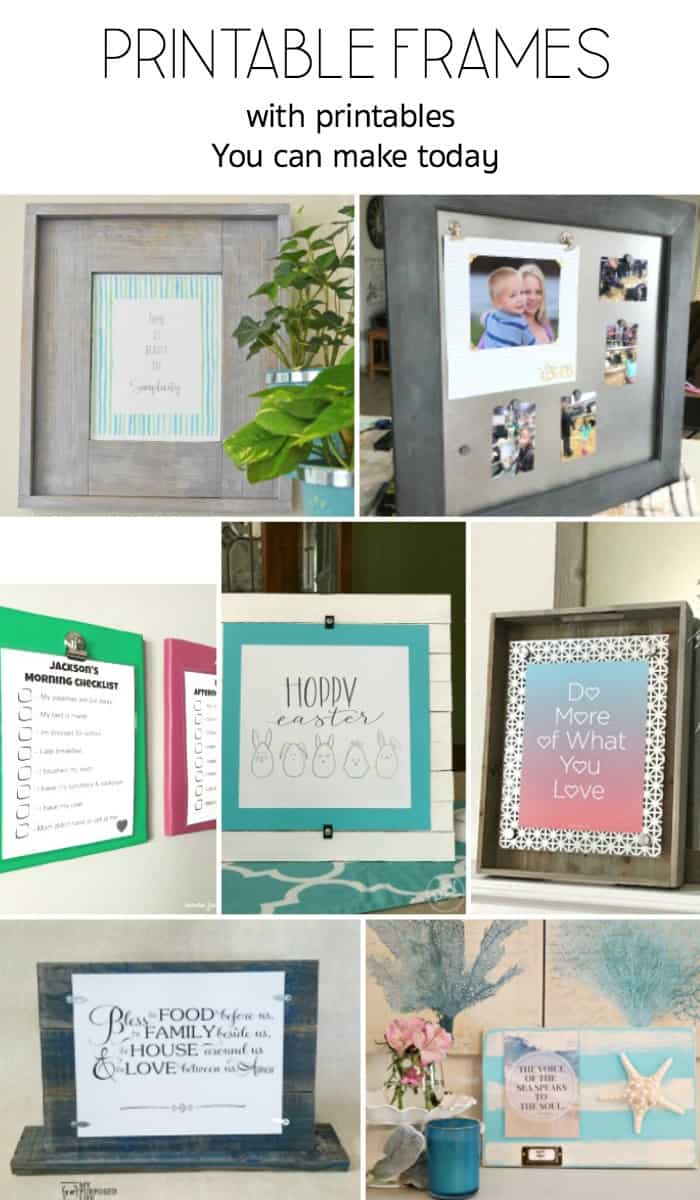 H2OBungalow – Easy Rustic Picture Frame
Create and Babble – How to Make a Magnetic Scrapbook Display
Just the Woods – How to Make a Printable Display for Kids Chore Charts
The DIY Village – DIY Wood Shim Picture Frame
The Kim Six Fix – Acrylic and Perforated Metal Floating Frame
My Repurposed Life – Printable Pallet Frame
Refresh Restyle – How to Make a Photo Display
Don't Forget – Follow Just the Woods and Share this post to Inspire others:
FACEBOOK  *  INSTAGRAM  *  PINTEREST
Subscribe to our mailing list here:
PINTEREST PIN READY TO SHARE