How to Make an Amazing Wine Cork Wreath. The perfect DIY Christmas wreath for a wine lover. Decorate your wreath with painted wine corks and a pretty bow.
Love wine and want to get into the holiday spirit? Don't want to use 200 wine corks to build an entire wreath? You can make your own wine cork wreath but a little simpler. This cork wreath is an easy and unique way to add your love of wine to your holiday decor. It would make a great gift as well for the wine lover in your life.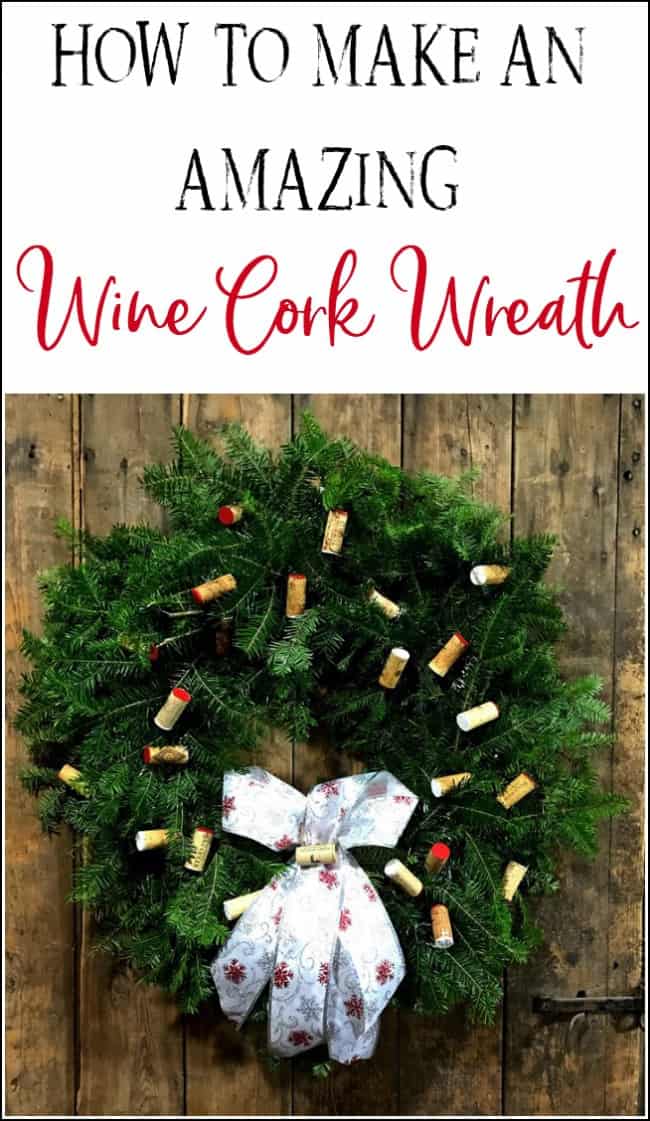 Disclosure: This post contains affiliate links for your convenience. Click here for my full disclosure policy. 
How to Make a DIY Wine Cork Wreath
Materials Needed / Source List:
Fir Wreath – real or faux
Wine Corks
Simple Tools to Make a Cork Wreath
Obviously, the first thing you will need to make your wine cork wreath is a fir wreath. You can use real or faux. I am working with a real fir wreath because the kids' school runs a fundraiser where you purchase a wreath, decorate it and then return the DIY wreath to the school. Once returned to the school all of the families decorative wreaths are put on display in front of the school. If you prefer not to use a real wreath you can find many faux fir wreaths online (here).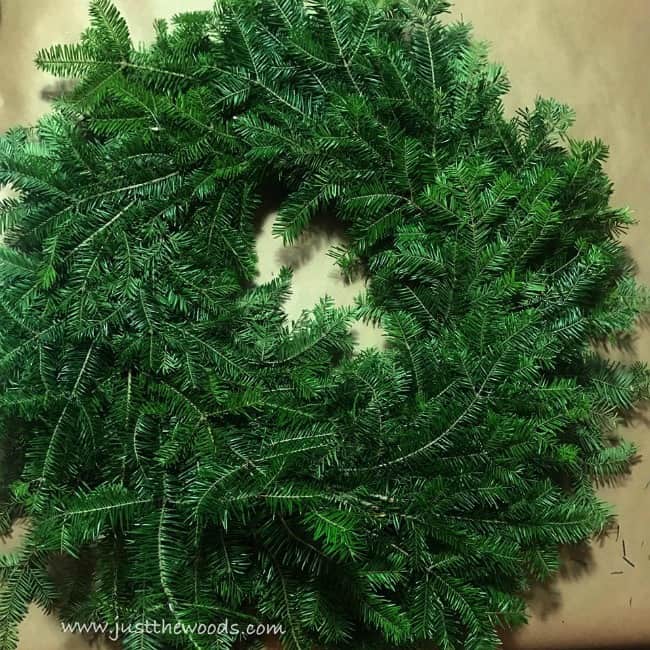 Because we will attach the corks to the wreath using wire, you will need wire cutters. If you don't have them already, you can get them (here).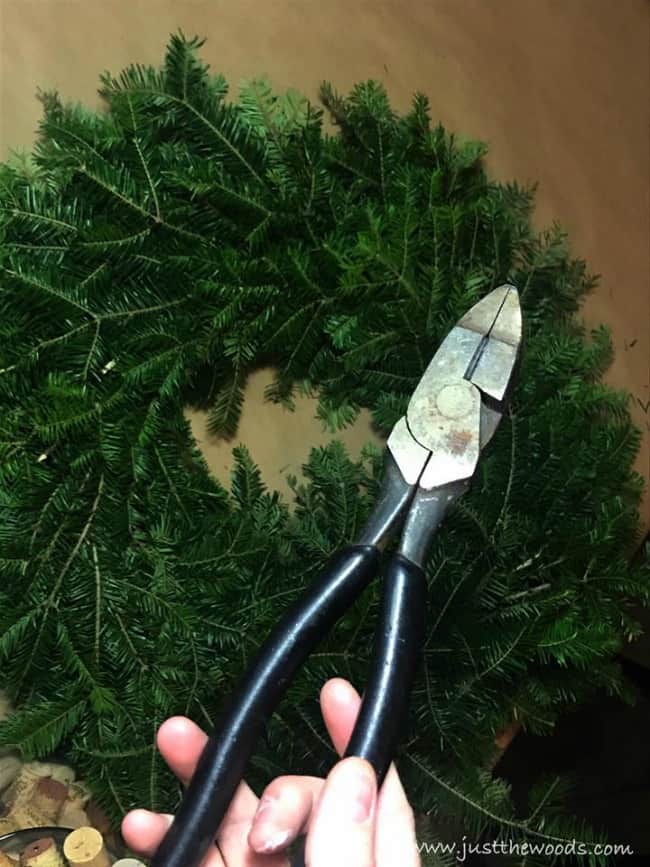 You will need wire. I happened to have the kind of wire that is also used for hanging pictures on the wall, so I grabbed it for this project as well. Also, you will need paint. You can find great quality furniture paint online HERE. An added bonus, when painting furniture, you want to make sure to use a quality non-toxic furniture paint.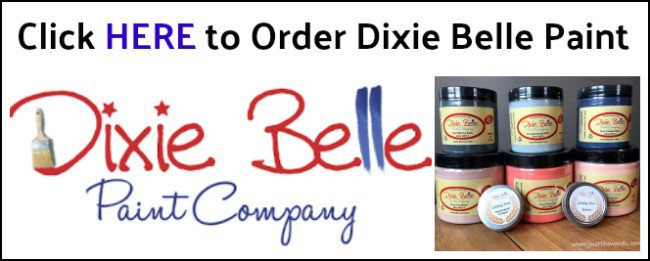 Lastly, you will need an abundance of wine corks (no set amount). If you are an avid wine drinker and have used corks then you are my kind of person ;). If you don't have corks, no worries, you can get some (here).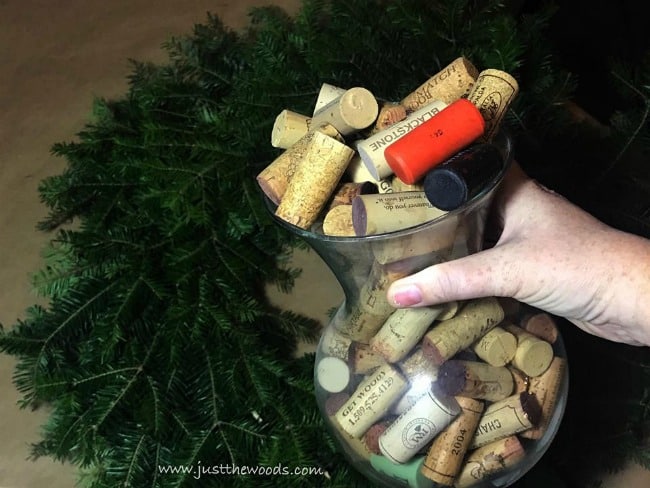 Easy Steps to Painting Wine Cork Ends
Painting the ends of your wine corks is so easy that you don't even need a paintbrush. Put some paint on to paper plates and dip each cork end into the paint. If you blob too much paint on a cork just wipe it off onto the end of the plate or paper towel.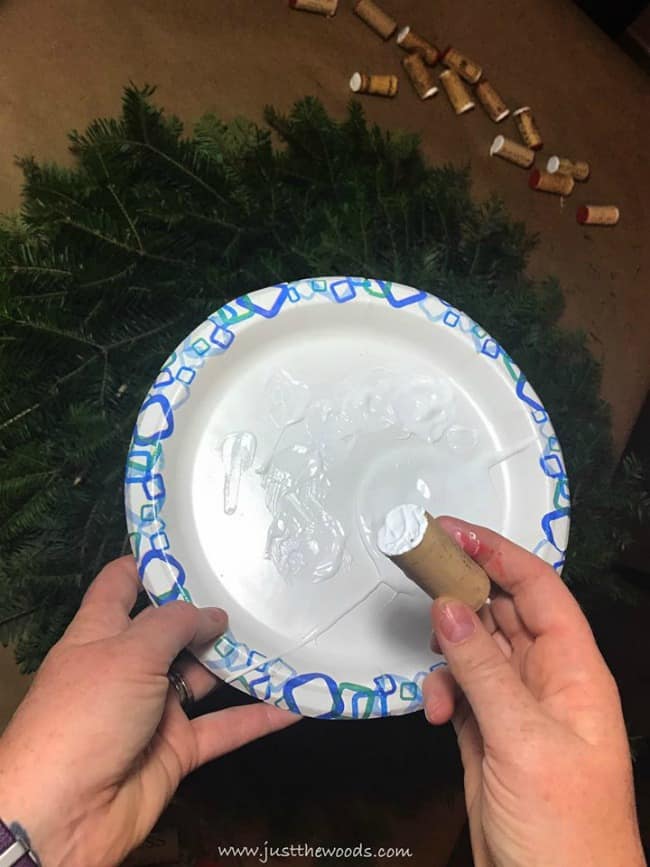 To keep this wine cork wreath in line with the Christmas colors the corks are dipped in red and white paint. Mainly, red on one side and white on the other of each cork.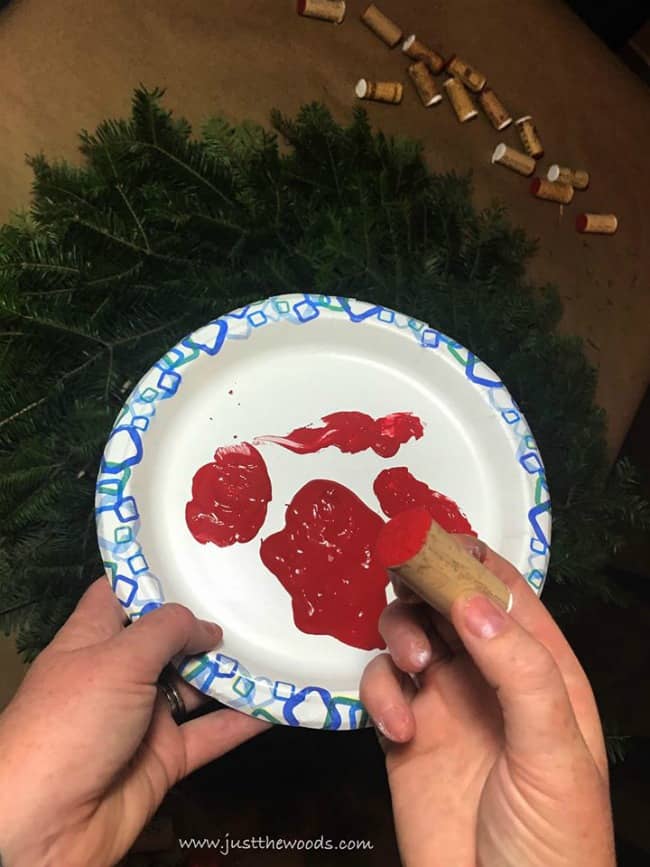 Adding Wire to Your Corks
Next, grab your wire and cut off sections in 6-8″ pieces using your wire cutters.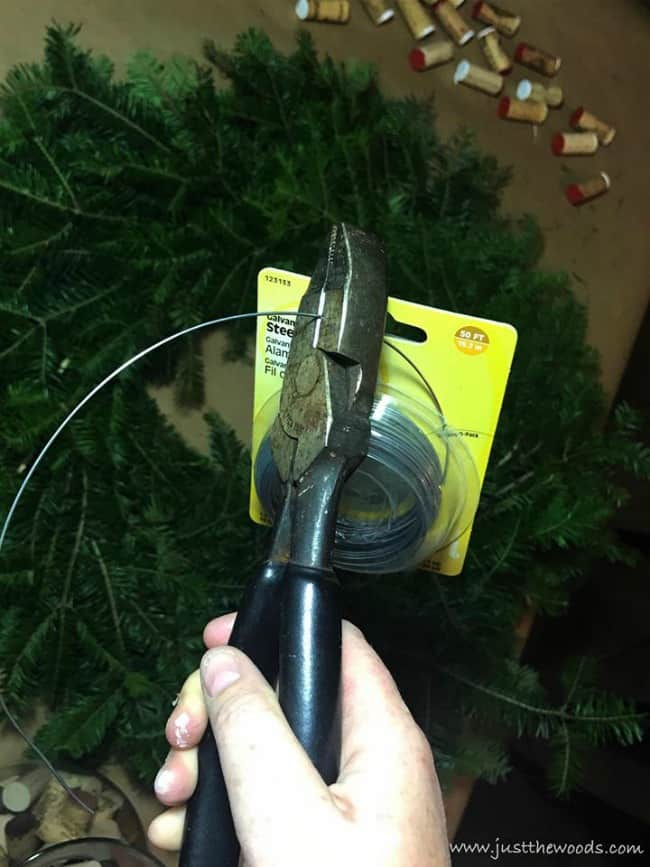 Then slowly push the wire through the center of each wine cork. Some may take a bit more pressure, and if your hands are wet or sweaty they will tend to slide, making this difficult.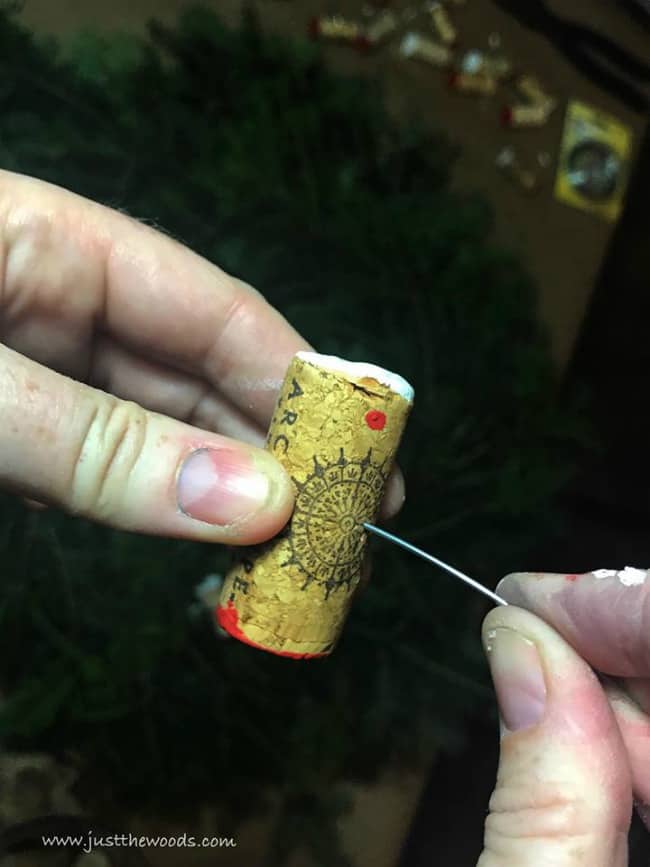 But, with a little patience and pressure, the wire should go through the cork.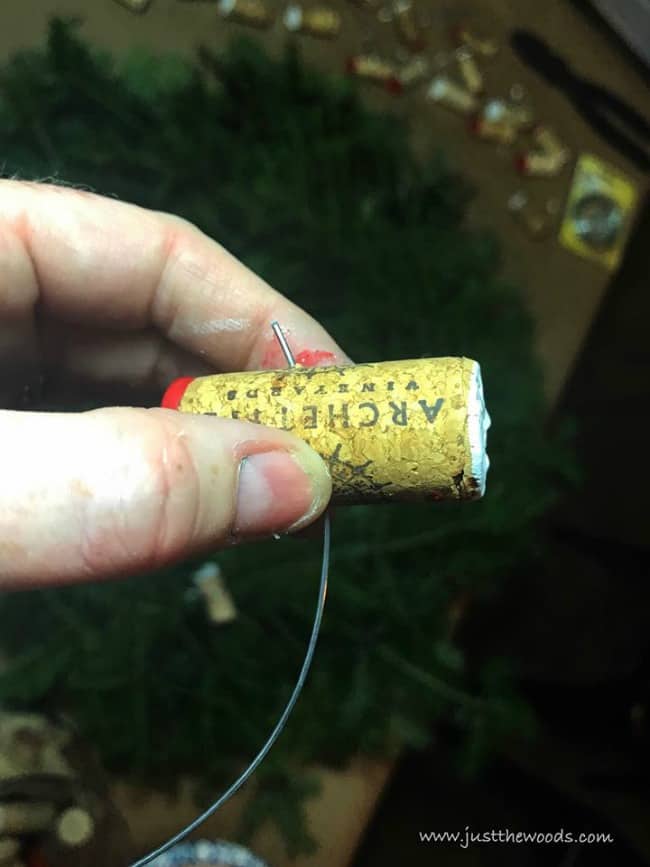 Once the wire is pulled through the cork, give it a twist to make sure the cork is centered and stays put. Then with the remainder of the wire attach the cork to areas of your wreath by twisting the wire around small branches. Use as many or as few painted wine corks are you prefer.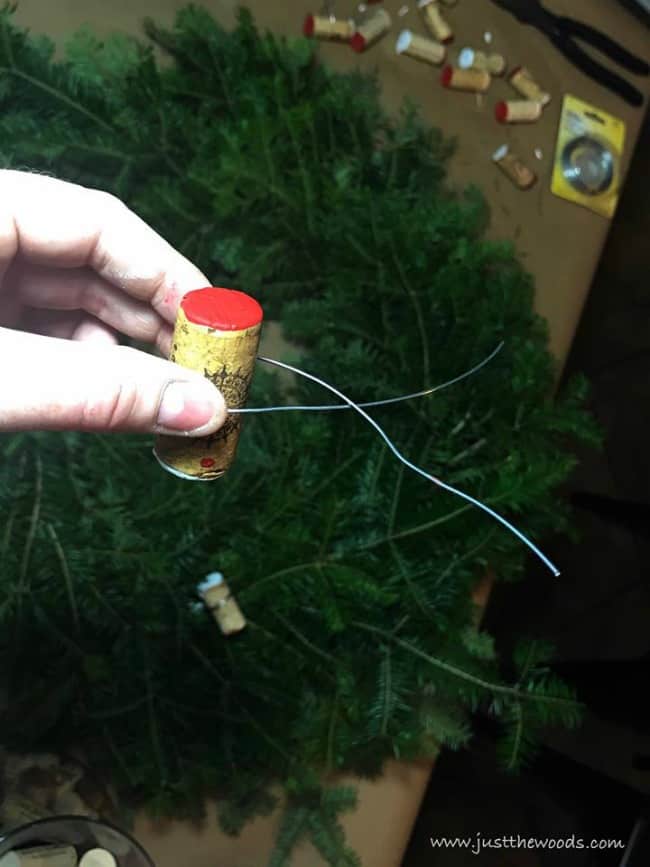 Once satisfied with the number of corks added to the DIY Christmas wreath it may still feel like something is missing. That's exactly what happened here.  Adding a corkscrew would be nice. But since this wreath will be displayed outside of the school I'm afraid a corkscrew will not work. If the corks don't already have people thinking I'm a total wine-O then a corkscrew definitely will. ????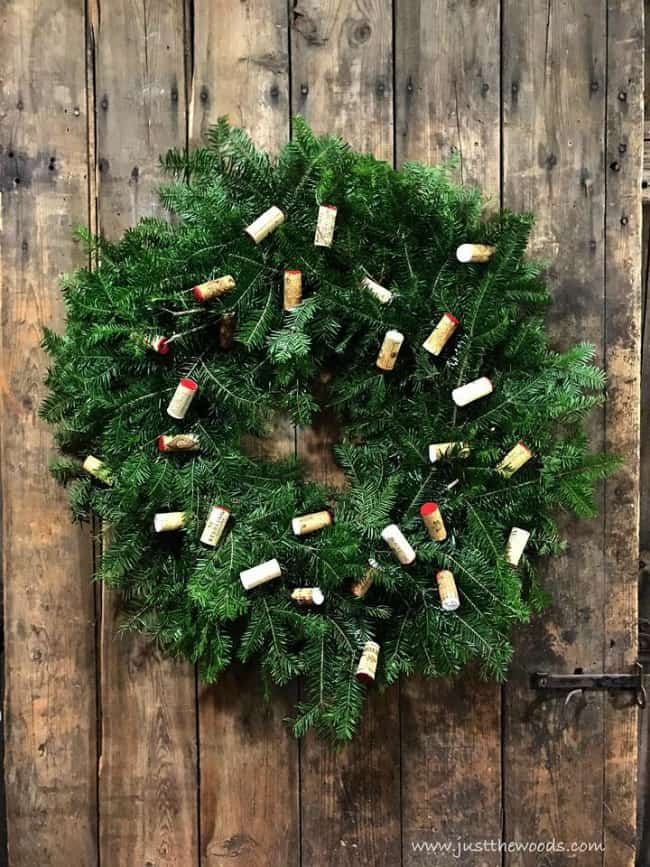 Adding Decorative Ribbon to a Wine Cork Wreath
At this point, you may choose to grab a big red velvet bow or make your own decorative bow with ribbon. Use the same wire to attach your decorative ribbon or bow to your DIY cork wreath. To hide the wire that goes in front of the bow feed it through another cork as you are attaching the bow to the wine cork Christmas wreath.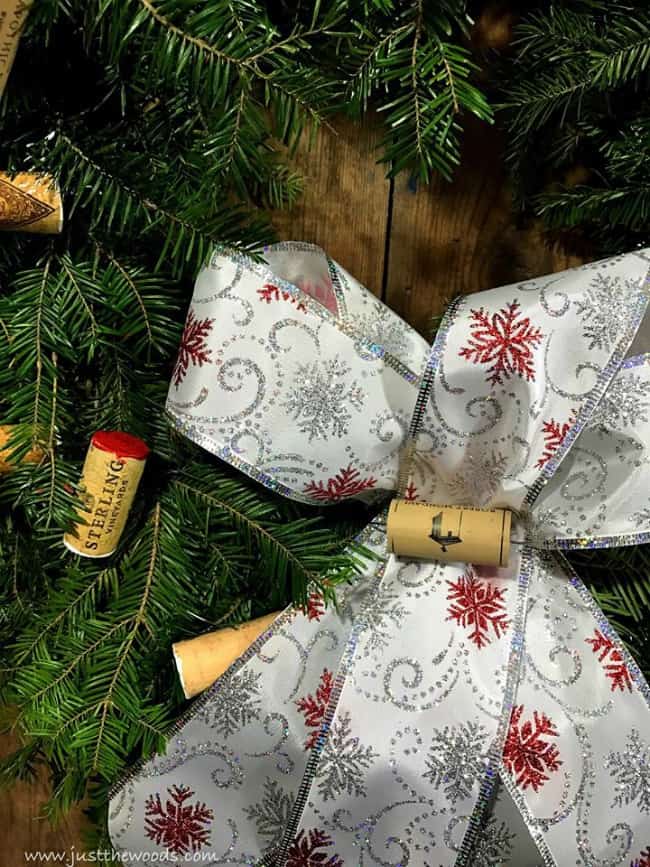 Your Amazing Wine Cork Wreath
Now go ahead and display your amazing wine cork wreath.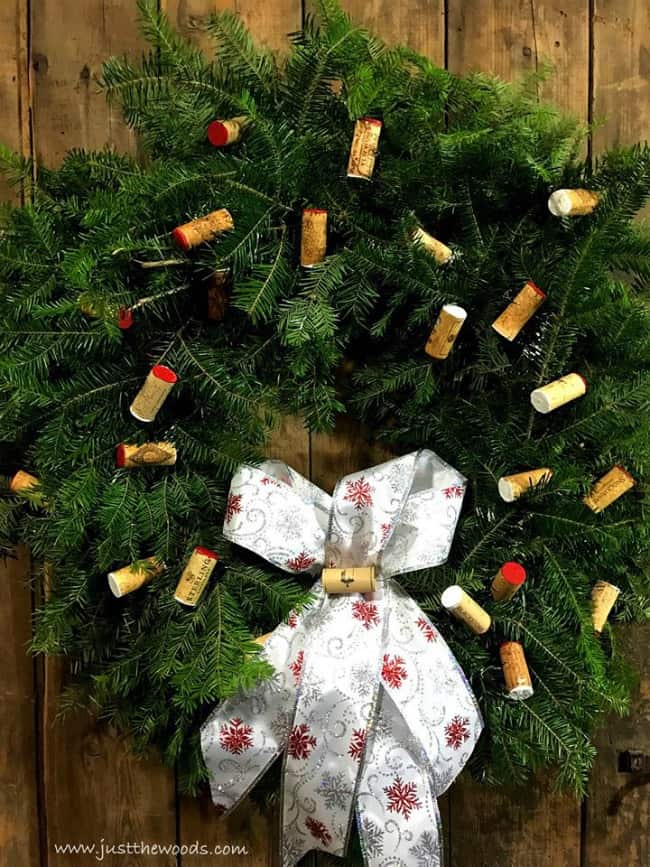 And sit back, relax and have a glass of wine while you're at it.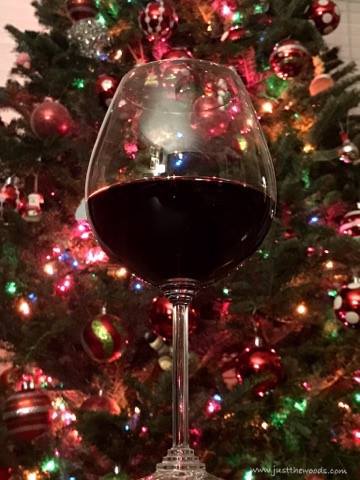 Looking for something for a fellow wine lover? Find an awesome selection of wine lover gifts online HERE. Love cork wreaths but prefer not to DIY? Check out these great wreaths: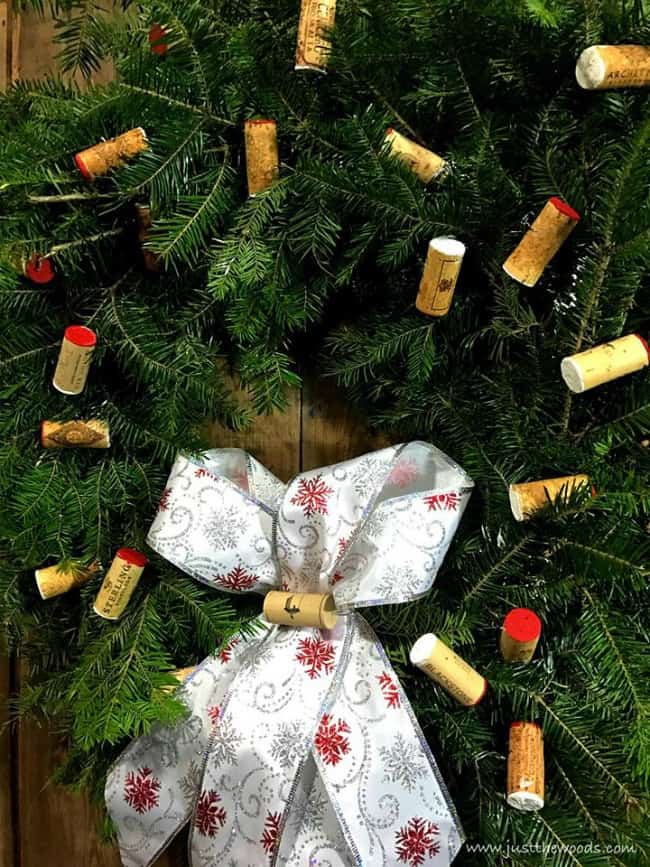 Don't Forget – Follow Just the Woods and Share this post to Inspire others:
FACEBOOK  *  INSTAGRAM  *  PINTEREST
 Stay connected! For more tips and tricks sign up here : 
Pin it!