Age Paper to Make it Look Old the Easy Way. You can make paper look old with coffee, or you can tea stain paper BUT this is the fast and easy method to make paper look old with an antiquing glaze
How to Age Paper to Make it Look Old the Easy Way
There are a few different methods for how to make paper look aged. I've heard but haven't tried that you can age paper with coffee. I do know that you can also tea stain paper to make paper look old with tea. This post is about how to age paper using an antiquing glaze, and it's super fast and easy.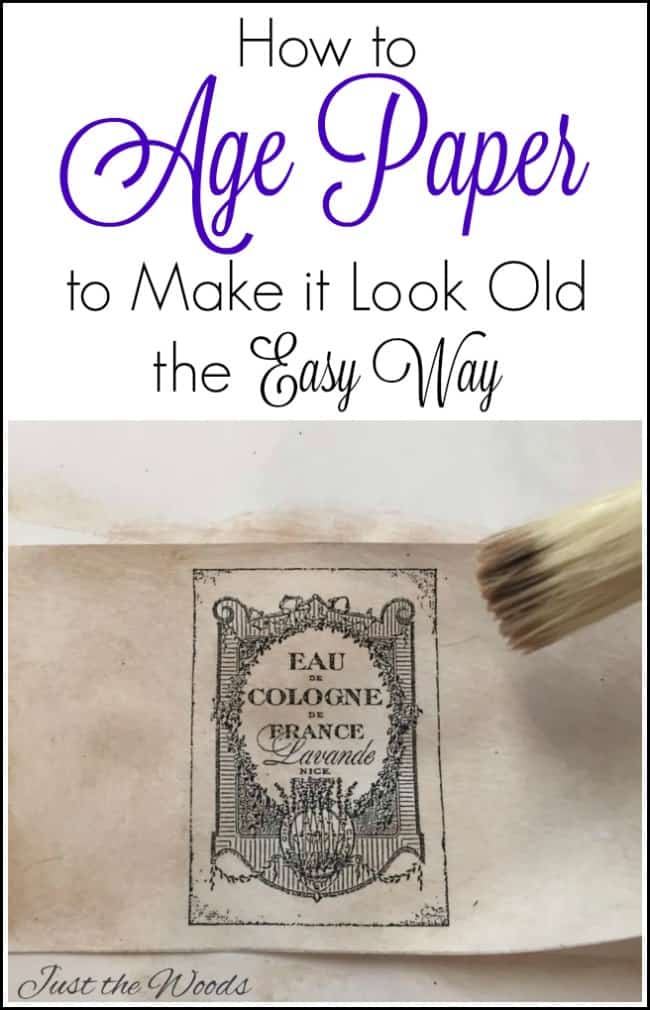 Disclosure: This post contains affiliate links for your convenience. Click here for my full disclosure policy. 
Let's Make Paper Look Old
Why would anyone want to make paper look old? Well, I'll tell you why. This lavender lingerie chest makeover absolutely needs to be photographed with lavender stems and lavender oil. Can you see my whole lavender theme here? 🙂 I ordered a small bottle of lavender essential oil online but as you can see the brand new label is just that. Too new and perfect. I prefer a more elegant old world feel with this lingerie chest so the bottle looks out of place with the modern label. You can get lavender essential oil online too if you'd like (HERE). It smells heavenly!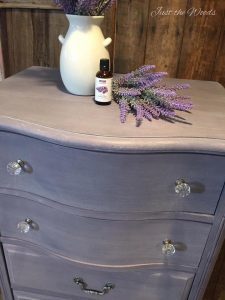 Finding an Image
First, find an image that you want to age on paper. This vintage style label design can be ordered online. I found it in this online shop (HERE), along with so many other images.  There are websites where you can pay for an image and then have the rights to download it and use it. This is important when trying to stay away from copyright infringement violations *wink*.  The few dollars it costs is worth it in my book, with that being said please do not take and use this image.
Second, you may need to adjust the size of your image. This vintage style image is shrunk using a standard photocopier. Make a few extra copies, just in case you need to try a few times to get it right.
Next, using a standard cheap paintbrush lightly brush a bit of an antiquing glaze over the stark white copy paper. Your new printer paper is starting to appear more like old looking paper now. Since the lavender oil bottle is brown I don't want the label too dark, but just enough so that it doesn't look crisp and clean and white. If any of the glaze looks too dark in an area or if you can see brush strokes, just wipe it with a baby wipe to blend it in.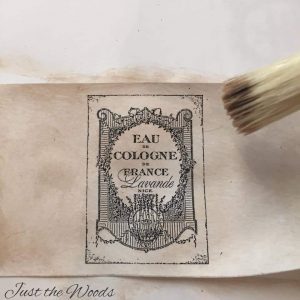 Aging Paper to Make it Look Old the Easy Way
This entire process of aging paper literally takes only a few minutes. You will most likely spend more time adjusting your paper size than actually making the paper look old.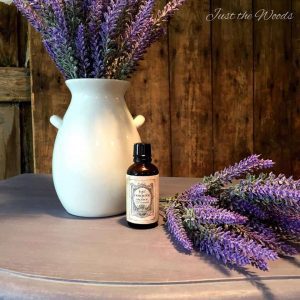 Interested in seeing the lavender lingerie chest? Click here to see the Lavender Lingerie Chest Makeover.
Love unique home decor but don't feel like spending hours scouring the internet? Let me do the work for you. Click to be added to the exclusive Home Decor & Fabulous Finds.

Don't Forget – Follow Just the Woods and Share this post to Inspire others:
FACEBOOK  *  INSTAGRAM  *  PINTEREST
 Stay connected! For more tips and tricks sign up here : 
Pin it!