Disclosure: This lavender lingerie chest post contains sponsored links from Pure & Original Paint. All opinions are 100% my own. This post contains affiliate links. 
Fab Furniture Flippin Contest

I'm so excited for another Fab Furniture Flippin' Contest!  Its been a couple of months since I participated in one and when I heard that this month was being sponsored by Pure & Original Paint I couldn't wait to jump in and give it a try.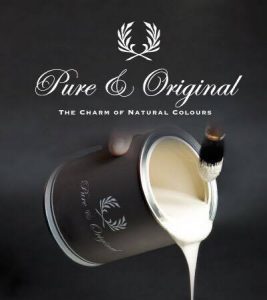 Pure and Original is an economically friendly paint (and you guys know how I love to paint safe), made with all natural pigments and so many soft colors to choose from.
The theme of the contest is "Pure Colors, Original Elegance".  I figured what color would better represent elegance than lavender!
I choose the colors Bohemian, White Rhino and Island White for my piece to create an old world elegant finish.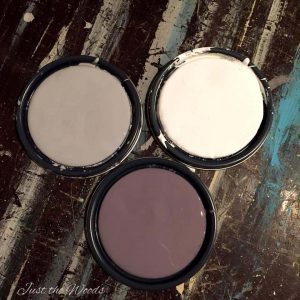 Project Piece- Before
I choose this curvy lingerie chest from my inventory to transform. It's ample curves and robust size needed something to liven her up!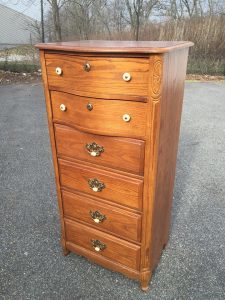 I made sure to remove that dated hardware and get pretty new crystal knobs and silver handles from none other than D Lawless Hardware.   Once prepped, I layered all three colors on the chest for the base.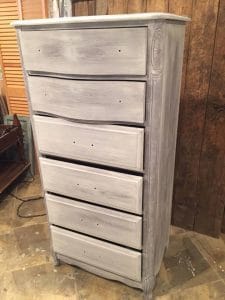 Next I unevenly added Bohemian, which is such an elegant shade of purple.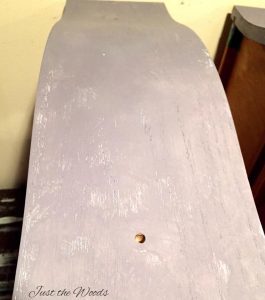 Lastly I washed the chest with White Rhino and then distressed all over to reveal bits of all three colors creating a cloudy, fairy tale finish. 
The crystal knobs and silver handles looks like they were meant to be paired with this lavender lingerie chest!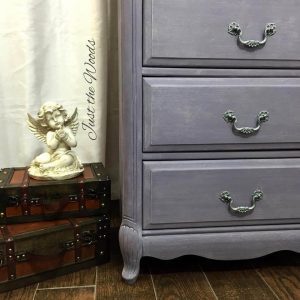 The After- Lavender Lingerie Chest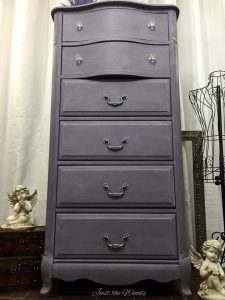 For an extra touch I also rubbed the wooden drawer guides with a bit of lavender oil for a subtle sweet aroma when the drawers open. I even made a aged vintage lavender label for the little bottle of lavender oil for the photos.  I couldn't resist.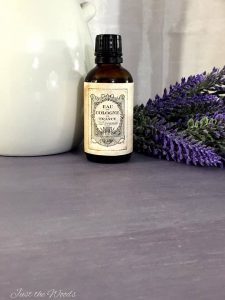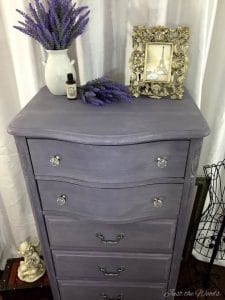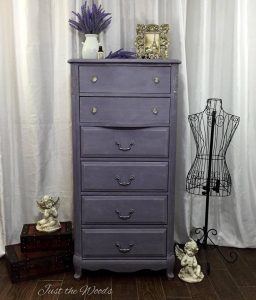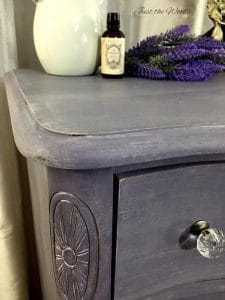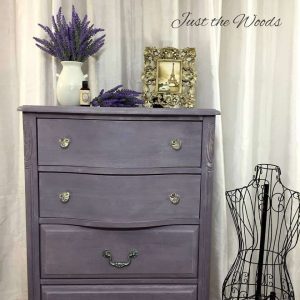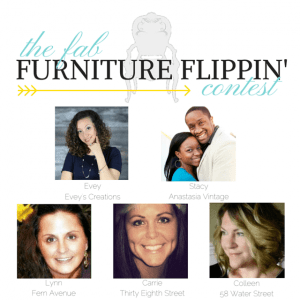 The hosts for this months Fab Furniture Flippin Contest are:
Carrie at Thirty Eighth Street
Stacy at Anastasia Vintage
If you are a blogger and interested in joining future contests be sure to contact: info@fabfurnitureflippincontest.com
I'll be sharing this post at these fabulous link parties.
If this is your first time visiting and would like to be added to the mailing list for new posts you can subscribe here:
#puredesign #pureoriginalpaint #fffc2016 #fabflippincontest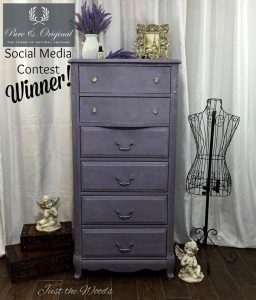 Staging:
Featured: