Bacon wrapped pork tenderloin is one of my favorite dishes to make. This bacon wrapped pork tenderloin recipe is so easy to make with only three ingredients. Everything tastes better with bacon right?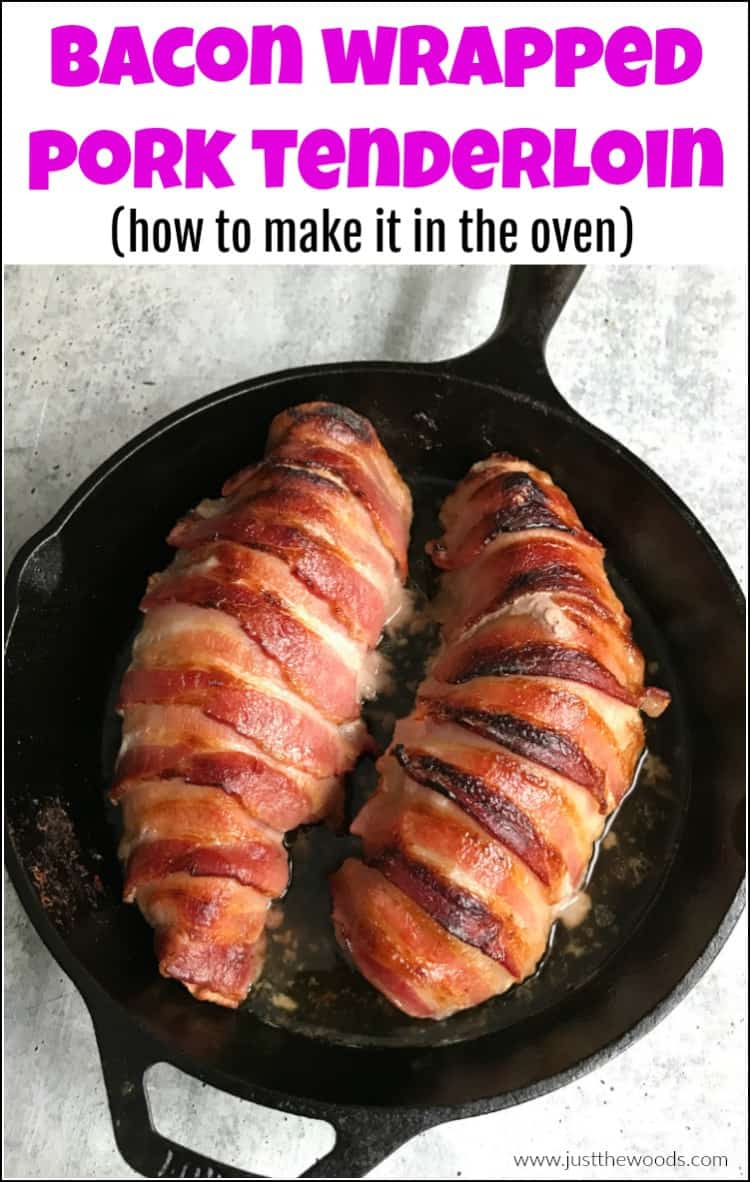 Disclosure: This bacon wrapped pork tenderloin recipe post contains affiliate links for your convenience. Click here for my full disclosure policy.

Easy Bacon Wrapped Pork Tenderloin Recipe
What You Will Need (Full Printable Recipe Available Below)
Ingredients:
pork tenderloin

Nitrate free bacon
raw natural honey

avocado oil spray
Getting Personal
Along with eating clean and trying to keep my family eating healthy I also see a nutritionist. To make a long story short he runs a full blood panel and can see where my body is lacking things or has an abundance etc. Then we take this info and use food as a sort of medicine to address any issues. For example, my thyroid is a mess, my glutamine is extremely low, and my hormones are a mess. To keep it simple, my current diet now includes more cashews and less almonds. More pork, and less chicken. No wheat, gluten, dairy, soy or refined sugars.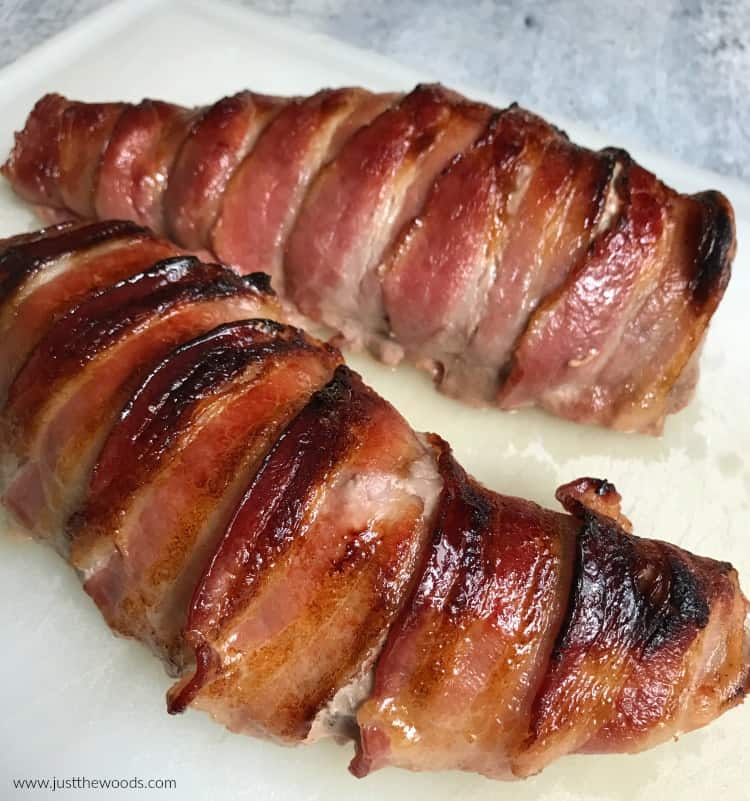 Clean Eating Basic
Continuing on, and rewinding at the same time – I mention that this is a clean eating recipe because I am all about eating healthy and clean eating. If you are new to a clean eating way of life then you need to check out Everything You Need to Know about a Clean Eating Diet. You can also see how I lost 50 lbs and am keeping it off by following a clean eating diet here: How I Lost 50 Lbs Clean Eating. I tend to try different things and mix different flavors to keep meals healthy and tasty.
How to Cook Bacon Wrapped Pork Tenderloin
Ingredients:
This simple bacon wrapped pork tenderloin recipe only required three simple ingredients. Pork tenderloin, bacon and honey. We will also use a little avocado oil to prevent sticking, so if you count that, then four ingredients.
Did you know that you can get Whole 30 bacon? I like this Organic, no sugar added bacon from Applegate. Depending on where you live, you may be able to get it online here:

bacon

.
For the pork tenderloin, I make sure to get organic pork, pork from a local farm, or pork that is

Never-ever treated or given antibiotics or added hormones; no gestation crates or farrowing crates

Certified Humane Raised and Handled

Pork from animals raised by small independent U.S. family farmers committed to sustainable and humane practices who are paid a premium to follow strict raising standards.

Lastly, the honey. My favorite is this raw unfiltered honey, and I get it online here:

honey

.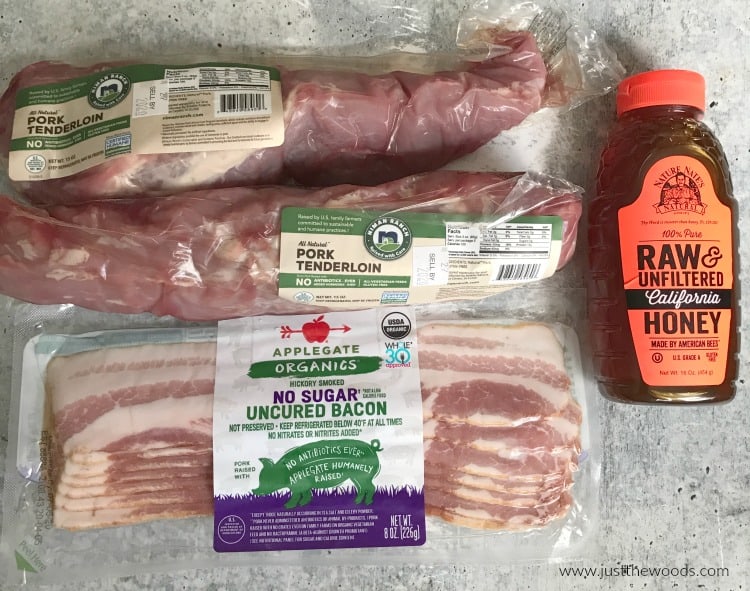 Cooking
First, preheat the oven to 350.
While the oven heats up you will need to spray a little avocado oil in your cast iron pan to prevent sticking and heat on medium heat. Place your pork tenderloin in the pan and cook just enough to lightly brown all the sides.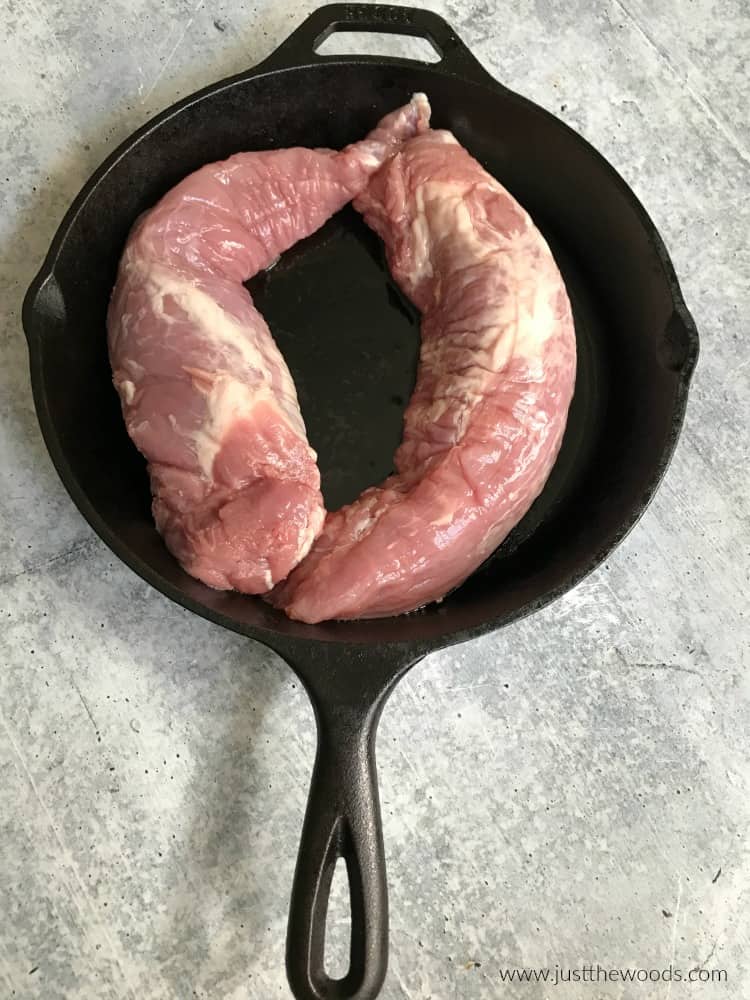 Remove from heat and remove the pork from the pan. Wrap the bacon around your pork tenderloin with a slight overlay.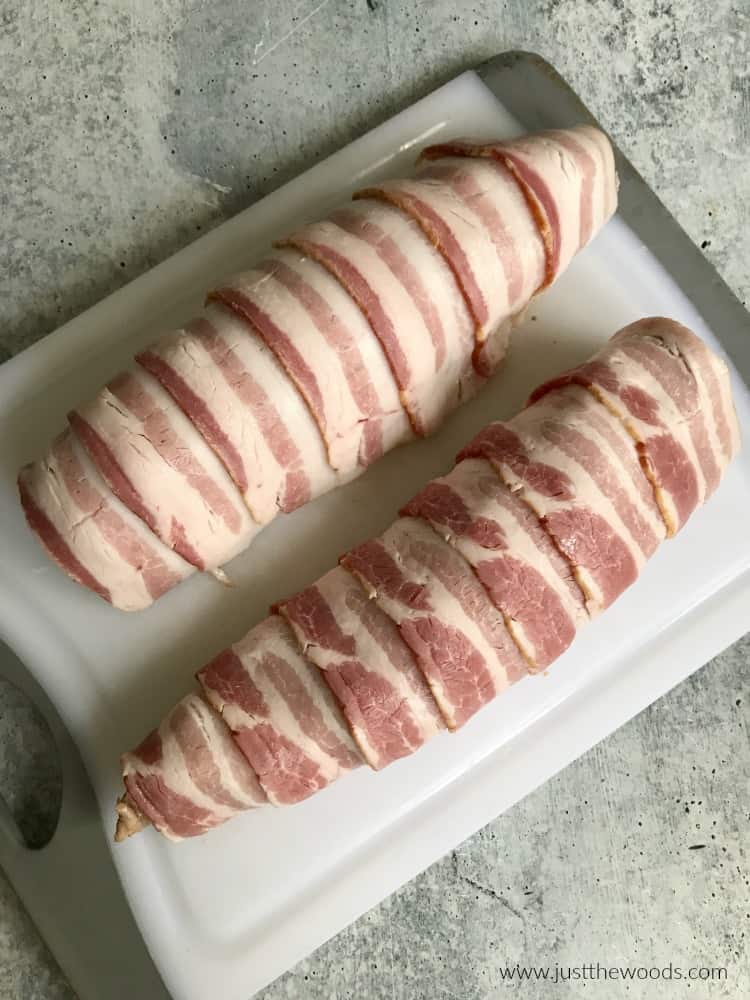 Carefully place the bacon wrapped pork back into the cast iron pan and drizzle with honey.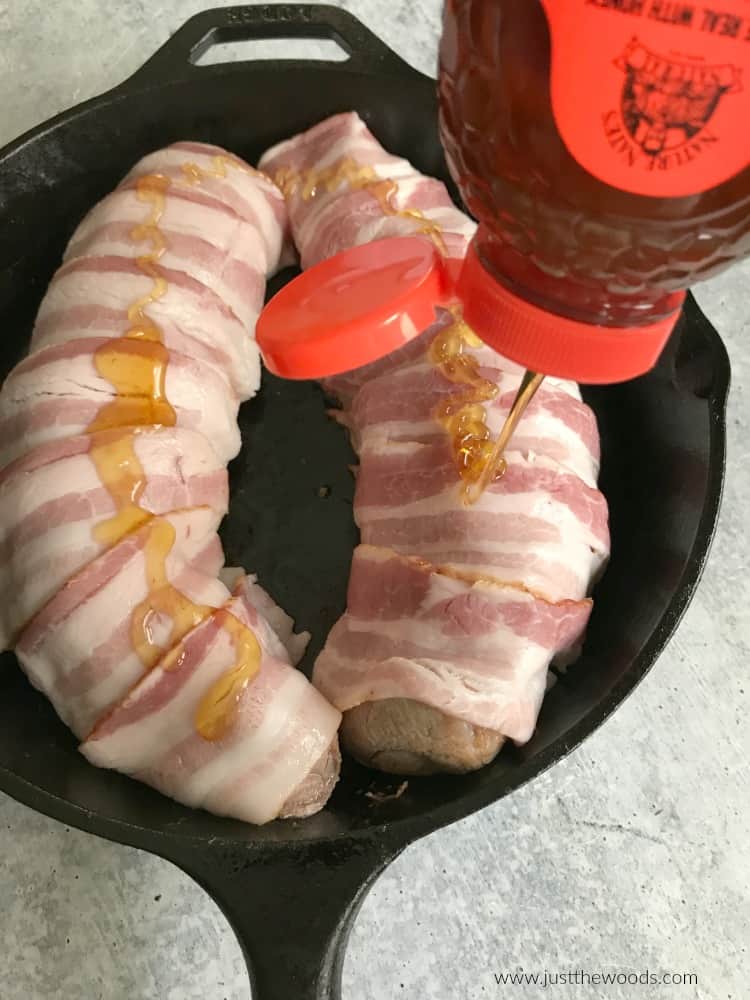 How Long to Cook Bacon Wrapped Pork Tenderloin
We are making bacon wrapped pork tenderloin in the oven so go ahead and place the cast iron pan with your bacon wrapped pork in the oven and cook for 30 minutes. Roughly every 10 minutes or so open the oven and use a silicone type basting brush to baste the pork with the melted honey and bacon fat.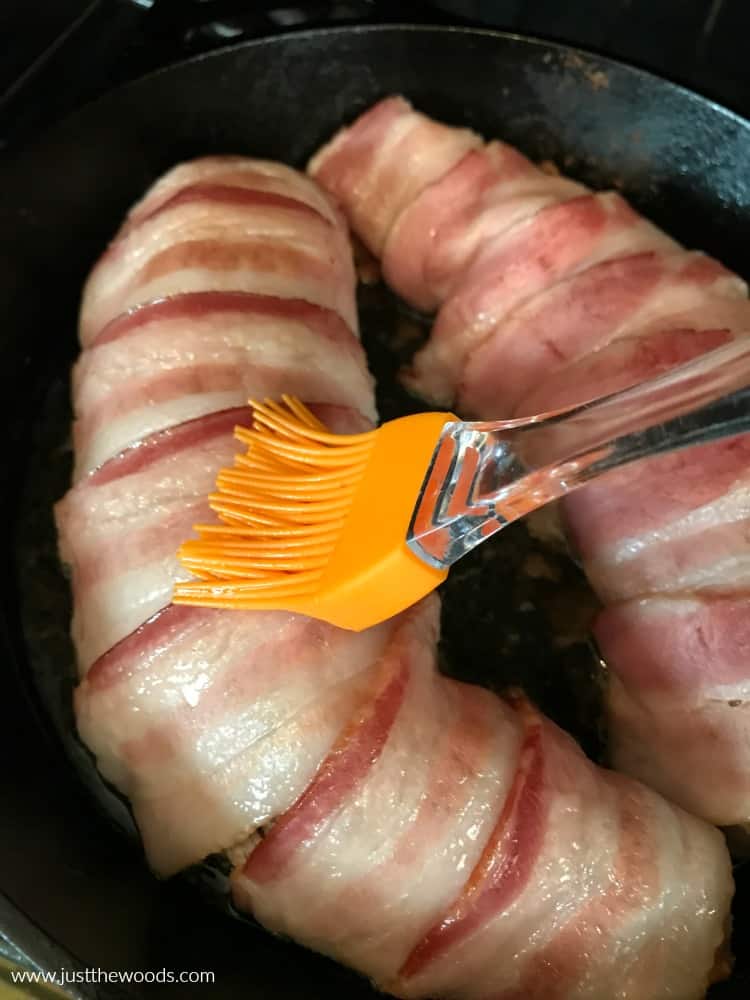 After 30 minutes change the heat on your oven to broil and broil the pork for another 10 minutes to give the bacon a nice crisp.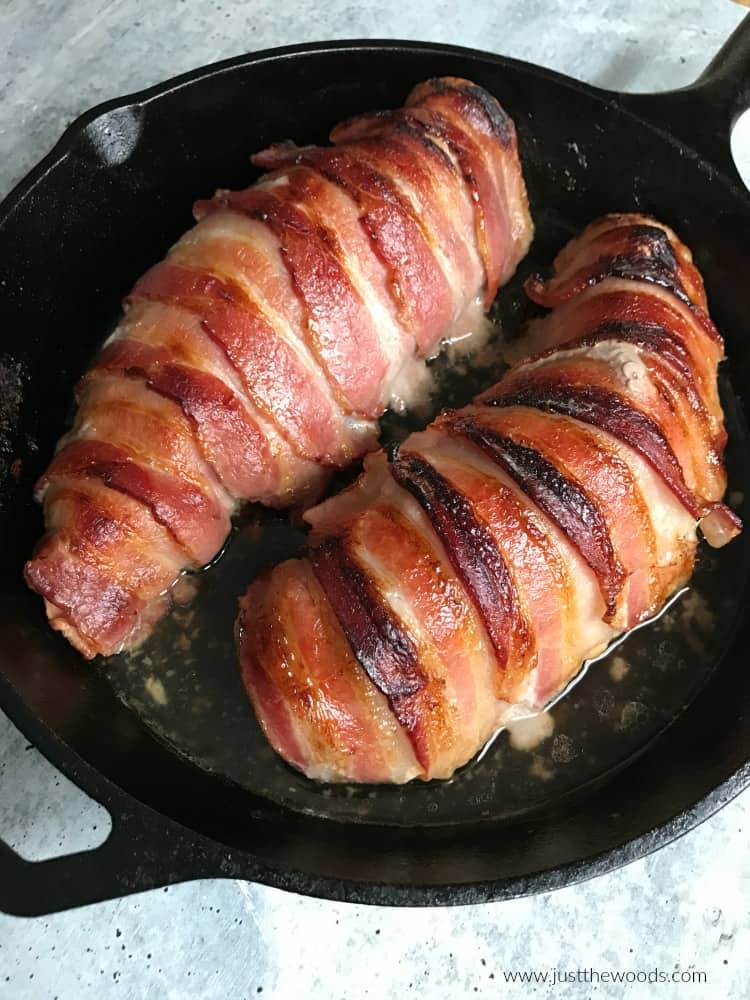 Let the pork sit for a few minutes and then slice to serve. We like to serve our baked bacon wrapped pork tenderloin with veggies.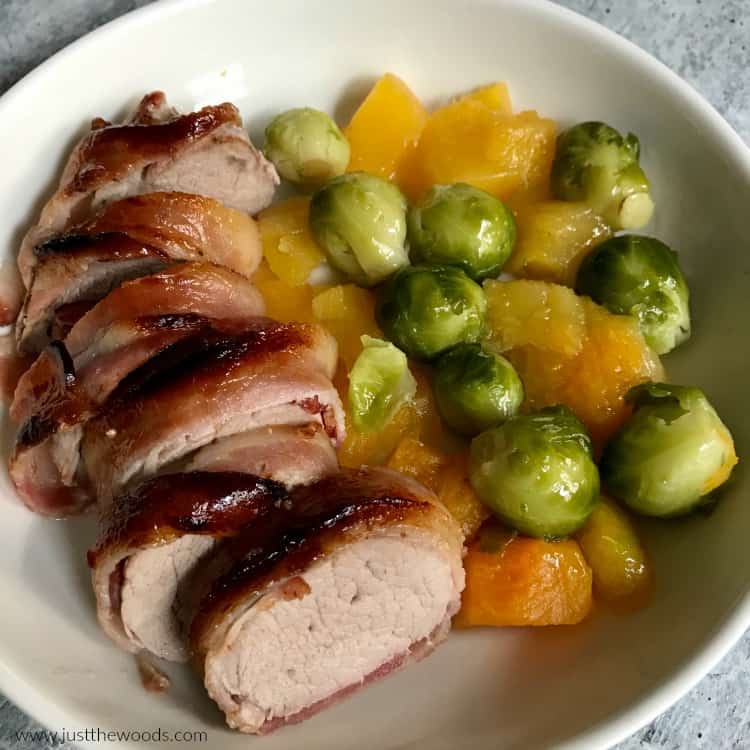 Sometimes I add a little apricot glaze to my pork tenderloin. Apricot glaze doesn't need to be complicated, to be honest I use natural apricot preserves to keep things simple. This is the one that I use because it has no added sugar or weird ingredients: apricot preserves.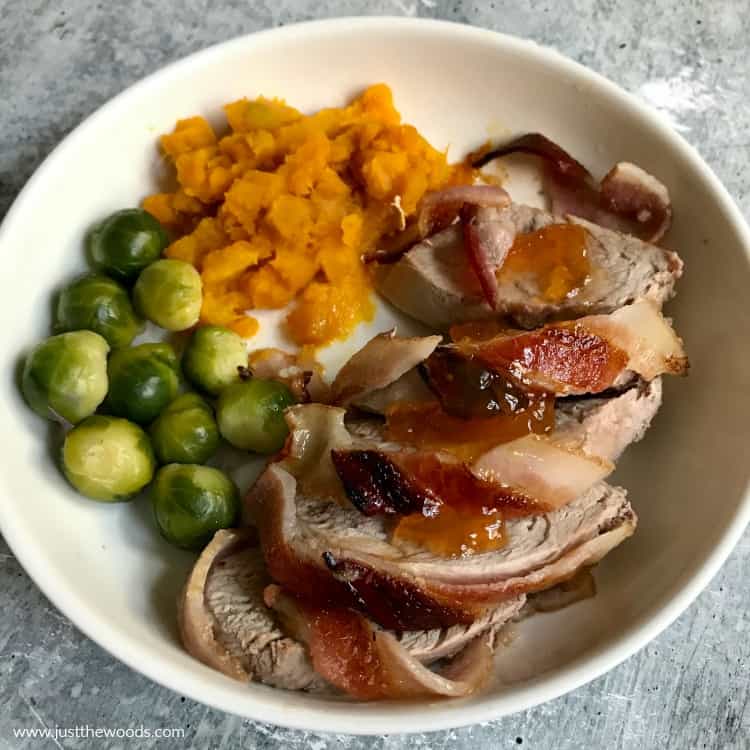 If you love bacon wrapped then make sure to check out these Bacon Wrapped Asparagus Spears.
Printable Recipe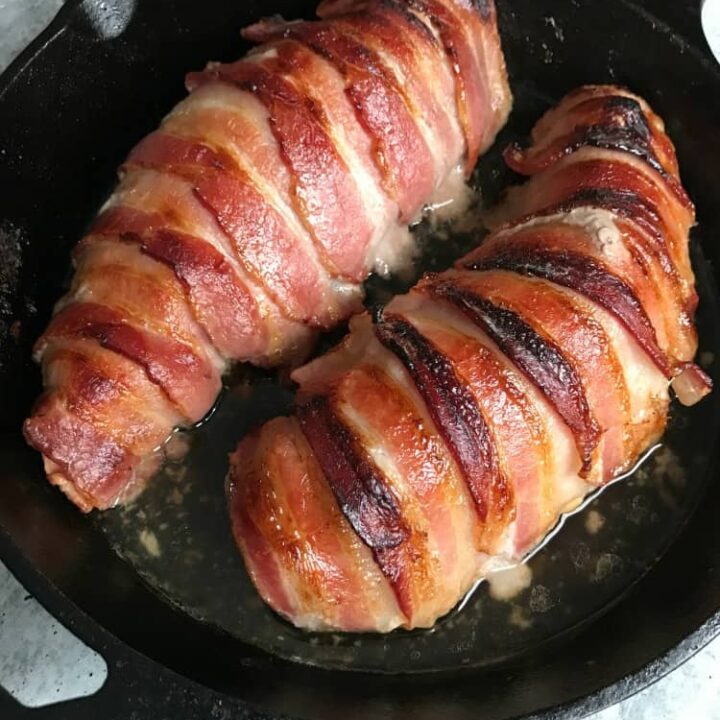 How to Make Bacon Wrapped Pork Tenderloin
Bacon wrapped pork tenderloin makes the perfect protein to pair with your veggies
Ingredients
Instructions
Pre heat the oven to 350
Spray a little avocado oil and brown the pork tenderloin in a cast iron pan on the stove top
Remove from heat and remove pork from pan
Wrap pork tenderloin with nitrate free bacon
Drizzle with honey
Cook for 30 minutes
Baste pork with honey and bacon fat every 10 minutes
After 30 minutes change heat to broil
Broil for 10 minutes until bacon is crisp
Slice to serve
Recommended Products
As an Amazon Associate and member of other affiliate programs, I earn from qualifying purchases.
For more healthy clean eating recipes make sure to follow my clean eating Pinterest board here:
Clean Eating
.