Chickpea muffins are a great healthy snack to keep on hand. Muffins in general are great because they are small and often easy to freeze. Chickpeas are naturally gluten free and packed with both protein and glutamine making them a fantastic healthy choice.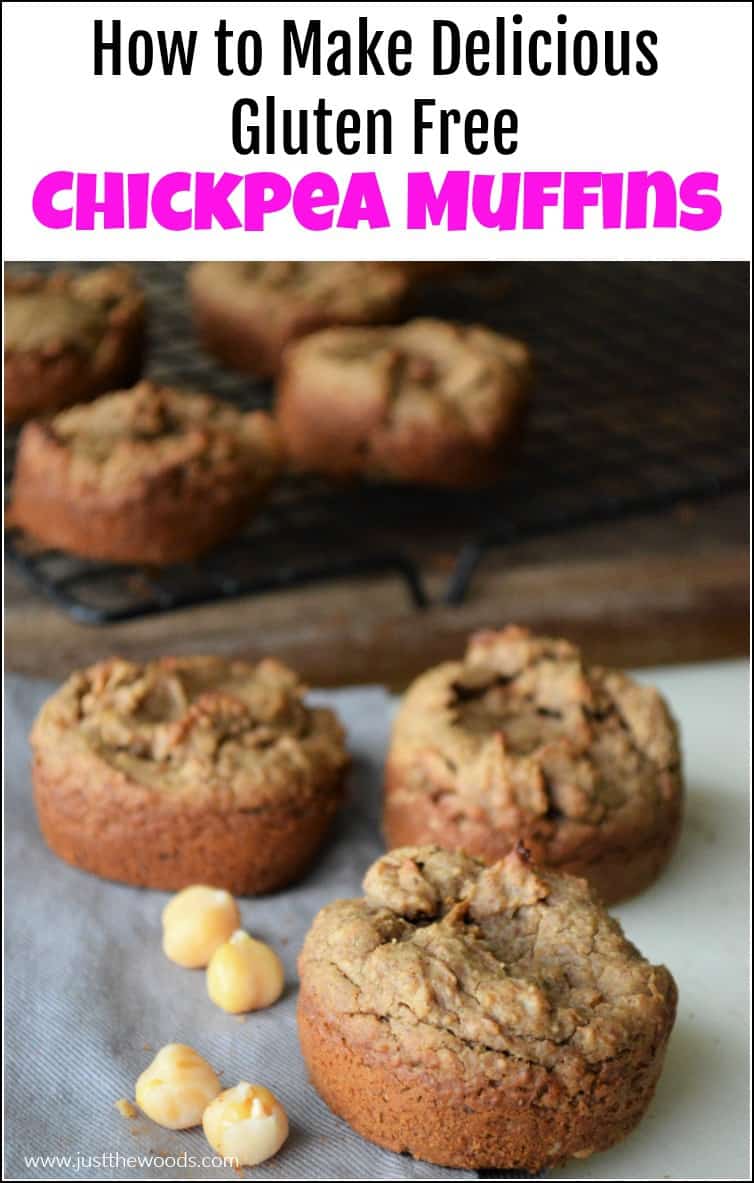 Disclosure: This best gluten free chickpea muffins recipe post contains affiliate links for your convenience. Click here for my full disclosure policy.

Homemade Chickpea Muffins Recipe
What You Will Need (Full Printable Recipe Available Below)
Ingredients:
1 15.5 oz can chickpeas, drained & rinsed
½ cup almond butter (or preferred nut butter)
¼ cup honey
2 tsp vanilla extract
¼ tsp celtic salt
½ tsp cinnamon
¼ tsp baking soda
¼ tsp baking powder
3 Tbsp gluten free rolled oats
Additional –
muffin pan
silicone muffin liners (optional)
Getting Personal
Along with eating clean and trying to keep my family eating healthy I also see a nutritionist. To make a long story short he runs a full blood panel and can see where my body is lacking things or has an abundance etc. Then we take this info and use food as a sort of medicine to address any issues. For example, my thyroid is a mess, my glutamine is extremely low, and my hormones are a mess. To keep it simple, my current diet now includes more cashews and walnuts. A lot of fresh veggies. More pork, and less chicken.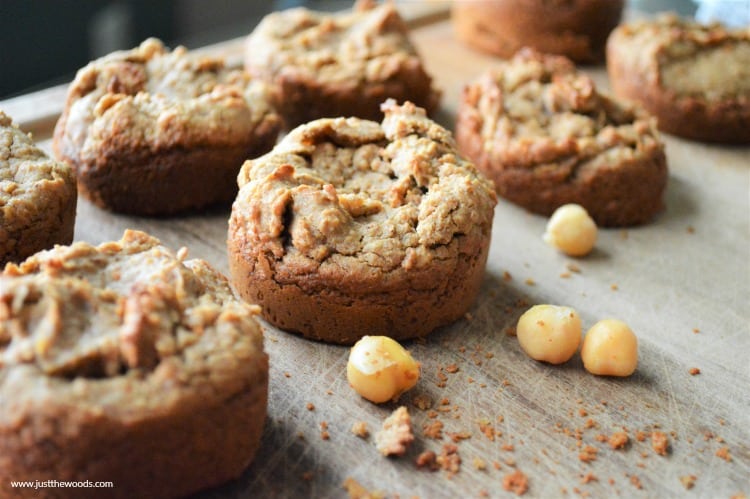 Clean Eating Basic
Continuing on, and rewinding at the same time – I mention that this is a clean eating recipe because I am all about eating healthy and clean eating. If you are new to a clean eating way of life then you need to check out Everything You Need to Know about a Clean Eating Diet. You can also see how I lost 50 lbs and am keeping it off by following a clean eating diet here: How I Lost 50 Lbs Clean Eating. I tend to try different things and mix different flavors to keep meals healthy and tasty.
How to Make the Healthy Chickpea Muffins
Ingredients:
As always, let's start by gathering our ingredients.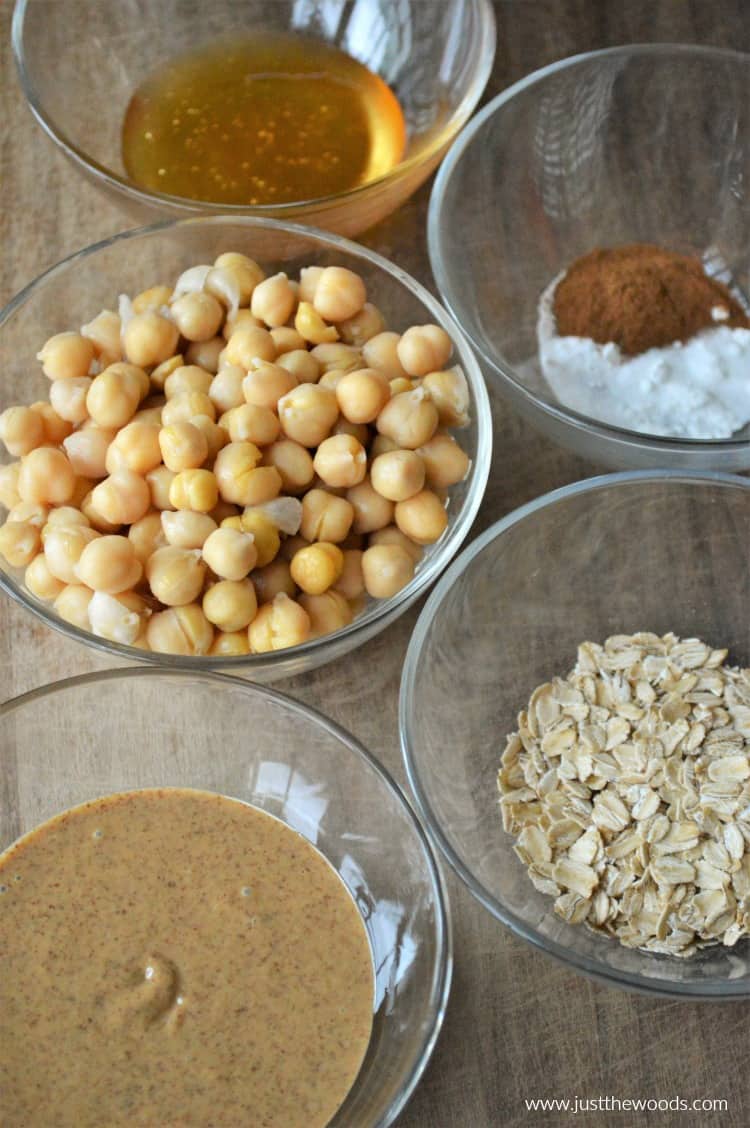 These are a base ingredients for making the best chickpea muffins. A quick rundown:
Chickpeas – these little legumes are packed with protein and glutamine. Glutamine is a very important amino acid found in the body that is known to help with digestion, muscle recovery, gut lining and immunity, just to name a few.
Honey – to keep your chickpea muffins refined sugar-free we are using honey as a sweetener. Honey is a much better alternative to traditional table sugar. Make sure to use raw and unprocessed honey. This is the one that I like here:

honey

.
Nut Butter – cashew butter is a great alternative to almond or peanut butter and it adds a delicious mild nutty flavor. Peanut butter and almond butter are also great choices. No matter which nut butter you prefer make sure that there is nothing added but the nuts. Some brands tend to sneak unwanted oils or sugars in. My favorite brand is from Trader Joes. If you don't have a Trader Joe's near you, you can order them online

HERE

. But even if you prefer not to order online just make sure to read the label and ingredients.
Oats– The oats are rolled oats and not quick oats. I also prefer gluten-free and order these gluten-free organic rolled oats online

HERE

. Oats are a slow digesting carb full of healthy fiber. A slow carb raises blood sugar levels slowly and gradually. By doing this they help us stay full longer and provide a steady stream of energy. While, fast carbs digest quickly, causing a spike in blood sugar. Processed foods that contain refined sugar and white flour are fast carbs.
Making Chickpea Muffins
Preheat the oven to 350 degrees.
Place all of your chickpea muffin ingredients in a food processor.
Blend until smooth.
Scoop your chickpea muffins mixture into a muffin pan.
Bake for 20-22 minutes until the muffins pass the toothpick test.
This muffin recipe makes 8 muffins. Serve and enjoy.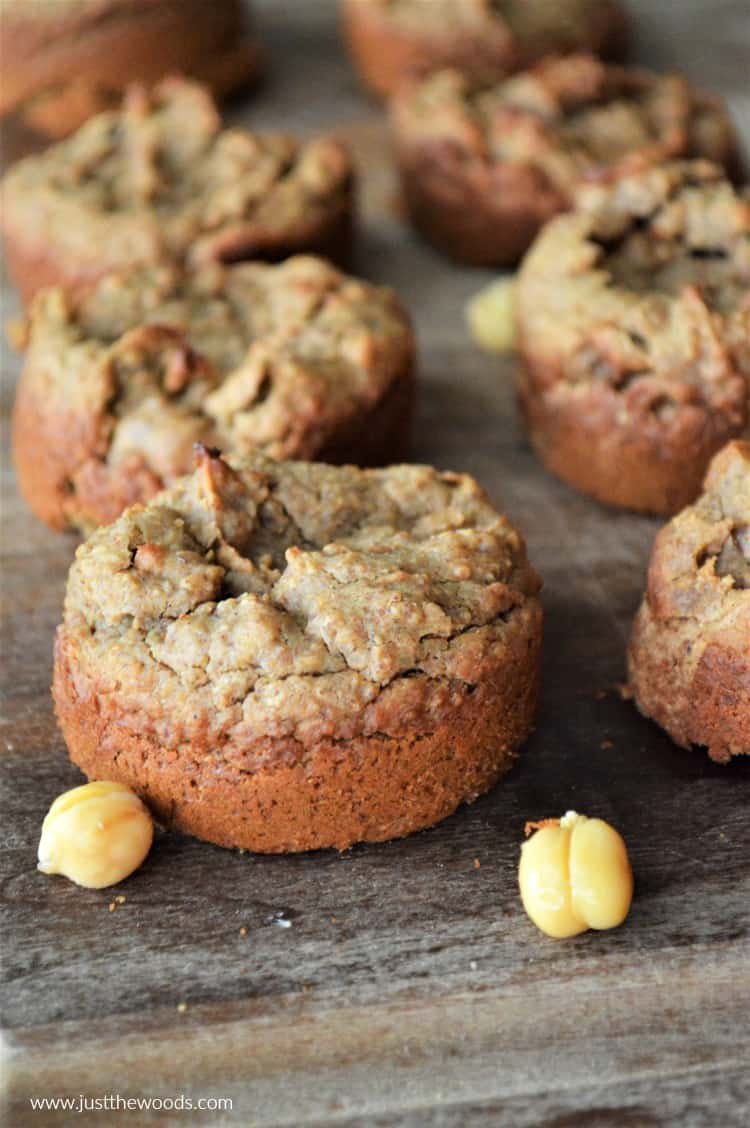 Love muffins? Check out more healthy muffins recipes here: muffins!
Printable Recipe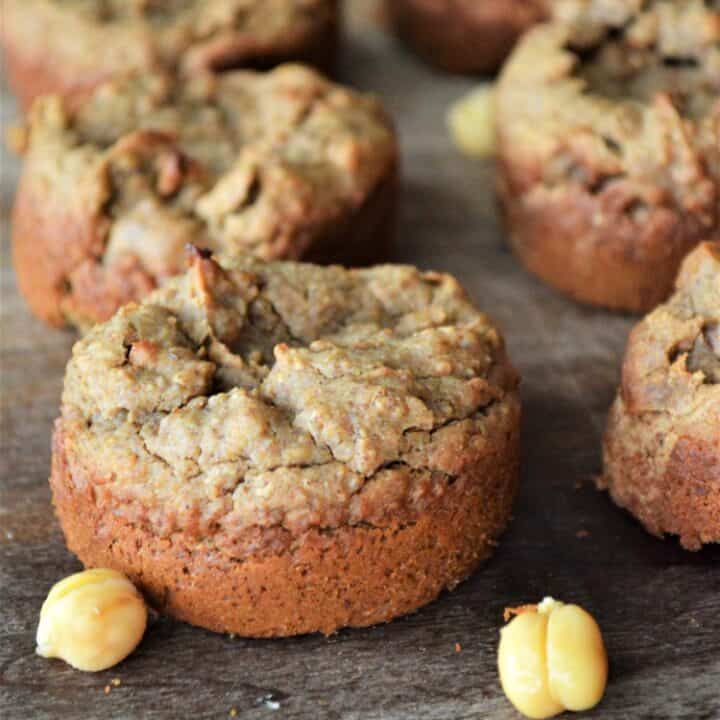 How to Make Delicious Gluten Free Chickpea Muffins
Chickpea muffins are packed with protein and glutamine. These healthy chickpea muffins make a great afternoon snack.
Ingredients
1 15.5 oz can chickpeas, drained & rinsed
½ cup almond butter
¼ cup honey
2 tsp vanilla extract
¼ tsp salt
½ tsp cinnamon
¼ tsp baking soda
¼ tsp baking powder
3 Tbsp oats
Instructions
Pre heat oven to 350 degrees
Place all ingredients in food processor and blend until smooth.
Scoop muffin mixture into muffin pan.
Bake for 20-22 minutes.
Recommended Products
As an Amazon Associate and member of other affiliate programs, I earn from qualifying purchases.
For more healthy clean eating recipes make sure to follow my clean eating Pinterest board here:
Clean Eating
.