If cilantro lime cauliflower rice isn't already on your menu plans for dinner is should be. I know, I know some people hate the idea of eating cauliflower rice instead of 'real' rice. But, if you add the right flavors like in this cilantro lime cauliflower rice recipe you may just find that you absolutely love it more than you would imagine. And if you are not one of those people, and you already love clean eating and creating healthy meals than this one is for you too! If you are new to clean eating then make sure to check out Everything You Need to Know about a Clean Eating Diet.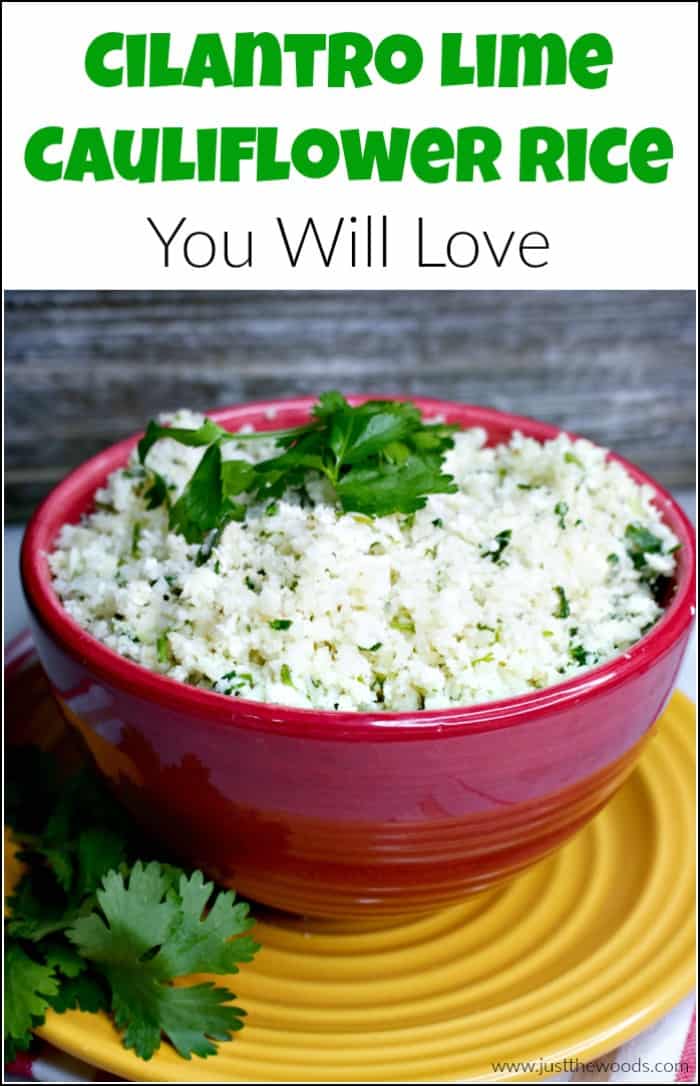 Disclosure: This cauliflower rice recipe post contains affiliate links for your convenience. Click here for my full disclosure policy.

Cilantro Lime Cauliflower Rice Recipe
What You Will Need (Full Printable Recipe Available Below)
Ingredients (makes 4-6 servings)
1 Tbsp olive oil
3 cups cauliflower rice
1/2 bunch of cilantro (chopped)
juice from one lime
salt & pepper to taste
How to Make Cauliflower Rice with Cilantro & Lime
Choosing Cauliflower for Making Cauliflower Rice
Let's chat for a second about the cauliflower rice itself. You have a couple of options.
You can make your own cauliflower rice by buying heads of cauliflower and using a large grater like this one

HERE

to grate the cauliflower into small rice size pieces. Squeeze any moisture from your grated cauliflower with paper towels.
Or you can take the easy road (no shame here – totally smart and time-saving) and buy your cauliflower rice from the grocery store already 'riced'. If you opt to buy it pre 'riced' whether fresh (normally found in the produce section), or frozen (in the frozen fruits & vegetable section) make sure there is nothing added. Some of the frozen cauliflower rice is already pre-seasoned or has added ingredients. Read the label and make sure that the ONLY ingredient is cauliflower. There is no reason why you can't take the easy route and make this a frozen cauliflower rice recipe. I've made this both ways.
Instructions:
Let's start off by gathering our very simple and easy ingredients to make this cilantro lime cauliflower rice. We grow our own cilantro in our backyard but I also buy some from the store. Honestly, I sometimes forget that we even have that cilantro plant and I end up buying cilantro when I get our groceries. Either way is fine.
Chop up your cilantro.
Next, heat your olive oil in a large skillet over medium heat. You can also use avocado oil if you prefer. Avocado oil also has a very high smoke point making it great for skillet cooking. I recently started using this non-stick eco-friendly pan and I am in love. Even eggs don't stick to it! (don't worry, we aren't using eggs in this cauliflower rice recipe). This is the pan HERE.
Saute your cauliflower rice with the chopped cilantro for 4-5 minutes. Do not overcook.
Next, add in the lime juice. Toss to incorporate and continue to cook for an additional 3-4 minutes.
Garnish your easy cauliflower rice with a little fresh cilantro. Serve and enjoy.
This cilantro lime cauliflower rice recipe makes 4-6 servings. Lucky for me, my kids love it and we never have any leftovers. My daughter actually devours this cauliflower rice and comes back for seconds. I won't say no to that!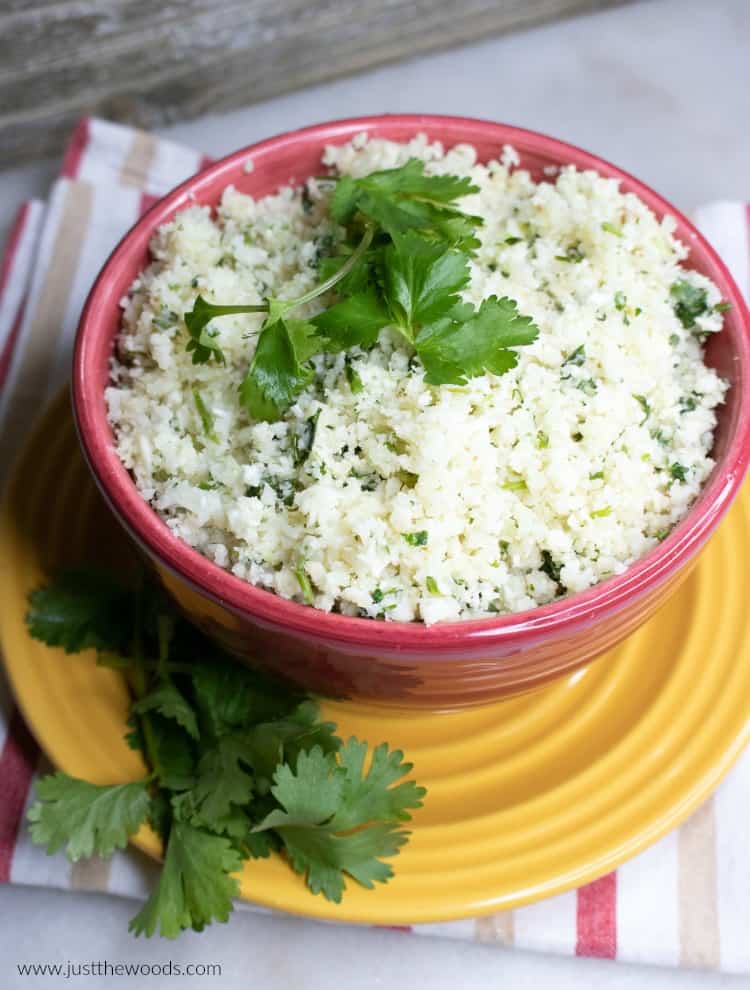 For more healthy clean eating recipes make sure to follow my clean eating Pinterest board here: Clean Eating.

Another Twist on this Cauliflower Rice Recipe
Don't be afraid to get a little creative. The other night I made this cilantro lime cauliflower rice but also added a can of organic black beans. Simply drain and rinse the beans and add to the pan. My daughter practically inhaled it with the added beans. Shh, dont tell her that this is healthy 😉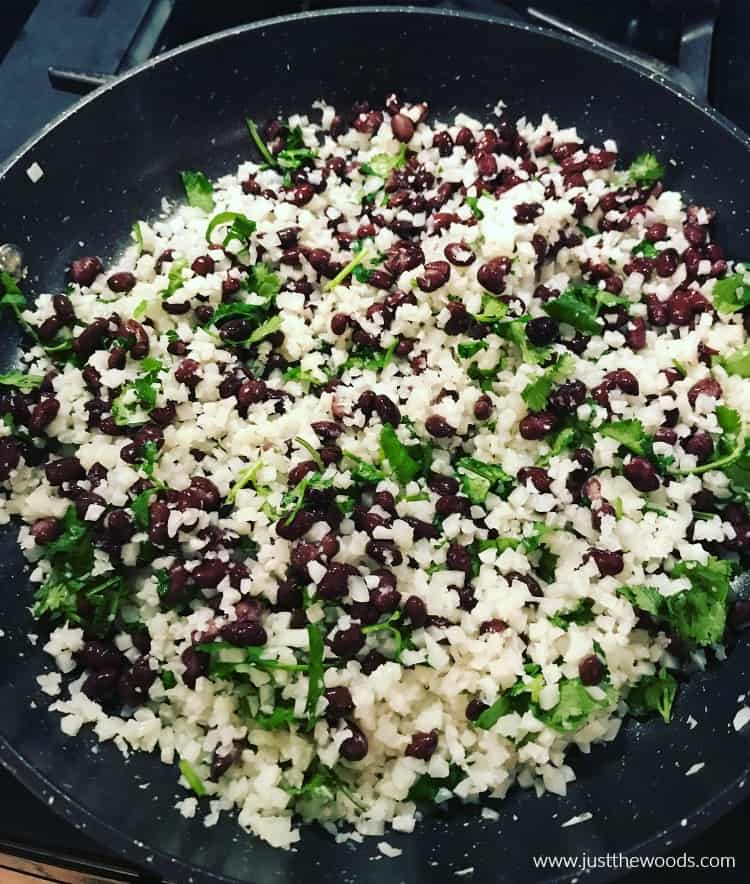 Homemade Cilantro Cauliflower Rice with Lime Recipe (Printable Version)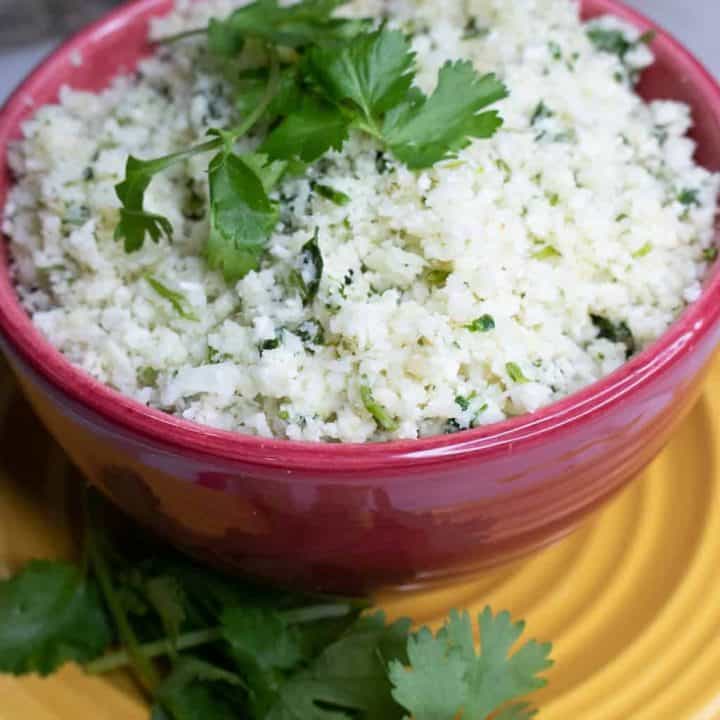 Cilantro Lime Cauliflower Rice
Cilantro lime cauliflower rice is a great way to get vegetables into your diet. This easy cauliflower rice recipe is so easy to make and you will love it. Clean eating cauliflower recipe for the whole family
Ingredients
1 Tbsp olive oil
3 cups cauliflower rice
1/2 bunch cilantro, chopped
juice from 1 lime
salt & pepper, to taste
Instructions
chop your cilantro
heat oil over medium heat
saute cauliflower with cilantro 4-5 minutes
add lime juice and continue to cook 3-4 minutes
garnish and serve

Don't Forget – Follow Just the Woods and Share this post to Inspire others:
FACEBOOK * INSTAGRAM * PINTEREST * RECIPES