Do you have a small porch? Do you struggle with how to decorate that small porch? If the answer is yes, you are not alone. We have a rather small porch compared to some of the gorgeous wrap around and spacious porches that I'm jealous of I've seen.  Technically we do live in the city, so I'm glad we have a porch at all. There is a simple red bench on our porch.  My daughter and I painted it together for Mother's Day when she was three years old. Other than that, it's pretty bare. Until now.
Disclosure: This post contains affiliate links for your convenience. Click here for my full disclosure policy.
How to Decorate a Small Porch for Fall
Materials Needed:  (links to exact items or similar items that would work for the project)
I recently scored an old milk jug and a pair of hand carved wooden shoes in the Catskills.  I intended to bring them home with plans to paint them.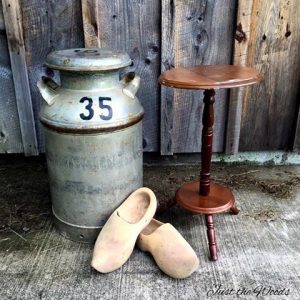 Plans change. After bringing these scores back home I decided to not paint the milk can and shoes but to leave them 'as is' (for now).  There's no telling what may happen down the road. But even with the milk can and wooden shoes on the porch with our red bench it still looked pretty sad.  My husband even came home from work and said that it looked bad and not to leave things on the porch until the project was completed. Seriously, now he's a critic too? My mother saw a photo and told me that my house number is not 35 so I need to change it. Can you tell I'm dealing with a tough crowd over here?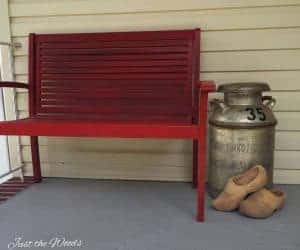 Supplies for Decorating a Small Porch
I decided to make my way to the local craft store with both kids in tow.  What was I thinking? I managed to scoop up a simple wooden crate/ box, a few floral bunches, green styrofoam block, a decorative birdcage and a bunch of faux pumpkins and gourds.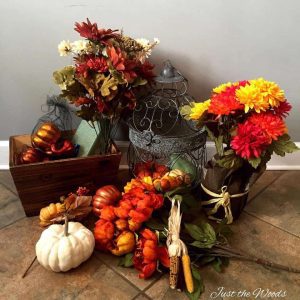 Simple Steps to DIY Decor
I filled the wooden box with the green styrofoam.  The styrofoam was not a perfect fit so it had to be cut to fit.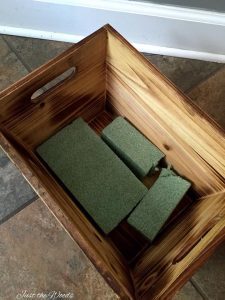 The floral bunches had very thick wire stems, so to fill the box nicely I cut the thick stems down into much smaller stems.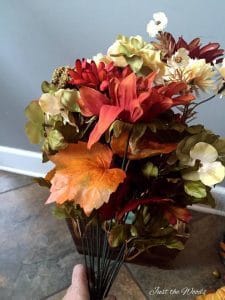 Standard house scissors were not capable of cutting through the thick stems of the floral bunches so wire cutters were used to cut them into pieces.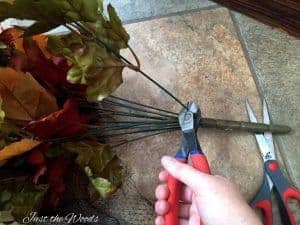 The wire cutters cut through the thick wire based stems with ease.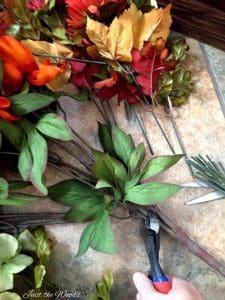 Once all the cuts were made and my two bunches became a pile of random floral stems, I was able to start placing them.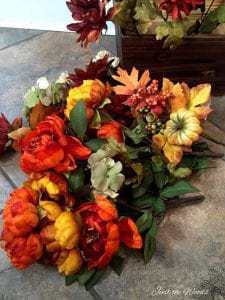 Wire Bird Cage for Fall  Decor
Next I took the beautiful decorative birdcage and filled it with faux pumpkins, gourds and corn stalks. The great thing about this bird cage is the contents inside can be swapped out depending on the season.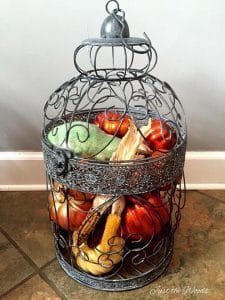 Putting it all Together
I was able to now bring my new goodies out to my small porch and figure out how to place them with limited space.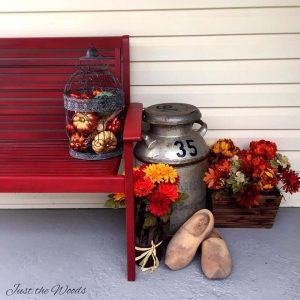 After placing all of my porch goodies together I felt that it was missing something so I ran back out to the store and picked up some tall sticks.  These tall sticks work perfectly behind the milk jug.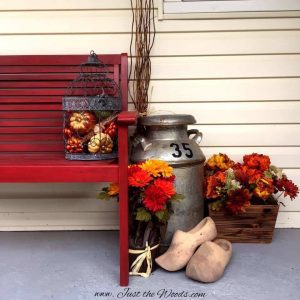 I later added a weathered wood board with lucky painted horseshoe display.  You can see the entire project here: Weathered Wood and Painted Horseshoes Decor.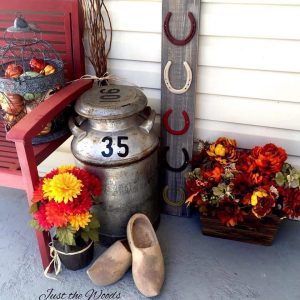 Don't Forget – Follow Just the Woods and Share this post to Inspire others:
FACEBOOK  *  INSTAGRAM  *  PINTEREST
 Stay connected! For more tips and tricks sign up here :