Painted Cranberry Credenza
How often do you get a song stuck in your head? To the extent that you find yourself singing it non-stop? While I was thinking of what to call this piece I kept singing in my head "craaaaaanberry buffet" to the music of "raspberry beret." I don't think that would've worked at all, so, custom
painted cranberry credenza
seemed to be my next choice. If you find yourself singing that today I apologize, I know its right up there with being 'rick rolled'.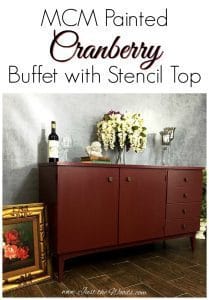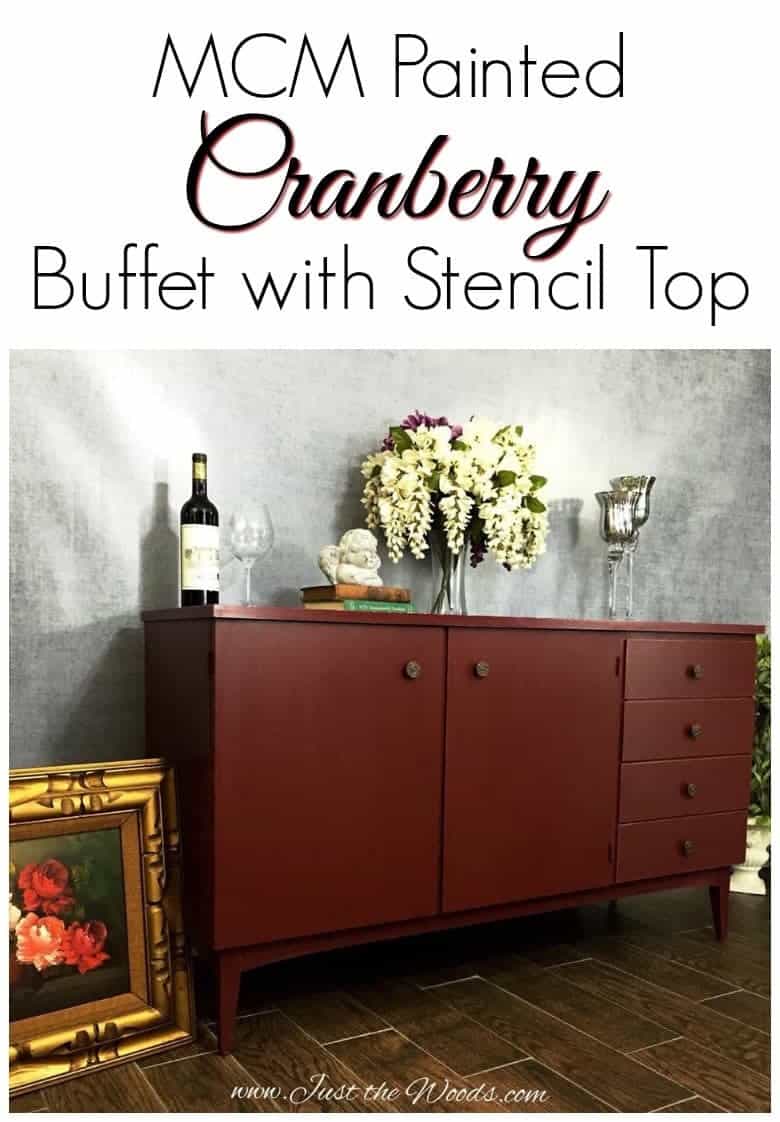 Materials Needed
Disclosure: This painted cranberry credenza post contains affiliate links for your convenience
Staging / Home Decor
Unfinished MCM vintage buffet
Whether you call this a credenza, a buffet or a sideboard, it's vintage, solid wood construction and shiny.  It also belonged to my customer's mother's mother, otherwise known as grandmother and was brought into my shop with the invitation for me to do whatever I please with it. I love a customer who is willing to give up control and let me have my way with their furniture.  With that said, I do still prefer to do a little review and have somewhat of a design plan;  even if it is a loose design plan. So, after we chatted about her decor we decided on a deep cranberry red with a neutral taupe stencil on top.
Prepping Shiny Veneer
This vintage credenza is made of solid wood construction, but like many pieces from its time period, it is covered in a very shiny veneer or laminate. Some would question if paint will stick to such a shiny and sleek surface.  The answer is "yes, with the proper prep it will".  The entire surface was hand sanded with a rough 80 grit sandpaper to rough up the smooth surface and give some tooth to the piece. Make sure to sand in the direction that you will paint, do not sand all willy nilly in different directions because you risk the sanding marks showing through your paint since essentially you are scratching the surface. After sanding, the piece was thoroughly cleaned as any other piece getting a makeover would be. This is my full process for How to Prep Painted Furniture.
My Own Two Cents
My customer did say that if I have another idea for the piece, to just go ahead and do it.  I don't even need to run it past her, so I made the decision to add an additional, yet very subtle touch.  The edges of the piece were painted in a neutral taupe. The reason for this added layer of taupe is to allow bits of taupe to peek through when it's distressed. Basically, when the edges are distressed you will see a bit of the taupe rather than just the original wood surface underneath.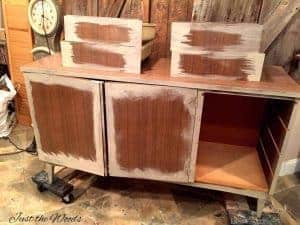 You can find great quality furniture paint and stain online HERE. An added bonus, when painting furniture, you want to make sure to use a quality non-toxic furniture paint.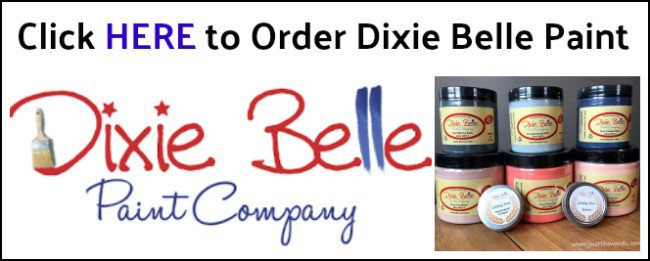 If you are just starting out you can always start at the beginning with How to Paint Furniture – a Beginners Guide

Painting a Cranberry Credenza
The entire piece was hand-painted in a deep cranberry red. In between coats I lightly sanded with 220 grit sandpaper.  Because of the original shiny surface of this piece I felt the extra step of sanding between coats would help with adhesion. A second coat was applied next followed by a light wet sanding using flexible sandpaper. The light sanding using this method allowed me to distress the edges revealing a subtle taupe underneath.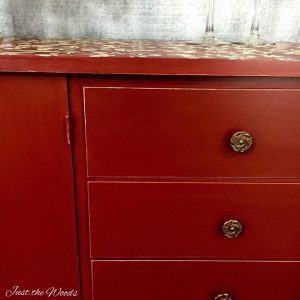 Adding Stencil to the Top of a Painted Buffet
A beautiful floral stencil design was added to the entire top of the credenza in neutral taupe.  Then the top was lightly sanded to get a smooth finish before being sealed for protection.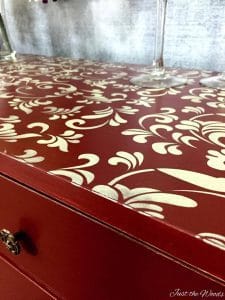 Love stencils? Looking for fabulous stencils? Click to find an amazing selection of stencils for your DIY projects: Show me Stencils!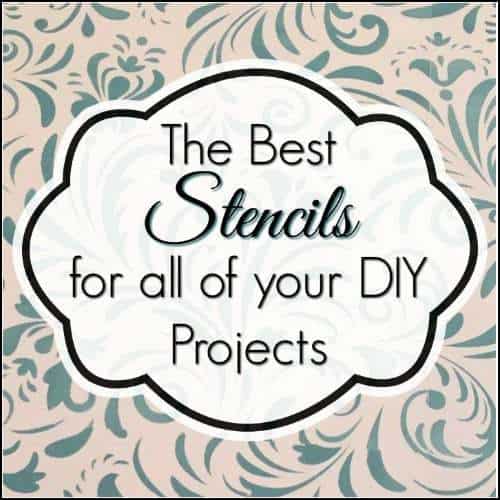 Painting the Original Hardware
By simply cleaning and painting the original hardware in metallic bronze, I was able to bring out the very pretty details of the knobs and keep the hardware with the piece. You can see my tutorial on how to clean, prep and paint hardware.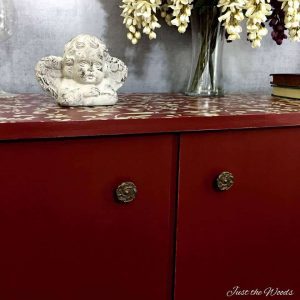 Finally, a mix of both satin and matte protective sealer were used to seal the entire piece for protection. The combo of both clear sealers were used for no reason other than I couldn't decide if I wanted satin or matte. Therefore, rather than choose one, I mixed them both together.
Painted Cranberry Credenza
This painted cranberry credenza is now ready to head back home where it will become the new media console. I am always grateful for a customer who trusts me enough to let me have a little creative freedom.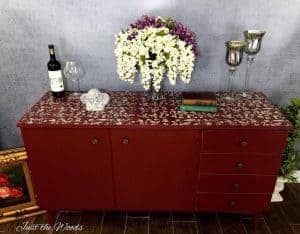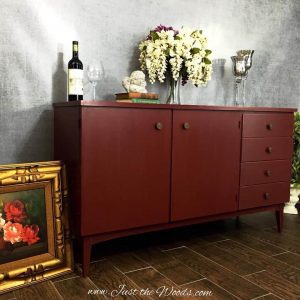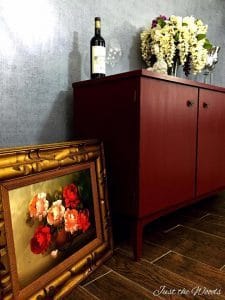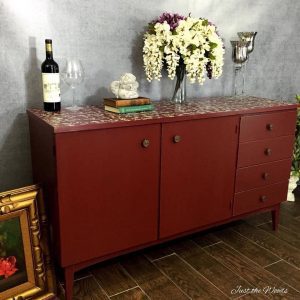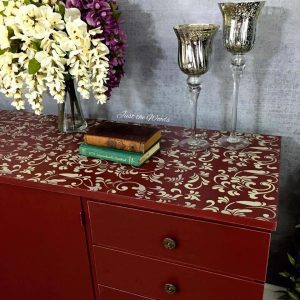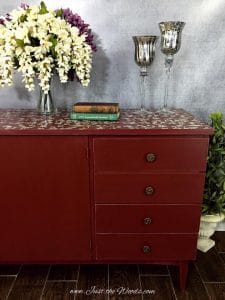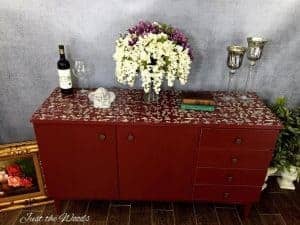 If you love stenciled furniture make sure to check out:
 Stenciled Painted Furniture Projects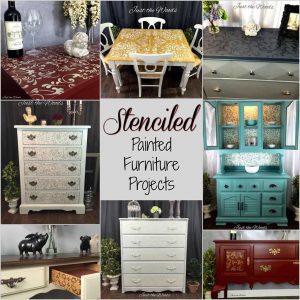 Don't Forget – Follow Just the Woods and Share this post to inspire others:
FACEBOOK  *  INSTAGRAM  *  PINTEREST
Subscribe to our mailing list here:
PINTEREST PIN READY TO SHARE