This easy guacamole recipe is delicious and healthy. You will want to put it on everything. Homemade guacamole makes the best side dish or topping to any salad or meat.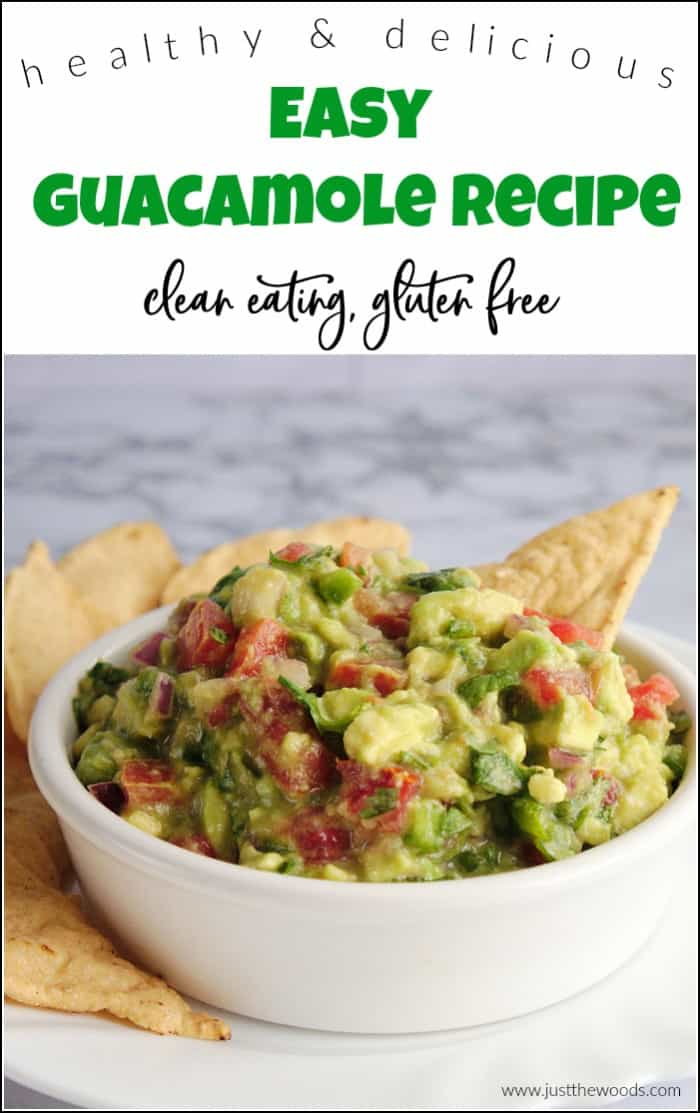 Disclosure: This clean eating easy guacamole recipe post contains affiliate links for your convenience. Click here for my full disclosure policy.

Best Guacamole Recipe
What You Will Need (Full Printable Recipe Available Below)
Ingredients: (Makes 4 Servings)
3 medium avocados
1 medium tomato, seeded
1/4 cup finely chopped red onion
half of a medium jalapeno pepper
1/8 tsp garlic powder
1 lime
1/4 cup chopped fresh cilantro
salt to taste
I am all about eating healthy and clean eating. If you are new to a clean eating way of life then you need to check out Everything You Need to Know about a Clean Eating Diet. You can also see how I, personally have lost 50 lbs and am keeping it off by following a clean eating diet here: How I Lost 50 Lbs Clean Eating. I tend to try different things and mix different flavors to keep meals healthy and tasty. With a salad the possibilities are endless!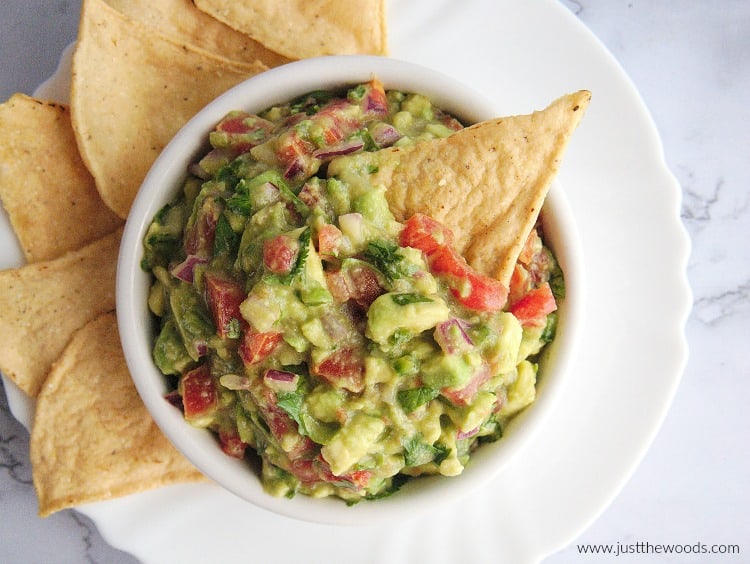 How to Make Easy Guacamole Dip
Directions:
First, you will need to gather your guacamole ingredients. I always try to get everything fresh and organic when possible. When choosing your avocados you can give them a squeeze. You will want them to be a little soft but not mushy. If they are too hard or too soft they won't work.
Jalapeno
For your jalapeno guacamole recipe, you will need to remove the seeds from your jalapeno pepper. The seeds are where most of the heat will come from. Also, be careful not to touch the inside of the jalapeno if possible. Maybe even wear gloves if you have them. You definitely do not want to chop jalapeno and then touch your eyes or face. Unfortunately, that is something we may or may not have done around here. Trust me, it hurts.
Once you have the seeds cut out you need to chop the jalapeno into small pieces. Remember we are only using half of the jalapeno for our healthy guacamole recipe.
Lime
Next, juice the lime into a medium bowl.
You can either squeeze the lime the old fashioned way, or you can use this handy little lemon/lime juicer. I love this thing, you can get one online

HERE

. This comes in handy when making my daily

apple cider vinegar detox drink

with honey and lemon.
Red Onion
Add your chopped red onion to the lime juice. If you don't have red onion, you can use white or yellow, but red tends to be the best onion for guacamole.
Add the jalapeno right in with the onion.
Guacamole Seasoning
Next, measure/sprinkle in the garlic powder. You can use minced garlic in guacamole if you are a garlic lover and want a bit more than the powder, but garlic powder is a nice compromise otherwise.
Also, sprinkle a little salt, mix well, and set your homemade guacamole aside.
Click here to Pin this post for later.
Tomatoes for the Best Guacamole Recipe
Guacamole without tomatoes just isn't guacamole that I would want to eat.
We are definitely making our guacamole with tomatoes. So, the first thing we need to slice the tomato in quarters and remove all of the seeds.
Chop your tomato into small pieces.
Next, add the chopped tomato to the bowl.
Avocado Guacamole
The main ingredient in any authentic guacamole recipe is avocado. Since we are making a small batch we are only using three avocados in this guacamole. But you can easily double your guac ingredients to make a larger batch.
If you are a kitchen gadget lover, like me, then you may have one of these nifty avocado slicers. If you don't have one yet, you can get this online

HERE

.
But if you prefer to keep the kitchen drawers clutter free, you can cut your avocado the old fashioned way. First, with a knife, carefully slice the avocado in half, remove the pit and use the knife to slice small cubes into the avocado halves. Then use a spoon to scoop the avocado cubes into the bowl.
Add the avocado to your bowl and mix all of the ingredients thoroughly.
Lastly, add your chopped cilantro to your bowl of fresh guacamole and mix well.
Go ahead and taste your delicious guacamole and make any adjustments if necessary, to your taste.
Click here to Pin this post for later
Ready to Eat Guac
This simple guacamole is delicious paired with chips of your choice, or on top of a baked sweet potato, or even on steak.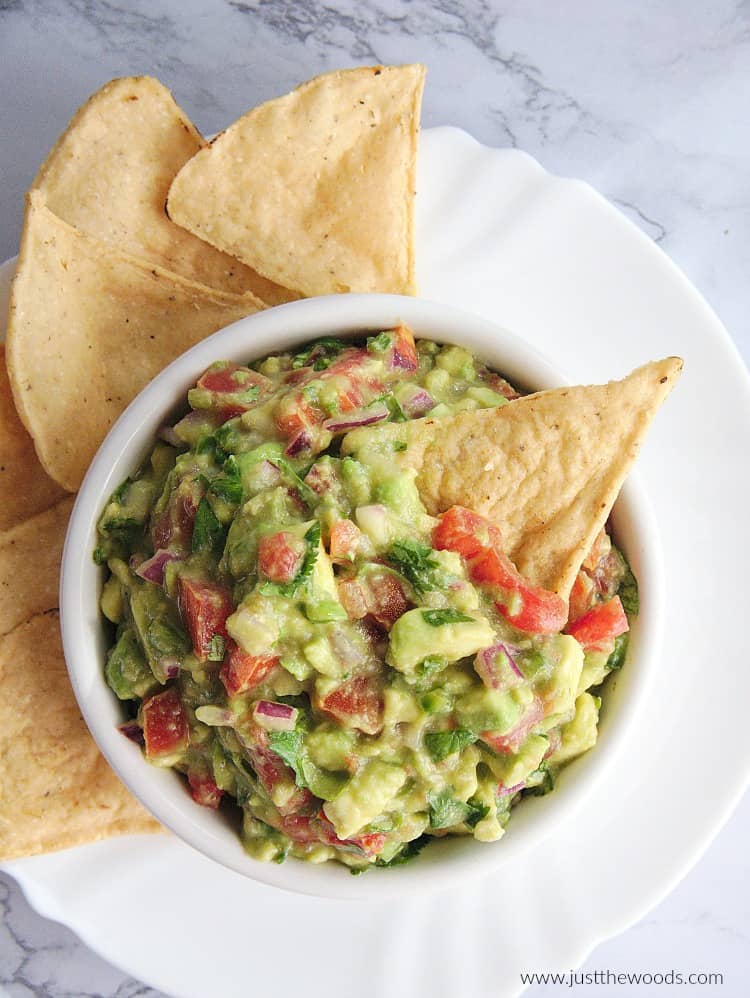 Click here to Pin this post for later
If for some strange reason you have leftovers you can store them for a short time. Two methods of storing guacamole:
To prevent the guacamole from browning place a pit into the bowl and cover with plastic wrap.
Another method is to place the plastic wrap directly over the guacamole surface and press it d0wn so there is no air between the guac and the plastic.
For both methods store in the fridge.
This easy guacamole recipe is best when eaten right away and not saved until later. Even with storing methods mentioned, the guac won't stay for very long.
Click here to Pin this post for later
Easy Guac Recipe (Printable Version)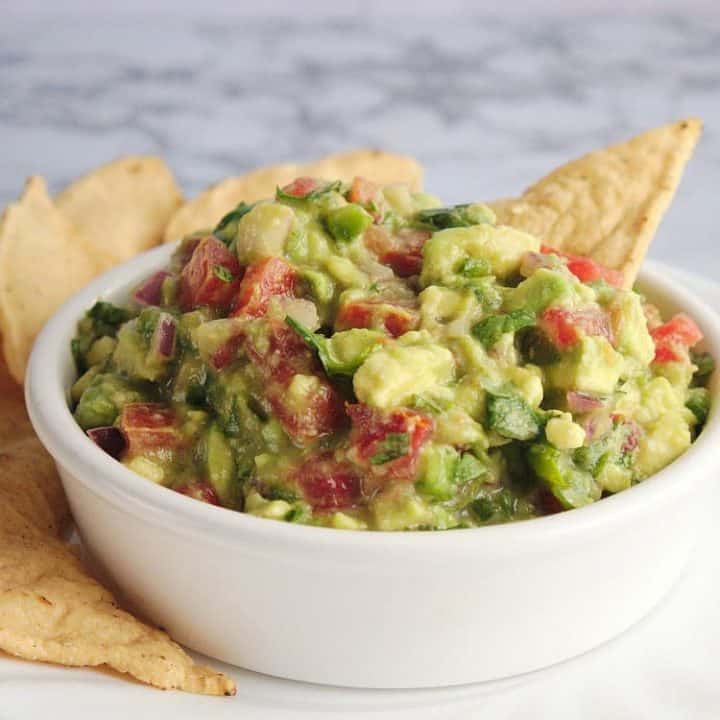 Easy Guacamole Recipe for Clean Eating You'll Love
You will love this easy guacamole. This healthy guacamole recipe pairs well with chips, meat or as a side dish. See how to make guacamole for your next meal
Ingredients
3 medium avocados ripe
1 medium tomato seeded
1/4 cup chopped red onion
1/2 jalapeno
1/8 tsp garlic powder
1 medium lime juiced
1/4 cup fresh cilantro chopped
salt to taste
Instructions
Gather guac ingredients.
Remove the seeds from the jalapeno pepper and chop into small pieces.
Juice the lime into a medium bowl.
Add the chopped red onion and the chopped jalapeno.
Next, sprinkle in the garlic powder and salt.
Mix well and set aside.
Slice the tomato in quarters and remove all the seeds then chop into small pieces.
Add tomato to the bowl.
Slice the avocados in half, remove the pit and use the knife to slice small cubes into the avocado halves.
Use a spoon to scoop out the avocado cubes into the bowl and then mix all the ingredients thoroughly.
Stir in the chopped cilantro and mix well.
Serve immediately.
Nutrition Information:
Yield:

4
Serving Size:

1
Amount Per Serving:
Calories:

256
Total Fat:

22g
Saturated Fat:

3g
Trans Fat:

0g
Unsaturated Fat:

18g
Cholesterol:

0mg
Sodium:

159mg
Carbohydrates:

16g
Fiber:

11g
Sugar:

3g
Protein:

4g
nutritonal value will vary
For more healthy clean eating recipes make sure to follow my clean eating Pinterest board here:
Clean Eating
.

Click here to Pin this post for later

Don't Forget – Follow Just the Woods and Share this post to Inspire others:
FACEBOOK * INSTAGRAM * PINTEREST * RECIPES