When it comes to choosing gray paint colors the possibilities are endless. Or at least they seem endless. Gray paint is like black and white – they are all timeless. Plus gray tends to compliment every decor style somehow making it the perfect choice for your next painted furniture makeover.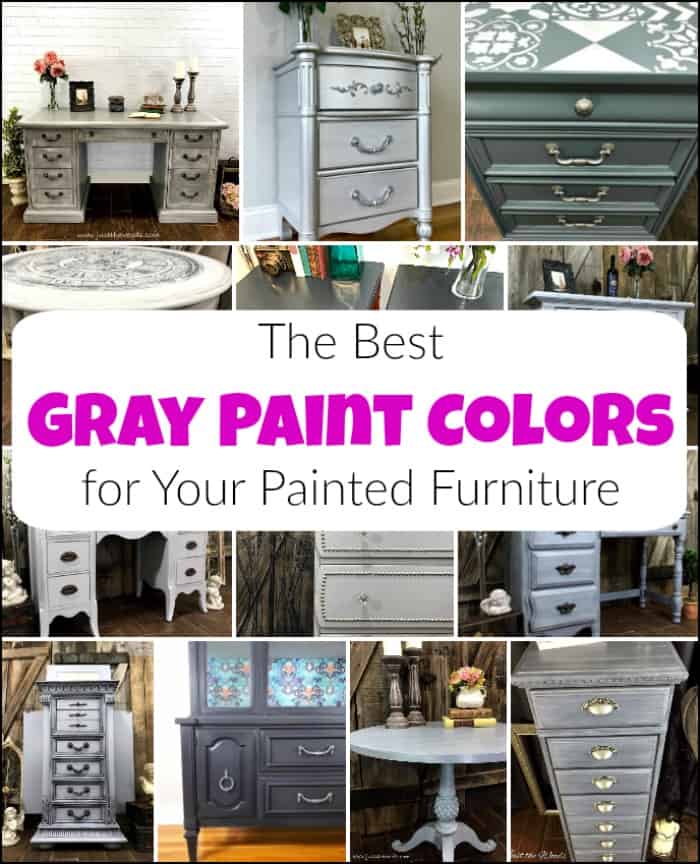 Disclosure: This best gray paint colors for painted furniture post contains affiliate links for your convenience. Click here for my full disclosure policy.

Gorgeous Shades of Gray
Lucky for us there are so many different shades of gray to choose from when you are considering gray furniture paint for your painted furniture. You can go with one of my favorites like on this desk makeover. This pretty blue-gray paint is called Stormy Seas by Dixie Belle. Stormy Seas almost has a touch of a green gray undertone to it as well. It pairs beautifully with this off white stencil.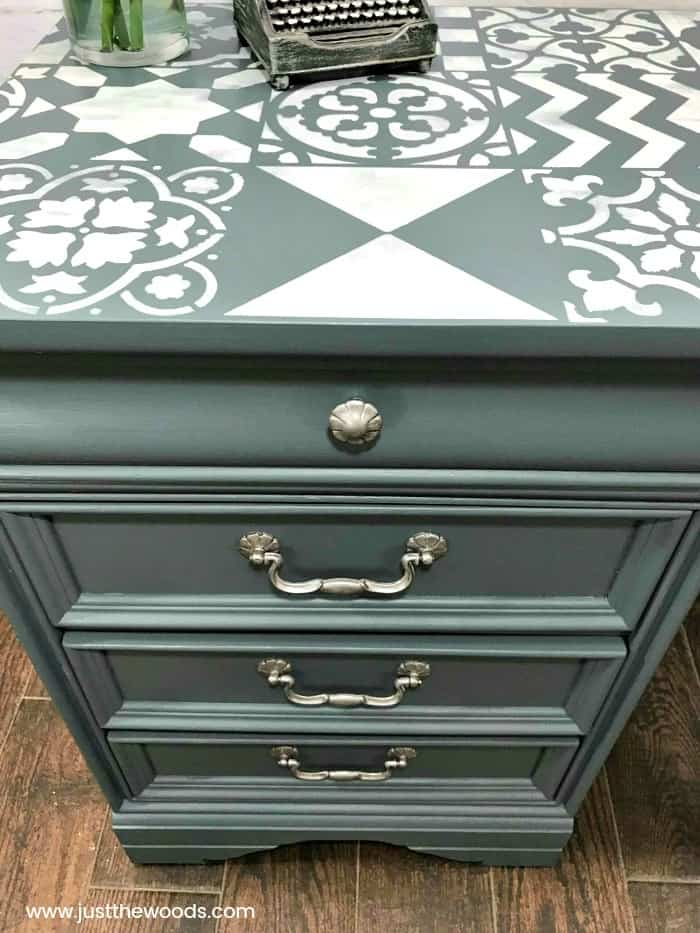 Light Gray Paint Colors
Maybe you prefer a light gray paint option. If so, you will love the color Driftwood also by Dixie Belle. Driftwood is the perfect light grey for your neutral makeover. It is the beautiful base color for this accent table makeover with a vintage style clock image transfer.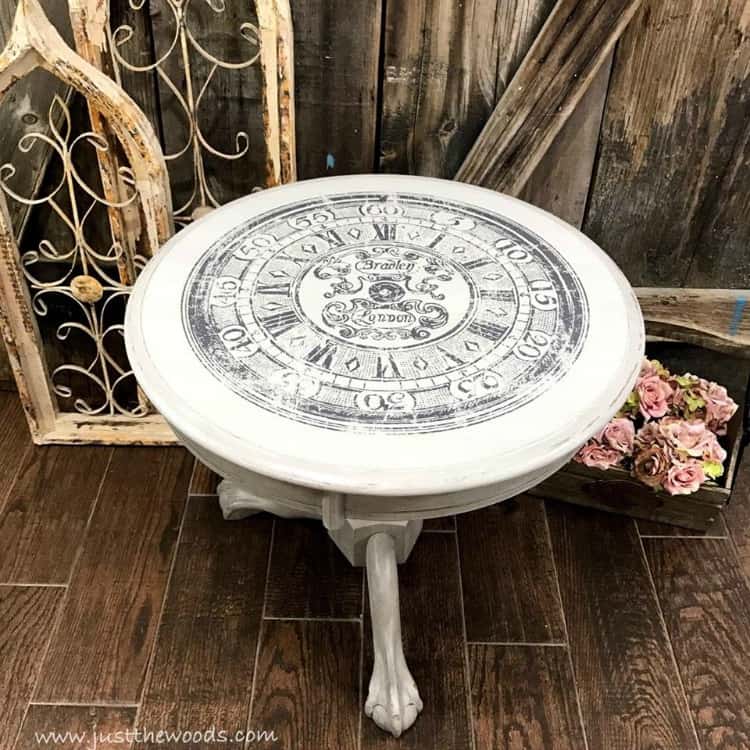 Continuing with another light gray paint option, how about silver? Silver gray paint falls in line with the shades of gray right? When you want to add that little bit of bling but still want to maintain a sense of neutral this metallic silver table makeover has just the right balance.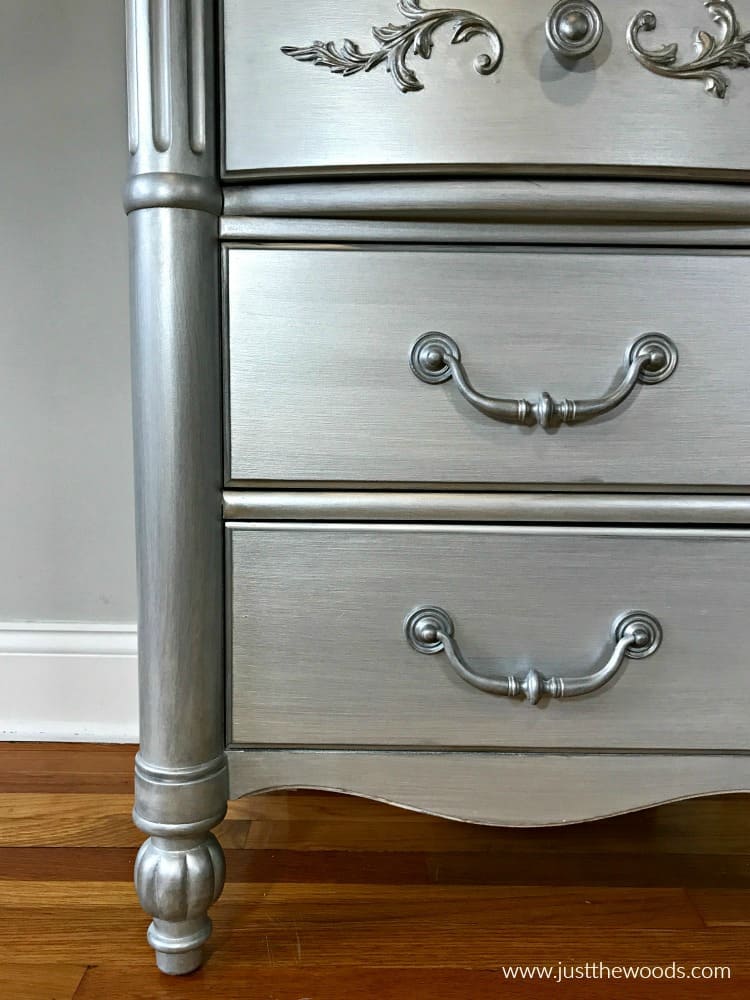 Yet another light gray paint option is this bookcase where multiple layers of gray paint give this bookcase a new look. While the inside is left in the original white finish the outside is updated with layers of neutral paint colors including grays, whites, greige and beige to create a soft pretty look.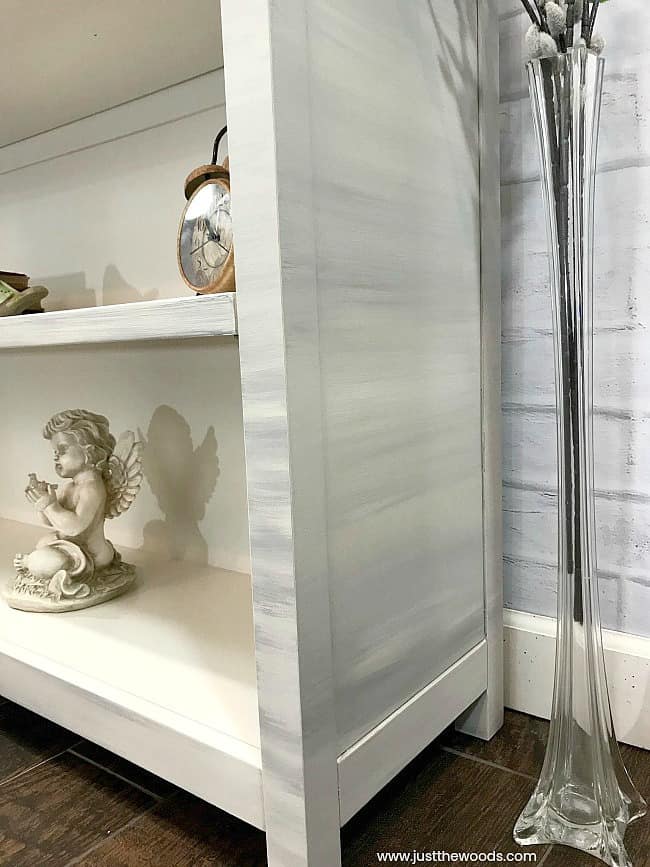 Dark Gray Paint Colors
Of all the dark gray paint colors I have to admit that I am smitten with charcoal gray. How can you not be? Dark charcoal grey is that almost black but not quite black perfection. Midnight Sky is the name of the charcoal gray paint used on this rocking chair makeover. It's so dark that it makes you look twice and wonder if it's black. But I can assure you that it is not.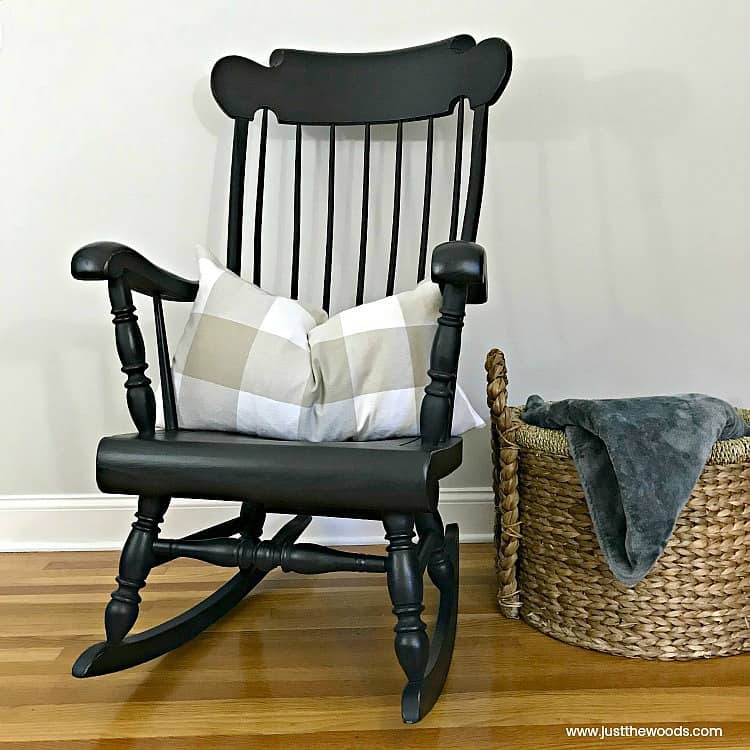 Midnight Sky is so perfect that it is also the base color for this rustic wood coffee table makeover. But for this project, to lighten up the charcoal gray color just a tiny bit I dry brush it with Manatee Gray, another gorgeous gray paint color. As an added bonus the coffee table even has a combo of brown and gray wood stain on the top.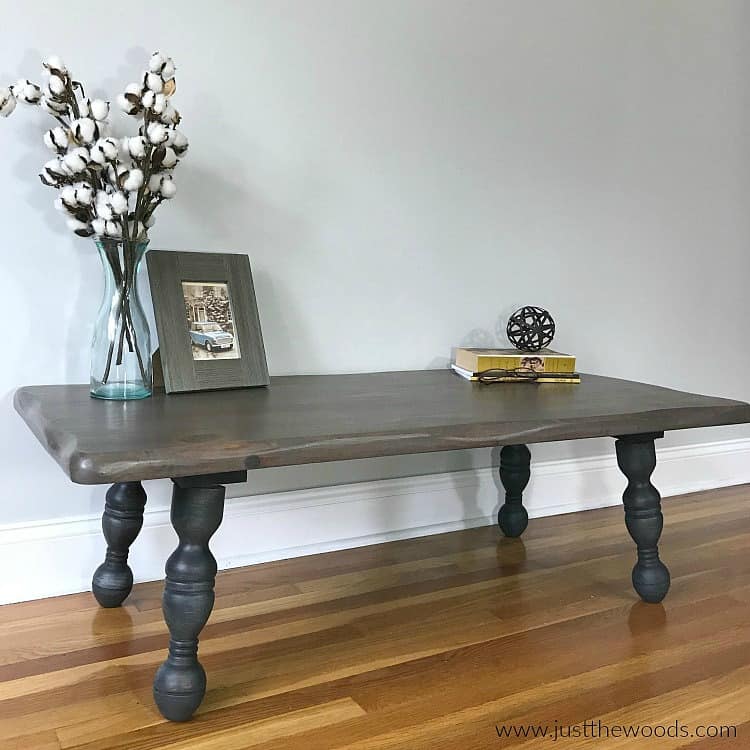 Another popular charcoal gray color with a hint of blue undertones is this color called Carbon. The cool thing about this particular paint is that it is not just a gray furniture paint. It is actually specifically made for high traffic, cabinets, and furniture. Which is why it is the perfect choice for my living room table tops. You can find this hardcore paint online HERE.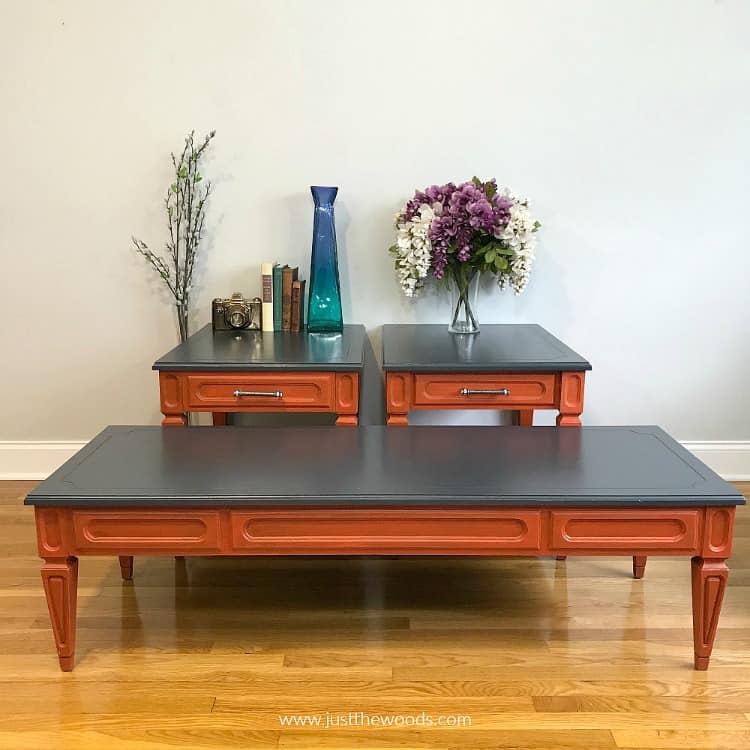 In case you are wondering what kind of crazy person paints their tables orange and gray, well here is my living room and somehow it works. The gray on the tables looks great with the cloudy gray accent wall and the light gray wall paint on the adjoining wall. The light colored wall is a Behr gray paint called 'Close Knit'. The dark gray wall is actually lime paint.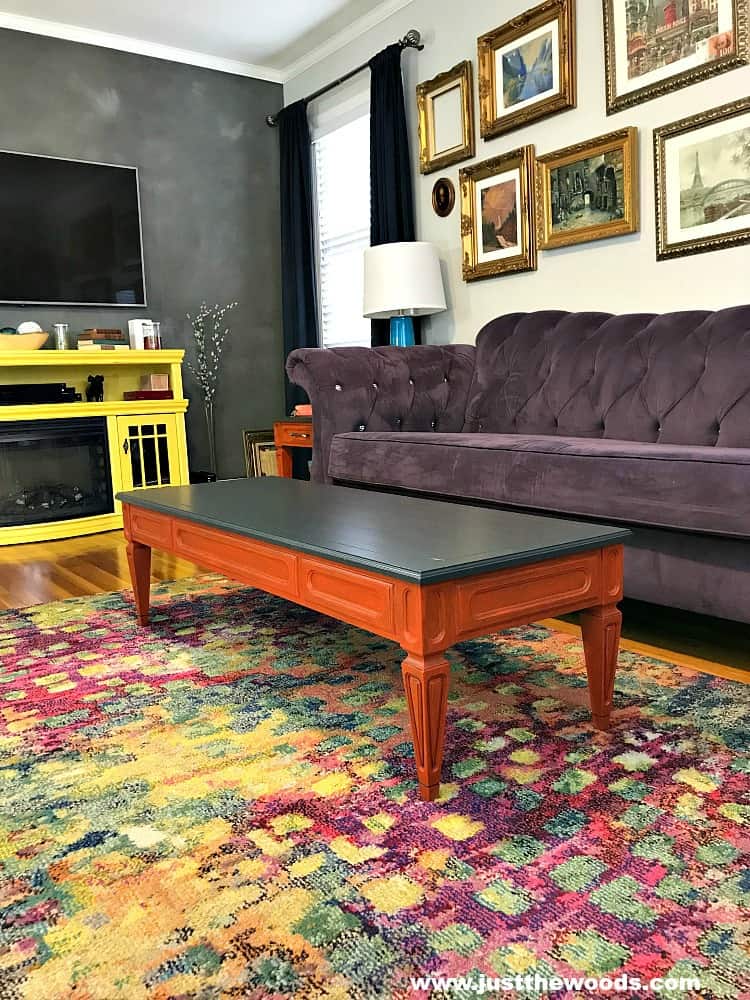 If you are new to furniture painting then you can always start at the beginning with How to Paint Furniture – a Beginners Guide.

Gray Painted Furniture with Added Wow Factor
Don't be afraid to add a little bling to your painted furniture. This makeover has a few upholstery tacks added around each drawer to give it that wow factor.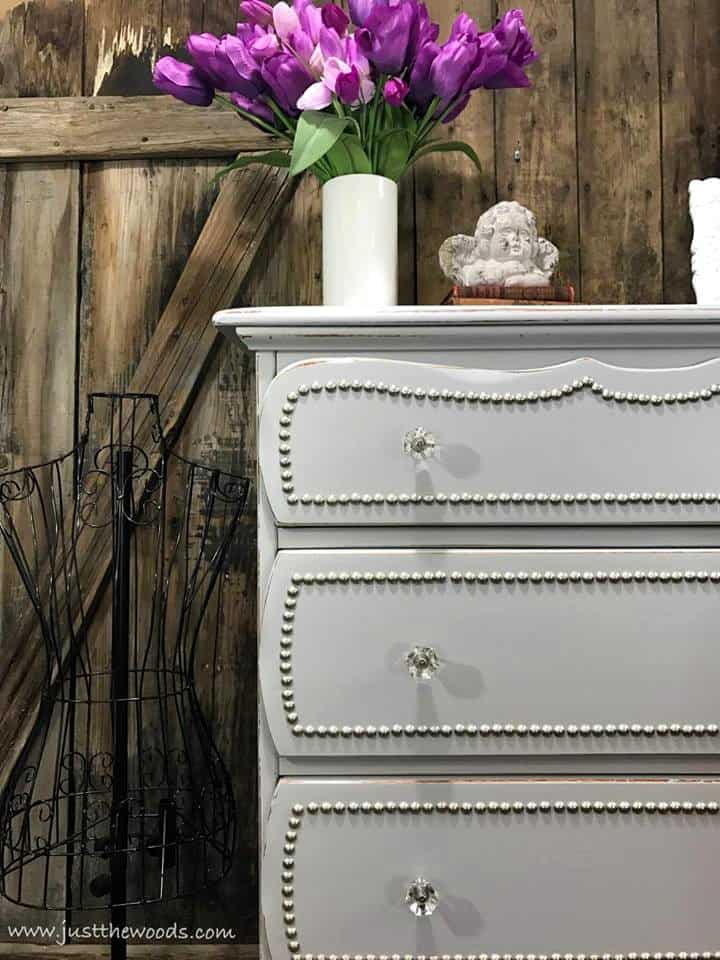 Speaking of wow factor, how about some wallpaper decoupage? This vintage flip top buffet has its wow factor on the inside with metallic silver wallpaper. A gorgeous two-tone gray paint exterior with va va voom interior.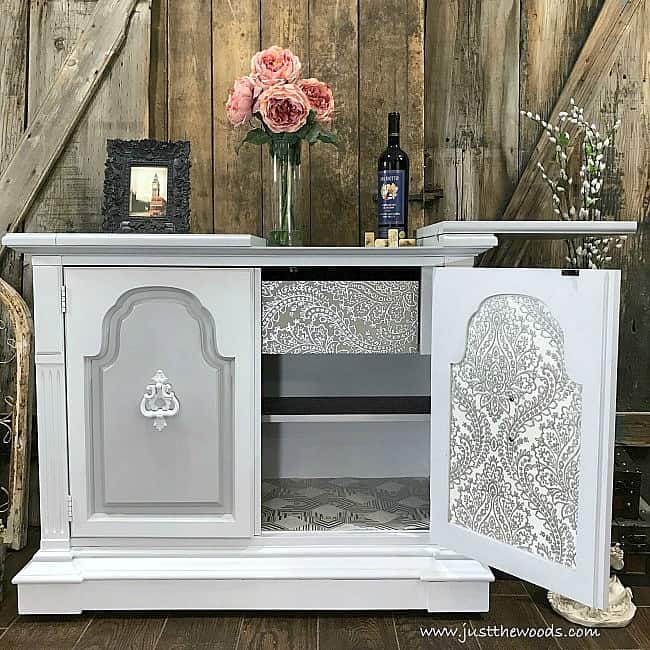 You also don't have to be limited to just one or two gray paint colors. Go ahead and layer them with this dry brushing technique like used on this vintage desk makeover.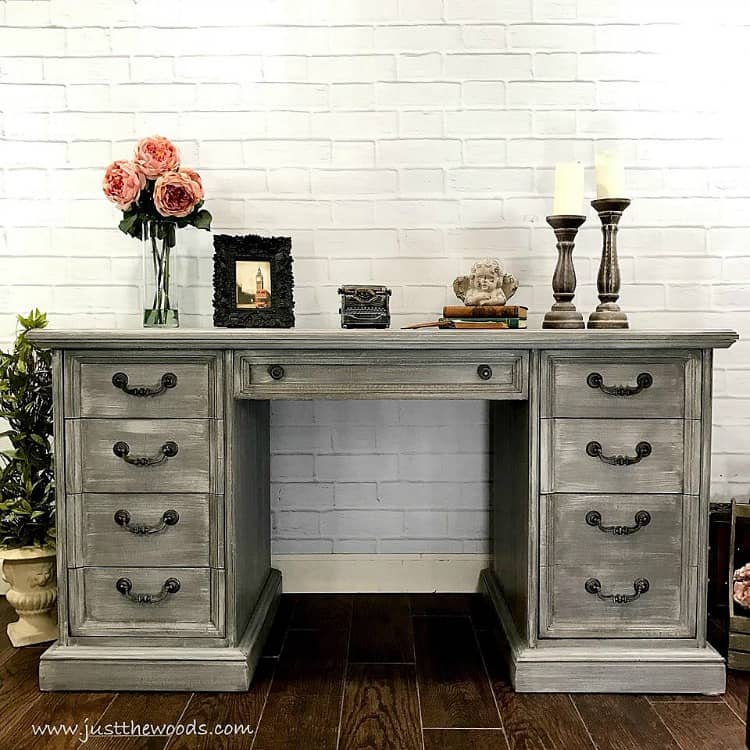 This textured and layered gray painted dresser looks amazing with a classic stained top. You can see this makeover here: Gray painted Dresser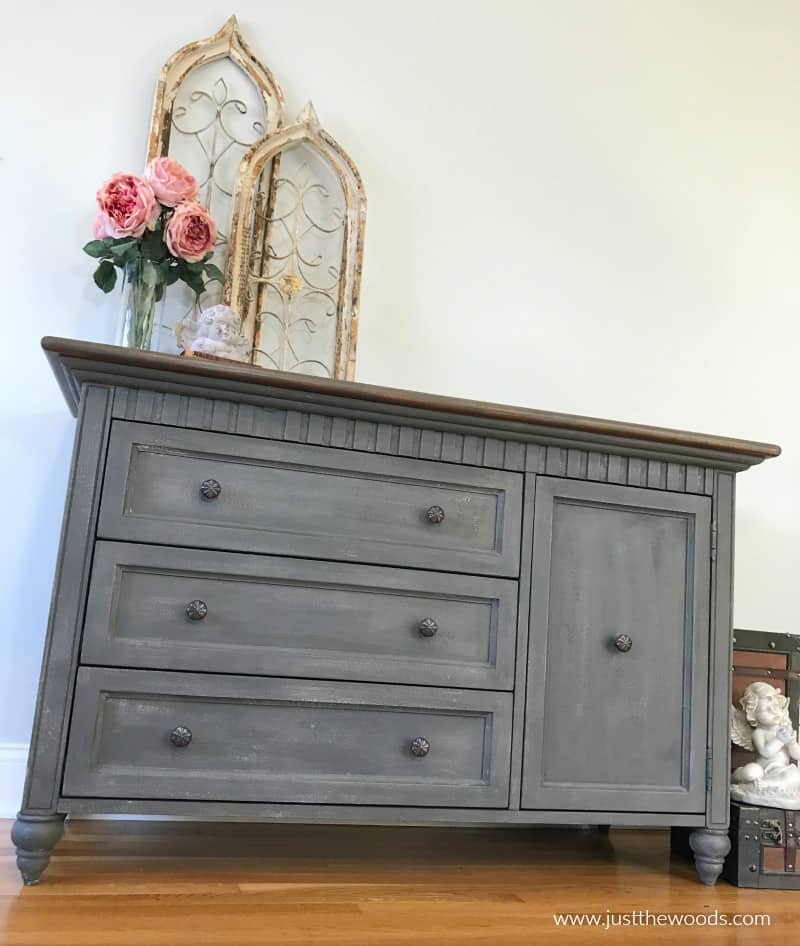 The blue gray paint on this old buffet server gives it a modern yet classic look with a butterfly decoupage print hidden behind the center drawers.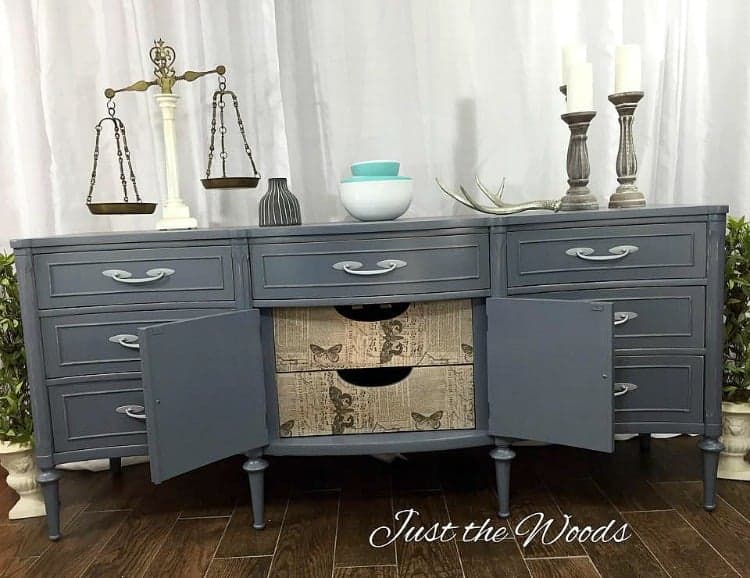 Another twist to gray painted furniture is this soft cloudy gray white paint used on another vintage buffet server. The super flat surface of the piece makes the perfect blank canvas for an image transfer.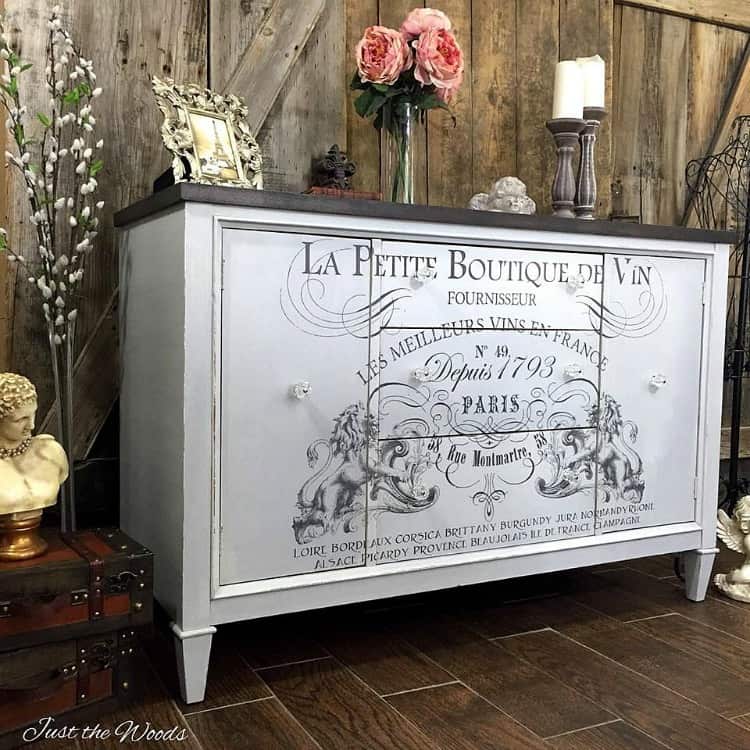 Did you know that light gray furniture paint also pairs beautifully with dark wood stain? The grey paint on this desk makeover works perfectly with the rich dark stain on top.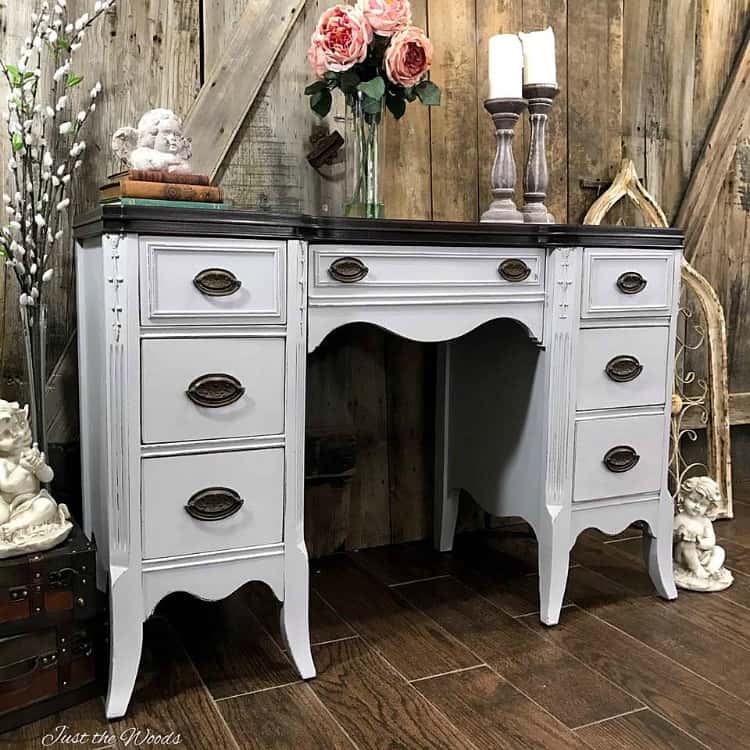 Ready to Get Started?
If you have a project in mind and are looking for the great paint colors then make sure to check out these furniture paint options online. I only share brands and products that I use and love. Get your paint and get started with a variety of great furniture paint options from Dixie Belle HERE.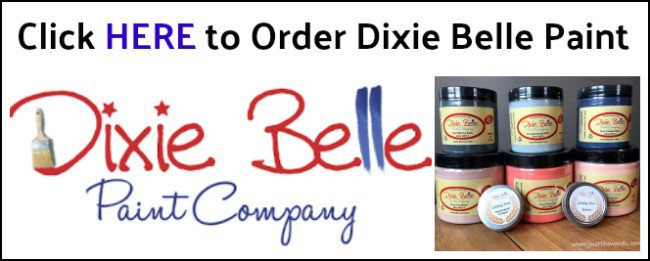 Or check out all the great greens from Wise Owls Paint HERE.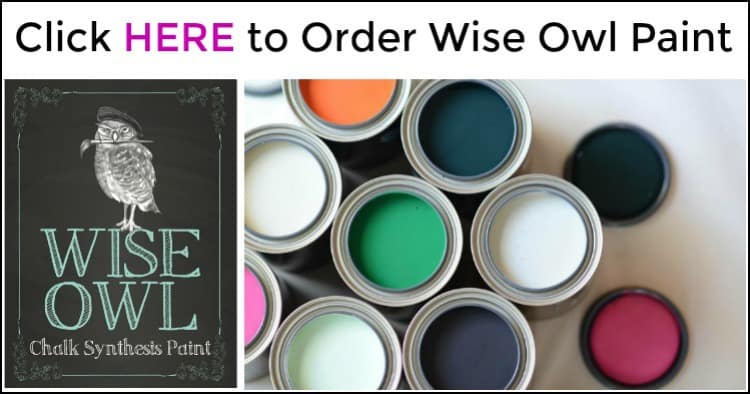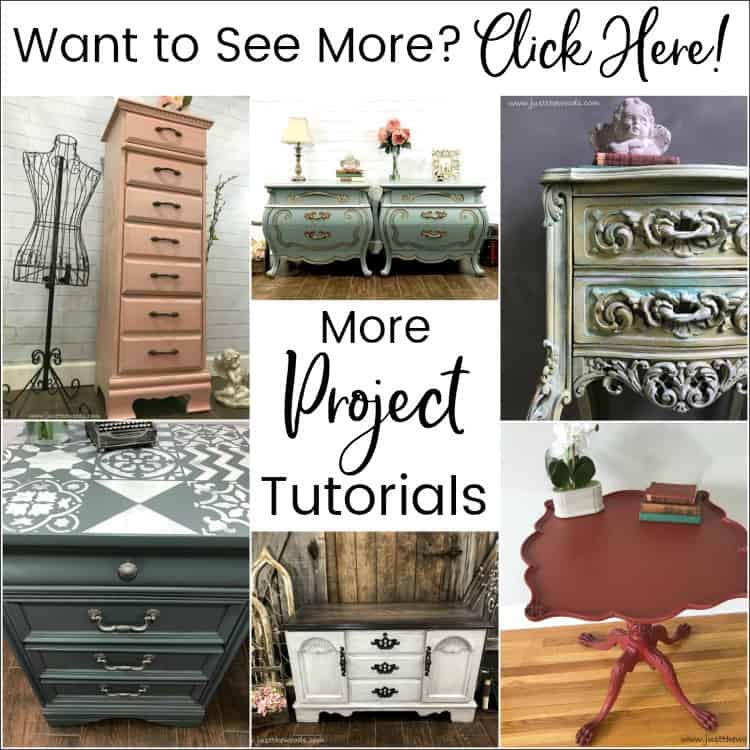 Don't Forget – Follow Just the Woods and Share this post to Inspire others:
FACEBOOK * INSTAGRAM * PINTEREST

Stay connected! For more tips and tricks sign up here :