Disclosure:  This how to age paper post contains affiliate links..
How to Age Paper with Antiquing Glaze
This may be one of the shortest posts I will ever write, but I want to share a very simple technique that I just tried.  I recently finished a lavender lingerie chest and plan to use a small jar of essential lavender oil in my staging photos. This is one of the first photos with the little bottle.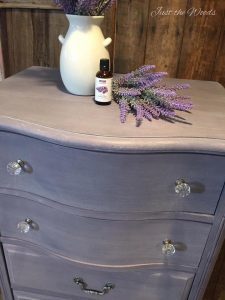 I'm going for an elegant old world feel with the lingerie chest so the bottle looks too new and out of place with its modern label.  Lets face it – the oil isn't old, I only bought it a few months ago here.  I decided, after a little encouragement from a friend to give the bottle a new vintage style label.
Find an Image to "Age"
I ordered this label online, you can find it here along with so many other images.  There are websites where you can pay for an image and then have the rights to download it and use it.  This is important when trying to stay away from copyright infringement violations *wink*.  The few dollars it costs is worth it in my book, with that being said please do not take and use this image. 
I then shrunk the image down using a standard photo copier until it was small enough for the bottle.  I made multiple copies in case I needed to try a few attempts.  Next I used a brush with just a bit of an antiquing glaze and lightly brushed over the stark white copy paper.  Since the bottle is brown I don't want the label too dark, but just enough so that it doesn't look crisp and clean and white.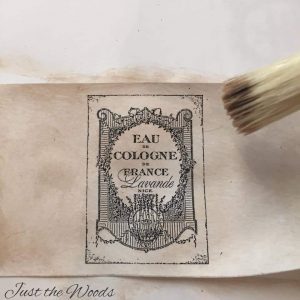 If any of the glaze looks too dark in an area or you can see brush strokes, just wipe it with a baby wipe to blend it in.  Lastly I attached the paper to the bottle with a simple piece of tape since I will only be using it for photos.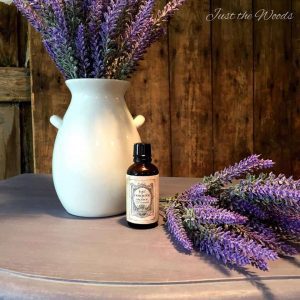 Voila!
How simple!! This project took me all of about 10 minutes.  I think I spent more time shrinking the image then actually aging it!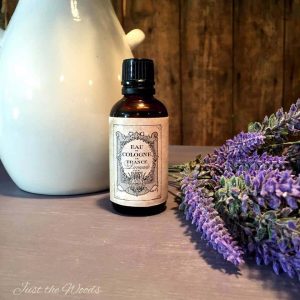 This was made to go with the lovely lavender lingerie chest project.  You can see that full makeover here.  If you are ever looking for faux lavender sprigs like the ones I used for staging you can order them here.
Not sure which glaze to use?  You can get this result with Chestnut here in the SHOP
If this is your first time visiting and would like to be added to the mailing list for new posts you can subscribe here: