White and Gold Leaf Accent table
I am in love with this little table!  It was originally dark wood and has the prettiest curves. I wanted to make it both classy, timeless but with a touch of something special, so I decided on white and gold. Can't you just see the potential of this adorable table from the start?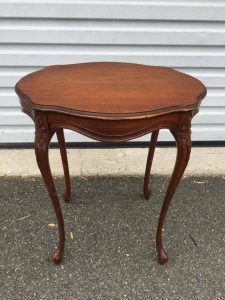 Disclosure: This white and gold leaf table post contains affiliate links. 
I decided to use Pure & Original Classico paint in Island White because it's the perfect shade of white.  Who knew white could have so many variations.  Once the table was thoroughly cleaned, sanded and prepped I flipped it over to paint the legs and underside of the tabletop.  Next, I flipped her back over to paint the rest.  One thing that I really like about this paint is that the sealer is built into the paint and you don't need to add an additional sealer unless you want to or unless the piece will be exposed to water (in a bathroom, etc).  Check out those legs!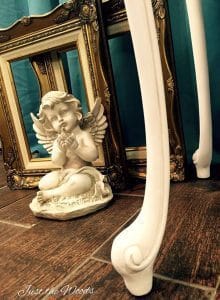 Gold Leaf Foil Application
Once the painting was done I decided to try my hand at gold foil. And oh my I think I'm in love. I managed to get a quick video of the gold leafing to share. The video may be glitchy because it was done on Facebook and is very old. Click here to be directed to the video: HERE. Or you can find a newer gold leaf project with liquid gold leaf and a video in this post here: the Best Liquid Gold Leaf
I applied the gold leaf on the raised details at the top of each leg as well as along the upper trim.  In fear of making it look gaudy, I stopped there to avoid using too much.  The plan is to keep the table classy and elegant and due to the delicate and small size of the table, I think it was the right decision.
Result – White & Gold Curvy Accent Table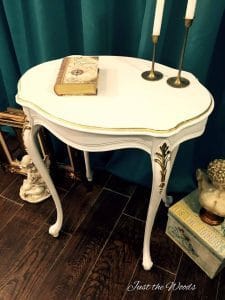 Taking photos of this little beauty was somewhat of a challenge since the gold is a bit reflective and would bounce the light right off of it depending on how the light hit, so I made sure to take many photos.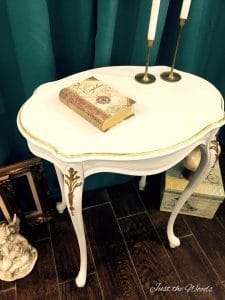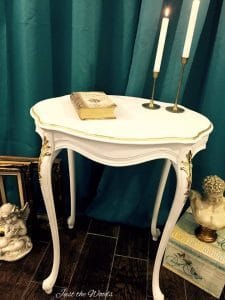 Even though Pure & Original doesn't require an additional sealer I did make sure to seal the gold leaf and I also added a thin sealer on the table top with Pure & Original's Dead Flat Eco Sealer.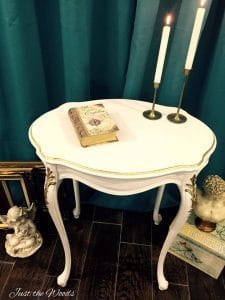 A Different View
It's amazing how different a piece may look based on the color of the wall or backdrop. I also took a few photos with a lighter background. I even had a photo bomber this time.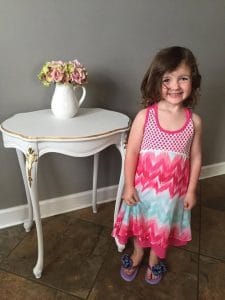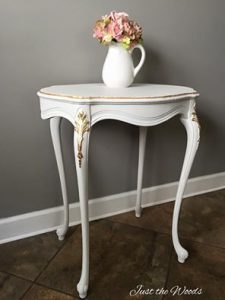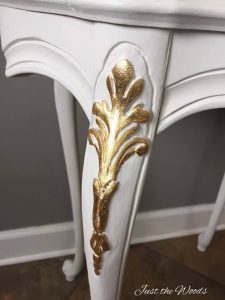 Gold leaf foil can be found online thru my affiliate link here -> GOLD FOIL  The gold leaf paint in a liquid form, which I plan to try next can also be found here -> GOLD PAINT
I'll be sharing this post at these fabulous link parties.
Don't Forget – Follow Just the Woods :
FACEBOOK  *  INSTAGRAM  *  PINTEREST
Let's stay in Touch – Subscribe to our mailing list here:
PINTEREST PIN READY TO SHARE