Mulled apple cider is tasty all year round. But the air is getting crisp and the apple picking season is almost here. This is ideally the perfect time for mulled apple cider. You know when you take the family apple picking and everyone has a great time plucking apples from the trees. Then you head into the farm store and grab a jug or two of apple cider to take home along with a jar of apple butter. It's all apples all the time, and a few pumpkins too. We can't forget the pumpkins. You know what I mean though, the time when the cool crisp Fall days and the chilly nights where curling up with a warm mug of mulled apple cider just hits the spot. This is a super easy mulled apple cider recipe that you can make without added sugar since you know how I prefer to keep things healthy with clean eating and avoiding processed foods. (You can read about my weight loss journey here: Clean eating)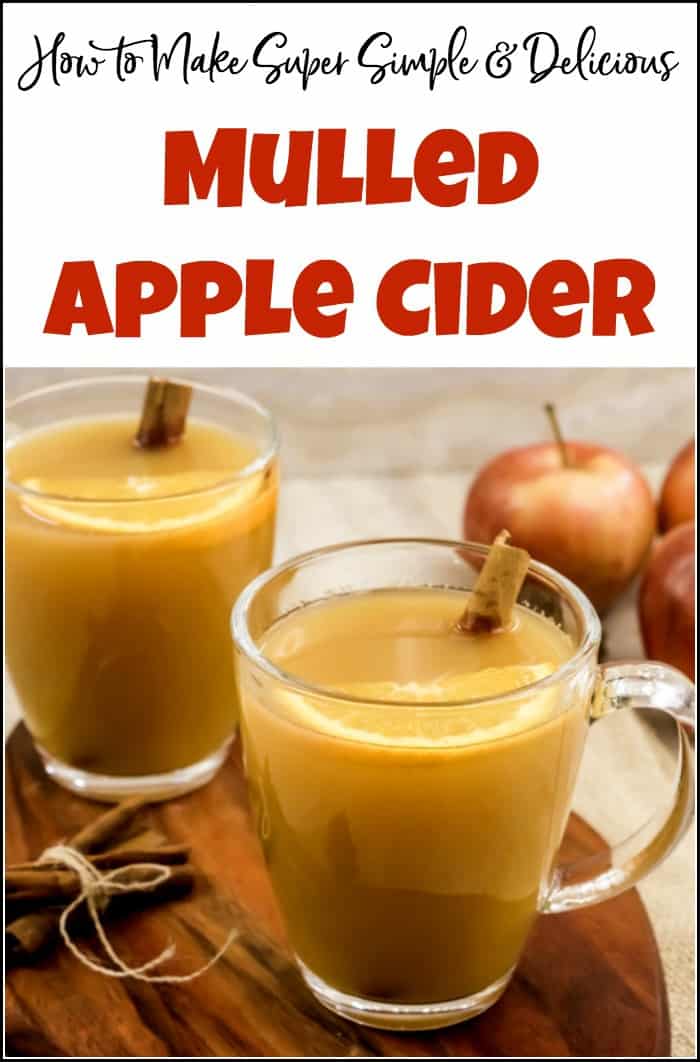 Disclosure: This mulled apple cider recipe contains affiliate links for your convenience. Click here for my full disclosure policy.

Easy Hot Mulled Cider Recipe
What You Will Need (Full Printable Recipe Available Below)
How to Make Hot Apple Cider aka Mulled Apple Cider
Instructions
The first step of this mulled cider recipe is to gather your mulled cider spices and ingredients from the list above.
Then peel the rind off of both of the oranges and the lemon. Make sure you only peel the outer layer. You do not want the bitter white layer. Be careful to peel just the outer layer.

In a large pot combine the orange and lemon peel. Add the broken cinnamon sticks, allspice berries, and the cloves.
3. Pour your apple cider into the pot with the peels and mulled cider spices.
Warm your mulled cider over medium heat and until it comes to a boil. Lower the heat and let it simmer for 10 minutes on low. Remove from heat. By now your kitchen should smell amazing.
Strain the spiced apple cider mixture into mugs or cups.
Serve hot or warm with a cinnamon stick, apple and/or orange slices.
Notes
The sweetness of the apple cider has enough natural sweetness. But if you prefer a sweeter taste you can add ¼ cup of honey or pure maple syrup to the mulled apple cider before simmering.
Hot Apple Cider Recipe (Printable Version)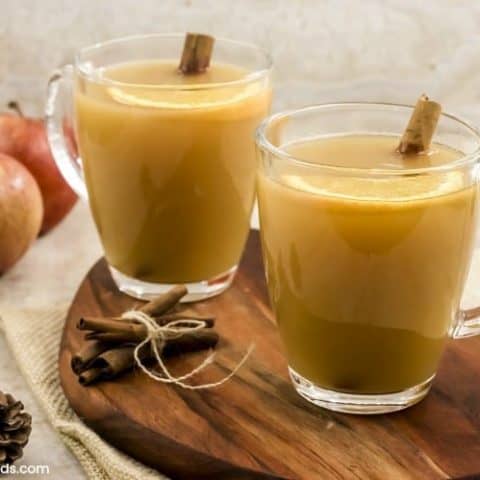 Mulled Apple Cider
Mulled apple cider is delicious all year round. But its always better to enjoy a hot apple cider on a cool fall day. This spiced apple cider is simply delicious
Ingredients
1.5 quarts apple cider
1 tsp whole clove berries
3 large cinnamon sticks broken into pieces
1 tsp whole cloves
2 medium oranges
1 large lemon
Instructions
Gather ingredients
Then peel the rind off of both of the oranges and the lemon. Make sure you only peel the outer layer. You do not want the bitter white layer. Be careful to peel just the outer layer.
In a large pot combine the orange and lemon peel. Add the broken cinnamon sticks, allspice berries, and the cloves.
Pour your apple cider into the pot with the peels and mulled cider spices
Warm your mulled cider over medium heat and until it comes to a boil. Lower the heat and let it simmer for 10 minutes on low. Remove from heat. By now your kitchen should smell amazing.
Strain the spiced apple cider mixture in mugs or cups.
Serve hot or warm with a cinnamon stick, apple and/or orange slices.
The sweetness of the apple cider has enough natural sweetness. But if you prefer a sweeter taste you can add ¼ cup of honey or pure maple syrup to the mulled apple cider before simmering
Nutrition Information:
Yield:

6
Serving Size:

6 cups
Amount Per Serving:
Calories:

158
Total Fat:

1g
Saturated Fat:

0g
Trans Fat:

0g
Unsaturated Fat:

0g
Cholesterol:

0mg
Sodium:

15mg
Carbohydrates:

39g
Fiber:

4g
Sugar:

30g
Protein:

1g
nutritional values may vary

Don't Forget – Follow Just the Woods and Share this post to Inspire others:
FACEBOOK * INSTAGRAM * PINTEREST * RECIPES