You are going to love this Paleo zucchini casserole. There are a few things that I could eat every day and I swear I could eat this Paleo baked zucchini casserole every single day. It's that good! The fact that this healthy baked zucchini recipe has a cheesy aspect to it makes it even better, especially considering it is dairy free. Win win as far as Im concerned, because some people can't tolerate dairy. It leaves them with a bloating feeling, while others simply prefer to avoid it, which is A-ok!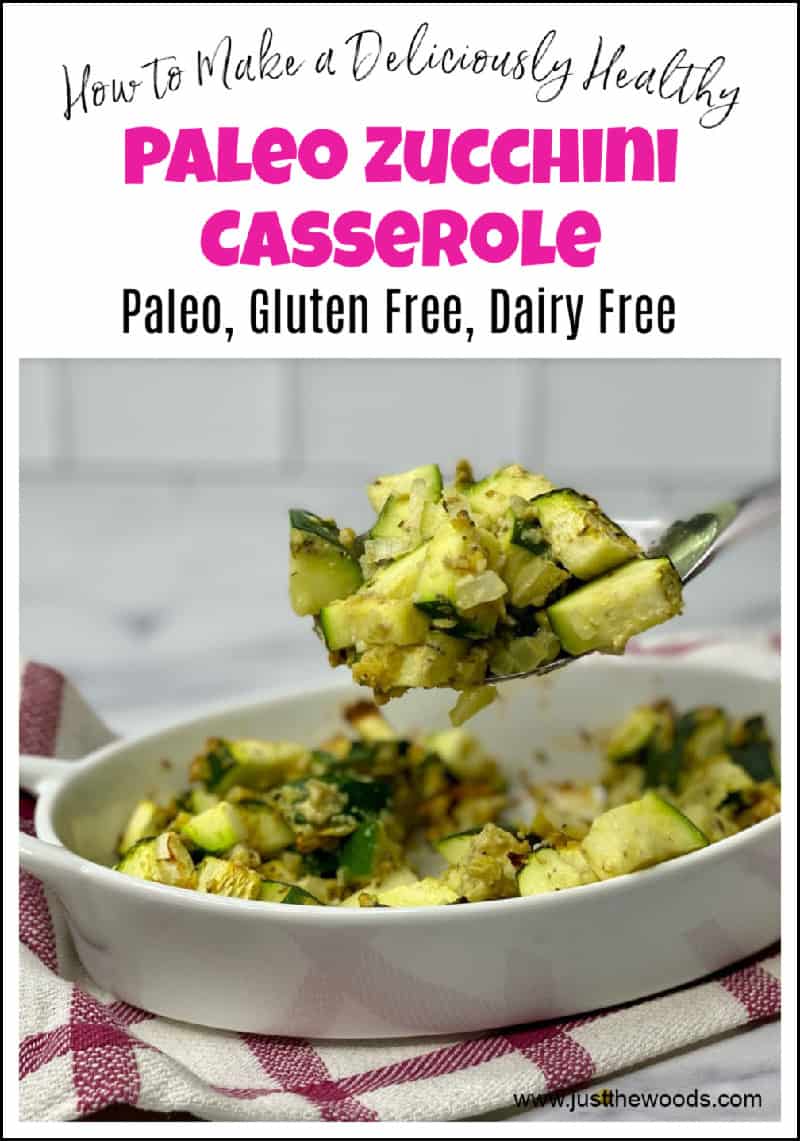 Disclosure: This healthy Paleo zucchini casserole recipe post contains affiliate links for your convenience. Click here for my full disclosure policy.

Easy Paleo Zucchini Casserole Recipe
What You Will Need (Full Printable Recipe Available Below)
Ingredients:
2-3 zucchinis (442g)
1/4 – 1/2 cup chopped vidalia onion (63g)
1/4 tsp sea salt or herbed salt
1/2 Tbsp Italian seasoning
1/4 cup cashew flour (23g)
2 Tbsp Nutritional Yeast (10g)
Clean Eating Basics
As long as you are using quality ingredients, meaning ingredients that are whole and/or organic and without added chemicals or additives this healthy baked zucchini recipe makes the perfect side dish to just about any meal. I mention that this is a clean eating recipe because I am all about eating healthy and clean eating. If you are new to a clean eating way of life then you need to check out Everything You Need to Know about a Clean Eating Diet. You can also see how I lost 50 lbs and am keeping it off by following a clean eating diet here: How I Lost 50 Lbs Clean Eating. I tend to try different things and mix different flavors to keep meals healthy and tasty.
If you are looking to make changes with your diet and lifestyle have you ever considered a health coach? I am a Certified Health Coach and Nutrition Coach. If this is something you are interested in check out what I do here: Nutrition & Health Coaching.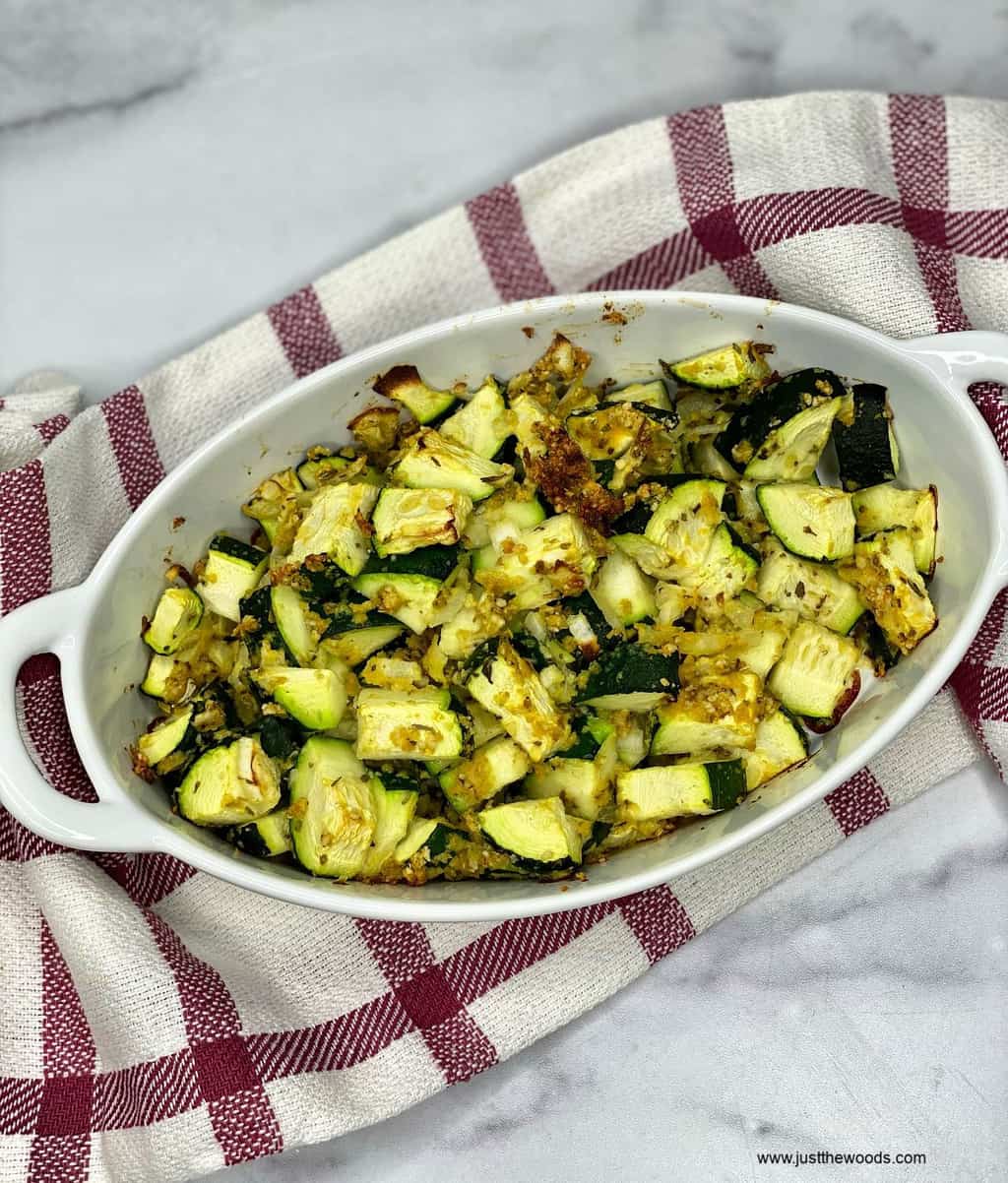 How to Make Deliciously Healthy Paleo Zucchini Casserole
Let's start with our simple ingredients to make these easy and healthy side dish.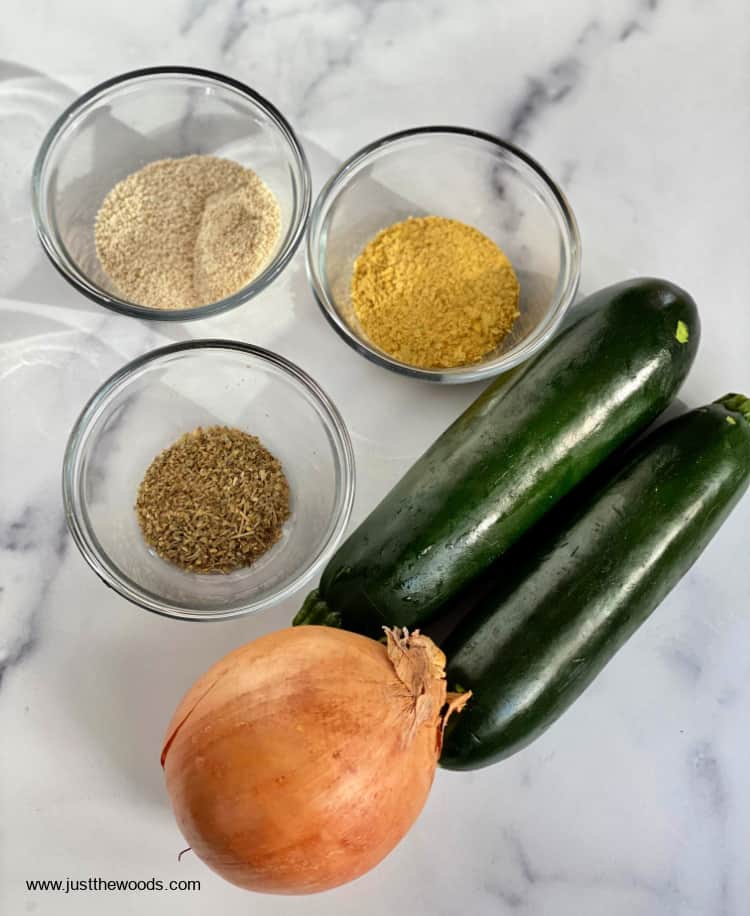 Ingredients:
Before we start chopping and dicing, go ahead and preheat your oven to 375 degrees. Next, remove the ends from your zucchini and cube the rest into approximately 1″ size pieces. Then dice the onion, and combine in a medium size bowl.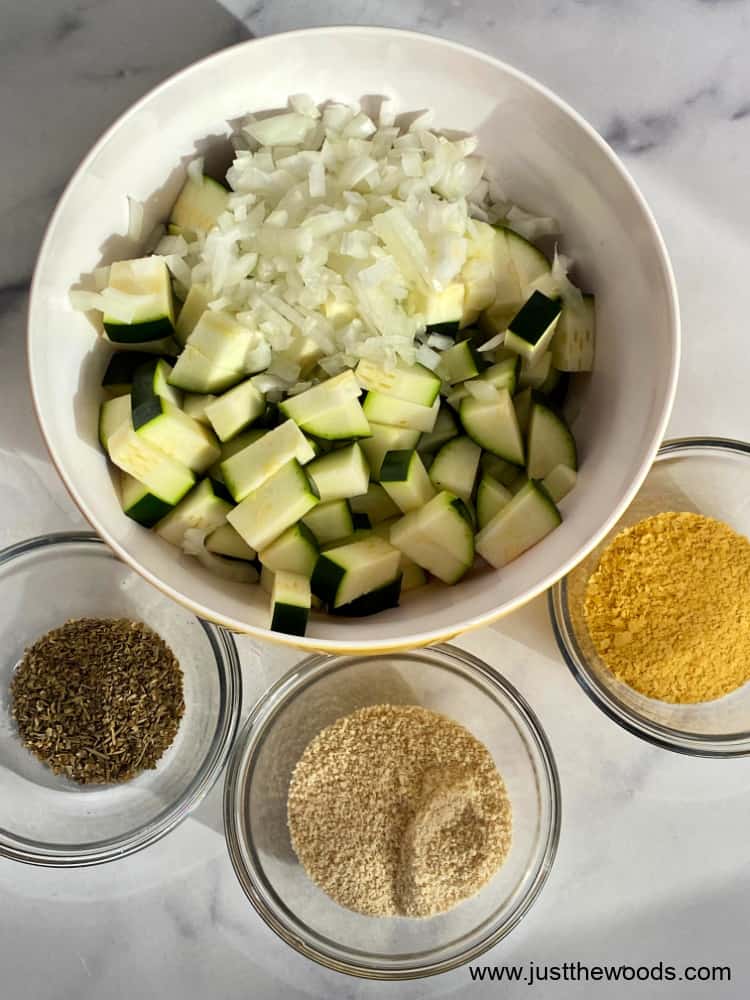 Add the Italian seasoning, and salt. You can use sea salt or an herbed salt like this one HERE. I'm using the herbed salt for this paleo zucchini bake. Add the cashew flour.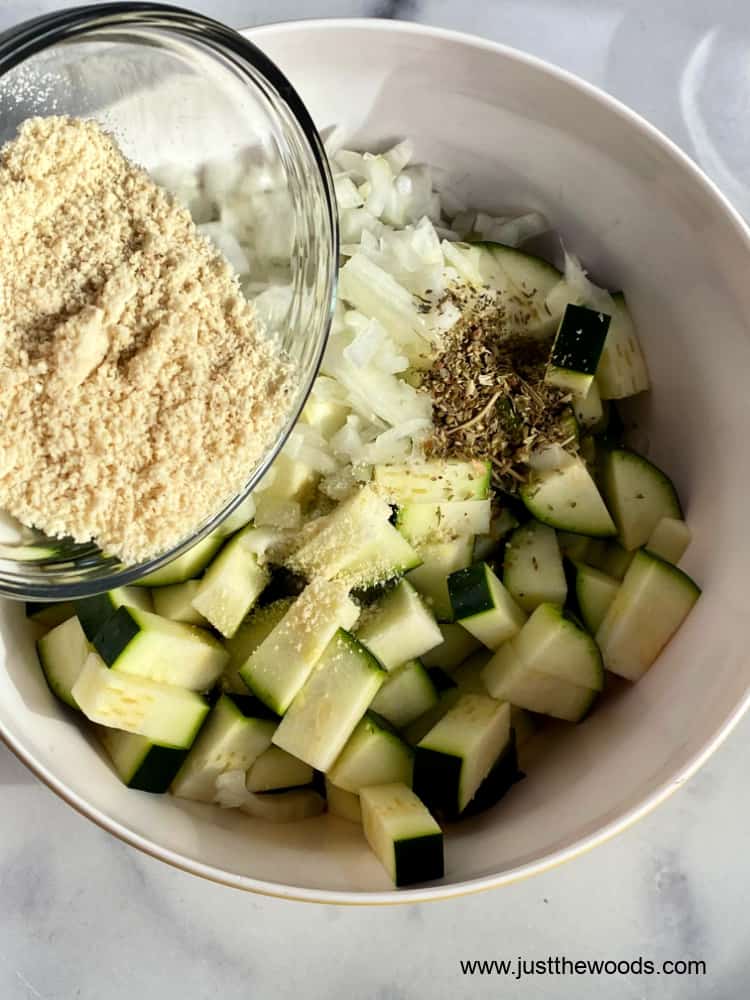 Lastly, add the nutritional yeast. You can't have a cheesy baked zucchini casserole with nutritional yeast without the nutritional yeast. If you don't already have some you can find it online here. You can not exclude this ingredient, this is what gives your paleo zucchini casserole the cheesiness.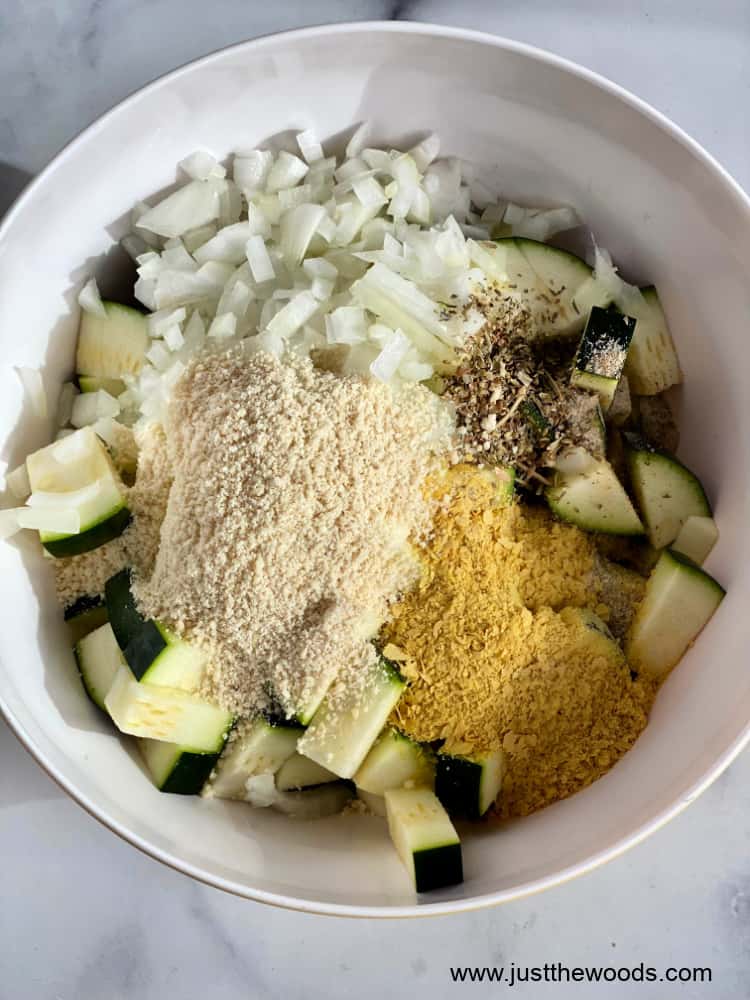 Stir to combine and transfer your zucchini and onion mixture to a small casserole dish or 8×8 baking dish. Bake in the oven for 40-45 minutes. You do not need any oil for this zucchini casserole because the zucchini will release moisture as it bakes. The moisture combined with the nutritional yeast and spices will create a creamy cheese like texture.
Cheesy Baked Zucchini Casserole
Remove from the oven and serve immediately.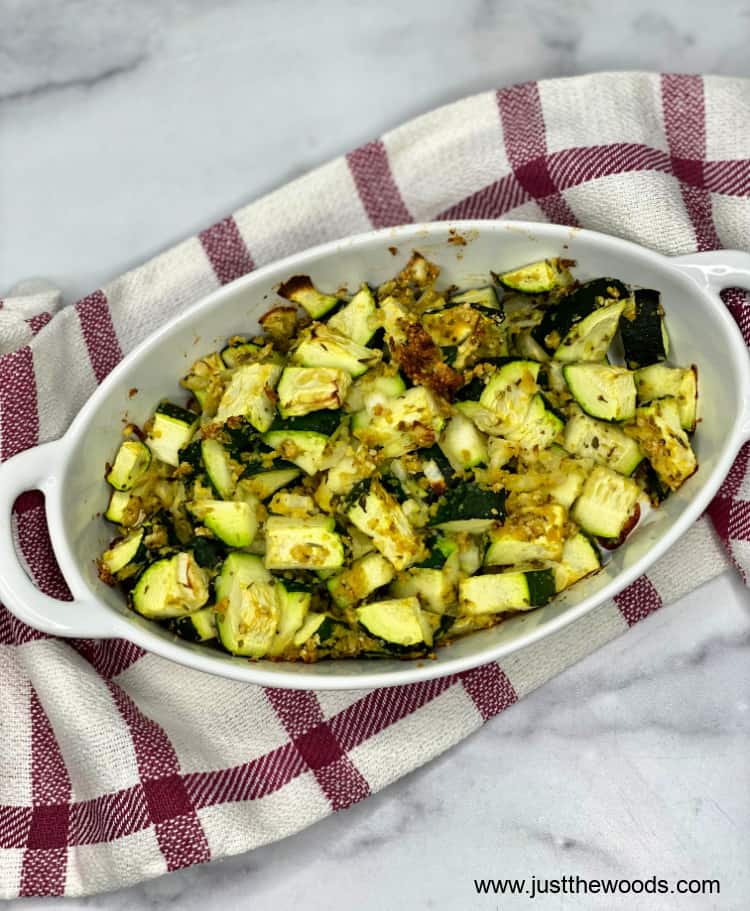 This healthy zucchini recipe is low calorie, dairy free and makes the perfect side dish to any meal. If you are looking for oozing drippy cheese this may not be the recipe for you. The cheesy factor in this baked cheesy zucchini recipe is more subtle and creamy in a not too much, not too little kind of way.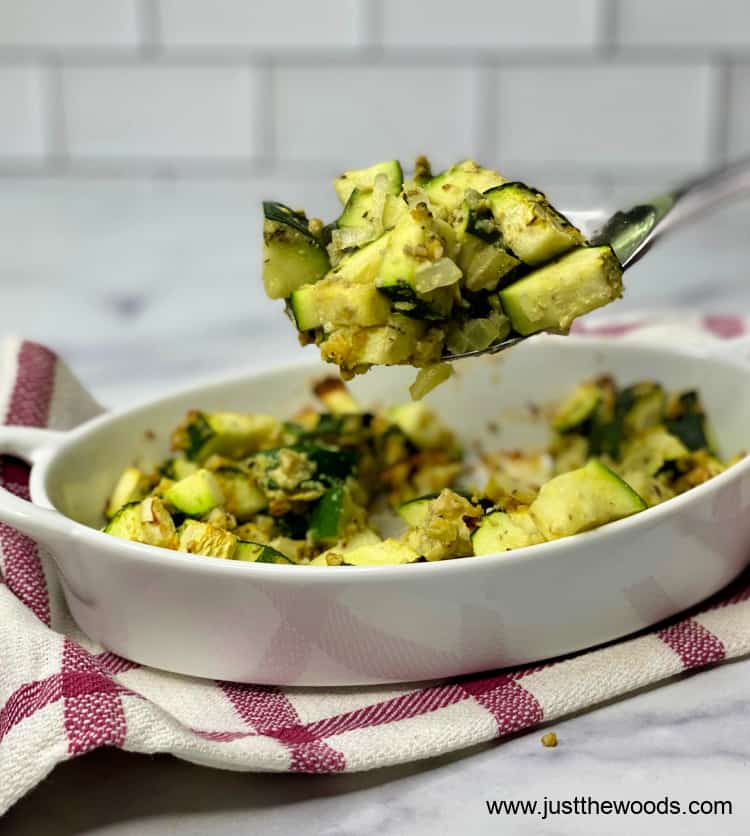 Nutrition Data for Macros
If you are interested in the macros for this delicious dish keep in mind that these macros are based on the exact measurements of the ingredients used so yours may vary slightly. This paleo baked zucchini recipe makes 4 servings and each serving is: 67 calories, 3.3g fat, 7.4g carbs, 3.8g protein. I admit sometimes I double up in the serving because its that good!
What to Eat with Baked Zucchini Casserole
This zucchini recipe isn't nutrient dense enough to be a complete meal, so if you are curious as to what may pair nicely with it here is just one idea for something I've served alongside this baked zucchini dish. Of course, you can serve with just about anything.
paleo zucchini casserole pairs nicely with simple steak strips:
Printable Recipe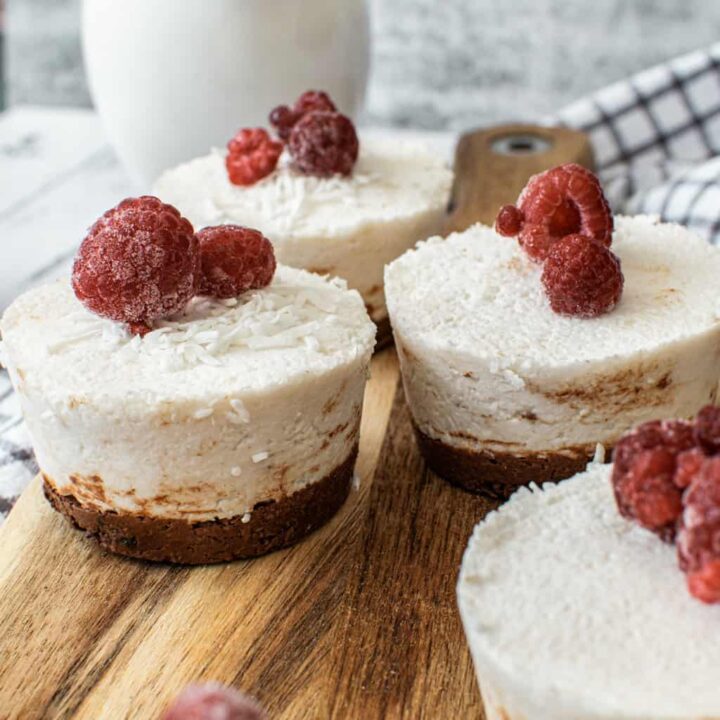 How to Make No Bake Coconut Cups
Total Time:
4 hours
55 minutes
These no bake coconut cups are both healthy and delicious. They make the perfect clean eating and paleo snack to keep on hand when you want something sweet and guilt free.
Ingredients
Base
1 cup organic dates
5 Tbsp unsweetened shredded coconut
4 Tbsp cacao powder
3/4 cup honey or pure maple syrup
Filling
1 1/4 cup unsweetened shredded coconut
1 cup unsweetened coconut yogurt
2 Tbsp honey or pure maple syrup
2 Tbsp melted coconut oil
Instructions
Combine all ingredietn for the base in a medium bowl and use a hand blender to mix. This will have a paste like consistency. Set aside.
Combine all ingreidents of rthe filling in a separate bowla and stir to combine.
Scoop 2 spoonfuls of the base batter into the muffin pan and use a spoon to spread and flatten to the bottom of eash muffin mold.
Next, fill the rest of the space with the filling mixture.
Place in the refridgerator for 2+ hours to harden, then garnish with your topping of choice: fruit, coconut flakes, nut butter or jam (optional).
Notes
Store in an air tight containter.
Recommended Products
As an Amazon Associate and member of other affiliate programs, I earn from qualifying purchases.
Nutrition Information:
Yield:

6
Serving Size:

1
Amount Per Serving:
Calories:

554
Total Fat:

29g
Saturated Fat:

25g
Trans Fat:

0g
Unsaturated Fat:

2g
Cholesterol:

2mg
Sodium:

37mg
Carbohydrates:

77g
Fiber:

9g
Sugar:

65g
Protein:

6g
nutritional values are estimates and may vary depending on products/ingredients used.
For more healthy clean eating recipes make sure to follow my clean eating Pinterest board here:
Clean Eating
.


Don't Forget – Follow Just the Woods and Share this post to Inspire others:
FACEBOOK * INSTAGRAM * PINTEREST * RECIPES