Do you make your own homemade sugar scrub? If you do, or if you don't you will love this pumpkin spice brown sugar scrub recipe. It is easy to make and has that perfect Autumn aroma. Not to mention that it will leave your skin silky smooth without any added weird chemicals.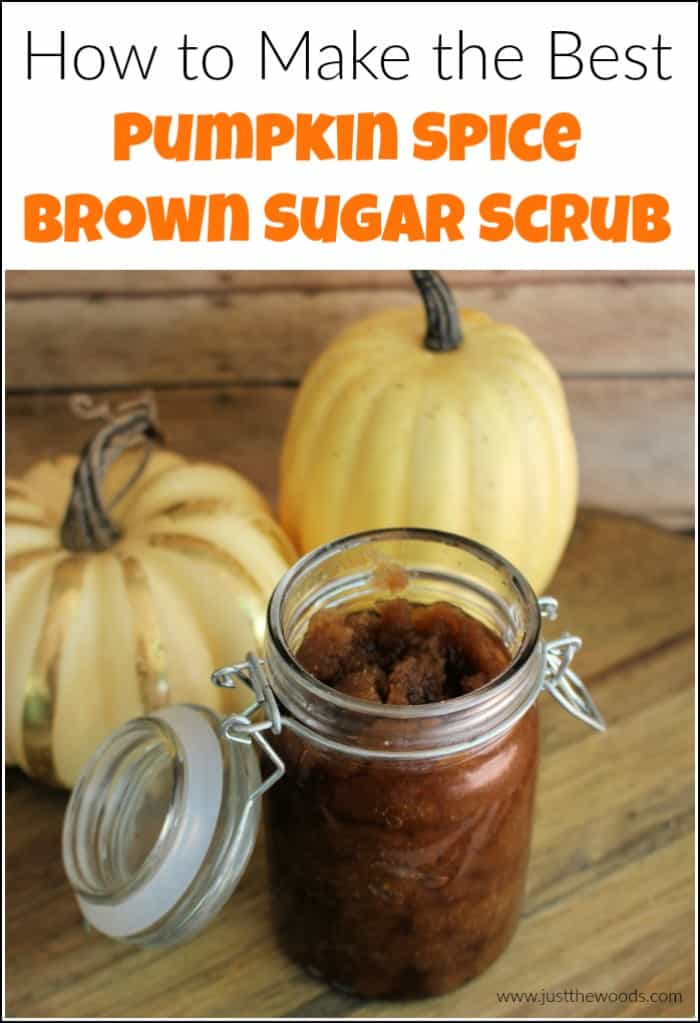 Disclosure: This DIY pumpkin spice homemade sugar scrub recipe post contains affiliate links for your convenience. Click here for my full disclosure policy.

Homemade Sugar Scrub Recipe Ingredients
How to Make Sugar Scrub
This DIY sugar scrub recipe is so easy to make. First, gather the simple brown sugar scrub ingredients, You may already have all of these ingredients in your pantry!
Start by adding your brown sugar to a bowl.
Next, add your coconut oil to the brown sugar.
Add the Vitamin E oil next.
Lastly, add the pumpkin pie spice and vanilla extract to the bowl.
Stir all of your simple sugar scrub ingredients together. It's really that easy.
Since there are no preservatives in your DIY brown sugar scrub, its best to keep it in an airtight container for up to 3-4 weeks.
This aromatic DIY brown sugar scrub recipe also makes a great gift for friends, family, and even teachers. Pack them individually in these smaller containers with a bow and voila, perfect gift! (

HERE

)
How to Use Your Pumpkin Spice Body Scrub
To use your homemade sugar scrub:
wet your skin with warm water
using your fingers or a washcloth, massage your skin in a circular motion working the sugar scrub into your skin. The sugar will exfoliate and the coconut and Vitamin E oils will soften and moisturize your skin. Enjoy the sweet pumpkin spice aroma!
allow it to sit for a few minutes
rinse it off
pat dry
Your skin will be left feeling soft and exfoliated. Not to mention smelling great! Time for a pumpkin spice latte next?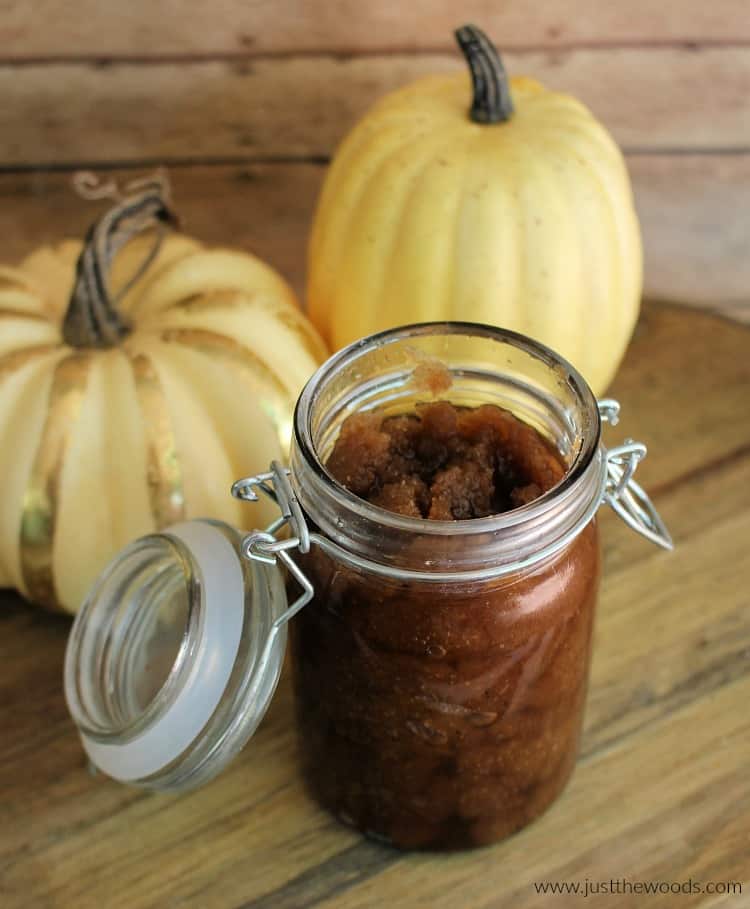 If you like this then you may also like more natural DIY posts and recipes here: natural DIY

You May Also Like
Love the thought of natural and amazing-smelling sugar scrubs but don't have the time to make your own sugar scrub? Here are some great sugar scrubs available online:
Coconut Oil Sugar Scrub can be found HERE
Pumpkin Spice Brown Sugar Scrub can be found HERE
Peppermint Reviving Pumice Exfoliating Foot Scrub can be found HERE
Coconut Lime Sugar Scrub can be found HERE
Pure Brown Sugar Scrub can be found HERE
Exfoliating Organic Body Scrub found HERE
Raspberry Lemon Sugar Scrub found HERE
Italian Mocha Firming Sugar Scrub found HERE
Charcoal Salt & Sugar Scrub found HERE
Himilayan Scrub found HERE
Stress Relief Eucalyptus Spearmint Sugar Scrub found HERE
Vegan Coconut Lip Scrub found HERE
Arabica Coffee Scrub found HERE
Don't Forget – Follow Just the Woods and Share this post to Inspire others:
FACEBOOK * INSTAGRAM * PINTEREST

Stay connected! For more tips and tricks sign up here :