If you have been in the furniture painting world for a while you may have heard of Wise Owl Paint. Even if you are new to painting furniture then you may have heard of this amazing brand of furniture paint. Either way, I am going to share a project using Wise Owl Paint products including their one-hour enamel paint. I will tell you that once you try the enamel paint you may feel too spoiled to ever go back to chalk paint. Don't say I didn't warn you.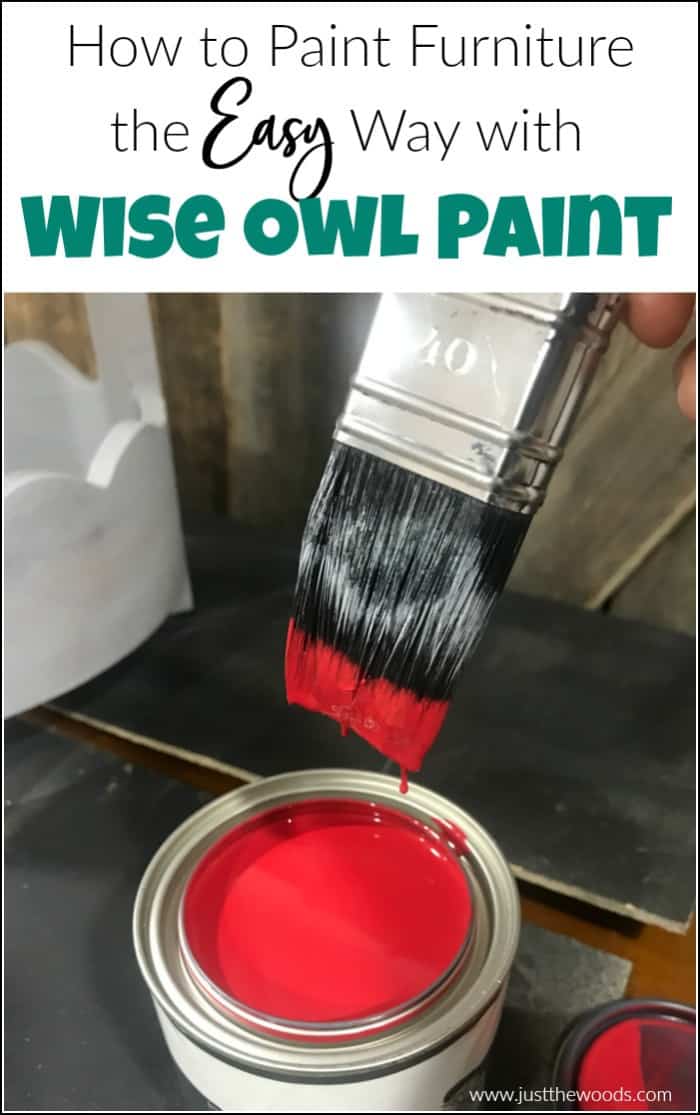 Disclosure: This post on how to paint furniture with Wise Owl Paint contains affiliate links for your convenience. Click here for my full disclosure policy.

Supplies & Tools Needed to Refinish Furniture with Wise Owl
Materials Needed / Source List:
Tools
Paint
Before we begin painting furniture, this makeover is part of our monthly Furniture Fixer Uppers share. You know what that means! Make sure to stick around all the way to the end for more great painted furniture before and after projects.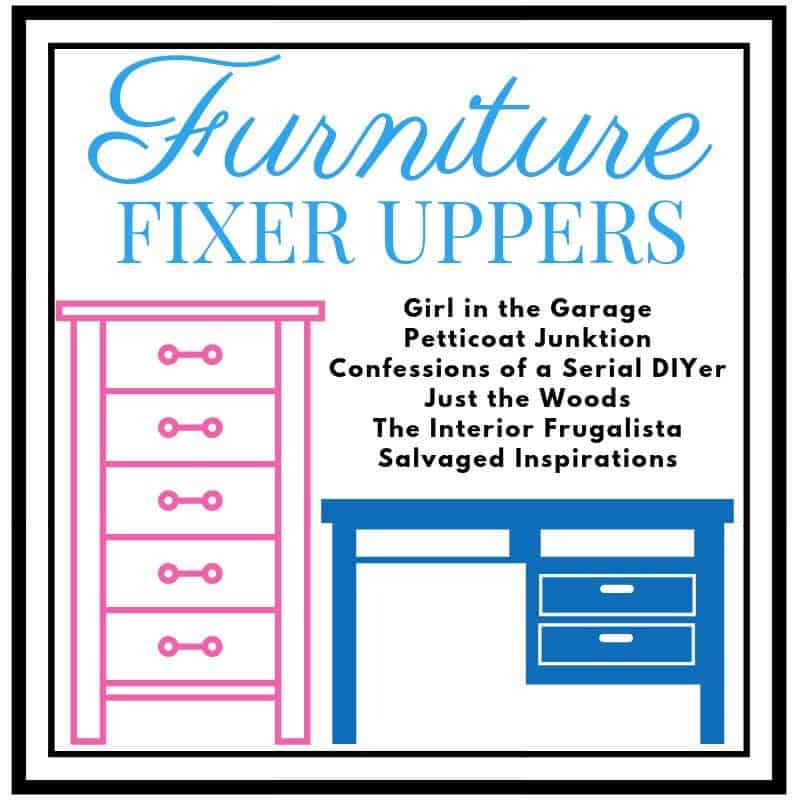 Unfinished Accent Table
This cute little table is actually part of a set. Yep, they came as a pair. But I've decided to split them up – oh the horror. By splitting them up I am able to create different finishes on each table. So, in turn, it's double the fun. Since they get donated to local fundraisers and charities they are also going to be able to help support 2 causes rather than one. Win-win. Here is the set as I got them.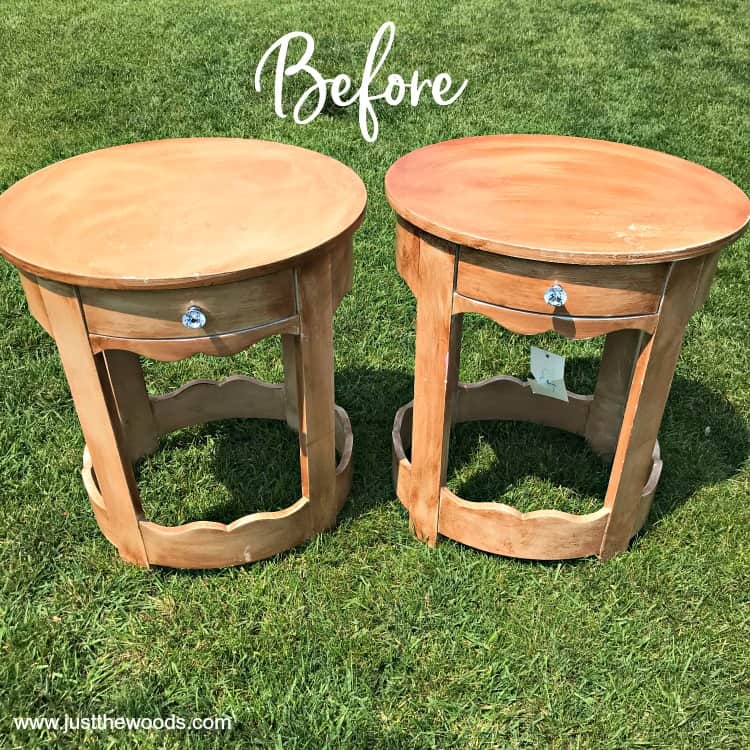 Since I split them up this is the second makeover of the set.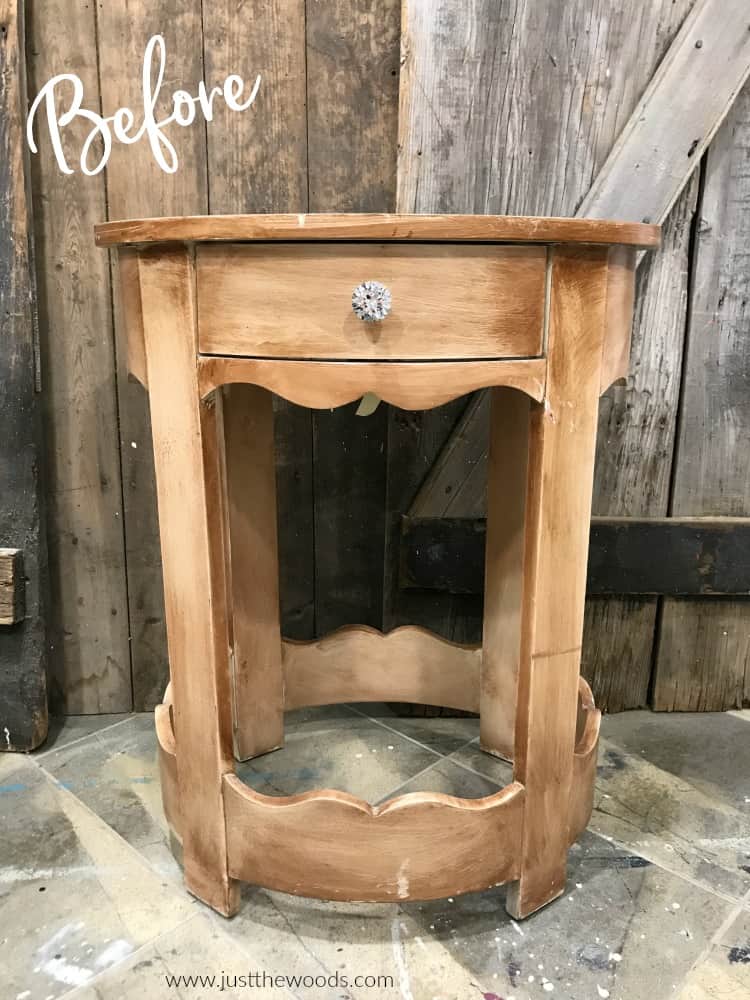 Prepping Furniture for Wise Owl Paint
Normally, I toss my furniture up onto wheelies to make it easy to move the piece around. But this table is quite small, and there just happens to be a dresser in my shop so I pop the table up on the dresser to work this time. First, you will need to remove the hardware from the piece. If you decide to re-use the hardware place it aside. If you choose to replace then do whatever with it. (save or toss if it's broken).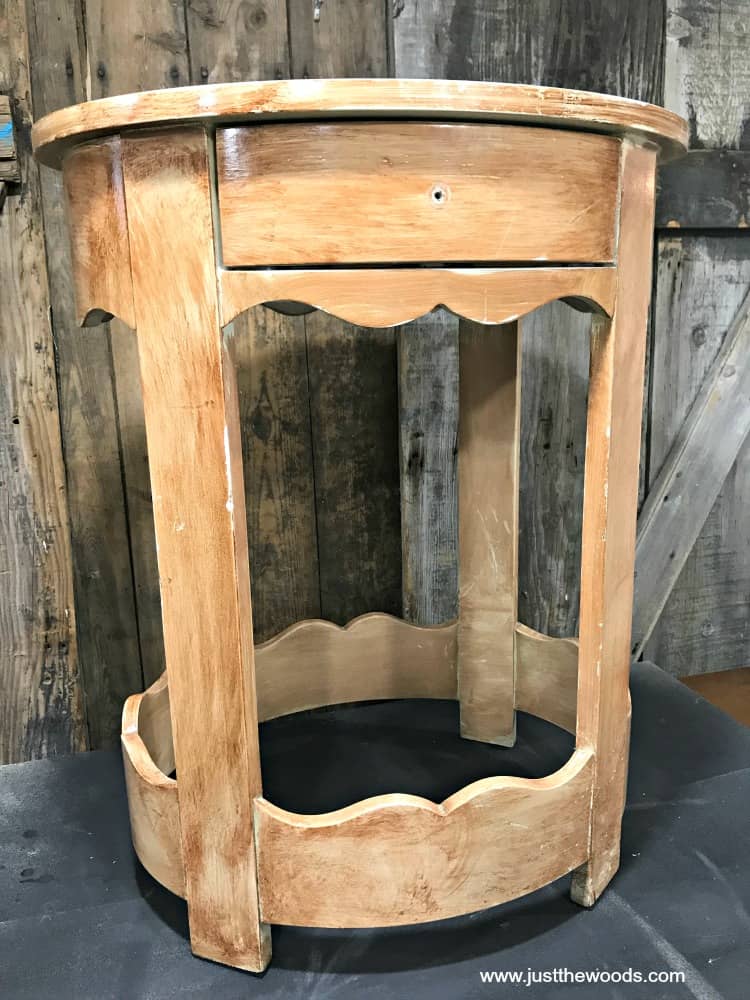 Next, I flip the table over and begin the prep process with the underside first. This way you can reach all the spots that you wouldn't see with the table standing upright.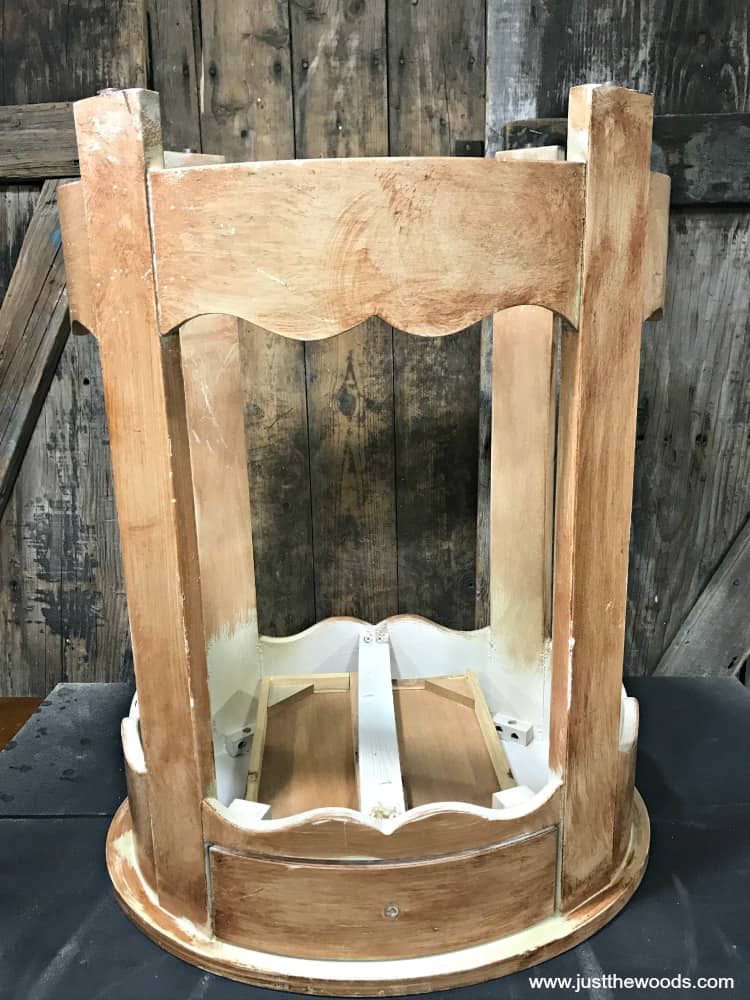 We will go through the same prep and cleaning process as we do for each and every painted furniture project. You will go through this same process regardless of what type of furniture paint you are using. For chalk paint, enamel paint, or even metallic paint – you will still need to clean and prep.
Sand
First, give the piece a light sanding to scuff the surface. I often use a 150 grit piece of sandpaper for this step.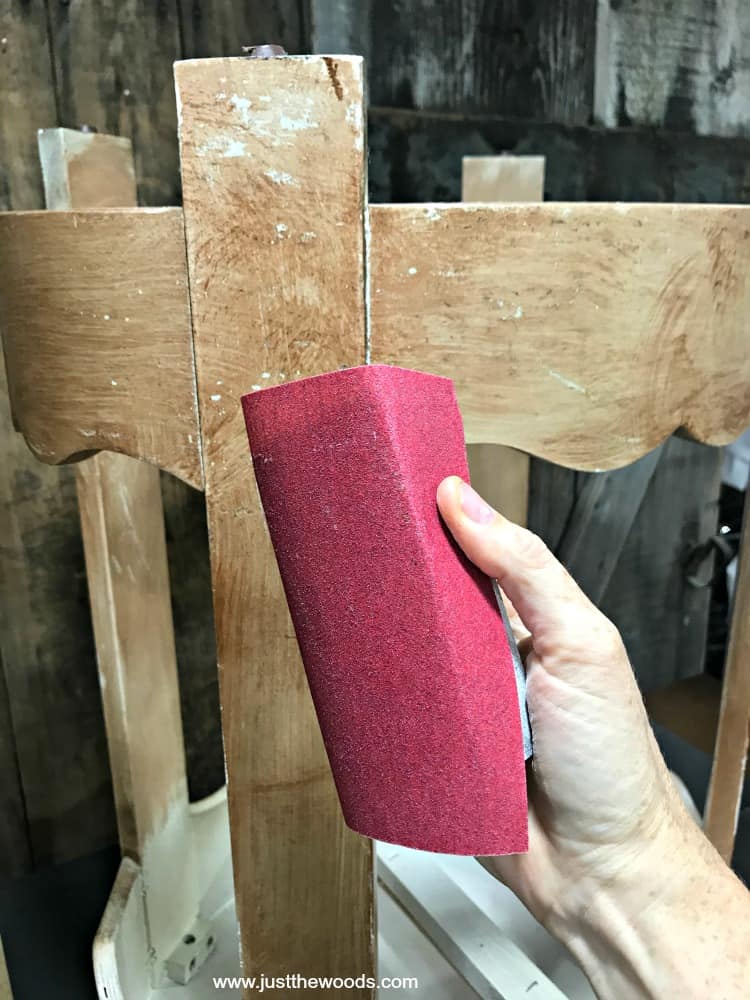 Clean
Next, clean the entire piece of furniture with a scrubby sponge to remove andy dirt, grime and/or dust. I like to clean with a simple mixture of white vinegar, water, and a little dish soap.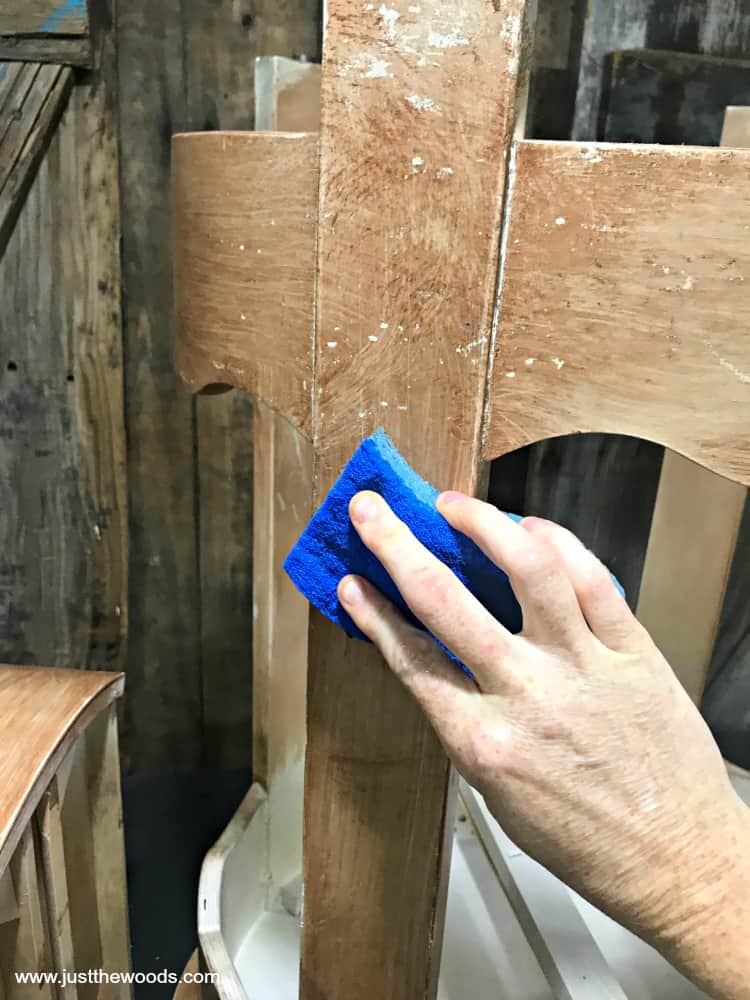 Rinse
Give the piece a final and thorough wipe down with a clean damp cloth or paper towel to remove any last bit of dirt. This is like a rinse or final wipe down before we move on to using our Wise Owl Paint products.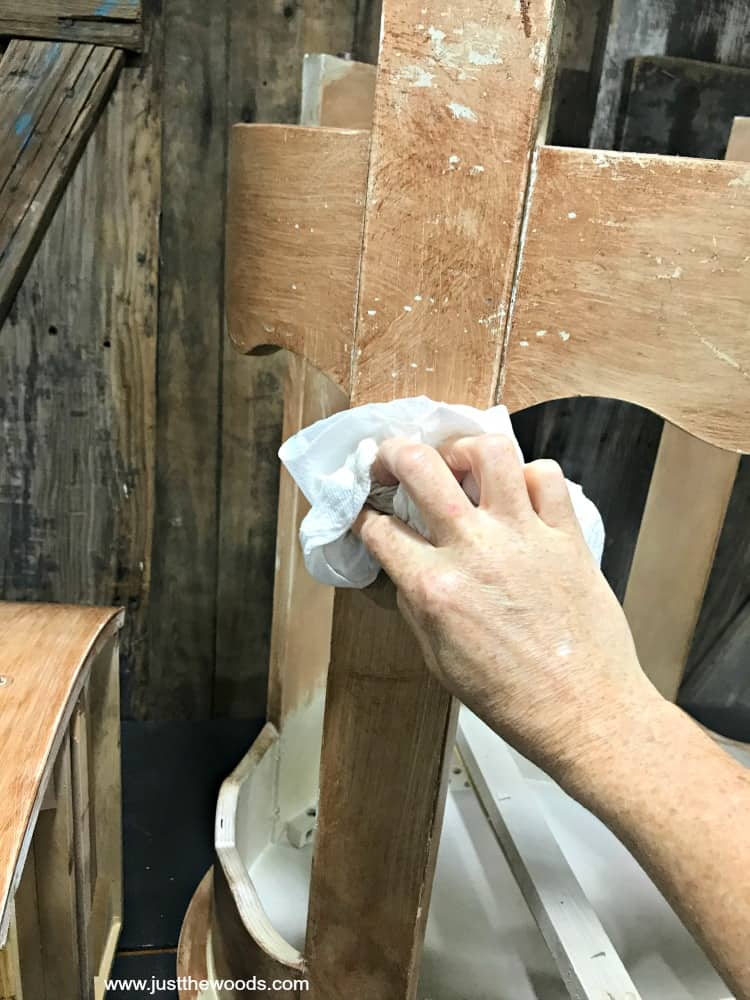 Applying Wise Owl Paint Gray Primer
We often hear about chalk paint and furniture paint products not needing a primer. And that may be true. But I always like to play it safe. I always feel that you may not need to use primer, but you will never regret taking the extra step and using it. No one ever looks back and says "I should have skipped the primer" lol. So, I am using Wise Owl Stain Eliminating Primer for this table. You can find this primer online HERE.
The cool thing about this primer is that it comes in clear, white and gray! I am using the gray primer. You can see from the lid that the gray is a soft cloudy type gray.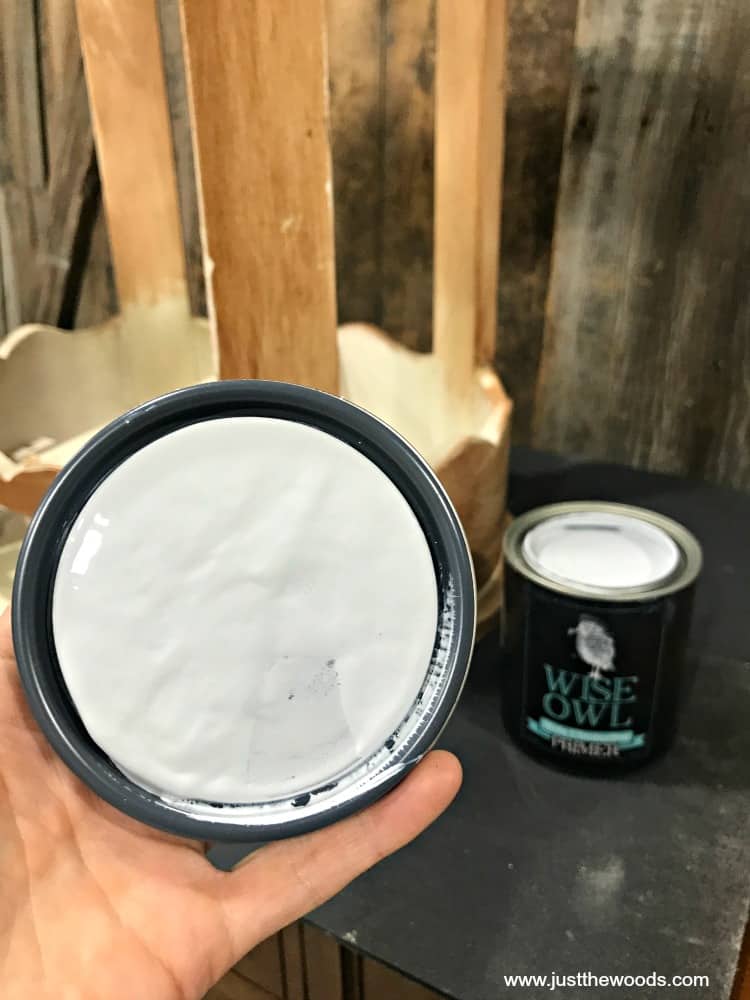 When applying the gray primer you will want to make sure to give it a stir. Do not shake it. Then grab your favorite brush and make sure it's clean. I often like to swap back and forth between Cling Ons and Zibra brushes. They both have soft bristles, are easy to work with and clean up well. (I abuse my brushes) To be honest, I like them both. Zibra brushes are a bit more affordable and can be ordered online (HERE). Cling Ons are always awesome and can be ordered online (HERE).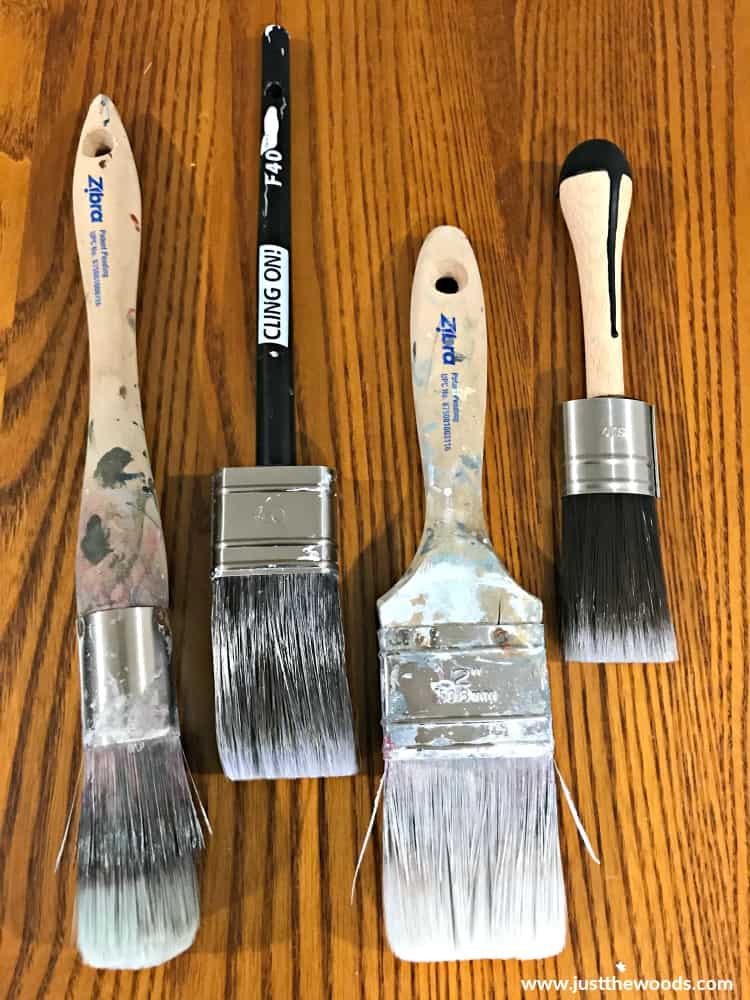 This time I am using my flat Cling On brush.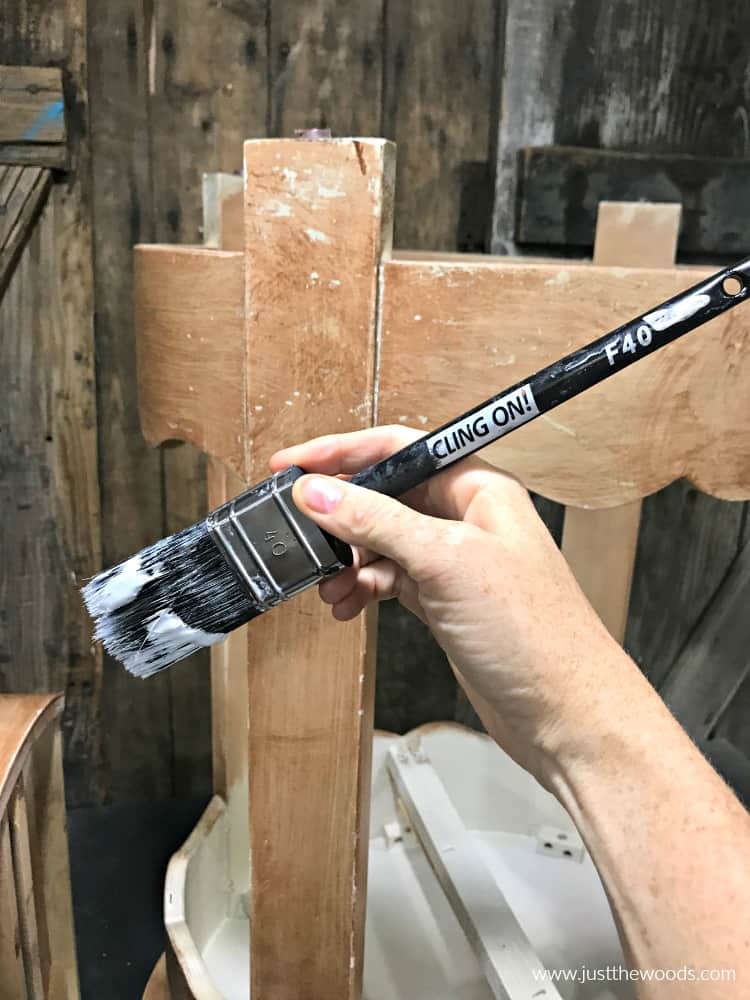 Go ahead and apply the gray primer in the same way that you would apply your paint. Brush it on, not too thin and not too thick. Make sure you don't have any drips.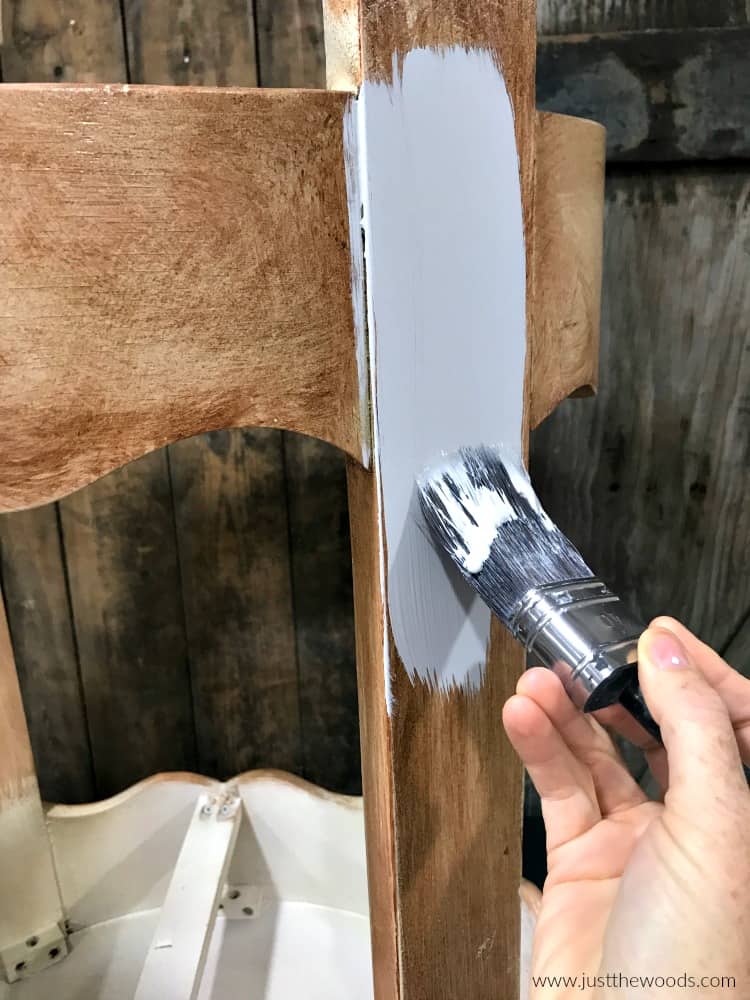 Apply the primer over the entire surface that you intend to paint. Both inside and outside the legs of the table.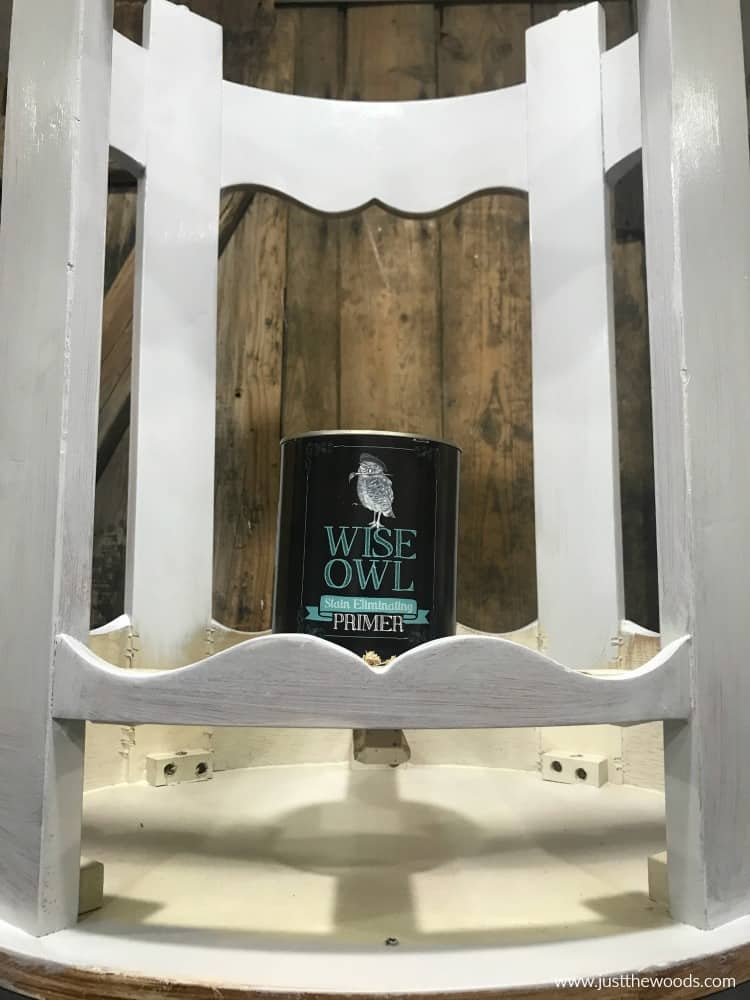 Make sure to flip the table over and follow all of the above steps for the tabletop and drawer as well. You may need two coats of primer for your project. But for this table, we only need one coat.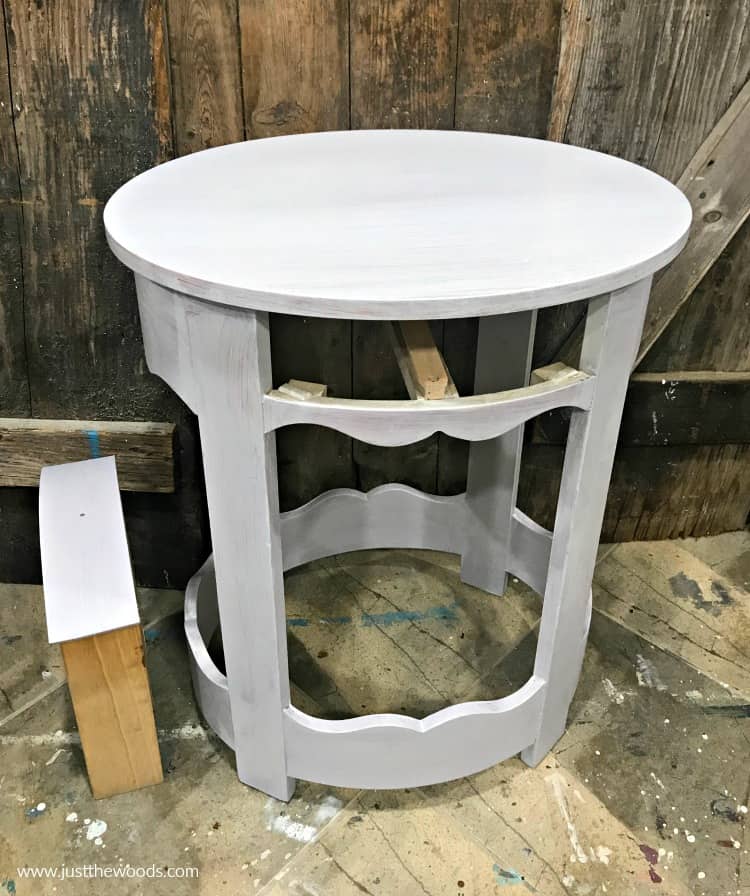 Wise Owl One Hour Enamel Paint
Now that our table is prepped and primed we can move on to the fun part and add some color! Since this table is pretty basic and boring in itself I am going with a bold fun color… RED! Safe paint colors are always white, gray, black, and blue. But I am going for bold with a red called Veronica Vaughn. Secretly I want to rename this color 'sexy Santa red' but I don't have that kind of pull.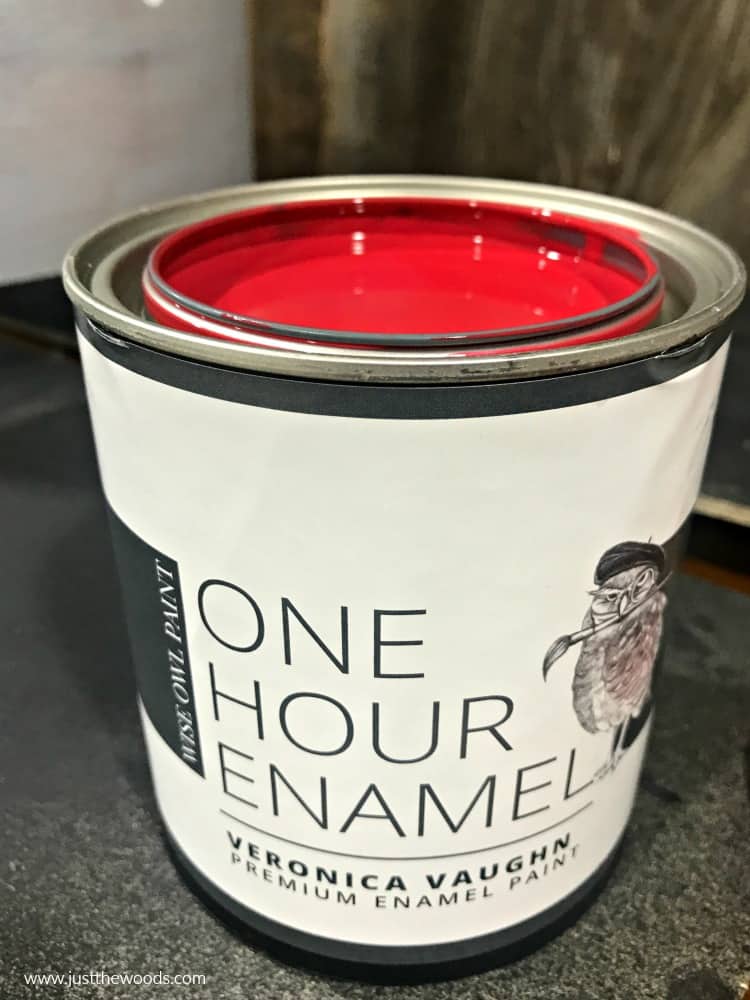 This red is a bright fire-engine red. The main difference between the Wise Owl Paint One Hour Enamel paint and standard Wise Owl chalk paint is that it dries and cures in one hour. Crazy right? A few other things to note about one hour enamel that differ from chalk paint:
one hour enamel does NOT need a top coat if used alone
you DO need a topcoat if you add glaze
it is NOT easy to distress
you DO still need to prep your surface
the paint is self-leveling
you DO need to apply primer first
this paint works great for high traffic areas/pieces like:

dressers
cabinets
front doors

one hour enamel dries rock hard
it should be applied in thick coats
you CAN use it on metal (I painted my metal radiator covers with it)
it should NOT be used on fabric
you CAN use one hour enamel in a paint sprayer
These are all of the colors available in the Wise Owl enamel paint. You can find these along with Wise Owl Chalk Synthesis Paint online HERE.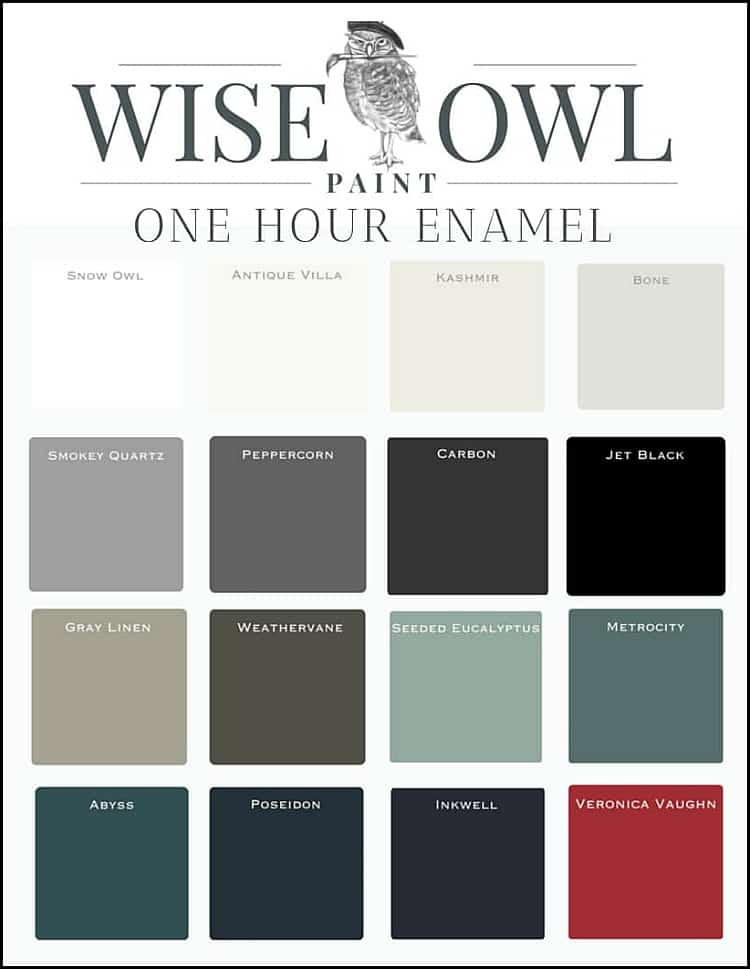 Painting Furniture with Enamel Paint
Now that we have our gorgeous bold Wise Owl paint color Veronica Vaughn, we can grab a clean brush again and apply the paint to our piece.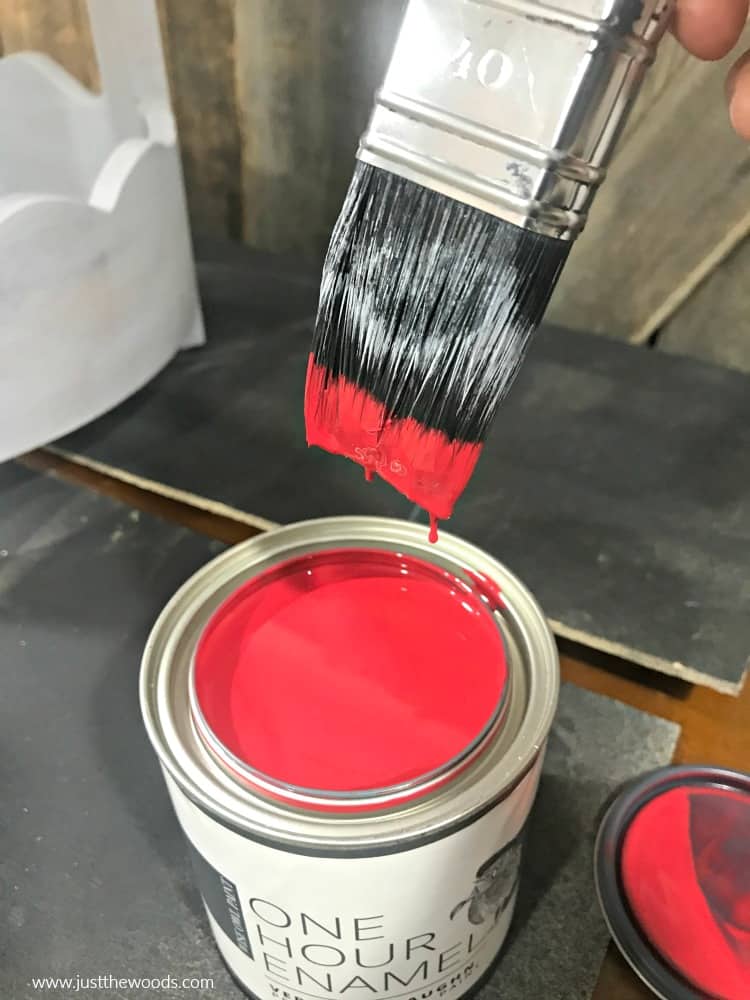 Go ahead and paint your drawer and table.
You don't have to apply the paint in thin coats the way you would with traditional chalk-style paint.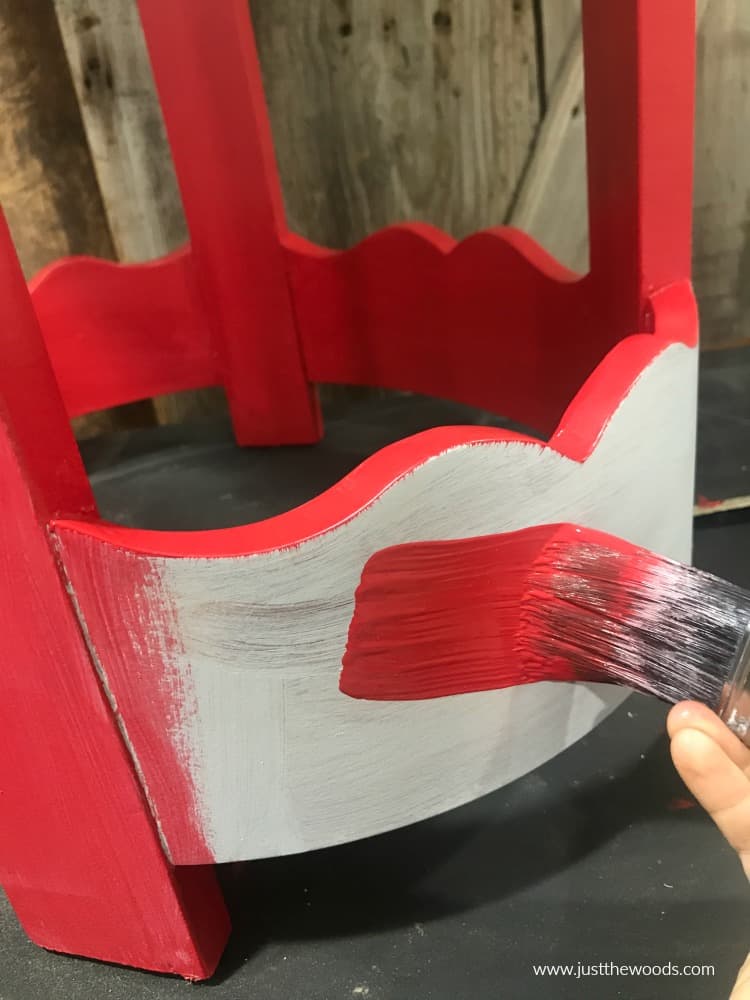 Once the paint is dry you can apply a second coat of enamel paint.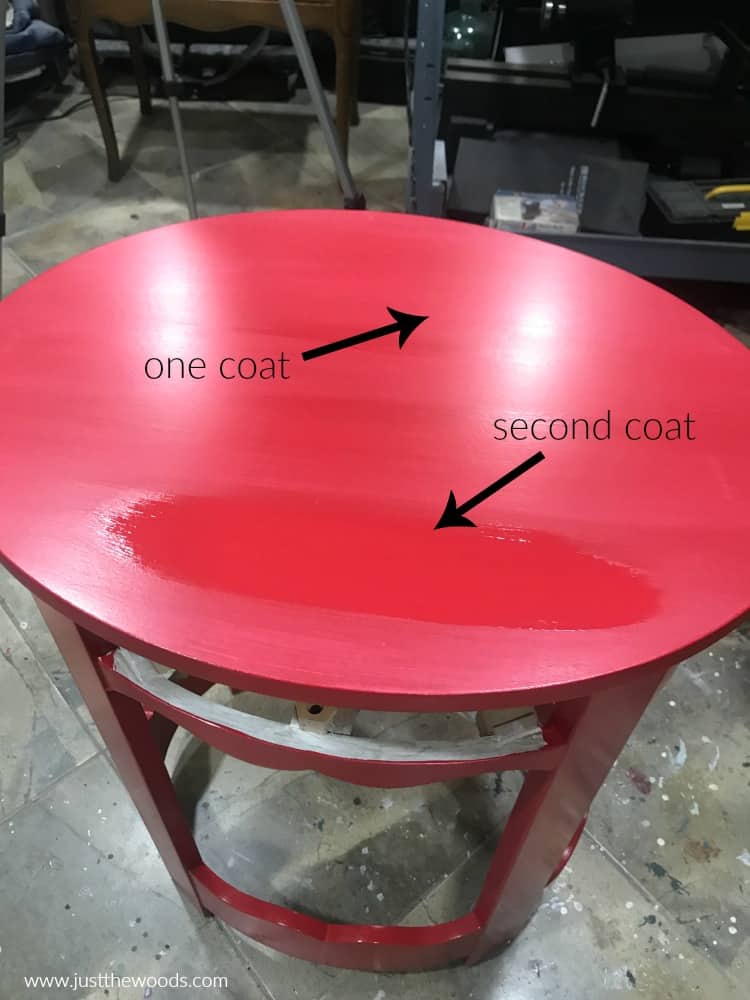 Adding Liner to the Drawer of Your Red Painted Table
Once the table is dry, which should only take about an hour you can decide what to do with the inside of the drawer. You have a few options:
We can line the drawer with a crisp new piece of felt liner. This is what the inside of the drawer looks like. It's not horrible, but it's not great either. Let's be honest, it's pretty ugly!
I happen to have a roll of felt drawer liner in my stash. You can find this online HERE.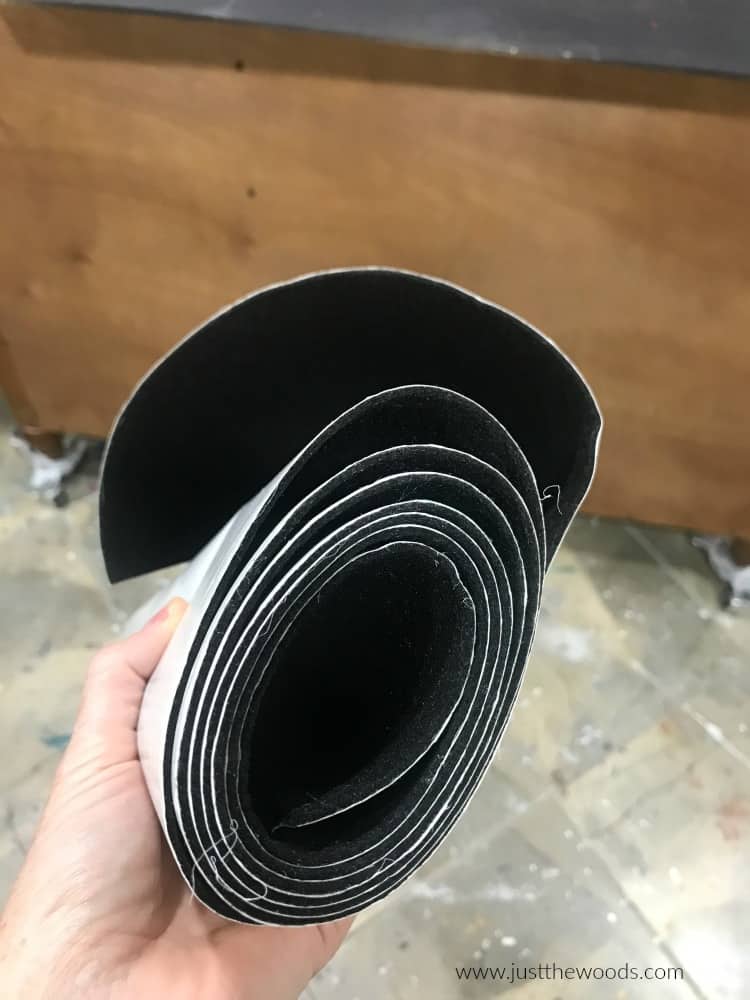 First, measure the inside of the drawer and then use a cutting mat and sharp blade like this one to cut the felt to size. I love this one that I found because it comes with multiple spare blades which are perfect. There is nothing worse than being in the middle of a project and realizing that your only Exacto blade is dull or covered in paint or glue. Having spares is golden! You can find them online HERE.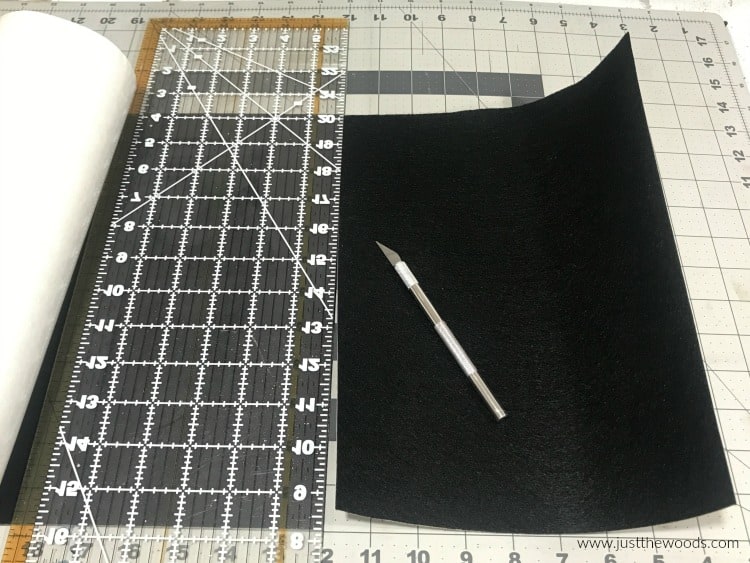 Make sure that the inside of the drawer is clean and that your felt fits nicely before you remove the backing. This felt liner is a peel and stick which makes it nice and easy. No spray glue, no mess. Gently peel off the back and press one end into the drawer. Slowly press down the felt liner while peeling away the back as you go. Make sure that your felt liner is flat and straight with no bubbles or creases.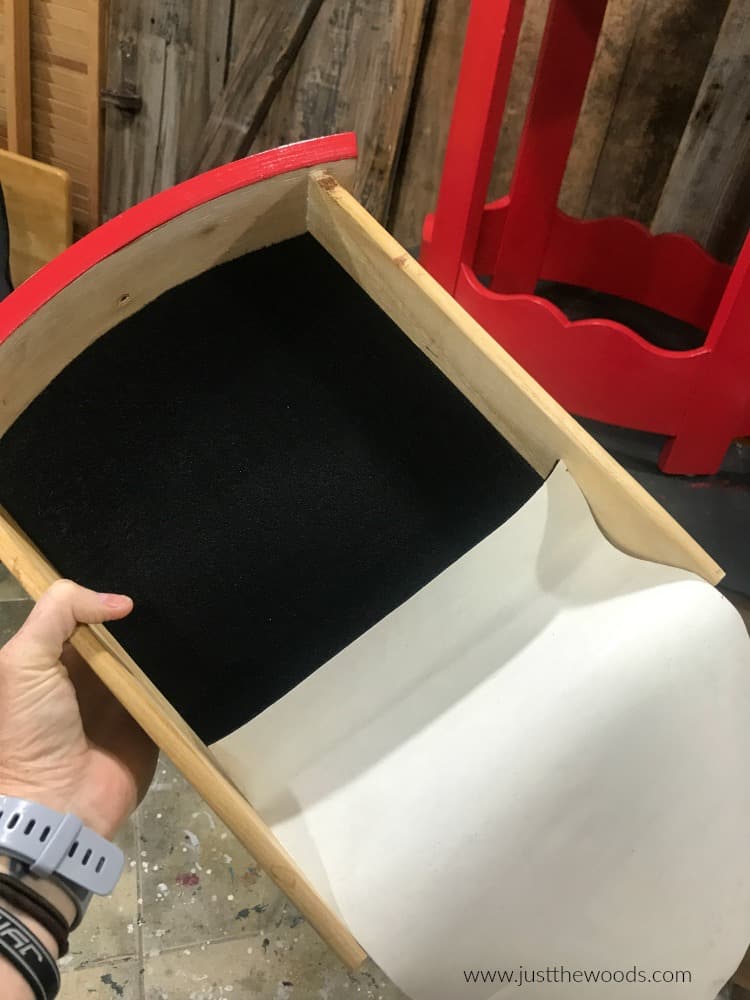 This is easy and it looks so much better now.
Replacing Hardware on a Red Painted Table
Since the table is simple with no ornate details I want to add a pretty new knob. I found this ceramic knob online HERE. The image online versus the knob in person is slightly different but pretty none the less.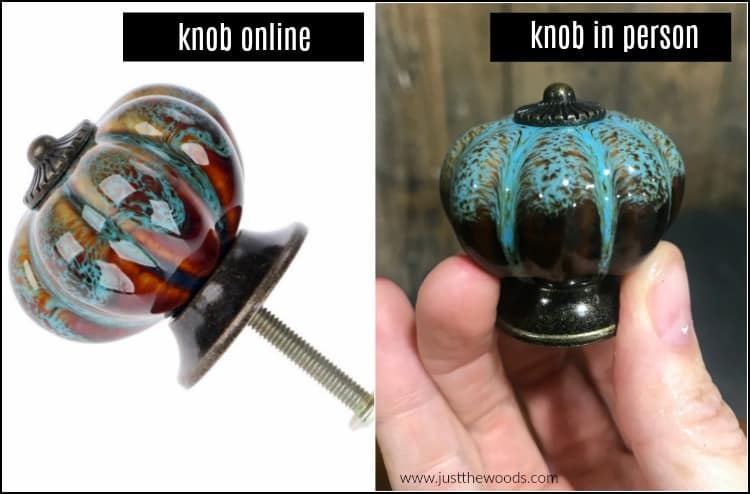 I admit that it wasn't what I expected when it arrived, but thankfully it still looks nice with the red table.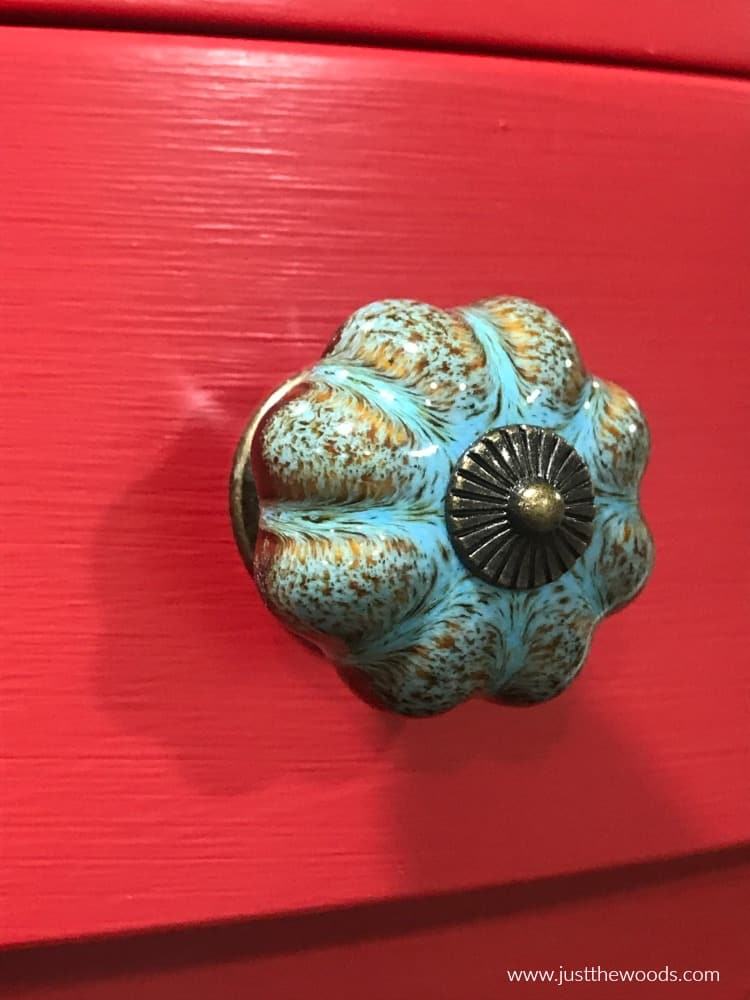 What to Do About Sticking Drawers
Often when you have wooden drawer tracks where wood rubs on wood you may have drawers that stick. To remedy this I am using Wise Owl Paint furniture salve.
This lemon verbena furniture salve is made with hemp seed oil, natural waxes, cold-pressed lavender essential oil and lemon verbena essential oils. Plus other awesome natural goodness that adds to the strength and superpowers of the salve. Furniture Salve is a"furniture ointment" designed to deodorize, restore, protect, beautify, and rejuvenate furniture and more.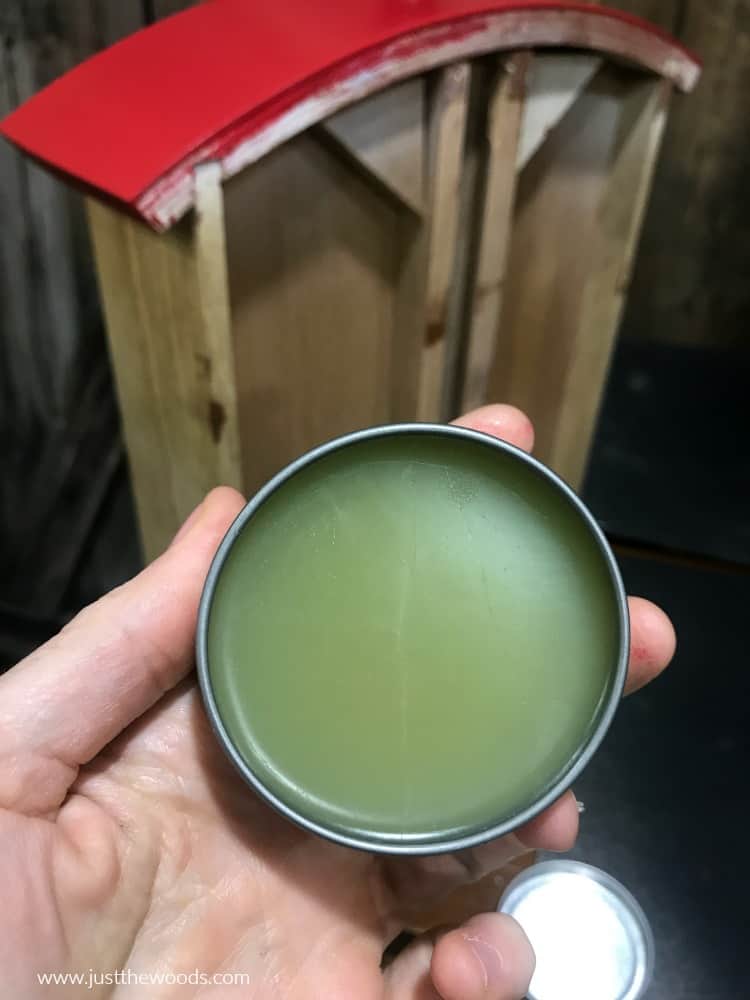 Using a clean dry cloth AKA old T-shirt rub your furniture salve over the wooden tracks and they should glide with ease.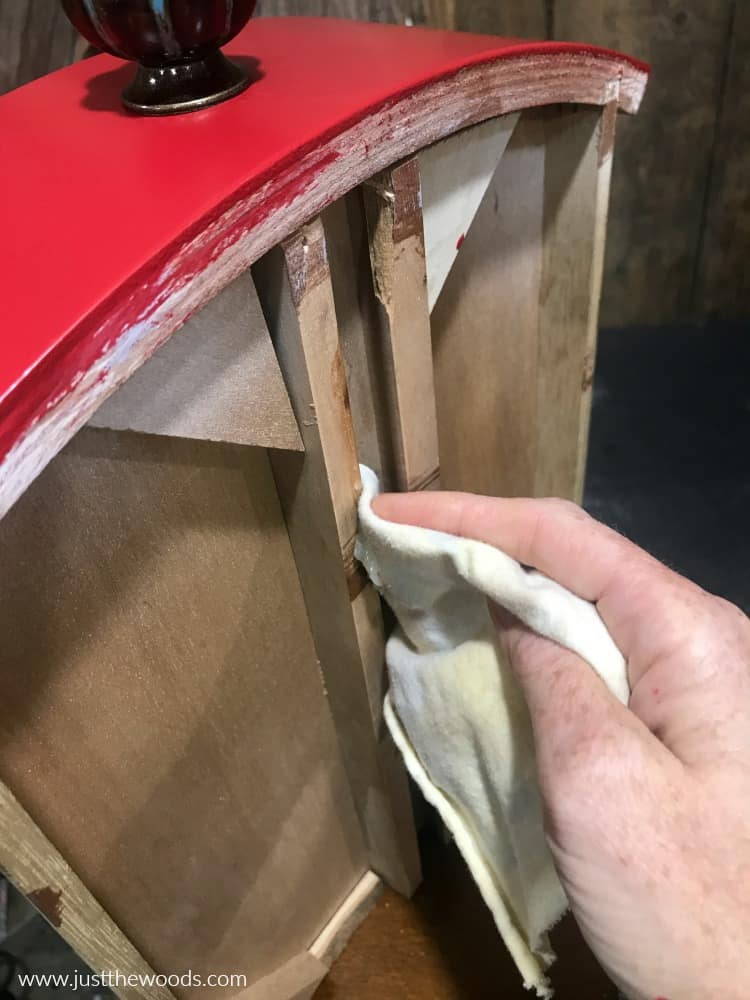 I always apply the Wise Owl salve on both the drawer track and the guide on the piece.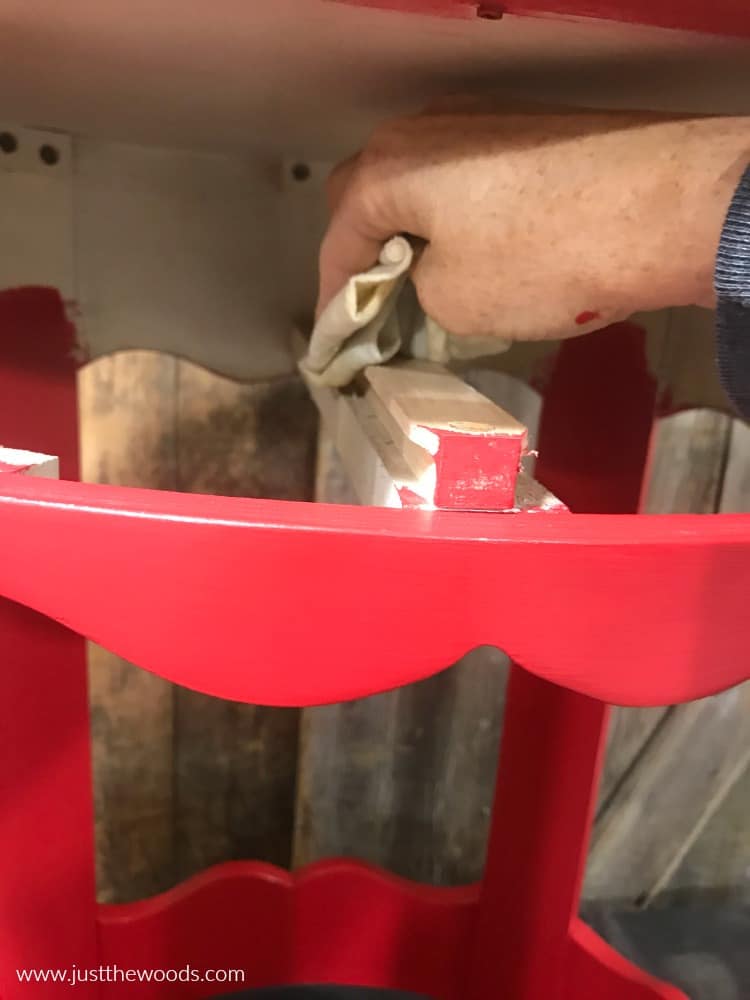 Video Tutorial
Prefer video? You can follow the project via video here. If you are unable to see the video you may need to turn off 'ad-blockers' on your site. The video may also autoplay within the tutorial post.
Painting Furniture with Wise Owl Paint
As you can see painting furniture can be so easy, especially with products like Wise Owl Paint one hour enamel. It's so easy it feels like cheating. Our simple little painted table is all finished. This project, like many of my makeovers, is being donated to a local school, animal rescue or charity to help with their fundraising efforts. Click here to see all of my projects that have been donated to support local fundraisers, schools, and charities: Donation Projects.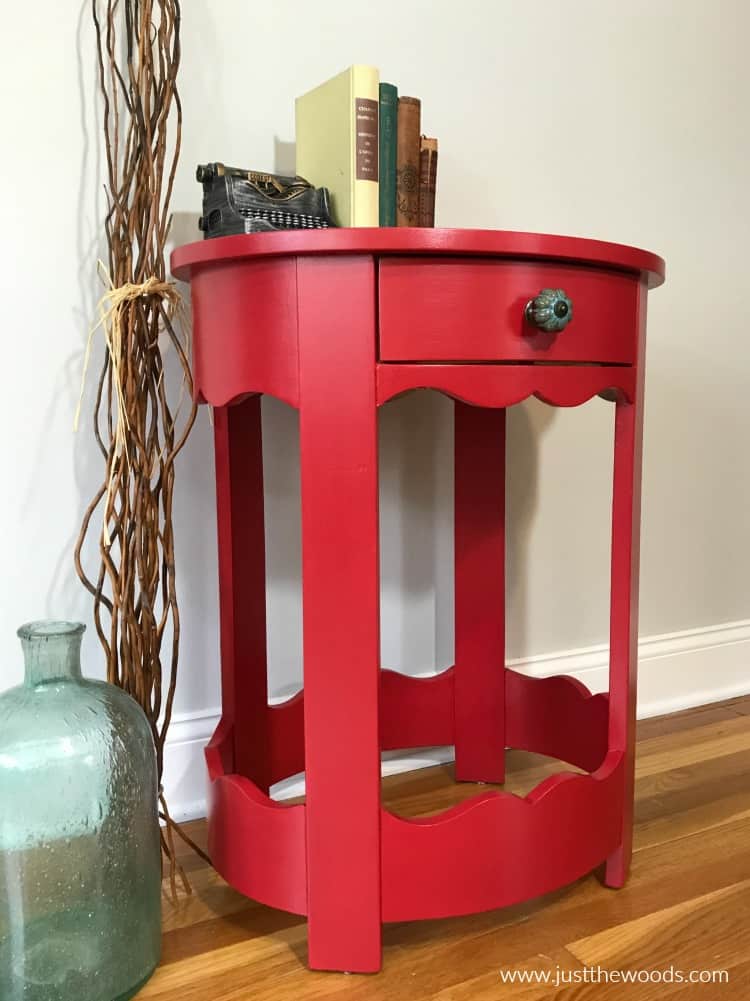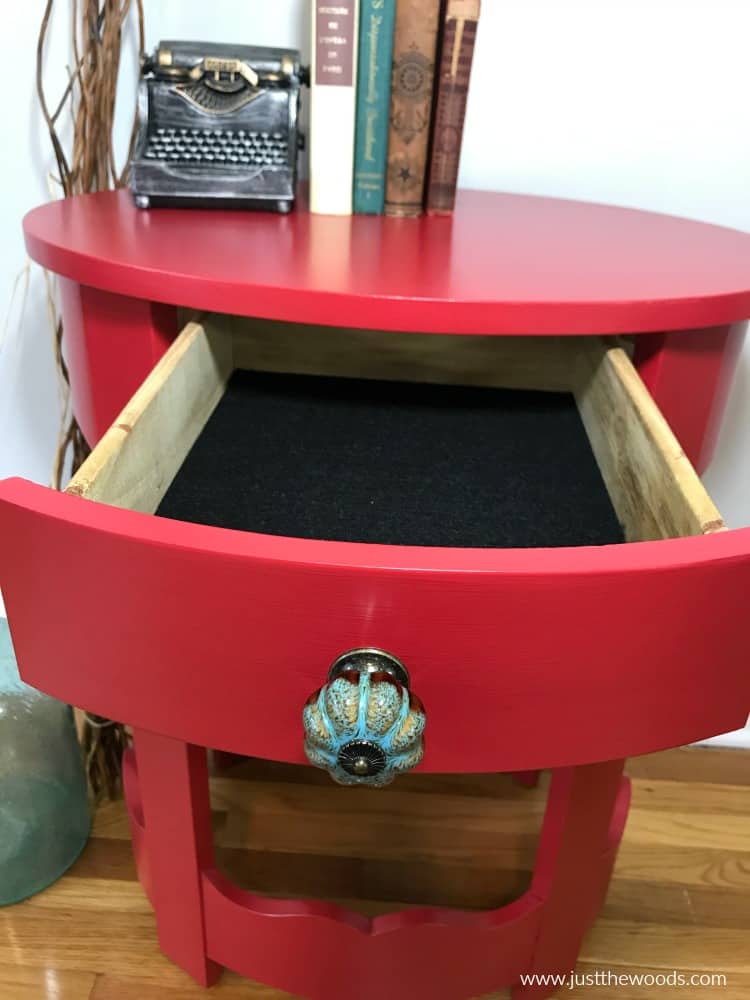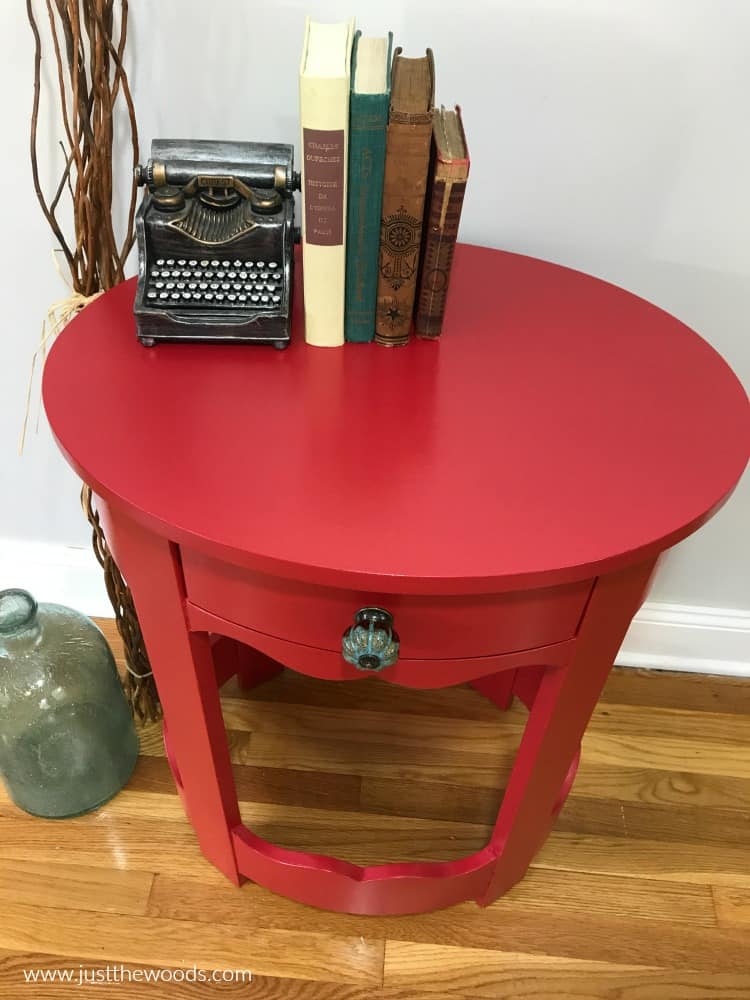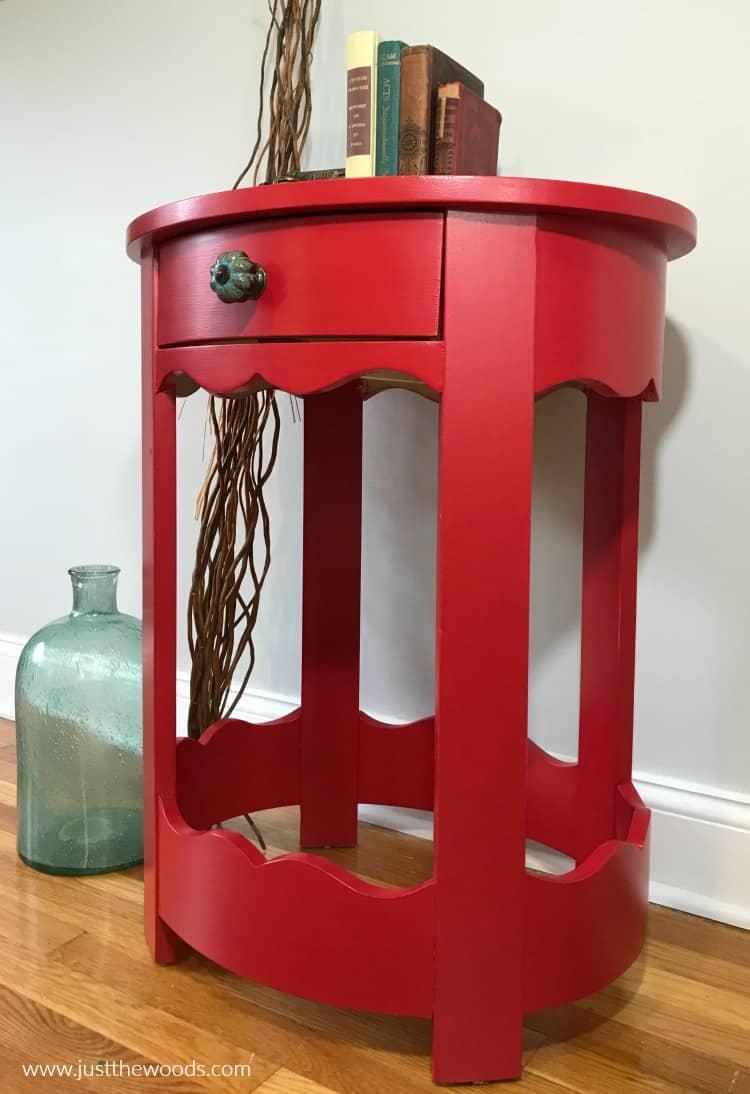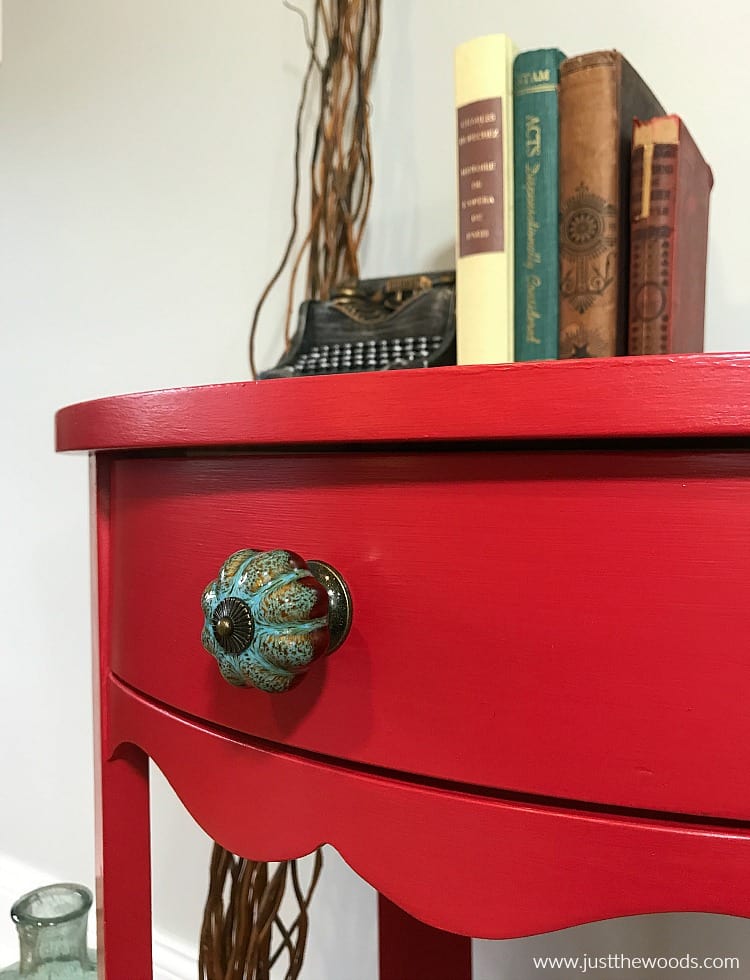 Remember I mentioned that this table is originally part of a set? You can see what the other table looks like here: How to Create Textured Paint on Furniture with Salt Wash. I can assure you that they are completely different! This makeover of the red table is a pretty straight forward and easy painted furniture project to do. But if you are new to furniture painting and want to learn how to update old furniture with paint you can always start at the beginning with How to Paint Furniture – a Beginners Guide.

Not sure where to buy Wise Owl Paint? You can get find all of these Wise Owl products and more online here: Wise Owl.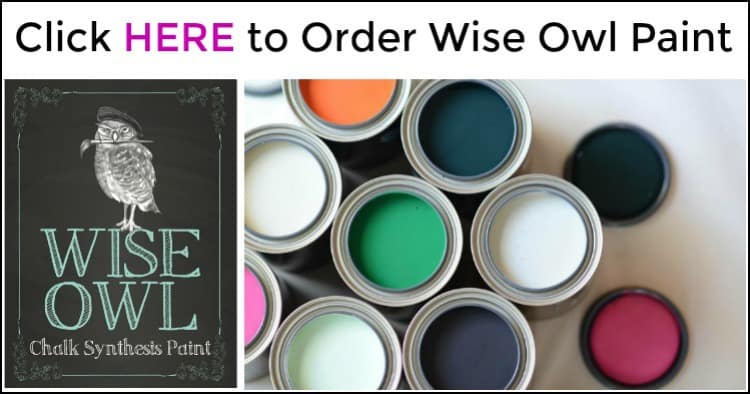 Furniture Fixer-Uppers
It's that time again where a few of my creative and talented blogger friends and I have joined together in our monthly Furniture Fixer Uppers share. Let's see what my friends are up to! Make sure to click the links below the image to check out all the amazing projects that my bloggy girls are working on this month.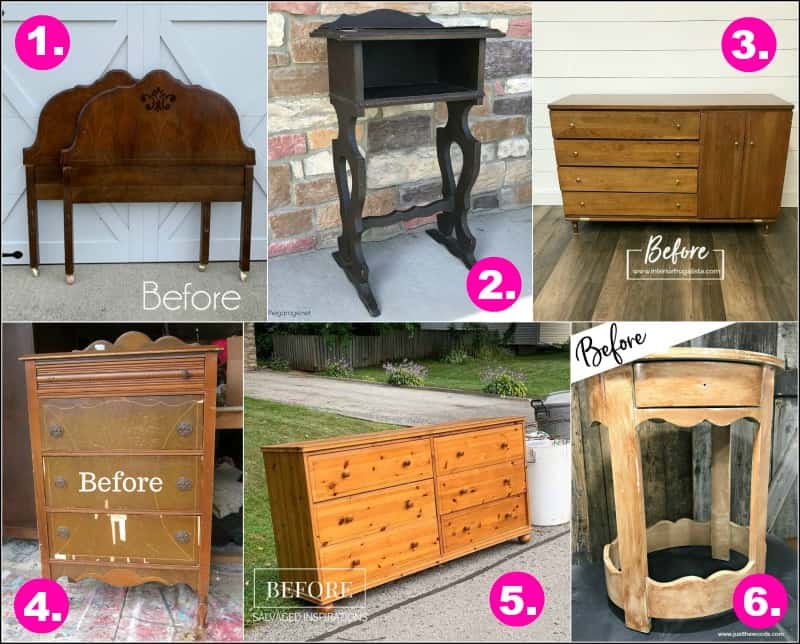 1. Confessions of a Serial DIYer
6. Just the Woods (you are here)
More Painted Furniture Makeovers & Ideas Using Wise Owl Paint
More Painted Furniture Makeovers & Ideas Using Wise Owl Paint
Looking for more painted furniture ideas and inspiration? Check out all of these great tutorials for different furniture painting techniques all using Wise Owl Paint.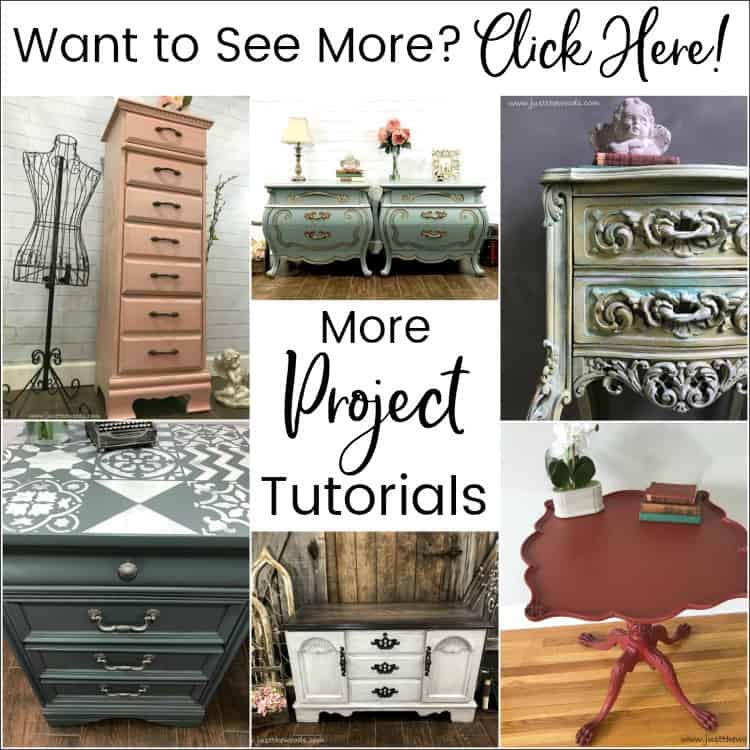 Don't Forget – Follow Just the Woods and Share this post to Inspire others:
FACEBOOK * INSTAGRAM * PINTEREST

Stay connected! For more tips and tricks sign up here :