Disclosure: This painted plant stand post contains affiliate links for your convenience.
Purple Painted Plant Stand
The Before
I scooped this simple plant stand up while in the Catskills a week ago and wasn't sure what I would use it for.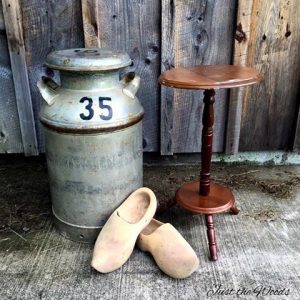 Then I remembered my gorgeous floral arrangement that I use for staging. This stand pairs perfectly with my floral arrangement, but it needs paint.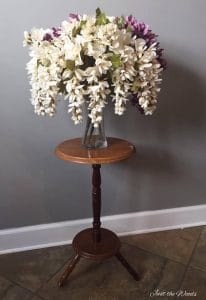 We are also starting to plan the revamping of our living room and have agreed on a purple sofa. Would you believe hubby actually agreed to this? These purple and cream flowers are so pretty, I want to be able to keep this floral arrangement in the living room once it's complete, so I decided to paint the plant stand in a purple eggplant color.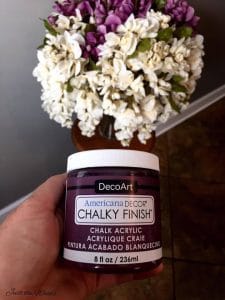 I was so nervous to try a paint other than the one I normally use, weird I know.  It may sound crazy but I actually considered mixing my own purple eggplant paint, but then thought that I need to try some of these products in my swag bag of gifts.
The Process
The little plant stand was slightly wobbly up top. To fix the wobbles I added a bit of wood glue with my trusty syringe and whacked it in place with my mallet.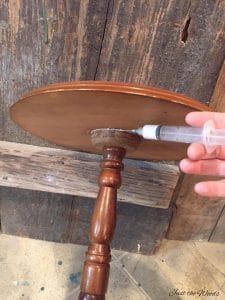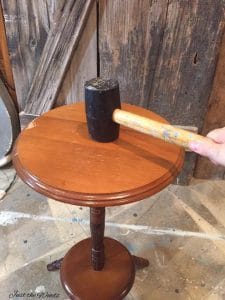 The little table with then hand painted in this very pretty purple and distressed around the edges.  Lastly, it was sealed for protection.
The Result
I am very happy with the end result of my painted plant stand.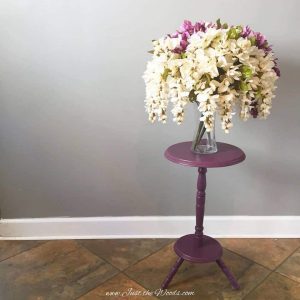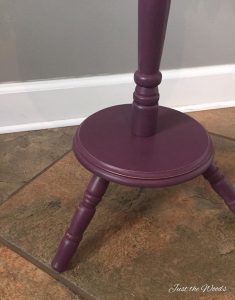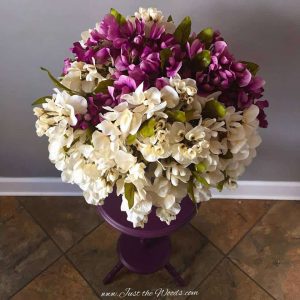 Every now and then a project is all about simplicity.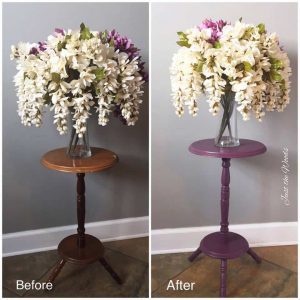 If this is your first time visiting and would like to be added to the mailing list for new posts you can subscribe here: