When I see a super flat surface on a piece of furniture, I get giddy! It's like being given a clean canvas to do with what you will. I've wanted to do an image transfer for some time now.  I haven't done one in ages. I've also had a break from custom work, making this the perfect opportunity to be creative. When I purchased this flat vintage buffet I knew the surface was perfect for adding an image. Adding an image transfer gives a whole new personality to a piece, and this project is no exception. Click here to see more image transfer projects: Image inspiration.
Disclosure: This post contains affiliate links for your convenience. You can click for my disclosure policy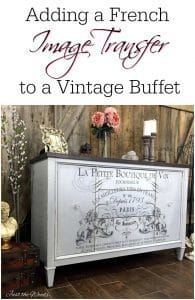 French Image Transfer on Vintage Buffet
Materials Needed
Kristi Kuehl Pure Home Paint:
Staging / Home Decor
The Unfinished Vintage Buffet
The buffet itself was in pretty nice shape when I got it.  With no major damage, clean, straight lines and clean drawers. But, inside the cabinet doors were shelves that had been lined with contact paper. Whoever thought that sticky stuff was a good idea? The shelves had not only one, but two layers!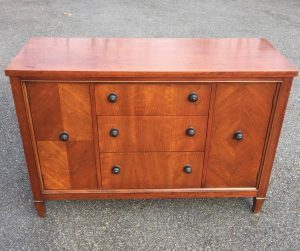 On the positive side, once removed the wood underneath the contact paper is actually very pretty! The shelves were wiped down with rubbing alcohol to remove any leftover sticky residue.
The Makeover – Prep and Staining the Buffet Top
The buffet was prepped as every other piece of furniture is, you can see my full process for How to Prep Painted Furniture. The top of the buffet was sanded down to bare wood, leaving a gorgeous wood grain.  The top was stained with Kristi Kuehl Pure Home Paint teak protective wood stain.  Teak is a very rich dark espresso stain, so for a second coat, I use chestnut protective wood stain. Combining the two gave the rich dark stain that isn't quite black and isn't quite brown, but somewhere in between.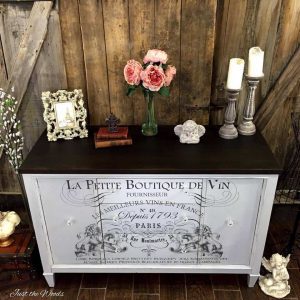 In between coats of stain, the top was lightly sanded.  The top was also lightly distressed along the edges creating a slightly worn look.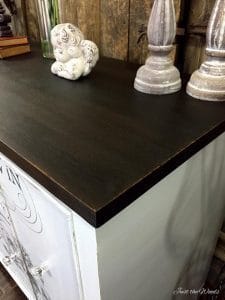 Even though the protective wood stain does not need an additional sealer I wanted a super soft finish.  I decided to sand the top with my flexible sandpaper and seal again with our clear satin finish.  Sanding the top leaves a finish that is soft like a baby's bum.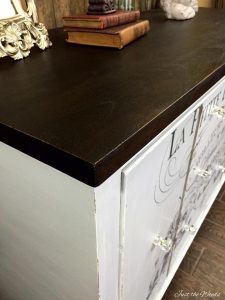 The Paint – Painting Layers for a Cloudy Finish
The body of the vintage buffet was painted in layers.  The first coat was Alabaster, which is a pure white. The second layer is tahoe, a very light gray and then storm a cloudy light gray. Each layer is only a very subtle difference from the previous layer. Doing this allows a bit of depth once distressed.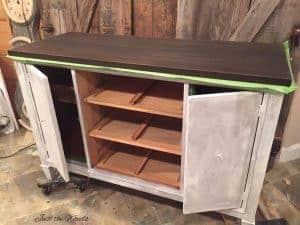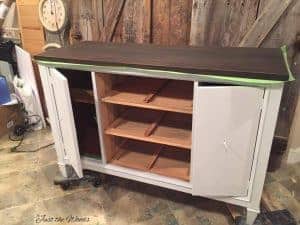 The buffet was lightly sanded in between each coat and then distressed using flexible sandpaper.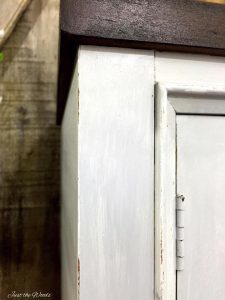 Distressing of the layers give a bit of a subtle depth to the piece, giving it a slightly cloudy appearance.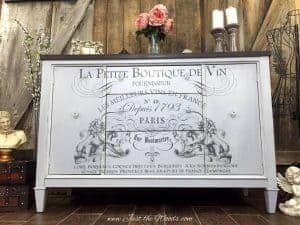 The Hardware
The original hardware was too dark, too bold and too wrong for the piece. The buffet needs a softer style pull to not distract from the image. Besides the fact that I don't think they were the original pulls to the piece anyway.  New clear vintage glass pulls from D. Lawless Hardware were a perfect choice. 
The clear knobs compliment the piece while not taking away from the image transfer.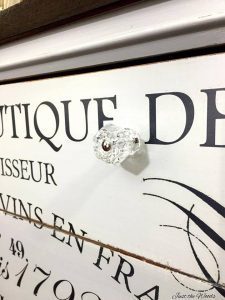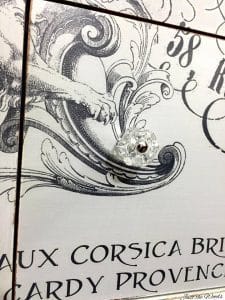 The Image Transfer
I chose a French image that would fit perfectly across the center of the buffet. The image was measured and taped in place with painters tape before being carefully transferred to the piece. This was my first time using this particular type of image transfer and I couldn't be happier with the outcome. Though I did not make a video tutorial on how to apply the image transfer with this particular project, I did make one with another makeover. If you need a more visual instruction there is a video tutorial for applying the image transfer available in this post here: How to Transfer Images like a Pro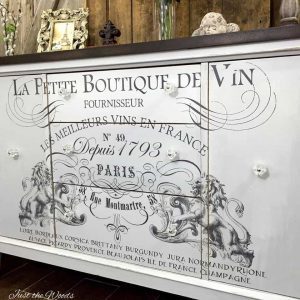 The dark espresso chocolate of the top pairs beautifully with the cloudy gray painted finish and vintage style french image transfer print. To seal for protection, both the image, as well as the painted surface, were sealed with our matte clear sealer.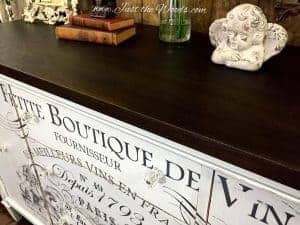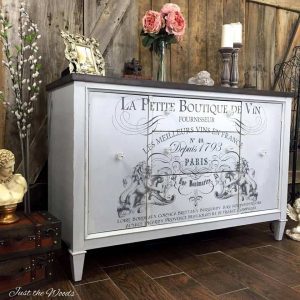 If you are feeling overwhelmed or just starting out you can always start at the beginning with How to Paint Furniture – a Beginners Guide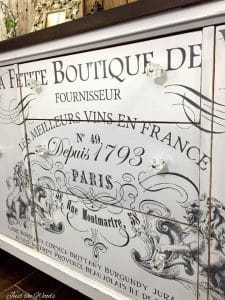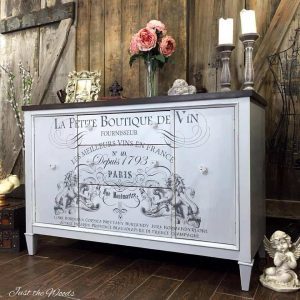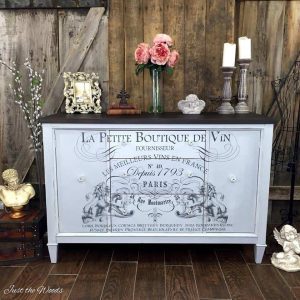 You can order image transfers here.  Better yet, check out these:
How to Transfer Images to Furniture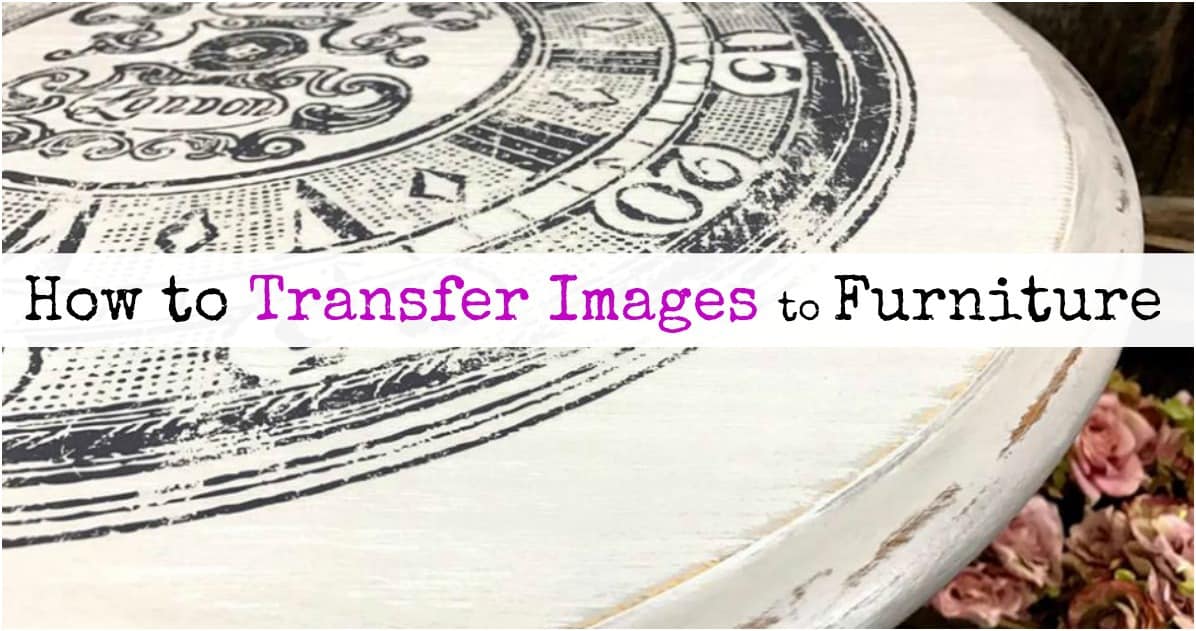 Collection of Easiest Image Transfers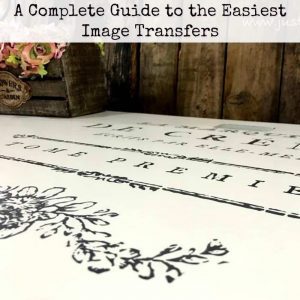 If you liked this makeover then make sure to check out: Painted Media Console with French Image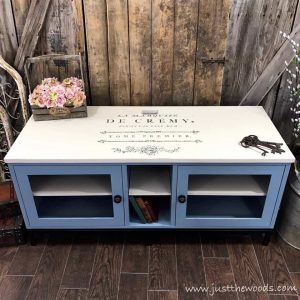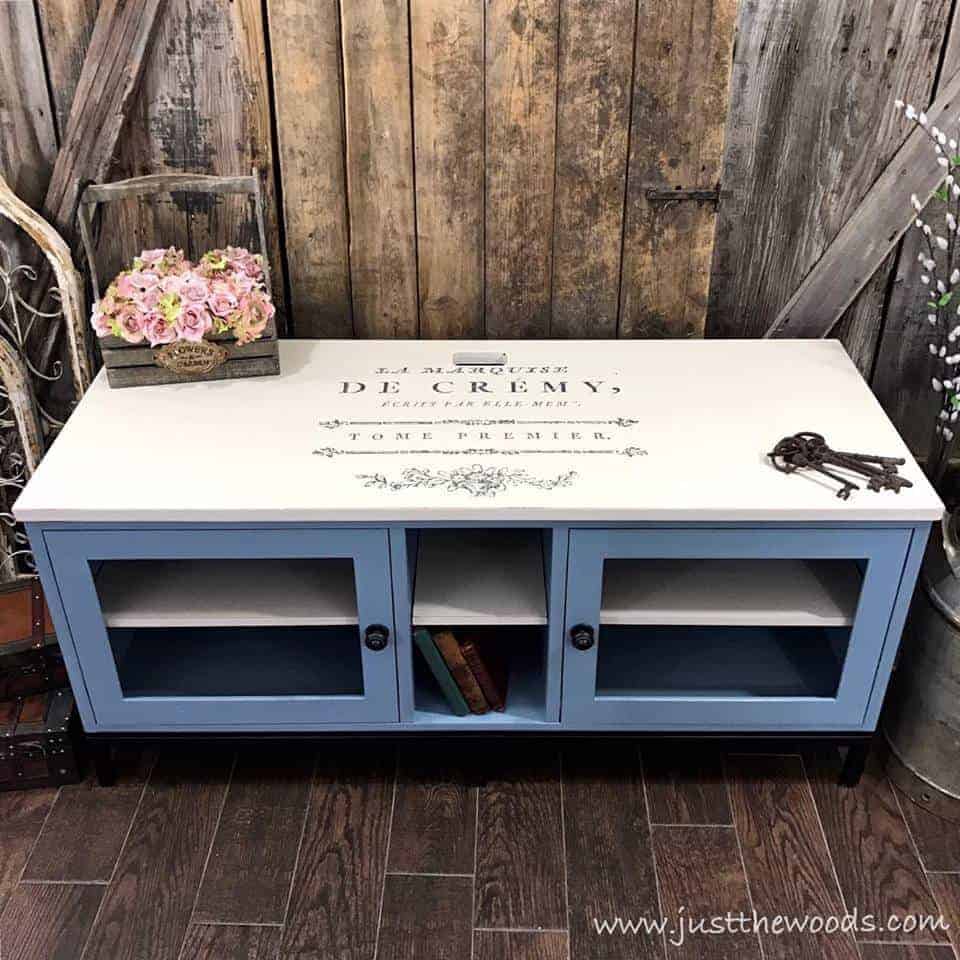 and Transfer on Painted Toy Box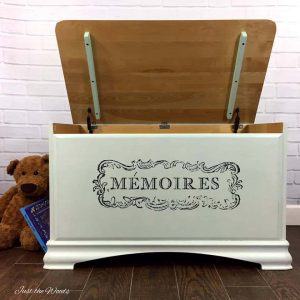 I'll be sharing this post at these fabulous link parties.
If you like this post make sure to check out all of the tips & secrets that I wish someone told me when I started painting furniture here: Painting Furniture Secrets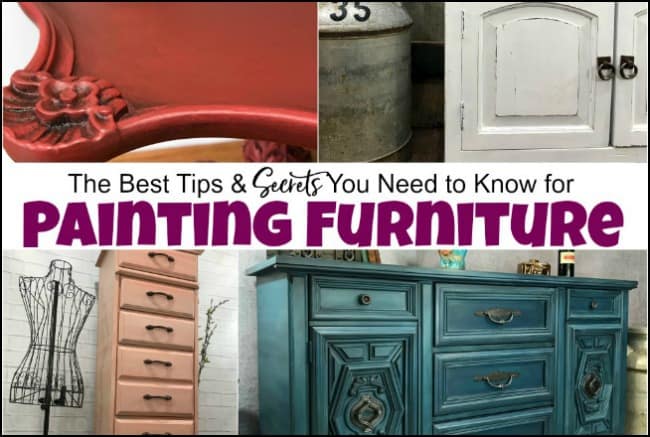 Don't Forget – Follow Just the Woods and Share this post to inspire others:
FACEBOOK  *  INSTAGRAM  *  PINTEREST
Subscribe to our mailing list here:
PINTEREST PIN READY TO SHARE