Clean eating doesn't have to mean you live on rabbit food with no taste. This shrimp and grapefruit salad paired with pumpkin and arugula is so good. Not to mention the homemade dressing. Nothing beats the simplicity of a homemade lemon vinaigrette without the added stuff you find in stores.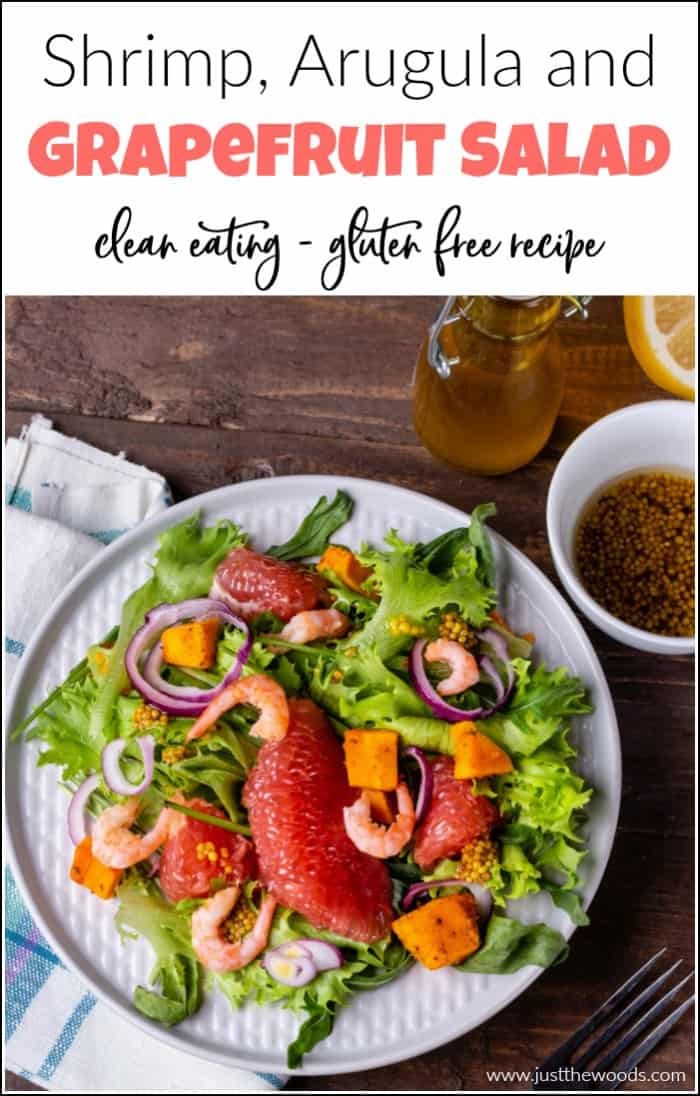 Disclosure: This clean eating shrimp and grapefruit salad recipe post contains affiliate links for your convenience. Click here for my full disclosure policy.

Healthy Shrimp & Grapefruit Salad Recipe
What You Will Need (Full Printable Recipe Available Below)
Ingredients:
1 cup Arugula
1 cup salad greens of choice
1/2 cup cooked shrimp
1/2 red onion sliced
1 cup roasted butternut squash
1/4 Tbsp ground cumin
1/4 Tbsp ground cinnamon
1/2 cucumber, diced
1/2 grapefruit, sliced
Dressing
1 Tbsp fresh squeezed lemon juice
2 Tbsp olive oil
1 Tbsp whole grain dijon mustard (find it

here

)
I am all about eating healthy and clean eating. If you are new to a clean eating way of life then you need to check out Everything You Need to Know about a Clean Eating Diet. You can also see how I, personally have lost 50 lbs and am keeping it off by following a clean eating diet here: How I Lost 50 Lbs Clean Eating. I tend to try different things and mix different flavors to keep meals healthy and tasty. With a salad the possibilities are endless!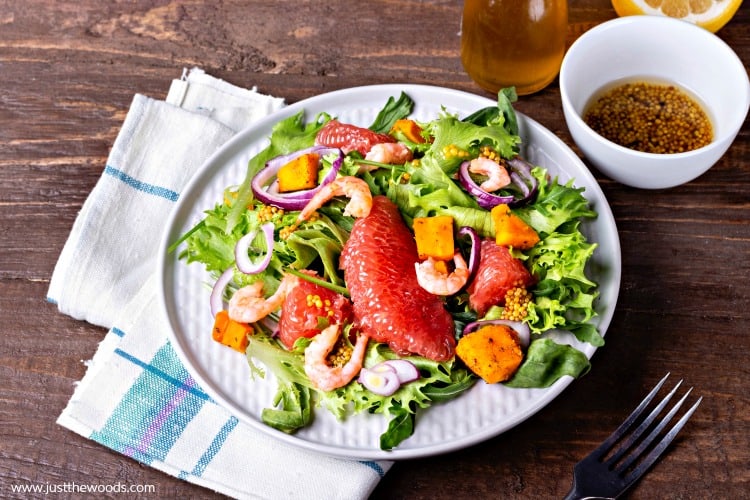 How to Make this Arugula, Shrimp & Grapefruit Salad
Directions:
Let's start with the dressing. Some salad recipes are nearly ruined by drenching them in unhealthy dressings. But this time we are making our own homemade dressing with just three ingredients. All you have to do is mix the lemon juice, olive oil, and mustard and set aside. I am using whole grain dijon mustard for this recipe (you can find some here) but if you don't have any I admit that I will use plain yellow mustard in a pinch.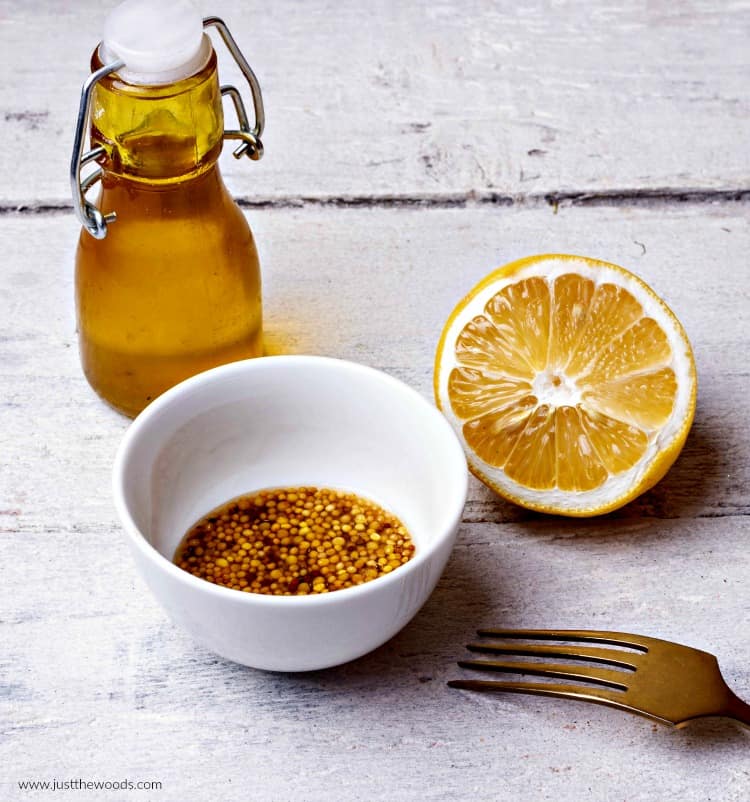 Next, gather the rest of your salad ingredients.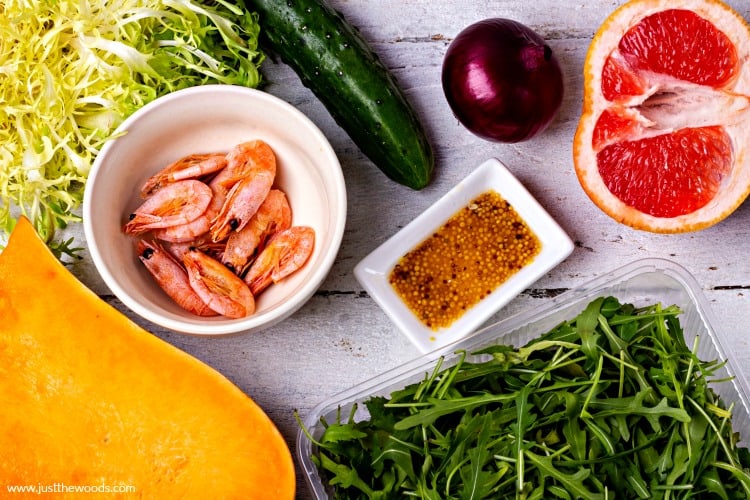 Preparing a Shrimp, Squash, Arugula & Grapefruit Salad
Cut your butternut squash into cubes.
Sprinkle the squash with your cumin and cinnamon and bake on 350 degrees until soft. Keep an eye on them. You want to be able to stick a fork in the squash but you don't want it to turn to mush.
Once soft, remove the squash from the oven and set aside to cool a bit.
While the squash is softening in the oven slice your red onion into thin strips. If you don't love the bite of red onion you can soak in cold water for 10 minutes.
Also:
cut the cucumber
slice the grapefruit
wash the arugula and greens
peel and trim the shrimp.
Mix all of the ingredients in a bowl, and drizzle with your dressing.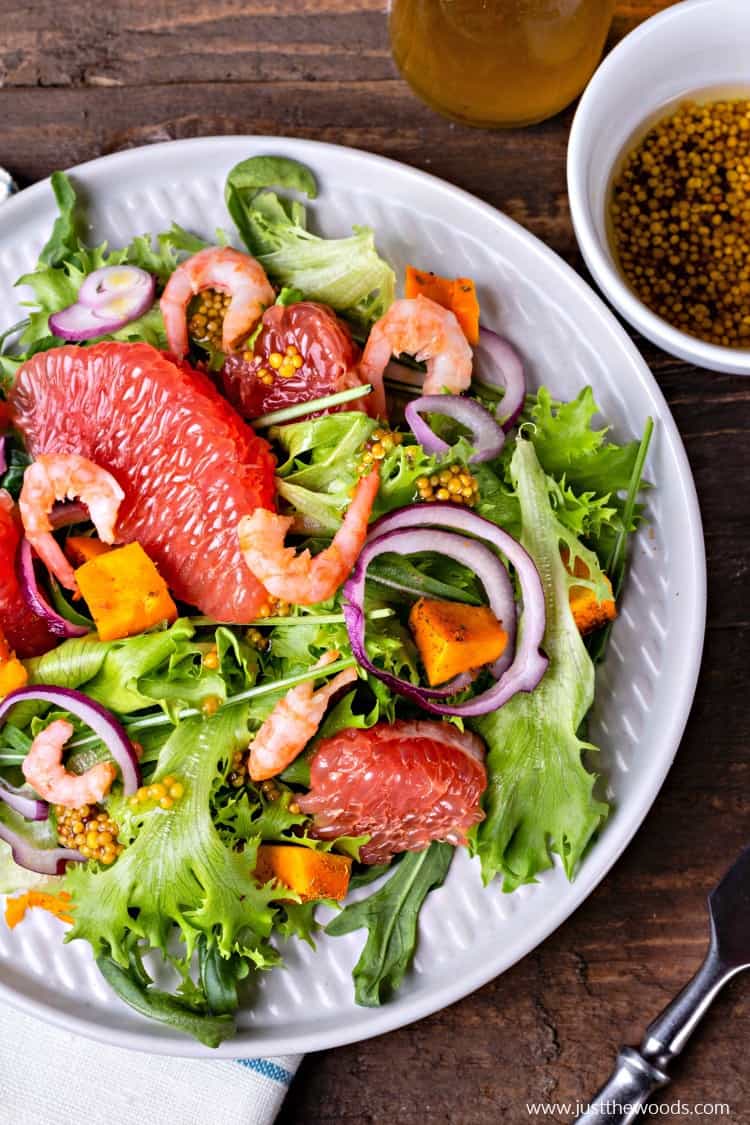 Serve and enjoy!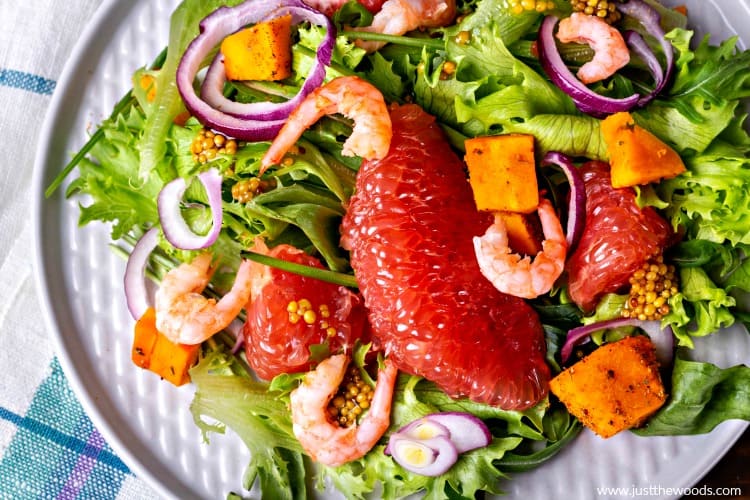 This delicious and healthy salad recipe works great as a snack, lunch or even as a side at a summer barbeque.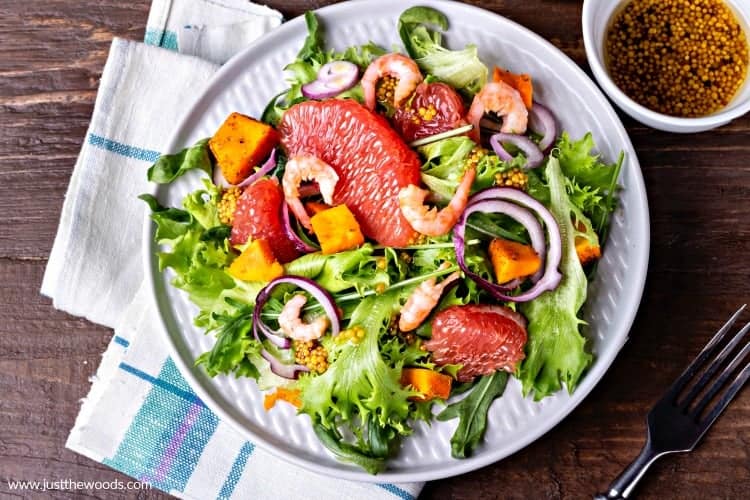 Shrimp, Squash, Arugula Grapefruit Salad (Printable Version)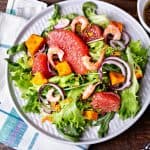 Shrimp Arugula Grapefruit Salad with Roasted Butternut Squash
Ingredients
1

cup

arugula

1

cup

salad green of choice

1/2

cup

shrimp, cooked, peeled & trimmed

1/2

red onion, sliced

1

cup

butternut squash, cubed and roasted

1/4

Tbsp

ground cumin

1/4

Tbsp

ground cinnamon

1/2

cucumber, diced

1/2

grapefruit, sliced
Dressing
1

Tbsp

lemon juice

2

Tbsp

olive oil

1

Tbsp

whole grain dijon mustard
Instructions
To make the dressing - mix the lemon juice, olive oil, and mustard and set aside

Cut the squash into cubes, sprinkle with cumin and cinnamon.

bake squash on 350 until soft

slice the red onion. soak in cold water for 10 minutes

mix ingredients together. sprinkle with dressing and enjoy
For more healthy clean eating recipes make sure to follow my clean eating Pinterest board here: Clean Eating.


Don't Forget – Follow Just the Woods and Share this post to Inspire others:
FACEBOOK * INSTAGRAM * PINTEREST * RECIPES