Sweet potato hummus is a spin on standard chickpea hummus. When you want to get creative and figure out what to do with sweet potatoes besides baking them or popping them in the air fryer then try this amazing and easy hummus recipe. With only simple ingredients, this sweet potato hummus recipe is gluten-free, refined sugar-free and 100% clean eating and vegan-friendly.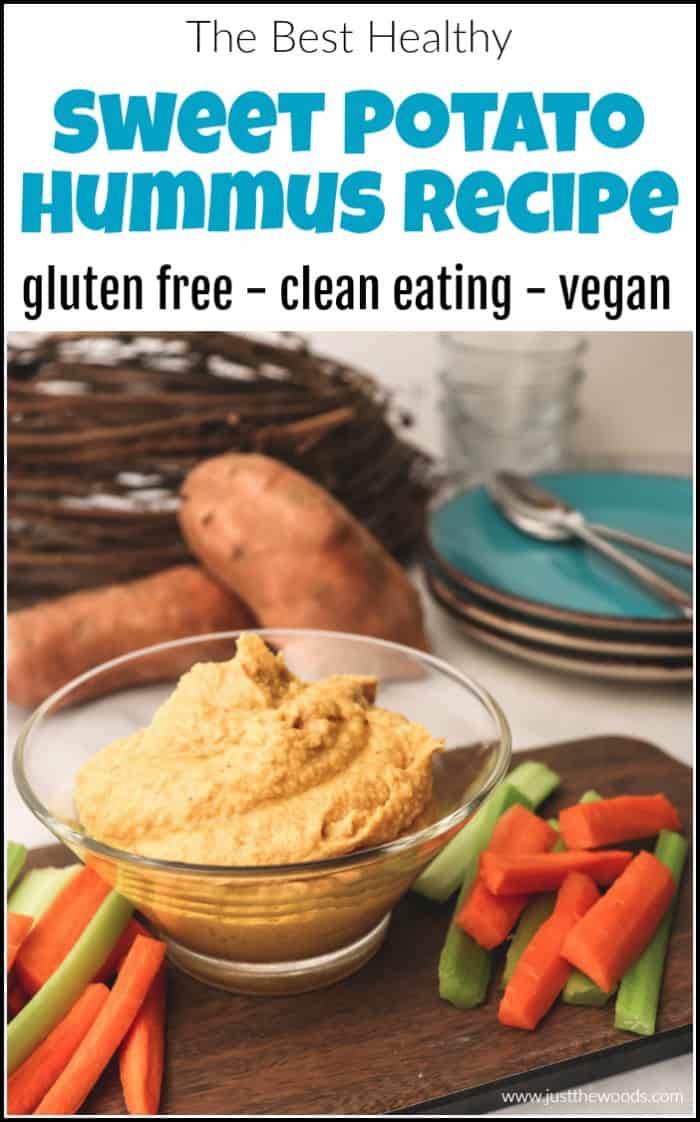 Disclosure: This clean eating sweet potato hummus recipe post contains affiliate links for your convenience. Click here for my full disclosure policy.

Homemade Hummus Recipe
What You Will Need (Full Printable Recipe Available Below)
Ingredients:
1 medium sweet potato, baked whole and skin removed
2 tsp cumin
1 tsp paprika
1/8 tsp cayenne pepper
juice from 1 lemon
1/2 tsp salt
1/2 tsp pepper
1 clove garlic, minced
2 Tbsp almond butter
2 – 15oz cans chickpeas, drained
1 cup olive oil
Additional
blender/food processor
vegetable sticks (carrots, celery, bell peppers, etc)
Homemade hummus is a family favorite healthy clean eating snack. My kids love to dip veggies or pretzels into it and sometimes we even mix it with avocado. Who knew, right? Sweet potato hummus makes a great afternoon snack, you know that time between lunch and dinner when you need a little something. My kitchen always has some sort of snack, whether I'm sipping on a delicious smoothie, or healthy energy balls, muffins and/or donuts. I am a huge 'snacker' so this delicious hummus is just another great option. It also is an easy way to get kids to eat more vegetables.
Clean Eating Basics
I mentioned that this is a clean eating recipe because I also like to mention that I am all about eating healthy and clean eating. If you are new to a clean eating way of life then you need to check out Everything You Need to Know about a Clean Eating Diet. You can also see how I lost 50 lbs and am keeping it off by following a clean eating diet here: How I Lost 50 Lbs Clean Eating. I tend to try different things and mix different flavors to keep meals healthy and tasty.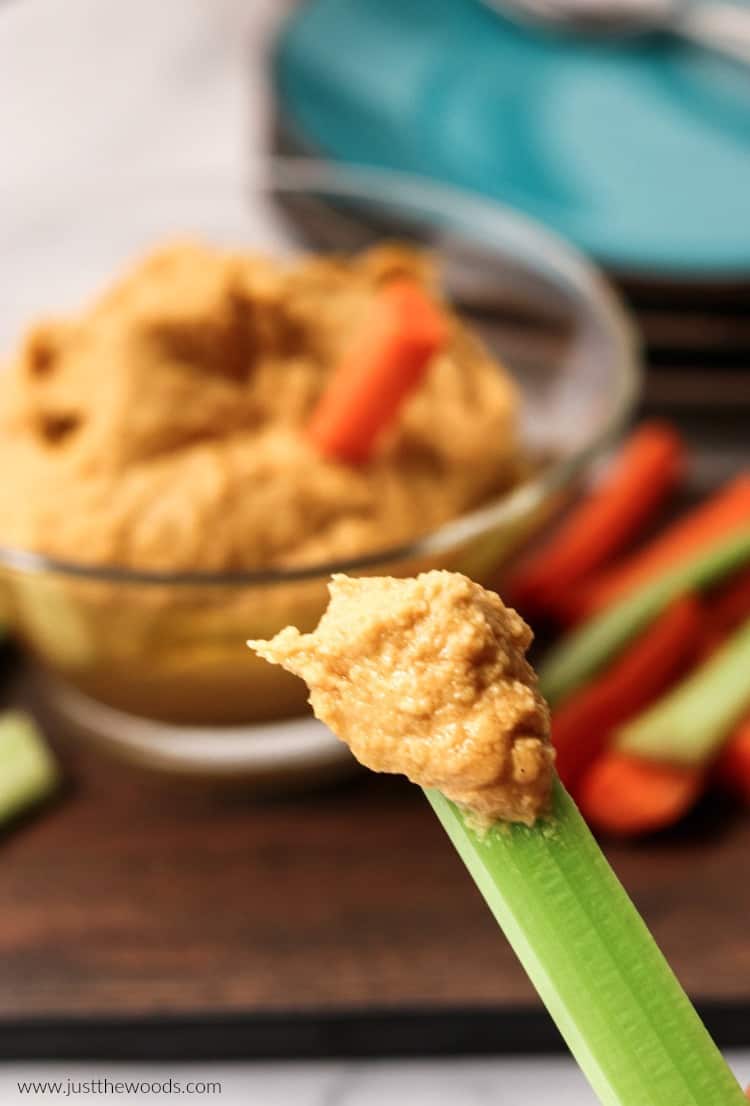 How to Make Sweet Potato Hummus
Ingredients:
As always, let's make sure that we have all of our hummus ingredients.
Bake your sweet potato until soft and tender. The cook time will vary depending on the size of your tater. Personally, I like to cook mine in my Ninja Foodi using the air fryer option for about 35 min on 390 degrees. If you don't have an air fryer you can just as easily bake in the oven for about 45-60 minutes at 350 degrees.
When your baked sweet potato is fully cooked, scoop the inside out and place in a blender or food processor.
Add the chickpeas to the food processor.
Next, add the spices.
Add the rest of the ingredients, except for the olive oil and puree.
Slowly, add the olive oil into the blender/food processor. Continue to blend until you reach your desired consistency.
Use a spatula as needed to scrape the homemade hummus from the walls of the food processor.
Serve with cut-up veggies, chips or crackers of your choice. This recipe yields 4 cups of sweet potato hummus. Enjoy 1/4 cup per serving.
This easy hummus recipe without tahini can be enjoyed as a snack yourself but it also makes a great sweet potato dip for when you have friends or family over.
Make sure to store your sweet potato and chickpea hummus in the refrigerator covered or in an airtight container. If you have any separation when you take it out of the fridge, just give it a stir and you're all set. Your hummus should last 4-5 days in the refrigerator, as long as you don't eat it all at once. 😉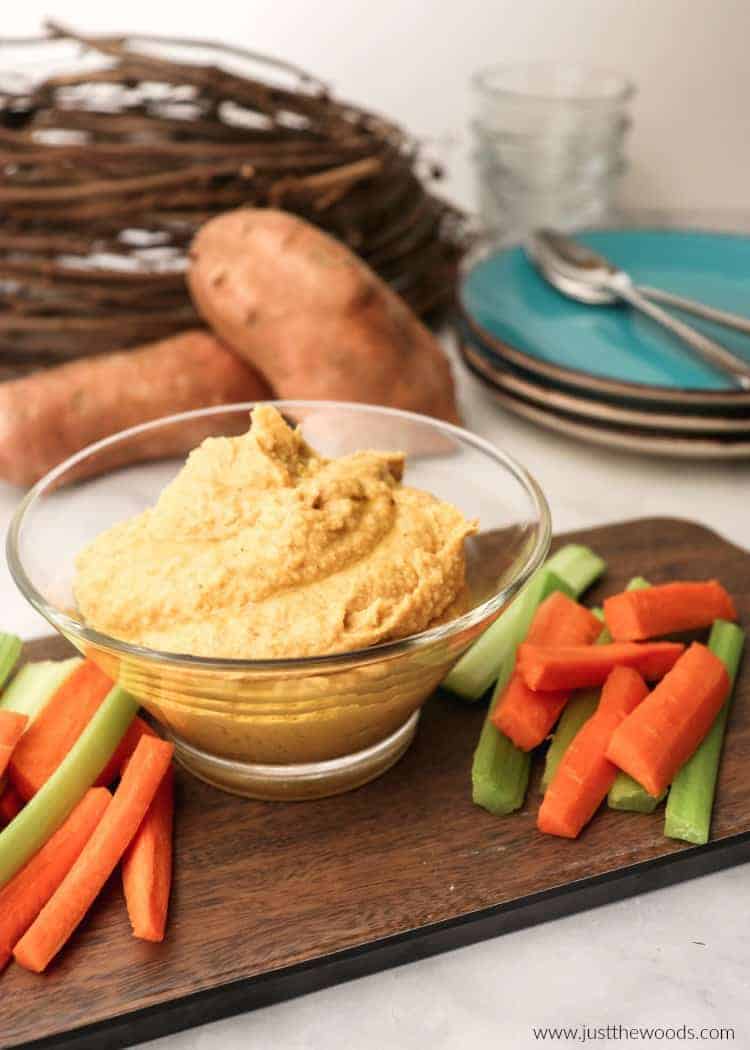 Healthy Sweet Potato Recipes
Healthy Sweet Potato Meals and Recipes
If you are looking for ways to use sweet potatoes then make sure to check out these healthy sweet potato recipes.
Printable Recipe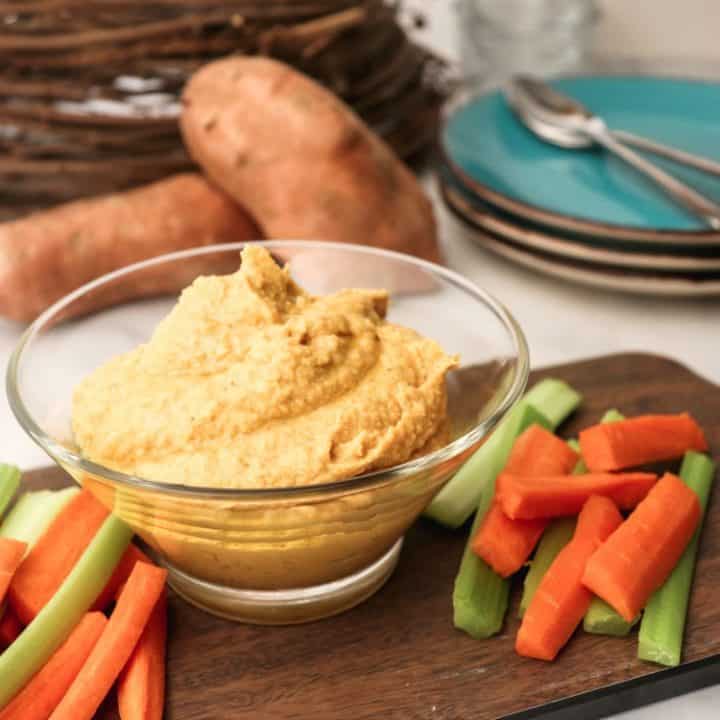 The Best Healthy Sweet Potato Hummus Recipe
Total Time:
1 hour
30 minutes
Sweet potato hummus is a delicious spin on classic chickpea hummus. This hummus recipe is made without tahini, is gluten-free, vegan-friendly and part of a clean eating lifestyle.
Ingredients
1 sweet potato, baked whole and skin removed
2 tsp cumin
1 tsp paprika
1/8 tsp cayenne pepper
juice from 1 lemon
1⁄2 tsp salt
1⁄2 tsp black pepper
1 clove garlic, minced
2 tbsp almond butter
2 - 15 oz cans chickpeas aka garbanzo beans), drained
1 cup olive oil
Instructions
Puree cooked sweet potato, skin removed, with all ingredients except olive
oil in a blender or food processor.
Slowly add olive oil and continue to blend until desired consistency.
Serve with cut-up vegetables, crackers, or chips of your choice.
Store covered in the refrigerator for up to 4-5 days.
Recommended Products
As an Amazon Associate and member of other affiliate programs, I earn from qualifying purchases.
Nutrition Information:
Yield:

16
Serving Size:

1
Amount Per Serving:
Calories:

253
Total Fat:

16g
Saturated Fat:

2g
Trans Fat:

0g
Unsaturated Fat:

13g
Cholesterol:

0mg
Sodium:

90mg
Carbohydrates:

22g
Fiber:

6g
Sugar:

6g
Protein:

6g
nutritional value may vary. This is based on recipe makes 4 cups, one serving as 1/4 cup.
For more healthy clean eating recipes make sure to follow my clean eating Pinterest board here:
Clean Eating
.