Turkey bone broth is so easy to make in the Ninja Foodi. You can also make this homemade turkey bone broth recipe in the Instant Pot since we are using the 'pressure cook' function. The best part of making turkey bone broth this way is its ready in a few hours rather then taking all day.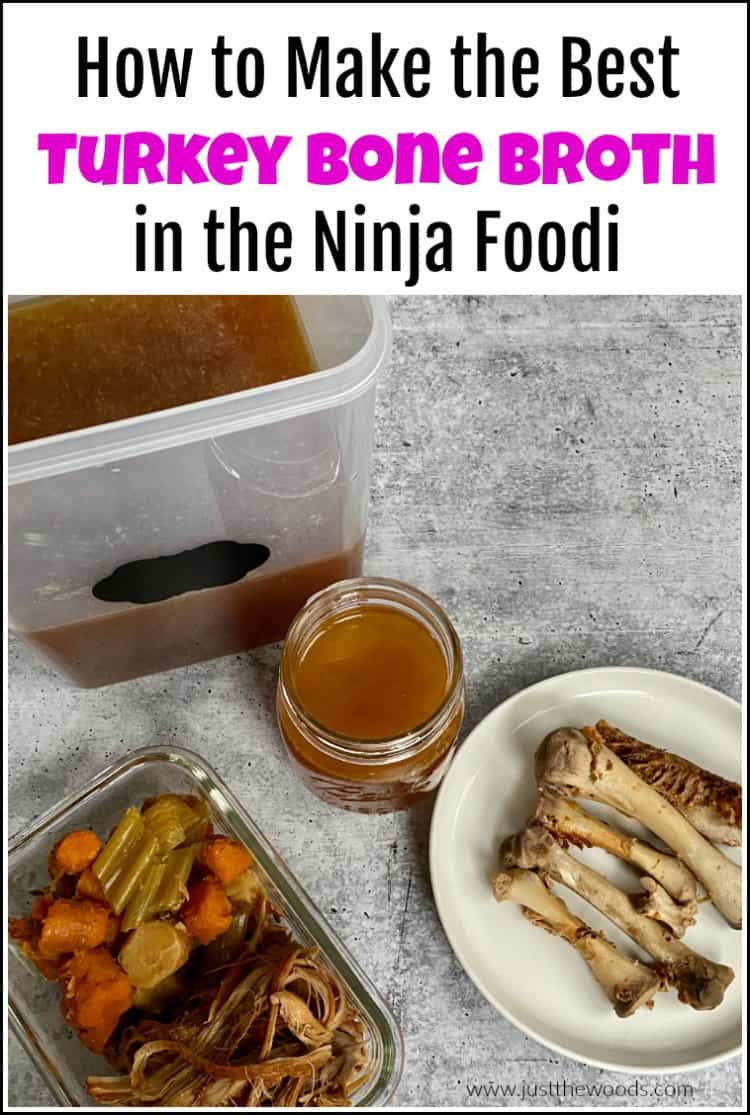 Disclosure: This healthy turkey bone broth in the Ninja Foodi recipe post contains affiliate links for your convenience. Click here for my full disclosure policy.

Quick and Easy Turkey Bone Broth Recipe (in the Ninja Foodi)
What You Will Need (Full Printable Recipe Available Below)
Ingredients:
carrots, 2, cut into large chunks
celery stalks, 2, cut into large chunks
parsnips, 2, cut into large chunks
a bay leaf
2 Tbsp Apple Cider Vinegar
turkey carcass, bones, neck and gizzards
filtered water
Getting Personal
Along with eating clean and trying to keep my family eating healthy I also see a nutritionist. To make a long story short he runs a full blood panel and can see where my body is lacking things or has an abundance etc. Then we take this info and use food as a sort of medicine to address any issues. For example, my thyroid is a mess, my glutamine is extremely low, and my hormones are a mess. To keep it simple, my current diet now includes more cashews and less almonds. More pork, and less chicken. I've learned that zucchini and squash are loaded with glutamine, which is why you may find many zucchini recipes on my site. I also love to use my Ninja Foodi, because it simply makes things a bit easier.
Clean Eating Basic
I like to mention that this is a clean eating recipe because I am all about eating healthy and clean eating. If you are new to a clean eating way of life then you need to check out Everything You Need to Know about a Clean Eating Diet. You can also see how I lost 50 lbs and am keeping it off by following a clean eating diet here: How I Lost 50 Lbs Clean Eating. I tend to try different things and mix different flavors to keep meals healthy and tasty.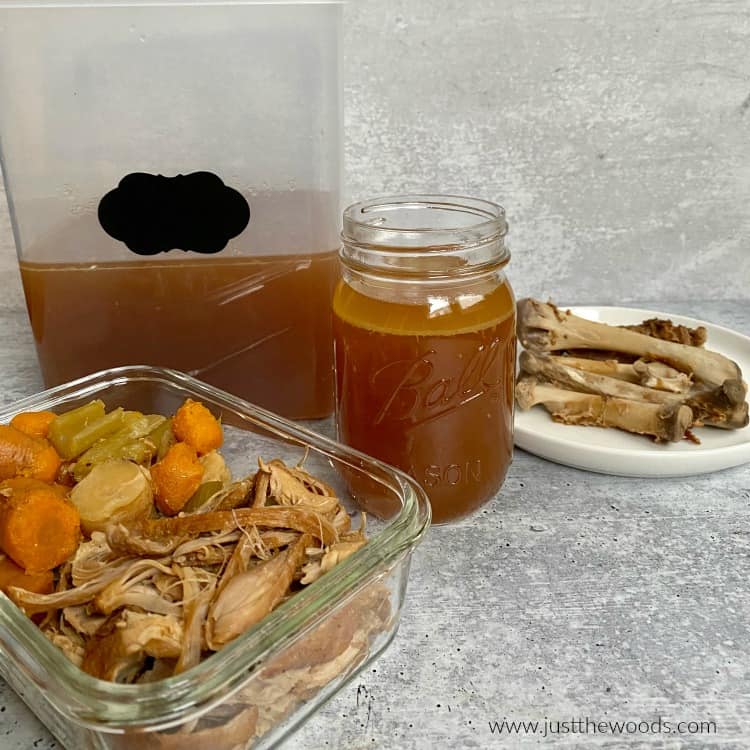 How to Make Turkey Bone Broth in the Ninja Foodi
A quick note, lately we deep fry our turkey, so whether you deep fry or roast you can make homemade turkey bone broth no matter how you prepare your turkey. And in case you are wondering if deep fried turkey is healthy or not, from what I've read unless you eat the skin, there is little difference in calories and fat between a roasted and fried turkey. Research has also indicated that frying properly also results in moister breast meat, compared to roasting. Per serving, the two types of turkey are very similar when it comes to calories and fat.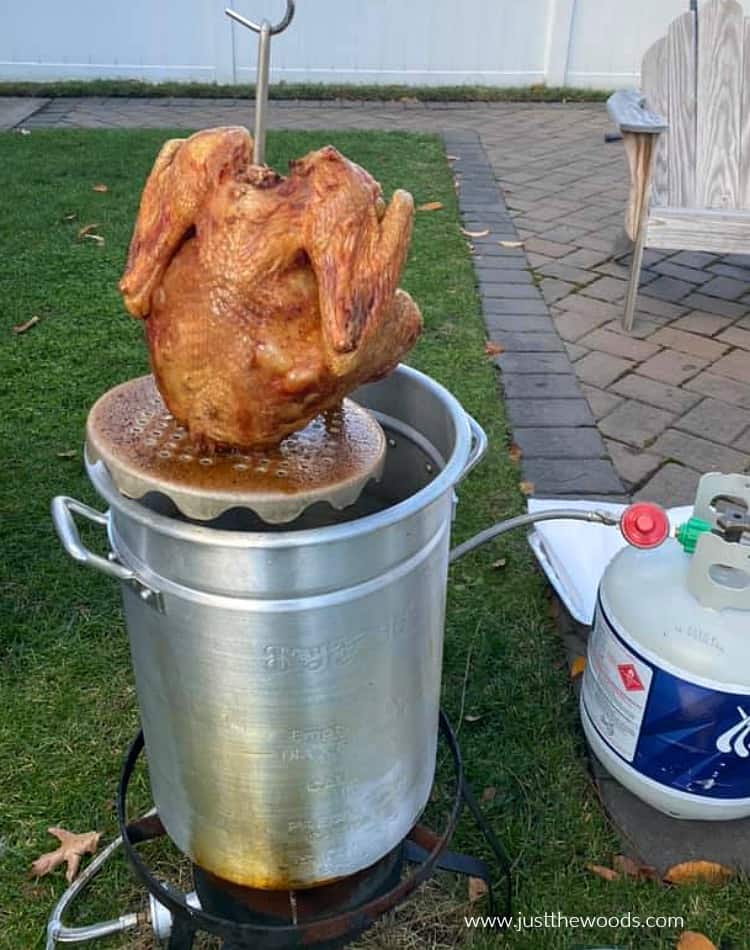 Moving on. As always, let's start by gathering our ingredients. In this case our ingredients are so simple. All you need for this healthy homemade turkey broth is a couple of carrots, celery stalks, parsnips, a bay leaf, apple cider vinegar and your leftover turkey carcass. In addition to the carcass I like to toss in the legs, wings and the neck, heart and gizzards. If you use the gizzards for making gravy that's ok. Don't worry about it. This turkey bone broth recipe is quite versatile.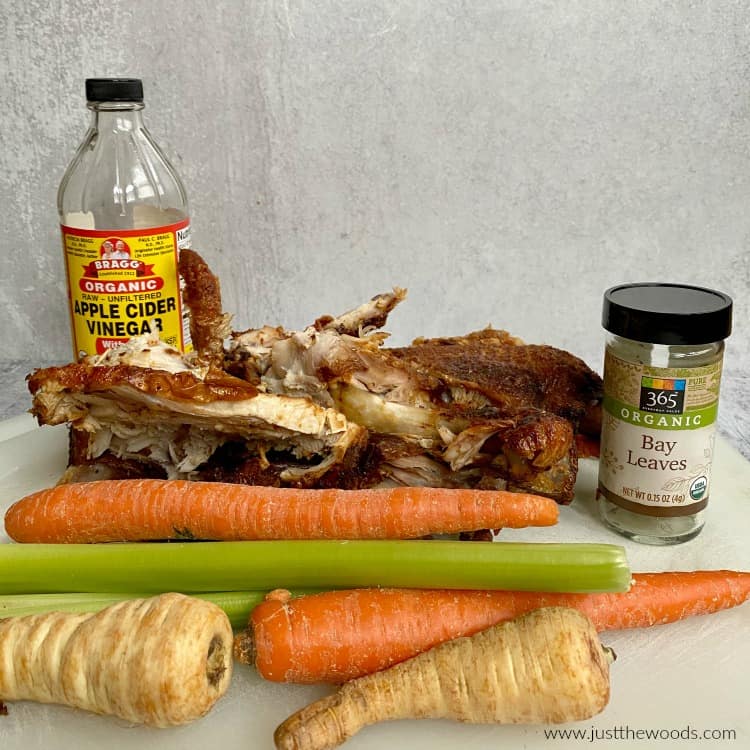 Now it's time to break out the Ninja Foodi. This thing is amazing! It is a pressure cooker, slow cooker, air fryer, dehydrator, and more all in one. It makes meal prep a breeze and last minute cooking ideas easy. If you don't have one yet you can get it online here: Ninja Foodi. There is also a video review of the Foodi at the bottom of this pulled pork recipe.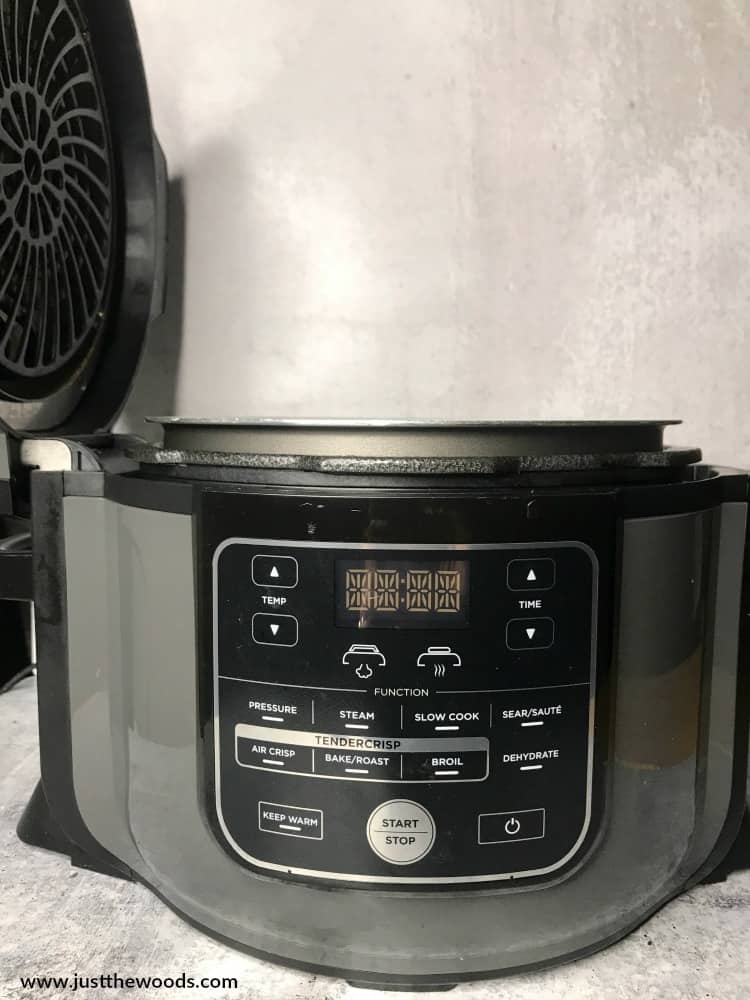 Making Homemade Turkey Bone Broth
First, you will need to prep your veggies. If you prefer to peel the carrots and parsnips you can. But you don't have to. Just wash them and trim the ends. Place your turkey carcass, bones, and vegetables into the Ninja Foodi pot.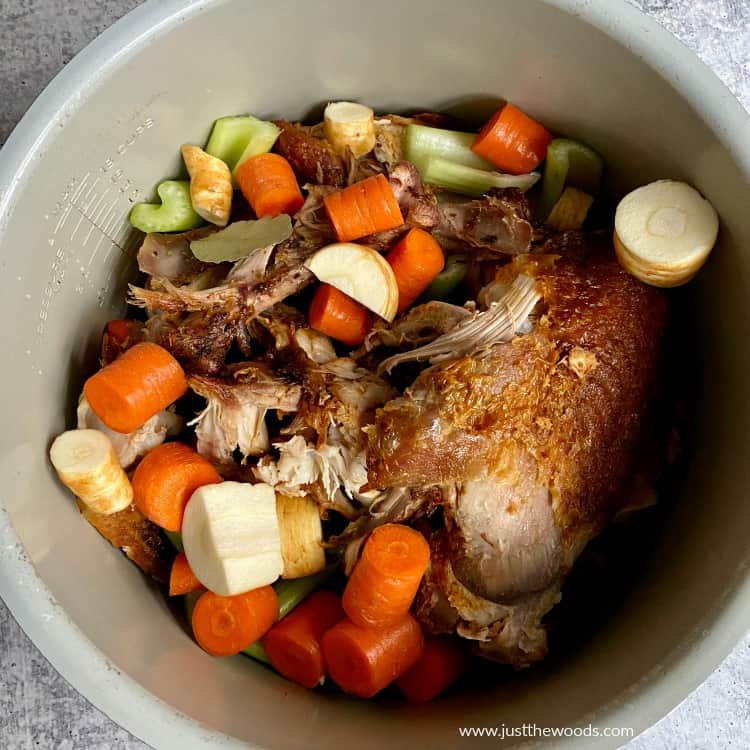 Lastly, add the filtered water to the pot. I fill up to the max fill one when making homemade turkey stock. This is the filtered water pitcher that I recently bought. It filters out all the chemicals and things from your water that you want to avoid. Water Filter.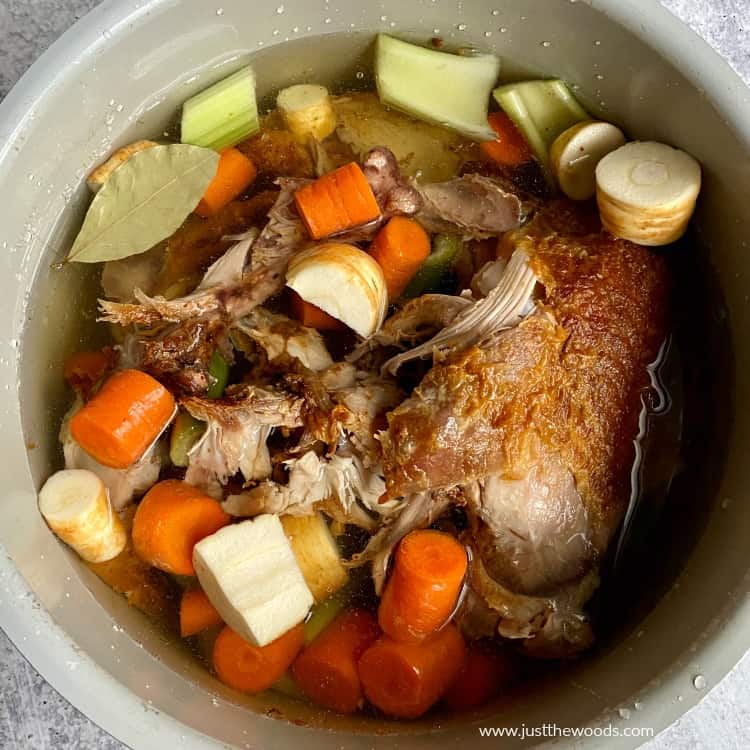 Steps for making turkey stock in the Ninja Foodi.
Secure the pressure cook lid to the Foodi and select the pressure button.
Select 'Hi' and set the time to 3 hours 30 minutes.
Press Start.
The Ninja Foodi will come to pressure and then the clock will start. Once the cooking time is complete you can carefully release the pressure. Keep in mind, that when you release the pressure the liquid may also come out of the release valve since we filled the water to the max. I often do not open the release valve fully to avoid a wet mess. Instead, carefully let the pressure release slowly by only allowing a little out a time. I hope that makes sense. Once the pressure is completely release and it is safe, you may remove the lid. If you are making Instant Pot turkey bone broth follow similar steps and time for cooking.
Strain the Turkey Stock
At this point you will need a fine mesh strainer like this one to strain the liquid from the bones, vegetables and meat. I got this as part of a set online here: strainer.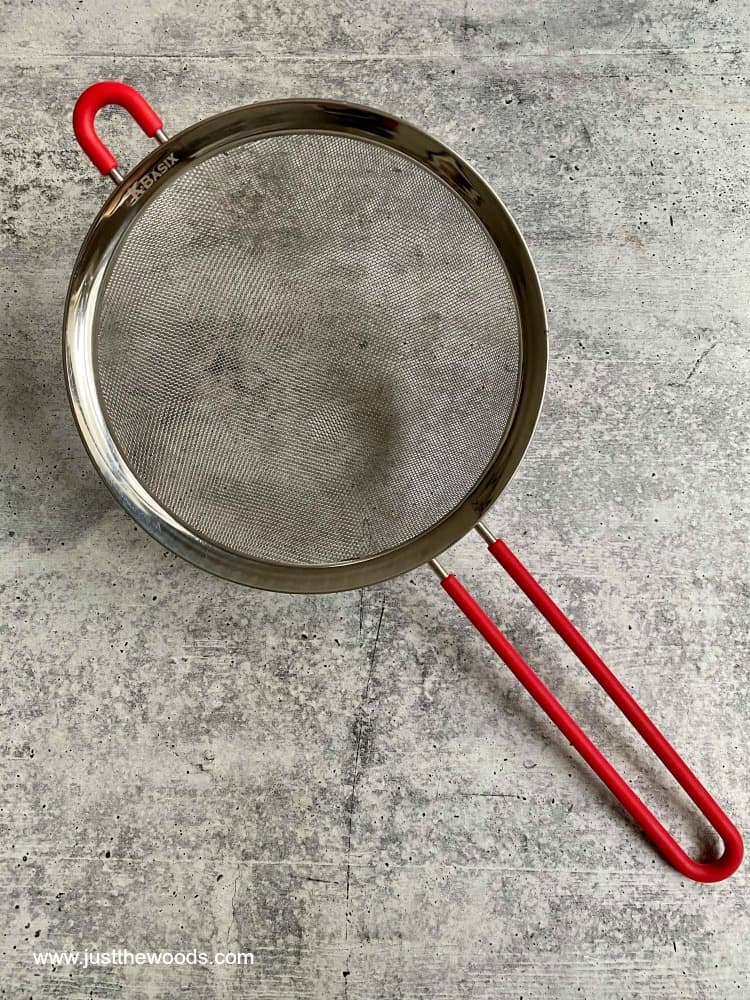 Carefully strain the liquid into a large container and set aside the bones, vegetables and meat in another. Once you finish you can strain the solids again for any more liquid. This next part it optional, but I also like to pick through the vegetable mush and separate the bones, the veggies and the meat. Any bones that are soft, brittle and breaking can be tossed in the trash. But bones that are still solid can be frozen and used again to make more turkey bone broth (with fresh vegetables). The heart, neck and gizzards are thrown away as well but the little pieces of meat that falls off can be saved as well as the vegetable mush.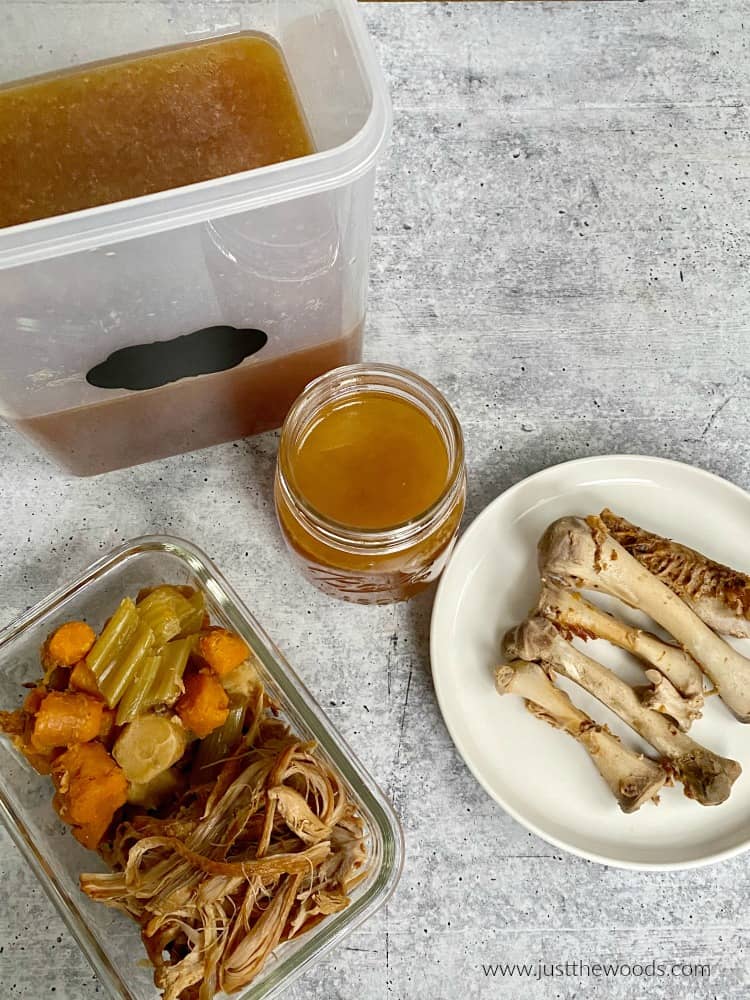 Your homemade turkey bone broth can obviously be used to make turkey carcass soup. It can also be refrigerated or frozen. Personally, I leave a jar in the fridge and freeze the rest in smaller portions to defrost and use as needed. You can use the turkey bone broth in your cooking recipes where it may call for chicken stock. It is also a great liquid to use, instead of plain water when cooking rice. These small glass containers are great and freeze the turkey bone broth in app 1.5 cup portions. You can find them online here: glass containers. The larger airtight container is the one I keep in the refrigerator.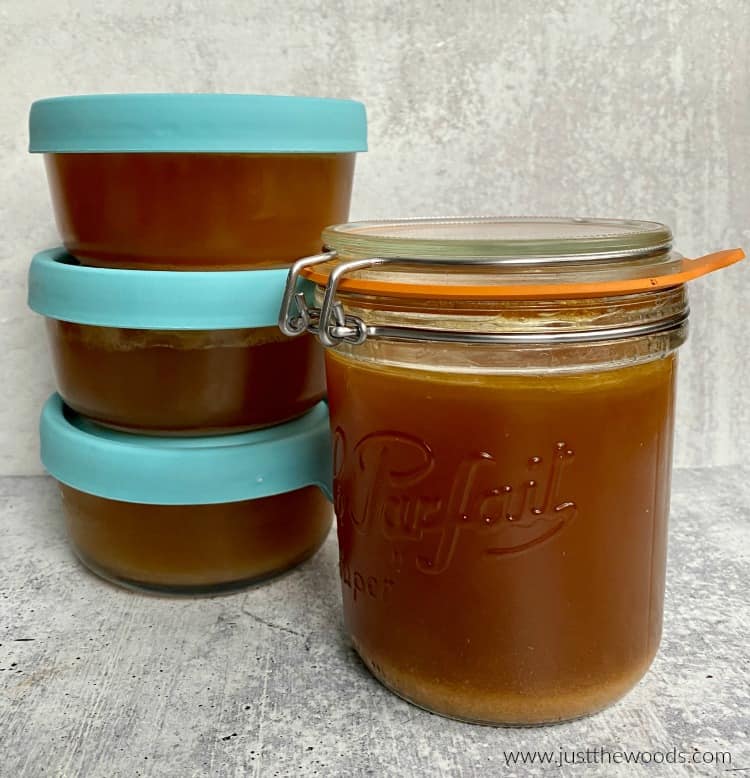 What to Do with Homemade Turkey Stock and Leftover Vegetables
A quick example for using your turkey bone broth: heat on the stove, toss in a few vegetables of choice and top with micro greens. This is a simple turkey carcass soup I made for lunch with my homemade turkey broth, mushrooms, carrot, snap peas, kale and zucchini over leftover meatballs and topped with microgreens. Because we didn't add any salt or pepper to the original turkey stock recipe you are able to add as needed for each individual use if you prefer.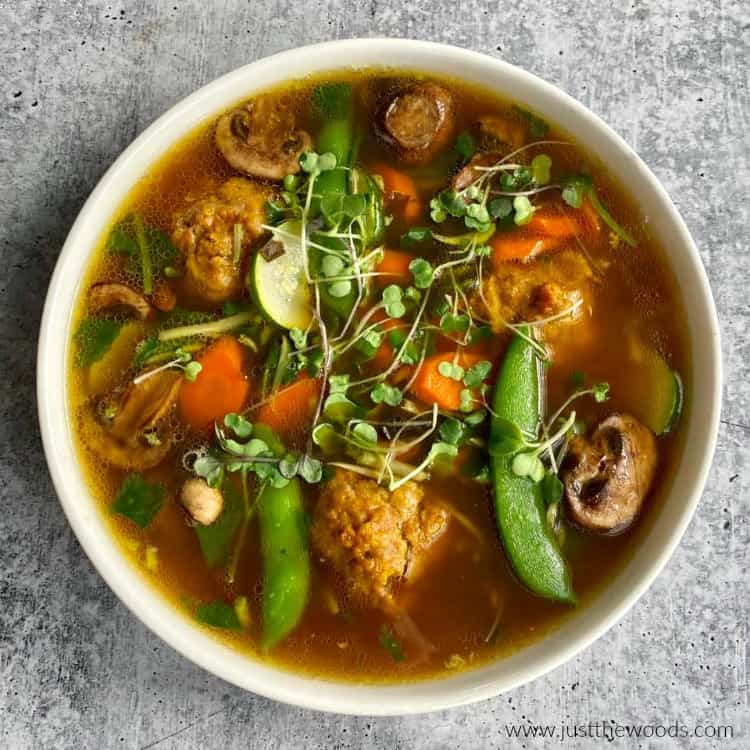 As far as the leftover vegetable mush is concerned I like to mash it up and mix it with ground beef, pork or turkey and make meatballs. The vegetables give an added flavor that is delicious and the kids don't even know they are eating veggies. Win win.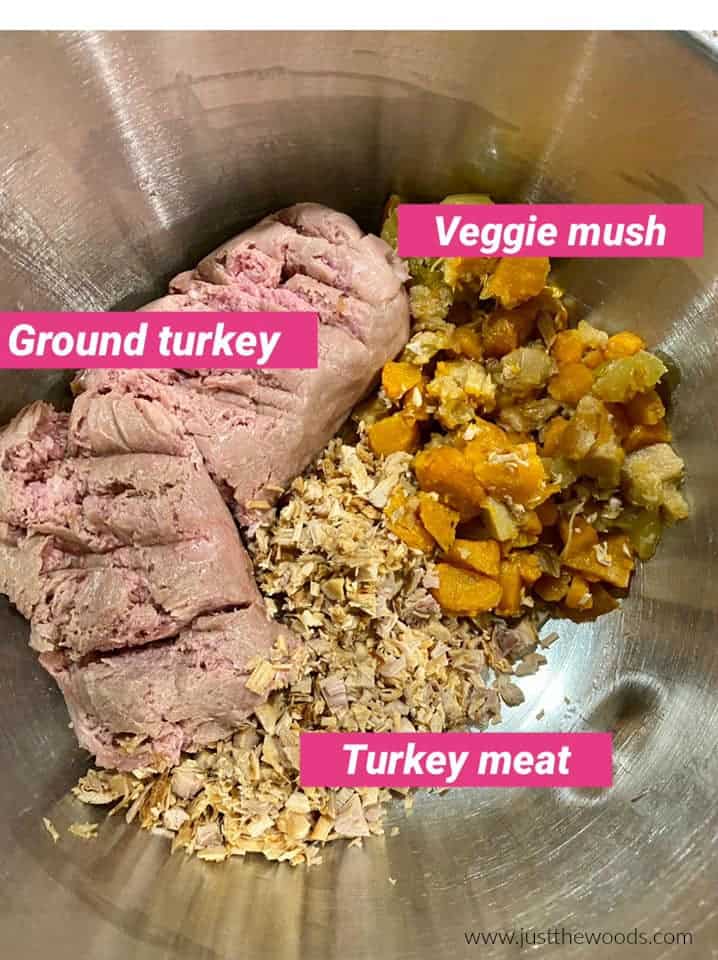 Simply combine the ground meat of choice, turkey meat from the stock, and mushed veggies and roll into balls and bake. Easy peasy. These are served with mashed butternut squash and cauliflower rice.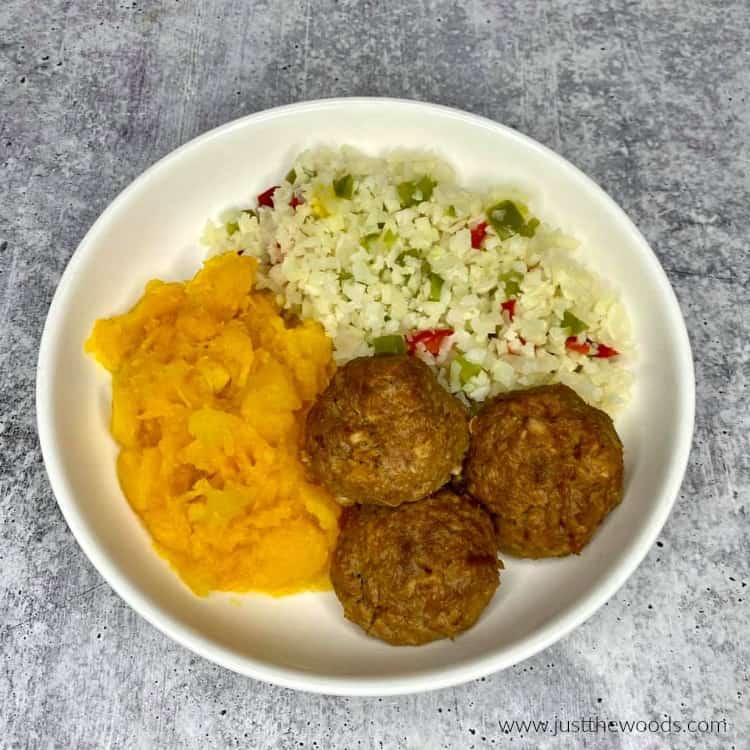 Ninja Foodie Recipes
If you have a Ninja Foodi and are looking for a few more clean eating, gluten free recipes you can find them here: Ninja Foodi recipes. But if you haven't gotten a foodi just yet you can get one online here: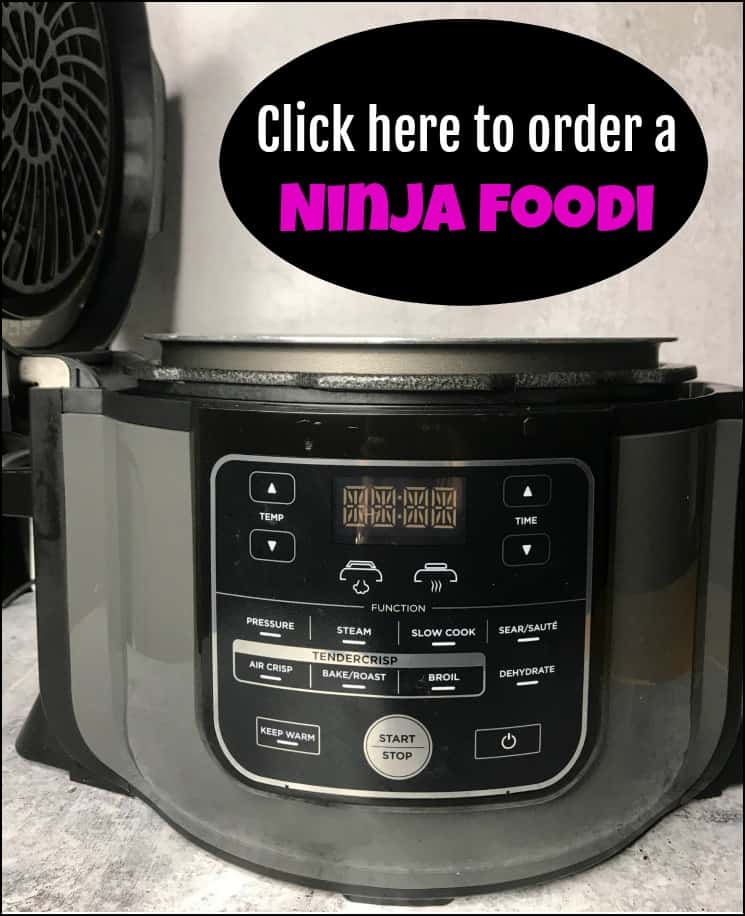 Printable Recipe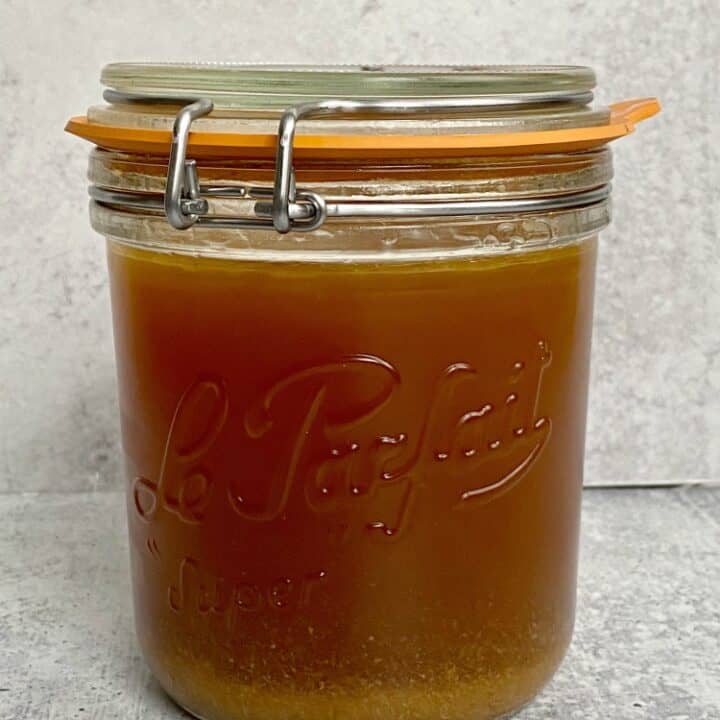 How to Make the Best Turkey Bone Broth in the Ninja Foodi
Cook Time:
3 hours
30 minutes
Additional Time:
15 minutes
See how to make the best turkey bone broth in the Ninja Foodi with a few ingredients and in less time.
Ingredients
Leftover turkey carcass, bones, neck, gizzards
carrots - 2 cut into large chunks with ends trimmed
celery -2 stalks cut into large chunks with ends trimmed
parsnips - 2 cut into large chunks with ends trimmed
bay leaf
apple cider vinegar - 2 Tbsp
Instructions
Remove as much meat from turkey carcass as possible
Combine turkey carcass, wings, bones, gizzrds, etc in Ninja Foodi pot with cut vegetables
Add bay leaf and apple cider vinegar
Fill with filtered water. Do not fill higher than the max fill line.
Select Pressure Cook option, then HI.
Set time to 3.5 hours
Once foodi has finished cooking carefully release the pressure slowly
After all pressure is released, strain the liquid from the solid with a fine mesh strainer
Refrigerate of freeze turkey bone broth.
For more healthy clean eating recipes make sure to follow my clean eating Pinterest board here:
Clean Eating
.


Don't Forget – Follow Just the Woods and Share this post to Inspire others:
FACEBOOK * INSTAGRAM * PINTEREST * RECIPES